It's been 12 years now that Buzzsprout launched its hosting podcasts. Hundreds of successful podcasters started Buzzsprout. These podcast hosting platforms include such a fair pricing option with a simple user interface.
New features are consistently added with the development of Buzzsprout. Also, it is suitable both for experts and new podcasters.
If you are looking for an exceptional set of features, the best possible design and an easy platform should select Buzzsprout. It allows podcasters to run multiple shows. Also, the tools it offers are the ones that a podcaster may need.
Buzzsprout makes it easy for a podcaster to run a show easily and fast. The platform allows the establishment, distribution, hosting and growth of a podcaster.
Such platforms are known for their advanced statistics, the key difference in their features from competitors, competitive prices and exceptional features.
In this post, we are going to write for a podcast hosting, Buzzsprout review. Buzzsprout allows website creation to ensure an efficient and quick detection of podcasts for listeners.
What is Buzzsprout?
Buzzsprout is just another podcast host. It was created about 12 years back but the growth and demand of the platform have tremendously increased in the past few years.
There are several new features incorporated by hosting providers such as transcripts for podcast episodes, understanding podcast stats and customizing podcast websites. All this effort is made to maximize the potential growth of the podcast.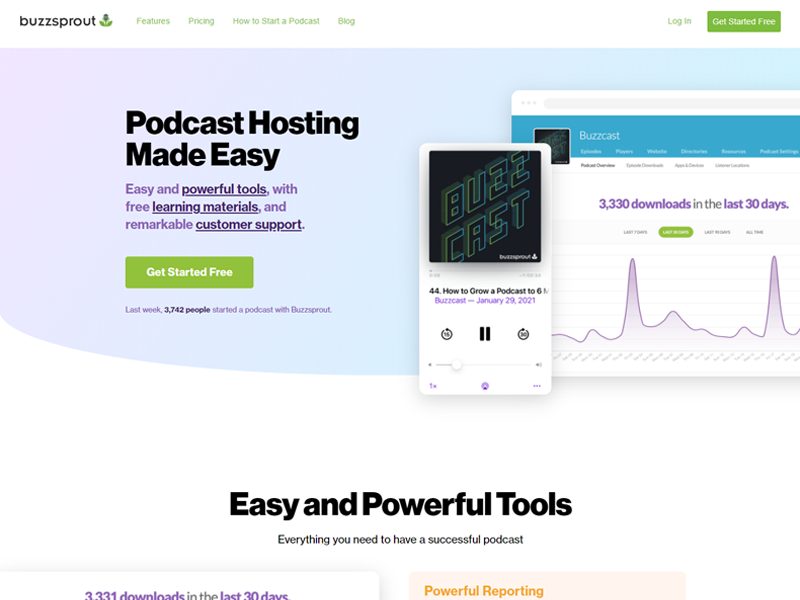 The most difficult aspect for beginners is to get the first episode recorded and then published.
Buzzsprout is there to make it easy for the starters to start their podcast. It is easy for you to set up your podcast if you can create your social media account.
As soon as you sign up for a free plan, you are asked if you are going to launch a new podcast or you already have an episode.
Buzzsprout offers both options, i.e. recording a new podcast and migration of an existing episode. It also allows you to enter a podcast logo, description and a podcast title. It is extremely straightforward yet essential for new podcasters.
If you already have recorded episodes you can move forward to the new episodes tab. Here, you will find details of the podcast episodes, such as specific artwork, number of plays, duration, analytics, dates and popular episodes. It also allows you to edit the description of your episodes.
Following is a glimpse of why Buzzsprout is important:
RSS Feed: it is more important for experienced podcasters. Buzzsprout automatically generates an RSS feed for you.
Directories: Buzzsprout makes it easy to "get listed" so you can share your podcasts. You need to have a platform for your listeners to follow. Such as Stitcher, Pandora, Google Podcasts, Spotify and Apple podcasts etc. this is the way you grow. With these platforms, listeners can share, follow and favorite your new episode.
Website: this is a great feature of Buzzsprout that it automatically create a website for you.
Players: this is another feature for experienced podcasters. It allows them to embed the show or an episode on your website.
Buzzsprout Review: Essential Podcast Features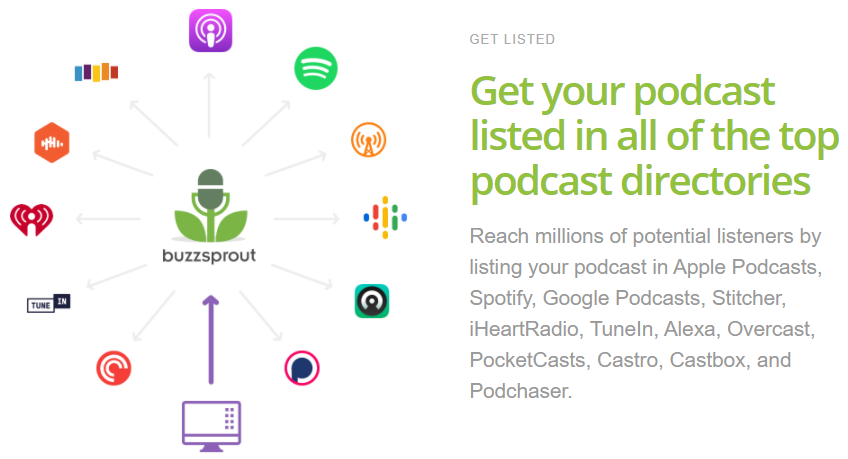 You will find Buzzsprout a great platform where you get everything necessary for distributing and hosting a podcast. It offers an abode for hosting audio files along with a compliant RSS feed that is submitted to podcast directories. Some of the best features it offers are listed below:
Free Website
Well, Buzzsprout offers a hosting platform for podcasters. It also provides a website, which is critical. Buzzsprout included the feature of a free website in 2019. Here, podcasters are given a site where they can show all of their podcast episodes.
Listeners can also get benefits if they are restricted to this website. They can view a detailed channel description and podcast artwork on the website. Also, it leads listeners to the directories that are frequently used.
Be mindful that this website is not everything. Instead, it is just a basic landing page to direct your listeners towards podcast episodes.
If you seek to have high functionality and a customized podcast website, you will have to look for a dedicated website builders such as Weebly, Wix, or WordPress etc.
You may also get a dedicated plugin in Buzzsprout if you start a WordPress blog. It helps you embed your podcast episodes in it. You can also create specific posts to promote the episodes. You can find really good podcast WordPress themes for this purpose like Livecast.
Podcast Directory Submissions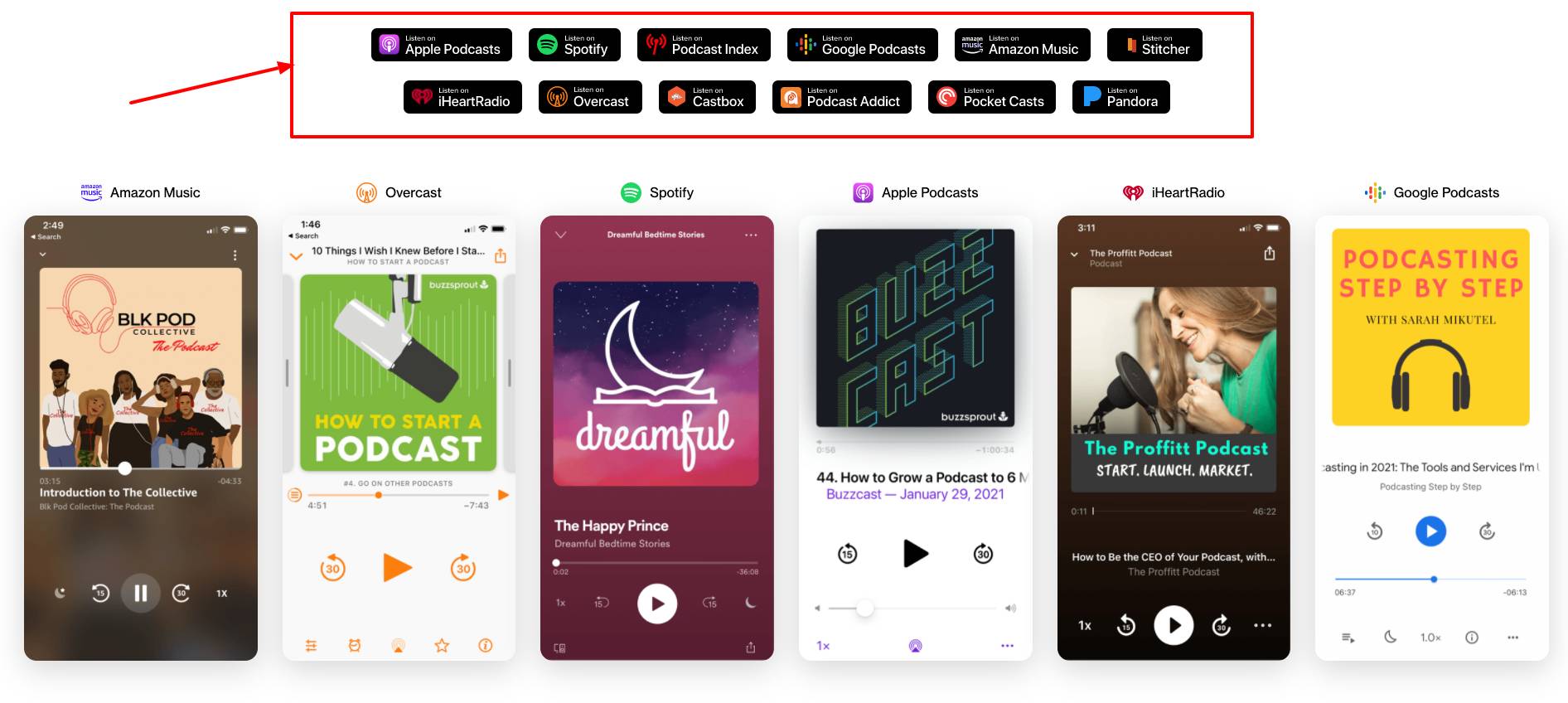 Buzzsprout offers a good distribution section. It is known as Directories. It lists all the popular podcast directories that a podcaster should know. Such as Google podcasts, Apple podcasts, etc. Moreover, it includes complete instructions to guide a podcaster about using each directory.
Buzzsprout provides invaluable instructions for a podcaster to complete the submission process.
Certain platforms also ensure automatic submissions so that major work is eliminated. It is critical because most of the podcasters consider that submissions are performed individually so that they can control their account.
Also, they believe that the entire data is retained on each platform. In such situations, a manual process is preferable. Manual submissions help you take control over better distribution.
Monetization Tools & Facilities
Either you start a podcast as a hobby or professionally, it is always good to consider monetization of your podcast. Buzzsprout integrates an affiliate marketplace for you to connect to suitable affiliate programs.
There is a Resources section in the Buzzsprout Dashboard. You will find an affiliate marketplace option here. Sign up here and you can then collaborate with different yet related brands such as Allswell and Instacart etc.
There will be certain approvals from your potential affiliates. After their approvals, Buzzsprout will add an affiliate link to your episode. It will activate the link in all the platforms that your listener would use to access your podcast. Thus, it is ready to bring in cash for you.
Advanced Statistics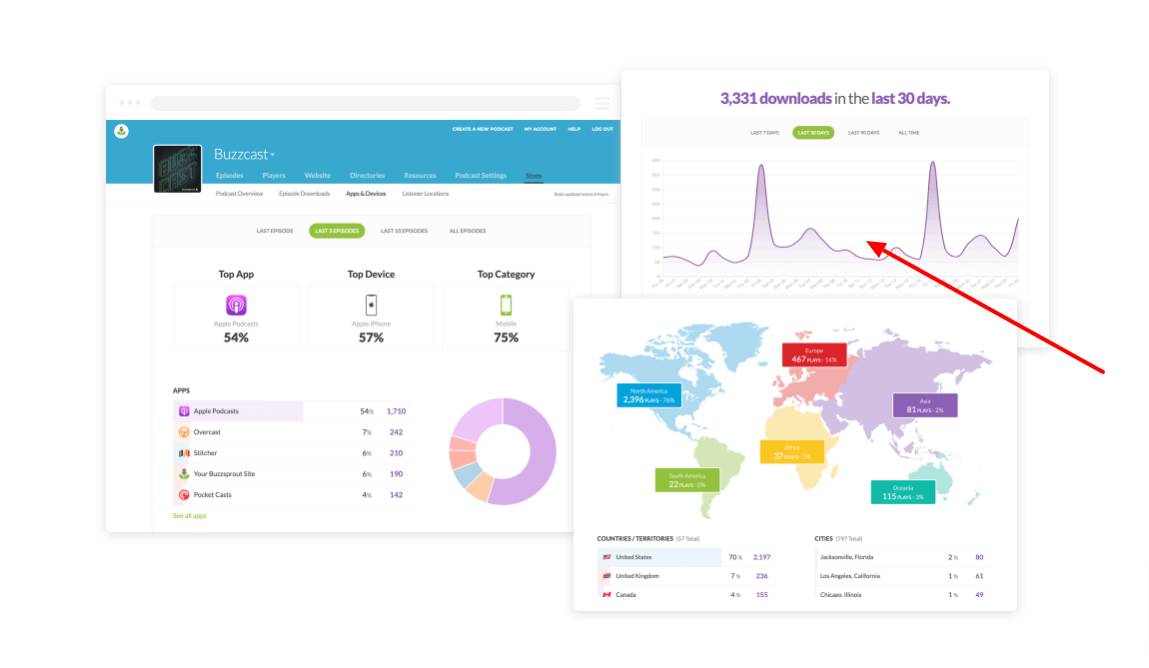 No Buzzsprout review or podcast hosting is complete without considering the statistics. In podcasting, statistics has become extremely standardized across the board. Although the platforms are only slightly different, it ensures that Buzzsprout offers deeper insights as compared to any other host.
The dashboard interface offered by Buzzsprout is transparent, easily accessible and modern in appearance. Most of the best podcast hosting platforms offer standard dashboards.
On the contrary, Buzzsprout showcases deeper insights as compared to any other dashboards. It further includes the geographical location, number of downloads, plays and listeners.
The major difference between Buzzsprout and any other podcast hosting provider is in the presentation of information. It includes bright and colorful graphics along with charts and buttons to display information. The dashboard's design is also easier to control and understand for beginners. Thus, it has a low learning curve.
Moreover, you also get to see the top-level stat that gives you an idea of your lifetime growth such as "all-time total plays."
Another important yet not unique feature of Buzzsprout is the listener's stat that it displays. They create a numeric value for you based on the recent episodes so you get an estimate of the total number of your subscribers. It is based on the 90 days to give you an estimation of the listens per episode. It is a decent estimate to help you determine your upward trending progress.
In addition to this, Buzzsprout also gives the details of location and devices so you get an idea of where and how people listen.
In its stat section, Buzzsprout gives a section to see your achievements and badges. With this, you can get extra motivation at times when you feel demotivated or flat because of the low number of subscribers or watches. It always gives to the next milestone.
Support
Customer support is one of the most important elements to consider while selecting a podcast hosting platform. Buzzsprout gives you the right support whenever required.
They show highly responsive customer service. Also, there is an option of a dedicated Facebook group where you can access suggestions on promotion or certain aspects of podcasting with Buzzsprout.
How to Set Up your Show using Buzzsprout
It turns out that using Buzzsprout is not that complicated. Let's walk through the process of setting up a Buzzsprout show. This is the primary area where the new podcasters need help. The experts only have to deal with the migration process. Buzzsprout makes it seamless by taking care of both processes.
Start a Brand New Podcast Show
If you are a beginner, starting with a free plan is the best idea. This plan is, however, not suitable for live shows. This is because the episodes are automatically removed from the platform after three months. Yet, it is better to start things on free.
Sign up and follow the steps to complete your profile. You can also take help from the step-wise guide given by Buzzsprout. It will start by asking for general information such as episode title and type.
"Upload a new episode" will let you upload your newly recorded podcast episode. After uploading, it asks you additional metadata such as episode number, time of release, or description of the episode.
This is the most important element which you should fill up with great effort. Your description determines your audience's interest in your content. Therefore, it is important to make things exciting in the description.
Opt for syndication in multiple directories after successfully uploading your episode. Click on the "Directories" option where you can see all the available options.
You can pick any one option from your directories tab such as Spotify, Google Podcasts, Apple Podcasts and Stitcher. Then, recheck all the details you have already filled in and click submit.
If you don't want to publish an episode, there is an option to save it as a draft. Moreover, you can schedule it to go live after a while when you want. It also allows auto-modification or customization of files.
Migrate an Existing Podcast to Buzzsprout
Launching a show in Buzzsprout is very simple. It's proven and explained in the above section. Now, the major headache for experienced podcasts is migration. We will explain this complicated process in steps so you can easily migrate your existing podcast to Buzzsprout.
First of all, sign up to Buzzsprout and then log in to your account. It will ask you to check one of the options; new podcaster or already have a podcast. Select the option "already have a podcast. It will lead to iTunes automatically.
You can move to your RSS feed if there is no iTunes on your podcast dashboard. Buzzsprout will automatically import all your episodes. Before upgrading to a paid plan, you only have to upload two episodes to the free account. Buzzsprout even uploads all metadata and artwork related podcasts in addition to uploading your episodes. It ensures that your process is hassle-free and you don't have to re-fill the details.
Redirecting to the RSS feed is the last step in migration. It is one of the most important steps in this process. Again, it is a simple step in Buzzsprout. All you need to do is copy and paste the new Buzzsprout RSS feed at your existing hosting information dashboard. With Buzzsprout, you can easily switch from Blubrry, Libsyn or PodBean.
RSS feed takes a long time to get updates. Sometimes it is more than a month. At this time, you will have to continue using your existing hosting service for over a month after migration.
How to Publish an Episode on Buzzsprout
Like publishing a show, publishing an episode is also simple. It starts from the front page and moves on and on.
After you log in to your Buzzsprout dashboard, click on "upload a new episode".
It will start creating a new episode. Now, you can simply drag your audio file to the upload section. Buzzsprout automatically changes the format of your file to bitrate and standard.
It is, in fact, easy for beginners. Upload whatever you have and let Buzzsprout handle the format.
The next page will ask you about the details of your episode. This information will be added to your mp3 file. It asks about publish time and date, explicit rating, episode type, season and episode number, tags, episode artwork, guest/host, episode summary, episode description and episode title.
You can even leave the entire episode as a draft or publish it immediately. Here you go with a ready-to-upload podcast episode.
Buzzsprout Pricing
Buzzsprout offers a free plan. It provides hosting for 90-days with limited storage and space.
However, if you want unlimited storage, you will have to get a paid plan. The lowest paying plan costs $12 per month. It includes three hours of content. If a podcaster wants to add more content he can get more space by paying per hour.
The biggest plan suits well for full-time podcasters. It costs $24 per month. Also, it provides unlimited bandwidth and unlimited storage.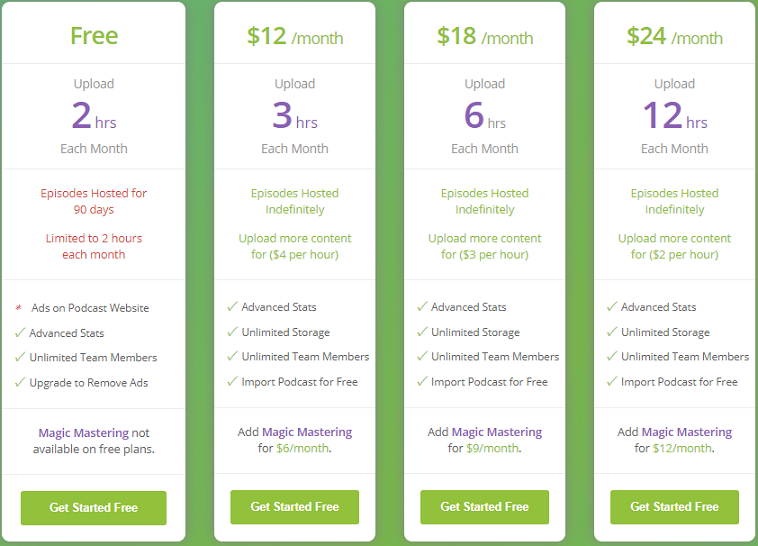 Buzzsprout Pros & Cons
Pros
Advanced methods of monetization (affiliate market)
One-click distribution of the podcast
Excellent customer support
free Podcast website
easy to navigate dashboard and website
can host multiple shows with a single Buzzsprout account
fair price points with all benefits in plans
getting started with a free tier plan
straightforward and quick setup
beginner-friendly
Cons
no unlimited plan for audio shows
not all features are included in the free plan
the free plan includes ads on the website
No pre-subscription for 1 year upfront
Only monthly payment plans are available
Conclusions
That's it.
Should you give Buzzsprout a try? We suggest you should.
It offers a lot of valuable services which are equally helpful for both experienced and newbies podcasters. Buzzsprout has proved to be a compelling option in the podcast hosting industry. This is because of the exclusive affiliate marketplace and integration options. Especially, if you consider its free option.
Largely, Buzzsprout can be a great option for all beginner podcasters. Especially for the podcasters who are looking for the simplest way through the door. Buzzsprout is very easy to use and provides you with what it promises. The services it promises include getting the analytics and statistics of the listeners' data, getting your channel discovered and reaching the potential listeners while enabling you to earn some money side by side.
It offers highly reasonable paid plans for beginners with a guide to determine the storage space they may need.

Ludjon, who co-founded Codeless, possesses a deep passion for technology and the web. With over a decade of experience in constructing websites and developing widely-used WordPress themes, Ludjon has established himself as an accomplished expert in the field.