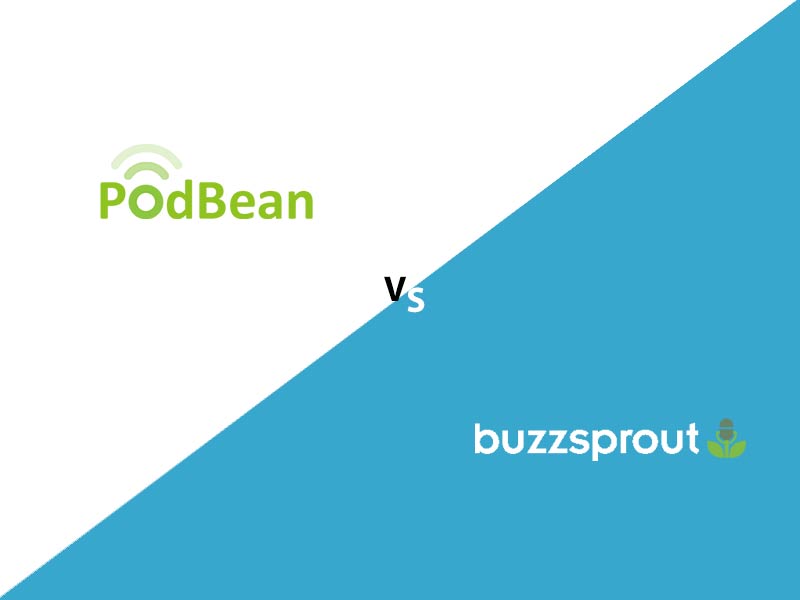 Let's say you have a dream of starting a ground-breaking podcast for your business, and you want to attract hosts, entrepreneurs, guests, or literally anyone around the world. The first step into getting involved in creating robust podcasts for your target audience is by leveraging the most powerful podcasting hosts – like Podbean or Buzzsprout.
You certainly don't want just any podcasting platform for your brand that'll be conventional, just what everyone is doing. What you need is to conduct solid research before creating any content for your audience.
That's because if you start making podcasts and uploading them on the platforms just for the sake of getting it uploaded, then my friend, you're going to regret it.
What you actually need to get your Podcast live with a bang is by selecting the right host for your podcasting needs. This would eventually ensure the success of your podcasts by bringing in more connections, audience, followers, and whatnot.
Additionally, marketing is yet another super-critical aspect of your Podcast's host that you need to consider because your podcasts would be facing high competition in the digital world.
Therefore, the only way to get noticed is by leveraging either the best practices or by paid marketing. So, let's say that you're leveraging the services of a host, and you're super-unhappy with their services. It's time to switch!
There's literally no point in staying loyal to a host that isn't capable of meeting the modern demands of your podcasts, let alone the complex features and functionalities of the platforms that we're going to tell you about today.
So, if you're someone looking for an amazing podcast host, we're here with a comprehensive comparison of both of the platforms that you can use to become the influencer in the eyes of your audience.
From uploading simple files to recording, to special effects to literally anything podcasts related, the two platforms on this list are capable of delivering much more than just basic functionality and features.
Meet Podbean & Buzzsprout, the two platforms on this list. Today in this article, we're going to tell you about the features, functionality, hosting, quality, aspects, and much more about both of them.
Although both of these platforms may have thousands of users worldwide, they have their own respective differences and those differences are what we're after today.
So, if you're thinking of switching your current host, this article is specifically designed for you, my friend. Let's get started without any further ado!
Podbean Vs Buzzsprout: Podbean's In-depth Comparison
What is Podbean?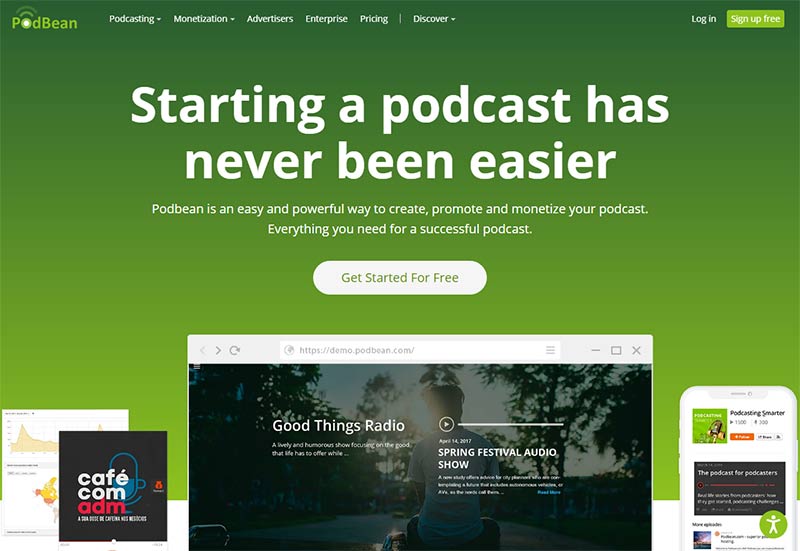 Podbean is a podcasting platform that has over 300,000 users worldwide. It is one of the leading podcasting host our there. With innovative aspects, services, and a credible presence of over ten years, Podbean stands out from the crowd.
With nearly 10 years of experience backing Podbean up, this great host has revolutionized the industry with its amazing features, pricing, benefits, and more. Therefore, the user-base of Podbean is growing even as we speak.
Whether your use is personal or businesses related, by offering premium and free hosting packages designed according to your needs, this podcasting host is way ahead of the competition.
So, if you're someone who's keen on getting his Podcast on the top, it is highly likely that you've heard of this great host in the past. Moreover, with the intro out of the way, let's get started on the features of Podbean.
Features Of Podbean
Here's a brief overview of the features of Podbean. Keep in mind that the features listed below are what makes Podbean one of the best podcasting hosts out there:
Unlimited Podcasting – This feature comes with 4 different plans that we'll discuss in brief later on in this article. The plans include the basic (limited to 5 hours). Other than the basic plan, all the other plans of Podbean offer unlimited podcasting along with bandwidth and storage, let alone receiving Podcast RSS automatically.
Transparent Pricing: Let's say you uploaded a lot of great podcasts, and you've gained immense success. In this case, the cost of Podbean's plans will remain the same.
The Analytics (Stats): The standout feature of Podbean is that it enables the users to see comprehensive stats of how their Podcast is performing. This feature enables the podcast owner to immediately stop or continue implementing strategies that are growing their following.
Tailored Branding: You need to tailor your presence in the digital world according to your needs to stand out from the crowd, and Podbean knows this. This is why Podbean gives you fonts, colors, styles, layouts, and much more for you to choose from to tailor your presence.
Social Sharing: This feature of Podbean allows you to share your blog wherever you want. From an organic marketing POV, this is imperative if you're willing to grow your user base. By connecting your social media accounts to this platform, you can easily create audiograms that you can conveniently share on your Facebook, Linked-In, or Instagram.
Engaging The Audience: This feature allows the podcasters to engage with their audience. Tap into the discussions as they're happening. Get instant feedback on their Podcast. This feature allows you to get more traffic and connect with your audience in a meaningful way.
The Pricing Of Podbean
The pricing of Podbean, as mentioned above, is easily divided into 4 plans that the users can choose from depending on their requirements. After selecting the plan, Podbean also gives you the facility to choose either the monthly payment method or the annual payment method.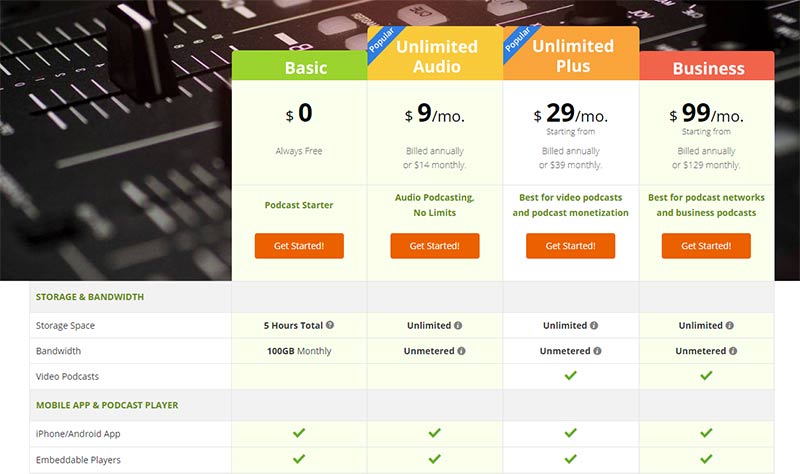 Furthermore, here's an overview of what Podbean's every plan includes starting with…
The Basic Plan
Literally, every business out there has "the basic plan." In Podbean's case, this package is designed for beginners, and it is free; hence, it has limitations. With this option, you get 5 hours of storage space and 100MB bandwidth/month. Although you have limited functionality, however, even with the free plan, you get the following features:
Podcasting Website.
RSS Feed & iTunes Support.
Free Themes. (Without Pro Themes)
The Unlimited Audio Plan
This plan comes next right after the basic plan. Here's Podbean asks for only $9 (When purchased annually) or $14/month (when bought monthly). If you're a beginner but you need some high-end functionality, I would recommend this plan from Podbean.
Moreover, this plan gives you the following features along with the features included in the basic package:
Unlimited storage (audio only)
Unmetered Bandwidth
Stunning PRO Themes
Advanced Custom Design
Podcast Advertising
The Unlimited Plus Plan
Things are now getting serious. After the Unlimited Audio Plan, we've got the bit more expensive Unlimited Plus Plan. This plan can be availed for either $29 a month (When paid annually) or for $39 (if you're willing to pay monthly).
Along with the features mentioned in the Basic and Unlimited Audio Plan, this plan includes the following:
Unlimited Audio & Video Storage
More Monetization Opportunities
The Business Plan
Things have gotten serious, and now we're discussing the Business plan, which is designed for organizations, entrepreneurs, and other professionals. The Business Plan is available for $99/month (When billed annually) and $129 (when billed monthly).
My recommendation would be to go for the annual plan here because you'll end up saving $360 a year. Moreover, here's what this plan has to offer besides the features from all the above-mentioned plans:
Unlimited Podcast Channels
Multiple Admins
Private Podcast with SSO Authentication
Live Chat Support
Access to the app
After discussing the plans, we're going to hop on the pros and cons section to determine whether buying from Podbean is really worth it or not. So, let's get started!
Pros & Cons Of Podbean
While the host is capable of some amazing feats, there are some aspects that need discussion. Like with every other great service provider, Podbean has its good and bad side too. So, let's start uncovering the pros and cons:
Pro
The basic plan is free.
Transparent rates with any plan.
The app is available on both Android and iOS.
High-performance podcasts and live streaming.
Integrated with a free (codeless) website builder.
Cons
The audience can only post comments through the app
People cannot subscribe without an account
Limited security features
No money-back guarantee
The Benefits Of Podbean
With the pros and cons out of the way, let's get discussing some of the most enticing benefits of Podbean that are all set to persuade any podcaster out there. Here's what I think are the best part of using Podbean:
The Simple Sign-Up Process
Considering the fact that the more seamless experience you're offering in the digital world, the better engagement you'll get on your website, page, or wherever you want.
Podbean understood this a long time ago, which is why instead of asking for something from the users, they've made their sign-up process super-easy and quick.
Plus, if you're signing in for the basic plan, it'll cost you $0 to get started on uploading your amazing podcasts, and even though the features are limited, you'll get familiar with the platform to uncover the usability and experience.
Moreover, if you're an existing user and you want to simply upgrade your plan. That too can be done easily, and in the meantime, an RSS feed will be created in the process. Additionally, with a paid account, you will unlock some of the most enticing features, and nearly all of them are mentioned above.
The Podbean's Podcast App
Adapting to the evolution, Podbean decided to create an app for their users, which by the way, is super easy to use, and the availability is certainly not limited since the app is available for both iOS and Android users. (Duh, they've already got a website)
Moreover, the podcasting app is certainly no joke, and it is not there just to monitor the status of your Podcast. The app is designed to let you upload your Podcast directly through the app, and you can even go on to record the Podcast using the app.
Now that is some serious upgrade!
For podcast lovers, the app serves as a medium that lets them share their thoughts, feedback, comments, and whatnot through the app.
Plus, as the podcaster, you can connect with your audience through the app given them answers as to what they're asking to keep them engaged. This approach would also help you to build relationships with your prospects
So, in my perspective, the app is designed to be a one-stop shop for all your podcasting needs. From editing to recording to uploading, you can do anything you want directly from your smartphone.
The Intuitive Interface

A digital presence is nothing without an intuitive interface, and although the interface of Podcast is certainly not the best one out there. However, it is super easy for the users to navigate through it and get straight to the point where they want to be.
Here's what the interface has once you've logged into your account:
Dashboard
Episodes
Publish
Media Manager
Statistics
Layouts
Private
Settings and uses
Although the website isn't as great as Buzzsprout's website, it is not bad either. Looking at the bright side, I would say that it is effective.
The users can get an overview of the analytics of their account from the dashboard because of the straightforward design, interface, and components mentioned above.
Live-Streaming Aspect

Wouldn't it be cool for your audience to call you or text you while you're doing a live podcast? Kind of reminded me of Radio when people used to call during the show, and it was super-cool to see that happening.
Why did I mention this here? Well, Podbean has just bought back a blast from the bast, and your guests can call during the ongoing Podcast. Additionally, Podbean is the only host out there with the Live Streaming functionality.
With this functionality, you can easily get your hosts onboard that are calling from anywhere in the world, and the best part about this is yet to come.
To come to live, your guests may need to use the live stream feature through the app, and this feature is totally free!
The Monetization Features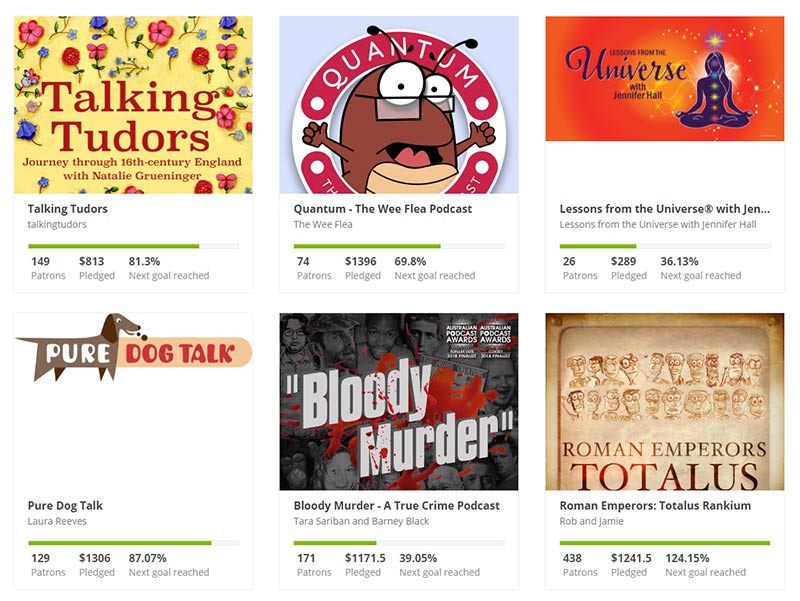 The monetization part is one of the most imperative reasons why users choose Podbean over Buzzsprout. Here the users are not liable to use ads or affiliate marketing to earn money; they can simply monetize by posting content/podcasts.
Quite frankly, Podbean gives all its 300,000 users the opportunity to start monetizing their podcasting efforts right from the start without any limitations. An admirable feature that Buzzsprout lacks!
The Disadvantages Of Podbean
While there are several benefits of using this marvelous podcasting host, there are some disadvantages that you should consider before making any buying decisions.
Also, like with any other business, it is highly natural that Podbean also has some disadvantages:
Posting Comments: For comments on the podcasts, users have to log in to the Podbean podcast app. This limitation severely damages the engagement that you're going to get on your podcasts.
Subscription Option: Your audience is required to create an account in order to subscribe. This account creation compromised the potential follower that you're about to get. However, the audience can add your Podcast to their directories without an account.
No Money-Back Guarantee: For now, there's no money-back guarantee available.
After thorough research and going through the platform myself, I've figured out that these are the only disadvantages that Podbean has, and in a way, they can be considered minor flaws.
Buzzsprout Vs Podbean – Buzzsprout's In-depth Comparison
What is Buzzsprout?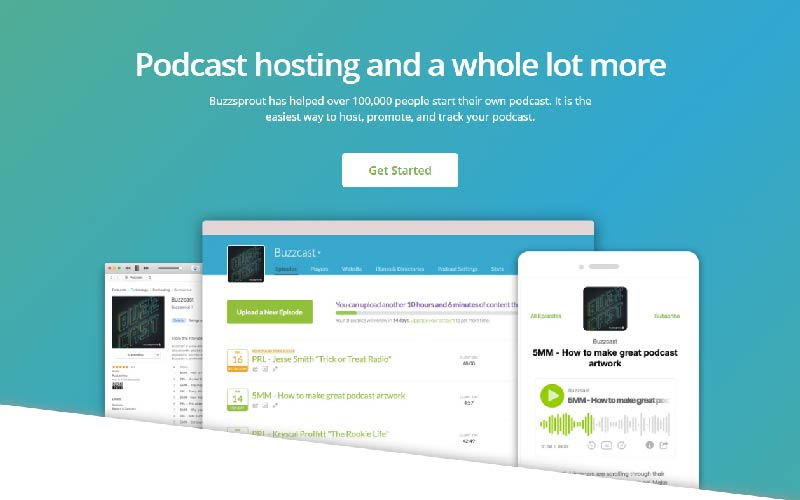 Buzzsprout was launched in 2008 by Tom Rossi. The main concept behind the creation of this platform was to contribute to the simple and efficient creation of content online.
With over 13 years of experience and a digital presence, this great podcasting host has become one of the most well-known podcast hosts in the digital world. The 100,000 users of Buzzsprout are proof of the viability and effectiveness of the host.
Let it be SMBs, entrepreneurs, podcasters, or professionals around the world; they all can benefit from Buzzsprout's amazing features and functionality. And this brings us to our first stop – the features of Buzzsprout…
Features Of Buzzsprout
Quick Episode Publishing: The quick and responsive nature of the host enables podcasters from around the world to easily and effectively publish content. You can even schedule your posts to a specific date, and on that date, the episodes will be published automatically.
Advanced Podcast Analytics (Stats): The analytics features of the Buzzsprout enable you to view your downloads, check your engagement, determine how many people are listening to your Podcast and track the progress of your podcasts easily.
Podcast Directories: The feature of getting a podcast listed on several directories, which include Apple Podcast, Spotify, Google Podcast, and more.
Making Podcast More Accessible: Through the transcribed podcast functionality, you can make your podcasts more accessible. This makes your Podcast accessible to hearing-impaired while fostering chances to get it ranked higher in the SERPs.
Creating Multiple Podcasts: This feature of Buzzsprout enables you to create several podcasts with just one account and have multiple account managers that will be managing their own podcasts.
Customization Feature: This feature of Buzzsprout allows you to be more creative with your podcasting episodes. From tailoring the orientation of your podcast player to sharing icons and more – this feature lets your stand out from the crowd.
Buzzsprout Pricing
Just like Podbean, Buzzsprout also has 4 different plans for its users. For starters, you can get started with just a 90-days free trial. With the free option, you'll get two hours of upload per/month (which will end sooner than you can say Podcast).
However, after you're done with the initial trial period, you will be selecting one out of the following packages:
$12/month for 3 hours upload
$18/month for 6 hours upload
$24/months for 12 hours upload
So, if you're just starting out after getting familiar with the platform, the $12/month plan is the best for you, in which you'll get 3 hours uploading bandwidth.
However, if you're super serious with your podcasting needs and you really want to unlock optimal functionality, the $24/month plan is for you in which you'll get 12-hour upload time.
Furthermore, here are the facilities that you'll get in all the paid option of Buzzsprout:
Podcast Statistics
Podcast Website
Custom Embed Players
Podcast Directories
250 GB Bandwidth per month
Additionally, a great aspect of this service is that there are no contracts needed. The services that you're selecting are only there on a monthly basis, and once the subscription gets over, you'll be recharging it by paying for the specific month. So, now that we're done with the pricing, which was quicker than expected, let's learn about the pros and cons of this podcast host giant.
Pros & Cons Of Buzzsprout
Pros
Great for trainees because of its simple interface
Episodes can be transcribed
Unlimited storage with all paid plans
No contract or credit card required
90-day free trial
Cons
Does not come with a free website builder
Customer support is only available through email
That's all folks, it's time to get our hands on some insightful benefits of Buzzsprout.
The Benefits Of Buzzsprout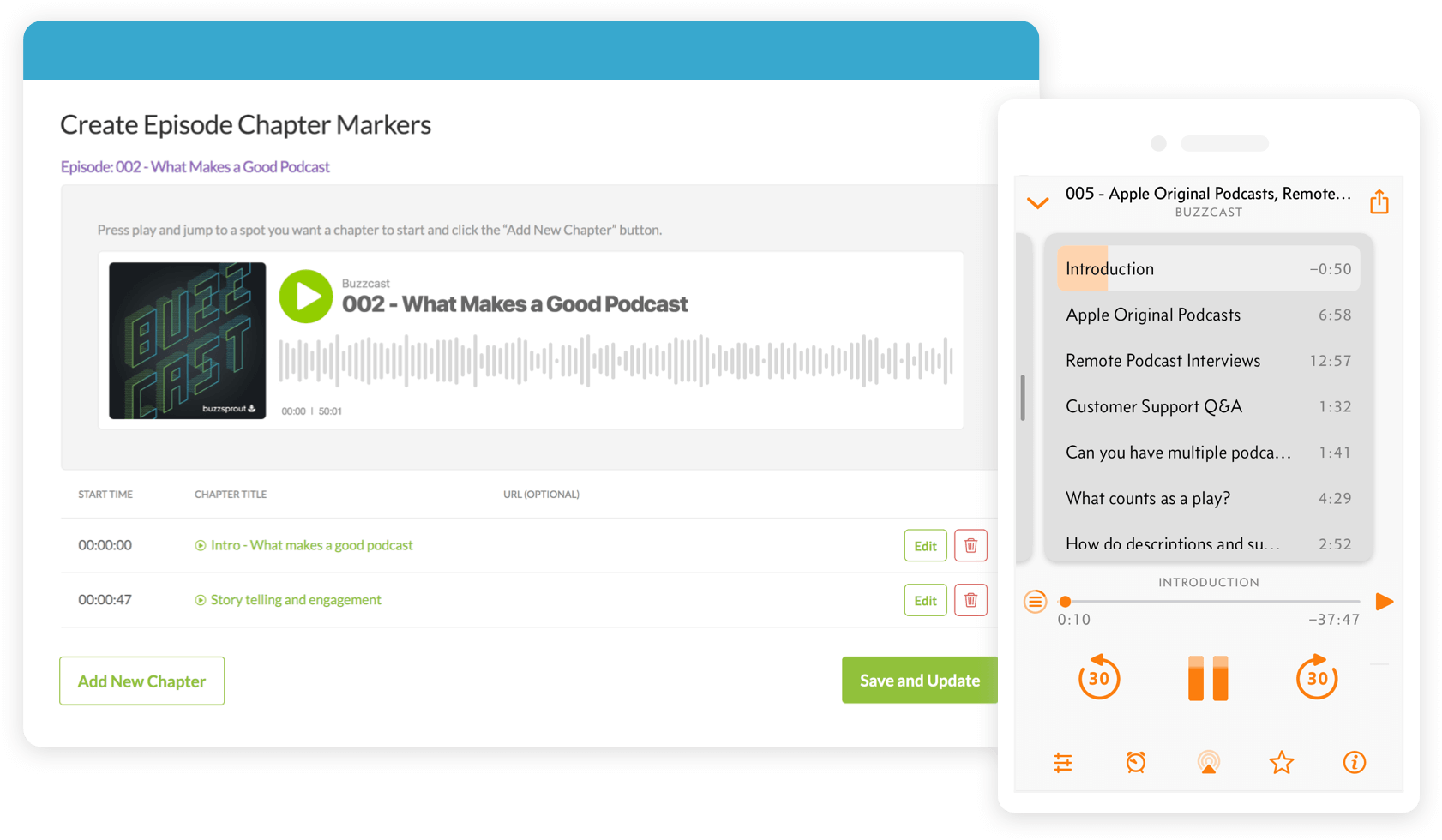 You've already learned what Podbean is capable of; it is time you learn what Buzzsprout has to offer, and it is really competitive to what Podbean is offering. To uncover this, let's start!
Offers A Simple Start
Buzzsprout, let's start off with no money. A totally free trial of 90 days is available so that you can simply check the functionality and features of the host. Additionally, to get started, all you need to do is to provide them some basic details such as name, address, email, phone number, etc.
After entering the information, you're easily redirected to your account, where you can experience the platform for 90-days. In these 90-days you can experience the following:
Set up your account
Create an RSS feed
Record your first Podcast
Upload your Podcast to Buzzsprout
With a 90-days trial in action, you've got plenty of time to determine the viability of this great platform and experience every feature for yourself. Note that you've already tried Podbean so, figuring out the best one out of them will be an easy task now.
Another great standout feature of Buzzsprout is that from the start, the platform gives you some amazing and engaging guides and tutorials that are not boring.
The guides are there to help you along your journey of creating the perfect Podcast for your audience and utilizing all the resources available to the fullest.
These guides and tutorials, however, are perfect for those who are new to the world of podcasts and want to get their hands on some of the best practices, tips, and tools to get started with podcasting.
User-Friendliness Of Buzzsprout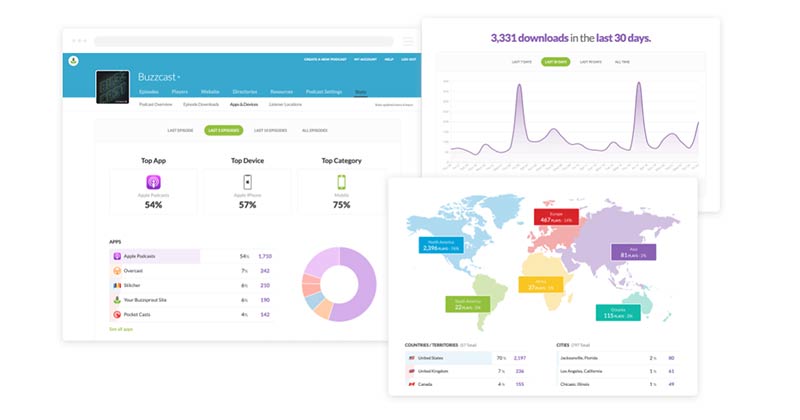 We're talking about the interface of Buzzsprout here. The interface is something that must be clear, easy to navigate, clean, pleasing, and above all, it should offer a robust experience to the audience.
In Buzzsprout's case, the interface is quite intuitive. It is clean and minimal. The components and elements are located where they should be, which means the navigation is quite easy.
Plus, after you've created an account on Buzzsprout, the host automatically creates an RSS feed for you. This is one sophisticated step that Buzzsprout has solved for you.
Moreover, there are three sections included on the website. The components of the first section are written below:
Episodes
Website
Players
Directories
Resources
Podcast Settings
Statistics
The information in the above-mentioned section is designed to give the audience an overview of how Buzzsprout works seamlessly.
The second interface has the following options for you:
Podcast Overview
Episodes Downloads
Apps and Devices
Listening Location
This section is designed to guide you on the different usages of Buzzsprout and how you can use it for different purposes.
Lastly, the third section has the following primary aspects for you:
A quick overview of your profile
Recorded Podcasts
Help Resources
Although I've given you an overview of the entire website above, these aspects are pretty detailed if you were to get check their website. So, here's the reason why this host is extremely popular among beginners.
If you're still haven't figured it out, the answer is due to its functionality and simple interface.
The Monetization Features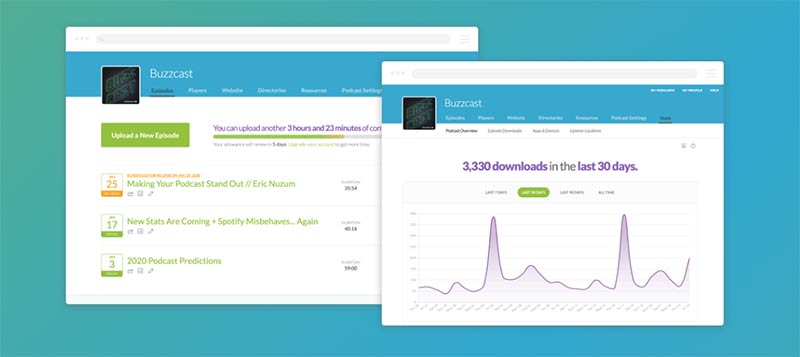 Being a podcaster isn't easy, right? I mean, there's a lot that goes into the creation of a great podcast. The ideation, process, storytelling discussion, and many other elements are some of the core reasons why people love listening to podcasts.
So, after going through all that hard work, don't you think you should earn a little money? Well, off-course, you should, and this is why the Buzzsprout monetization model has ways through which you can earn good money.
Buzzsprout lets you upload your Podcast to several leading directories like Apple podcast, Google podcast, Spotify, and more so that your voice can reach out to the millions globally, and your podcasts can generate a good income.
The Disadvantages Of Buzzsprout
Just like Podbean, Buzzsprout has its disadvantages too. While the disadvantages are not many, but even the slightest disadvantage can cause significant harm when you're planning to go digital so, let's begin:
Limited Hours: Probably the worst part about Buzzsprout is that it offers limited hours as compared to Podbean. These limited hours are stretched across every plan it offers; hence, a big drawback if you ask me.
No Website Builder: You cannot build your own website by using Buzzsprout because there's no website builder available. However, you can use WordPress to create a website separately for your Podcast.
Pathetic Customer Service: This is yet another serious disadvantage because customer service is perhaps the most important feature of a brand. Also, Buzzsprout customer support answers through email, which is the oldest way in the customer experience delivering the book.
No Video Hosting: The last and another significant disadvantage is that Buzzsprout doesn't provide you video hosting.
Now that all the aspects are clear, it is time to decide which of the above-mentioned two podcast hosts is the best.
What is the Best Podcast Host?
The simplest answer here would be "it depends." You need to realize that both platforms have a lot to offer. However, it depends on the functionality, features, aspects, and much more that you desire.
Both are amazing in terms of services, and although they both have their respective drawbacks, they're considered one of the best podcasting platforms out there.
Still, if you're seriously want to make a decision considering the following points:
Both platforms offer services that can help you if you're a beginner.
Both have their own affordable options if you want to experience the platform first.
Podbean has an app that is available for iPhone and Android users.
Podbean also has a great website builder that Buzzsprout lacks.
Buzzsprout has a much cleaner interface as compared to Podbean.
In a nutshell, here's what you need to consider to select the perfect podcasting platform for your specific requirements. Although both the platforms are the best, there's no platform out there that is perfect.
So, choose the podcasting platform as per your experience, check out the reviews and have a clear understanding of what you need.
Verdict
Phew! That was a long journey. So, now at the end of the article Podbean Vs. Buzzsprout, I just want to say that with both of the platforms, the future of your Podcast is safe.
However, the viability of the platforms for your Podcast highly depends on the features and functionality of both of them.
Since you now know the features of both of them, it will be relatively easier for you to start investing in a specific podcasting host because this time, you're not starting from scratch, but you're starting with experience.

As one of the co-founders of Codeless, I bring to the table expertise in developing WordPress and web applications, as well as a track record of effectively managing hosting and servers. My passion for acquiring knowledge and my enthusiasm for constructing and testing novel technologies drive me to constantly innovate and improve.
Expertise:
Web Development,
Web Design,
Linux System Administration,
SEO
Experience:
15 years of experience in Web Development by developing and designing some of the most popular WordPress Themes like Specular, Tower, and Folie.
Education:
I have a degree in Engineering Physics and MSC in Material Science and Opto Electronics.