Over the past decade, there has been a significant rise in the number of people that switched from listening from radios to podcasting.
This can be attributed to many factors, including unrestricted access to the internet, ease of use, diversity of content, affordability, and many more.
Thankfully, podcasts have brought about notable improvements and changes in people's style of living and how things are done. As a podcaster or media person, knowing a few stats and fun facts about podcasting is essential.
Thankfully, this article provides interesting statistics about podcasts to help you leverage this fast-growing audio space to reach out to your targeted audience for effective marketing and profitable ads.
Looking to start your own podcast? Check out our article about the best podcast hosting platforms.
Key Podcast Statistics
There are over 2 million podcasts and over 48 million podcast episodes.
80% of podcast listeners stay tuned in for most or all of the episode.
Over 44% of the US population has listened to a podcast (90 milion Americans).
Over two-thirds of listeners act based on the ads they hear on podcasts.
The average podcast gets 141 downloads per episode.
Number of Americans listening to a podcast each week has grown 120% over the past four years.
Industry experts predict there will be over 160 million podcast listeners by 2023.
General Podcast Statistics
1. In 2023, podcast Ad income is expected to skyrocket up to $2 billion.
(eMarketer)
Due to the increase in listeners, podcasts ads' income is expected to hit $2 billion in 2023. This is also because marketers are advertising more using podcasts. Statistics by eMarketer show that by the end of 2025, as the steady increase of listeners continues, an income of $3 billion should be made, providing more revenue opportunities and attraction to individuals with interests in podcasting.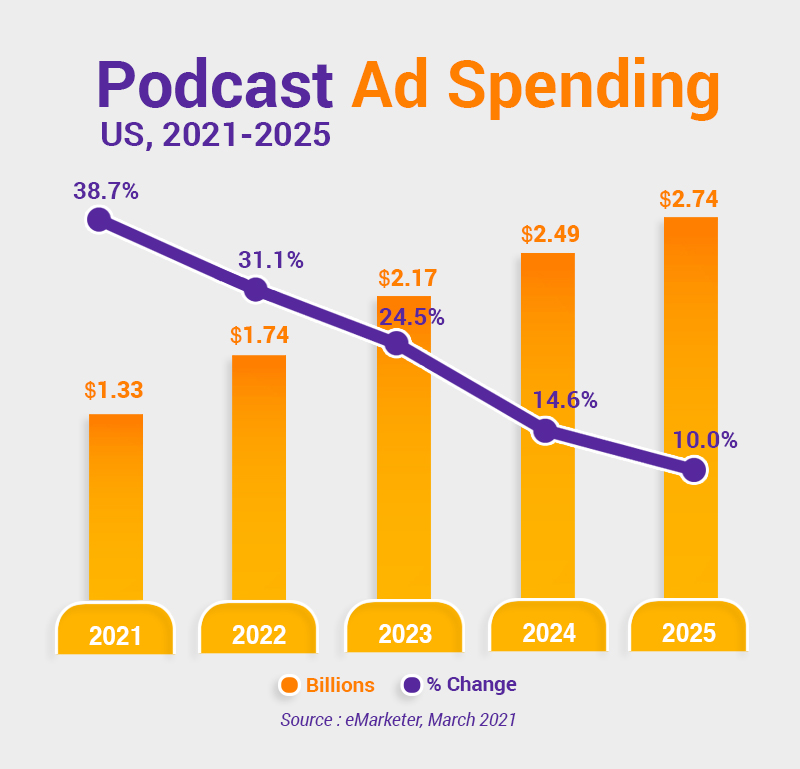 2. Lack of time causes most people not to listen to podcasts.
(Statista)
In a study from 2021 in both United States and Europe, it was discovered that the primary reason the people who didn't already listen to podcasts didn't was lack of time and not really ignorance. A percentage of people did attest to not knowing what podcasts were, but this formed only a minor fraction of the total populace. While 20% said lack of time was their excuse in both countries, in the United States, only about 9% claimed not to know podcasts, while in Europe, an average of 16% said they weren't familiar with podcasts.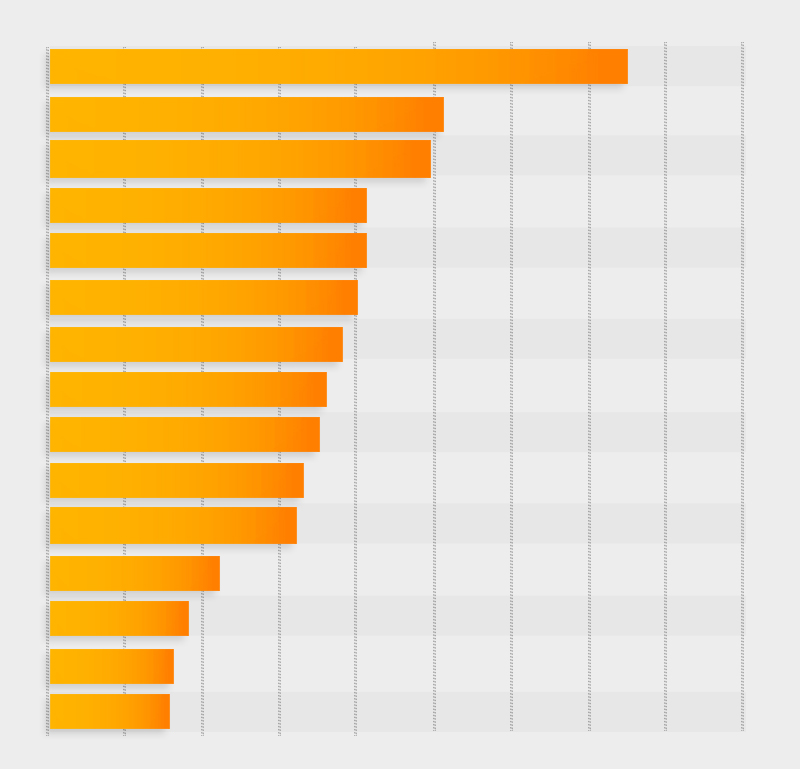 3. More people listen to a podcast at home than when driving.
(Nielsen)
Compiled statistics have shown that an estimation of 49% of people listens to their podcasts at home, which is an approximate 2% decrease from the 51% as recorded in 2017, but the estimated 22% that listen while driving is just the same as 2017.
It can be deduced that the number of podcast listeners from home is more than those who listen while driving. This is because there is a high concentration level when listened to at home, unlike the vehicle listeners exposed to one-third of the distraction, resulting in very little concentration.
4. Italian podcasters enjoy music podcasts more than any other program.
(Statista)
Of all the Italian podcast population, 45% listened to music podcasts followed by news and audiobooks.
5. The first episode of the Joe Rogan experience aired on the 24th of December 2009.
(Wikipedia)
On the 24th of December 2009, the first episode of the Joe Rogan experience was aired. As of 2021, it became the world's most popular podcast, with an estimated 11 million listeners per episode. The total number of episodes is 1770 a few days back.
6. Comedy is considered the most common podcast genre, with education and news leading behind.
(Statista)
Comedy serves as a ticket to joy, subsidizing tension and improving an individual mood. This is one of the many reasons comedy podcasts are more popular than any other podcast program. Educational podcasts are also common, but not everyone listens to this type of podcast. They find it sophisticated and perplexing.
On the other hand, news podcasts are listened to by the old and young. Interestingly, most news podcasts come in different languages; however, not everyone listens to the news, particularly the younger generation, because they find it tedious and unenjoyable, unlike comedy programs.
7. 94% of podcasters are very active on other social media platforms.
(Nielsen)
Most podcasters reportedly discovered podcasts from other social media channels and followed episodes advertised on other platforms.
8. There were only about 700,000 podcasts as of 2020.
(Musicoomph)
As of 2020, there were only 700,000 podcasts. This number grew to 850,000, with about 48 million episodes in 2021. The increase in this number from 2020 to 2021 was quite notable as it signaled an increase in the acceptance and adaptation of podcasts for streaming online audio. This notable increase is nothing compared to the surge from 850,000 to over 2 million podcasts in 2023. The podcast is set to become a vast, revenue-streaming online audio space in the nearest few years.
9. Primarily, mobile phones are the most used device for podcast listening.
(Statista)
Mobile phones are best considered for podcast listening, taking up about 79% of the podcast's listening hours. Laptops take a share of 15%, leaving the tablet with a 6% share. This is because of the portability and ease of use that characterizes a smartphone, unlike the laptop or tablet that is quite weighty to carry about.
It is also easy to position and re-position your smartphones in different directions and angles to get a good connection, but of course, it isn't easy in the case of a laptop. Edison's Research has it that smartphones are the best for podcast listening. While an estimated 25% prefer the computer, only 10% prefer smart speakers.
10. Podcasts are recorded in a wide variety of languages.
(Statista)
Podcasts are available in almost all languages globally since anyone with a recording device and an internet connection, irrespective of location, can record content and publish it.
11. 41% of podcast episodes are published every 8 to 14 days.
(Buzzsprout)
This means the highest interval range with which episodes are renewed is weekly or bi-weekly, but a notable 31% of podcast episodes are also published within 3-7 days or fortnightly. However, the percentage of monthly publishing is the lowest at just about 2%.
12. As of January 2023, the most common and leading device used to access podcasts is the Apple iPhone.
(Clammr)
Over 70% of podcast listeners use Apple iPhones, which is way higher than listeners with other devices. The Android phone is next in line with 18.9%, another number much higher than the Windows PC, which is only 4.6% of listeners. This is followed by other Apple products like the Apple computer, Apple iPad, and the Amazon smart speaker. From these statistics, smartphones are the most preferred devices for podcast listening.
13. Most podcasters spend quality time listening to podcasts weekly.
(riverside.fm)
Podcast listeners spend an average of 6 hours, 39 minutes on podcasts weekly. This is a good marking for the podcast industry, as it shows people haven't lost the listening spirit. This listening could be while in transit, doing chores, during a break at work, or just dedicated listening. Statistics have proved this number is likely to increase in the future as more awareness of podcasts spreads.
Podcast Demography
14. Most manufacturing and producing households are podcast listeners and fans.
(Nielson)
According to Nielsen, 53% of beer households are podcast listeners. 54% of milk and cereal households are also podcast lovers.
15. As of 2006, only a small percentage of American adults knew about podcasts.
(Podcastle)
A few years after the name podcast was coined, the total percentage of adults in the United States who knew about it was just 22%. Very small compared with today's percentage of United States adults who know about podcasting. It rose to about 78% in 2021, and the stats are still increasing.
16. Listening to podcasts helps with house chores.
(Podcastinsights)
In a specific study, 59% of the podcast population listen to while doing house chores. This could be because chores can be tedious and quickly tiring; podcasts have become a regular house chore companion for about 59% of the population. People reportedly listened to educative content, comedy, and the News to pass the time while doing chores.
17. Many people listen to podcasts while driving.
(Podcastinsights)
In a survey, 51% claimed to have listened to podcasts while driving. Over the years, it has been common for people to listen to the radio while driving or on a bus or train. It is undoubtedly the same for podcasts as it takes over the radio space. In another study by Edison Media, 26% of U.S adults reportedly listened to a podcast while in transit.
18. 46% of Podcasters listen to their favorite podcasts while taking a walk.
(Nealschaffer)
Many years ago, people were stuck with big bulky radios or tape players that they could not carry, but today, the trend is changing. People can now listen to music, audio, whatever they want while on the move or during exercise or chores. The inception of smartphones, headphones, smart players has made this possible.
19. Many podcast listeners respond to podcast adverts.
(Nielsen)
69% of podcast listeners responded to podcast adverts and became consumers of the products or services mentioned, and 86% of podcasters claim to remember podcast ads more than other ads. Podcast adverts are becoming more and more popular as marketers begin to derive a stream of income from them. Podcast adverts can be in the form of ads, sponsored posts and indirect marketing, mentions, and more.
20. The number of Americans that listen to podcasts every month has an average yearly increase of about 6%.
(Buzzsprout)
From podcast statistics, it is estimated that podcast listeners increase by 6% yearly. In 2018, it was about 26% and increased to about 33% in 2019 and increased to 37% in 2020. This shows steady growth in the population of Americans accepting and getting more familiar with podcasts.
21. Monthly, about 25% of adults aged 55 and above listen to podcasts at least once.
(Buzzsprout)
At least once a month, about 25% of adults aged 55 and above listen to podcasts. This is an estimated 29% increase compared to former numbers, and that's a whole lot. It means the older generation is starting to accept podcasts. Well, this can be attributed to the propagation of newer, more educative content on podcasts, as this is the genre most people in that age group would focus on. Many adults aged 55 and above are leaders in different sectors and would be inclined to important content.
22. At least 58% of South Korean adults listen to podcasts in a month.
(Buzzsprout)
About 58% of South Korean adults listen to podcasts monthly, which is more than half of the population. In another study, about 2 out of 3 South Koreans listen to podcasts. These numbers are not too surprising as South Korea is one of the world's most tech-savvy and digitalized countries. Most adults are familiar with the internet; they use social media and prefer digital products.
23. Only about 29% of American females listen to podcasts monthly.
(Edison Research)
Statistics show that only about 29% of American females listen to podcasts monthly, about 7% to 8% lower than the 36% of American males who listen to podcasts. It appears men are more inclined and committed to audio than women are. Educative content also has always been known to attract more men than women, and educative; informative content is dominating the podcast space today. This gender difference is familiar to many social media platforms where one gender dominates the population most times.
24. 40% of monthly listeners are younger than 55, which is way more than the 26% of listeners aged 55 and above.
(Statista)
This wide Gap in listening can be attributed to differences in technical knowledge. People younger than 55 are still more acquainted with today's technology than those older. Most aged people do not care about technology trends, and though they may have smart devices or even a PC, they're not well knowledgeable of the full potential and barely stay online. Most of them prefer a traditional TV or radio, especially in underdeveloped countries.
25. The target audience of the majority of podcasts is between ages 18 to 44, mostly about 67%.
(Buzzsprout)
In a survey on teen behavior, individuals less than 18 are more familiar with visual forms of engagement than audio resulting in a low percentage of attentive podcast listeners. Adults above 44 are not tech-inclined, except they specialize in the tech industry. They barely spend time searching for good podcasts.
26. 27% of podcasters in the United States have at least a college degree.
(Podcastinsights)
Statistics show that about 27% of podcasters in the United States have at least a college degree. This can be attributed to the fact that most college degree holders or higher have a high-class job or work in a reputable organization and are familiar with the benefits and use of podcasts. Most employees reportedly listened to a seminar or series of workshops as episodes of podcasts that their organization recommended.
27. About half of podcasters listen to podcasts at home.
(Podcastinsights)
A notable 49% of podcasters listened at home. Since podcasts have also evolved to include seminars and educative content that requires maximum concentration, most listeners prefer to listen in a comfortable position which is most likely their house. The emergence of the lockdown made podcasts a go-to location for business workshops and others.
28. Currently, 2 million podcasts are being streamed worldwide.
(Statista)
Actively, the number of podcast episodes is over 2 million worldwide, corresponding to the statements made by podcast insights 2021. Compared to 2018, where there was only one-quarter of podcasts episode streamed. By the fourth month of 2021, about 48 million podcast episodes were flooded online. As of January 2023, statistics have shown that over 2,405,491 legitimate podcasts are streamed online, consisting of 61 million episodes.
29. More than 160 million Americans, as estimated, have listened to and liked a podcast.
(Statista)
Approximately 162 million American citizens from the age of 12 years are observed to have listened to at least one podcast each. This is according to the survey carried out by Edison research. The kind of podcasts genres listened to by these United States citizens varies across the diverse genres. It could be Educational, Comedy, News, Business, Fashion, Music, etc.
30. Weekly, an average of 28% of American citizens, listen to a podcast.
(pewresearch.org)
There has been an increase in the percentage of weekly podcast listeners since 2013; the estimation in 2021 shows an amount of 28% citizens 12 years and above who listened to at least a podcast every week.
31. A recent survey carried out in 2020 showed that more than half of teenagers in the United States had listened to a podcast.
(Buzzsprout)
The percentage of these teenagers varied across their age groups. While teenagers from 13-17 years of age had the highest percentage, which was 48%, children between the ages of 6-8 had the lowest average of 20%, and 32% were 9-12-year-olds.
32. From a podcast news survey in May 2021, the listening frequency of United States adults was collated.
(Podcastinsights)
The survey was to know how many adults used podcasts as a source for News and how frequently they used them. Well, about 55% said they never listened to the news using podcasts at all, and only a fraction of this, 6% listened to news programs on podcasts daily. 18% used podcasts at least once or twice a week to listen to the News, and this small percentage had a majority of younger adults.
33. Podcast listeners spread across all the identity groups in the world.
(Buzzsprout)
From Black, Hispanic, Asian American, people with particular disabilities, and the LGBTQ+ community. Reports have it that these groups listen to podcasts on an average of 9 to 12 times per month and an estimated 3 hours per week. Of all these groups, 67% of people with particular disabilities listen at home, and the group with the highest growth rate in the number of podcasters is the Hispanic.
34. The United States has a higher number of podcast listeners when compared with the United Kingdom and Canada.
(Buzzsprout)
The United States has an estimated 47.9% listeners, which is higher than Canada and the United Kingdom. The United Kingdom has only about 6.3%, and Canada has just 5%.
Podcast Income Generation Statistics
35. 45% of podcasters earn more than $250,000.
(Nealschaffer)
Before the smartphone became a popular device, it was expensive to have one and connect to the internet to listen to podcasts. It was even more expensive in many developing countries. The average income collected from the statistics points to the fact that many podcast listeners are rich guys and could afford to listen to podcasts.
36. Podcasters who responded to indirect marketing were about 38%.
(Nielsen)
Podcast hosts often mention certain products in their podcasts episodes. These mentions can be random or deliberate at times to market the product. It's like sponsored ads on other social media platforms like YouTube, Instagram, and other social media platforms. The report has shown that the stronger the trust the hosts build in the audience, the more indirect marketing works.
37. About 52% of listeners discover new podcasts using the podcasts directory.
(Startupbonsai, Buzzsprout)
There are several podcast directories like Spotify, Google Podcasts, Apple Podcasts, and more, with Apple Podcasts being the most used. A notable 14.5% of the podcast population get directed to other podcasts by their favorite hosts. Like every other social media platform, mentions are also common here. Podcast hosts can link up with other podcast hosts for more audience using the listeners' information as incentives. However, an average of 22% ask others like family, friends, and colleagues for recommendations.
38. Apple podcasts have the highest number of listeners.
(Apple.com)
An estimated average of about 34.6% of podcast listeners as of 2021 were Apple users. This can be attributed to the increase in the consumers of Apple products like Apple Watch, Apple TV, CarPlay, Alexa speakers, and others, as Apple podcasts is a factory installation that comes with these products. Apple Podcasts can also be reached on the iTunes app on your Windows PC. This percentage is just a little higher than Spotify, the Swedish podcast directory, which can exceed Apple's percent at any time.
39. In terms of revenue generated from podcast streaming, Spotify makes the highest revenue.
(Investopedia)
Although Apple podcast has more monthly podcast listeners, Spotify beats it to revenue making with 7.5 U.S dollars as of 2019, followed by Wondery and Stitcher, which Sirius XM acquired.
40. From 2017 to 2018, Ad revenue for podcasting grew by more than 50%.
(Brandastic)
The podcasting revenue generated from ads grew by more than 50% from 2017 to 2018. It was suggested that this growth would hit the 1,000% mark by 2021. More statistics from brandastic.com show that several companies are willing to sponsor the podcast with more than 5000 downloads monthly. This would contribute to the Ad revenue generated from podcasting.
Conclusion
These statistics show that the numbers are increasing irregularly, and the use of podcasts for other purposes like seminars and workshops has skyrocketed. Content sellers and marketers have also reported having profited from the population and diversity of the audience.
The statistics compiled have shown that more people are tapping into the world of podcasts and discovering new opportunities from them every day. With the ease of use and proper SEO knowledge, anyone should be able to seize the benefits this growing audio space has to offer.
References:

Ludjon, who co-founded Codeless, possesses a deep passion for technology and the web. With over a decade of experience in constructing websites and developing widely-used WordPress themes, Ludjon has established himself as an accomplished expert in the field.