We will list in this article the best Constant Contact alternatives.
There are many platforms that are providing email services to enhance the revenues for your businesses. 
Constant Contact is one of the most popular email marketing tools. It has been used by entrepreneurs widely and has amazing features. With the advancement in the fields of email marketing, there are different Constant Contact alternatives available in the market, such as ActiveCampaign, Moosend, and Hubspot. These alternatives are providing better functionality and they are loved by the marketers.
Email marketing has been growing at an exponential rate over the past few years because of these alternatives. Another reason behind the success of these alternatives is that constant contact has not provided the advanced tools for email marketing. This has led to the use of these alternatives, incorporating them for the marketing strategies of your business to get better revenues.
We have made this easier for you and we have wasted down the 9 best alternatives for constant contact for 2022. We have listed down the features and pricing for these alternatives to let you have a better idea of what to choose for your business.
Best Constant Contact Alternatives Ranked
Some of the best alternative sources of Constant Contact are listed below, and their pros and cons are discussed as well. The difference between these alternatives from Constant Contact in their pricing and features. 
Comparison Table
| | | | | | |
| --- | --- | --- | --- | --- | --- |
| | Best for | Unique feature | Price | Cons | Rating |
| Active Campaign | E-commerce businesses | Email automation | $15/m | Automation is not enough | 4.6 |
| GetResponse | Publishers. E-commerce | Spam testing tool | $15/m | Less deliverability rates | 4.5 |
| SendInblue | Best for the price | A/B testing | $25 | Less customization | 4 |
| Sendpulse | Best for SMS Marketing | SMS feature | $9/m | Branded emails for free plans | 4 |
| Moosend | Best for agencies | Advanced automation | $8/m | Limited customization | 4.7 |
| MailerLite | Best for support | Dynamic content for email | $10 | Slow loading | 4.4 |
| Omnisend | Best for Ecommerce | All in one | $16 | Only enterprise plans have unlimited emails | 4.6 |
| Aweber | Best for small companies and startups | Advanced personalization | $16.15 | No free plan | 4.2 |
| MailChimp | Best for UX | Customized templates | $15/m | Hidden charges | 4 |
Best for eCommerce Businesses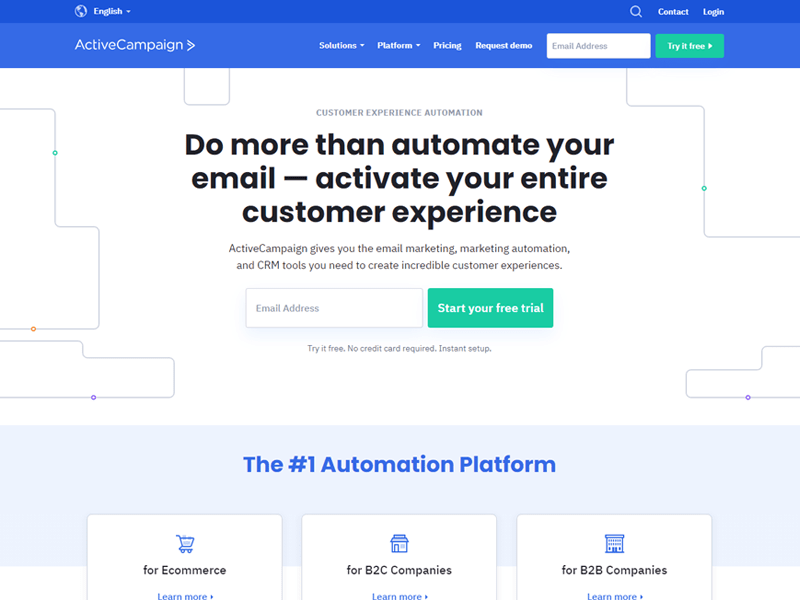 It is the best option for businesses that are just starting up because of its user-friendly features. This tool also provides the best customer support and will guide you through all the processes of setting it up.
More than 130000 users worldwide are using these services of ActiveCampaign to grow their companies. With the help of this tool, you can easily send engaging emails to your customers and increase your conversion rates. It helps in doing social media monitoring for your e-commerce business.
The exceptional integration capacities will allow you to connect your e-commerce business to Facebook, Microsoft, Salesforce, and Shopify apps as well. If you are a large corporation and need help with the activation of your business, you don't need to worry anymore because it has more than 500 pre-built automation to facilitate you.
Features:
It provides a smooth medium for email marketing automation.
There are more than 850 built-in integration tools to connect with other apps.
You can build custom forms for improving the appearance of your landing pages.
It comes with multiple autoresponders to increase the efficiency of your website.
There is also the feature for live chat email support and free phone to facilitate the consumers.
You can easily find the contacts based on location, gender, and age.
An amazing drag-and-drop email designer is also available to make things easier for you.
You can easily add on your websites and attach videos with your emails.
Free email templates are present and you have the choice to customize them accordingly.
For beginners, there is complete training and guideline available to help them in using this platform.
Pricing:
Activecampaign has five plans where the first one begins with a free trial so you can get familiar with the service. The second plan is the lite plan where you have to pay $15 per month and to avail of the Plus plan you have to pay $70 per month and for professional and enterprise plans you have to pay $159 and $279 per month.
Pro:
It provides you an amazing source for sending personalized emails along with tags and links.
You'll always have the benefit of SCI tracking, which will show you the activity of your consumers and their interests.
It has the most easy-to-use API, and it allows easy integration with the co-existing apps.
Provide your audience with the best service and it also allows the split testing of emails.
You will have all the flexibility and lead to control your business with the help of advanced lead scoring provided by Activecampaign.
Cons:
The CRM automation tool is not as powerful as other platforms.
It provides many features, but it is a bit crowded and can be annoying to use sometimes because of constant reporting.
Best for Publishers, eCommerce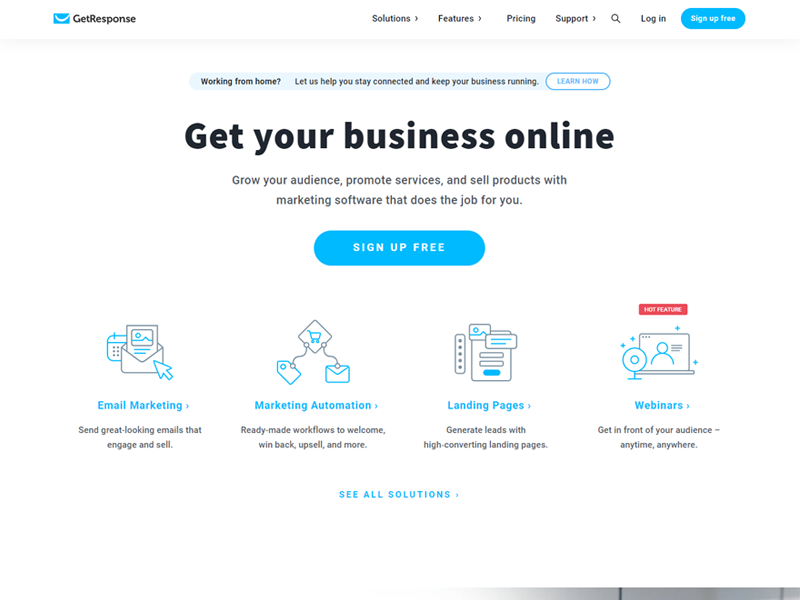 If you are a publisher or you are dealing in e-commerce and you want to speed up the email marketing for your business, GetResponse is the best and affordable option for you.
It is an amazing option for your next email strategy for your business if you are on a low budget. This is one of the most popular competitors of constant contact because of the variety of tools for optimization.
The customization features are super user-friendly and you can easily customize anything you want for your website while using them.
You will have access to segmentation features and integrations with different apps. When using GetResponse the possibility of email list management is also there and you can easily automate your contacts by using this alternative.
Features:
This alternative has the most amazing features for customization and you can make changes according to your requirements.
For the spam folders, it has the spam email tool to handle these kinds of emails.
The A/B testing of landing pages is also done here and complete insight for the analytics of landing pages is provided by this alternative.
You will have access to the autoresponder tool when using this platform.
It also allows integration with the famous existing apps such as Salesforce and Shopify.
Pricing:
There is a trial for 30 days for free to get familiar with the services of this platform. If you want to get the basic plan, you have to pay $15 per month. For the subscription to a standard plan, you have to pay $49 per month and for getting a professional plan, the charges are $99 per month. You can also get a customized one according to your needs and requirements.
Pro:
It is 25% cheaper than Constant Contact and the plans are comparatively affordable.
It offers multiple templates for your website and you can customize the themes accordingly.
The system for knowing the insights of your business is very strong and you will get detailed reporting of all the processes.
The interface of this alternative is kept simple and user friendly
The email-builder feature of this tool has made it easy to create content-rich emails to attract more audiences.
Cons:
The API of this alternative is not as robust as compared to others and it could be a little more efficient.
The implementation of this alternative in the business strategies is a little bit complicated.
Best for the price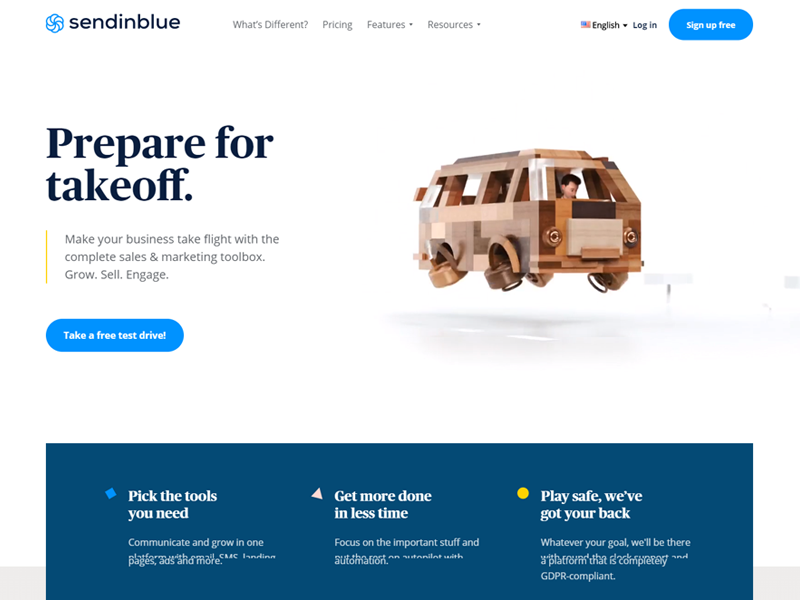 It is the best option for businesses and marketers who rely on heavy email marketing automation. Experts recommend using this platform to improve your sales.
This platform is helping businesses in growing by providing them the chance to optimize their performance. You can easily carry out multiple email campaigns, SMS marketing, and transactional emails by using this medium.
The pricing plans and the exceptional features make it a superior product. Customers also love using these services because they are user-friendly and they can easily be handled by beginners as well.
The testing features increase the credibility of the tool and improve the overall performance. The additional features of the best deliverability and arranging the contact lists also helps in gaining more customers.
Features:
The amazing editor for email allows you to create catchy emails for gaining more customers.
It provides the complete deliverability report for your email as well and keeps you informed on all the insights.
It is flexible and you can easily create dynamic content by using this service.
It provides pre-testing features for optimizing your performance.
The additional features of SMTP are also available in SendinBlue.
Pricing:
This tool is available for free, but the features will be limited. To get your hands on better numbers of subscribers and emails, you can avail the life and premium plan. You will be paying $25 and $65 per month.
Pro:
It can be used directly from the web and you don't have to worry about the installation process.
The support team is helpful and they answer your queries on time
For small businesses and startups, you can avail the free plan.
The testing features will help in making your business grow faster.
The dynamic quality of creating content will improve your conversion rate.
Cons:
It is not good for tracking the activity of customers and provides minimum features for website search.
The customer service is only limited to emails, and it's a major drawback.
It offers less synchronization with the sales software and can affect the growth of any business.
Best for SMS Marketing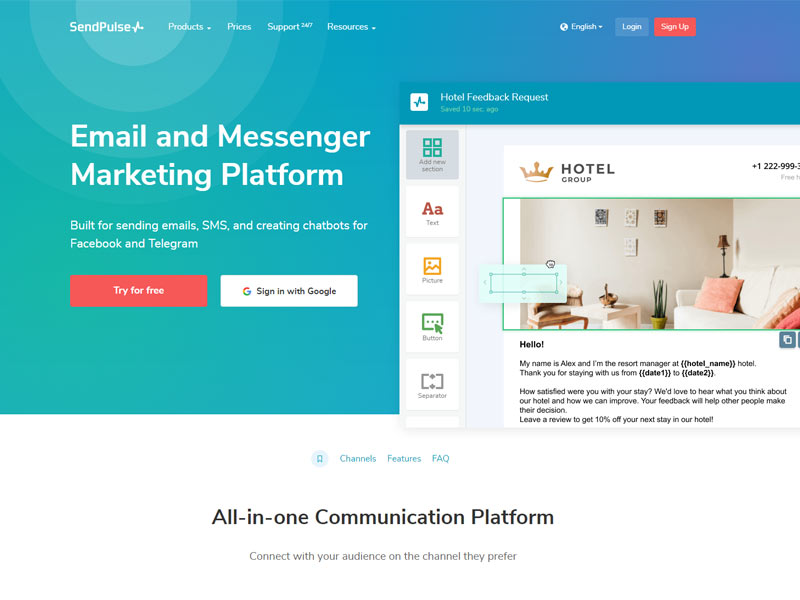 For people who are running businesses that require bulk email and SMS marketing, such as banks and tourism companies, this is the best platform to use.
It is an amazing automation tool for email marketing dealing with e-commerce and tourism. These businesses are always in need of emails and SMS marketing in bulk to keep their customers hooked. Using this alternative provides you the benefit of sending customized emails for every user action.
You can always add different options, such as cart abandonment and feedback from your customers by using automated tools.
The effectiveness of your marketing also increases because this alternative is working with the best cell phone network providers in the whole world. They have more than 800 network providers to facilitate their customers and increase the effectiveness of your services.
Features:
This service provides you the opportunity to personalize your messages that can directly hit the heart of the customers
The presence of author responders for SMS marketing helps and targets mobile users globally.
You will also have access to the builder options for landing pages, and this will increase the lead generation for your business.
You can easily go and take US subscribers by sending them to push notifications and messages.
There is the option of live chat support, knowledge-based and multilingual phone support.
Connect with 800 cell phone network providers to make sure that you hit a wide audience.
Pricing:
It offers a free plan for 500 subscribers for sending 15000 emails and if you want to avail the services for the standard plan, you have to pay $6.4 per month. To avail of the features of the pro-plan and the enterprise plan, you will pay $7.68 and $10.75 per month.
Pro:
The deliverability rate of this marketing tool is exemplary.
Extremely user-friendly and customer support is always there to guide you through the whole process.
The interface of this alternative is important for providing fast services.
You have access to the customization feature at affordable rates.
The SMTP of trying is amazing and the API program is excellent for delivering emails.
Cons:
The documentation for the API of sendpulse can be improved.
The information for the subscribers from social media is not available.
Best for agencies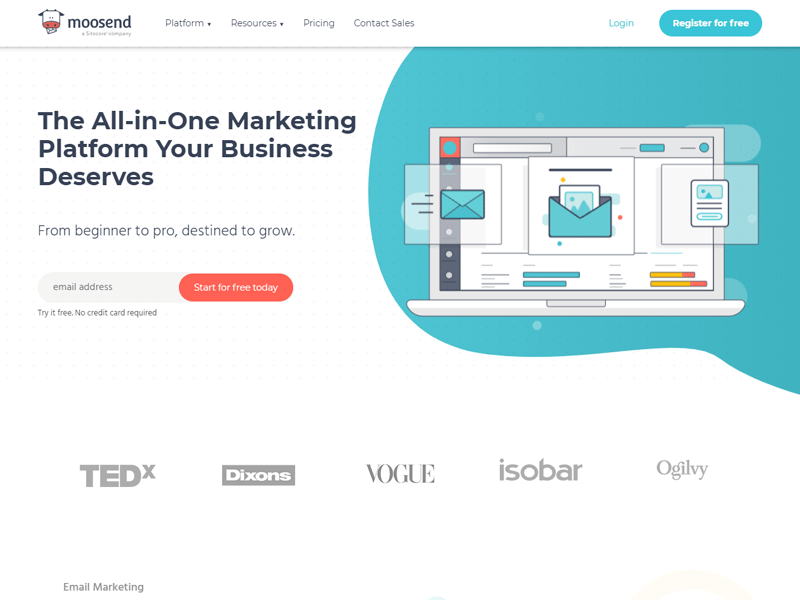 The amazing features of this service are the best options for agencies, publishers, SaaS, and bloggers. There are many personalization choices and email automation features available as well.
This is an extraordinary platform for making your email marketing strategies eye-catchy. It is one of the best free alternatives for Constant Contact. It facilitates the users to create unique and responsive newsletters for emails and automate their email marketing campaigns.
With the exceptional drag-and-drop email builder, you can add videos, timers, GIFS, and many other things to boost the effectiveness of your email campaigns.
The pre-built automation workflow is flexible and will help you in targeting the audience. It also allows you to create online forms with the help of an online form builder tool.
Features:
It provides you with free email templates for your newsletter and you can customize them according to your requirements.
There are multiple tools for advanced marketing automation to create unique content for increasing the target audience.
It also has a landing page builder that sees you improve your conversion rates and increase sales.
There are options for creating subscription forms to attract more visitors to your website.
You will also have access to the integration and it will help in streamlining your business weather apps.
It provides a nice for tracking the performance of your business by providing a complete insight about the performance.
Pricing:
This service provides you a free forever plan where you have to pay nothing and you will have the subscription for unlimited email. For the most popular profile, you have to pay $1 per month and for the custom plan you can tell the new requirements and they will charge you accordingly.
Pro:
if you want to track the progress of your business, this is the best platform for you
It helps you gain the ultimate profit by providing your customers an amazing experience.
It has a forever-free plan, unlike other alternatives that only offer paid versions.
The built-in automation will help you in getting speedy progress.
The customization of the templates will allow you to have creative and distinctive features.
Cons:
The subscription forms need a little bit of improvement and they can be made more user-friendly.
There is no online training and it can be difficult for beginners.
It has the highest workflows and sometimes loads slowly.
Best for support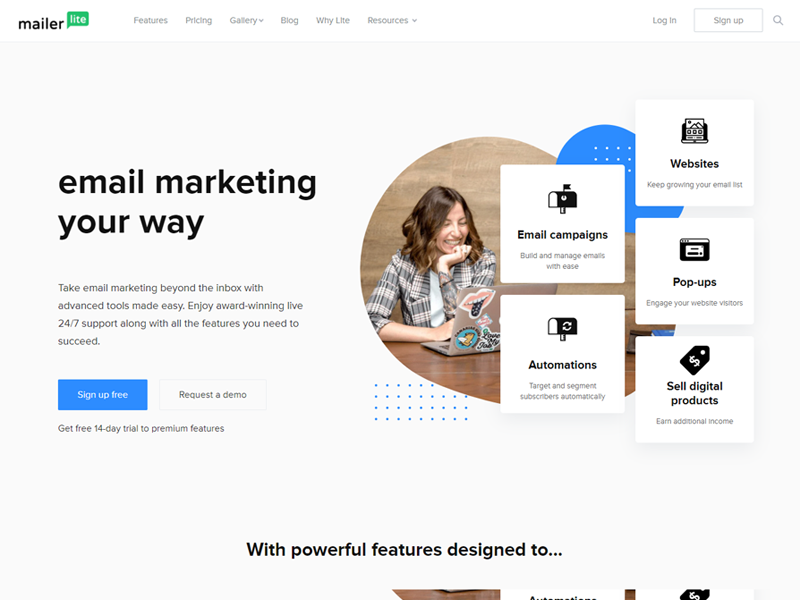 It is an amazing option for the newly started setup and companies who are particularly dealing with e-commerce.
This is one of the most popular email marketing software to provide exceptional services to users. It uses fast tools for automation and generates better revenues for your business. It provides you an easy way to create landing pages, contact forms and connect with other apps.
It has a wide range of connectivity with apps such as Zapier, Stripe, Shopify, and many more. The best thing about using this tool for your business is that it provides an amazing customer support service that guides you through the process. The presence of a forever-free plan also increases the credibility of this service.
Mailerlite can be integrated easily with lading pages like Unbounce or LeadPages
Features:
It provides an excellent deliverability reporting service and keeps you informed about the status.
You will also have access to the previews of the emails by using MailerLite.
It is an excellent source for obtaining access to subscriptions and digital products.
The options for creating surveys and pops up are also available on this platform.
The feature of the creation of newsletters and emails is extremely user-friendly and even beginners can easily use it.
A/B testing is also available in this tool and it will take care of the performance of the sales.
Pricing:
It offers a forever free plan with the accommodation of 1000 subscribers. You can avail of the services of a premium plan by paying $10. For 2500 subscribers, you will be paying $15. For 5000 subscribers, you will pay $30 and if you are a medium company with the need for 10,000 subscribers, you can pay $50.
Pro:
It allows you to have multi-users which helps in working with your team.
The deliverability reporting and analytics of the website are always available for keeping the track of performance.
There are options for custom domains and advanced segmentation.
It has all the web-building features along with the customization.
It helps you in creating newsletters and catalogs for your business and personalizing them.
Cons:
Many features lack recent updates and cause a delay in loading.
Prices are a bit high as compared to the other alternatives.
The email spamming features often mix the right and spam emails and it creates problems.
Best for Ecommerce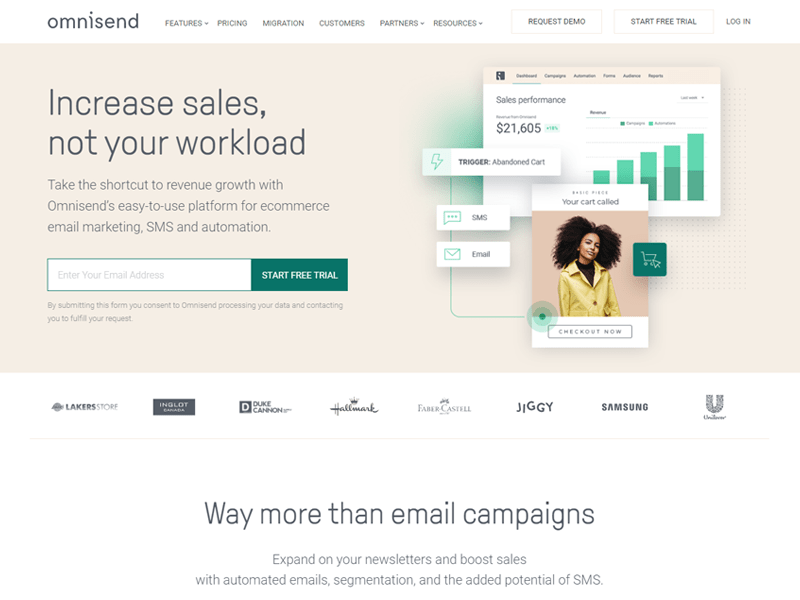 It is specifically designed for e-commerce and marketing agencies because of its multiple channels to provide amazing services.
This platform has amazing features when it comes to the automation of email marketing. It allows the users to create personalized emails and dynamic content to gain maximum attention from the customers. It also has multiple channels to use in the same workflow.
These channels most commonly include the services for sending emails, push notifications, and SMS. It helps in sending the right messages at the right time with a fast and efficient deliverability rate. There are pre-built automation tools that are a powerful solution for setting up welcome and subscription emails. The presence of a drag-and-drop editor feature helps in the customization as well.
Features:
It offers the pre-testing features for link tracking, email reviews, and image validation.
The analytics and reporting features are available on the dashboard of this app and it helps in tracking the performance.
Advanced segmentation is also available, along with the booster for speeding up your campaigns.
The A/B testing for emails is also present in this tool.
List managements for the contacts is also available
Pricing:
There are three plans available for subscribing to OmniSend, including the free plan, standard plan, and pro plan. To avail of the extraordinary services of the standard plan, you have to pay $16 and $99 for the pro plan.
Pro:
It comes with a booster to increase click rates and manage the performance of your business.
With the help of integrated SMS automation, you can achieve more from your business.
It also provides the feedback from the customers once they have purchased from you.
It takes the burden of handling tasks on its own and reduces your effort manually.
Cons:
Only the enterprise plan offers an unlimited number of emails and users.
Best for small companies and startups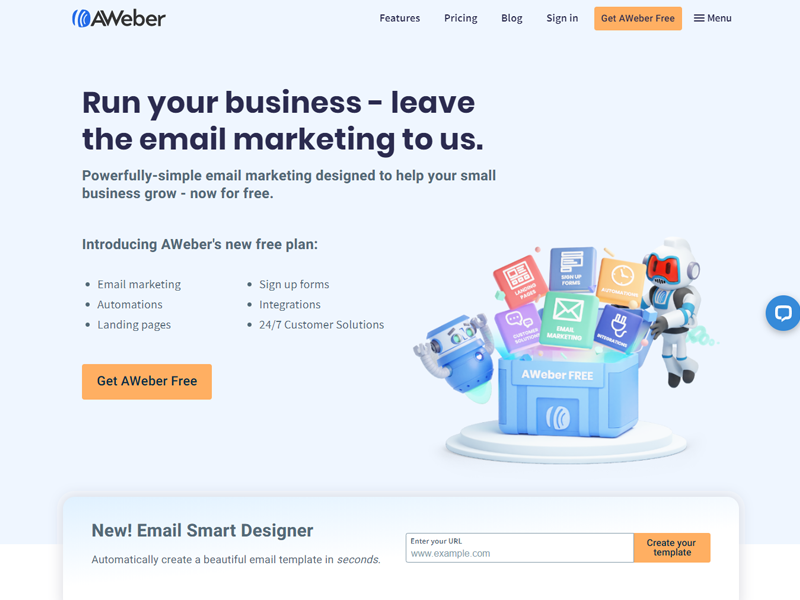 It is the top priority of hotels, businesses, startups, and agencies because of the affordable rates and amazing customer support.
This service is mainly present for small businesses and provides them the best options for landing page solutions and email marketing. It also allows the quick and easy sending of emails and providing effective conversion results. It is also working with more than 1000 partner software solutions.
It sends web push notifications to the users to increase the visibility of your business. It has amazing features for online and email marketing automation. Complete insight about the reports and analytics is also provided by this platform.
Features:
Mobile optimization is the most advanced feature of this software.
It has an excellent deliverability rate as compared to the other ones.
The A/B testing present for the emails will help you in sending quality emails.
Standard and custom reports analytics are also available.
Spam testing and making sure the right email is delivered is the key feature of this software.
Web push notifications and automatic email builders are also present in this platform.
Pricing:
The price of the Aweber Pro plan is $16.15 per month. This plan will let you have the access to the additional features.
Pro:
The interface of this platform is user-friendly and the interface is very easy to use.
Follow-up emails are also available to let the customer be updated about the purchase.
You can create many landing pages to gain more sales.
A free trial for 30 days is available to get your hands on this service.
Cons:
There is no free plan available for availing these services.
It restricts accounts from using some words in the emails.
Best for User Experience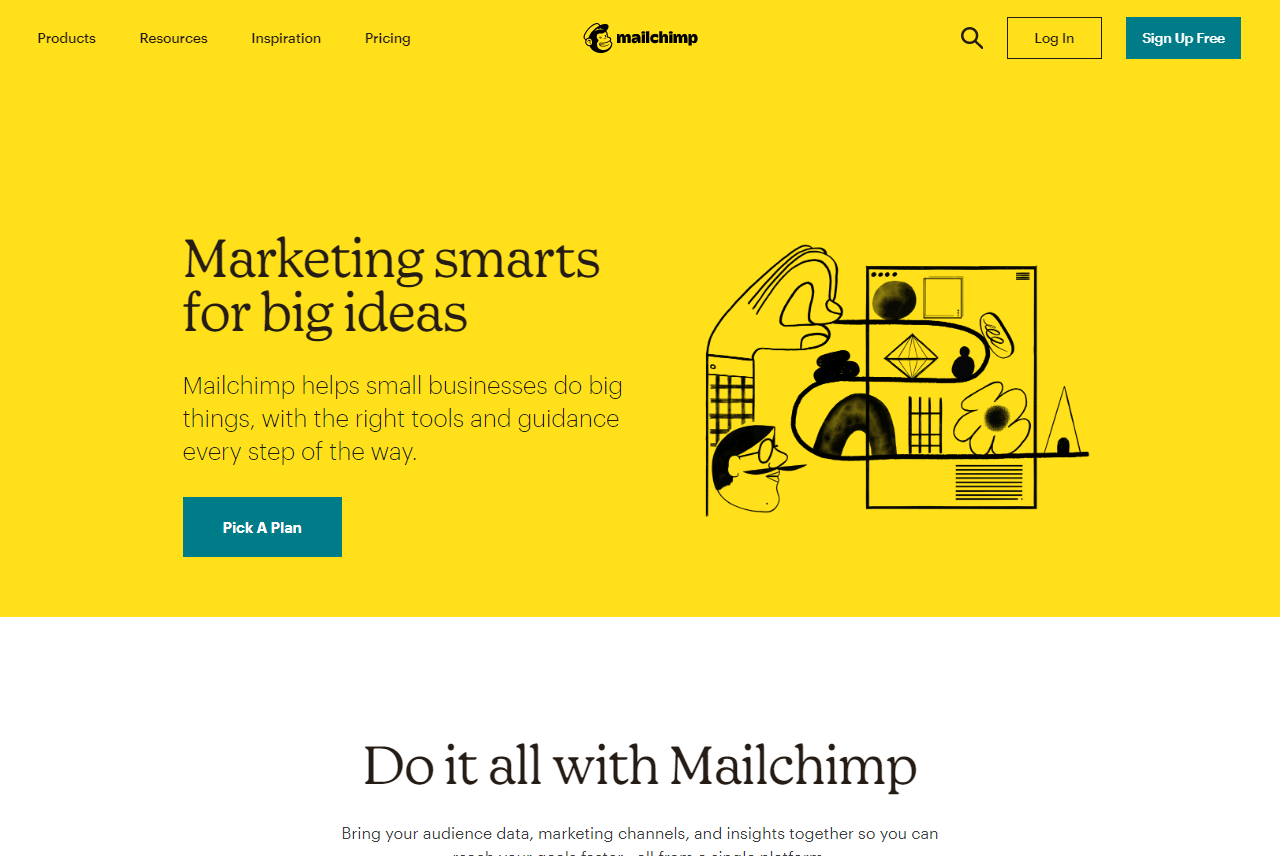 Mailchimp is the best option for agencies that require a heavy load of emails to gain more customers. It is the most preferred tool to utilize for your ready-to-use email campaigns.
It is one of the most powerful tools for email marketing and the promotion of your business. Experts recommend it for marketing automation for sales and businesses use it to gain more customers. 10 amazing also nature has up-to-date email templates and beautiful features to increase the effectiveness of your business in the eyes of the customers.
You can also have the access to the email design according to the needs of your businesses and the content studio that will help you create effective elements for your business. It also assists with social media tools.
Features:
It provides A/B testing for optimizing your content.
Multiple customizable forms are required for signing up purposes and they will help with improving the conversion rates.
It provides cross-device testing for improving the speed.
It allows the integration with different platforms and also provides metrics and insights.
The list management option will help you in keeping track and organization of the system.
Pricing:
You can avail the free plan for Mailchimp and can organize 2000 contacts. For essential and standard plans, you will be paying $9.99 and $14.99. If you want to accommodate 10,000 contacts, you will be paying $299 to avail of their premium services.
For more, you can check the article here: Constant Contact vs Mailchimp
Pro:
It gives you the benefit of customizing your templates.
There are multiple options for integrations with the co-existing tools.
You can check the insight of the metrics and analytics of your business.
For getting the faster performance and responsive emails this is the best way.
It offers a free plan for its users and it is affordable as well.
Cons:
It is difficult to have a membership for the websites.
There are not too many options for the built-in templates, so you have to create them on your own.
Conclusion
With the advancements in email marketing automation, there is a wide range of alternatives for Constant-Contact. Some of the most popular ones are discussed above and you can choose the one that suits your business accordingly. They are more reliable and faster as compared to the services provided by constant contact.
They are also affordable and multiple testing features increase their performance. Some of them are even available with forever free plans.