Copywriting has grown to become a prominent part of online business. Statistics reveal that copywriters write more than 50% of all copies on the internet. This shows how important copywriting has become over the years. If you own an online business, investing in copywriting should be the right thing to do. It can make a significant difference to the success of your business, with a good return on investment (ROI).
But, the copywriting field can be pretty intimidating and challenging. This is because a good copy is more than putting good words. You need to have sound knowledge of copywriting to be successful at it.
The statistics below will provide some interesting information about copywriting. It will let you know the potential of copywriting and equip you to excel in the field.
Key Copywriting Statistics
Unbounce switched from "Start your free 30-day trial" to "Start my free 30-day trial", to increase CTR by 90%.
Facebook posts under 50 characters have the highest engagement.
73% of people skip reading the full content and prefer to read short copies.
Pages under 200 words have the highest average conversion rate.
74% of readers pay attention to the quality of spelling and grammar errors.
8 out of 10 people only read the headlines.
59% would avoid doing business with a company that made spelling or grammar mistakes.
General Copywriting Statistics
Copywriting has contributed to the business world in remarkable ways. Here are some general statistics that show how effective copywriting is for businesses.
1. Only 20% of people will read beyond the headline
(Copyblogger)
Creating a great copy can take hours and a lot of effort. Despite all the effort and time invested in making a good copy, statistics from Copyblogger show that 80% of readers will stop reading the headline. Such statistics can be disappointing, but this is also a learning point. It indicates that your headline is a critical aspect of your copy. Writing headlines that pique the reader's curiosity and a hint of benefits is essential.
2. You get 36% more responses to a copy that is understandable to third-graders
(Boomerang)
Reading is fun, but it is stressful for some people. Most people prefer reading content with great readability. No one wants to be bothered with so much technical jargon. Boomerang statistics support this. It shows that you get 36% more responses to a copy that third-graders find legible.
Having your copy in such a way will ensure that a layman understands the content. This will increase the chances of your messages being passed across. Your copy can still contain a few technical terms if needed to explain your offer. But it shouldn't read like a whitepaper.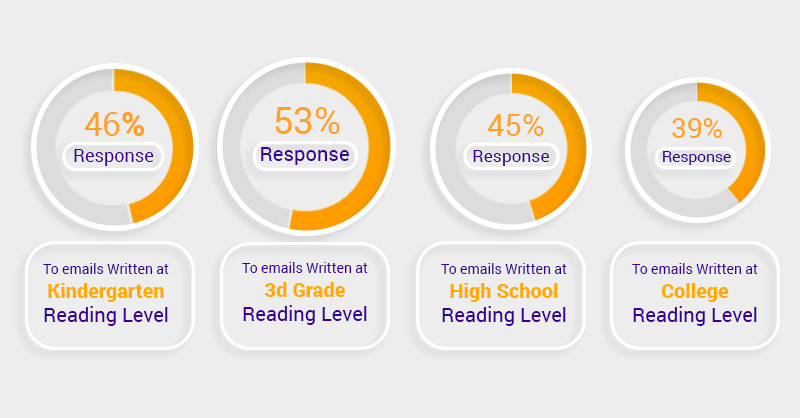 3. Using a personalized call to action in your copy is 220% more effective than not using one
(Hubspot)
Companies like Netflix and Amazon are successful because of their personalization engines. The copywriter can demonstrate such in a call to action (CTA). No matter how fantastic your copy is, having a call to action makes it better. It tells your potential customers what to do and most would oblige. If the call to action is messed up, it can affect your conversion rate. Therefore, having a well-written call to action is crucial.
Statistics show that using a personalized call to action in your copy is 220% more effective than not using one. This was derived from research where Jeffrey Vocell studied 330,000 calls to action. The motive was to find out the impact of call to action personalization. The result showed that smart calls to action had 220% more success than regular calls to action.
Smart calls to action are adjusted to individuals based on criteria like location and language. It, therefore, confirms that personalization is effective. It makes the audience feel like the message is directed to them.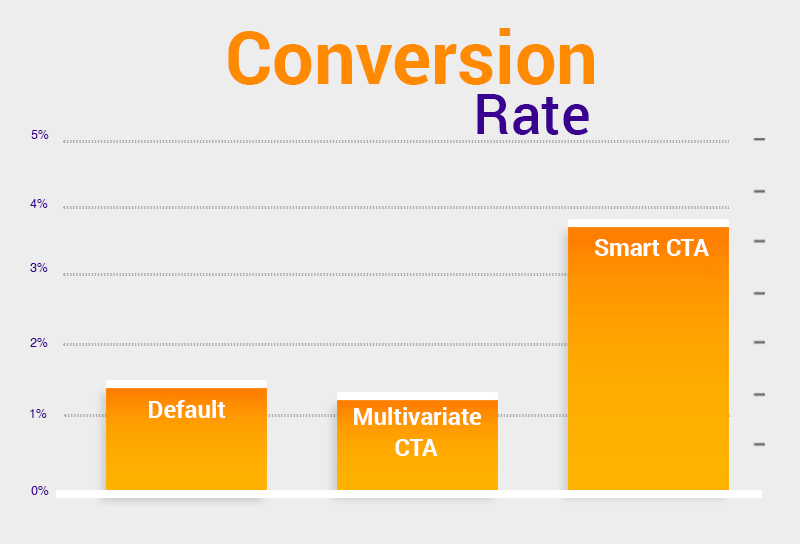 4. Only about 20% to 28% of the content on a page is read by readers
(Nielsen Norman Group)
There are millions of content from different niches on the internet. If you are looking for content in a particular niche, you will still get thousands from the search engine result. Interestingly, content production keeps increasing daily as more content is being published.
Statistics from the Nielsen Norman Group reveal that readers only read about 20% to 28% of the content on a page is read by readers. This is mainly because of the volume of content available online. To attract the average reader, you should make your copy scannable.
You can achieve this with a format that includes subheadings, useful images and bullet points. You should also bold or italicize important points. This makes your copy more readable. With this, even readers who scan through your page will get the message and check out your offer.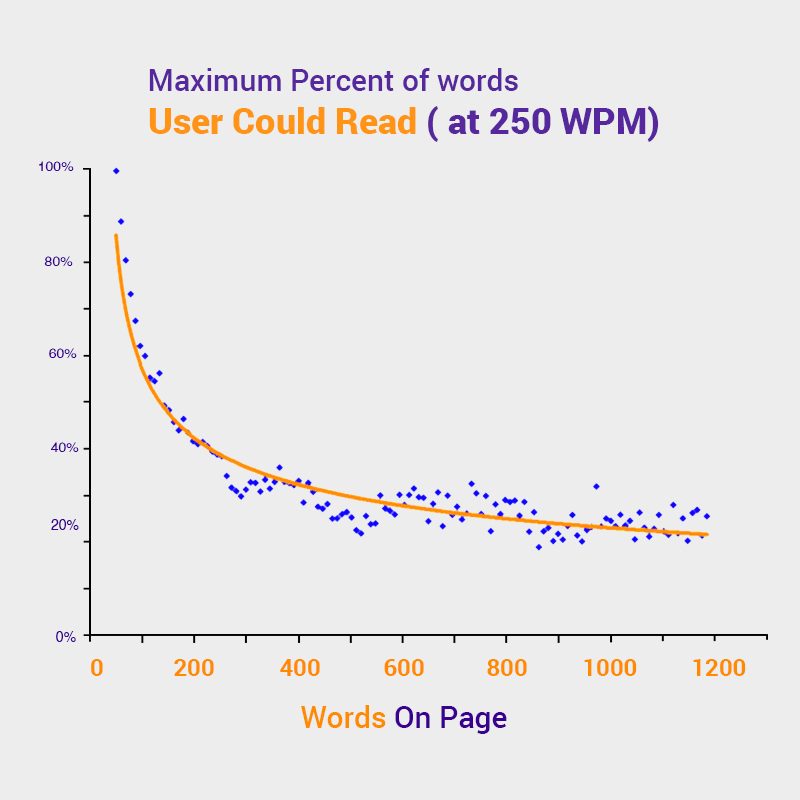 5. About 74% of website users pay attention to the quality of grammar and spelling on business websites
(Realbusiness)
People pay more attention when business is involved. This is not limited to one-on-one business transactions, but it also applies to online business. When potential clients visit your website, they create an impression of your business based on what they see. Interesting spelling and grammar errors stick out and would make a bad impression.
When potential clients see these mistakes, it could discourage them. They believe that being sloppy with your web copy shows how you handle your products. Therefore, your product will most likely be of low quality. Also, spelling and grammar errors help spot fraudulent products and websites quickly.
6. 59% of web users would intentionally avoid patronizing businesses with obvious spelling or grammar errors in their copy
(Realbusiness)
Potential buyers will always judge your business based on other factors outside the quality of your product. Spelling or grammar errors are some of such factors. Statistics show that 59% of web users would intentionally avoid patronizing businesses with obvious spelling or grammar errors in their copy.
This indicates that the quality of your web copy is a crucial aspect of your marketing. Ensuring proper attention is paid to the spelling and grammar of your web copy is important. Before publishing your content, ensure you proofread it severally. Tools like Grammarly can help you check and correct errors.
7. The standard length of a headline is six words
(Buffer)
Buffer studies reveal that short headlines have better performance than a long ones. It further revealed that the standard length of a headline is six words. The trick to making headlines more effective is to ensure they are informative. This would catch the readers' attention and keep them interested. But ensure you craft it in a way that keeps them yearning for more.
Writing such short headlines can be challenging, but you will get better with practice. Also, writing many headlines for that content will help. For example, Upworthy curators make 25 headlines for each post. This helps them to uncover the most effective headline.
8. Maintaining 28 to 39 characters for your email subject lines would yield a higher open rate
(Buffer)
Many people find it boring to read their emails. They may select some emails with catchy subject lines and leave the others. Over time the unattended emails become too much and get discarded. You need to use a distinguishing subject line to make your emails stand out and not get lost in those crowded inboxes.
Interestingly, you can only use a few characters to achieve this. But thankfully, your short and catchy subject lines will do the trick. If your subject line is too long, the recipients will not immediately see all of it on their screen. Experts suggest that subject lines of 28 to 39 characters yield a higher open rate.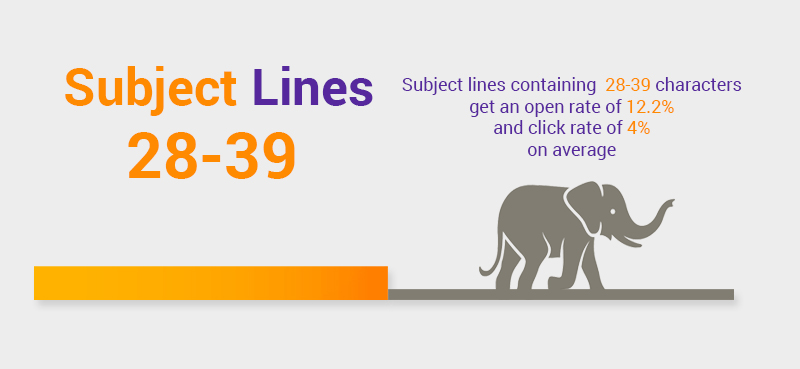 9. The mobile is used for about 43.5% of all email opens
(Litmus)
About 60% of Google searches are done on mobile devices. Therefore, it is not strange to know that most people check their emails on their mobile devices. During the COVID 19 pandemic, most people had to work from home. They checked their emails on their mobile browsers. This made webmail more popular.
Even with the pandemic restrictions relaxed and people back in the office, many still prefer checking their email with their mobile. Statistics show that about 43.5% of all emails were opened on mobile. Therefore, it is essential to consider mobile users when creating email copies. The main considerations are the email design, subject line, and email copy length.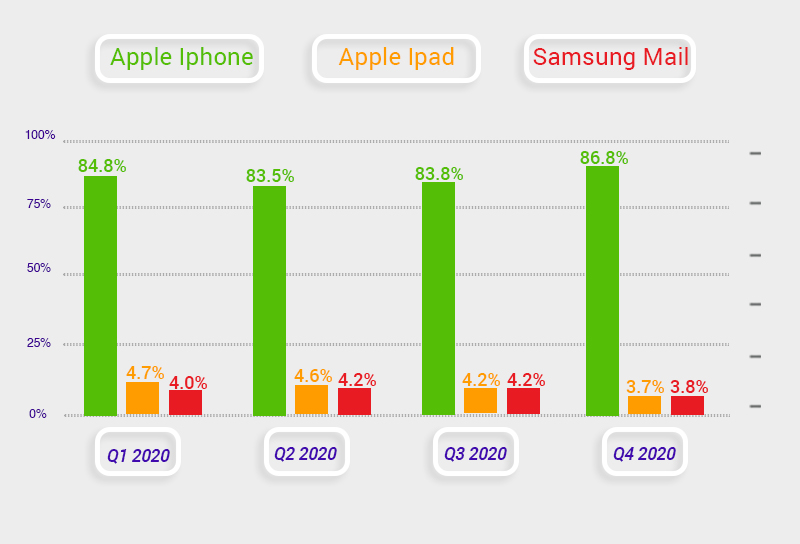 10. On average, email subject lines have 43.85 characters
(AWeber)
A study on 100 top email marketing experts conducted by AWeber showed that their email subject lines were an average of 43.85 characters. This amount of characters will allow recipients to see the entire subject line. This way, recipients know what they are about to click. It is short enough for most smartphones and perfect for desktops.
11. Testimonials are included in about 37% of the top landing pages
(Nifty Marketing)
Showing testimonials of your previous and current customers is one of the most effective ways to convince readers. Prospects reading your landing page copy with testimonials of similar customers achieving positive results will be convinced to try your products. This will prompt them to click the links to your offer. This is supported by Nifty Marketing statistics showing about 37% of top landing pages include testimonials.
12. Businesses that perform the A/B test on every email obtain about 37% higher email marketing returns than businesses that don't
(Litmus)
It is impossible to predict whether your email copies will convince recipients to click your website links, even if you are excellent at writing email copies. Based on this, many companies have adopted the A/B testing method. It has become an integral aspect of email marketing.
The essential parts of your email that should be tested include subject lines, call to action, and email copy. Thankfully, you can test different email variations with most email marketing tools. This allows you to find the most effective copy.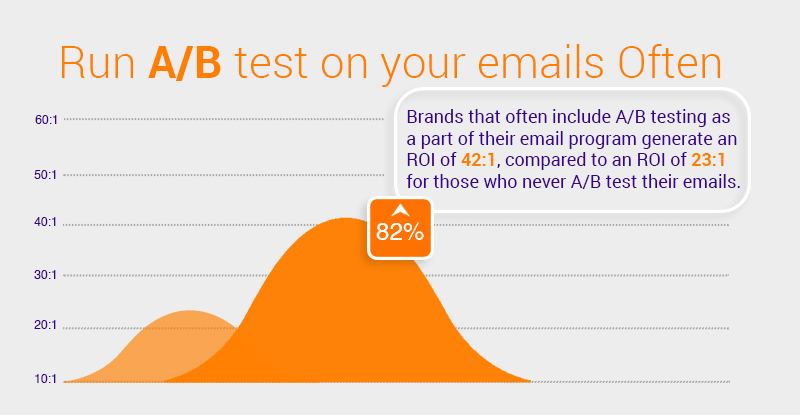 13. On average, the emails from experts contain 434.48 words
(AWeber)
Several experts will propose their email copy rules. Some will suggest you stick with a short copy, while some don't. The reality is there are no set rules for email copy word count. The same rules don't work for everyone. This is because recipients won't mind reading your emails if they are good enough.
Interestingly, AWeber's study supports the same argument. In their studies, it was found that experts write long emails. Irrespective of the length, recipients still read their copies. On average, the emails from experts contain 434.48 words. But if you choose to write long email copies, they must not be boring.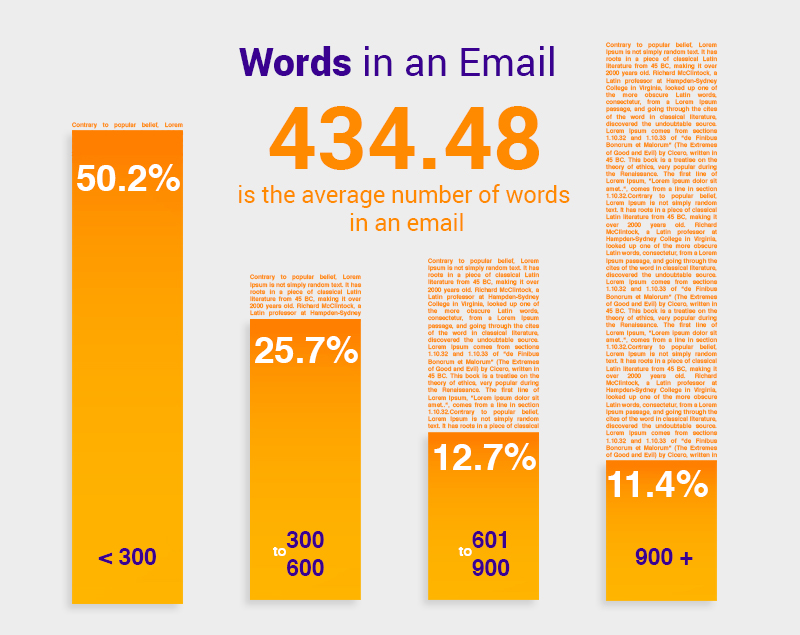 Copywriting Conversion Rate Statistics
Landing page conversion rate is a crucial factor that determines the success of your products. A good conversion rate signifies that your copy is effective. These stats show the conversion rates of different copy styles.
14. The actions on your request can increase from 60% to 94% by including the word "because."
(Langer)
Give your potential customers a reason to buy your products, and they would even buy on impulsive. A study by Langer compared the compliance rates of requests in different formats. The research showed that even requests with poor reasons got a higher compliance rate than those without reason. So when creating ad copy, it is beneficial to stress benefits that are good enough reasons for prospects to buy.
15. Search ads have an average click-through rate of 1.91%
(Hubspot)
Running search ads helps your content stay on top of the search results for specific valuable keywords. Many companies adopt this strategy to keep their content relevant. But this doesn't guarantee that your contents will be automatically clicked. Your ad copies must be well written to convince web users to click them.
Hubspot reports that the average click-through rate for search ads is 1.91%. This reveals that getting clicks even with search ads is still a challenge. To make your search ads stand out, you need the expertise of a copywriter. Copywriting would help improve your search ads through the ad title and description (or meta description).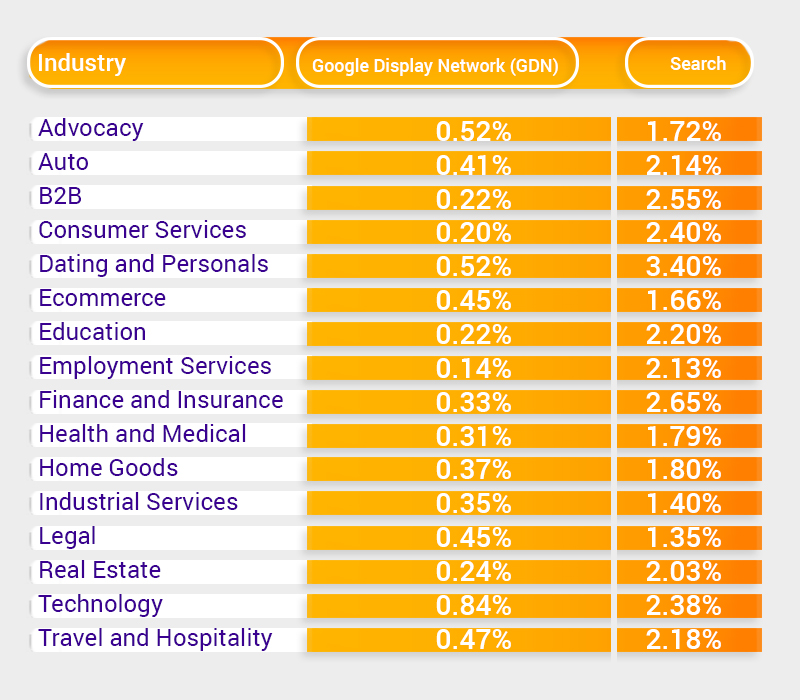 16. Across all industries, the average email open rate is 21.33%
(Mailchimp)
An average email user can receive several emails daily. It becomes difficult to open all emails when they are too much. This is why most users would only open emails that are important to them. A study by Mailchimp on their customers' email open rate involving 1,000 subscribers showed that only about 1 in 5 recipients opened their emails.
The study shows the breakdown of email open rates for various industries. It revealed that the average email open rate is 21.33% across all industries. Sending personalized and relevant emails and using exciting subject lines will increase your email open rates.
17. The industry average email click-through rate is 2.13%
(GetResponse)
It is a challenge to get subscribers to open your emails. But it is more challenging to get searchers to click through to your website. GetResponse data show that out of 100 emails sent, only 2 subscribers click the links in your emails. To improve the click-through rates, you need to convince more subscribers to open your emails. Presenting your offer through great copywriting will help achieve this.
18. The average email click-to-open rate is 10.12%
(GetResponse)
The email click-to-open rate compares the rate of email link clicks to the number of emails open. Statistics from GetResponse data show that out of 100 people who open an email, an average of 10 people will click on a link. This is a useful stat for better insight into your email campaigns. Suppose you have high average click-to-open rates that imply that your copy effectively convinces recipients.
19. The conversion rate of your landing page can decrease by 266% if you have more than a single offer
(Wishpond)
Statistics show that the conversion rates of your landing page can be seriously affected if you have more than a single offer. Your conversion rate can drop by 266%. Based and this, a landing page should promote only one offer. The headline, design, copy, and other parts of the landing page should focus on that very offer. Having two or more offers on your landing page can confuse readers.
20. About 220% more leads can be generated by using long landing pages
(Marketing Experiments)
Keeping your landing pages short is the conventional practice of creating effective landing pages. However, this is not always as effective as advertised. In some come cases, you may need to write long landing pages. You may need to increase the length of your copy to convince prospects if you are marketing a high-value product.
For example, a copy of 100 words will likely not effectively convince a lead to pay $10,000 for an order. An A/B test run by Marketing Experiments between two pages of different lengths supports this. The result showed that longer landing pages had 220% more conversions. This is because longer landing pages gives room to stress all the benefits your products offer.
21. Only about 29.5% of all landing pages contain more than 500 words
(Unbounce)
The stat above shows the importance of longer landing pages. However, in most instances, short copies will do just fine. Stressing the benefits of your offer is great, but avoiding fluffs and boring your readers is also crucial. A study by Unbounce shows that only about 29.5% of all landing pages contain more than 500 words.
It also showed that pages with 500 words or less had a conversion rate of 11.1% compared to 11.1% for pages with longer copies. However, your audience and product will determine the word count of your copy.
22. About 64% of small businesses believe their email copies are effective or very effective
(Aweber)
Businesses that enjoy a significant return on investment use personalized email campaigns. They convince recipients to patronize them by using compelling copies in their emails to convince recipients to take their intended actions. Statistics show that about 64% of small businesses believe their email copies are effective for their campaigns.
Copywriters Earning Statistics
Hiring expert copywriters can be expensive, implying that copywriters earn well. These are copywriting statistics that give readers an idea of what copywriters earn.
23. About 73% of companies pay a content strategist
(Content Marketing Institute)
Investing in great copywriting has a good return on investment. This can increase a company's revenue significantly. But not everyone can sell products and services so well with words. Based on this, most companies hire content experts to handle their content strategy. This ensures they enjoy a high return on investment from their content marketing campaigns. However, hiring an expert content strategist will cost some good dollars.
24. Freelance copywriters earn an average of $250 per hour
(Freelancing Hacks)
Everyone wishes to work with the best copywriter. But hiring a top-notch copywriter will cost you some money. Considering the potential return on investment, investing in an expert copywriter is worth it. Statistics from Freelancing Hacks show that freelance copywriters earn an average of $250 per hour.
25. The average copywriter earns about $57,000 per annum
(Copywriting Course)
Many people want to know how much copywriters earn. It is one of the most searched queries about copywriting online. It isn't easy to give a straight answer to this question. This is because there is a difference in earning rates for copywriters at different levels. However, statistics from Copywriting Course show that the average copywriter earns about $57,000 per year.
This data was from research on the hourly salaries of copywriters and freelancers working for different companies. The page also shows a breakdown of the salaries of the average copywriter across different copywriting positions.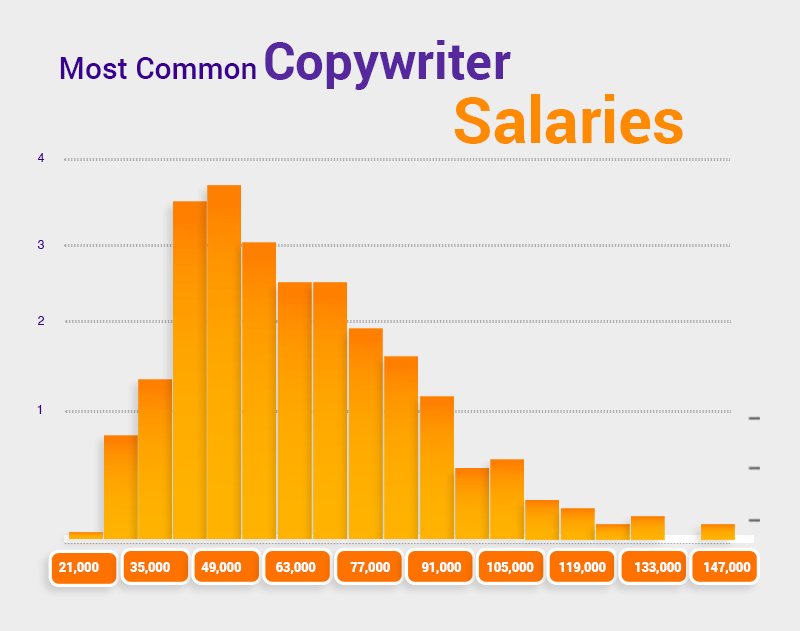 Conclusion
Copywriting now has several online applications thanks to the invention of the internet. It has even become a potent weapon for marketing since social media became a prominent marketing tool. The need to explore the potentials of copywriting has led to the discovery of several marketing strategies over the years. This has helped create several successful ads online. Using copywriting as a marketing tool has also produced several genius copywriters.
For example, the famous Rolls Royce ad was written by a legendary copywriter known as David Ogilvy. Producing an effective copy will require the service of an expert copywriter, which can be expensive. However, it is a great investment with a profitable return on investment. This is because an excellent copy will improve your landing page's conversion rate, which generates more revenue.
References:
Boomerang
Copyblogger
Hubspot
NNGroup
RealBusiness
Buffer
Litmus
Psychology Today
Content Marketing Institute
Hubspot
Freelancing Hack
Mailchimp
GetResponse
Aweber
Aweber
Litmus
NiftyMarketing
CopywritingCourse

Ludjon, who co-founded Codeless, possesses a deep passion for technology and the web. With over a decade of experience in constructing websites and developing widely-used WordPress themes, Ludjon has established himself as an accomplished expert in the field.