AI email marketing tools are the latest innovations added to the world of marketing with the help of artificial intelligence.
As we have seen with other tools like AI Website Builders, we now also have a tool for optimizing emails in a way that increases the Open Rate and even allows us to write and respond to them automatically.
A vast number of emails are sent and received globally over 347 billion daily and this number is expected to grow. Email marketing remains one of the best forms of advertising available
The Top 10 Best AI Email Marketing Tools
1. Brevo (SendinBlue)
Best Overall AI Email Marketing Tool

Generates creative subject lines
AI-driven insights
Personalization options
Intuitive interface
See Pros & Cons
Pros
Enhances marketing content with AI-generated subject lines
Uses persuasive strategies to influence recipient behavior
Offers multiple suggestions for subject lines
Cons
Limited to three suggestions per session
May require manual editing for optimal personalization
Brevo is the best AI email marketing tool by providing a seamless way to generate engaging subject lines for email campaigns.
With the power of AI, Brevo helps marketers create content that resonates with audiences, ensuring high open and engagement rates.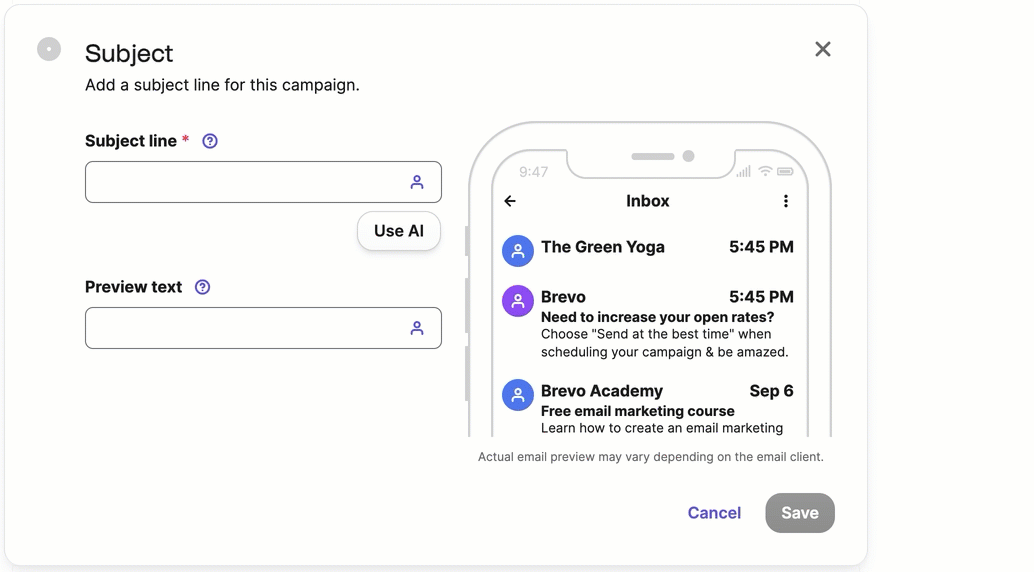 The tool's ability to analyze vast amounts of data and identify trends allows it to craft subject lines with emotional triggers that captivate recipients.
As one of the premier AI email writing tools, Brevo stands out for its ability to empower marketers in crafting compelling emails.
Embrace the innovation of email marketing AI tools, including AI email writing tools and AI email automation capabilities with Brevo, taking your digital marketing to unprecedented heights.
Brevo is an affordable email marketing service, making it accessible to a broader range of customers.
Best for Integrations with Marketing Platforms

AI-generated content for email campaigns
3 unique text options from a single prompt
Customizable suggestions to fit brand tone
Easy integration within the Email Designer
Available in select plans
See Pros & Cons
Pros
Streamlines email content creation
Enhances creativity with varied suggestions
Integrates AI seamlessly into the campaign design process
Cons
May require multiple prompts to refine content
AI suggestions may still need human oversight for brand alignment
ActiveCampaign AI revolutionizes the email design process by providing AI-powered text generation within the Email Designer.
Marketers can now leverage AI to produce compelling content, ensuring that each email campaign resonates with its intended audience.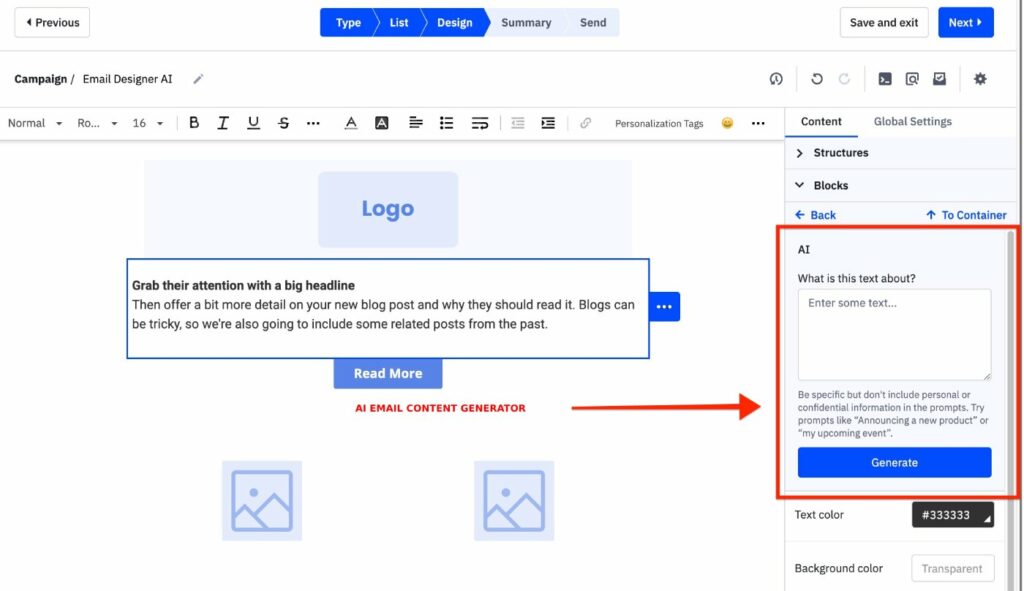 ActiveCampaign, as a leader in AI email automation, offers three distinct text options from a single prompt, showcasing the power of AI in transforming the email marketing landscape. This functionality highlights its capability as an AI email automation tool, setting a new standard for email campaign efficiency.
Recognized as one of the top AI email automation tools, ActiveCampaign simplifies the content creation process, embodying the advanced capabilities of AI email writing tools and allowing marketers to focus more on strategy and execution.
Explore more AI writing tools for various content needs: Best Free AI Writing Software and Content Generator
Embrace the future of email marketing with ActiveCampaign's capabilities and transform your email campaigns into personalized experiences that engage and convert.
ActiveCampaing is also one of the best marketing automation tools.
Best for Boost Open Rates

AI-powered email content generation
Optimized subject lines
Industry-specific email content creation
Email template generation in under a minute
Available across all paid GetResponse plans
See Pros & Cons
Pros
Significantly reduces email creation time by 85%
Generates high-quality, engaging email copy
Supports multilingual content creation (coming soon)
Cons
May not fully replace the nuanced touch of a human copywriter
Multilingual support is not yet available but is anticipated
GetResponse's AI Email Generator, powered by GPT-3.5 technology, is a game-changer for email marketers seeking efficiency and effectiveness.
With the ability to create engaging emails quickly, the tool offers industry and goal-optimized subject lines and content, ensuring your message hits the mark every time.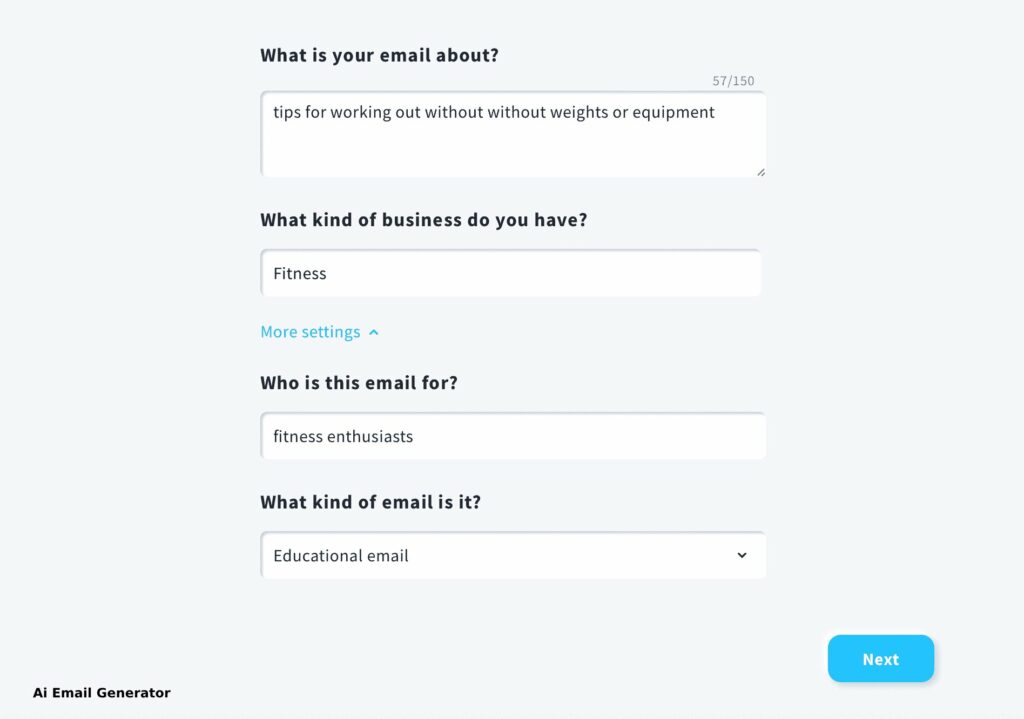 The AI subject line generator is designed to boost open rates, while the industry-specific optimization ensures your emails are tailored to your business and audience.
GetResponse users have seen a dramatic decrease in email creation time, allowing them to focus more on strategy and less on the mechanics of writing.
As one of the best AI email marketing tools, GetResponse is set to further enhance its capabilities with multilingual support, making it an even more versatile tool for global campaigns.
Best for Writing Emails

Over 50 AI-powered email templates
Browser extension
Full marketing campaign generation
Rephrase and rewrite capabilities
Customizable tone of voice
Subscription-based with various plan options
See Pros & Cons
Pros
Streamlines the email creation process, saving time and resources
Enhances email copy with creative, high-converting CTAs
Offers a versatile browser extension for in-app email editing
Cons
Subscription required for full feature access
May have a learning curve for new users to utilize all features effectively
Jasper for Email Marketing offers an innovative approach to crafting emails that captivate and convert.
With its suite of over 50 specialized templates, Jasper AI provides the tools to create eye-catching subject lines and compelling calls to action with ease.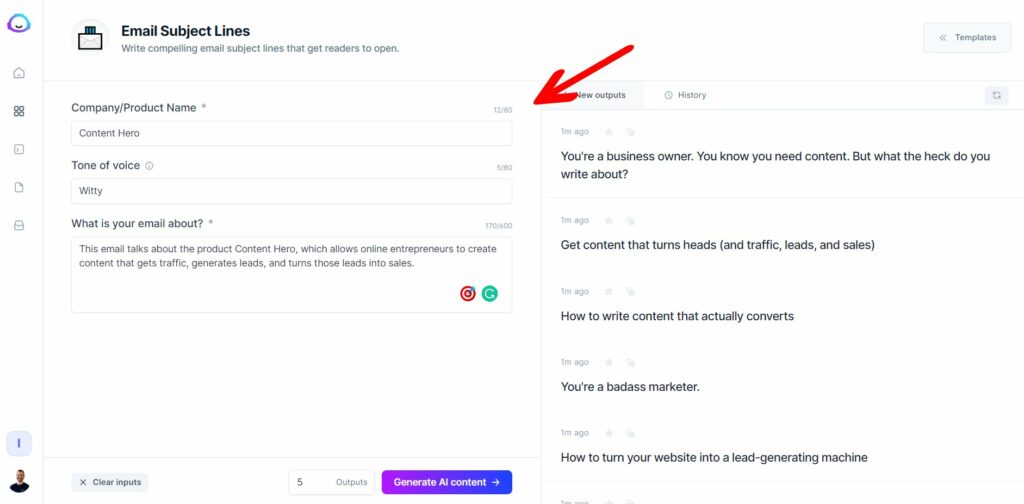 The Jasper browser extension brings the power of AI to your favorite email platforms, allowing for real-time content creation and optimization.
Whether you're looking to overhaul your email campaigns or just fine-tune your messaging, Jasper's rephrase and rewrite features ensure your content is always fresh and engaging.
By setting a custom tone of voice, Jasper's AI ensures that every email you send out is uniquely tailored to your brand's identity, making it one of the best AI tools available.
Read more: AI SEO Tools
Best for personalized email writing
Automates research and copywriting
Generates cold emails for sales or backlinks at scale
Personalization based on prospects' online data
Proven conversion systems for high response rates
Offers a 7-day free trial without credit card requirement
See Pros & Cons
Pros
40x faster than manual efforts
Cost-effective solution with a 6x cheaper claim
Highly personalized email outreach
Easy to use with a user-friendly interface
Cons
Credit limit system may be restrictive for some users
Limited integrations and features reported by users
SmartWriter AI excels in automating the tedious process of email outreach. By utilizing AI, it crafts personalized emails that resonate with recipients, leading to higher engagement rates.
The tool's ability to analyze online data and create tailored messages makes it a powerful ally for sales and marketing professionals looking to scale their outreach efforts efficiently.
With SmartWriter AI, users can expect a seamless experience that not only saves time but also enhances the effectiveness of their email campaigns.
Despite its many benefits, some users have pointed out the limitations in terms of the credit system and the need for more integrations, suggesting there is room for the tool to grow and adapt to user needs.
Overall, SmartWriter AI stands out as one of the best tools for those who prioritize efficiency and personalization in their email outreach strategies.
Best for Email Segmentation

AI-powered copywriting and content generation
Over 45 templates for various marketing needs
Supports content creation in over 30 languages
Chrome Extension and Desktop App for versatile use
Free version available with 40 monthly credits
Monthly and Annual plans with a free 3-day trial
See Pros & Cons
Pros
Streamlines content creation across platforms
Generates high-quality content quickly and efficiently
Easy integration with browser and desktop applications
Cons
Limited credits in the free version may not suffice for heavy users
Some advanced features require a paid subscription
SmartCopy by Unbounce is a versatile AI copywriting tool that promises to revolutionize content creation for marketers.
With its extensive library of templates, SmartCopy caters to a wide range of marketing materials, from ad copy to product descriptions, ensuring that users never start from a blank page.
The tool's ability to support over 30 languages makes it an excellent choice for global campaigns, while the Chrome Extension and Desktop App ensure that SmartCopy's capabilities are accessible wherever you work.
For those on a budget, SmartCopy offers a free tier with 40 credits per month, making it one of the best AI email marketing tools for startups and small businesses.
While the free version is generous, active users may find the need to upgrade to a paid plan for more credits and advanced features, which are well worth the investment for the efficiency and quality of content produced.
Best AI Sales Email Coach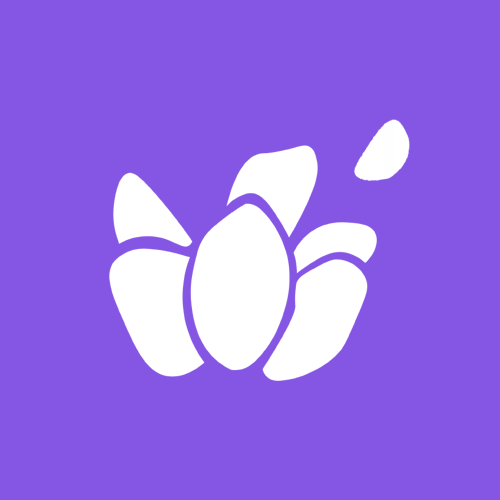 Real-time AI sales email coaching
Personalization assistant for tailored introductions
AI-powered email drafting and improvement
Data-backed insights for strategic coaching
Free version available with a 1-week trial of Lavender Pro
Pro pricing starts at $29/month
See Pros & Cons
Pros
Helps double positive reply rates
Integrates with major email and sales platforms
Free for jobseekers, students, and bootstrapped entrepreneurs
Cons
Some advanced features locked behind Pro version
May require a learning curve for full feature utilization
Lavender AI is a cutting-edge tool designed to enhance the email writing process for sales professionals. With its AI sales email coach, users can write better emails faster, leading to more positive replies and less time spent on crafting messages.
The platform's personalization assistant offers tailored introductions based on prospect news, data, and insights, ensuring that each email is as relevant and engaging as possible.
Lavender AI's integration with major platforms like Gmail, Outlook, and LinkedIn, among others, makes it a versatile tool for a variety of sales environments.
With a high G2 user rating and a commitment to helping sales teams double their reply rates, Lavender AI stands out as a top contender in the AI email marketing tool space.
Best Marketing Campaign Assistant

AI-driven email, and ad copy generation
Quick content creation
Understanding of brand tone and keywords
Seamless integration with HubSpot CRM platform
Free access to Campaign Assistant with HubSpot account
See Pros & Cons
Pros
Streamlines marketing campaign creation
Generates high-quality, engaging copy efficiently
Offers insights for strategic marketing initiatives
Cons
May require HubSpot CRM platform familiarity
Advanced features might be limited in the free version
HubSpot's Campaign Assistant is a powerful AI tool that simplifies the creation of marketing assets, allowing you to generate copy for landing pages, emails, and ads with ease.
By providing key campaign details, the AI crafts copy that resonates with your audience, maintaining your brand's voice across all marketing channels.
The integration with HubSpot's CRM platform not only enhances content creation but also provides valuable insights and analytics to refine your marketing strategies.
With the ability to create and manage campaigns quickly, HubSpot's Campaign Assistant is an indispensable tool for marketers looking to maximize efficiency and impact.
Best for Email Campaign Analysis

One-click campaign optimization

Generative AI Insights
Generative AI Copy Assistant
AI Target Discovery for customer segmentation
Contact OptiMove for pricing details
See Pros & Cons
Pros
Enhances precision in marketing campaigns
Reduces time spent on campaign analysis and creation
Facilitates personalized customer experiences at scale
Cons
Pricing information not transparent without contact
May be complex for small businesses without dedicated marketing teams
OptiMove's OptiGenie AI is a sophisticated AI-powered marketing assistant that transforms customer-led marketing with its predictive modeling, AI insights, and content creation capabilities.
OptiGenie's Predictive Modelling provides marketers with actionable insights throughout the customer lifecycle, enabling data-driven decisions to optimize campaigns for better conversion and customer retention.
With Optibot's one-click recommendations, marketers can streamline their campaign analysis and optimization, focusing on strategies that enhance customer lifetime value.
The Generative AI Insights and Copy Assistant features of OptiGenie allow for rapid content creation and deep marketing insights, saving valuable time and resources while driving engagement and personalization.
OptiMove's AI Target Group Discovery further refines marketing efforts by identifying the most responsive customer segments, ensuring that campaigns are targeted for maximum impact.
Best Tool for Improving Email Performance Metrics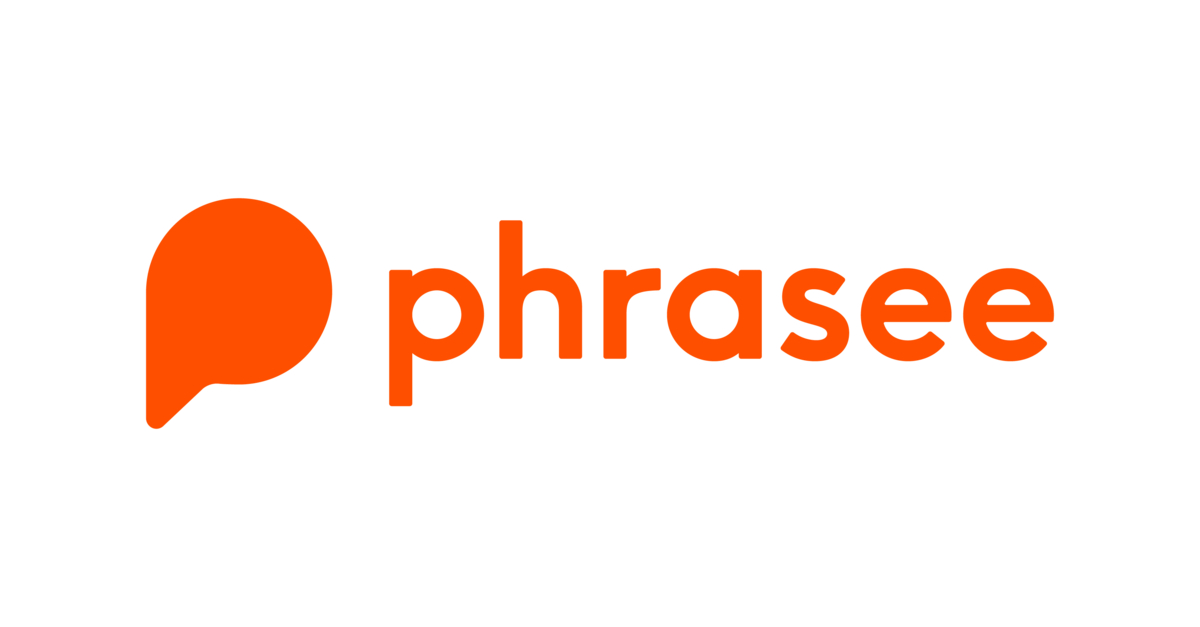 Generative AI for enterprise-grade marketing content
Brand-tailored content generation across digital channels
Real-time optimization and testing of marketing messages
Data-driven content creation for improved engagement rates
Custom pricing based on business needs
See Pros & Cons
Pros
60x increase in content output
24% average increase in engagement rates
5 seconds to generate an experiment
Cons
May require integration with existing marketing platforms
Custom pricing may not be suitable for all budgets
Phrasee is an AI-powered platform that revolutionizes content creation for enterprise marketers. By leveraging generative AI, Phrasee generates billions of precise, on-brand marketing messages that resonate with audiences across various digital channels.
The platform's ability to predict and optimize content performance ensures that marketers can achieve unprecedented efficiency and results at scale, with a significant increase in engagement rates.
Phrasee's intuitive UI and seamless integrations make it easy for marketers to instantly test and personalize marketing messages, driving conversions and customer loyalty with data-driven content strategies.
FAQs (Frequently Asked Questions)
What are AI email marketing tools?
AI email marketing tools are software platforms that use artificial intelligence to automate, optimize, and personalize email marketing campaigns. They can help with tasks such as audience segmentation, content creation, and predictive analytics to improve the effectiveness of email marketing efforts.
How do AI email marketing tools improve campaign performance?
AI email marketing tools analyze large sets of data to identify patterns and insights that can improve campaign performance. They can personalize emails for individual subscribers, determine the best times to send emails, and predict which email content is most likely to engage recipients.
Can AI email marketing tools write emails for me?
Yes, many AI email marketing tools come with content generation features that can write subject lines, email body copy, and calls-to-action. They use natural language processing and machine learning to create content that resonates with your audience.
Are AI email marketing tools suitable for small businesses?
Absolutely. AI email marketing tools are scalable and can benefit businesses of all sizes. They can help small businesses compete with larger ones by providing advanced marketing capabilities without the need for a large marketing team.
What should I look for in an AI email marketing tool?
When choosing an AI email marketing tool, consider the following features: ease of use, integration capabilities with your existing tools, quality of AI recommendations, personalization features, analytics and reporting, customer support, and pricing.
How do AI tools handle email segmentation?
AI tools use machine learning algorithms to segment email lists based on subscriber behavior, demographics, and engagement. This allows for more targeted and relevant email campaigns.
Do AI email marketing tools comply with privacy regulations?
AI email marketing tools are designed to comply with privacy regulations such as GDPR and CCPA. However, it's important to ensure that the tool you choose has the necessary compliance measures in place.
Can AI email marketing tools predict campaign success?
Many AI email marketing tools offer predictive analytics features that can forecast the success of a campaign by analyzing past performance data and identifying trends.
How do I integrate an AI email marketing tool with my current platform?
Most AI email marketing tools offer integration options through APIs or built-in connectors for popular CRM and marketing platforms. Check with the tool provider for specific integration guides.
Will AI email marketing tools replace human marketers?
No, AI tools are meant to augment the capabilities of human marketers, not replace them. They handle repetitive tasks and data analysis, allowing marketers to focus on strategy and creative aspects of campaigns.No, AI tools are meant to augment the capabilities of human marketers, not replace them. They handle repetitive tasks and data analysis, allowing marketers to focus on strategy and creative aspects of campaigns.
How much do AI email marketing tools cost?
The cost of AI email marketing tools varies widely depending on features, scalability, and the provider. Some tools offer free versions with basic features, while others may require a subscription that can range from tens to thousands of dollars per month.
How do I get started with an AI email marketing tool?
To get started, identify your marketing goals and needs, research and select a tool that fits those needs, integrate it with your existing marketing stack, and begin with a pilot campaign to familiarize yourself with the tool's capabilities.
Conclusion
In conclusion, AI email marketing tools are transforming the way we connect with audiences. From crafting engaging emails to ensuring they hit the mark with open rates, these tools are like having a personal assistant who works tirelessly to improve your campaigns.
Whether you're a small business owner or part of a larger enterprise, there's an AI tool out there that can help you write better emails, respond faster, and understand your audience like never before.
As email continues to be a vital part of marketing strategies, embracing these AI innovations could be the key to more personalized, effective, and successful email marketing efforts. So, dive in, explore these tools, and find the right AI companion to help your business thrive in the bustling digital marketplace.

As one of the co-founders of Codeless, I bring to the table expertise in developing WordPress and web applications, as well as a track record of effectively managing hosting and servers. My passion for acquiring knowledge and my enthusiasm for constructing and testing novel technologies drive me to constantly innovate and improve.
Expertise:
Web Development,
Web Design,
Linux System Administration,
SEO
Experience:
15 years of experience in Web Development by developing and designing some of the most popular WordPress Themes like Specular, Tower, and Folie.
Education:
I have a degree in Engineering Physics and MSC in Material Science and Opto Electronics.