To become a successful online business, you will need well-written content no matter what sort of website you manage. But if you do not have the time, budget, or language skills to create it or pay a freelancer, AI writing software can handle the task for you.
Here is a short list of the best free AI writing software:
If you require scripts, blog articles, stories or advertisements to be written automatically, Al writing tools make it simple to do it.
There are more than 5 million blog posts published every day. Writing tools haven't ever been more successful in creating high-quality content in a broad range of forms and themes than they are now due to advancements in artificial intelligence.
For this reason, we've narrowed it down to just the 11 best AI writing tools available today, so you can begin to work right immediately.
There is no time to waste. An overview of the selected content generators can be seen below. Are you all set to go? Let us take off!
Best Free AI Writing Software
Check the table and reviews below to compare AI writing tools based on their pricing, rating and main features.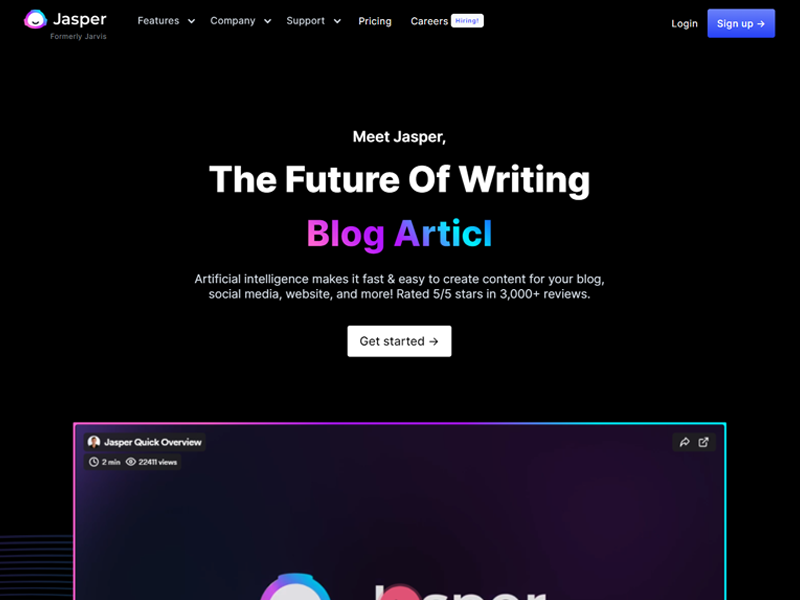 Jasper is an AI writing software and generator that allows you to create or transform your text into original long-form or short-form content.
When you use the Jasper Command, you must begin typing, and Jasper will automatically complete your phrases. All grammar, punctuation, and capitalization are taken care of by an automation system that works flawlessly in all languages.
Jasper can be used to produce blog articles, an essay, ads and social media content. It will automatically create long-form content that matches your writing style.
Jasper responds to your content by creating a work of art. The program uses a variety of APIs and algorithms across the software to turn each word into a block of content.
Also, Jasper integrates very well with SEO tools and content optimization tools like SurferSEO.
Features
The following is a list of Jasper's most important features:
50 templates to improve your copy.
Boss Mode AI content creation is offered for long-form blog articles.
Contextual quotations and paraphrases can be identified automatically.
SurferSEO Integration.
The software is multilingual, with support for more than 25 languages.
Plagiarism checker.

Live chat assistance for bloggers.
Pricing
Jasper has two pricing categories: Starter and Boss Mode, which can be purchased separately.
Starter Mode – Starting at $29 per month, you get access to 20,000 words each month and 50+ abilities, including descriptions, headlines, and biographies. It's more appropriate for short copywriting.
Boss Mode – Starting at $59 per month, Boss Mode gives you complete access to Jasper's features with no restrictions. Jasper Command can write precisely what you want 2x quicker and with greater control. It gives access to 50,000 words each month.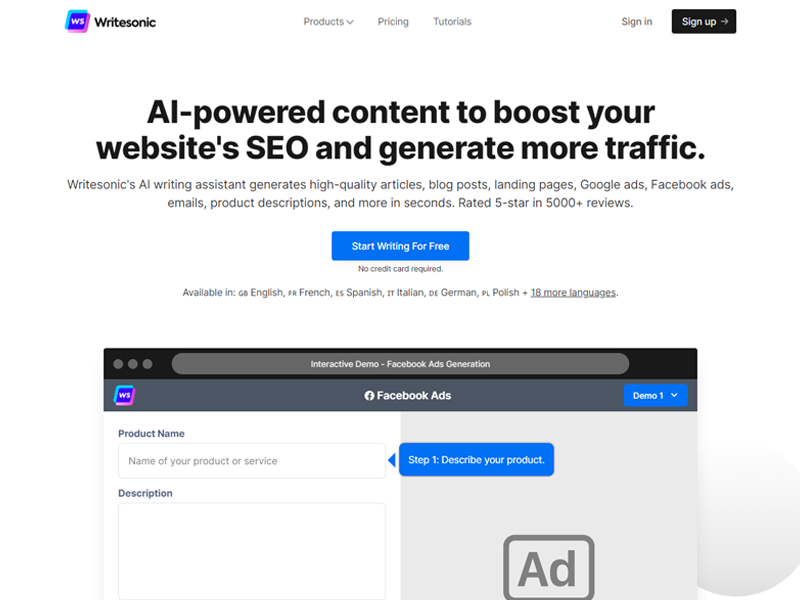 Writesonic is one of the best artificial intelligence writing generators focused on SEO. It can generate text in over 20 languages.
Using this software, you can quickly and easily create high-quality content like blogs, landing pages, Google and Facebook ads, as well as email messages and product descriptions.
Your website and advertising copy can be written in only a few seconds with Writesonic.
The generating process starts by selecting one of the 40 copy templates and adding some basic information like product name and a short description. Writesonic generates personalized copy variants so you can choose what works better for you.
Features
Integrated Grammar Checker.
The AIDA and PAS Copywriting Formulas are used to increase sales.
Can write in more than 20 languages.
Content Rephraser and Expansion Tool.
Write for Landing Pages, Blog Entries, and Product Descriptions & Advertisements.
SEO-Friendly Content.
Semrush Integration.
Pricing
Using their free plan, you can understand how the software operates before you commit to a paid plan.
Basic Plan – The basic plan is perfect for personal use, with 100 credits and 50,000 words monthly and up to 125 words/generation. It will cost $15 per month (or $11.25 per month with a year-long membership).
Professional Plan – This plan costs $45 (or $40.05 per month with a yearly membership). It has an unlimited credit limit for premium services and 125 words/generation. Like the basic plan, it offers only 1 user seat.
Startup Plan – The monthly fee is $95.05. You can use as many credits as you like to play. However, there is a maximum of 1200 credits for more sophisticated features.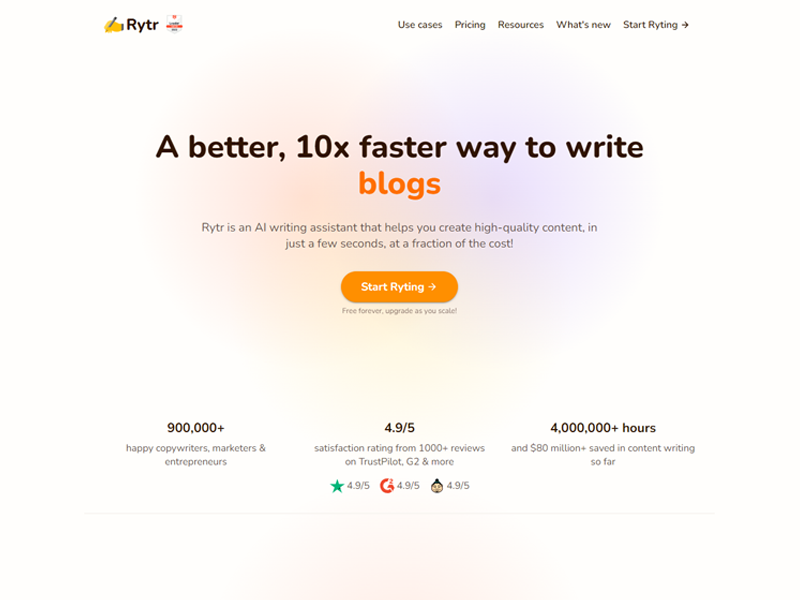 Rytr is an Ai writing assistant that corrects your grammar, reformats your sentences, and rephrases them if needed to help you write better content.
This software saves up your time, but it also enables you to concentrate on generating fresh content without being sidetracked by concerns about language, style, or formatting.
Rytr has provided very reasonable price options. It is only possible to connect with other like-minded Rytrs by joining the exclusive community of premium subscribers who have 'Unlimited Characters' every month.
Features
The following are some notable characteristics of Rytr AI:
High-quality output is produced by Rytr using GPT-3 based language models.
Provides an easy-to-use editor for documents.
Management of the workflow.
Provides 32 use cases to make content.
A total of 30 different languages are available for use.
20+ tones of voice.
Provides a browser extension.
Plagiarism detection software.
Accessibility to a long-form content optimization SEO toolset.
5000 characters each month can be generated for free.
Pricing
Free Plan – It is free of cost. It provides 30+ use cases, 30+ languages, and 20+ tones.
Based on our research Rytr has the best free plan with 5000 characters/month.
Saver Plan – It is $9 per month or $90/ per year and offers you accessibility to 50k characters, 30+ use cases, 20 tones in writing, and a premium network.
Unlimited plan – You'd have to pay $29 per month or $290 per year to use this service. This plan includes unlimited characters. A personal account manager with exclusive email and chat assistance is included with this plan.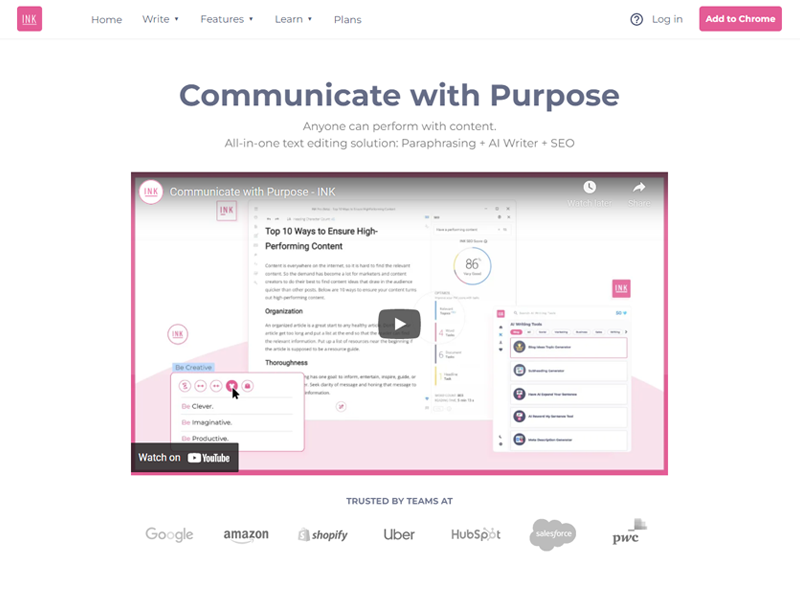 Ink Editor is a relatively new brand in the world of AI writing, organizations like Google, Uber, and Salesforce have already used its revolutionary capabilities. GPT-3 AI powers it, and it can extend, simplify, or replace existing content in the same way Writesonic can. Additionally, Ink's scoring system gives you an easy-to-understand idea of how well your material performs in terms of SEO and word count.
You can make your website rank higher and attract more organic visitors. Its unique AI engine continuously analyses your content and offers suggestions to enhance your INK Seo Ranking. It means that high-ranking content is more likely to appear in search results. If your content has a 97% INK SEO Score, it's more probable to appear on Google.
Features
INK AI has a few significant characteristics:
More than 50 artificial intelligence (AI) writing tools at hand.
Write advertisements, social media posts, and much more.
Simplify the process of creating website content.
Optimizer of SEO-friendly content.
Provides Google Chrome extension.
Unlimited rewriting of sentences.
Tips on how to improve your writing style.
Image optimization plugin.
Offers Sentiment analysis.
The use of WordPress.
Readability score of the content.
Logical suggestions.
Pricing
The starter plan – This is the most economical plan offered by INK AI, with a monthly fee of $8.80. It is also the most basic option (if billed annually) by providing the following things:
Add-on for Google Chrome.
Infinite sentence rewrites.
Casual and formal rewritings.
50+ AI-powered tools for producing persuasive advertising content.
Pro SEO plan – charges $44 a month to sign up for the Pro SEO package (if billed annually). The following are some of the benefits of using this tool:
Search Engine Optimization Writing Tool.
Infinite SEO score.
Keywords for SEO.
Team SEO Unlimited – You would've to pay $177 per month for the Pro SEO package without any credit limits, and it offers you 3 users.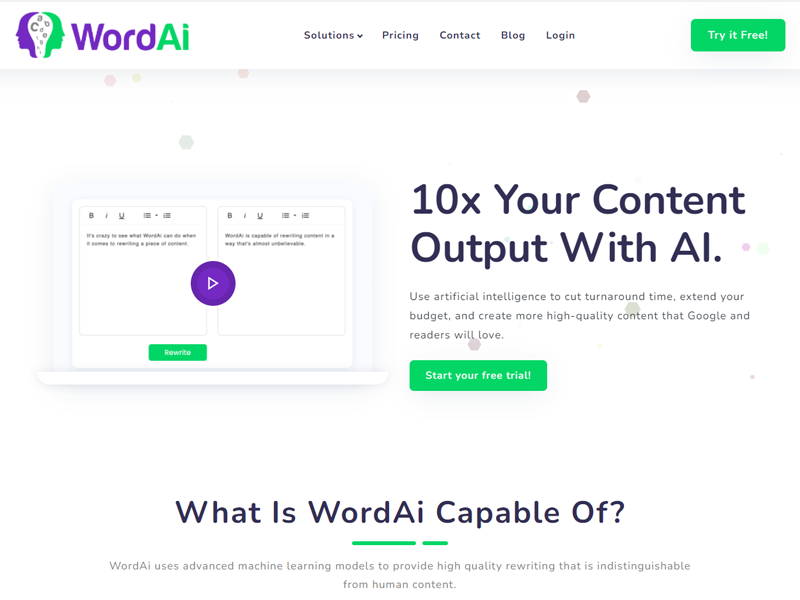 WordAI is a great tool to employ artificial intelligence (AI) to increase your written material's readability, intelligence, and search engine optimization (SEO). WordAI is a tool that changes the original text into a new version with the same meaning as the original text. The only problem with this artificial intelligence-based writing tool is providing the material to receive unique copies of your work.
Using this Ai software will completely reorganize your words and sentences to make them more appealing and easier to read.
Features
These are some of the most basic features of WordAI:
There is API access provided.
An article spinner is driven by artificial intelligence.
Articles are real-time paraphrased, keeping the old and new content unrecognizable from human writers.
It comes up with unique article titles.
Corrects content for spelling and grammatical problems.
Bloggers can spin a lot of articles.
Languages such as English, Spanish, French, as well as Italian are already available, and more are on the way.
Pricing
WordAI has three pricing options to choose from.
WordAI has a three-day free trial, so you may start using it immediately.
The yearly plan is $27 less expensive than the monthly plan at $57 per month.
You'll need to speak with a sales staff member if you're interested in the Business plan.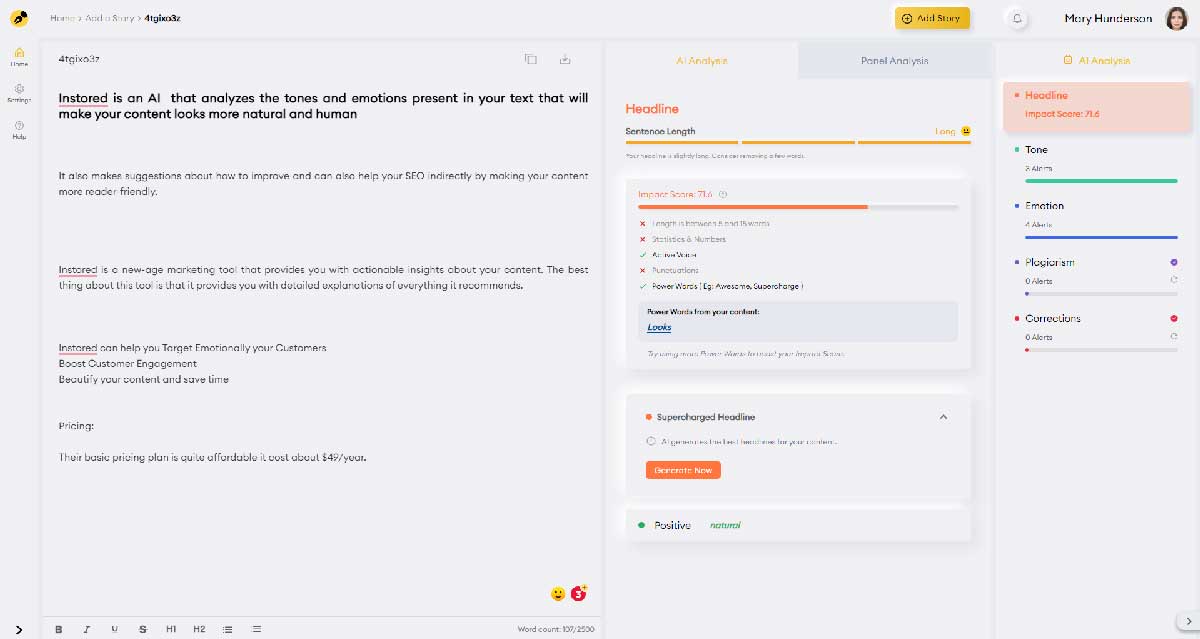 Instoried is an AI that analyzes the tones and emotions present in your text that will make your content looks more natural and human
It also makes suggestions about how to improve and can also help your SEO indirectly by making your content more reader-friendly.
Instoried is a new-age marketing tool that provides you with actionable insights about your content. The best thing about this tool is that it provides you with detailed explanations of everything it recommends.
Main Features
Headline Analysis
Content Analysis
Plagiarism Check
Grammar Check
Pricing:
Instoried offers a 7-day free trial.
Their basic pricing plan is quite affordable and it costs about $49/year for 1 user.
The premium pricing plan cost $99/year and can be used by 4 users.
Growth plan cost $149/year for 10 users
Enterprise plan cost $249/year for 20 users.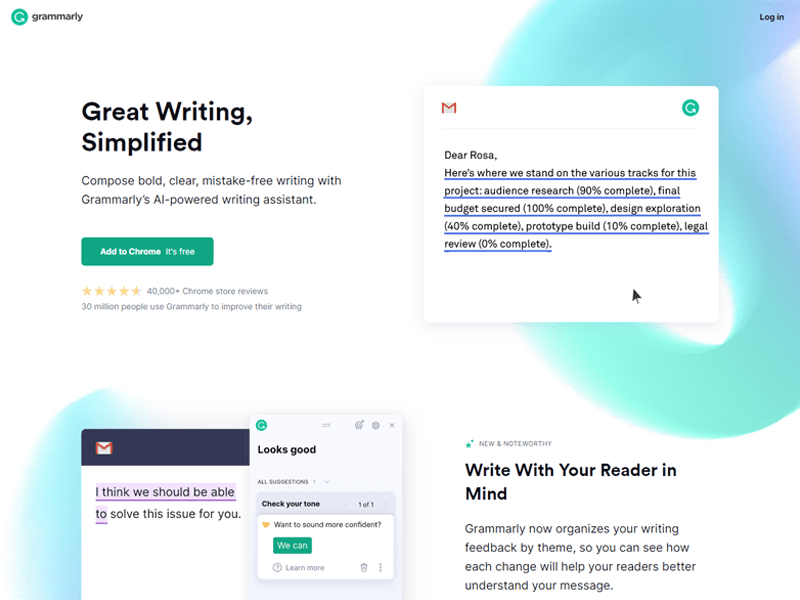 Grammarly was founded in 2009 and since then has established itself as the industry leader in grammar and spelling checkers. It's superior to the competition since it allows you to double-check your work for problems like misspellings and grammatical errors in context. It is to be considered one of the best content curation tools.
An additional feature of the application is its plagiarism checker and tips on how to enhance the quality of what you have written. One of Grammarly's most appealing features is it offers a simple browser plugin. While sending emails or using Google Docs, you can use Grammarly to verify your content for errors.
Features
Grammarly employs advanced Ai and natural language processing methods to analyze your written work. That's why it is the most popular online AI writing assistant.
Verifies for errors in vocabulary, punctuation, and context.
Support for several languages.
Plagiarism detection software.
Content creator without interruptions.
Check the quality of the content.
Access to a variety of well-known business apps.
On both PC and mobile platforms.
A comprehensive AI-based verification process.
Pricing
You can use Grammarly for free or pay for premium or business features. Individual entrepreneurs and professionals will benefit from the Free and Premium packages.
Free plan at $0
One-Month-Free Access to the Internet.
Basic grammatical and punctuation errors.
Only one person can use it.
Premium Plan begins at $12.00 a month,
Detection of plagiarism.
Suggestions for better writing.
Only one person can use it.
The business plan begins at $12.50 per month.
Admin panel with its login and password
Billing and email support are handled centrally.
Teams with 3 or even more members.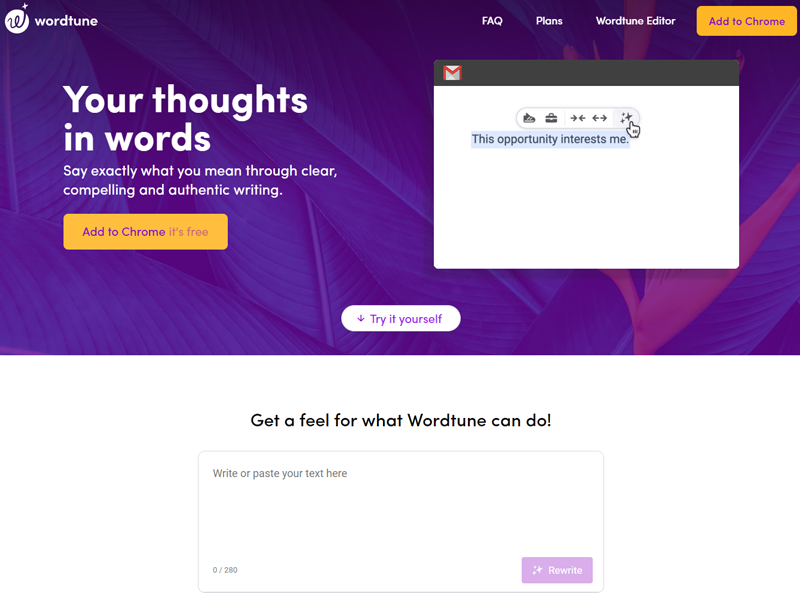 As a spelling and grammar checker, Wordtune doesn't advertise itself as such. Certain AI tools attempt to grasp what you write in terms of context and semantics. It is the creation of AI21 Labs, so it rephrases words using various language models.
Your material can be made more appealing, engaging, and simply digestible with the help of Wordtune. The tool rewrites the content you have written to be easier to read and understand. Standard grammar checks, which concentrate mostly on syntax rather than semantics, aim to make the content more readable with this approach.
Features
The most features of Wordtune in content writing are:
Understands the content's tone.
Sentence rephraser.
Synonyms can be generated for any term with this tool.
A software accessible over the internet.
Rewrites based on semantic analysis.
Total command over the length and style of each phrase.
Real-time recommendations based on thesaurus.
Find words in a variety of languages.
Intuitive integration of social media and commercial technologies.
Recognition of grammatical errors in context.
Your text can be shortened or extended to suit your needs.
Pricing
Wordtune's price is similarly divided into three categories, as is the case with Grammarly. The Free plan is provided to anybody who wants to use it without paying or registering. If you need more features, you can upgrade to the premium plans detailed below.
Free Plan: $0 for 20 days
Basic recommendations.
Basic rephrases.
A Chrome extension.
The $9.99/month Premium Plan
Advanced rewording and recommendations.
Controls for formality as well as length.
A search engine for words.
The Premium Plan: best for Teams.
Everything that is included in the Premium package.
Group billing.
Pricing that is unique to each customer.
Regarding cost-effectiveness, Article Forge is among the top artificial intelligence content generators available. Modern artificial intelligence and profound learning are employed to produce high-quality content. To improve your website's search engine rankings, Article Forge uses artificial intelligence algorithms to create high-quality, unique content.
Using a variety of keywords, it generates fresh material that is devoid of typos and grammatical errors within seconds. Unique and plagiarism-free AI-generated material is the norm.
Features
A few of Article Forge's most noteworthy aspects include the following features:
Currently available in seven different languages.
The ability to create long-form content from scratch is a benefit.
Bulk article creation is possible.
Headlines, videos, and graphics relevant to each article are included.
Links are automatically added when a page is loaded.
Verifies AI-generated text for faults in spelling and grammar.
Write SEO-friendly content quickly.
An AI-powered writing tool.
It helps you discover and add relevant images and videos.
Money refund guarantee for 30 days.
Pricing
Article Forge provides a 5-day trial at no cost.
Standard Plan – Using the Standard Plan, you'd pay $57 per month ($27 per month with an annual membership) for 250,000 words.
Unlimited – You'll pay $117 per month (or $57/month if you sign up for a yearly membership) for limitless words.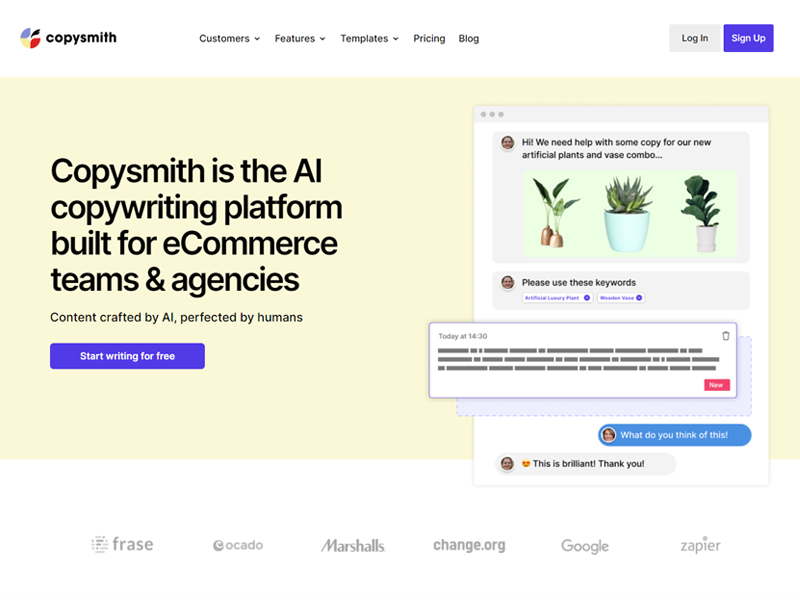 Copysmith is yet another artificial intelligence-powered word generator designed to help content creators save time on content creation. It can write full articles in minutes, using a variety of content formats and voice tone to do it. Email subject lines, product descriptions, and much more can be generated using this tool's auto-sync feature.
Copysmith streamlines the time-consuming procedure of content writing by automating the difficult work of brainstorming. It includes 30 ready-to-use templates with which you can begin producing your own content.
It's possible to swiftly have a huge volume of material using Copysmith by automating the development of content by several writers. This software allows users to easily generate, amend, and publish content using third-party connectivity.
Features
Here are a few of Copysmith's standouts:
Templates for more than 30 different types of projects are available.
Vast-scale content marketing efforts need the production of large amounts of material in bulk.
Collaboration technologies allow for a faster turnaround of content and feedback.
Content rewriter with advanced features.
Use the title of a blog to make blog outlines and intros.
The work is free of plagiarism.
Multiple languages are supported.
Pricing
To better understand the software's capabilities and how well it performs, try out the free trial version for a period of three days. Additional subscription options include monthly and yearly memberships for each of the three available paid plans.
If you sign up for a yearly membership, you will receive a 15% discount on all plans.
Starter Plan – $19 per month (or $16/month if you sign up for a year-long membership) and provides In-App support, 50 credit limits, and 20 plagiarism checks per month.
Professional Plan – $59 per month ($50/month if you sign up for a yearly membership) and provides In-App support, 400 credit limits, and 100 plagiarism checks per month.
Is there a product or service that you want to promote? CopyAI is an excellent piece of AI writing tool that you should give a go. It aids in creating better content in a shorter amount of time. Using this software is a pleasure.
CopyAI offers more than 60 pre-made templates. Aside from creating social media posts and blog entries, the application can also help you generate sales copy and ad text using pre-built templates.
With this application, you can rapidly improve your writing by evaluating your content and getting feedback on topics where you may improve. Over 500,000 marketing professionals use CopyAI across the world for improving writing skills. As a user, you can edit and customize the articles you create. Thanks to the user-friendly design to avoid complex functions.
Features
Using Copy al, you can generate themes or play around with words in seconds. You'll want to check out all the interesting features:
Has the ability to craft excellent content using an AI content generator.
Can speak and write in more than twenty-five languages.
More than 90 different copywriting templates to choose from.
It is possible to write ten times faster than before.
Do endless projects.
A free plan is available for those who qualify.
Priority assistance.
Pricing
Free Plan – at $0 provides 10 credits/month, 25+ languages and even 90+ copywriting tools.
Plan Pro – It's ideal for small enterprises with a $35 or less monthly budget. It provides unlimited credits and projects, 25+languages, premium community, and priority support.
Team plan – This plan is ideal for larger teams since it provides customizable prices based on the amount of content you require to be produced.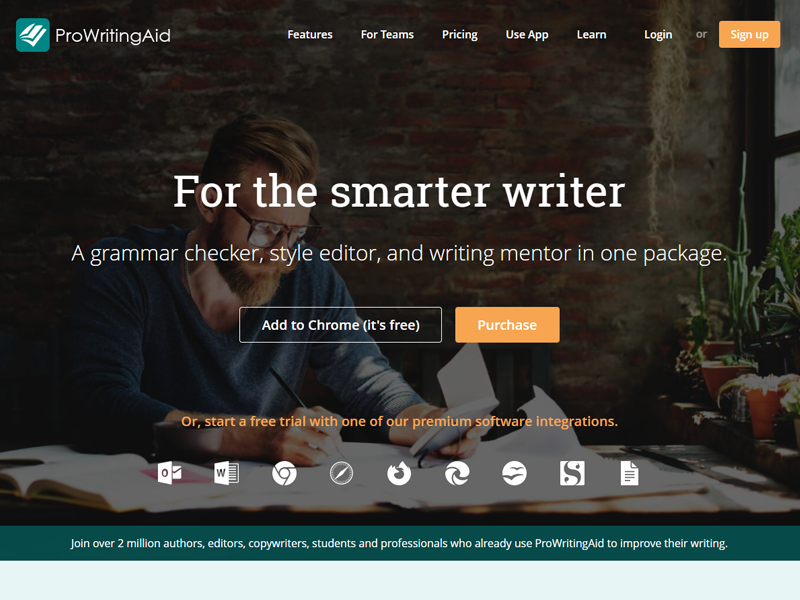 Using ProWritingAid to improve your academic writing is a great way to save time and avoid upsetting grammar problems. Additionally, it provides style advice in addition to extensive grammar and spell-checking features. About 1000 pre-built writing styles are available to pick from.
The software provides thorough reports that can aid copywriters of all levels to improve content. It also presents specific writing recommendations, relevant articles, and even movies and quizzes to keep the editing procedure interesting.
ProWritingAid can assist you in finding and eliminating repetitive or unclear language, as well as extended sentences, from your content. So, like other AI-based edit algorithms, pro writing aid improves when you utilize it more frequently.
Features
ProWritingAid's features are summarized as follows:
A Chrome extension is available for use with it.
Add-on for Microsoft Office.
It is compatible with Google Docs as well as Scrivener.
Text tone analysis.
Contextual thesauruses help you locate the appropriate terms.
A totally cloud-based application.
Reports on each of the 20 writing assignments.
App suggestions, explanations, lessons, and quizzes aid your content writing development.
Formatting of sentences and paragraphs.
Features seamless syncing with Microsoft Word and Outlook as well as other popular word processors.
Visual analytics can show readability, sentence diversity, and more.
Plagiarism-checking tool.
Simple API integration.
Pricing
In addition to the Chrome extension, ProWritingAid offers a variety of premium services to suit your needs. Users' interests are taken into consideration when creating the plans.
ProWritingAid's price options are broken down as follows:
A $20-a-month subscription option.
Annual Subscription for $79.
An all-inclusive lifetime plan for $399 (one-time payment).
Individual Business Plan for $6 per month.
Business Teams Plan costs $8 per user per month.
What Is AI Writing Software?
AI Writing software is used by content writers to create material of human-level quality and looks as if humans wrote it. They are now attracting a great deal of attention within the digital marketing sector due to the correctness of their grammar, their knowledge-based precision, and the automated techniques they use.
With AI writing, you can drastically cut the time required to write highly interesting articles and multimedia, including catchy headlines that boost click-through rates.
How Does AI Writer Tool work?
AI writing tools use natural language processing as well as machine learning techniques to grasp the context and produce human-like texts. An AI-trained neural network first learns what constitutes an engaging read by examining several examples of world-class human work, and then it is left to explore on its own.
After decades of training, AI writing assistants can start to replicate real-life authors with remarkable precision and produce error-free work devoid of grammatical errors.
Artificial intelligence (AI) technologies can create text-based on prompts, human actions, or rules.
A variety of texts, like blog articles, emails, social media postings, and short stories can be generated by AI writing tools based on their information.
To put it another way, AI content writers assist you in creating content on demand. You can minimize your effort and cost by using them.
Here is an example prompt for GPT-3 based AI writing tools:
"Generate introduction and conclusion text for the article content as given below:" – after this line add article content. The AI software will generate automatically a summary as an introduction or conclusion.
AI Writing Tools FAQs
Is it safe to use AI tools for generating content?
Yes, it is safe to use AI tools for generating content. However, you should always check the generated content for accuracy and plagiarism before using it. Also, make sure to add extra value and your unique perspective to the article.
Will AI writing tools replace human writers?
It is certainly possible that AI writing tools could eventually replace human writers in some capacity. As AI technology improves, these tools may become even better at mimicking human writing, to the point where they could be used to create entire pieces of writing on their own. Worth noting that there will always be a need for human writers, as there are some things that AI simply cannot replicate, such as emotion and creativity.
How can you spot content written by AI?
First, look for signs of plagiarism or copied content. AI-generated content is often created by pulling information from other sources, so it may not be original. Additionally, look for errors or inconsistencies in the text. AI-generated content is often less accurate than human-generated content so it may contain more mistakes. Finally, you can check how much predictable the content is. Read more on this case study.
What are the advantages of using AI writing assistants?
First, they can help you to improve your writing skills by providing feedback and suggestions on how to improve your work. Second, they can help you to save time by automating some of the tasks involved in writing, such as proofreading and editing. Third, they can help you to stay organized by keeping track of your ideas and progress. Finally, they can help you to find new ideas and inspiration by suggesting topics and ideas for you to explore.
Conclusion
There is a significant increase in the use of artificial intelligence in the writing process. When it comes to creating content, most marketers and SEOs rely on artificial intelligence (AI).
However, a common misunderstanding is whether an AI article writer can create unique material or not. Both yes and no. If you need to get the best results out of any AI writing software, you'll need to give it the correct input.
Before making a purchase, take advantage of the free trials offered by these tools.

Ludjon, who co-founded Codeless, possesses a deep passion for technology and the web. With over a decade of experience in constructing websites and developing widely-used WordPress themes, Ludjon has established himself as an accomplished expert in the field.