As a developer or business owner, finding a reliable and cost-effective cloud hosting provider can be a daunting task. Look no further!
DigitalOcean, a well-known cloud computing vendor, offers a simple yet powerful platform that caters to all your hosting needs. From deploying virtual machines and managing databases to building and deploying apps, DigitalOcean has got you covered.
The best part? They are currently offering a $200 free credit for new users, allowing you to explore their services without any financial commitment for the first 60 days.
What is DigitalOcean?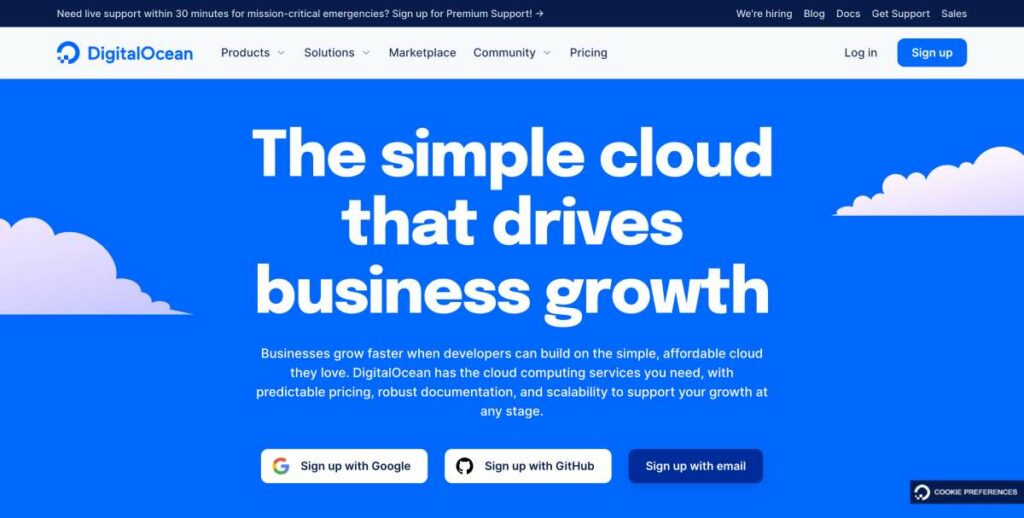 DigitalOcean is popular among open-source developers and competes with giants like Amazon Web Services (AWS) in the cloud hosting industry. Its data centers span across the globe, ensuring fast and reliable performance for your web applications.
With a wide range of hosting plans, such as Basic, General Purpose, CPU-Optimized, Memory-Optimized, and Storage-Optimized, DigitalOcean caters to diverse hosting requirements.
One of the key aspects that set DigitalOcean apart from its competitors is its user-friendly interface and management panel.
It allows developers to effortlessly launch virtual machines, called "droplets" and choose the size, geographical region, and Linux operating system (OS) they prefer. Additionally, DigitalOcean offers "one-click apps," which lets developers create droplets from existing VM images with pre-installed applications.
When it comes to pricing, DigitalOcean offers a competitive edge. For instance, their plans start at only $0.007 per hour, as opposed to AWS' cheapest on-demand EC2 instance (EC2 t2.micro) at $0.0116 per hour.
However, it's worth noting that DigitalOcean primarily supports Linux and lacks native Windows OS support.
How to Get DigitalOcean $200 Free Credit
As an expert in hosting services, I am excited to share with you how to get a $200 free credit on DigitalOcean, a top cloud computing platform providing an infrastructure as a service (IaaS) solution for developers.
This credit allows you to explore and utilize DigitalOcean's services for up to 60 days, giving you ample time to test and deploy applications, host websites, and take advantage of their various features.
In this step-by-step guide, we will walk you through the process of claiming your free credit and help you get started on your DigitalOcean journey.
Step 1: Sign up for DigitalOcean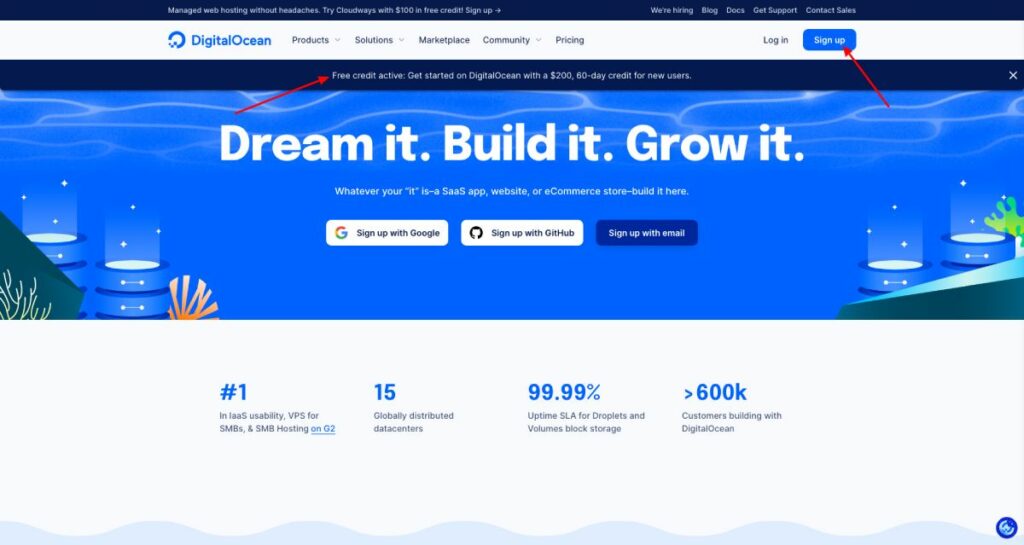 Begin by visiting the DigitalOcean website and clicking the "Sign Up" button on the top right corner of the page, or click the 'Free credit bar'.
You will need to provide your email address and create a password for your account. After filling in the required information, click "Sign Up" to proceed.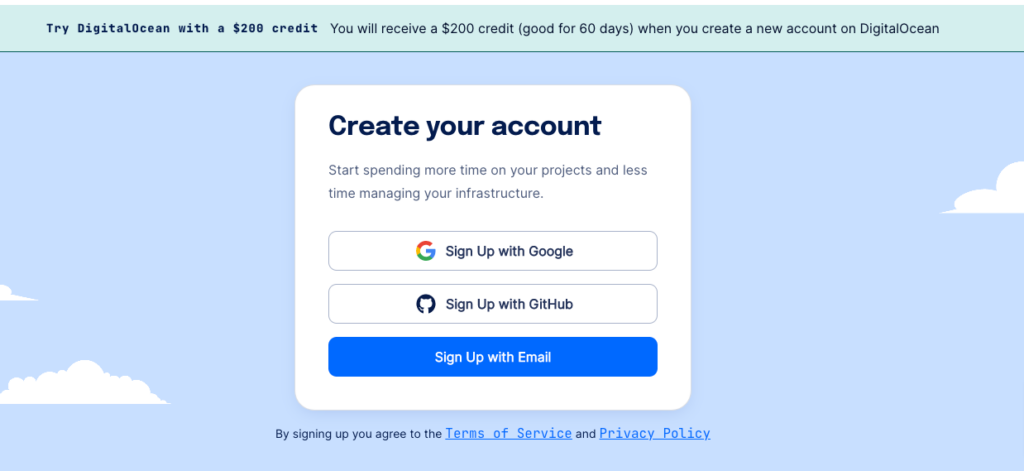 Step 2: Verify your email address
Check your inbox for a verification email from DigitalOcean. Click the verification link provided in the email to confirm your account. This step is necessary to move forward in the process of claiming your free credit.
Step 3: Provide payment information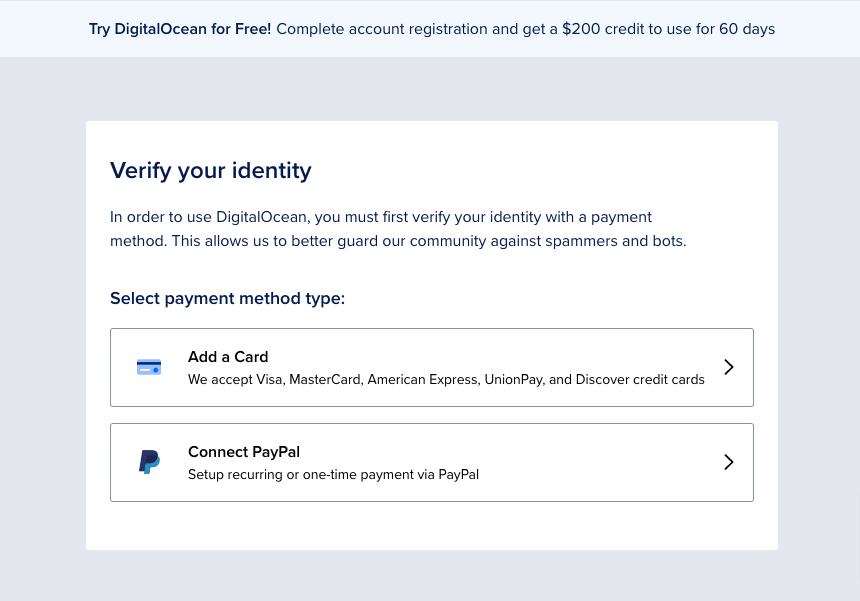 After verifying your email, you will be prompted to enter your billing information. You can choose to provide either a valid credit card or link your PayPal account.
Rest assured that you will not be charged during the trial period, and this information is required only to verify your identity and prevent abuse of the free credit offer.
Step 4: Claim your free credit
Once your payment information is successfully entered and verified, you will receive a $200 credit in your DigitalOcean account.
This credit is valid for 60 days and can be used towards any of their services, including virtual machines, storage, load balancers, and more.
You can monitor your credit usage from your DigitalOcean dashboard.
Step 5: Explore DigitalOcean services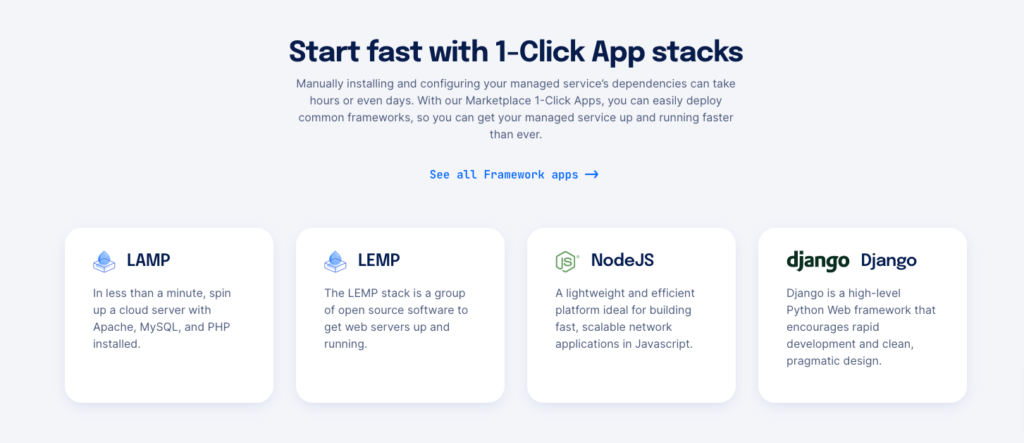 With your free credit in hand, you can now explore the various services offered by DigitalOcean. Some popular options to consider include:
Virtual Machines (Droplets): Create and deploy virtual machines for hosting websites or applications. DigitalOcean offers five droplet plans catering to different use cases, such as Basic, General Purpose, CPU-Optimized, Memory-Optimized, and Storage-Optimized plans. Prices start at just $5 per month!
Managed Kubernetes: Deploy and manage container-based applications using DigitalOcean's CNCF-certified Managed Kubernetes service.
Block Storage: Expand your droplet's storage capacity with scalable block storage volumes.
Object Storage (Spaces): Store and serve large amounts of data with DigitalOcean's object storage service, Spaces.
Load Balancers: Distribute traffic across multiple droplets to ensure high availability and performance.
Remember, you have 60 days to use your $200 credit, so don't hesitate to try out different services and configurations to find the best solution for your needs.
Is DigitalOcean Free Credit Safe to Use?
Claiming a free $200 credit from DigitalOcean is an excellent opportunity for developers and businesses looking to explore the cloud hosting provider's wide range of services.
So, why does DigitalOcean offer a generous $200 free credit for new users? The primary reason is to attract more customers to their platform by providing them with an opportunity to try out their services without any upfront cost.
This allows potential customers to evaluate the platform's performance, features, and ease of use before committing to a paid plan.
As for the safety and limits of this free credit, the $200 credit is indeed safe to use and can be applied to any of DigitalOcean's services.
The credit is available to use for up to 60 days, after which any remaining balance will expire.
If a user exceeds the $200 credit within the 60-day period, any overage charges will be billed to the user's registered payment method. The credit cannot be applied to any existing account, nor can it be transferred or redeemed for cash.
Overall, the $200 free credit from DigitalOcean is a safe and valuable opportunity for users to explore and evaluate the platform's capabilities before investing in a paid plan.
Conclusion
In conclusion, claiming the free $200 credit from DigitalOcean is an excellent opportunity for developers and businesses. With its affordable plans, high-speed performance, user-friendly interface, and robust support resources, DigitalOcean stands out as a strong competitor in the cloud hosting market.
Don't miss the chance to explore the benefits of this cloud platform and take your projects to the next level.

Ludjon, who co-founded Codeless, possesses a deep passion for technology and the web. With over a decade of experience in constructing websites and developing widely-used WordPress themes, Ludjon has established himself as an accomplished expert in the field.