Free Cloud hosting is one of the best types of free hosting you can choose due to the security it offers in distributing hardware across various locations, as well as the speed and performance it provides.
Many people choose it as a service because it can be used as much as it is needed and only pay for what you consume. This gives you the ability to have a very powerful infrastructure at your fingertips with a very low entry price, and in some cases, even for free.
Specifically, this article will discuss free cloud hosting providers.
The Top 7 Best Free Cloud Hosting
| Providers | RAM | CPU | Disk Storage | Locations | Price |
| --- | --- | --- | --- | --- | --- |
| DigitalOcean | 512Mb – 16GB | Intel-AMD (1-8 vCPU) | 25GB-320GB | USA, EU, ASIA | $5-$112/month |
| Hostinger | 3GB – 12GB | 2-6 CPU | 200GB-300GB | USA, United Kingdom, France, India, Singapore, Brazil, Lithuania, and the Netherlands. | $9.99-$29.99/month |
| Kamatera | 1GB-132GB | 1-31 vCPU | 20GB-4000GB | USA, EU, Middle East, Asia | $4-$324/month |
| Heroku | 1GB-14GB | 1-2 CPU | 4GB-800GB | USA, EU, ASIA, Canada, Australia | $0-$500/month |
| CloudWays | 512Mb – 16GB | Intel-AMD (1-8 vCPU) | 25GB-320GB | USA, United Kingdom, France, India, Singapore, Brazil, Lithuania, and the Netherlands. | $10-$112/month |
| Google Cloud | 512Mb – Unlimited | 1 – Unlimited | Unlimited | USA, United Kingdom, France, India, Singapore, Brazil, Lithuania, and the Netherlands. | Starting free |
| AWS | 4GB – 256GB | 2 – 48 vCpu | Unlimited | USA, United Kingdom, France, India, Singapore, Brazil, Lithuania, and the Netherlands. | Starting $51/month |

Provides SSD-based virtual machines (Droplets)
Developer-friendly tools and APIs
Transparent and predictable pricing
Extensive and helpful developer community
See Pros & Cons
Pros
Intuitive and easy-to-use interface
SSD storage for all plans
Global data centers for improved latency
Scalable services to match growth
Cons
Limited managed services
Support could be more robust
DigitalOcean provides free cloud services that help to deploy and scale applications that run simultaneously on multiple computers. Their focus is primarily on developers, and they offer services like virtual private servers, databases, storage, Kubernetes, and networking features. They're known for simplicity and cost transparency.
Their Droplets (virtual machines) are reliable and customizable, coming with SSD storage for all plans, allowing for fast load times. With a robust developer community, finding solutions to challenges becomes easier as a vast array of resources and tutorials are available.
The pricing model of DigitalOcean is another selling point. The predictable and transparent pricing ensures that you pay for exactly what you use. Their Starter plan is free for building static sites. The basic package is priced at just $5 per month, making it accessible for startups and smaller businesses.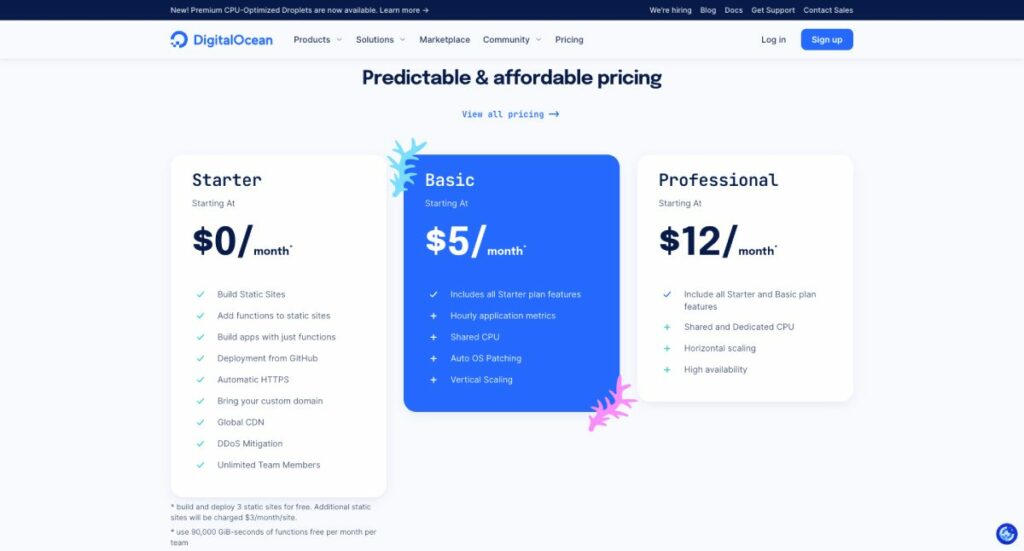 DigitalOcean also provides worldwide data centers, meaning users can select the location of their servers for optimized latency. This global presence makes it an ideal choice for those looking to serve an international audience.
Despite its many strengths, DigitalOcean's main areas for improvement are its managed services and support. While they provide managed databases, users looking for a fully managed service might find DigitalOcean lacking. Their support could also use some bolstering for faster and more effective responses.
Overall, DigitalOcean provides a great balance of performance, price, and ease-of-use, especially for developers looking to scale up their applications.
Read More: How to Get DigitalOcean Free Credit ($200 Totally Free)

User-friendly interface
Competitive pricing plans
Strong customer support
30-day money-back guarantee
See Pros & Cons
Pros
Good performance and speed
Excellent for beginners
Free SSL and domain
Extensive online help resources
Cons
No free cloud hosting tier
Higher renewal rates
Hostinger is another popular option for web hosting, known for its budget-friendly pricing plans and user-friendly interface. Although it doesn't offer a free cloud hosting tier, it offers a 30-day money-back guarantee.
Even at this low price, Hostinger doesn't skimp on features. It offers good performance and speed, a free SSL certificate and domain, and a plethora of online help resources to assist beginners.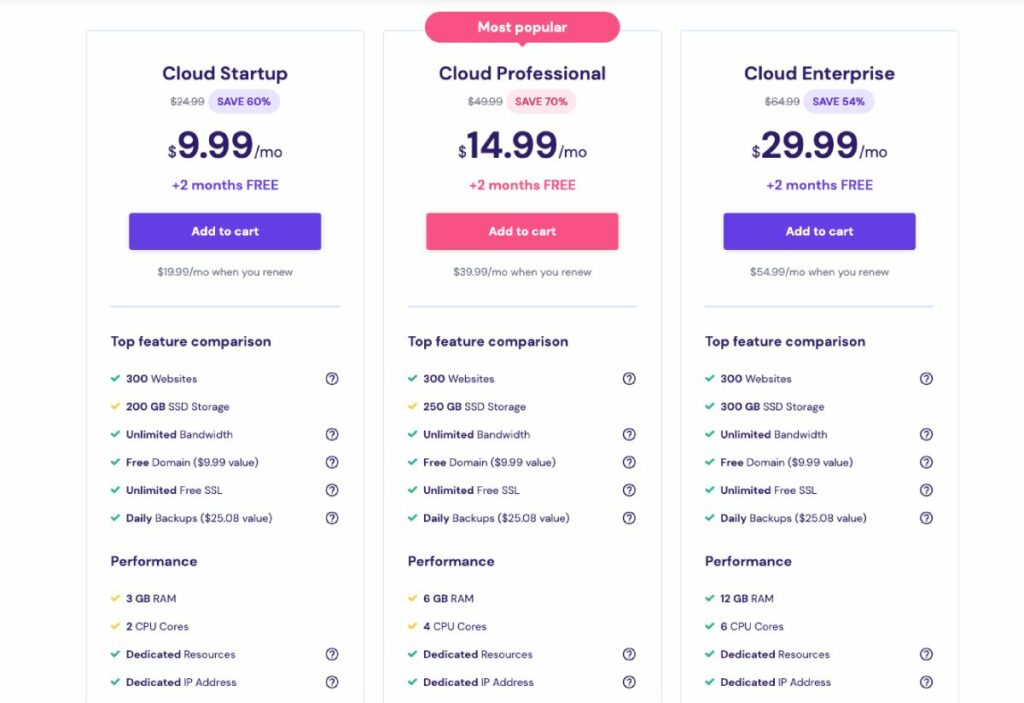 However, be aware that the low prices advertised by Hostinger are often promotional rates for your initial term, and the renewal rates can be significantly higher. Despite this, with its mix of affordable prices, comprehensive features, and excellent customer support, Hostinger presents a compelling choice for those seeking a budget-friendly cloud hosting option.

Scalable and flexible cloud infrastructure
High-performance SSD servers
24/7/365 technical support
30-day free trial
See Pros & Cons
Pros
Customizable server configuration
Wide variety of operating systems
Reliable uptime
Easy to scale resources
Cons
No permanently free tier
Slightly higher learning curve
Kamatera is a cloud services platform that provides high-performance cloud infrastructure. They offer a 30-day free trial for their services, which can be a great way to test out their platform before committing to a paid plan.
One of Kamatera's standout features is its scalable and flexible cloud infrastructure. This allows you to customize your server configuration and scale your resources according to your needs. This flexibility, coupled with Kamatera's high-performance SSD servers, can help ensure your website runs smoothly and efficiently.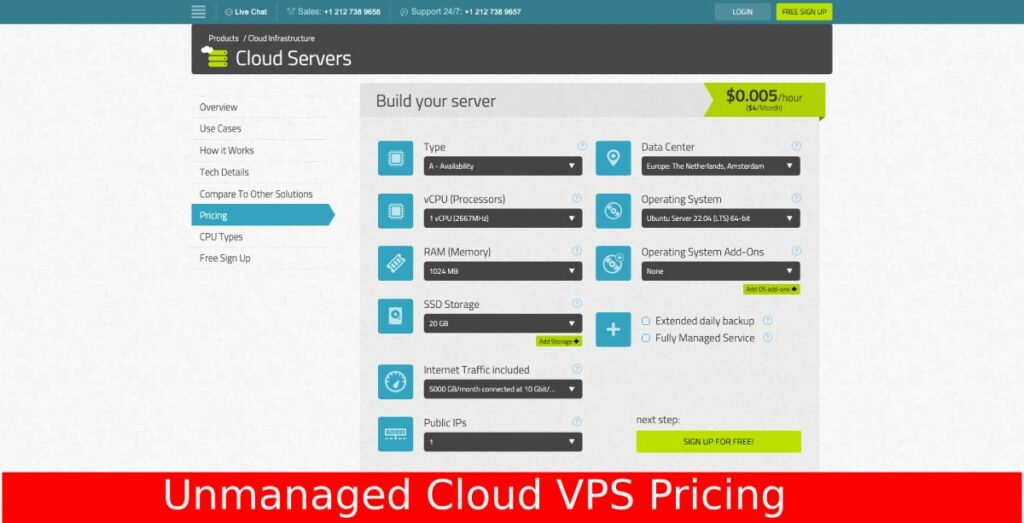 Support is also a strong point for Kamatera, with 24/7/365 technical support available to assist with any issues or queries. Additionally, Kamatera offers a wide variety of operating systems, making it a versatile choice for various use cases.
While Kamatera may have a slightly higher learning curve than some other providers, its combination of performance, flexibility, and support make it a worthy consideration for anyone in need of cloud hosting services.

Developer-centric platform
Easy to deploy applications
Free tier available with some limitations
Integration with other cloud platforms
Free tier then pay as you go
See Pros & Cons
Pros
Straightforward setup and deployment
Good for small-scale applications
Excellent documentation
Wide range of add-ons and integrations
Cons
Free tier has limitations
May not be suitable for large-scale applications
Heroku is a cloud platform as a service (PaaS) that lets companies build, deliver, monitor, and scale apps. It is known for its developer-friendly approach and ease of use, particularly when it comes to app deployment.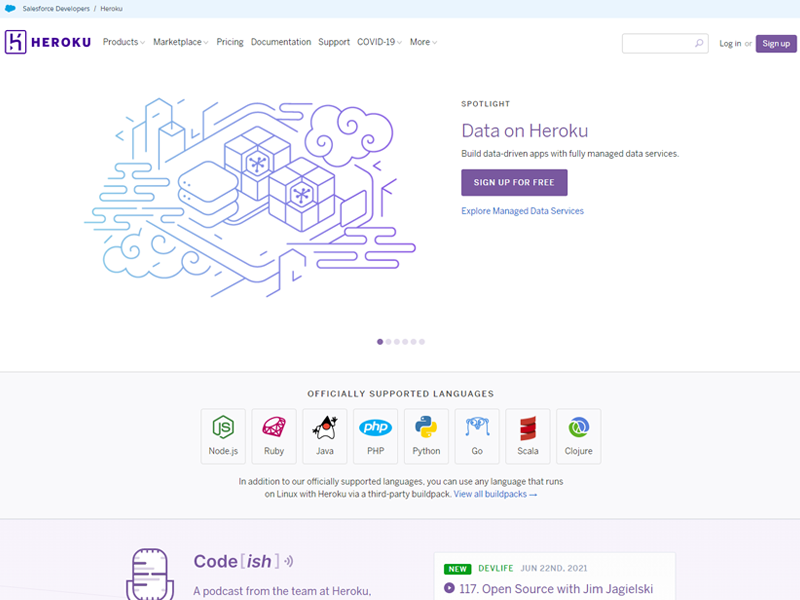 Heroku offers a free tier of their services, although it comes with some limitations. For example, free tier apps "sleep" after 30 minutes of inactivity (not receiving any traffic), meaning they might be slow to start up if they haven't been used recently. Despite this, the free tier can be an excellent option for developers looking to test the platform or run small-scale applications.
Heroku is not only easy to use but also powerful, as it allows developers to run and manage apps written in JavaScript, Java, Ruby, PHP, Python, Go, Scala, and Clojure. It also offers seamless integration with other cloud platforms and a range of add-ons for database services, email delivery, caching, and more.
However, Heroku's simplicity and ease of use might not be enough for larger, more complex applications. For these, a more robust IaaS provider like AWS, Google Cloud, or DigitalOcean might be a better fit. Nevertheless, Heroku's focus on developer experience and straightforward setup make it a worthy contender in the free cloud hosting space.
Read More: Best Application Hosting

Cloud-based web hosting
Flexible and scalable plans
24/7 customer support
3-day free trial
See Pros & Cons
Pros
Managed security and backups
Good performance and speed
Easy to use platform
Pay as you go pricing
Cons
No email hosting
No free tier
Cloudways is a platform-as-a-service provider that offers managed cloud-based web hosting. While they don't have a free tier, they do provide a 3-day free trial to test their services.
Cloudways offers a range of features that make it an attractive option for businesses of all sizes. They provide flexible and scalable plans, which means you can adjust your services as your business grows. The pay-as-you-go pricing model also ensures that you only pay for the resources you use.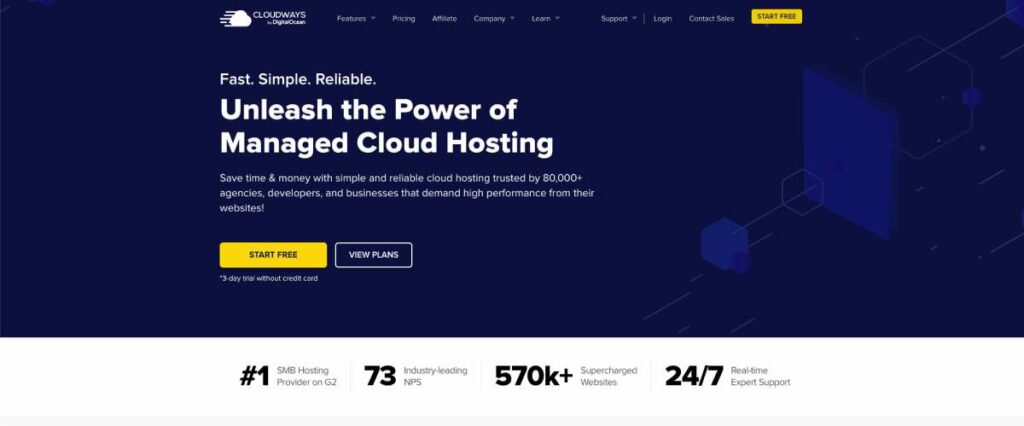 The platform is known for its speed and performance, with a strong emphasis on security. They offer managed security services, including regular security patching and backups to ensure your website's data is safe.
Despite its many features, Cloudways is also designed to be easy to use, with a user-friendly platform that makes it simple to manage your hosting. 24/7 customer support is also provided to ensure any issues are swiftly dealt with.
One thing to note, however, is that Cloudways doesn't offer email hosting. If you need email hosting as part of your web hosting services, you might need to consider other providers or seek out a separate email hosting provider.
With its combination of performance, flexibility, and robust security measures, Cloudways is a powerful contender in the realm of cloud hosting services.
Read More: Best Managed VPS Hosting

Highly scalable and reliable
Advanced security and compliance features
Powerful data analytics and machine learning capabilities
12 months free tier access
Free tier then pay as you go
See Pros & Cons
Pros
Deep integration with Google services
Robust computational power
Flexible pricing and free tier available
Excellent documentation and support
Cons
Can be complex to navigate for beginners
Costs can add up with increased usage
Google Cloud is another leading provider in the cloud hosting landscape. Known for its scalability and reliability, Google Cloud provides a powerful infrastructure that makes it a suitable choice for businesses of all sizes.
One of Google Cloud's key selling points is its free cloud hosting service. New customers can enjoy the free tier for 12 months.
The free tier includes access to Google Cloud's core products such as compute instances, storage, and data transfer, all up to specific usage limits. Once these limits are exceeded, customers are required to switch to a paid plan.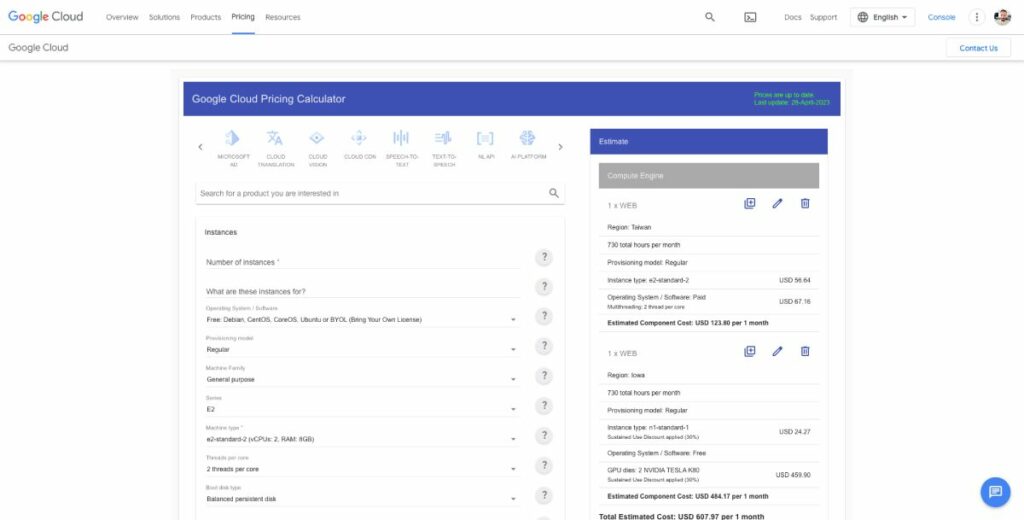 Google Cloud also offers robust security measures, including encryption and a secure network backbone. Plus, customers benefit from advanced data analytics and machine learning capabilities that can provide valuable insights into their data.
Google Cloud can be a bit complex for beginners to navigate, but its excellent documentation and customer support make up for this. However, users need to be aware that costs can add up quickly once they go beyond the free tier limits or when using more advanced features.
Overall, Google Cloud's free cloud hosting service is a cost-effective way for businesses to get started with cloud hosting. It offers a reliable platform backed by one of the largest tech companies in the world.
Read More: Google Cloud VPS Pricing 2023 – Does it worth it?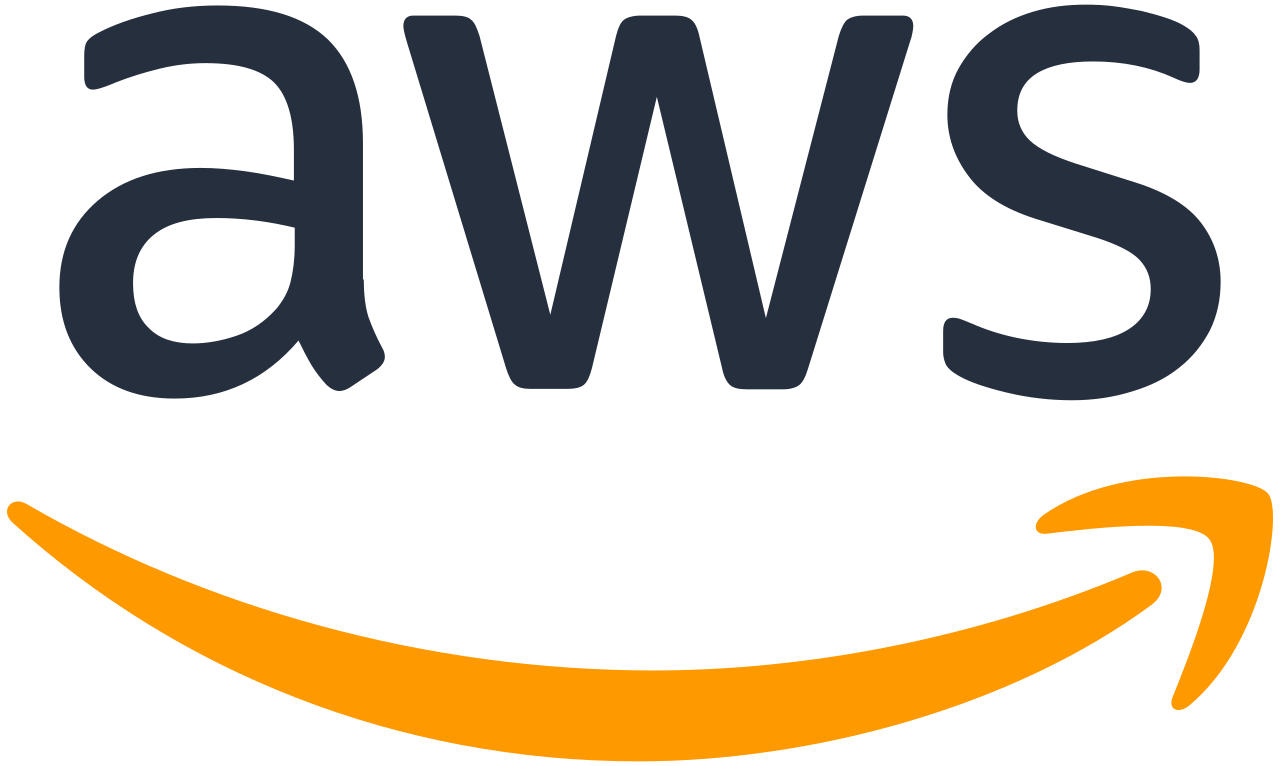 Extensive range of services
Reliable and scalable infrastructure
12 months free tier access
Strong security features
Free tier then pay as you go
See Pros & Cons
Pros
Highly customizable
Excellent customer support
Integration with other Amazon services
Great for large-scale operations
Cons
Can be complex for beginners
Costs can escalate with increased usage
Amazon Web Services (AWS) is a cloud services platform that offers a broad set of products such as computing power, storage options, networking, and databases. AWS's services are trusted by millions of active customers around the world —including the fastest-growing startups, largest enterprises, and government agencies— to power their infrastructure, make them more agile, and lower costs.
AWS offers a free tier access for 12 months for new customers, allowing them to explore and get hands-on experience with AWS services. The AWS free tier includes services with a free tier available for 12 months following your AWS sign-up date, as well as additional service offers that do not automatically expire at the end of your 12-month AWS Free Tier term.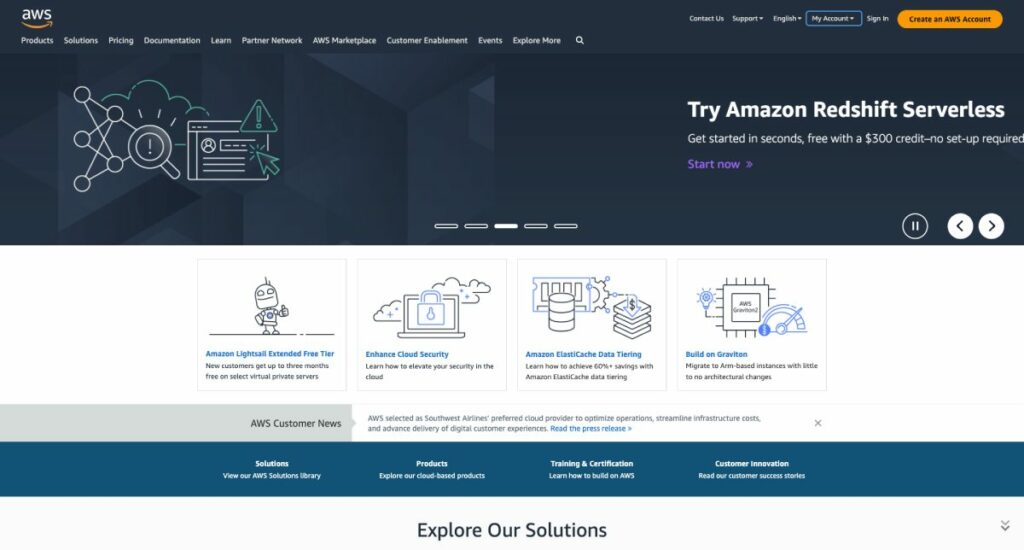 AWS is known for its scalability and security, making it a top choice for businesses looking for a reliable cloud hosting provider. However, like Google Cloud, AWS can be somewhat complex for beginners, and costs can increase rapidly with usage.
Despite these considerations, AWS's expansive set of features, combined with its strong support and security, make it a top-tier option for businesses of all sizes.
FAQs
What is free cloud hosting?
Free cloud hosting is a service provided by hosting companies where they offer a limited amount of cloud server space for free. This can be beneficial for individuals or businesses starting out who need a place to host their website or application, but have limited funds.
Which cloud hosting service is the best for beginners?
Both DigitalOcean and Hostinger are great options for beginners due to their user-friendly interfaces and extensive online resources.
Do these cloud hosting providers offer a free tier?
Some of these cloud hosting providers, like Google Cloud and AWS, offer a free tier of service for a certain period of time. However, others like Hostinger, Kamatera, and Cloudways do not offer a free tier but they do offer affordable plans and a free trial of 30 Days.
What kind of support can I expect from these hosting providers?
Most of these hosting providers offer strong customer support, including 24/7 live chat, phone support, and a wealth of online resources. This includes Kamatera and Cloudways, which both offer 24/7/365 technical support.
What are the limitations of free cloud hosting?
Free cloud hosting often comes with limitations. These can include a limited amount of storage space, bandwidth, and server resources. After the free tier expires, users will also need to start paying for the service. Some free tiers might also lack certain features offered in paid tiers. Always read the terms and conditions of a free tier to understand what is and isn't included.
Are there any hidden costs with free cloud hosting?
While the hosting itself might be free, there could be additional costs. For example, you might need to pay for extra storage, bandwidth, or other features. Furthermore, once your free tier expires, you'll need to start paying for the hosting service. Always read the fine print to understand what you're getting for free and what might incur additional charges.
Can I upgrade my free cloud hosting plan?
Yes, typically you can upgrade your plan with most hosting providers. This allows you to start with a free or low-cost plan and then move to a more robust plan as your website or application's traffic and resource needs grow.
Other Resources
Best Cloud Hosting for WordPress
Conclusion
In this article, you have the opportunity to choose one of the best cloud hosting providers on the market, and the best part is that you can get them for free to test out. Keep in mind that all of these providers offer services with different features, and you can choose based on your needs. For convenience and from my own experience, I suggest DigitalOcean, which is straightforward, yet high-performing and affordable.

As one of the co-founders of Codeless, I bring to the table expertise in developing WordPress and web applications, as well as a track record of effectively managing hosting and servers. My passion for acquiring knowledge and my enthusiasm for constructing and testing novel technologies drive me to constantly innovate and improve.
Expertise:
Web Development,
Web Design,
Linux System Administration,
SEO
Experience:
15 years of experience in Web Development by developing and designing some of the most popular WordPress Themes like Specular, Tower, and Folie.
Education:
I have a degree in Engineering Physics and MSC in Material Science and Opto Electronics.