You can display your content worldwide through diversified servers and enjoy global recognition with cheap cloud hosting. There are many hosting providers helping businesses host on multiple servers.
Cloud hosting is becoming more popular among business owners across the globe, as the market penetration rose by about 5 percent in 2023.
The short-list of the cheapest cloud hosting for 2023
Not all cloud servers are worth your time and money. So, in this article, you'll find the perfect hosting match for yourself.
Top 10 Best Cheap Cloud Server Hosting Providers
| Provider | Price | Ram | SSD | Bandwidth | Uptime | Speed | Server Locations |
| --- | --- | --- | --- | --- | --- | --- | --- |
| Vultr | $2.50/M | 0.5 GB | 10 GB | 0.50 TB | 100% | 1 GBPS | North America (USA, Canada)South America (Brazil)Europe (UK, Amsterdam, Germany, France, Poland, Spain, Sweden)Asia (Korea, Japan, Singapore, India)Asia- Pacific (Australia) |
| Kamatera | $4/M | 1024 MB | 20 GB | 1 TB | 99.95% | 1 GBPS | North America (U.S., Canada)Europe (Netherlands, Germany, U.K)Middle East (Israel)Asia (China, Hong Kong) |
| Digital Ocean | $4/M | 1 GB | 25 GB | 1 TB | 99.99% | 1 GBPS | North America (USA, Canada)Europe (U.K, Netherlands, Germany)Asia (Singapore, India) |
| HostGator | $4.95/M | 2 GB | Unmetered | Unmetered | 99.9% | 2 GBPS | North AmericaEuropeAsiaAustralia |
| A2 Hosting | $4.99/M | 1 GB | 150 GB | 2 TB | 99.9% | 1 GBPS | North America (USA)Europe (Amsterdam)Asia (Singapore) |
| HostWinds | $5/M | 1 GB | 30 GB | 1 TB | 99.99% | 1 GBPS | North America (USA)Europe (Netherlands, Amsterdam) |
| AccuWeb Hosting | $7.99/M | 1 GB | 30 GB | 500 GB | 99.99% | 1 GBPS | North America (USA, Canada)Europe (UK, France)Asia (Singapore, India) |
| Hostinger | $9.99/M | 3 GB | 200 GB | Unlimited | 99.9% | 3 GBPS | Europe (the Netherlands, Lithuania, U.K.)Asia (Singapore, India)North America (the USA)South America (Brazil) |
| Cloudways | $10 | 1 GB | 25 GB | 1 TB | 99% | 1 GBPS | Europe (Malta, Spain)Middle East (Dubai) |
| Nexcess | $49/M | 2 GB | 50 GB | 1 TB | 99.99% | 1 GBPS | North America (USA)Europe (U.K., Amsterdam)Asia- Pacific (Australia) |
1. Vultr – $2.5/month (Best for Pricing)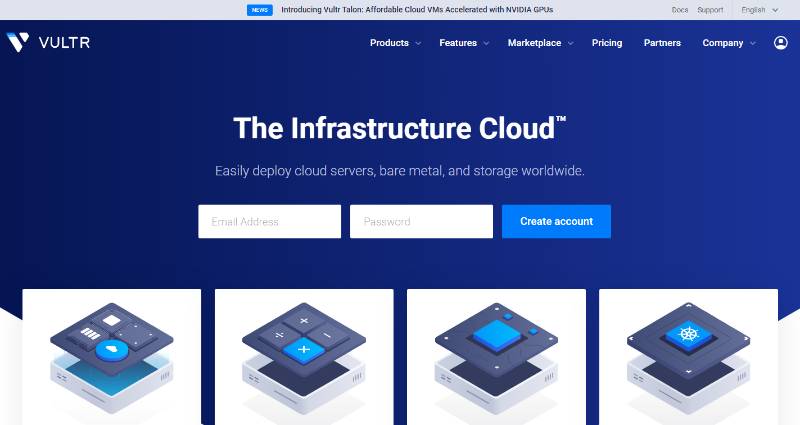 Vultr is one of the cheapest web hosting providers. The web hosting company provides its clients with automatic backups to ensure the safety of their data. You can also avail flexible, safe, and private networking with Vultr.
They also provide DDoS protection to ensure you enjoy the most uptime and fastest speed possible. With Vultr's web-based firewall solutions, you can protect more than one compute instance.
Vultr's cloud servers offer the scalable capacity to handle growth in traffic and usage, so your website will always perform at its best.
The company also operates 27 data centers across the globe to ensure better service provision to every customer.
Pros:
Vultr is a flexible and reliable web hosting.
They have an easy-to-use dashboard.
Satisfied clients love the 100% uptime of Vultr, as it helps them operate smoothly.
Cons:
They do not provide any active support to clients. You must wait for their slow ticket processing support if you're planning to use it.
Why Is Vultr Best for Pricing?
Vultr tops our list because it is the most affordable in 2023 and may also manage to maintain its spot in 2023.
They offer 0.5 GB memory and 10 GB storage at only $2.5 per month. Although other web hosting companies may provide you with more storage and memory, their prices are high. So, if you need an affordable yet fantastic host, go for Vultr.
Pricing: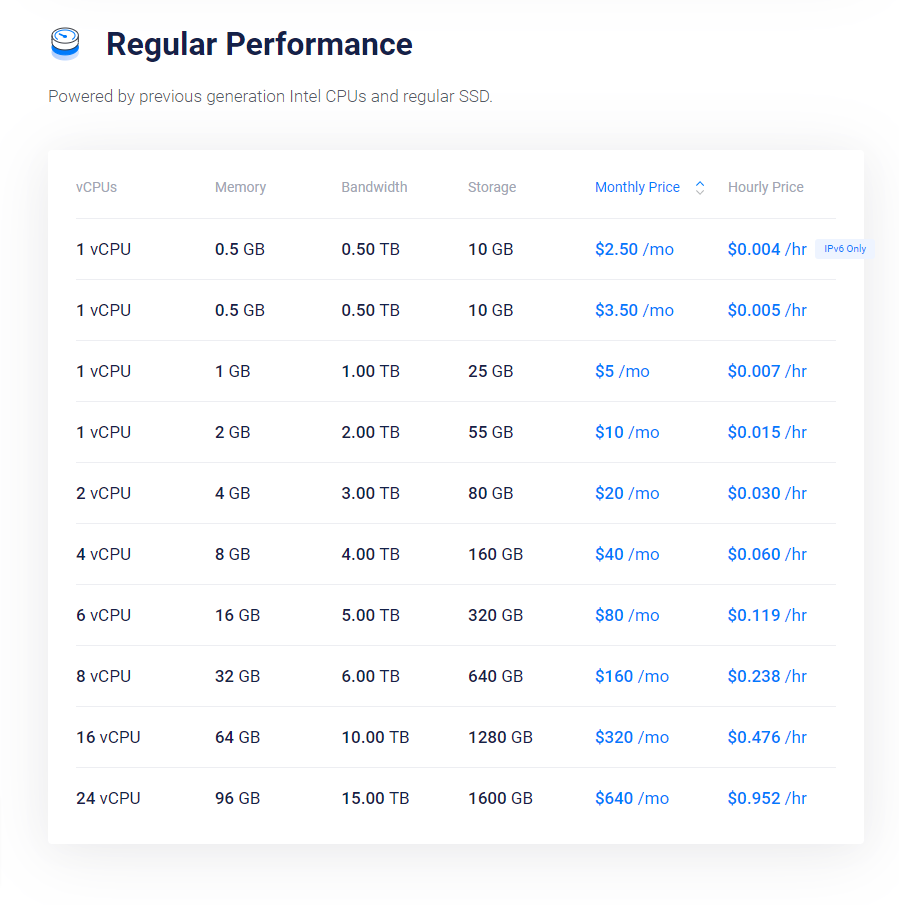 Vultr's pricing plans start at $2.5/Month, and the pricing increases with increasing storage and memory. Depending on your needs, you can select the best pricing plan from their available options.
2. Kamatera – $4/Month (Best For Uptime)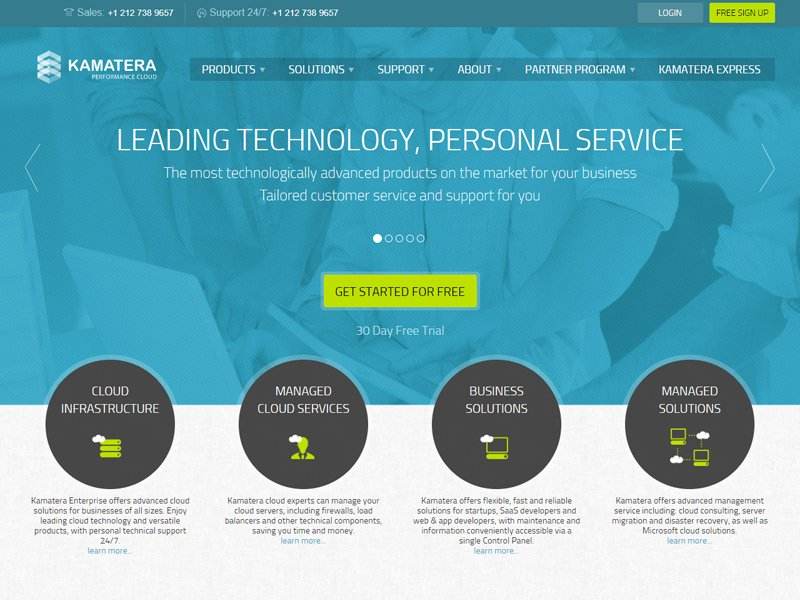 The completely virtualized cloud servers from Kamatera offer an affordable, adaptable, and complete answer to various computing needs.
To function as expected, content management systems, online services, and business apps all need a lot of dedicated memory, processing power, and database resources.
The cutting-edge technology used by Kamatera guarantees unrivaled performance and server speed at all times. Kamatera's multi-server, multi-geolocation distribution ensures the greatest speed.
Pros:
Kamatera is an affordable cloud hosting solution for many businesses.
The cloud servers make it easy to assign many roles.
You can add various databases as per your needs.
You can remove an attached server without paying a single penny.
Cons:
Kamatera is not very user-friendly. You may struggle with using this cloud server if you're a beginner.
Why Is Kamatera Best for Uptime?
The most recent technology is used in Kamatera's purpose-built, globally dispersed data centers. Their servers are kept up-to-date and accessible at all times.
Each component has a similar backup device with at least N+1 redundancy resilience, which will deploy in the case of a component failure. This implies that whenever a power supply unit, hard drive, power phase, UPS, RAM, or CPU experiences hardware failure, an alternate device will be switched to.
Pricing: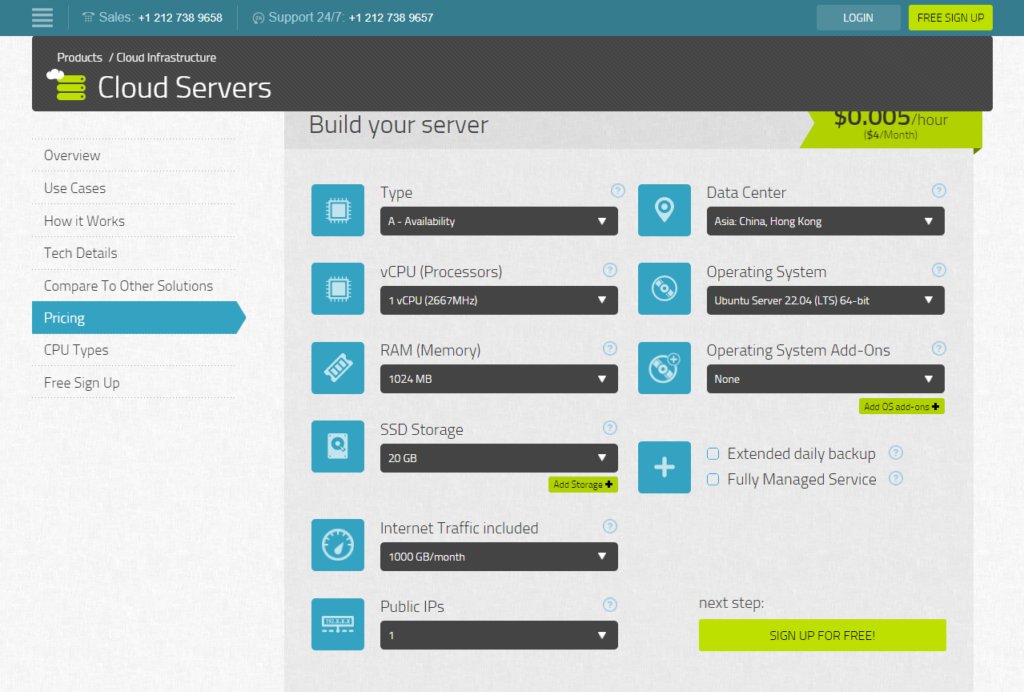 The primary cloud hosting plan starts at $4/Month. You can explore other packages depending on your business or company requirements.
Their support is also available by phone for addressing customer queries.
3. DigitalOcean – $4/Month (Best for Cloud Server Infrastructure)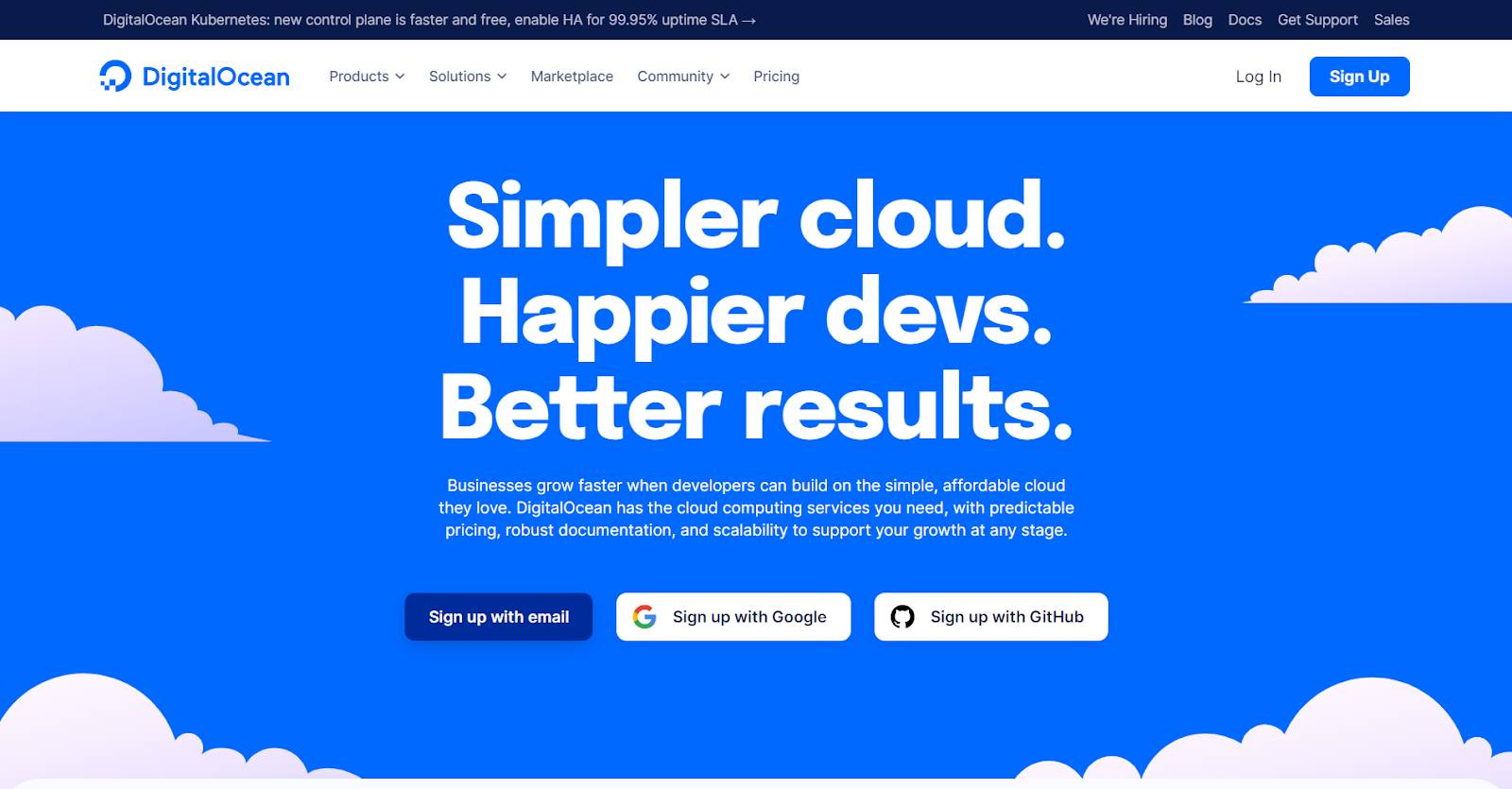 The 99.99% uptime of DigitalOcean makes it one of the most dependable resources accessible. The fact that so many clients use this platform is understandable, given the high security and data protection standards.
Cloud hosting company DigitalOcean provides Infrastructure as a Service (IaaS) and cloud computing services.
Droplets, a virtual machine from DigitalOcean, is ideal for website providers wishing to get started with a versatile cloud hosting solution.
DigitalOcean's App Platform offers an even quicker approach to launching your websites without worrying about your infrastructure configuration.
Pros:
The hosting has responsive 24/7 support for the customers.
You can upgrade their hardware without any hassle.
You can also set up a scalable server.
Its user-friendly interface gives you total control over the machine.
Cons:
Backup droplets are not accessible to customers for free. You need to pay extra to buy them.
The console is not very reliable and efficient.
Why Is DigitalOcean Best for Uptime?
The hosting is great for uptime and you can build, automate, and manage a robust cloud server infrastructure using DigitalOcean. They offer out-of-the-box capabilities like floating IP addresses, shared private networking, Tier-1 bandwidth, team accounts, and SSD (solid-state drive) hard drives.
Pricing: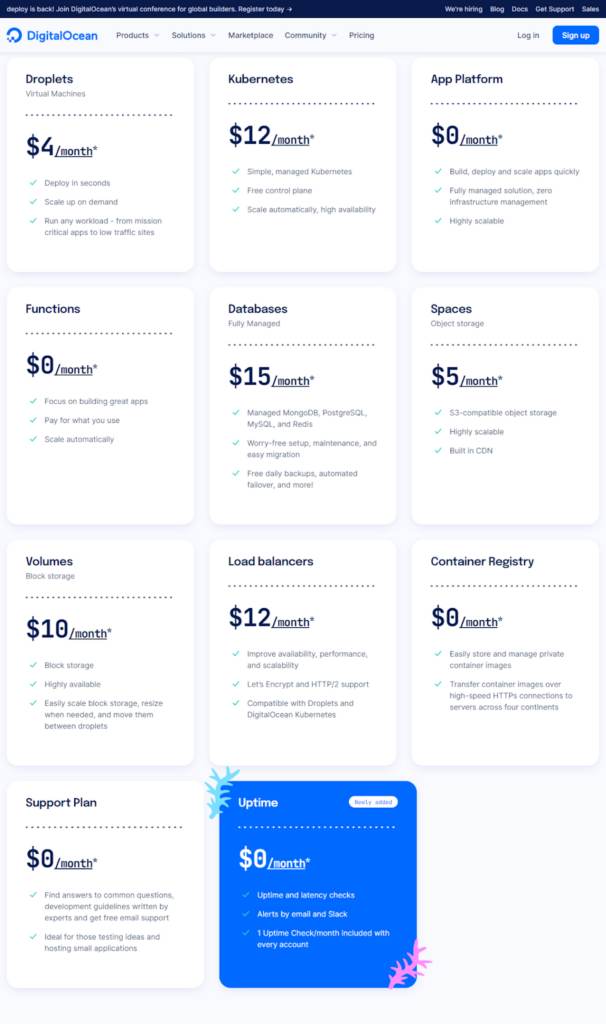 There are several pricing plans available. Droplets is one of the most used and less expensive plans. You can pick the best plan as per your business needs.
You might be interested in the cheapest dedicated servers.
3. HostGator – $4.95/Month (Best for Being Reliable at Affordable Rates)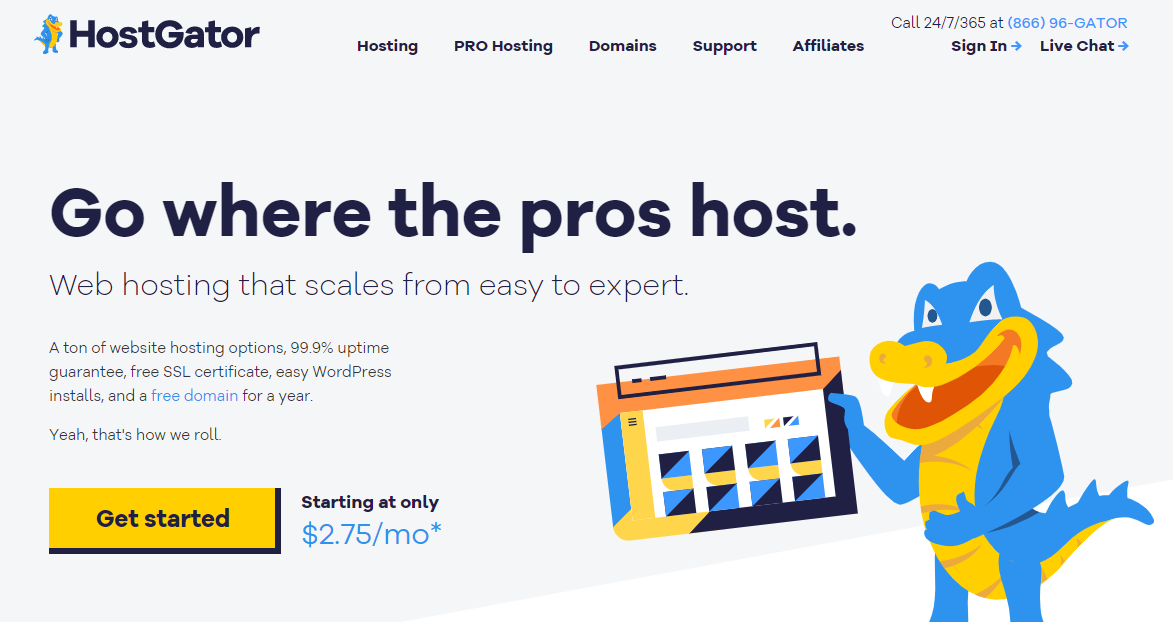 HostGator gives a great collection of valuable tools. This top-notch web hosting company also provides a fantastic website builder for bloggers and small companies.
One-click WordPress installation is included with their shared hosting plans, making it simple for anybody to get started with WordPress.
Pros:
Affordable pricing is a prominent feature of this hosting company.
When the hosting contract ends every three years, they offer a reduced fee to upgrade your service plan. It is more cost-effective than renewing at the regular rate for your current plan.
The customer service workers are friendly.
Cons:
Without selecting HostGator's Business plan, you won't receive any extras like free backups or SEO tools.
HostGator's customer support sometimes fails to understand and solve your problems. iT is not a good option if you plan to rely on your host for all technical needs. They are kind and professional, but when a problem arises, it will be challenging to fix.
Why Is HostGator Best for Being Reliable at Affordable Rates?
HostGator is the place to go if you seek affordable yet dependable cloud hosting. It can manage a site with many pages or greater traffic because it offers unmetered storage and charges hourly without compromising its awesome 99.99% uptime guarantee.
They stand out because of their introductory discounts, especially for their most expensive plan. Depending on their specials, HostGator offers discounts for your first year of hosting that might reach 70%.
Pricing: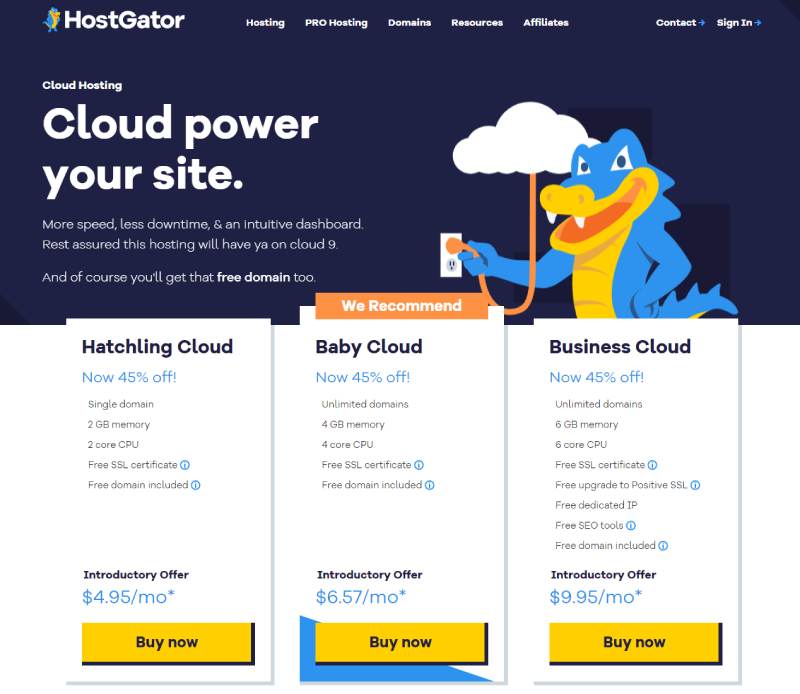 The Hatchling plan is now $4.95 per month, the Baby plan starts at $6.57 per month, and the Business plan is only $9.95 per month with a discount. There is a 36-month commitment for each plan.
4. A2 Hosting – $4.99/Month (Best for Fast Speed)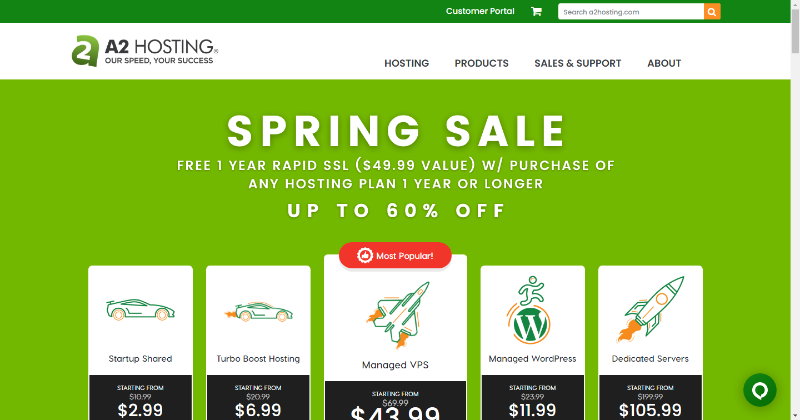 In the cloud web hosting sector, A2 Hosting is renowned for its fast web hosting, and its cloud hosting options have shown to be as quick and dependable.
The versatility of A2 is what makes them stand out. Whatever you need from your cloud hosting company, they are an excellent, reliable alternative to get you there.
One feature that will be especially helpful if you're a little less tech-savvy is 24/7 customer service.
Pros:
With A2 Cloud hosting, you can access the fastest page loading speed.
Their uptime will remain 100% no matter how long you use their cloud servers.
You can host as many websites as possible while staying within your bandwidth.
If you get stuck at any point, A2 Hosting's support will be present to help you.
Cons:
They don't provide customers with a free domain like other web hosting providers (HostGator, Hostinger, etc.).
Why Is A2 Hosting Best for Speed?
For many years, A2 Hosting has displayed improved outcomes. They are among the quickest shared hosts I've heard or seen. As of January 2023, they delivered at an astonishing average speed of 288 milliseconds.
If you want to read further please check our full review of A2 Hosting
Pricing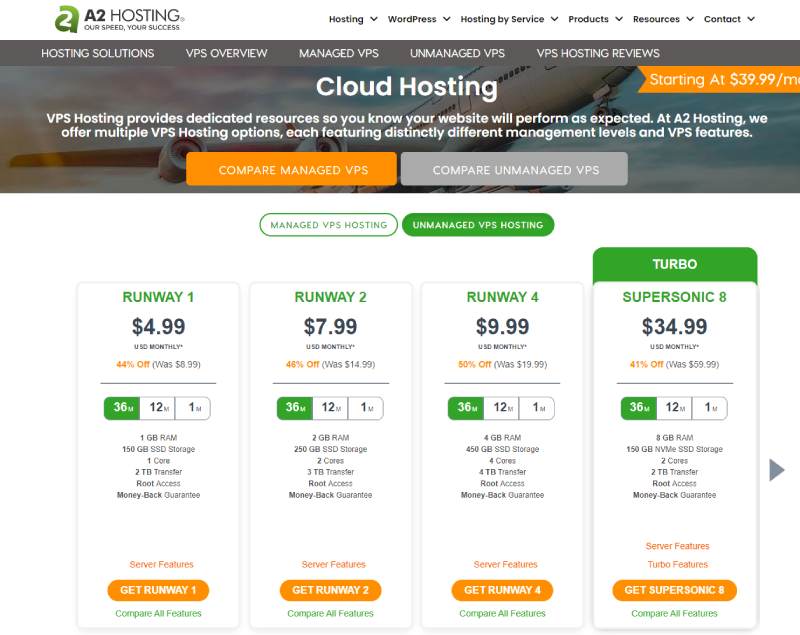 Their payment varies depending upon your option. If you're purchasing a 36-month package, their standard package will cost $4.99 per month. You can buy a second plan if you want more storage with higher bandwidth.
5. HostWinds – $5/Month (Best for Uptime and Speed)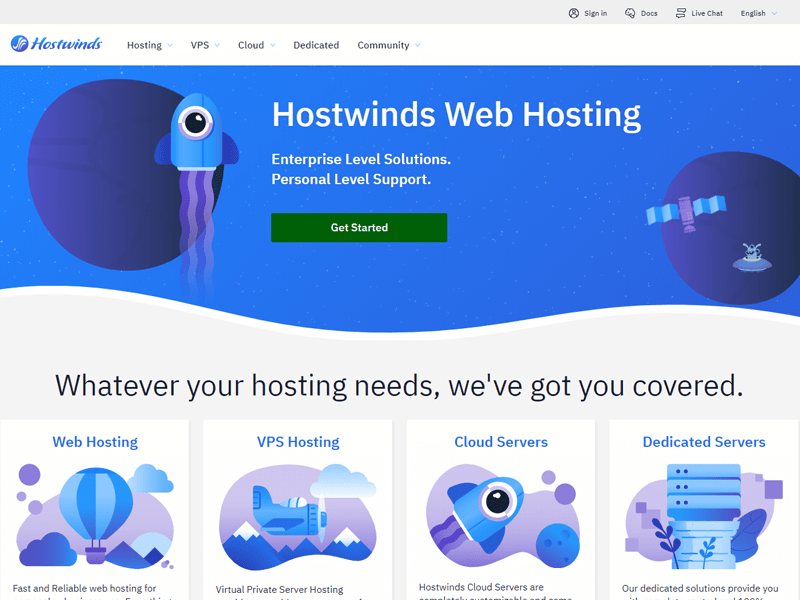 To assist clients in establishing and expanding an online presence, Hostwinds offers a complete selection of server configurations and operating systems.
HostWinds attracts a clientele as diverse as the server configurations. Thanks to hosting plans catering to specialist markets like vBulletin and Minecraft.
This hosting provider provides different options to guarantee every customer's demands are addressed.
HostWinds operates 500% quicker than standard shared hosting plans due to SSDs and LiteSpeed web servers.
Pros:
HostWinds offers a free migration solution to its customers.
They have a responsive support system, including a live chat to answer customer queries.
The dashboard and control panel is user friendly. Even if you're a beginner, you can use HostWinds easily.
They guarantee 99.999% uptime, and their servers are always available.
Cons:
Although HostWinds has many benefits, they also have a few disadvantages. So, if you don't have any problems with issues, go for HostWinds without hesitation.
They neither provide a money-back guarantee nor a free domain.
Why Is HostWinds Best for Speed and Uptime?
According to HostWinds, speed was a primary consideration while developing its service. To do this, it employs SSD Drives (Solid State Drives) to boost the efficiency and performance of websites using its hosting service.
HostWinds network and power are operational, with no outages longer than 31.6 seconds per year. That's quite remarkable, but we also want to use these services to verify the promises' veracity.
Pricing: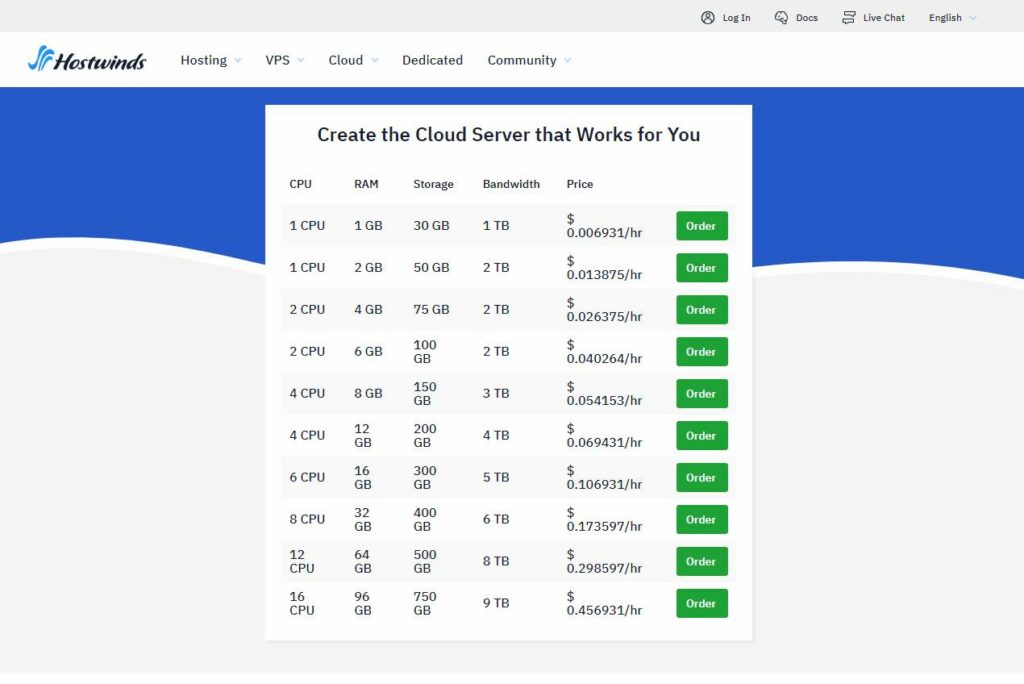 HostWinds have very suitable pricing plans providing clients with many options.
7. AccWeb Hosting – $7.99/Month (Best for Support)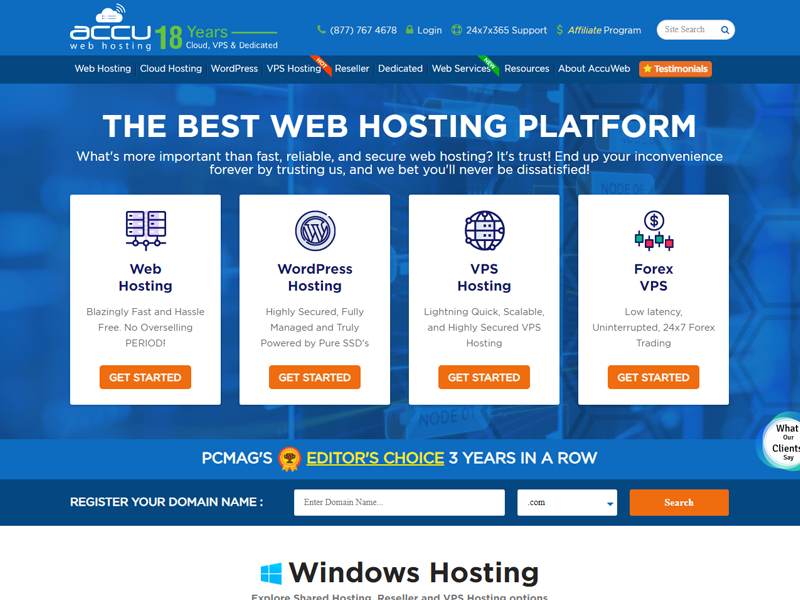 AccuWeb Hosting Cloud VPS servers have at least a 1 Gbps port connection, making them perfect for game servers, business needs, and forex trading. You can also manage your Cloud VPS and get real-time monitoring with their DDoS protection.
In all Cloud VPS plans, free backup is also included for you. You can use a dedicated application pool to manage your website.
With their Cloud VPS options, you can also choose from various Linux and Windows operating systems. CentOS, CloudLinux, Ubuntu, and many more are included in their services list.
Pros:
Before buying, you get a free trial to try out AccuWeb Hosting's services.
They have a dependable infrastructure.
Customer support is helpful and will be available to you.
You will also get a 99.9% uptime and high speed to ensure your website performs well.
Cons:
AccWeb Hosting's main disadvantage is that their VPS pricing does not include a cPanel.
Why Is AccuWeb Hosting Best for Support?
AccuWeb Hosting is best known for its immediate support service.
If you're stuck at any point, they'll get you in touch with their customer support representative. You can share your problems with their support, and they'll find the best solution for you.
Pricing: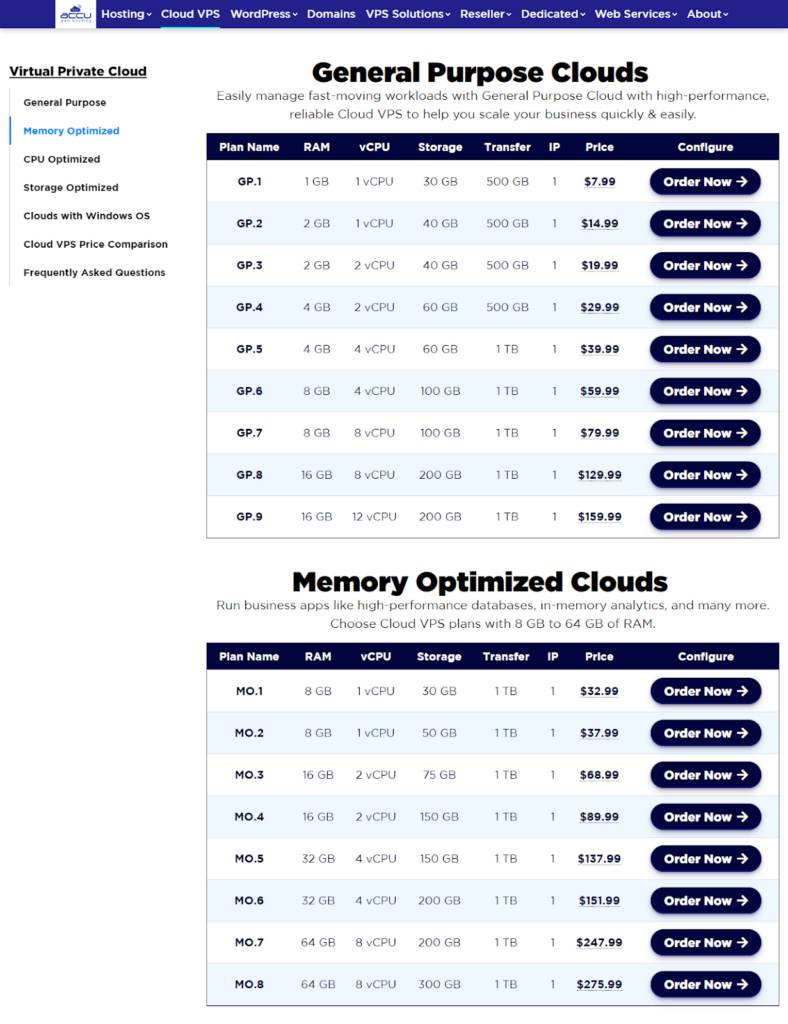 The most inexpensive cloud VPS hosting plan starts at $7.99/month. The pricing varies with increasing RAM and Storage.
8. Hostinger – $9.99/Month (Best for Bandwidth)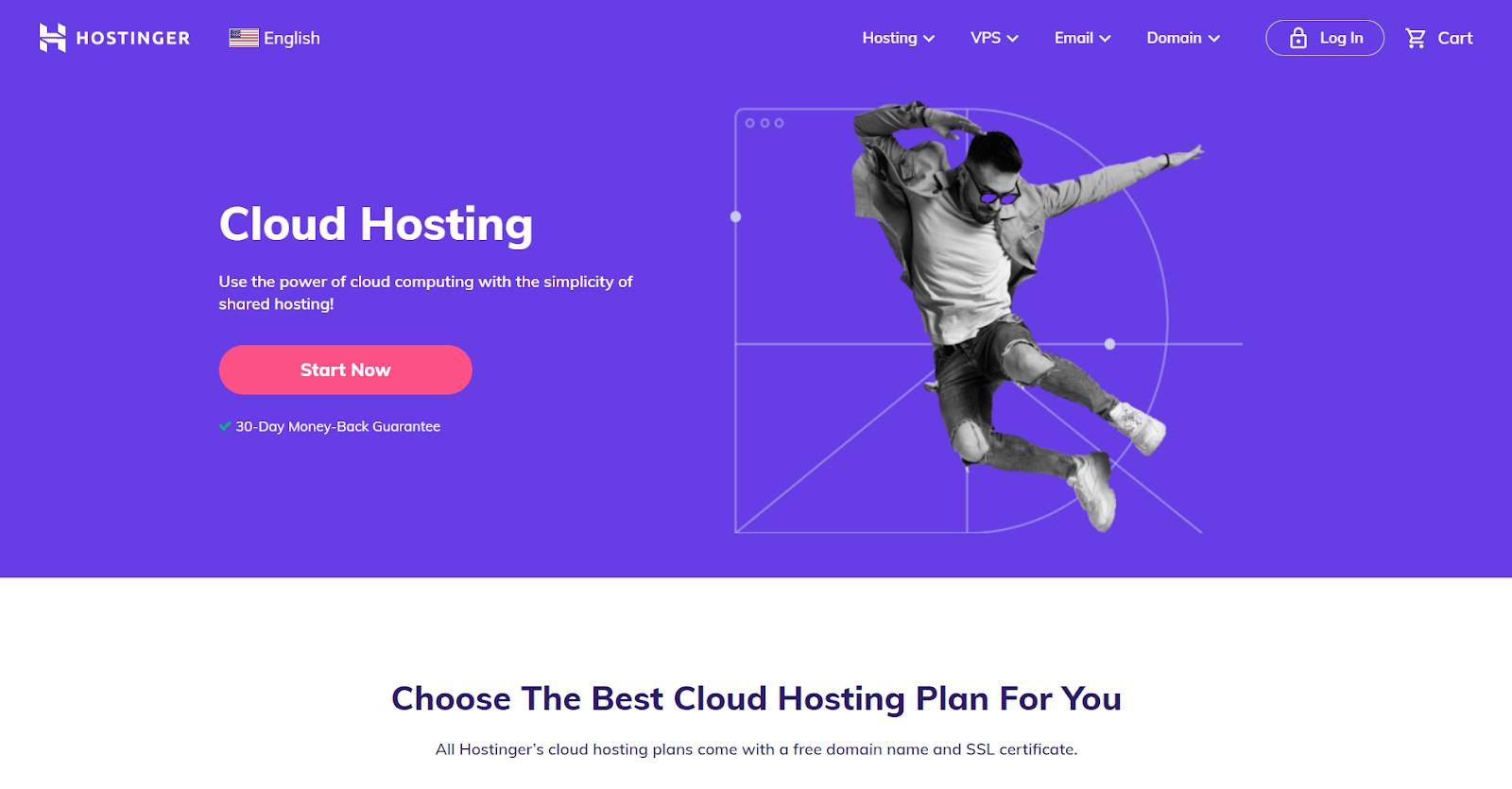 Hostinger's cloud server hosting services include flawless uptime, round-the-clock monitoring, and security. A dedicated IP address, HTTP/3, high-performance SSD storage, and other features let you use the speed and power.
You can be an absolute beginner; technical expertise is not necessary to use Hostinger. They also give every customer a powerful control panel to ensure user-friendliness and ease of use.
Pros:
Hostinger has a lot of perks, and some of them are listed below:
Cons:
Hostinger cloud hosting plans can sometimes result in low loading speed and slow website processing.
Why Is Hostinger Best for Bandwidth?
Hostinger offers unmetered bandwidth to its users. Every visitor to your website consumes specific resources; thus, these resources are free with limitless bandwidth.
There is no limit to the traffic your website can receive with Hostinger since your hosting account includes "unmetered bandwidth." All websites with much data, media, or traffic should choose unmetered bandwidth.
The bright spot on the list of best cloud hosting providers goes to Hostinger for its excellent hosting and adaptability.
It supports a variety of use cases for both new users and website scaling. Hostinger is one of the lowest-priced web hosting companies with the finest features.
You can also read our full review of Hostinger
Pricing: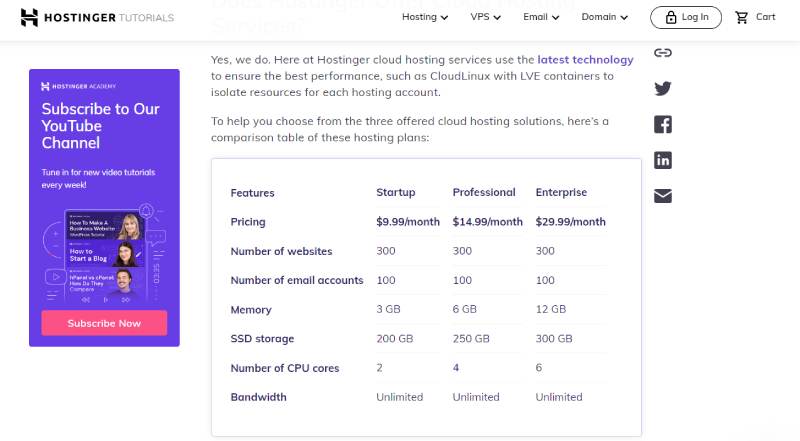 Hostinger offers three different pricing plans for cloud hosting users. The cheapest plan starts at $9.99/month. You can go with the cheapest plan if you're low on budget.
You can get 7% OFF by using our exclusive coupon code CODELESS with any Hostinger purchase
9. Cloudways – $10/Month (Best for User Friendliness)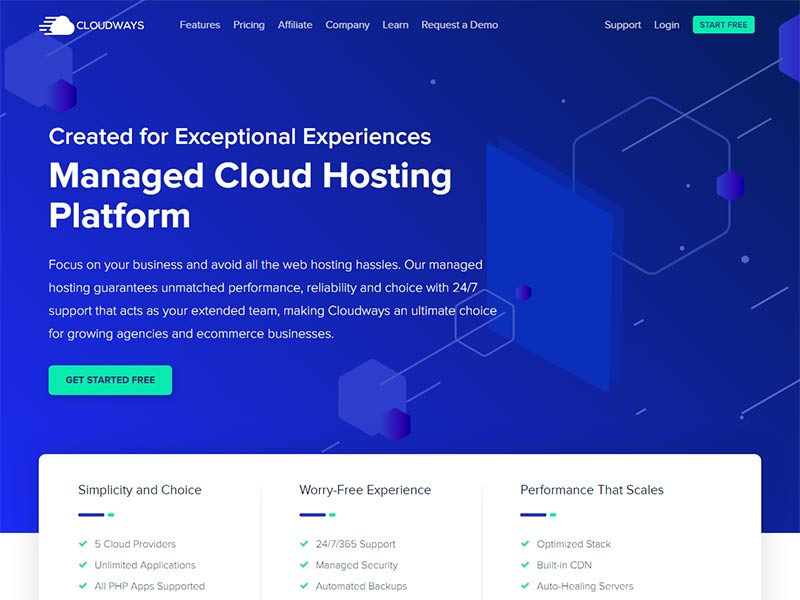 Cloudways enables you to deploy, set up, and administer several apps across various cloud servers using a single dashboard. Your cloud server is protected from malicious attempts by this security measure.
Your cloud server is backed up with cutting-edge caching solutions to speed up your website in Cloudways.
Pros:
The inside user dashboard is fantastic.
Live chat support is too handy.
Automatic daily one-click restore backups.
Cons:
You will have less control over certain features, such as turning off PHP FPM.
Why Is Cloudways Best for User-Friendly Hosting?
Cloudways may be the ideal compromise if you have a large, complicated website that requires robust hosting but is out of your price range for enterprise-class solutions.
Their cloud hosting is converted into an accessible format, even though it is often only available to large enterprises. The straightforward dashboard makes utilizing the service simple, and the costs are comparable to those of other low-cost cloud hosting services.
Cloudways allows you to select from more than 25 global server locations. This allows you to choose servers as close as workable to your real location, which will speed up your website.
Pricing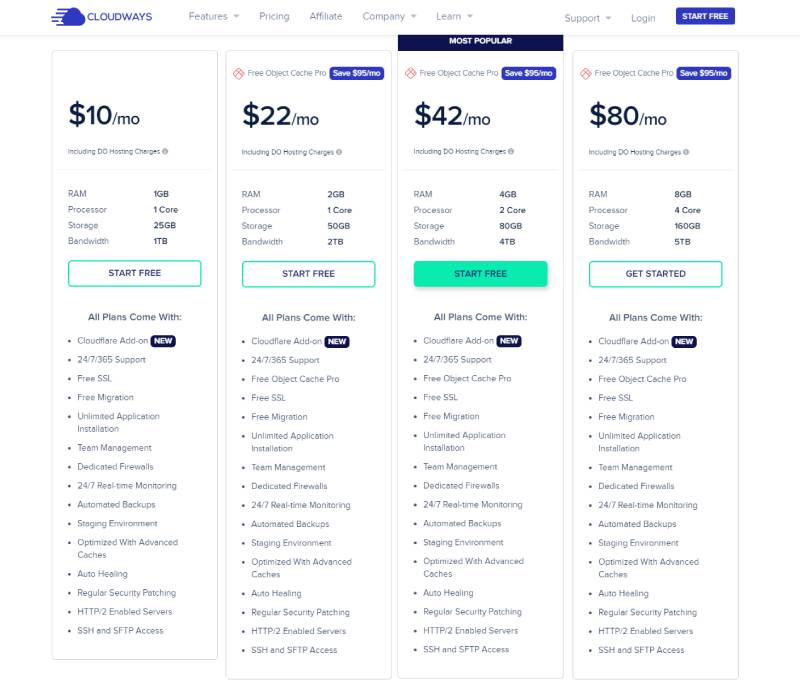 The cheapest pricing plan of Cloudways costs $10 per month. It has many features, like free SSL, migration, dedicated firewalls, 24/7 real-time monitoring, auto-healing, and more.
10. Nexcess – $49/Month (Best for Large Businesses)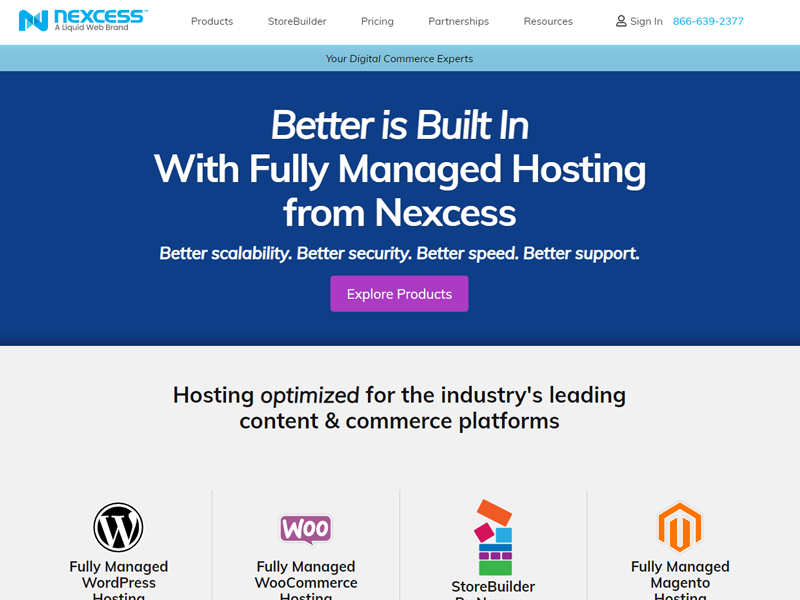 Auto-scaling, PCI compliance, SEO tools, and a tonne of development tools are a few of the fantastic services Nexcess offers.
Because Nexcess offers so many integration possibilities, it is challenging to estimate a precise cost. Depending on your selection, your server will be priced and optimized for a specific application, such as Magneto, WooCommerce, or WordPress.
Pros:
With a 99.99% uptime, Nexcess is dependable, quick, and able to handle heavy traffic.
Many free and paid services are available, including an SSL, automatic backups, the iThemes Security Pro plugin, and virus scans.
They offer 24/7 quick and competent customer service via live chat.
Cons:
Unfortunately, this is the only web hosting in our list that does not offer an unmanaged cloud hosting option. They only have managed hosting, which makes them expensive for other hosts.
Why Is Nexcess Best for Large Business Websites?
Nexcess is designed for eCommerce companies. They provide connectivity for Magento, WordPress, and WooCommerce, allowing you to launch sales immediately.
Nexcess is a clear choice for an eCommerce company with ambitious growth goals when combined with the scalability of cloud hosting.
They also provide options based on your selected eCommerce platform and 24/7 customer help.
Pricing: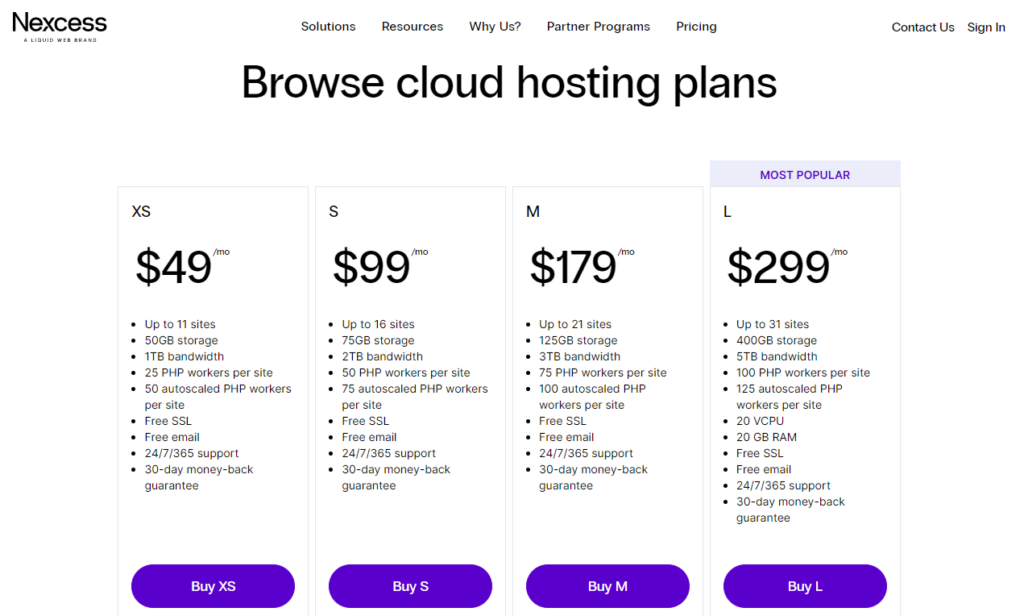 Nexcess offers different cloud hosting plans, but all are managed. No unmanaged hosting options are available for customers.
Wrap Up!
The best cloud hosting solution has excellent performance and a low cost. We say don't miss the opportunity if you can find that in a cheap cloud hosting option!
Suppose your provider is affordable but offers lackluster performance or customer service. In that case, you'd probably be better off finding a better deal elsewhere. No hype, no gimmicks: we shared details per customer reviews of web hosting services.
FAQs
Which is the best free cloud hosting?
Kamatera is the best free cloud hosting. They offer a 30-day trial period. You will get services at a very reasonable price compared to other domain name registrars. Even their monthly cloud hosting package starts at $4 per month.
Is Cloud cheaper than a dedicated server?
Due to the lack of initial hardware costs, cloud servers are less expensive to start using than dedicated servers unless you are operating a setup on a private cloud. It's not always the case that the cloud is cheaper, but it's usually cheaper. 
Is Cloud hosting cheaper than shared hosting?
The majority of cloud hosting packages are more expensive than shared hosting plans. The main reason is that cloud hosting has more stability, increased security protection, and capacity to manage high traffic volumes than shared hosting.
Why are cloud servers so expensive?
Businesses often demand more bandwidth than on-premises solutions due to the higher cost associated with this increased bandwidth need.
When should you use cloud hosting?
Cloud hosting is the best option if you're looking for flexible and transparent hosting. It will provide a scalable, safe, and quick hosting solution. Although it's a more recent hosting model, it will provide your medium to large-scale website with the support it requires.
Why is cloud hosting preferred to home hosting?
A cloud hosting setup is preferred to traditional home hosting because it enables websites and accounts to add/remove resources maintained by the network of several servers. It may include bandwidth, storage, RAM, etc. Cloud hosting is more flexible than the home hosting setup, which has constrained resources and strict requirements.
What is the difference between cloud hosting and VPS?
Unlike a VPS located on a single physical server, a cloud server is hosted on physical servers to provide the most scalability and high availability.

As one of the co-founders of Codeless, I bring to the table expertise in developing WordPress and web applications, as well as a track record of effectively managing hosting and servers. My passion for acquiring knowledge and my enthusiasm for constructing and testing novel technologies drive me to constantly innovate and improve.
Expertise:
Web Development,
Web Design,
Linux System Administration,
SEO
Experience:
15 years of experience in Web Development by developing and designing some of the most popular WordPress Themes like Specular, Tower, and Folie.
Education:
I have a degree in Engineering Physics and MSC in Material Science and Opto Electronics.