Domains are an integral part of web design without which no website can function. Considering its valuable stance in the web world, we have dedicated this piece of writing to the best domain appraisal services of 2023. Before starting anything, it is essential to know what is meant by domain and its appraisal.
Here is a summary of the best domain value estimator services:
A domain is an identification string that depicts the location of a website that is generally expressed as an IP address that might not be easy to remember. The stats show that the fourth quarter of 2021 closed with 341.7 million domain name registrations across all top-level domains.
Domain appraisal services help you access detailed information surrounding your site's domain, like estimating its actual value in the digital world compared to similar names. It proves helpful when you are buying or selling a domain.
Since you have a clear idea about domain name appraisal services with the above text, we will discuss domain valuation influencing factors and the best services available in the market and their key feature and pricing strategies in this article.
Let's get started!
What Are The Factors Influencing Domain Valuation?
Before we dig deeper you need to be aware of certain factors influencing the overall domain value. Let's have a brief look at them:
Popularity index of the domain's extension
Domain Age
Domain History
Length of the domain address, it is suggested to keep it shorter for easy remembrance
The Domain Rating DR
The Domain Authority DA
Spam Index
Quality of Links
Number of Monthly Users
Latest selling ratio of similar domains
Market demand of the domain-based niche
All these characteristics above give the real value of a domain.
Best Domain Appraisal Services and Value Estimators
Best for Domain Name Valuation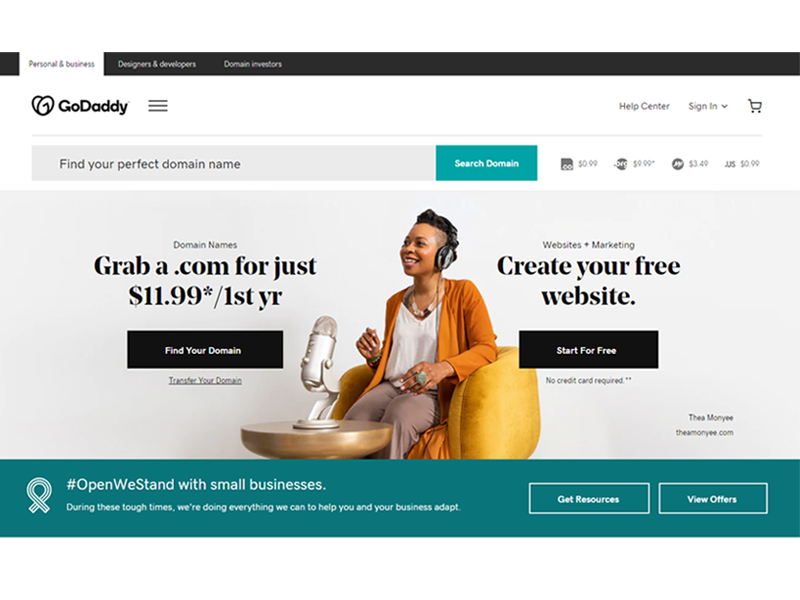 GoDaddy is one quick platform where you can check for the accurate domain value in one click. It has been serving the market for 20+ years. This experience, combined with AI and real-time sales facts, ensures that you get highly qualified results at your end. As soon as you search for your domain worth at GoDaddy, the service will display a list of similar domains with their values to help you take the right step.
This tool will give you the price of the domain based on the domain name and keywords used in it.
Key Features:
The appraisal tool displays the worth of any domain in seconds
Domain broker service where you can directly contact the seller to make the best offers
Domain renewal tool
Highly protected domain and other private data
Functional auction site to bid for selling domain
Pricing:
The GoDaddy domain appraisal tool is free of cost.
Best for estimated online business value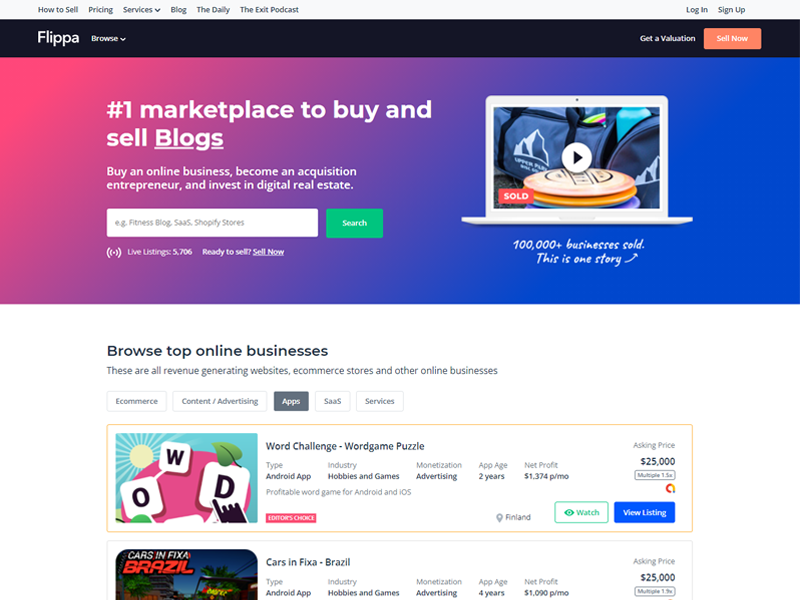 Flippa is one of the premium platforms with efficient site buying and selling capabilities; these sites can be relevant to Amazon FBA stores, Shopify stores, SaaS businesses, digital services, online real estate businesses, blogs, seo etc. Here you can buy a premium digital business and become one successful entrepreneur is highly reasonable rates.
You can easily browse through top digital ventures on sale price at Flippa and make the right choice to invest. It does not stop here as it also offers optimized domain ideas for your newly purchased site's guaranteed appraisal. Moreover, you can also put your domain at the sale on Flippa and get the best deal out of it.
They have also a tool where you can evaluate your domain before listing it on their platform: Online Business Platform
Key Features:
Automated banner creation of your selling business for the Flippa homepage
Features the business in a daily newspaper letter that reaches up to 500,000 active buyers
Custom video creation based on your journey as an entrepreneur
Third-party syndication with platforms like BizBuySell and Axial
Free optimization reporting
Pricing:
Free
Best Free Detailed Domain Appraisal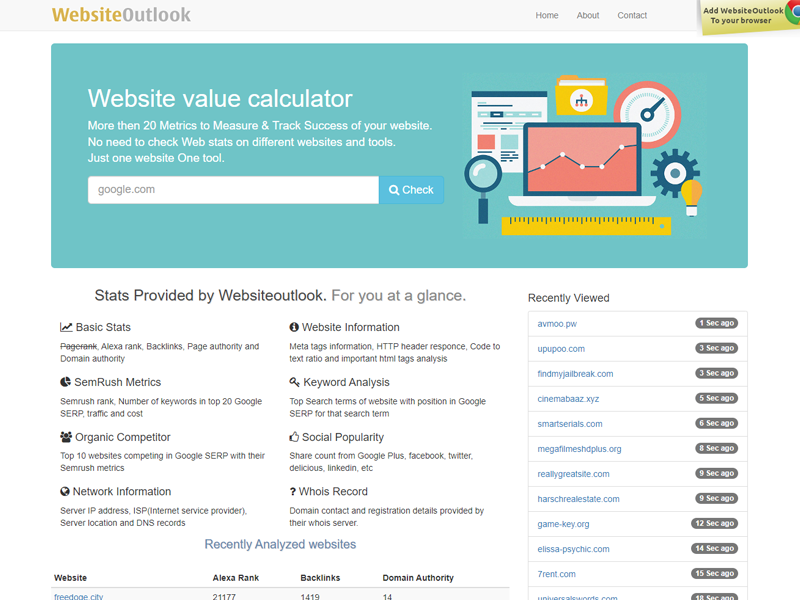 WebsiteOutlook uses more than 20 stats tools to present the value of your website appraisal in all accurate numbers. It displays basic stats of the valuable domain, including its ranking at Alexa. Moreover, backlinks, page, and domain authorities are also involved in the prior mentioned procedure.
WebsiteOutlook does not limit its services to domains. You can also access a detailed overview of your websites here, like information on meta tags, HTTP header compatibility, code to text ratio, and other vital tags analysis.
Key Features:
SERP tool, traffic rank, and cost.
Detailed keyword analysis
Network details like IP address, internet service provider, server location, etc.
WHOIS server compatibility
Pricing:
WebsiteOutlook offers domain appraisal services that are free of cost.
Best for evaluate domain based on domain authority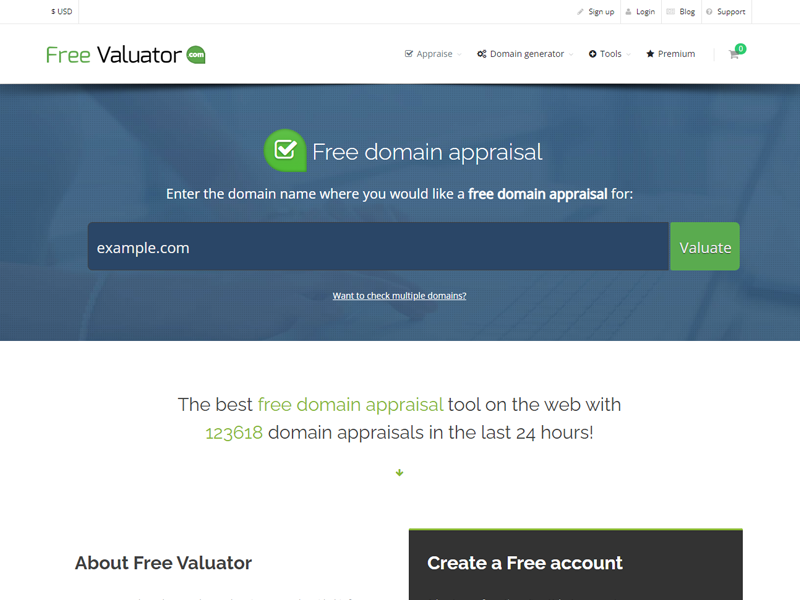 As the name suggests, a free valuator appraises any desired domain free of cost with an option to check multiple of them at once. Free valuator is considered one of the best free domain appraisal service providers and does not compromise a bit on the quality of the outcome.
The valuation of the domain you enter is calculated with the help of an exclusive algorithm that combines domain keywords, stats based on the name, its website ranking, and selling rates of similar domains.
Their professional domain-related services are facilitated by experts in the field and domain registration options. You are displayed with a detailed report of the domain's value based on several factors. You receive the relevant report in just 1-3 business days.
Moreover, Free Valuator's domain sales history tool is a hundred percent credible in displaying the value of domains comparable to yours, which provides you with a clear idea for the next step.
Key Features:
Web tools like domain generators
Alexa and Moz Rank checkers
WHOIS page based results
Crowd appraising option where the audience decides the genuine worth of your domain
Facebook worth checker where you can estimate valuation of Facebook page and likes
Combine list and random domain generator
Bulk domain checker
Pricing:
The essential Free Valuator services are offered free of cost. However, three different pricing plans are available if you want to go premium.
Free plan
The premium plan, which is the most popularly subscribed plan at Free valuator and costs only $5.79 per month
Enterprise plan which is well suited for large eCommerce business setups and can be purchased at a very reasonable rate of 329.99 per year
The premium and above plans come with exclusive features like unlimited premium web tools, multiple domain checks, visibility of expired or deleted domains, newly updated attributes.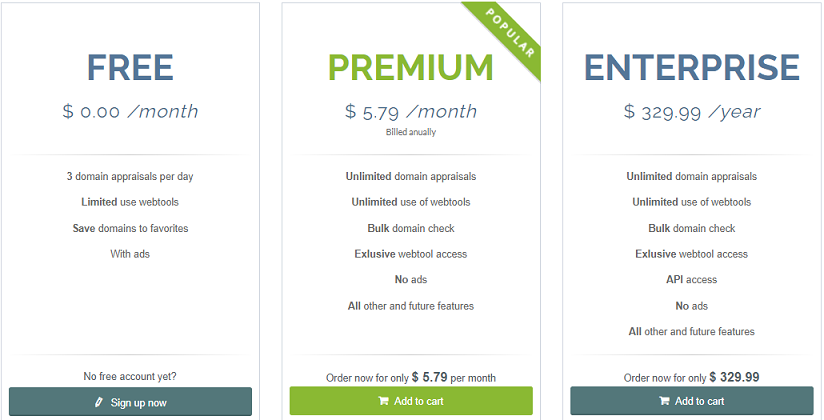 Best for professional domain evaluation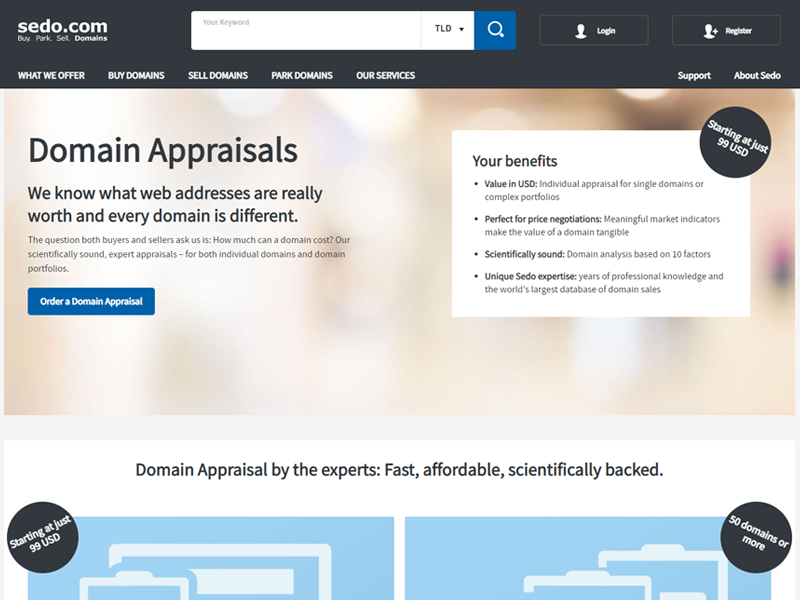 Sedo.com, an excellent domain auction site, allows straightforward buying, selling, and parking domains. Sedo is one perfect platform if looking for an optimized domain for your newly launched website, brand protection through domain acquirement, investment opportunities on worthy domains, custom site addresses specified for marketing campaigns, etc.
If you are willing to sell your unused, premium, or parking domains, Sedo is again present with valuable services.
Key Features:
Domain marketplace with hundreds of ideal domain ideas
Commission-free domain registration and transfer
Secured domain trading
Expert domain brokers for valuable advice who charges commission only on successful deals
Domain parking options to earn money by matched ad links
25 language friendly customer support
Features domain at WHOIS search pages, exclusive blogs, videos, etc.
Pricing:
The platform will charge $99 for a custom service
Best with API for integration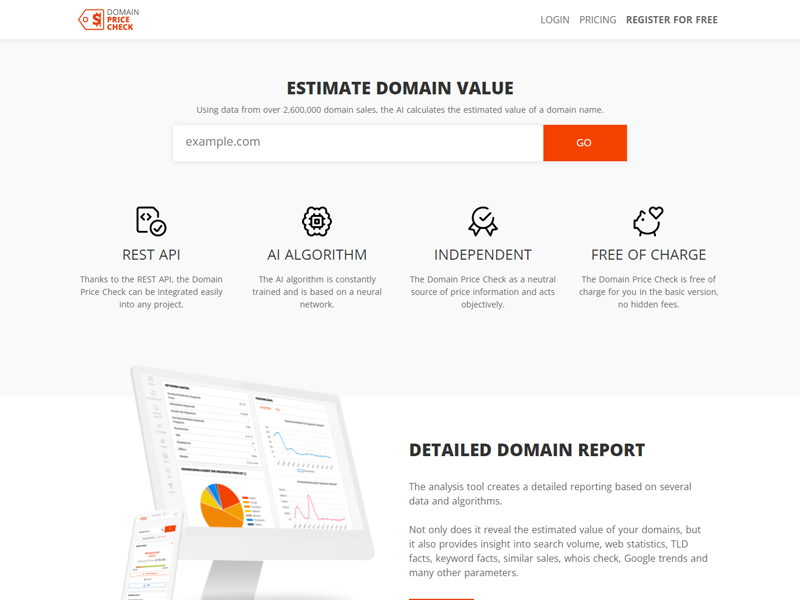 Domain price checker's artificial intelligence-powered system can calculate the estimated value of your domain by comparing it with 2,600,000 domain sales all over the web. Here you can estimate the worth of desired domain free of cost in a single click.
The platform has highly advanced analytical tools which display insightful reports based on collected data about the domain. These reports depict domain worth, search engine suitability, web stats, keyword volume, Google trends, and similar criteria.
Key Features:
Rest API for easy domain incorporation into any blueprint
Artificial intelligence support
Runs neutral domain check without any outward influence
Detailed reports on significant domain insights
Pricing:
There are three pricing plans at Price domain checker. Let's look at those:
Basic – $0.00
Business – $79.00
Advanced – $799.00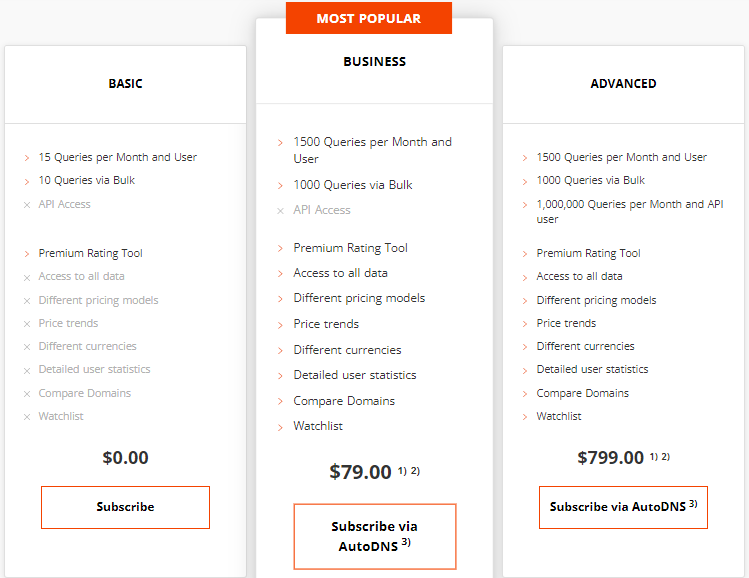 Best for most accurate domain price evaluation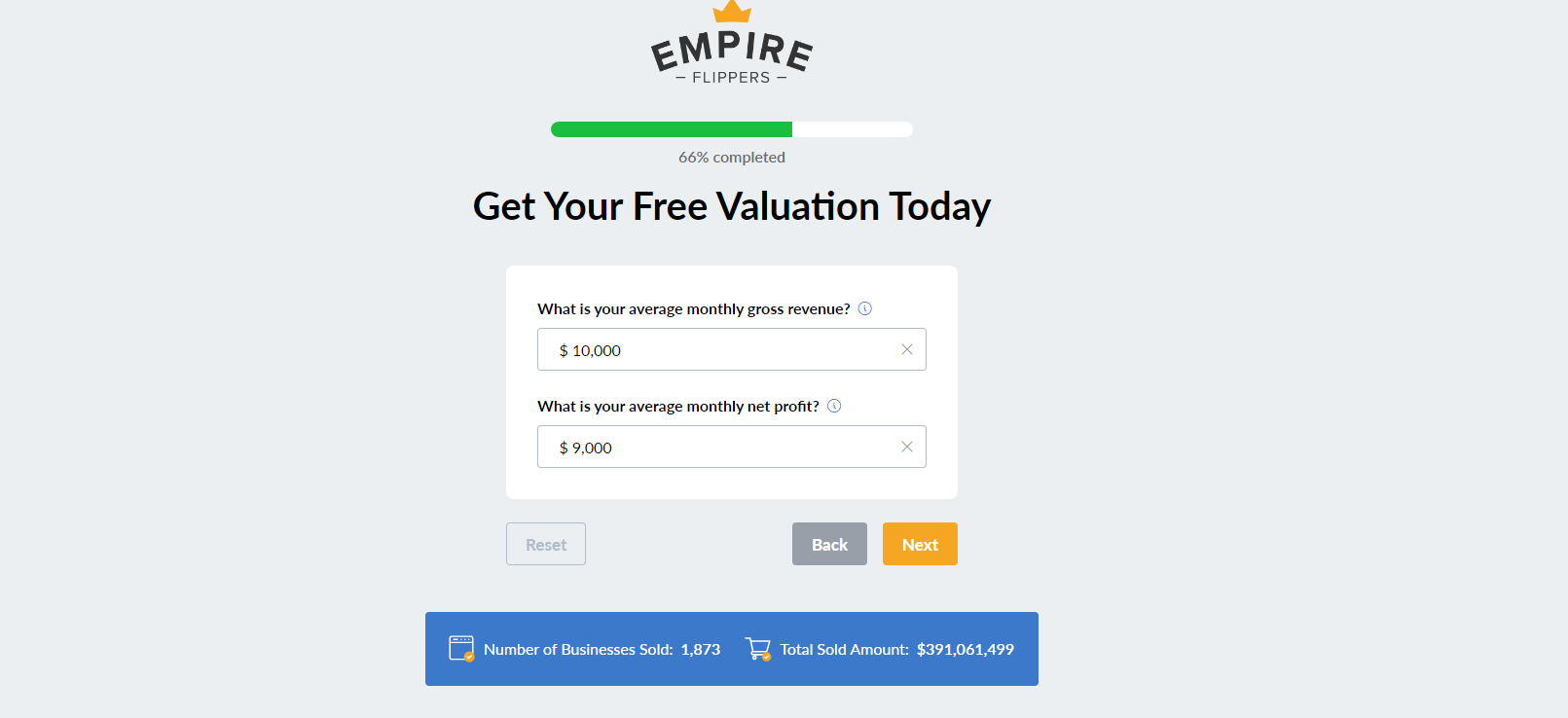 Empire Flippers is one of the most popular websites to flip your domains and online business. In this platforms online enterprenuers sells and purchase online business.
They offer a form that let you to add some information about your webiste and their system give you an exact evaluation on how much your business worth.
Key Features:
Calcutate price based on visits
Advertising
Integration with SEO tools
Domain expiration alert
Business portfolio monitoring tools
Pricing:
Free
Best for custom reports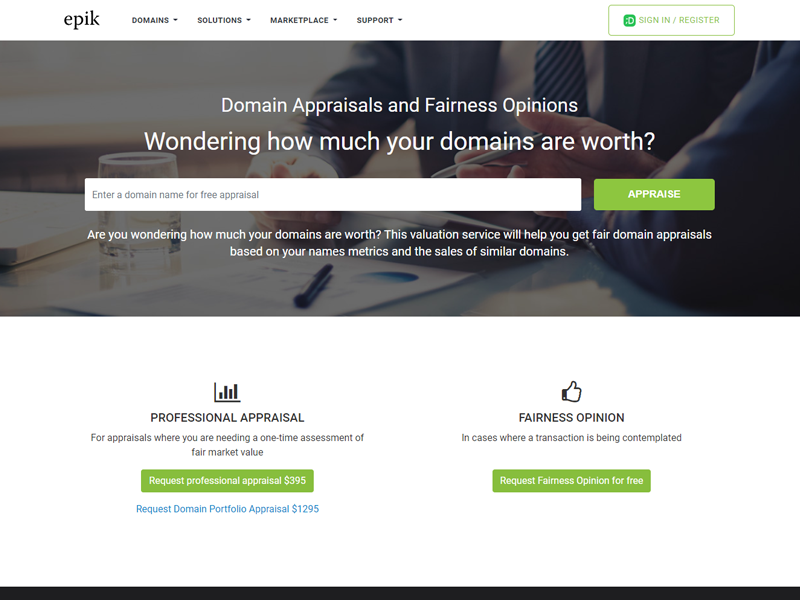 Epik is a highly functional platform to swiftly and reliably perform domain appraisals, including bulk searches. You can also sell your domain on the platform with the best deals guaranteed. The Epik domain marketplace is an extensive setup where you can register domains and evaluate them.
Epik offers free-of-cost WHOIS searches, forwarding options, and 24/7 expert support for domain appraisals. Inbuilt tools display the monthly search density of your domain.
The wide range of payment methods distinguishes this platform from other domain appraisal providers; cryptocurrency, credit cards, AllPay, wire transfer, transfer wise, and western union are supported.
Key Features:
Integration with Bitmitigate for finest content delivery network and denial service mitigation
Custom written report based on domain analysis by professionals of the industry
Leading domain marketplace
Professional hosting services
Premium domain escrow services
Secured socket layer certificate
Pricing:
You can access professional appraisals for your domain in just $395 at Epik.com.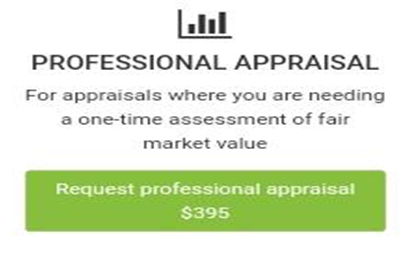 Best for bulk domain appraisal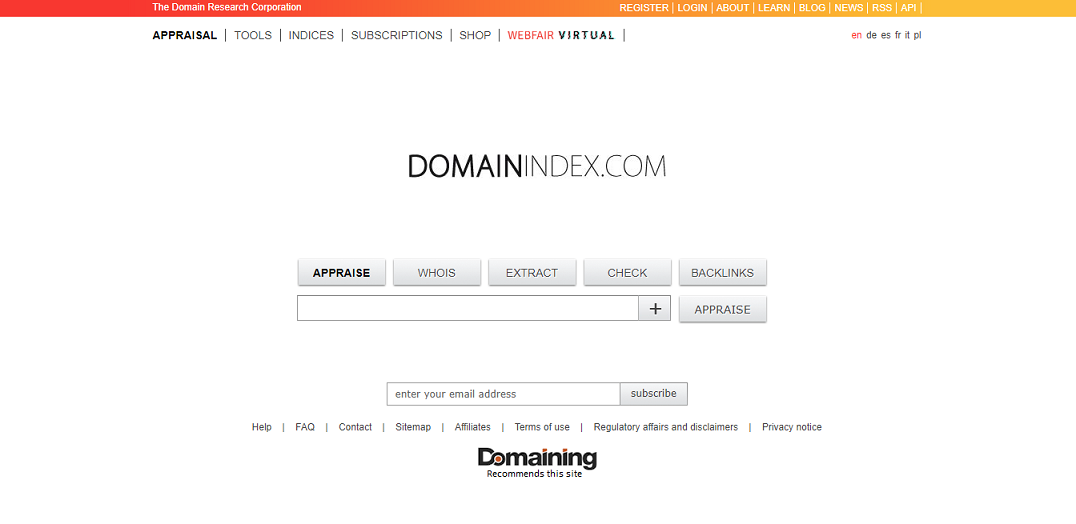 Domain index is an all-in-one platform where you can perform single-click domain appraisal, extracting, checking, and searching on the WHOIS web admins page. They have a massive marketplace of tools where you can access automated or manual estimates, contact experts for TLDs, and even claim domains instantly.
Additionally, it includes various keyword optimization tools like SLD and meta keyword extractor, topic extractor, backlink anchor finder, etc. Another set of Domain index tools organized under the creative tools involves every significant attribute to cover domain-related queries. Synonym domain finder, language detector, IDN converter, domain and auto-text generator, domain logo creator are a few.
Similarly, you can find several research tools, lead generation tools, monitoring, stats, and appraisal tools under the Domain index.
Key Features:
Skype, email, and phone support
Single, mass, manual appraisals
Bulk PR and CPC
Mass WHOIS research
Mass trademark check with domain availability
Keyword, meta keyword extractor
General and advertising lead generator
Domain and topic extractor
Backlink anchor finder
Domain filter, subtractor, and generator
Pricing:
The four-valued Domain index pricing plans are:
Starter which is free of cost
Domainer plan costs around $39 per month, which capacitate 50,000 appraisals for the month.
Pro plan allows assessment of 250,000 domains in just $99 per month
Finally, the enterprise plan provides exclusive access to 1 Mio domain for $299 per month, which is quite an economical deal for large organizations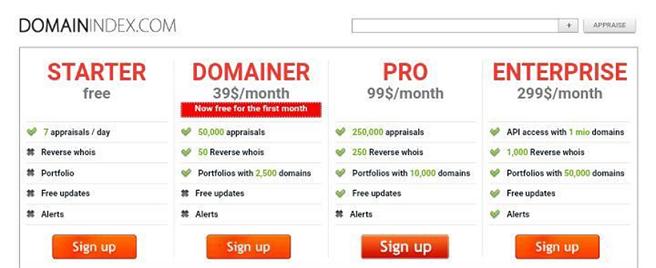 You can also find custom plans at Domain index; their details can be seen below the image.
Conclusion
Domain appraisal is necessary when selling or buying any domain to know its actual worth in the digital market. Many platforms provide relevant services, out of which the top domain appraisal services are discussed in this article.
After going through our analysis of each provider, we hope that you will be able to make an appropriate decision to know the real value of a domain name you're planning to buy or sell.

As one of the co-founders of Codeless, I bring to the table expertise in developing WordPress and web applications, as well as a track record of effectively managing hosting and servers. My passion for acquiring knowledge and my enthusiasm for constructing and testing novel technologies drive me to constantly innovate and improve.
Expertise:
Web Development,
Web Design,
Linux System Administration,
SEO
Experience:
15 years of experience in Web Development by developing and designing some of the most popular WordPress Themes like Specular, Tower, and Folie.
Education:
I have a degree in Engineering Physics and MSC in Material Science and Opto Electronics.