Discovering FreeBSD VPS can feel like a daunting journey, but it's worth undertaking. If you're reading this, you're likely seeking a reliable, high-performing option.
The digital world is vast, and with the plethora of choices out there, zeroing in on the ideal one can sometimes be a challenge. It's essential to consider factors such as security, performance, and cost.
By doing a thorough research and comparing various options, you're more likely to find a solution tailored to your needs. This guide aims to simplify your search for FreeBSD OS VPS, making it easy and enjoyable.
Let's dive in and explore the intricate world of VPS.
The Top 5 Best FreeBSD VPS Providers
Cheap FreeBSD VPS Providers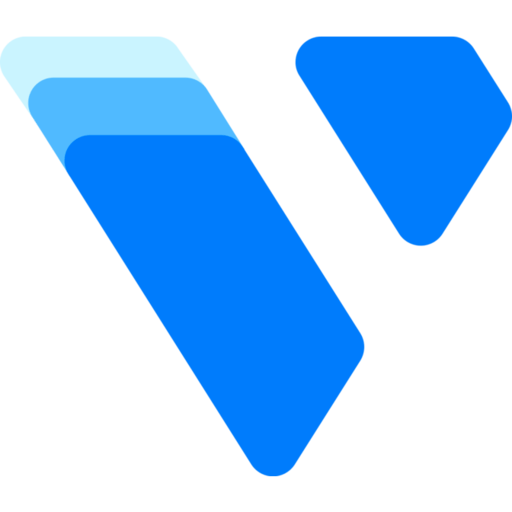 16 data centers worldwide
SSD storage
One-Click FreeBSD OS Deploy
See Pros & Cons
Pros
Broad selection of server configurations
Pay-as-you-go and predictable billing
Responsive customer support
Great performance and uptime
Cons
Limited managed hosting options
Some features might be complex for beginners
Vultr is a global cloud hosting provider known for its high-performance SSD cloud servers. They provide a wide range of hosting solutions tailored to cater to developers, startups, and businesses of all sizes.
One of the distinct features of Vultr is its support for FreeBSD OS on their VPS offerings. This support ensures that developers and businesses preferring the stability, performance, and security of FreeBSD have the option to deploy it seamlessly on a powerful cloud infrastructure.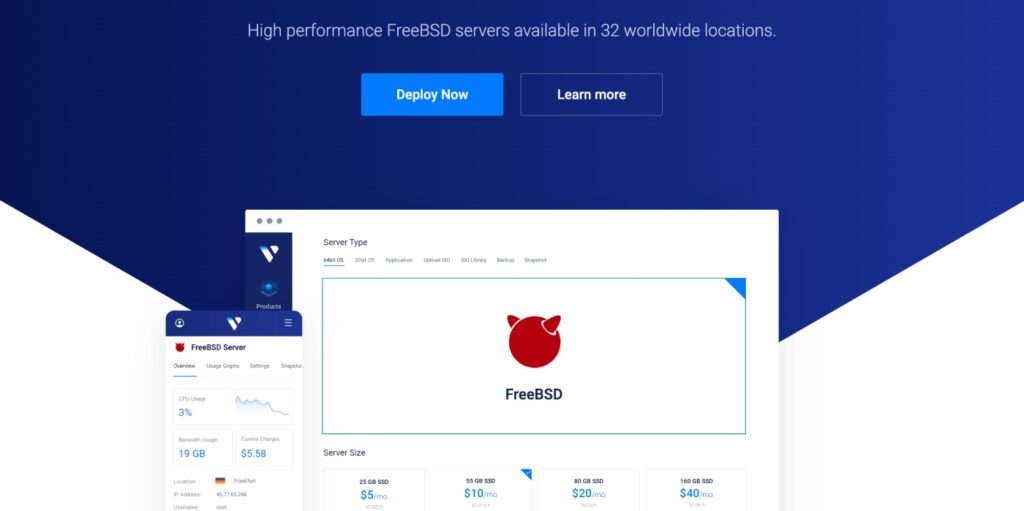 FreeBSD, when hosted on Vultr, provides users with a unique combination of the operating system's renowned reliability and the hosting provider's global footprint. With 16 data centers worldwide, users can deploy FreeBSD instances close to their target audience, ensuring optimal speeds and low latencies.
Moreover, Vultr's intuitive platform allows for quick deployments, so setting up a FreeBSD server can be done in minutes.
This combination of speed, performance, and the robustness of FreeBSD makes Vultr a preferred choice for many seeking a reliable VPS solution.
In conclusion, Vultr's commitment to integrating FreeBSD support with its already efficient cloud infrastructure ensures that users get the best of both worlds in terms of flexibility, performance, and reliability.
FreeBSD OS:
FreeBSD 13 x64
FreeBSD 12 x64
Data Center Locations: 32 Worldwide Locations
Highly Customizable FreeBSD Servers

Ultra-fast NVMe SSD storage capabilities

Extensive global data centers
Bandwidth 5000 GB/month
Competitive pricing starts at $4/month
See Pros & Cons
Pros
Powerful cloud hosting backed by cutting-edge hardware
Impressive 99.95% uptime ensuring constant availability
Intuitive cloud management console for easy configurations
Flexible and transparent pricing models
Cons
Steep learning curve for beginners
Hourly pricing can be confusing for some users
Embedded in the fabric of contemporary cloud solutions, Kamatera emerges as an epitome of high-quality cloud server hosting. Founded on the principles of innovation and customer-centricity, Kamatera has set a high bar when it comes to on-demand cloud computing.
At the heart of Kamatera lies its commitment to deliver unparalleled performance. This commitment is evidenced by their selection of the latest Ice Lake Processors and lightning-fast NVMe SSDs.
A sprawling network of global data centers, including key locations such as Illinois, Chicago, ensures that users from all over the world enjoy low latency and robust connectivity.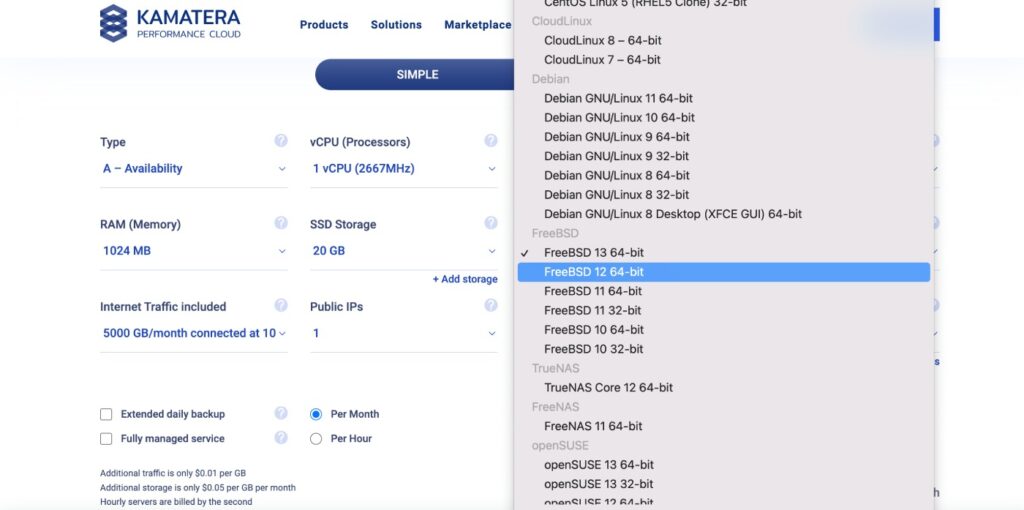 Kamatera's ethos revolves around giving control back to the users. This is manifest in their intuitive cloud management console, which grants users the ability to customize and scale their server resources on-the-fly.
The beauty of Kamatera's offerings lies in its adaptability — whether you're a budding startup or a global conglomerate, there's a solution tailored for you.
Support and uptime are pillars of Kamatera's promise to its customers. A noteworthy 99.95% uptime is a testament to their commitment to reliability. Coupled with an exemplary support team that's always ready to assist, it's no surprise that Kamatera enjoys the trust of businesses worldwide.
With an array of operating systems, unmatched customization opportunities, and the promise of top-tier performance emanating from state-of-the-art hardware, Kamatera's cloud solutions are a force to be reckoned with. When you factor in generous traffic allowances, rapid storage solutions, and a transparent, user-centric pricing model, Kamatera stands out as a beacon of excellence in the cloud hosting domain.
FreeBSD OS:
FreeBSD 13 64bit
FreeBSD 13 32bit
FreeBSD 12 64bit
FreeBSD 12 32bit
FreeBSD 11 64bit
FreeBSD 11 32bit
FreeBSD 10 32bit
Datacenter Locations:
USA
Europe
MidleEast
Asia
Best with AMD EPYC Processor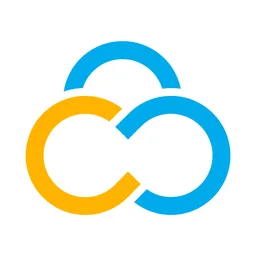 AMD EPYC™ 7282 processors
NVMe SSDs
10 data centers
32 TB Bandwidth
Plans start at €5.99/month
See Pros & Cons
Pros
Value-driven cloud hosting with top-tier hardware
Always-on DDoS protection ensuring utmost security
Efficient API and CLI for resource management
Flexible storage options and private networking capabilities
Cons
Limited operating system templates
Higher data traffic costs for Australia and Japan
Rooted in German quality, Contabo stands tall as a premier cloud server hosting provider. With a journey that began in 2003, the company has expanded its footprint across multiple regions, offering an exemplary price-to-performance ratio. Their top-notch virtual private servers, equipped with AMD EPYC™ 7282 processors, NVMe SSDs, and an abundance of RAM and traffic, ensure optimal performance and reliability for every project.
Contabo is celebrated for its unwavering commitment to quality since its inception. Reflecting its ethos of delivering exceptional German quality, the hosting provider assures value-driven services for all. With a sprawling infrastructure of 10 data centers dotted across the EU, USA, Singapore, and the UK, users can anticipate seamless service with minimal latency. Moreover, the company's consistent SLA-backed server availability underpins its reliability.
Contabo's dedicated pursuit of offering the best price-performance ratio is evident in its operational efficiencies. By sourcing premium components from industry leaders such as Intel, AMD, Dell, HP, and Samsung at competitive prices, optimizing server loads, and owning its data centers, the company successfully delivers high-quality services without burning a hole in the customers' pockets.
Support remains a cornerstone for Contabo. The award-winning customer support team, lauded by customers and industry experts alike, is on its toes to address issues and continually seeks avenues for enhancement. This commitment extends to security, with strict role-based access controls and around-the-clock surveillance for all data centers, ensuring paramount safety for customer data.
With different operating systems, applications, and deployment options at disposal, users can tailor their virtual private servers to exact specifications. They offer also FreeBSD as one of their OS that can be served directly through their CloudVPS plan.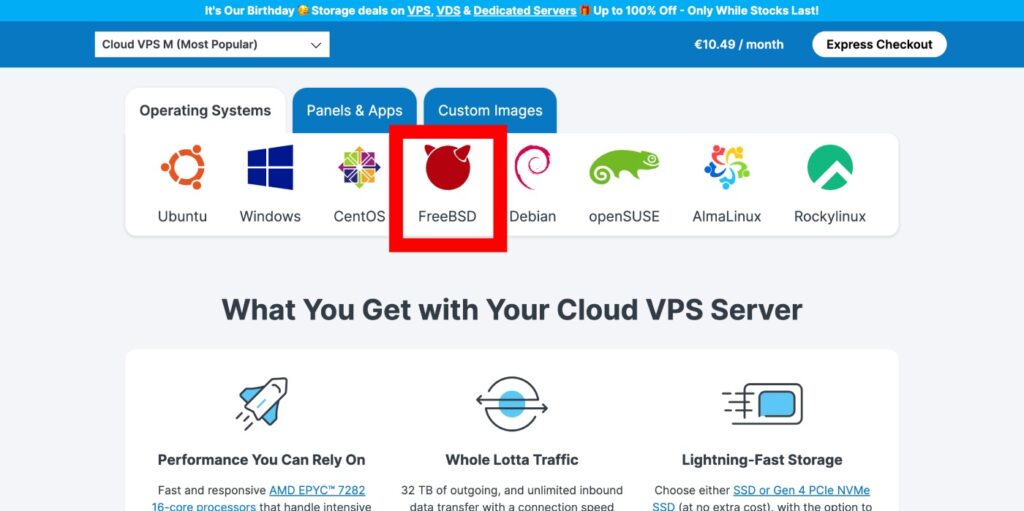 And with the promise of unwavering performance stemming from cutting-edge AMD EPYC processors and hardware collaborations with the likes of Dell, HP Enterprise, and Samsung, Contabo's offerings are undeniably compelling. Add to this the generous traffic allowances, lightning-fast storage options, private networking, DDoS protection, and user-friendly management interfaces, it's evident why Contabo remains a favored choice in the cloud hosting landscape.
FreeBSD OS:
FreeBSD 12 64bit
FreeBSD 12 32bit
FreeBSD 11 64bit
FreeBSD 11 32bit
FreeBSD 10 32bit
Datacenter Locations:

Flexible VPS hosting
Linux and Windows VPS are available
Optimized storage VPS
Packages starting at $6/month
See Pros & Cons
Pros
Affordable and scalable VPS plans
24/7 support through various channels
Windows VPS with remote desktop access
Managed support for 4 slices or more
Cons
Interface may seem complex for beginners
Limited range of OS templates
Interserver offers a versatile cloud virtual private server (VPS) environment, ideal for launching various online ventures. It's a harmonious blend of processing power, memory, and storage, ensuring that businesses and individuals find a suitable package for their needs.
For enthusiasts of open-source, Interserver presents a myriad of Linux templates to cater to diverse project requirements. Those leaning towards a Windows environment aren't left behind, with Windows VPS equipped with remote desktop capabilities. This feature allows professionals to access and run their applications consistently from anywhere in the world.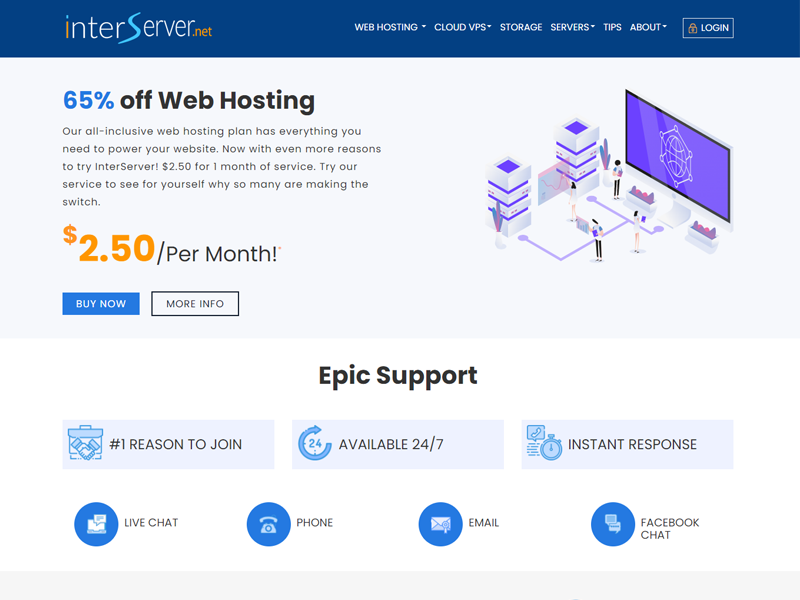 Among the popular choices is the FreeBSD deployment bundled with the Webuzo control panel.
It facilitates a one-click install process, making it a favorite among those eyeing a WordPress VPS. Moreover, purchasing four slices or more unlocks managed support. This inclusion means Interserver's dedicated team is on standby to assist with server-related challenges, such as database glitches or service interruptions.
The cherry on top is their Cloud Remote Backup Service, ensuring that your pivotal data remains safeguarded and retrievable when necessary. With round-the-clock support through phone, live chat, and a ticket system, Interserver solidifies its position as a trustworthy hosting solution.
FreeBSD OS:
FreeBSD 12 64bit
FreeBSD 12 32bit
FreeBSD 11 64bit
Datacenter Locations:
High-end 3.2+ GHz processors
NVMe/SSD Storage
Bandwidth ranging from 1 TB to 7 TB
See Pros & Cons
Pros
Comprehensive DDoS Protection
Pre-installed OS and Root Access
Flexible Plans
Cons
Limited Customization
Annual Commitment for Discounts
It's one thing to appreciate FreeBSD from afar, and another to immerse oneself in its prowess. That's where Cloudzy's FreeBSD VPS solutions shine. Complementing the inherent strengths of FreeBSD, Cloudzy offers a suite of hosting plans that span the spectrum from entry-level to professional. With servers peppered across 15 strategic global locations, latency is a thing of the past. Furthermore, features such as robust DDoS protection, root access, and a choice of pre-installed OS ensure that users aren't just opting for a service, but a comprehensive hosting experience.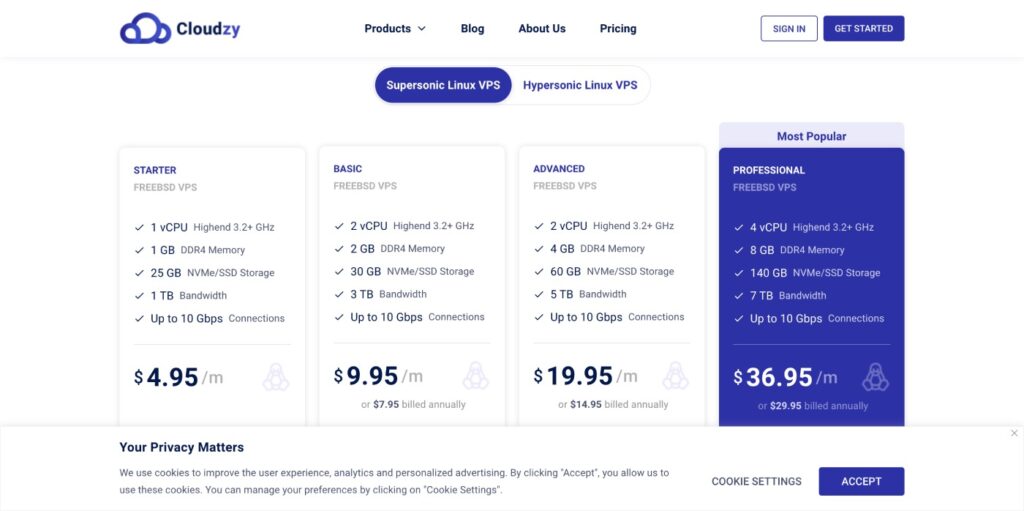 Whether you're dipping your toes into the world of FreeBSD or seeking a high-performance hosting solution that doesn't compromise on control, Cloudzy's FreeBSD VPS stands out as a compelling choice. Rooted in excellence and backed by state-of-the-art hardware, it's a testament to what's possible when superior OS meets exceptional hosting.
FreeBSD OS:
FreeBSD 12 64bit
FreeBSD 12 32bit
FreeBSD 11 64bit
Datacenter Locations:
FAQs
What is a FreeBSD VPS?
A FreeBSD VPS is a virtual private server that runs on the FreeBSD operating system, an open-source Unix-like operating system derived from the Berkeley Software Distribution.
Why should I choose FreeBSD for my VPS over other operating systems?
FreeBSD is renowned for its advanced features, security, and stability. It offers a compelling package system, excellent documentation, and is the platform of choice for many large-scale, performance-critical applications.
Are FreeBSD-based VPS providers more expensive than Linux or Windows providers?
Not necessarily. The cost of a VPS depends on various factors like the hardware specifications, additional features, and the service quality of the provider. Since FreeBSD is open-source and free, there isn't a licensing fee associated with it, which can sometimes result in more competitive pricing.
Can I get a managed FreeBSD with a VPS?
Yes, many providers offer managed FreeBSD VPS solutions where they take care of server maintenance, updates, security, and more. However, it's essential to check with the specific provider about what their managed services include.
Do FreeBSD VPS providers offer DDoS protection?
Many providers, including Cloudzy, offer DDoS protection as a part of their package or as an additional feature. It's always advisable to check with the provider and ensure the protection level matches your requirements.
Conclusion
In the rapidly evolving digital realm, finding the best freeBSD VPS is more than just a technical endeavor; it's a strategic choice for future-proofing your online operations.
As we've navigated through the myriad of options and considerations in this article, it's evident that making an informed decision requires a balance of knowledge, foresight, and understanding of one's unique needs.
While the journey may seem complex, with the right guidance and clarity, it becomes an empowering experience. As you move forward, remember that the perfect VPS solution is out there, waiting to align seamlessly with your goals. May your digital endeavors be bolstered by the insights shared here and lead you to optimal success.

As one of the co-founders of Codeless, I bring to the table expertise in developing WordPress and web applications, as well as a track record of effectively managing hosting and servers. My passion for acquiring knowledge and my enthusiasm for constructing and testing novel technologies drive me to constantly innovate and improve.
Expertise:
Web Development,
Web Design,
Linux System Administration,
SEO
Experience:
15 years of experience in Web Development by developing and designing some of the most popular WordPress Themes like Specular, Tower, and Folie.
Education:
I have a degree in Engineering Physics and MSC in Material Science and Opto Electronics.