In today's digital age, having a small business website is essential for success. A well-designed website not only helps establish credibility and trust with potential customers, but also serves as a platform to showcase your products and services, communicate with clients, and promote your brand.
WordPress is an ideal choice for building your website, thanks to its user-friendly interface and unparalleled flexibility. With thousands of themes and plugins, this open-source content management system caters to various industries and website requirements. Its SEO-friendly nature, combined with a vast and active community of developers, and designers.
The best way to create a WordPress website easily and fast is by using WordPress themes. In this tutorial, we will use our Specular WordPress Theme.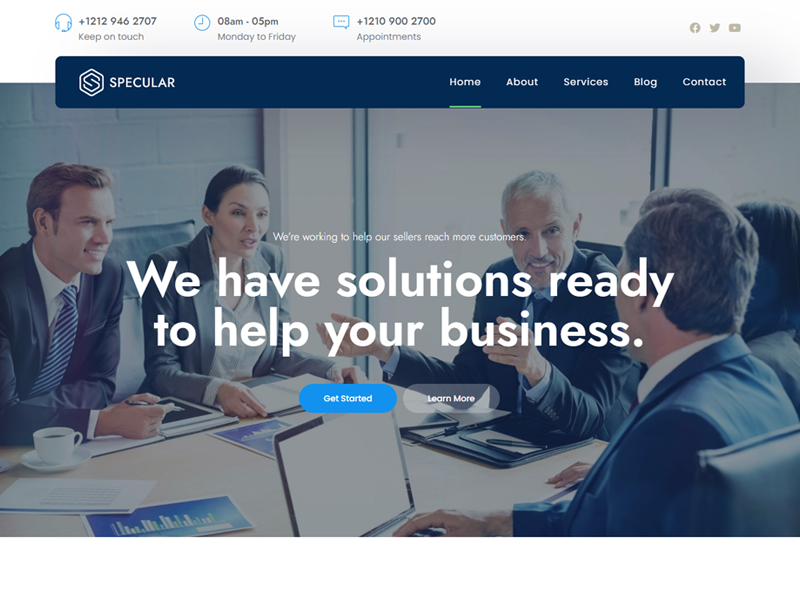 Specular is a versatile and user-friendly option for creating a professional small business website. With its wide range of customizable features and selection of pre-built demos.
So let's start our journey by choosing the domain name for our website.
Choosing a Domain Name and Hosting
Selecting the Right Domain Name for Your Small Business
Choosing the right domain name is crucial for your small business's online presence. The domain name should be short, memorable, and relevant to your brand.
To select the perfect domain name, consider the following tips:
Use your business name or a variation of it.
Incorporate relevant keywords related to your industry or services.
Keep it simple and easy to spell.
Avoid using numbers or hyphens, as they can be confusing.
Check for availability and potential trademark conflicts.
The easiest way is using our AI Powered Domain Name Generator which will help you find the best domain name. Use DomainAI.io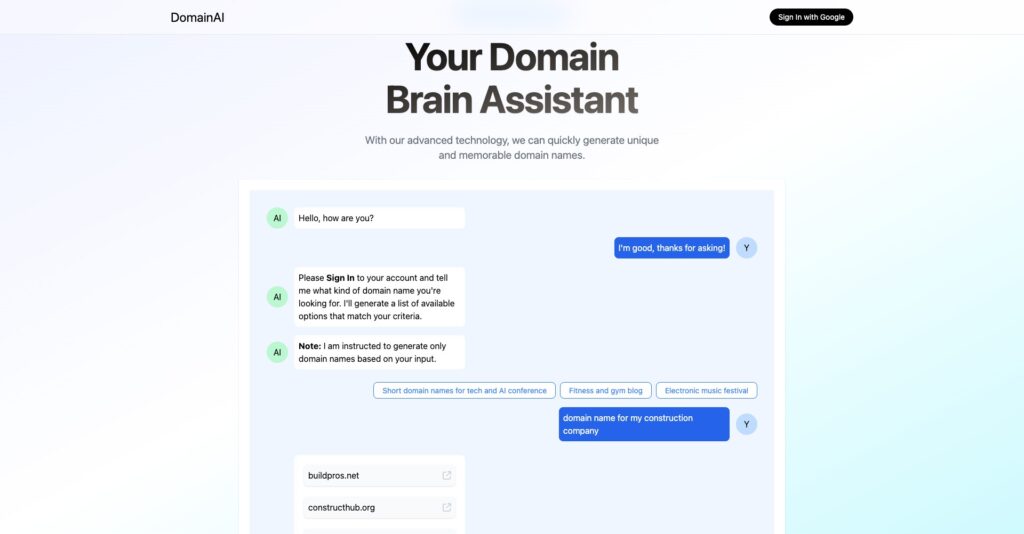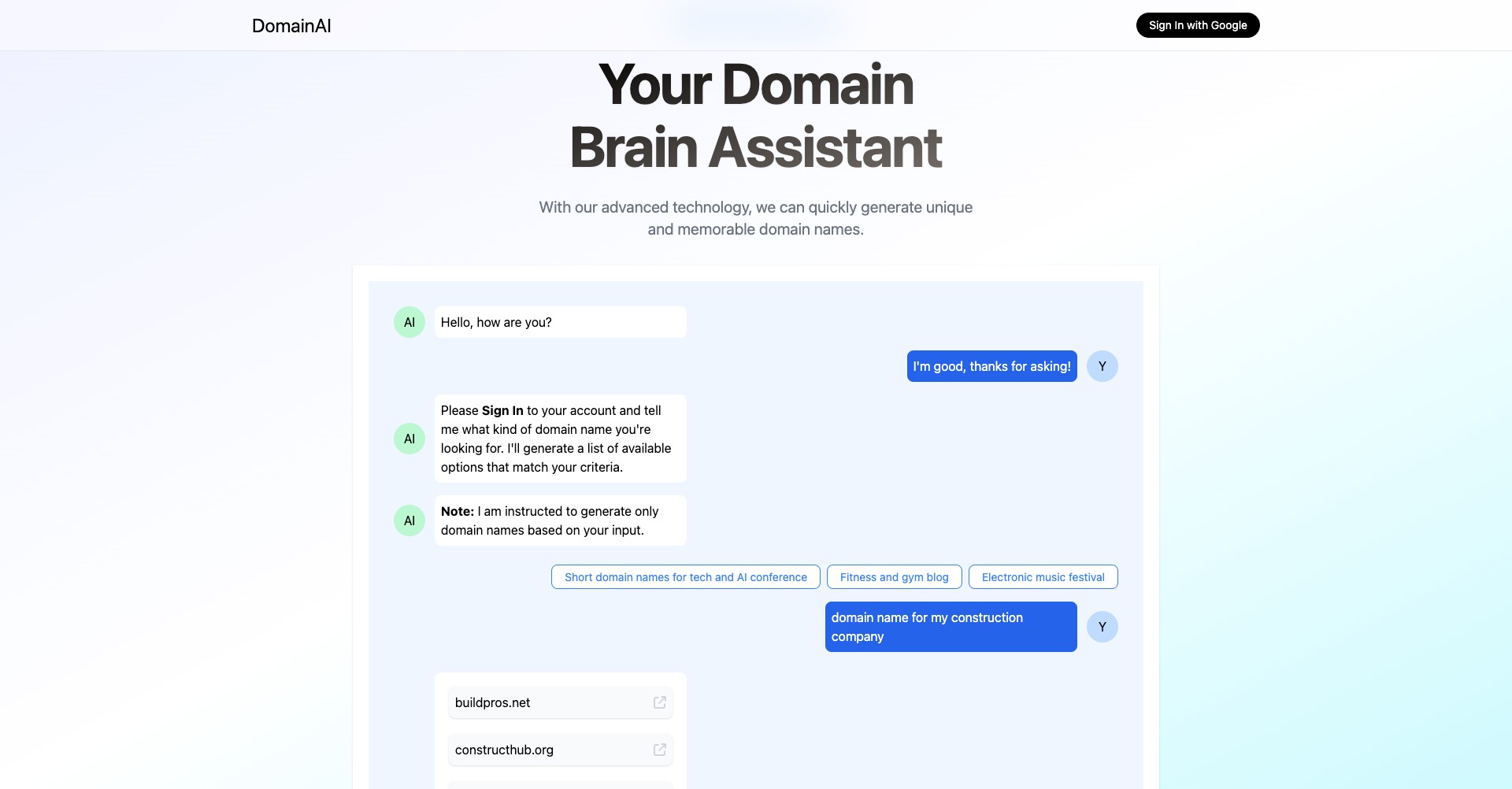 Choose Hosting Provider
Selecting a reliable and affordable hosting service is essential for your small business website. There are several hosting options available, and it's essential to choose one that best suits your needs. Consider the following factors when comparing hosting plans:
Storage and bandwidth: Ensure the plan offers adequate resources to support your website's content and traffic.
Uptime and reliability: Look for a hosting provider with a high uptime guarantee (99% or more) to ensure your website is always accessible.
Customer support: Opt for a provider with responsive and knowledgeable customer service to assist you with any issues.
Scalability: Choose a hosting plan that can grow with your business, allowing you to upgrade as needed.
Price: Compare prices and features of different hosting plans to find the best value for your budget.
For more I recommend you to check our article: Best Hosting for Small Business
Setting Up Your Domain and Hosting Account
Once you've chosen a domain name and hosting plan, follow these steps to set up your account:
Register your domain name with a domain registrar like Bluehost or Godaddy.
Sign up for a hosting plan with your chosen provider, and link your domain to the hosting account.
Create a strong password for your hosting account and store it securely.
Set up any necessary email accounts associated with your domain.
Familiarize yourself with the hosting provider's control panel, which will allow you to manage your website and account settings.
I recommend you go with Bluehost because of its cheap price and easy setup configurations. In case you want another solution you can check our article: Bluehost Alternatives.
Installing WordPress on Bluehost
Bluehost is a popular web hosting service that offers seamless WordPress integration, making it easy for you to set up your website. Follow these steps to install WordPress on Bluehost: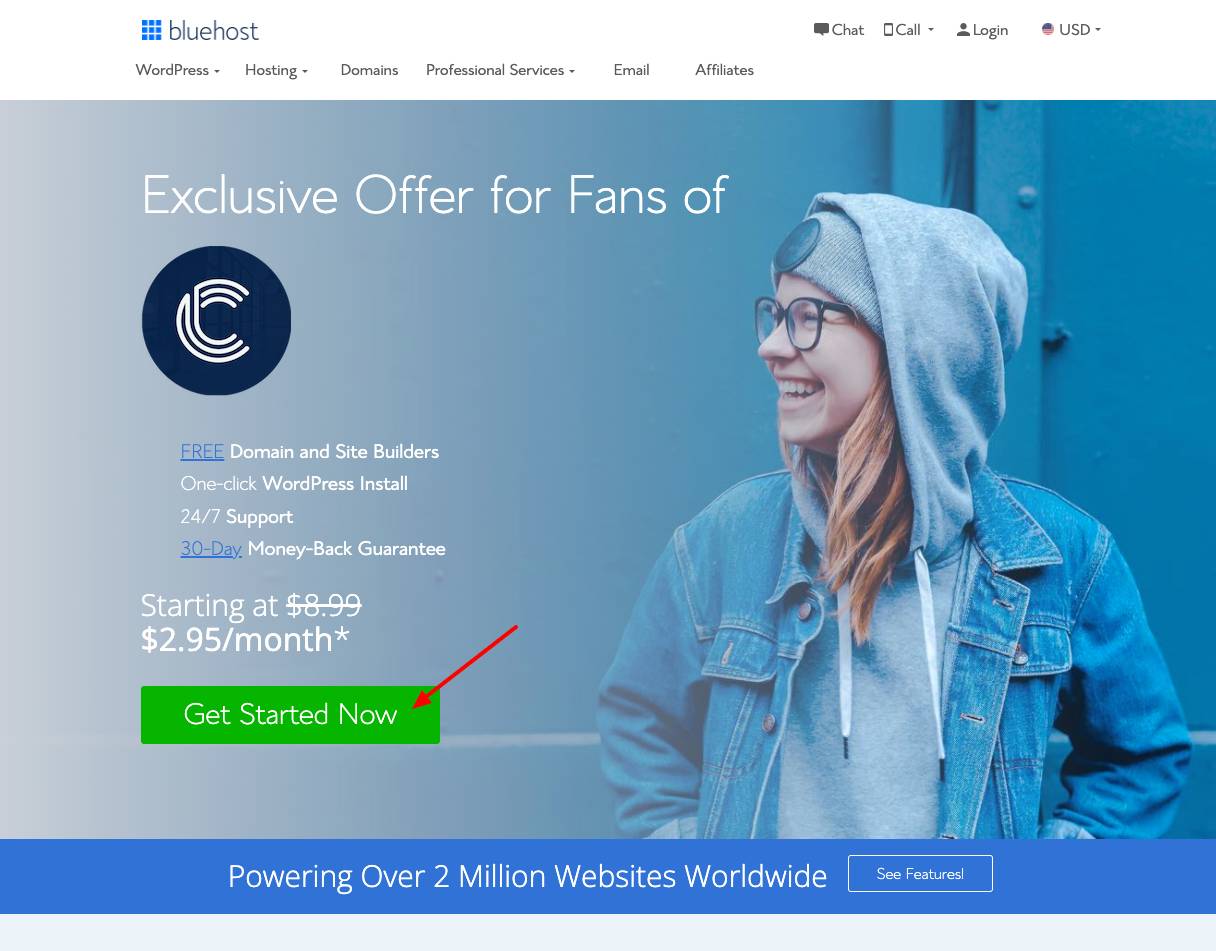 A. Create a Bluehost Account
Visit the Bluehost website and select a hosting plan that suits your needs.
Register or connect your desired domain name to your Bluehost account.
Complete the sign-up process and choose any additional features or services you require.
B. Install WordPress Automatically with Bluehost
Once your Bluehost account is set up, log in to your Bluehost dashboard.
Click the "My Sites" tab and then click the "Create Site" button to start the WordPress installation process.
Enter your website's name and tagline, and click "Next."
Choose the domain you registered or connected to earlier from the drop-down menu.
Select a directory for your WordPress installation (it's recommended to leave this field empty for the main website) and click "Next."
Bluehost will automatically install WordPress for you, and you will receive a confirmation message with your WordPress login credentials.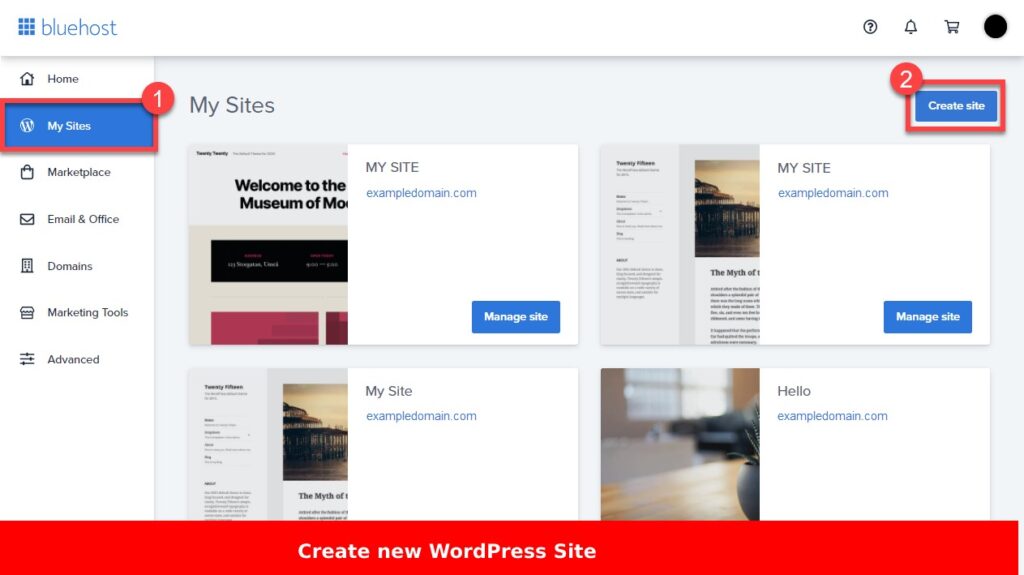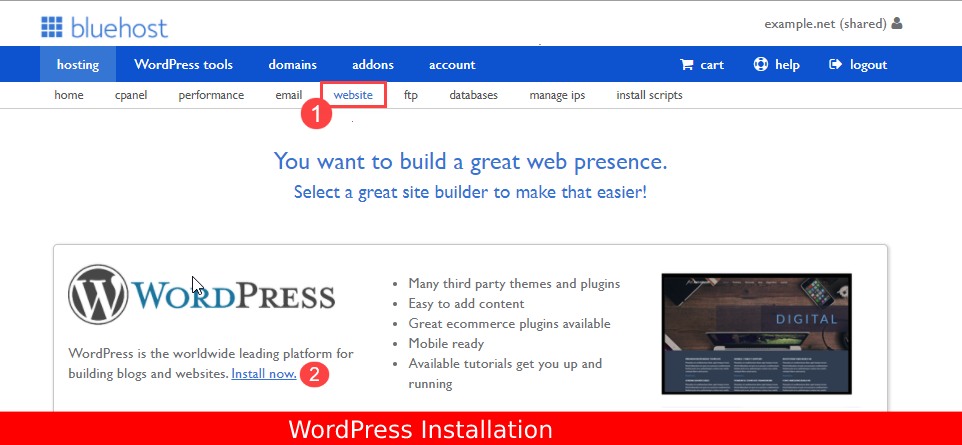 Fore a more detailed guide check: How to Install WordPress (Step-by-Step) Guide
C. Access Your WordPress Dashboard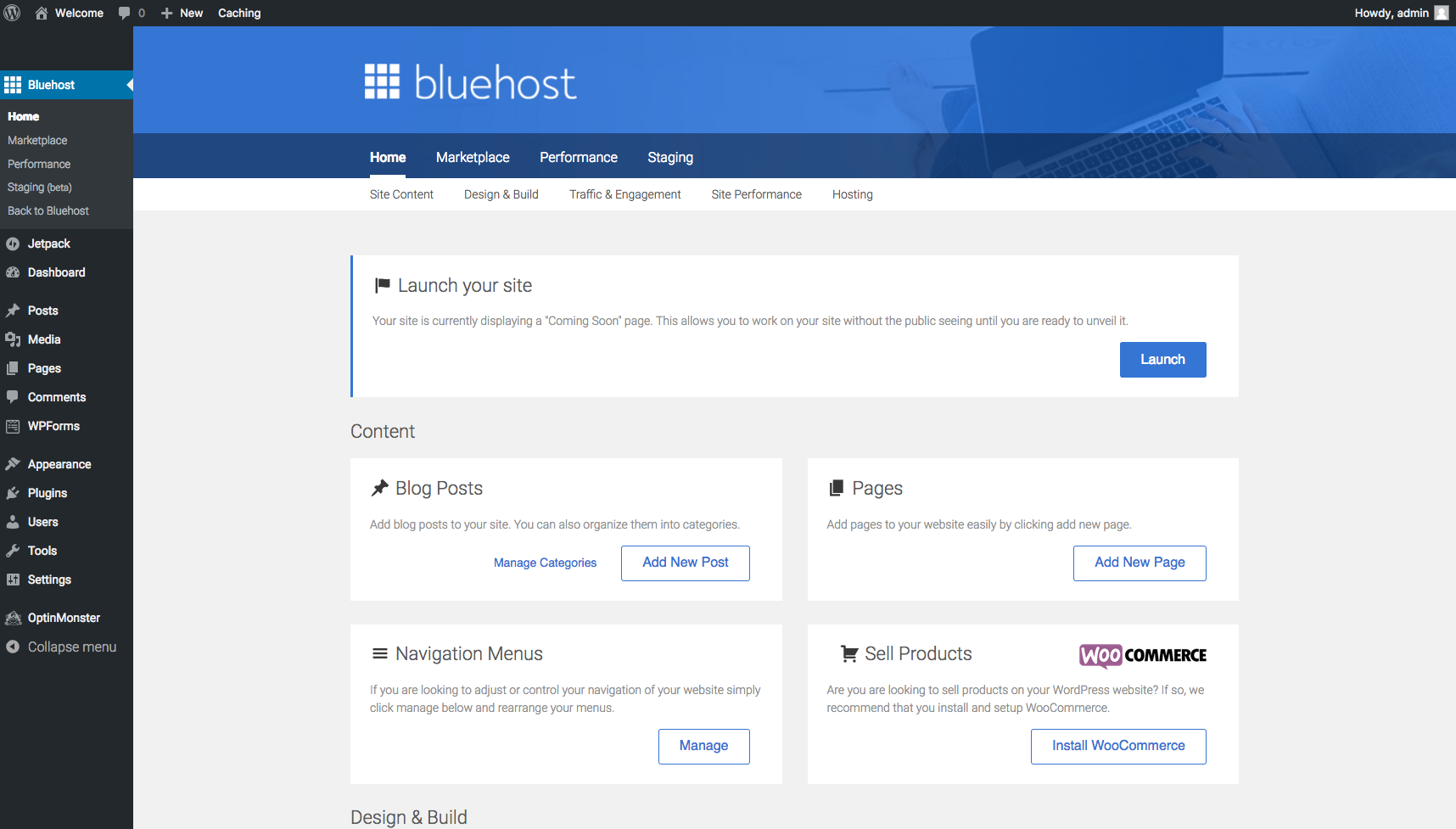 To access your WordPress dashboard, visit yourwebsite.com/wp-admin (replace "yourwebsite.com" with your actual domain name).
Enter the login credentials provided by Bluehost during the installation process.
Once logged in, you can start customizing your WordPress website using the Specular WordPress Theme and the steps outlined in previous sections.
By installing WordPress on Bluehost, you'll benefit from a user-friendly hosting environment, seamless integration with WordPress, and a variety of tools and resources to help you create and manage your website effectively.
Getting Started with Specular WordPress Theme
In this section, we will go through every step from purchasing Specular to installing it.
Purchase and Download Specular
To purchase Specular WordPress Theme click here. After you have purchased it download the Theme zip file.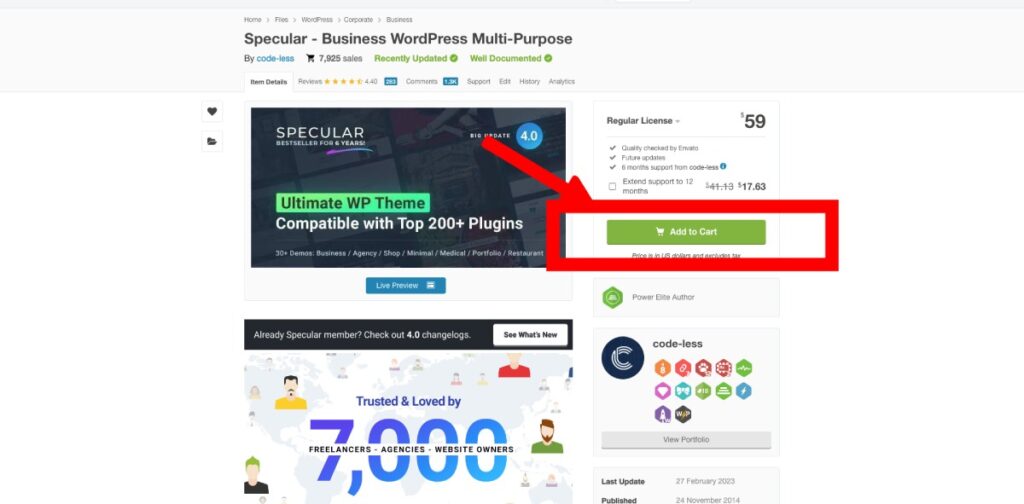 Installing the Theme
To begin creating your small business website using the Specular WordPress Theme, follow these steps to install the theme:
Log in to your WordPress dashboard.
Navigate to Appearance > Themes > Add New.
Click the "Upload Theme" button and select the Specular Theme's .zip file from your computer.
Click "Install Now" and wait for the installation process to complete.
After the installation is successful, click "Activate" to apply the Specular Theme to your website.
You can read a more detailed guide here: How to install WordPress Theme.
Selecting a Pre-built Demo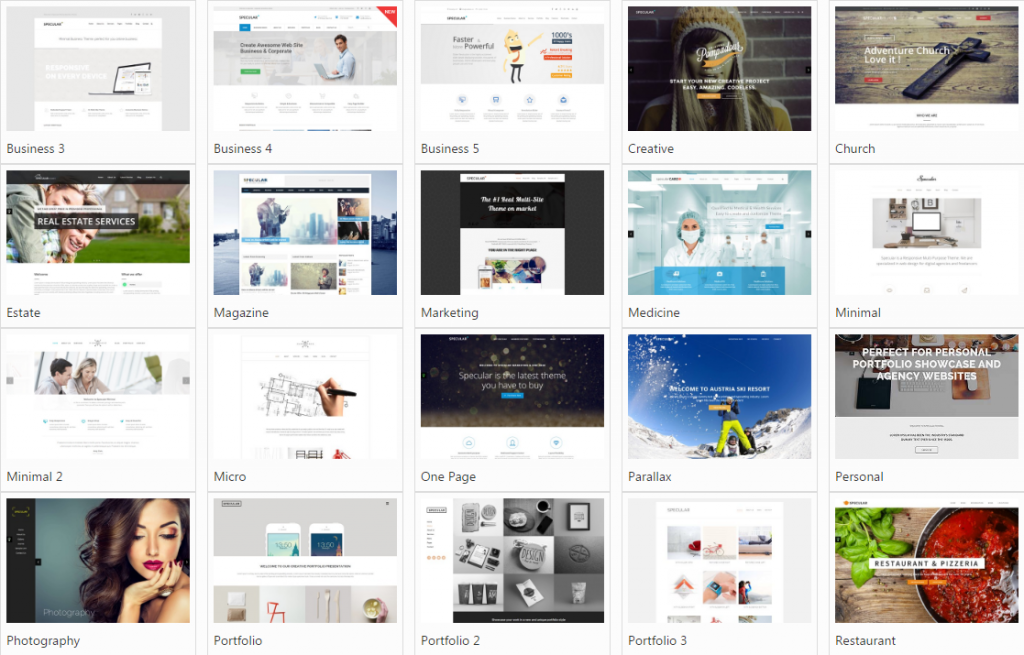 The Specular WordPress Theme offers a variety of pre-built business demos to help you get started with your website design.
To choose a demo, follow these steps:
Step 1: In your WordPress dashboard, navigate to Specular> Install Plugins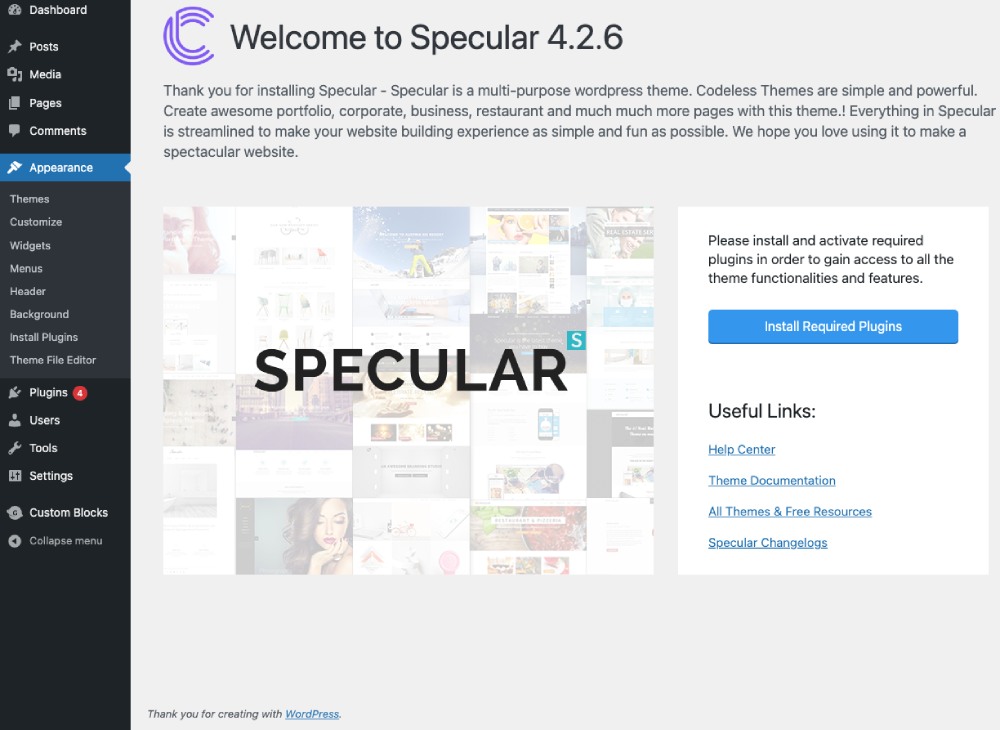 Step 2: After you have installed the required plugins Activate them
Step 3: Now go to Specular Home menu item on the left and click on it
Step 4: Write the purchase code that you can get from Themeforest and write down your email address and click on the "Register Theme" button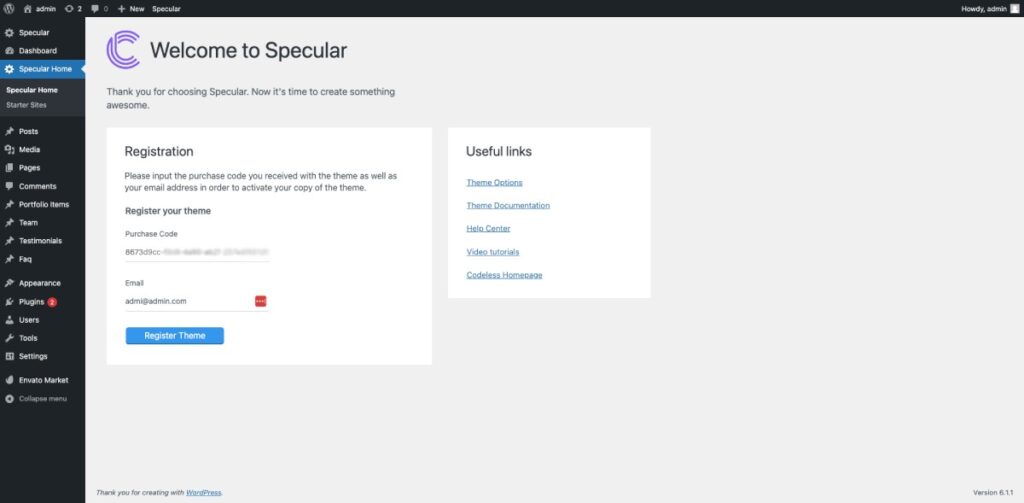 Step 5: Now go to the Starter Theme items that are shown on the left menu
Step 6: Now Choose one of the demos which you can filter and search and click the Import button that is shown after you hover over the demo image.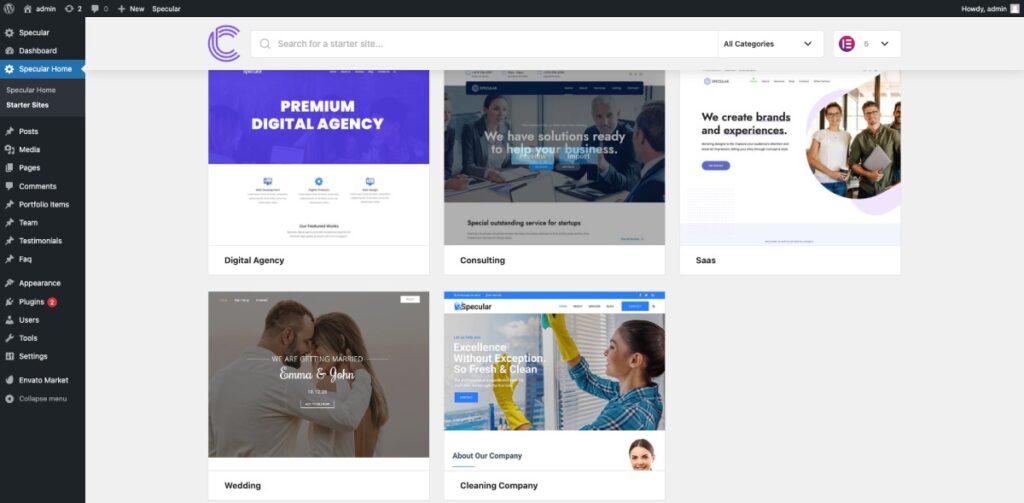 Step 7: Wait that the installation to be finished.
Step 8: Now click on the "View Site" to check the template that you have installed
Now you will get the whole website ready to be customized from Homepage to the Contact Pages.
Understanding the Theme's Various Components
Familiarize yourself with the Specular Theme's various components to create a customized website for your small business.
Key components include:
Theme Options: Accessible through the WordPress dashboard, Theme Options allows you to customize various aspects of your website, such as colors, fonts, and layout.
Page Builder: The Specular Theme includes a built-in page builder to help you create and customize pages with ease. (Elementor and WpBakery)
Widgets: Enhance your website's functionality by adding widgets, such as social media links, contact forms, or newsletter sign-ups.
Custom Post Types: The theme supports custom post types, such as portfolios and testimonials, to help you showcase your small business's achievements and offerings.
Shortcodes: Utilize shortcodes to easily insert specific elements or functionality into your website's content, such as buttons, accordions, or galleries.
You can also read Specular documentation here.
Customizing the Theme's Appearance
Start learning how to customize the theme for a more detailed guide I recommend you to consult: How to Customize a WordPress Theme (Tutorial)
Choosing Colors and Fonts
To ensure your small business website reflects your brand identity, customize the colors and fonts using the Specular Theme: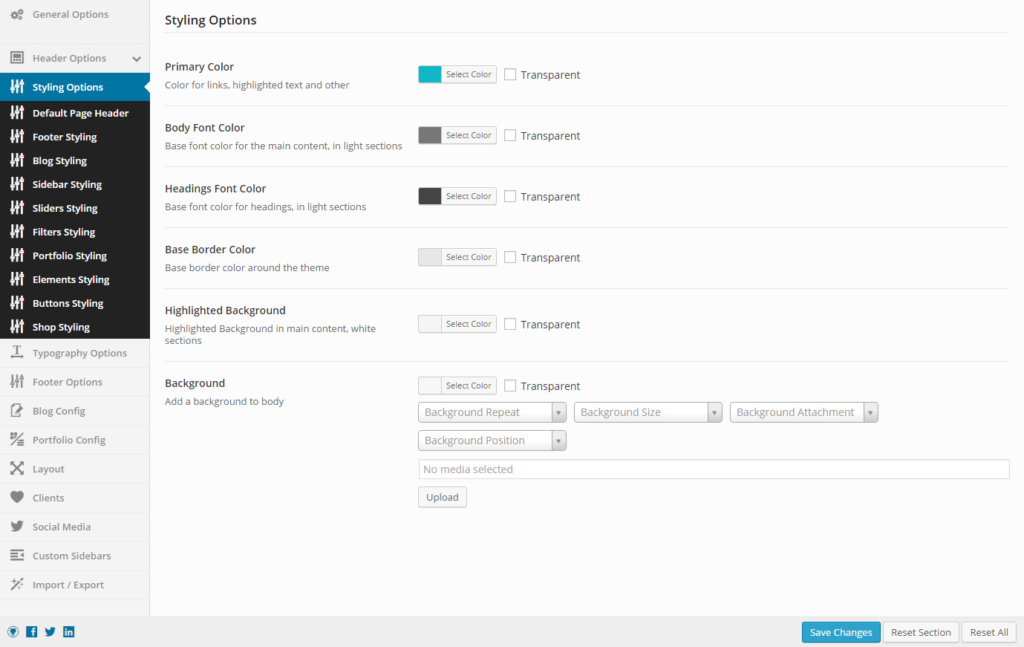 In your WordPress dashboard, navigate to Specular > Theme Options > Styling Options.
Choose a primary color that matches your brand, and select complementary colors for secondary elements.
Select your desired font family and sizes for headings and body text.
Save your changes and preview your website to ensure the colors and fonts are applied correctly.
Adjusting Layout and Design
Create a visually appealing website by adjusting the layout and design elements using the Specular Theme: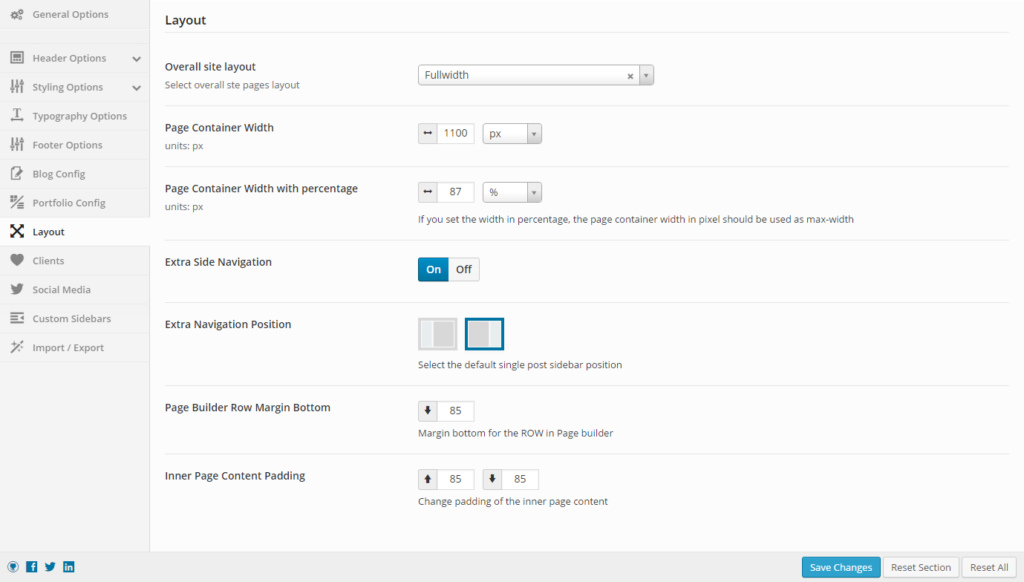 In the Theme Options panel, navigate to the Layout section.
Choose between a boxed or full-width layout for your website.
Customize the header and footer designs to align with your brand and desired functionality.
Adjust the spacing and padding of various elements to create a balanced and cohesive design.
Incorporating Brand Elements
Strengthen your brand's presence by incorporating your logo, favicon, and other brand elements into your small business website: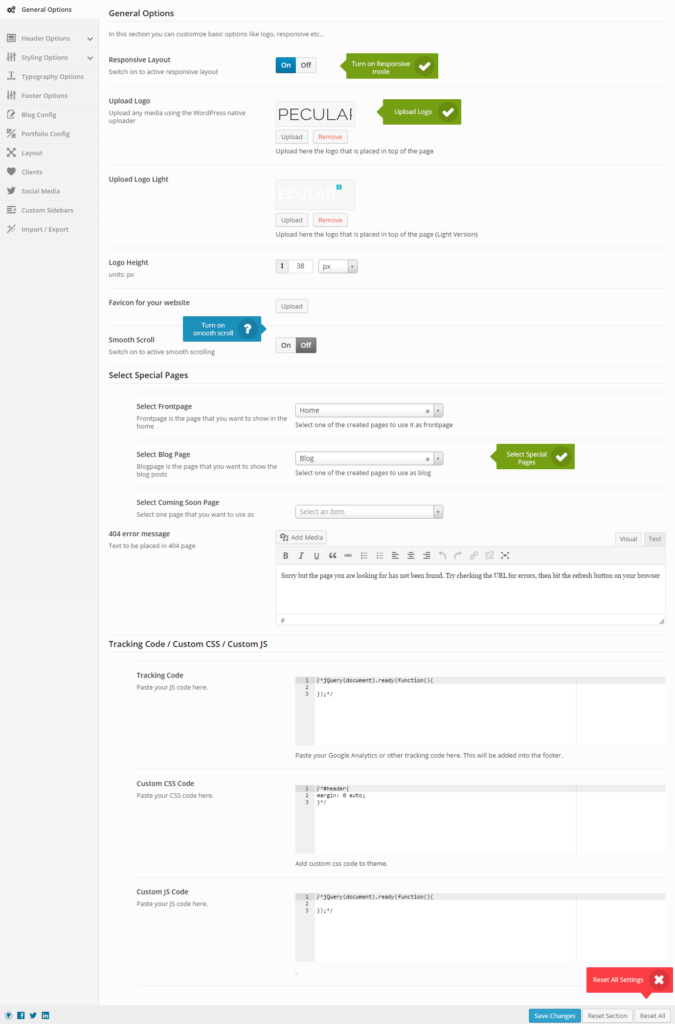 Upload your logo and favicon in the Theme Options > Logo & Favicon section.
Ensure your logo is visible and appropriately sized for both desktop and mobile devices.
Consider adding brand elements, such as patterns or icons, to further personalize your website design.
Note: For the logo and Favicon you also use directly the native WordPress Customizer
Also in case you are going to write some CSS styling or PHP I recommend you install a Child Theme.
Creating Essential Pages
Most of the pages are already created in case you have installed one of the ready templates or demos. So you can go on the WordPress dashboard and edit them through Elementor or WpBakery Visual Composer.
Homepage: A Powerful First Impression
Craft a compelling homepage that captures your small business's essence and encourages visitors to explore further:
Use the Page Builder to create a visually engaging layout featuring key components, such as a hero image, call-to-action buttons, and featured services.
Include concise, compelling text that highlights your unique selling points and communicates your brand's values.
Ensure the page is visually appealing and easy to navigate, guiding visitors toward desired actions.
About Us: Telling Your Story
Connect with your audience on a personal level by sharing your small business's story and mission on the About Us page:
Describe your company's background, values, and vision in a relatable and engaging manner.
Introduce your team members with photos and short bios, showcasing their expertise and personality.
Include any relevant awards, certifications, or testimonials to build credibility and trust with your audience.
Services: Showcasing Your Offerings
Effectively present your products or services on a dedicated Services page, making it easy for potential clients to understand your offerings:
Organize your services into clear categories or sections for easy navigation.
Provide detailed descriptions of each service, highlighting the benefits and value it offers to clients.
Include high-quality images or videos to showcase your work and enhance the visual appeal of the page.
Contact Us: Connecting with Customers
Make it simple for potential clients to get in touch with you by creating a user-friendly Contact Us page:
Include your business's contact information, such as phone number, email address, and physical location.
Embed a Google Map to help visitors locate your business easily.
Add a contact form that allows users to submit inquiries or messages directly from your website.
Enhancing Functionality with Plugins
Plugins are one of the best parts of WordPress because it makes you enrich your website with a lot of new functionalities.
Recommended Plugins for Small Business Websites
To further improve your small business website's functionality, consider installing the following plugins:
Contact Form 7: Create customizable contact forms for easy communication with potential clients.
Yoast SEO: Optimize your website's SEO performance and improve its visibility on search engines.
Google Analytics Dashboard for WP: Monitor your website's traffic and user behavior with integrated Google Analytics.
WP Super Cache: Improve your website's loading speed and overall performance by caching static content.
Social Media Share Buttons & Social Sharing Icons: Encourage visitors to share your content on social media platforms, increasing your online reach.
Installing and Configuring Plugins
Follow these steps to install and configure plugins for your small business website: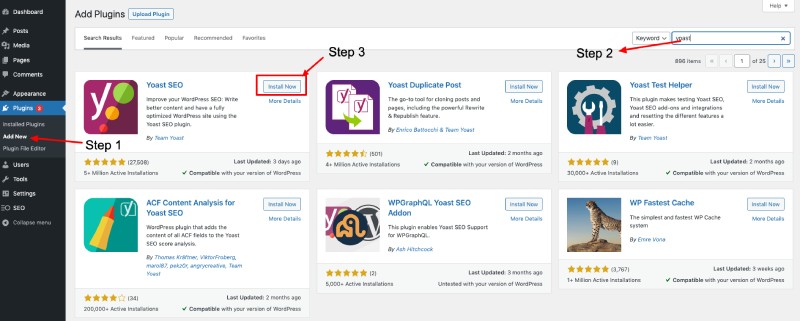 In your WordPress dashboard, navigate to Plugins > Add New.
Search for the desired plugin using the search bar and click "Install Now" on the chosen plugin.
Once installed, click "Activate" to enable the plugin on your website.
Configure the plugin's settings according to your needs and preferences, following the documentation provided by the plugin developer.
Search Engine Optimization (SEO) Tips
Without visits, your website hasn't any value at all so to get visits one way is by using search engines.
Importance of SEO for Small Businesses
Effective SEO is crucial for small businesses, as it helps improve your website's visibility on search engines, driving more organic traffic and potential clients to your site.
Utilizing Keywords
Incorporate relevant keywords throughout your website's content to optimize it for search engines:
Conduct keyword research to identify popular search terms related to your industry or services.
Include these keywords naturally in your website's content, such as page titles, headings, and body text.
Avoid keyword stuffing, as search engines may penalize websites that overuse keywords.
Creating Engaging, Original Content
Publish high-quality, original content that provides value to your audience and improves your website's SEO performance:
Write informative blog posts or articles related to your industry or services.
Ensure your content is well-structured, easy to read, and free of grammatical errors.
Regularly update your website with fresh content to keep your audience engaged and encourage search engines to crawl your site frequently.
Launching Your Small Business Website
Now that you have finished all the website design and SEO you have to test its speed and performance and start the promotion.
Testing and Optimizing for Performance
Before launching your small business website, test and optimize its performance to ensure a positive user experience:
Check your website's loading speed using tools such as Google PageSpeed Insights or GTmetrix and implement recommended improvements.
Test your website on various devices and browsers to ensure compatibility and responsiveness.
Proofread your content and verify all links and media are functioning correctly.
Promoting Your Website
Once your small business website is live, promote it across various channels to reach your target audience:
Share your website's content on social media platforms, such as Facebook, Twitter, and LinkedIn.
Encourage satisfied clients to leave reviews on Google My Business or other review platforms.
Consider implementing email marketing campaigns to keep your audience engaged and informed about your latest offerings and promotions.
By following these steps, you will successfully create an engaging, functional, and optimized small business website using the Specular WordPress Theme.
Resources
You can also use Website Builders for building business websites: 13 Best Website Builders for Small Business 2023 (Ranked)
How to create WordPress Website from scratch
Best Business WordPress Themes
Conclusion
In conclusion, building a small business website using the Specular WordPress Theme is a strategic investment that can significantly enhance your online presence and help your business grow.
By following the outlined steps, you can create a professional, engaging, and optimized website that effectively showcases your brand, products, and services.
Remember to prioritize user experience, search engine optimization, and mobile responsiveness to ensure your website caters to the needs of your target audience.
As you launch and promote your website, continue to monitor its performance, update content regularly, and explore new ways to connect with your audience.
With dedication and effort, your small business website will become a vital tool in achieving your business goals and establishing your brand in the digital landscape.

As one of the co-founders of Codeless, I bring to the table expertise in developing WordPress and web applications, as well as a track record of effectively managing hosting and servers. My passion for acquiring knowledge and my enthusiasm for constructing and testing novel technologies drive me to constantly innovate and improve.
Expertise:
Web Development,
Web Design,
Linux System Administration,
SEO
Experience:
15 years of experience in Web Development by developing and designing some of the most popular WordPress Themes like Specular, Tower, and Folie.
Education:
I have a degree in Engineering Physics and MSC in Material Science and Opto Electronics.