Have you ever wondered about the top-rated WordPress hosting providers on Reddit?
WordPress Hosting Providers are frequently discussed on the widely-used platform for social news and discussions, with a vast community of users sharing information on various topics, including web hosting. With many users seeking recommendations and insights on the best providers, Reddit has become an invaluable resource for website owners and developers alike.
In this article, we delve into the top 5 WordPress hosting providers on Reddit based on user feedback and reviews. In this list, we have listed the top commented and most-voted providers by Reddit users.
Here is a short list of the best reddit WordPress hosting providers:
Our aim is to provide readers with valuable insights and information to make informed decisions when choosing a hosting provider.
We have analyzed and ranked the providers based on the reviews and feedback provided by Reddit users. By utilizing Reddit user reviews, we hope to provide readers with a reliable and informative guide to the best WordPress hosting providers.
The Top 5 Reddit Best WordPress Hosting Providers
1. Siteground – (Fastest Shared Hosting)

Fastest Shared Hosting
Top-notch Security
Excellent Customer Support
User-friendly Interface
Free Website Migration
Multiple Server Locations
Starting from $3.99/month
See Pros & Cons
Pros
30-day money-back guarantee
Strong focus on eco-friendliness
User-friendly knowledge base and blog
Regular backups and automatic updates
Strong industry reputation
Cons
Limited storage space compared to other hosting providers
Limited options for customizing server configurations
High renewal prices after initial sign-up discount
Siteground is an established hosting provider that offers shared, WordPress, and cloud hosting.
Reddit users have praised Siteground for its exceptional site speed and performance, including fast loading times and overall responsiveness.
Users have also mentioned the company's top-notch customer support, helpful resources, and user-friendly interface as standout features. Additionally, Siteground's reliable uptime and security measures have received positive feedback from users.
The provider offers flexible pricing plans and affordable options, making it accessible to a wide range of users. Overall, Siteground enjoys a positive reputation among Reddit users as one of the fastest shared hosting providers available.
One reddit user writes: "I switched from GoDaddy to Siteground and has been the best decision. My sites are for my business and so I don't care if people say the renewal is expensive. I pay way more for my other business expenses, so hosting is a drop in the bucket compared to them. I just need a fast, reliable website. I don't care for cPanel, so Siteground's simple GUI and functions do what I need them to do. I get SSL for free and it auto-renews so I don't have to worry about it like before when I was manually updating with SSLforfree."

Another Reddit user mention:"Go with Siteground. Good value has great support, is fast (for the price) and with loads of speed and image optimization (webp) included. Namecheap or AWS also suggested here would likely be too advanced for where I think you are from your post."

For more comments like this check here: Siteground reddit comments
2. GreenGeeks – (Amazing Support)

300% renewable energy infrastructure
24/7 customer support
Free website migration
Optimized for WordPress and other CMS platforms
Advanced security features and automatic backups
Starting from $2.95/month
See Pros & Cons
Pros
99.9% uptime guarantee.
Eco-friendliness and sustainability, using energy-efficient
GreenGeeks offers a wide range of hosting plans
The company provides excellent customer support through 24/7 live chat, phone, and email support, as well as a knowledge base and helpful video tutorials.
Cons
Some users have reported issues with website migrations and backups.
GreenGeeks does not offer dedicated server hosting, which may be a disadvantage for users with high-traffic websites or complex hosting needs.
GreenGeeks is a web hosting provider that offers reliable hosting services with an eco-friendly approach.
Reddit users praise GreenGeeks for their exceptional customer support and uptime, as well as their commitment to the environment.
They also appreciate the user-friendly cPanel interface and one-click WordPress installation. GreenGeeks offers shared hosting, VPS hosting, and dedicated hosting plans, making it a suitable option for businesses of all sizes.
Reddit Users say about Greegeeks:
"I highly recommend Greengeeks. I have never encountered any problems with GreenGeeks. Their hosting is fast, secure, and scalable. Their support team is available 24/7 and they are helpful and friendly. Additionally, GreenGeeks partners with One Tree Planted to plant a tree for every hosting account created on their platform"


Read more: Best cPanel Web hosting
3. Kinsta – Best cloud-managed hosting provider

High-performance servers
Google Cloud Platform
Automatic backups
Staging environment
Developer-friendly tools
Custom caching system
Global data centers
See Pros & Cons
Pros
Great support
Easy to use
Fast load times
Reliable uptime
Good security features
Cons
Expensive pricing
Limited storage
Limited control over server configurations
No email hosting included
No phone support
Kinsta is a premium WordPress hosting provider that offers high-performance managed hosting services on Google Cloud Platform.
Reddit users highly recommend Kinsta for its exceptional speed, reliability, and excellent customer support.
They also appreciate the user-friendly dashboard and easy site migration process. Kinsta offers various hosting plans, including shared hosting, VPS hosting, and dedicated hosting, making it a suitable option for businesses of all sizes.
You can also read our full review of Kinsta.
Reddit users highly recommend Kinsta for its scalability and reliability, making it the best option for high-traffic websites.
One Reddit user states: "I don't understand how hosting would limit plugins? Kinsta is pretty damn easy with no issues with the 60 sites we have on there"

Another user mentions: "Kinsta is shared as well. Yes, the instance is purely for 1 website, but almost every host does the same. Kinsta has many advantages – but this isn't one of them. If your website gets like 5000 visitors, Kinsta is obviously overkill. Don't want to be hating on them though, because I love the company and what they are doing. But it's a bit like buying a Ferrari for your daily commute."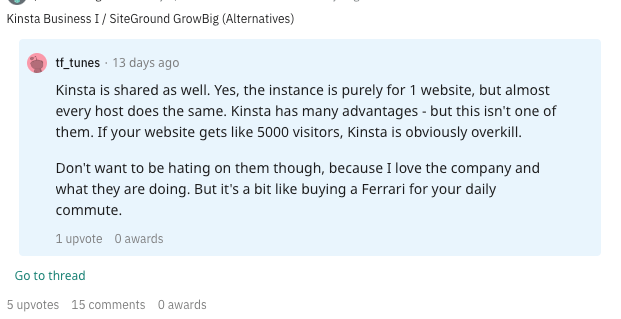 Overall, Kinsta is considered the best cloud-managed hosting provider by Reddit users, with its exceptional speed, reliability, and scalability making it the ideal option for businesses with high-traffic websites.
You can check all the Reddit Users' comments here.
4. Cloudways – (Best with a Managed Dedicated Server)

Multiple cloud providers to choose
1-click server cloning and server scaling
Cloudways offers a pay-as-you-go pricing model
Easy-to-use control panel with a user-friendly interface.
See Pros & Cons
Pros
Great customer support
Highly customizable
Easy to scale up
Affordable pricing plans
User-friendly interface
Cons
Limited application support
No phone support is available
Some users experience slow server response times
No email hosting provided
No domain registration services
Cloudways is a cloud-based managed hosting platform that provides businesses with an easy-to-use interface for managing their websites.
Reddit users highly recommend Cloudways for its dedicated server hosting, which offers unparalleled control and customization.
Users can choose from various cloud providers, including Amazon Web Services, DigitalOcean, Google Cloud Platform, and Vultr, to host their websites.
Cloudways also offers a managed hosting solution, taking care of server management and security, making it an ideal option for businesses that want to focus on their core activities. Reddit users highly appreciate Cloudways' customer support, which is available 24/7 and is highly responsive.
One Reddit user states: "Digital Ocean will give you the closest thing to what you have now get a single droplet either use app hosting (install Drupal) or setup a LAMP stack like you're self-hosted solution. If you're looking for more look at cloud ways, both will cost around $15-$20 but with Cloudways you get managed hosting, git, db backups, ssl certs etc… with Digital ocean it's all there but you need to set it up yourself."

Another user mentions: "Digital Ocean is pretty good. But get ready to drop into the console. Cloudways is solid but geared toward many sites"

Read more Reddit User Comments here
Overall, Cloudways is considered the best option for businesses that require a managed dedicated server. Its highly customizable hosting solution and exceptional customer support make it an ideal choice for businesses looking for complete control over their website.
5. WP engine – (User Friendly for WordPress users)

Managed WordPress hosting
Fast loading speeds
Robust security features
User-friendly interface
See Pros & Cons
Pros
Excellent customer support
Fast and reliable hosting
User-friendly interface
Good security measures
Regular backups and updates
Good for WordPress sites
Cons
Expensive pricing plans
Limited storage space
Overly strict caching policies
Can be complex for beginners
The migration process can be difficult
WP Engine is a managed WordPress hosting provider that offers businesses an easy-to-use platform for hosting and managing their WordPress websites.
Reddit users appreciate WP Engine for its user-friendly interface, which makes it easy for WordPress users to manage their websites without requiring technical expertise.
WP Engine also offers a range of features, including automatic backups, daily malware scans, and one-click staging environments, making it an ideal option for businesses that want a hassle-free hosting solution.
One Reddit user states, "Pressidium or WP engine or Kinsta and go for managed wp hosting."

Another user mentions, "I would switch hosts. GoDaddy charges fees for things like SSL and Domain Privacy that many of its competitors offer for free. For better WP hosting, try Cloudways. Kinsta and WPengine have good offerings if you want something less hands-on."

WP Engine is considered the best option for businesses that want a user-friendly managed WordPress hosting solution. WP Engine is an ideal choice for businesses that want to focus on growing their website, without worrying about technical issues.
Reference: You can read more reviews from Reddit here
Conclusion
After extensive research and analysis of user feedback and reviews on Reddit, we have identified the top 5 WordPress hosting providers.
While each provider has its strengths and weaknesses, choosing the right WordPress hosting provider depends on the specific needs and goals of your website. It is essential to consider factors such as pricing, features, customer support, and user reviews before making a final decision.
In conclusion, Reddit is an excellent resource for website owners and developers looking for reliable and high-quality WordPress hosting providers. By utilizing user feedback and reviews, you can make an informed decision and choose a provider that meets your needs and provides the best value for your investment.

As one of the co-founders of Codeless, I bring to the table expertise in developing WordPress and web applications, as well as a track record of effectively managing hosting and servers. My passion for acquiring knowledge and my enthusiasm for constructing and testing novel technologies drive me to constantly innovate and improve.
Expertise:
Web Development,
Web Design,
Linux System Administration,
SEO
Experience:
15 years of experience in Web Development by developing and designing some of the most popular WordPress Themes like Specular, Tower, and Folie.
Education:
I have a degree in Engineering Physics and MSC in Material Science and Opto Electronics.