In this article, we will review Kinsta vs A2 Hosting. We will place two giant hosting providers side by side and analyze their features and benefits so that you decide for yourself which provider will be the best one for your business.
But first, brief intros.
Kinsta is a relatively new web hosting provider founded in 2013. The company provides only WordPress plans for businesses that want the best-optimized WordPress hosting available.
A2 Hosting has been around since 2001. It provides packages ranging from shared web hosting and managed WordPress to VPS and dedicated plans. The main factor that differentiates A2 Hosting from other providers is affordability.
Kinsta vs A2 Hosting is a battle between high WordPress optimization and affordability. Are you ready? Let's get started.
Kinsta vs A2 Hosting: Overview
| | | |
| --- | --- | --- |
| Feature | Kinsta | A2 Hosting |
| Response Time | 146ms | 282ms |
| Data Centers | 34 | 4 |
| Page Loading Speed | 1 | 2 |
| SSD Storage | Starts from 10GB | Starts from 50GB |
| Automatic Backups | Free daily backups for all plans | Automatic backups for some plans |
| Migrations | Free | Free |
| Uptime Guarantee | 99.9% | 99.9% |
| WordPress Hosting Price | Starts from $35 | As low as $2.99 per month |
| Web Administration Software | MyKinsta | cPanel or Plesk |
| Email Hosting | No | Yes |
| CDN | Yes | Yes |
| | Try Now | Try Now |
Kinsta vs A2 Hosting: Features and Benefits
Data Centers
Winner: Kinsta
A2 has four primary data centers in the United States, Europe, and Asia. In the United States, A2 server centers are in Michigan and Arizona, while the rest are in the Netherlands, Europe, and Singapore, Asia.
Kinsta hosting has 34 data centers spread out across four continents. Nine are in Asia, Taiwan, Japan, South Korea, Indonesia, Singapore, Hong Kong, and India. Melbourne and Sydney in Australia have one data center each.
In Europe, Kinsta data centers are in Spain, Poland, Finland, the United Kingdom, Italy, Belgium, Switzerland, the Netherlands, and France. On the American continent, they are in Brazil, and Canada, and the United States. You can find them in Los Angeles, Salt Lake City, and Las Vegas.
Kinsta has so many servers because it uses Google Cloud Data Centers, which are located in dozens of countries around the world.
Many data centers offer several benefits like
Low latency
Fast site speeds and high processing times
Increased conversions
If you don't know which data center to host your website in, we recommend you select one that is closest to the majority of your customers. Use GCPing, a free tool that calculates the average latency from your browser's IP address to each Google data center.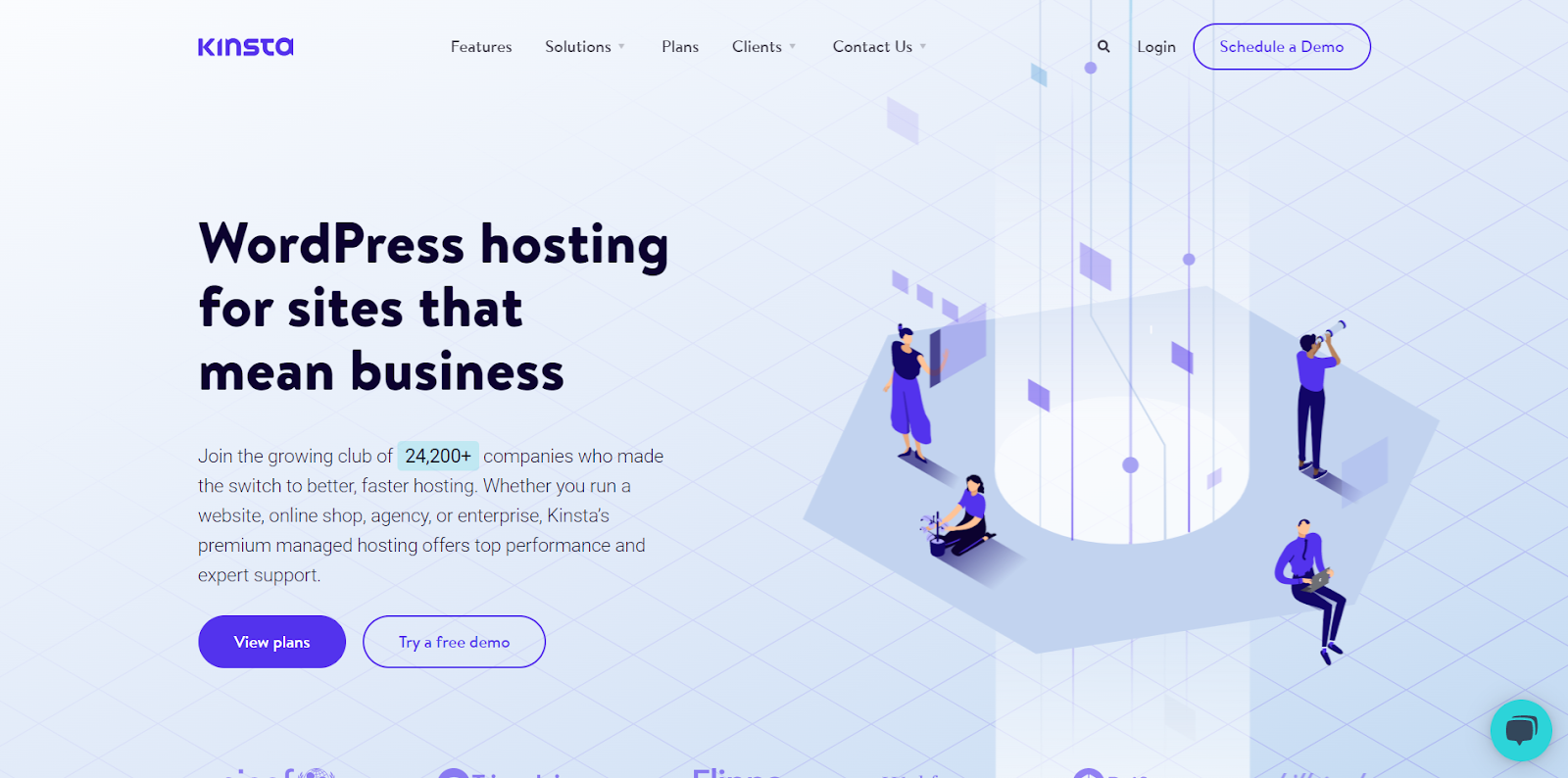 Speed and Uptime
Winner: Kinsta
Both Kinsta and A2 Hosting servers have fast response times. You just have to build a fast-loading website.
We tested the response times of both hosting providers by pinging their servers from our local computers.
The average response time for A2 Hosting was 289ms, while the average response time for Kinsta was 136ms.


We also tested the TTFB and load times for their official websites. A2 Hosting's website had an average response time of 114ms and load time of 2s. The Kinsta official website had an average response time of 73ms and load time of 1s.
Kinsta is slightly better at uptime. Since it uses Google's cloud data servers, it is not surprising that it averages 100% uptime for several months. It also monitors websites every two minutes for uptime.
You can also read our full review of Kinsta features and performance.
A2 Hosting guarantees 100% uptime for the US data centers because they have extensive redundancy systems. The provider usually averages 99.9% uptime which is also pretty good.
Both hosting providers offer a 99.9% uptime guarantee.
Excellent uptime for your site is necessary to optimize conversions and maintain reliability.
If your site suffers from frequent crashes, it reduces brand trust and the number of customers you can convert. On the other hand, if it is online and responsive, customers tend to buy from you more.
Security Options
Winner: Tie
Kinsta and A2 Hosting provide tons of security features for websites hosted on their platforms. Some features are similar, and some differentiate the providers. Similar features include:
The providers offer free SSL certificates that last for the first year of purchasing hosting from them. SSL encrypts user data and stops hackers from duplicating your website and using it online.
Automatic DDoS protection
DDoS stops malicious traffic from reaching your website. Sometimes, cybercriminals send bots or spam traffic that makes repeated HTTP calls to your server, which can cause your entire website to crash. DDoS automatically scans all traffic to ensure that only legit traffic from real users gets to your site.
Kinsta's auto backups happen every day. Both providers accept extra payment to run customized, scheduled backups on your web server, so you don't have to do them yourself.
Two-factor authentication
2FA double-checks user identities to ensure that only the right people are assessing the backend of your web server. A2 Hosting offers 2FA through Clef.
This security feature bans IP addresses that try to log into your server more than six times in a minute.
The hosting providers also have exclusive security features. For A2 Hosting, they are:
Jetpack licenses
Kernel Care
Hack Scan
Firewalls and malware detection systems
A2 Hosting attaches a free Jetpack license to every managed hosting account. Jetpack has features like automated backups that occur every time you make a change to your website, filtering of spam content, downtime monitoring, and brute force attack protection.
Kernel care of A2 Hosting is another feature that automatically updates your server with the latest security features without rebooting. Hack Scan scans your site daily for malware to block attacks before they happen.
A2 Hosting has several firewalls and malware detection systems for preventing server attacks. The auto-heal hosting protection ensures that all necessary default settings remain the same.
Kinsta's exclusive security features are:
IP geolocation banning
Uptime monitoring
SFTP and SSH connections
Hack-fix guarantee
IP geolocation banning blocks specific IP addresses that have a pattern of abusing web servers. IP geolocation banning also blocks visitors from certain countries.
Kinsta monitors your site every two minutes for uptime, a total of 720 times daily. The host only supports encrypted SFTP and SSH connections. And if your website ever gets hacked, Kinsta fixes it 100% free of charge.
WordPress Hosting
Winner: Kinsta
If you have a minimal budget, go for A2 Hosting. If you want fully managed WordPress hosting with all the perks, and your budget is not too restricted, go for Kinsta hosting.
Kinsta offers 10 fully managed WordPress plans with excellent features like free automatic daily backups, security, automatic updates, free CDN and DDoS, and industry experts. When you call support, you speak with a support rep who is an expert in WordPress and trained to handle WordPress hosting problems.
A2 Hosting offers four managed WordPress plans and four unmanaged plans. The unmanaged plans are just regular shared hosting plans that you can install WordPress in.
Having managed WordPress comes with significant advantages like
Updates are automatically installed
WordPress comes pre-installed on the hosting account
Several processes like backups and security are automated
The one downside with Kinsta's WordPress hosting is that it has strict limitations on the number of web visitors per month, while A2's restrictions are more relaxed. However, the lowest number of web visitors allowed is 25,000 per month, which is pretty good if you ask me.
Hosting Plans and Pricing
WInner: A2 Hosting
Kinsta sells only managed WordPress hosting, while A2 has almost every hosting package available.
A2 Hosting plans are divided into four main categories
Shared web hosting
Managed WordPress hosting
VPS hosting
Dedicated hosting
Reseller hosting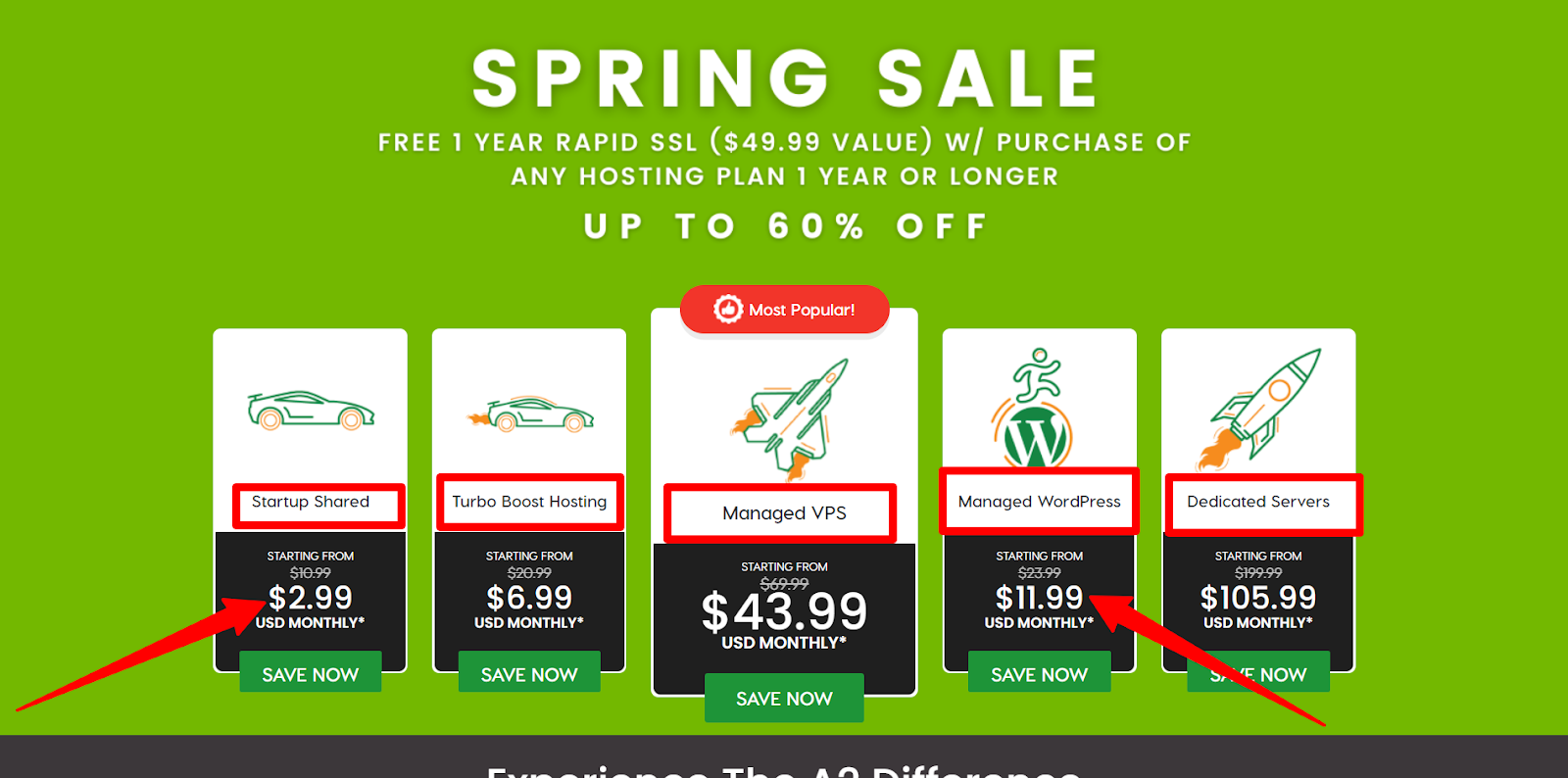 Shared web hosting is the cheapest hosting package offered by A2 Hosting. It is also very affordable, which comes as no surprise.
In shared hosting, your website shares the same server with others. Sometimes up to a dozen websites share the same server.
The main advantage of Shared Hosting is that it's affordable and easy to maintain. It works fine for any small online business and is easy to scale.
The disadvantage is you share server resources like allocated maximum monthly traffic with the other websites. On some occasions, your resources are given to others. If the central server is hacked, all your websites are hacked.
A2 Hosting shared web hosting plan starts from $2.99 per month if you pay for a 3-year program and $6.99 monthly for a 1-year plan. It allows you one website and 100GB SSD storage. The highest shared hosting plan is $13 monthly for a 3-year project which offers an unlimited number of websites and unlimited SSD storage.
A2 Hosting managed WordPress costs $11.99 to $41.99 if you get a 3-year plan. At the lowest tier, you get one organized WordPress site and 50GB of SSD storage.
VPS hosting lets you control your server resources while sharing the server with other websites. A2 VPS hosting is divided into managed and unmanaged. The monthly costs range from $4.99 to $109.99 per month.
Read More: Best Cheap VPS Hosting
Dedicated hosting means you get your server. It starts from $105.99 to $505.99 per month.
As mentioned, Kinsta only sells managed WordPress plans. They are divided into ten packages.
| | |
| --- | --- |
| Kinsta Hosting Plan | Price (per month) |
| Starter | $35 |
| Pro | $70 |
| Business 1 | $115 |
| Business 2 | $225 |
| Business 3 | $340 |
| Business 4 | $450 |
| Enterprise 1 | $675 |
| Enterprise 2 | $1000 |
| Enterprise 3 | $1350 |
| Enterprise 4 | $1650 |
All plans on Kinsta come with a 30-day money-back guarantee, and you get two months free if you pay for one year. All the plans get free DDoS, CDN, and SSL. They also get free daily migrations that are stored for at least 14 days and for up to a month.
All Kinsta plans have strict limits. The cheapest plan, Starter, allows for 25,000 monthly website visitors maximum. Enterprise 4 hosting plan allows for up to 2.5 million monthly visitors.
If you know you want a WordPress site, Kinsta may be the better option because it offers more benefits than a2 Hosting. Think free automatic backups and expert support.
Web Administration Software
Winner: Tie
For A2 Hosting, the web admin is either cPanel or Plesk. Kinsta built an in-house web admin software called myKinsta.
If you want a popular admin application, you may choose A2 Hosting because of cPanel and Plesk. But if you want an app built especially for WordPress site owners, myKinsta is a better fit. Also, A2 Hosting is also listed as one of the best cPanel hosting providers.
While cPanel offers you a wide range of features, myKinsta is better designed and easier to use. The dashboard has an intuitive UI that gives you a clear overview of your hosting account.
Other myKinsta features are:
One-click staging environments
Detailed reports and analytics
WordPress debugging tools
Multilingual dashboard available in 10 languages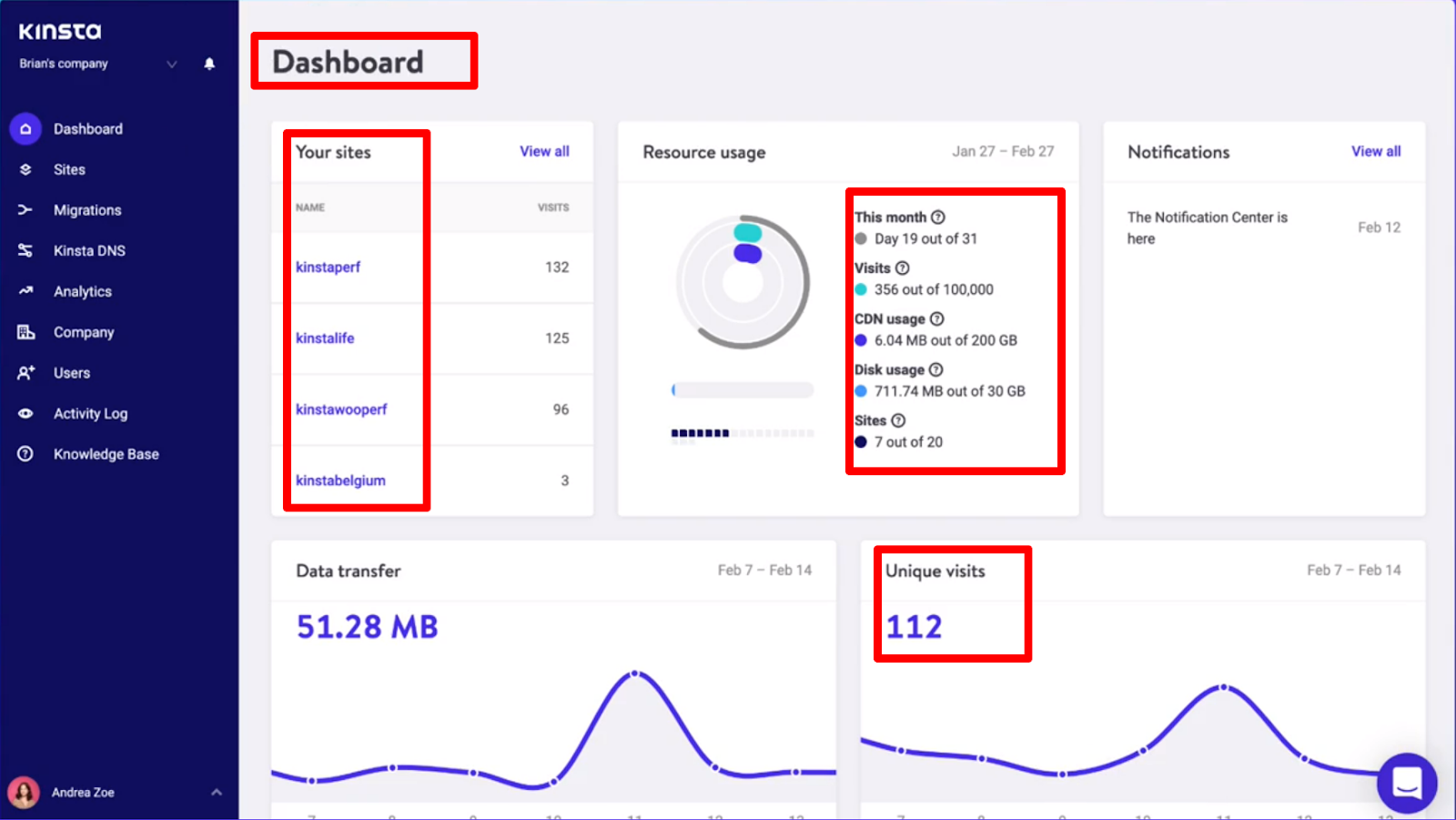 Backup Options
Winner: A2 Hosting
Both hosting providers support automatic and manual backups. The difference lies in the free automatic backup options.
With A2 Hosting, you get automated backups for all plans, excluding the cheapest shared web hosting plan, Startup. However, the host does not state explicitly how often this automatic backup occurs or for how long the backup file is stored.
Kinsta offers free daily automatic backups for all plans. The host stores the backup files for two weeks and up to a month, depending on your plan.
Both Kinsta and A2 Hosting support manual backups, so if you know what you are doing, you can manually backup your site as often as you want. Of course, that would mean downloading files to your local computer or online storage like Dropbox.
However, on this topic of backups, A2 Hosting wins by a slight margin because of JetPack.
For all A2 managed WordPress plans, except the cheapest one, a Jetpack license is pre-installed. Jetpack saves a copy of your website every time you make a change, like adding a new page or uploading a new blog.
If you make several changes a day, Jetpack will save several copies of your website for that day. Jetpack keeps copies for at least 30 days and up to 1 year.
Storage Options
Winner: Tie
Both Kinsta and A2 Hosting use SSD storage which ensures high performance and fast processing speeds. However, A2 hosting offers more disk space than Kinsta.
While Kinsta allows 10GB SSD storage for the lowest pricing tier, A2 Hosting offers 100GB SSD for the lowest price tier, which costs $2.99 per month. 50GB NVMe SSD storage is the minimum in the A2 Hosting managed WordPress package.
Even though A2 Hosting offers free Cloudflare CDN, it does not say how much storage each plan gets. Kinsta's lowest-paid WordPress plan gets 100GB of CDN storage.
Kinsta also offers better RAM. Each Kinsta plan has at least 8GB of RAM. A2 Hosting RAM for managed WordPress starts from 4GB and 700MB for the cheapest shared web hosting plan.
WordPress and PHP require at least 512MB of physical memory. The one you buy should be determined by the amount of processing on your site.
CDN
Winner: Kinsta
CDN stands for Content Delivery Network.
It is software that enables the caching of websites, that is, storage of static web page elements in servers worldwide; when users visit a website, the load time is reduced, which keeps customers on the page a little longer and boosts conversion rates.
Both Kinsta and A2 Hosting include a CDN package in their hosting plans.
CDN storage for Kinsta starts at 100GB, while A2 Hosting does not explicitly mention its own.
Even though both hosting providers support Cloudflare CDN, one significant difference exists.
Kinsta Hosting CDN comes automatically set up with each hosting plan. With A2 Hosting, you have to enable it manually.
Customer Support
Winner: Kinsta
The main difference between the customer support of both providers is the support team.
A2 hosting support team has to be knowledgeable about all kinds of hosting, while Kinsta support only has to know WordPress.
Both hosting providers offer email support, ticketing, and live chatting. Only A2 hosting allows phone support. The hosting provider even has different phone numbers for other countries.
Even though Kinsta has no phone support, the support team still replies to chats within minutes. Plus, you get a support rep who knows WordPress inside and out.
Kinsta Pros and Cons
Kinsta Pros
Built for WordPress websites – It has a range of features and benefits that are optimized for just WordPress websites.
Expert customer support – All Kinsta support reps are experts in WordPress. You get your website hosting problems fixed faster.
High performance and excellent uptime – Kinsta offers almost 100% uptime because of the extensive redundancy of the data centers.
34 available data centers – You can choose from 34 data centers spread out across the globe. This allows you to locate your website very close to your main audience.
Free automatic backups – Kinsta offers free daily backups for all the hosting plans. The backup files are stored for many days, ranging from 14 to 30 days.
Free migrations – Kinsta allows you to migrate from other hosting providers for free.
Large physical memory and high number of allotted CPUs – All Kinsta hosting plans get at least 8GB of RAM and 12 CPU cores. This boosts the performance and processing speeds of website servers.
Kinsta Cons
The high entry price point – The lowest Kinsta pricing tier costs $35 per month. The cost goes up to $1650 monthly.
No phone support – Kinsta offers no phone support. The available options are email support, ticketing, and live chat.
No email hosting solution – Kinsta does not include email hosting packages. You will have to set it up by yourself.
A2 Hosting Pros and Cons
A2 Hosting Pros
Offers several types of hosting packages – A2 Hosting sells different hosting plans, including shared hosting, managed WordPress, VPS hosting, Reseller hosting, and Dedicated hosting.
Excellent uptime and fast response times – A2 Hosting guarantees 99.9% uptime. From our tests, TTFB is an average of 282ms.
Large disk space storage options – Disk space options start from a 50GB SSD.
Free migrations – A2 Hosting supports free website migrations from other hosting providers.
Many security features – A2 Hosting offers security features like Hack Scan, Kernel Care, and Jetpack licensing.
Email hosting included – A2 Hosting includes email hosting in the available features.
A2 Hosting Cons
It is affordable for just long-term plans – A2 Hosting is only more affordable than Kinsta if you pay for a yearly or 3-year plan. For instance, A2 Hosting's cheapest Managed WordPress plan costs $11.99 monthly for a 3-year program. But if you decide to pay monthly, the price jumps to $23.99. Then, it does not look so far off from Kinsta's $35 for a Starter plan.
Has lower physical or RAM options – A2 Hosting's provisions for physical memory start from 700MB, while Kinsta offers at least 8GB RAM for all of its hosting plans.
Conclusion
While choosing between Kinsta and A2 Hosting, keep the primary needs of your business at the forefront.
You don't need to spend a fortune to get decent WordPress hosting. A2 offers cool features at an affordable price. But if you want premium benefits and expert customer support, Kinsta should be your choice.
You can check also:
Hostinger Review: Features, Benefits I Like and Dislike
10 Best Valheim Server Hosting
10 Best Minecraft Server Hosting Providers
10 Best Green Web Hosting Providers
10 Best ASP.NET Hosting Providers

As one of the co-founders of Codeless, I bring to the table expertise in developing WordPress and web applications, as well as a track record of effectively managing hosting and servers. My passion for acquiring knowledge and my enthusiasm for constructing and testing novel technologies drive me to constantly innovate and improve.
Expertise:
Web Development,
Web Design,
Linux System Administration,
SEO
Experience:
15 years of experience in Web Development by developing and designing some of the most popular WordPress Themes like Specular, Tower, and Folie.
Education:
I have a degree in Engineering Physics and MSC in Material Science and Opto Electronics.