Are you thinking of any Linktree alternatives for your business?
Whether you're a business leader or an aspiring influencer, social media gives unparalleled chances to reach and engage with prospects. However, platforms such as Instagram and TikTok restrict your ability to link off the platform.
In fact, you only get one link. And this ultimately hinders users, especially those who want to push their social media efforts beyond a single channel. As a solution to this challenge, a multi-link solution (practically a micro landing page) emerged and swiftly gained popularity in recent years.
Among these solutions, Linktree was the first to address this need. Since then, many other solutions and alternatives have emerged in the market.
What is Linktree?
Linktree first entered the multi-link scene in 2016 and since then, its user base has extremely grown. In fact, according to its About page, this platform claims to have over 12 million active users worldwide. This is impressive!
Initially, Linktree was focused on providing social media users with a one-to-many link solution. However, it has expanded its solutions to include website traffic analytics, third-party integrations, and payment collection services.
Linktree's tagline is "The only link you'll ever need." It also counts some well-known celebrities and brands among its customers and nobody can question the platform's popularity.
Linktree Pricing
Linktree offers users two pricing plans, one free and a paid plan with a nominal monthly fee. Below are the features included in each plan:
Free Plan, $0/month – With a free plan, you get unlimited links, QR codes to share offline, embedded videos with autoplay, basic analytics(clicks and views), basic customization features, and link thumbnails.
Integrations with Facebook, TikTok, Twitch, Vimeo, and YouTube are also mentioned on Linktree's price page, although this is deceptive. These "integrations" simply mean that you can include videos on your Linktree page, something they previously stated was possible with the "Video Links" feature. In any sense, this is a basic operation of HTML rather than a feature.
Pro Plan, $6/month- All free plan features are included in the pro package. However, the pro plan has added functionality and features, including leap links, link scheduling, priority links, no Linktree logo, newsletter subscription, SMS and RSS links, advanced analytics(CTR, locations, devices, referrals, unique clicks/views, etc.) advanced customization, Facebook pixels, and Google Sheets integration.
The Top 10 Best Free and Paid Linktree alternatives
As appealing as Linktree appears, it is not the only choice for convenient link discovery and placing. We have rounded up and curated the following list of the best Linktree alternatives worth checking out. Let's dive in!

ContactInBio is a great tool that allows you to create a landing page where you can keep all of your multiple links in one location. They also let you embed payment forms, music services, social media posts, and other content in addition to unlimited links.
Key Features
Both Linktree and ContactInBio have similar functionality in terms of landing page design. However, ContactInBio's features take it to a whole other level. Unlike Linktree, they allow you to select one of four domain names.
In addition, ContactInBio has an option to add a contact form to the landing pages, a nifty feature that lets you open communication channels with your audience. The main disadvantage, however, is that the contact form only sends messages to your ContactInBio inbox and not your email.
ContactInBio also provides nearly limitless customization choices. You can select from eight different 'blocks' to include on the landing pages. An image carousel, text block, social media buttons (which the free version of Linktree lacks), and video blocks are among the blocks available.
Additional features of ContactInBio include:
Messenger Smart Links- Make direct connections to messaging systems such as Facebook Messenger, Telegram, WhatsApp, and Skype.
Native Google Analytics Integration– Integration with Google Analytics and Facebook Pixel allows you to track visitor demographics and conduct retargeting advertising on Facebook.
ContactInBio Pricing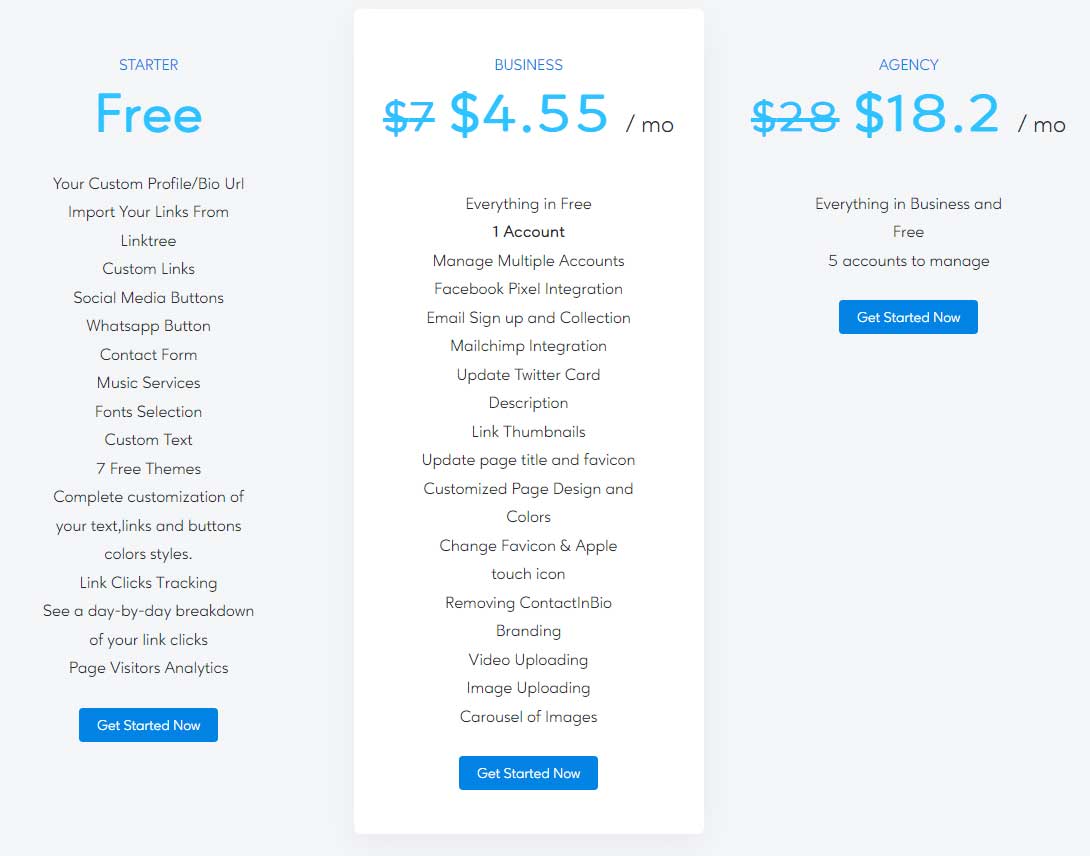 ContactInBio's pricing is as follows:
Starter- A custom URL, social media buttons, seven free themes, and other features are included in the free plan.
Business- This $4.55/month mid-tier plan contains all of the capabilities of the Starter plan, plus email signup, image uploading, and more.
Agency- The top-tier plan, which costs $18.20 a month, includes everything in the Business plan and the capacity to create five accounts to manage.
Example:
Socialbuzzn influencer uses it on his Instagram page: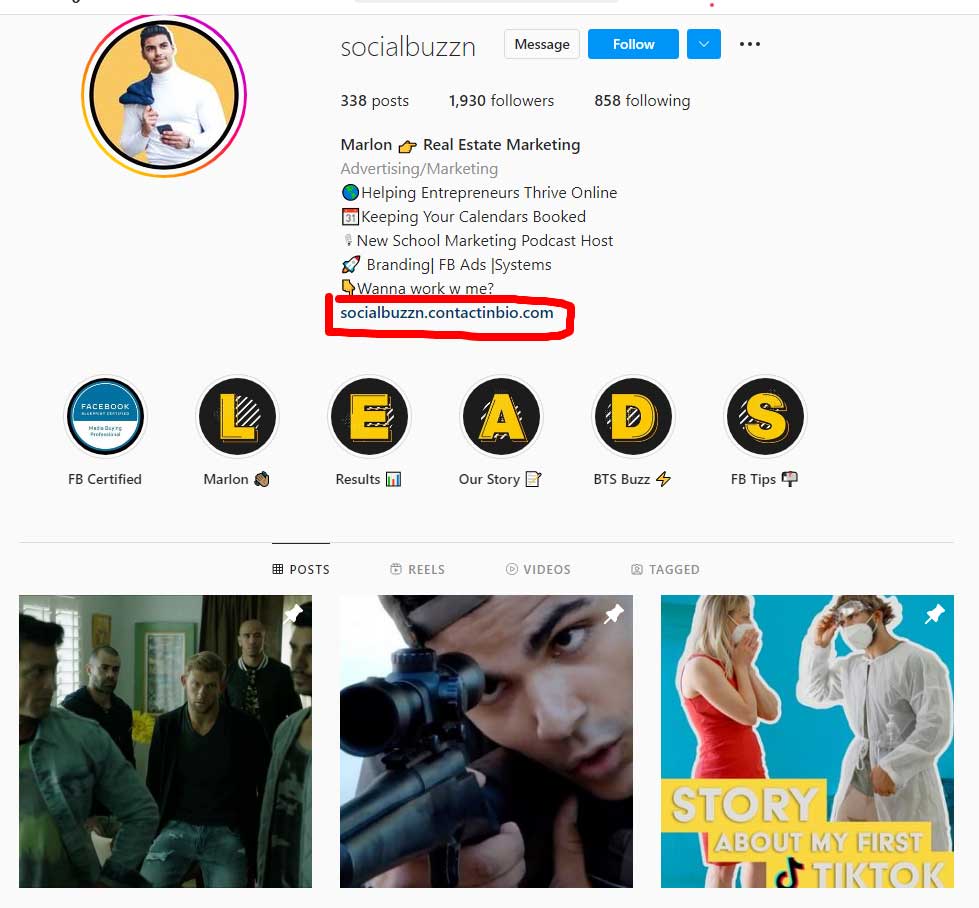 Below you can check his landing page created with Contactinbio: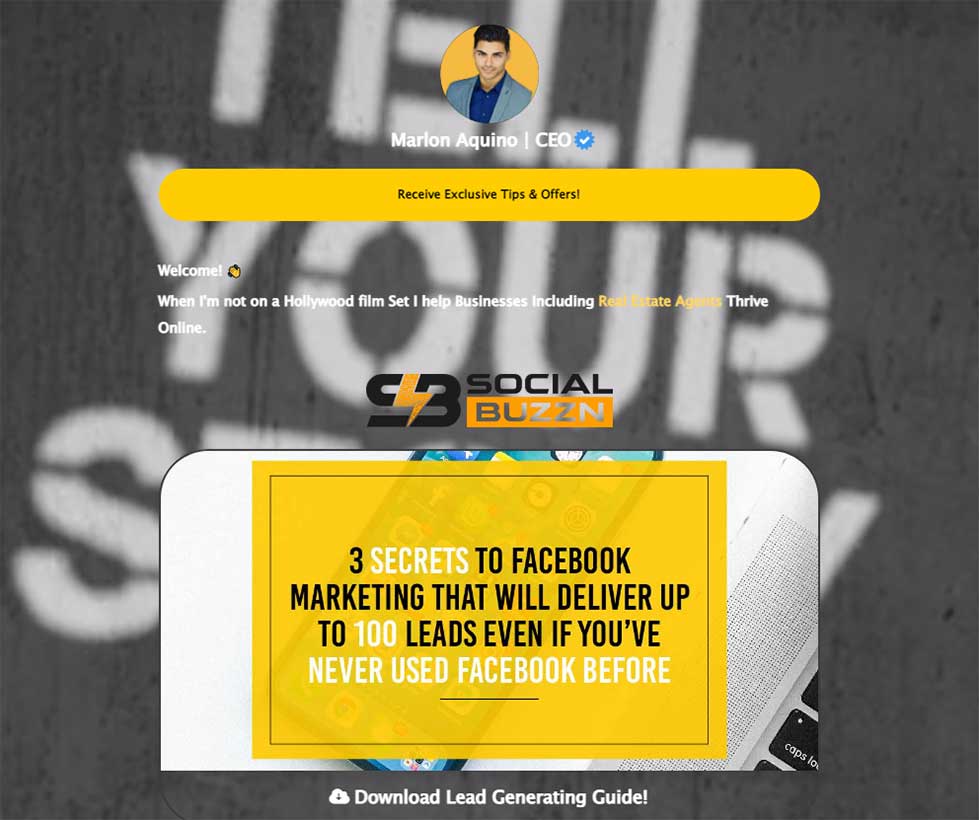 PRO TIP: The Business and Agency plans offer additional features such as integration with third-party email marketing services such as Mailchimp and Facebook Pixels.

Shorby is a great alternative to Linktree and is a social media application that streamlines the process of sharing multiple links with your audience on social media sites. It has been around for a while and is most known for its retargeting feature, which allows users to create shortened, trackable links and retarget every user that clicks on these links.
Key Features
It, like Linktree, allows you to design your landing page with links and creates a link to that page to help you make the most of your Instagram profile. You can include an unlimited number of links on a landing page, along with other essential features such as limitless clicks, your personalized URL, and Facebook pixel integration.
The landing page itself has a colored background and is branded with your Instagram username at the top, but no place for a description is provided. You can also include social icons that connect to your other platforms, as well as any other bio link you want to highlight.
Shorby features the ability to alter the background image and native interaction with Google Analytics. However, some of these capabilities are only available with specific plans.
Other Shorby key features include:
Direct Messenger Button- You can connect to WhatsApp, Facebook Messenger, Telegram, an email address, or even your phone number. This function is useful for eCommerce businesses.
Dynamic Feeds- Shorby allows you to add Shopify categories, Etsy products, YouTube videos, Apple podcasts, WordPress articles, and more to your home page. You can receive useful reporting to monitor how your landing pages and messenger links perform.
Team Collaboration- Shorby's most expensive subscription lets you invite up to ten team members to work on up to three projects.
Affiliate Program- Shorby enables you to earn money from customers who sign up after visiting your page.
Retargeted Ads- Retarget customers on third-party websites such as Amazon. To enhance sales, Shorby allows you to retarget customers who click on the custom links with advertising.
Shorby Pricing
Shorby offers three paid plans:
Rocket- With this plan, you receive 10,000 monitored clicks, one ad platform tracking pixel, and ten rich links per page for $12 a month.
Pro- The Pro plan gives you 30,000 monitored clicks, seven ad platform tracking pixels, and 50 rich links per page for $24 a month.
Agency- With the agency plan, you can get 1 million monitored clicks, seven ad platform tracking pixels, and 500 rich links per page for $89 per month.
Example:
Alexandra Kretova use Shorby: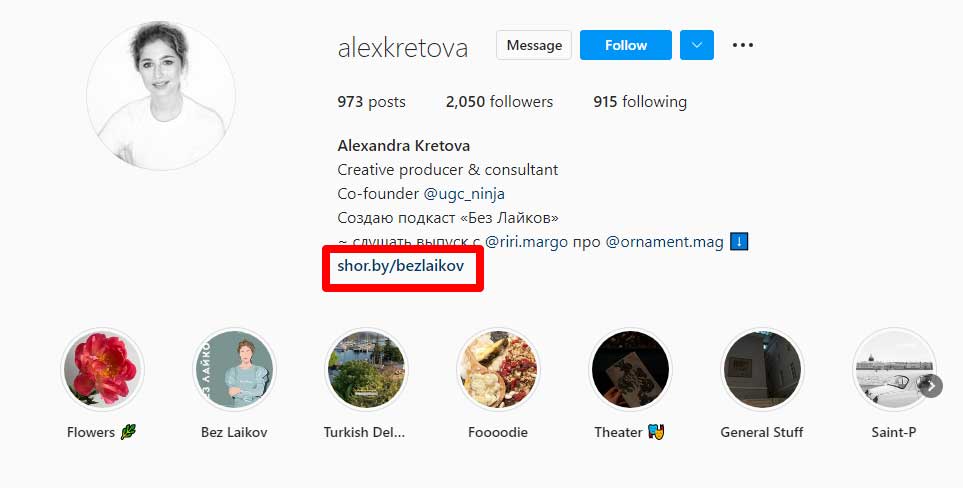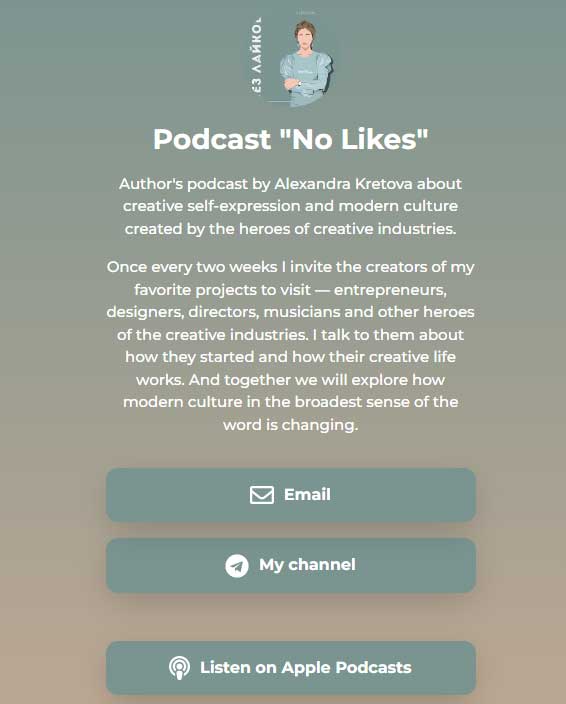 PRO TIP: Shorby is among the most expensive Linktree alternatives on the market. However, they have a five-day free trial.
Pallyy is distinct among Linktree alternatives. It is much more than a link-in-bio tool and offers excellent value for money.
You also receive the essential basic functionality with Pally, which allows you to construct a social networking landing page and customize it with links to your website, products, blog entries, and other social networks.
Key Features
You can use Pallyy to create a custom landing page with your Instagram bio link. You can also create buttons to promote your products and services, embed videos, blog posts, and other social profiles, and even add dropdown menus for more connections and resources.
To fit your branding, you can change the backdrop of the landing page, add your logo, and change the button type and background.
You can use Pallyy to schedule Instagram posts and dive into statistics to discover more about your audience and which posts work best. There are hashtag lists available to help you save time.
Pally can also schedule Facebook, Twitter, and LinkedIn posts.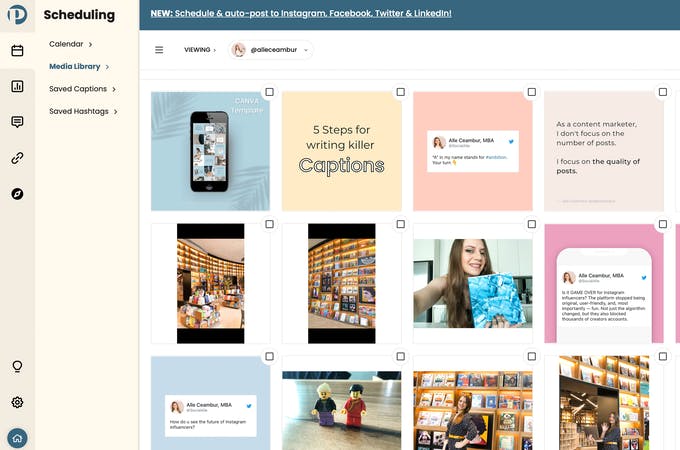 Example:
Rach a social media manager uses Pallyy for her landing page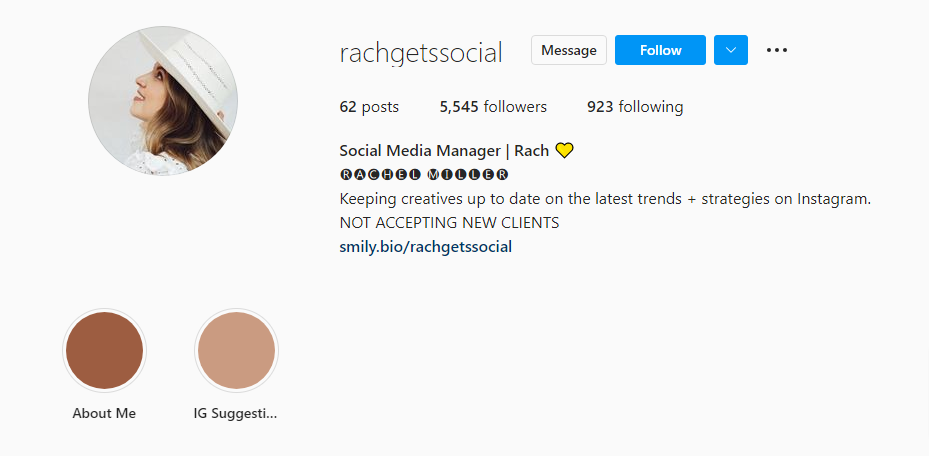 This is her landing page built with Pally or Smily.bio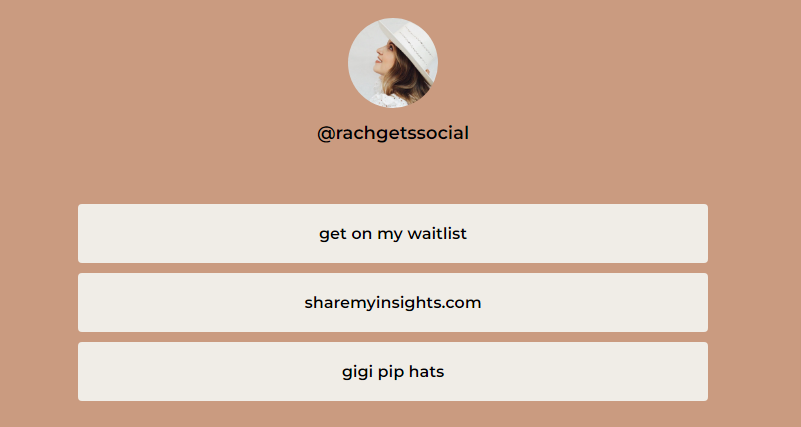 Pallyy Pricing
Pallyy's pricing starts from $15/month per social group. This means one account for Twitter, Instagram, Google My Business, LinkedIn, and Facebook. However, if you need five or more social groups, you can get a free trial and a volume discount.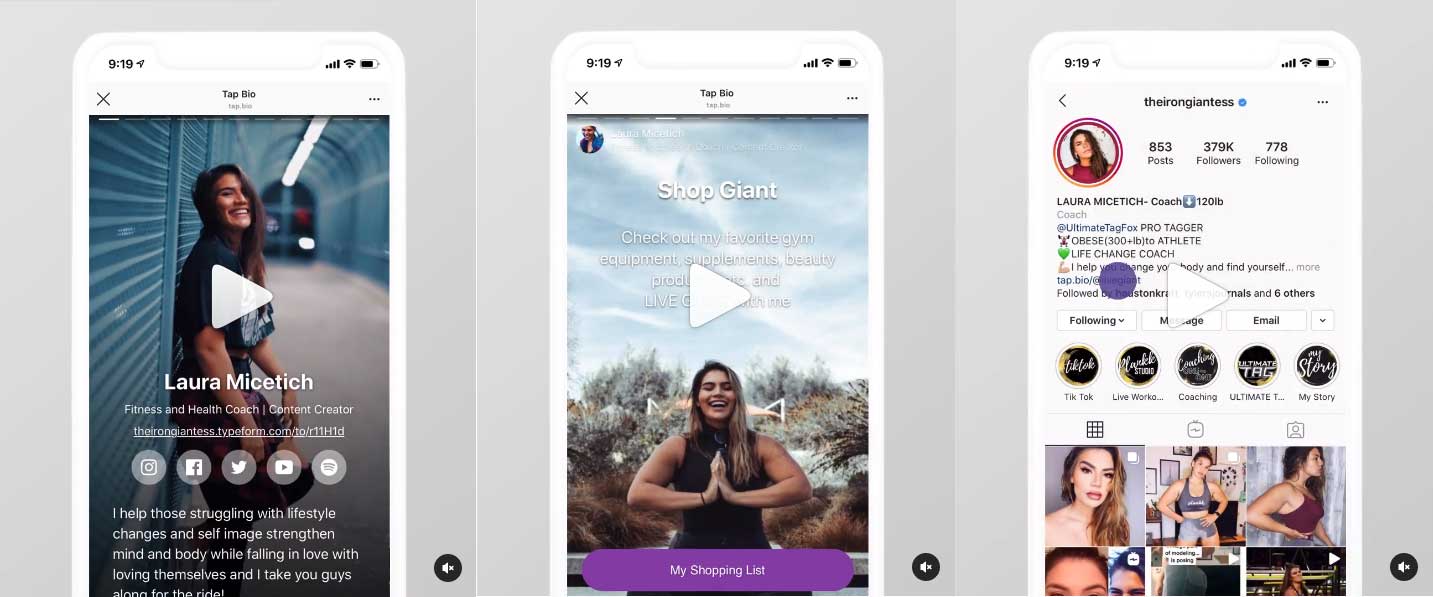 Tap Bio is entirely different from other alternatives on the market.
It's more stylish, which makes it among the popular tool as an alternative to Linktree. It also employs an innovative 'card-based' approach that initially appears perplexing but is relatively simple. You don't simply make one landing page like other alternatives. You make numerous 'cards,' each with its own collection of links.
Key Features
This software is able to change the backdrop and add your name, a title, and a link to your website. Including a short description of your company or yourself provides users a sense of what to expect from your Instagram feed.
You can also make CTA buttons for particular areas of your link-in-bio. You can, for example, create links to your other social media platforms or content into large, colorful buttons.
If you prefer a single CTA referring to an article about your brand, you may provide accompanying text context to the content.
Other Tap Bio key features include:
Stats and Analytics- Advanced analysis is aided by integrating Google Analytics and the Facebook Tracking Pixel. Examine the statistics of each card to see things like views, plays, and signups.
Retarget Ads- Tap Bio lets you retarget your audience using Google AdSense, Instagram, and Facebook advertising.
Example:
Simeon Pada uses tap.bio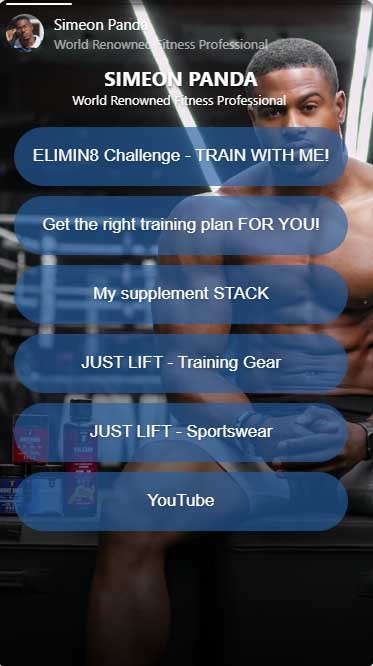 Tap Bio Pricing
Tap Bio has three pricing plans. They include:
Basic- This plan includes one extra card (in addition to your usual profile card) and one Instagram account.
Silver- The silver package costs $5/month. It provides three additional cards and allows you to check card statistics.
Gold- You may add an unlimited number of cards and manage up to three Instagram profiles with this $12/month subscription.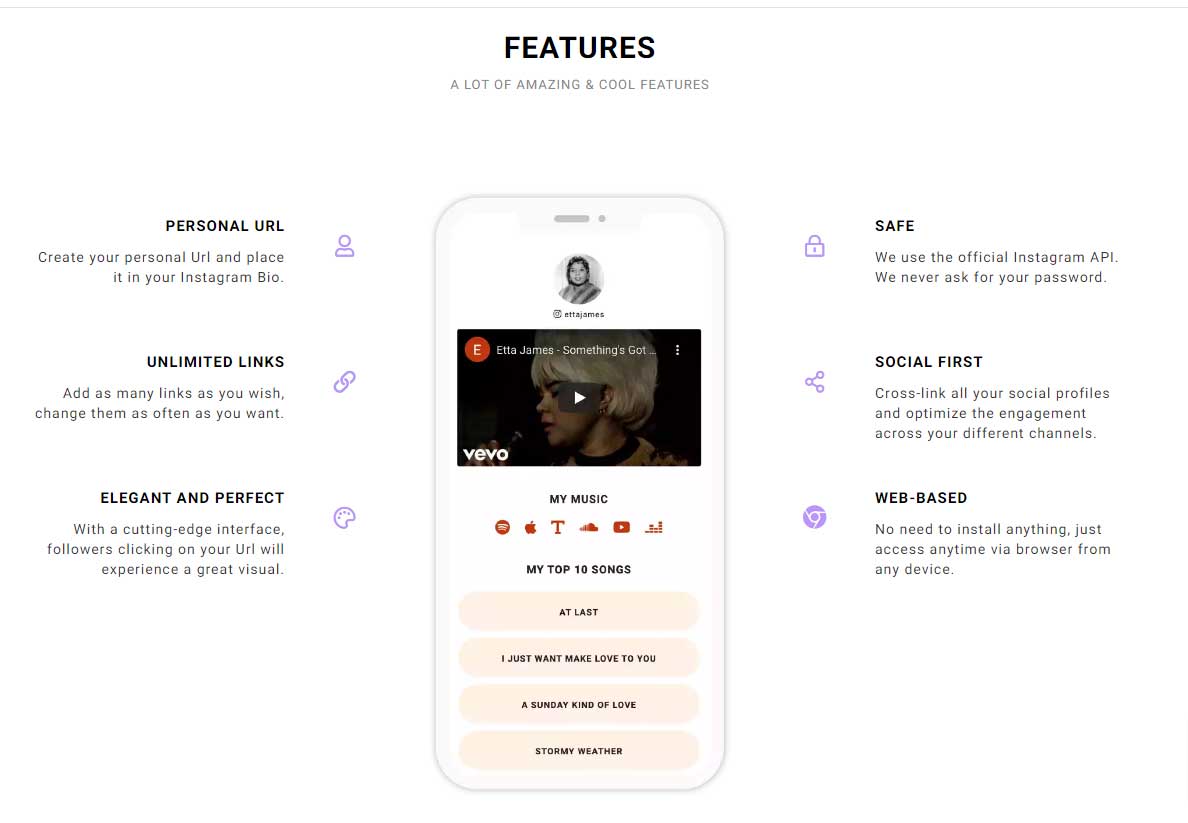 Lnk.bio is one of the best alternatives for Linktree and a bio-link solution that provides your audiences with various options when clicking on your bio link. It has a minimalistic design that is compatible with all social platforms, including YouTube, Instagram, TikTok, etc.
Lnk.bio is ideal for influencers who work with businesses to increase brand awareness. Using the link-in-bio tool, you can easily update your profile and add a single link that will direct your users to all other platforms your sponsors want them to visit.
Key Features
With Lnk.bio, you can choose from over 40 social icons to link to your various online profiles. This is a wonderful alternative for individuals who want to separate your CTA buttons to their Shopify shop, YouTube channel, Soundcloud account, etc.
The most remarkable thing about Lnk.bio is that you only need one link. This means that you can change the content and links on your landing page without having to update your unique URL each time.
This link-in-profile tool is not only feature-rich but is also secure. Because it makes use of Instagram's API, you'll never have to give Lnk.bio your password. Simply log into your account and go.
Other key features of Lnk.bio include:
Unlimited Links- You can add unlimited links and edit them as frequently.
Service Icons- Lnk.bio lets you access 90 music, contact, and social icons for your profile.
Example:
WeareShift4 Angecy uses lnk.bio for their Instagram landing page: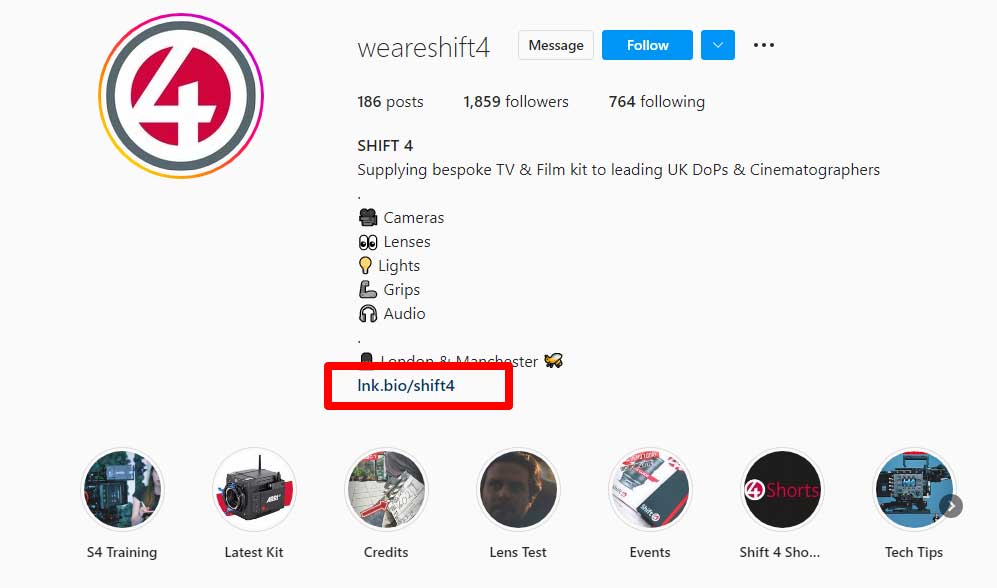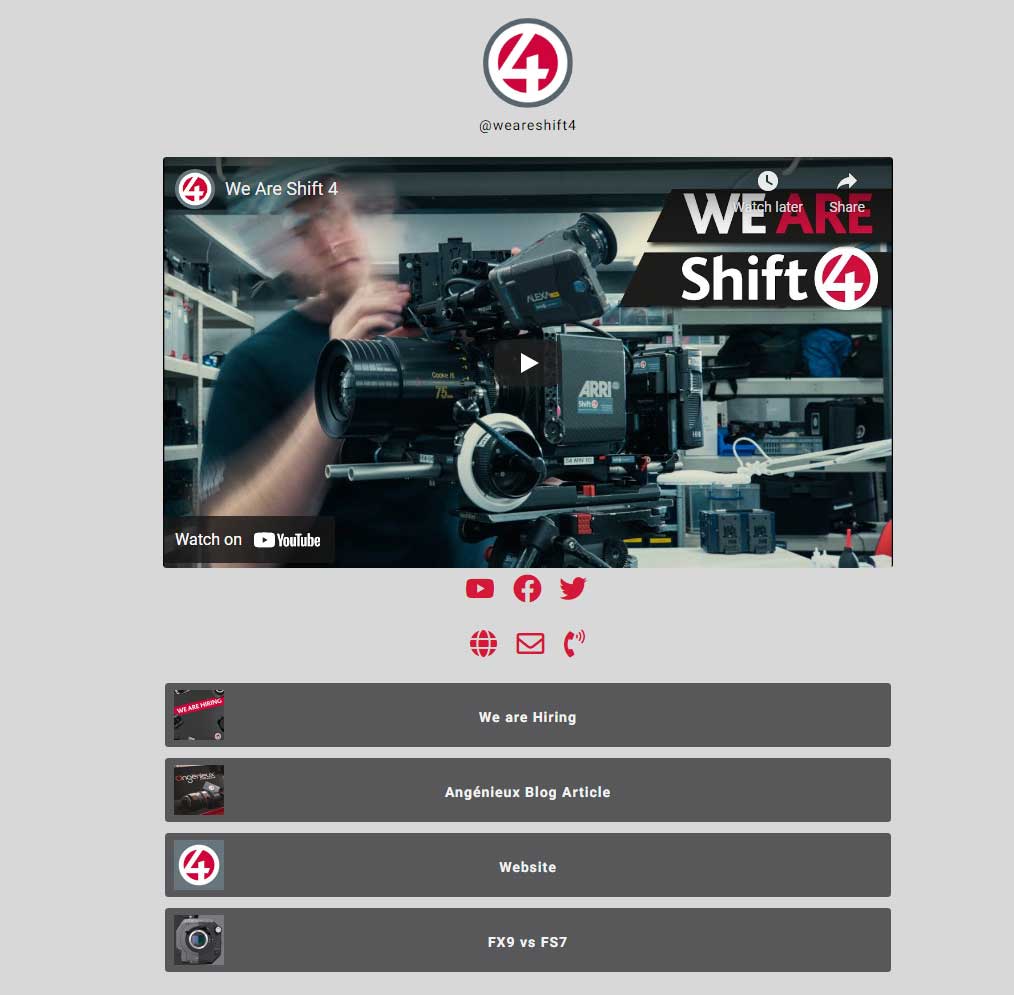 Lnk.bio Pricing
Lnk.bio has three pricing plans, including a free version. They are as follows:
Free– This free plan offers you a random URL and is usable forever.
Mini- The mini-plan comes with two options; a monthly fee of $0.99 or a one-time fee of $9.99. Both options come with a custom URL, trackable link, and more.
Unique- You get everything from the Mini plan plus advanced features such as photos, color customization, and an Instagram post scheduler for a one-time price of $24.99.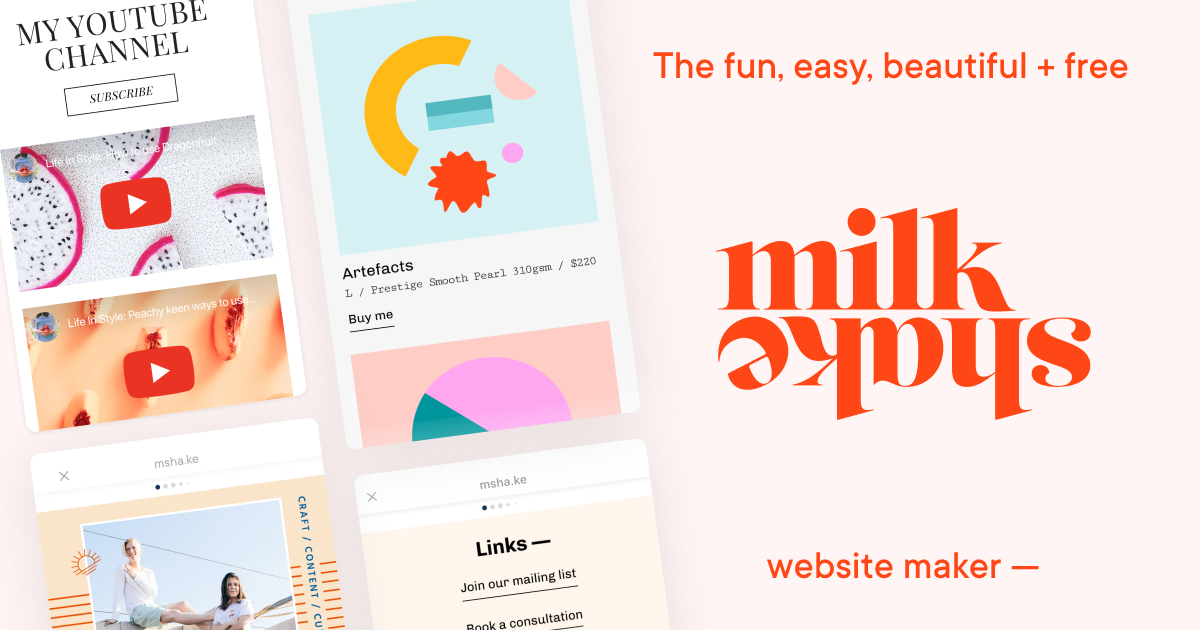 Milkshake is among the latest link-in-bio tools on the market and one of the best Linktree alternatives.
It is ideal for users without a website as it turns your link-in-bio into a free website. Rather than boring lists, Milkshake employs cards that you can easily customize with your logo, brand colors, various font variants, and the addition of images, GIFs, and videos. It targets mobile users and is available as a free app in the App Store or Google Play.
While desktop computers are adequate for most businesses, Milkshake's design is excellent for influencers who need to update their Instagram posts and biographies while on the go. Through a bio link, they may continue to market their premium content no matter where they are.
Key Features
Designing your page, like other alternatives, is simple. You simply select a card (your site page template), upload your content, customize the appearance, and then publish it when ready. All that remains is to include a link in your bio.
Milkshake has a similar look to Instagram Stories. Making it aesthetically appealing and easy to use. Influencers or business managers, for instance, with many Instagram profiles, can navigate among the various cards made for these accounts from a single dashboard.
The most significant disadvantage of Milkshake is the lack of a desktop version. Edits can only be made inside the app, and the link on your profile will be branded as a Milkshake link.
Other advanced features include:
Analytics- Its built-in analytics tool allows you to track and monitor the daily and monthly analysis of link views and clicks.
Messenger and Social Links- Milkshake allows you to link your social media accounts and create a communication channel with your audience through WhatsApp, Facebook Messenger, and email.
Example:
Warmimuyu brand uses Milkshake as an linktree alternative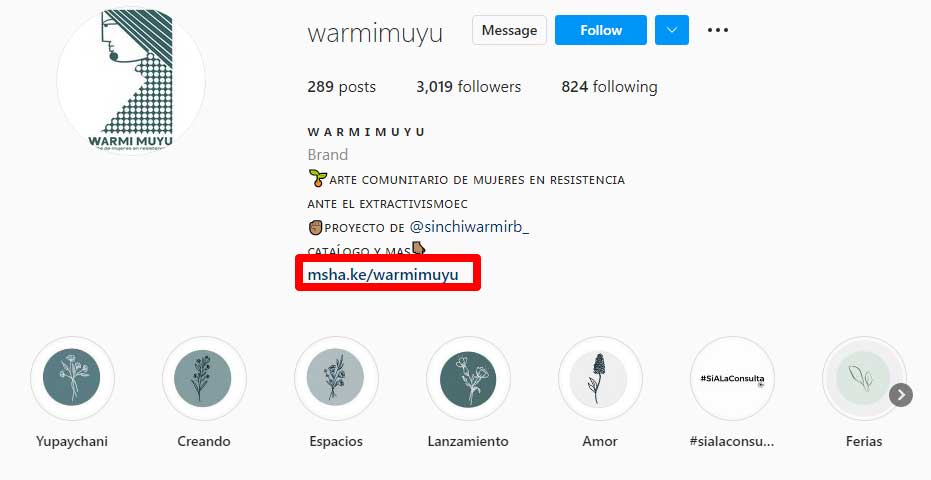 Here you can find an example of Milkshake landing page: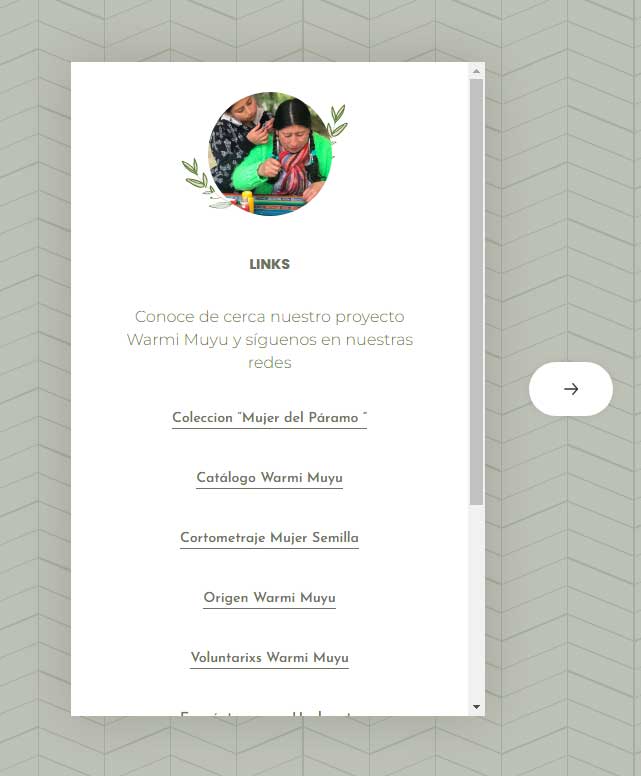 Milkshake Pricing
Milkshake is free for download from the App Store or Google Play and therefore has no pricing plan. This freedom comes at the cost of Milkshake branding all over your links and landing pages. However, for $2.50/month, you can remove Milkshake's branding.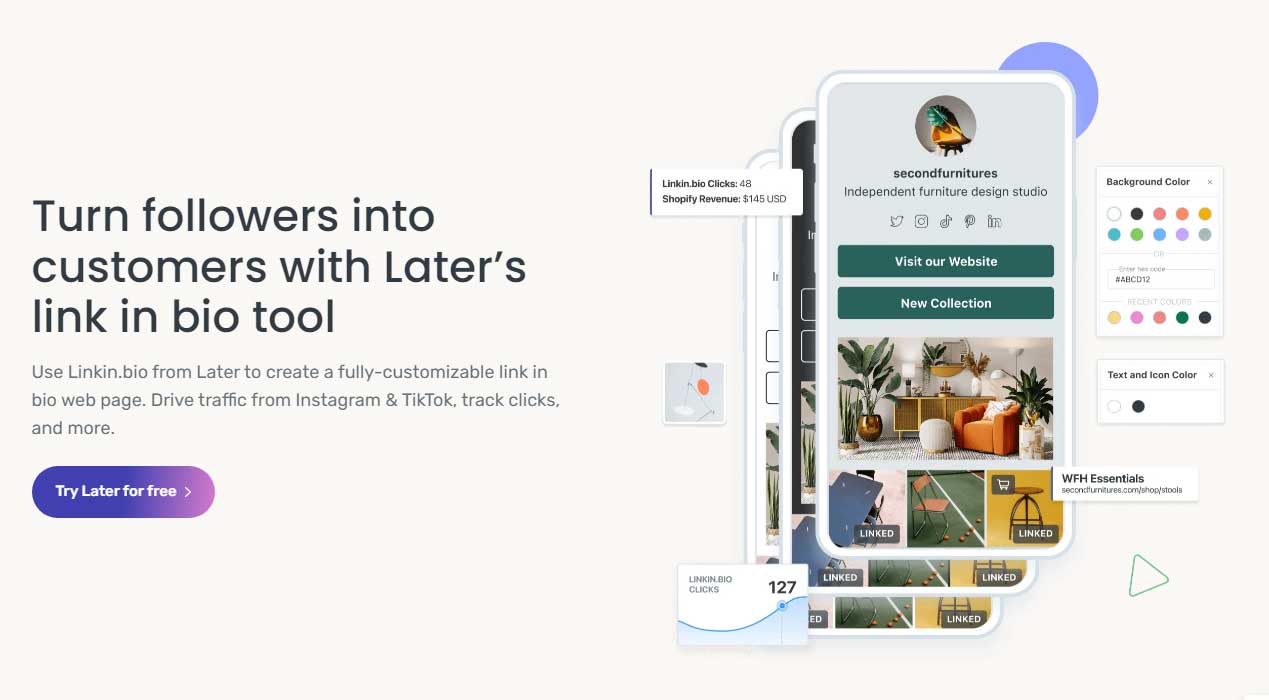 Later is an Instagram marketing platform, enabling users to schedule their posts and get insights based on the results. Linkin.bio is an integrated tool developed by Later, that allows you to build and share short links to your favorite content.
It is an ideal solution for firms who wish to sell their items through Instagram posts and feeds.
Key Features
Linkin.bio by Later allows you to reconstruct your Instagram feed on a custom landing page. You can tag links to specific Instagram posts and add them as a personalized link or as a series of links to third-party services, blog articles, or other web pages.
Alternatively, you can also embed the Linkin.bio feed on your website to attract additional visitors. The stream will look similar to your Instagram feed but only include posts with tagged links. You can even make these posts into shoppable links.
Other features include:
Gallery- Later's Linkin.bio allows you to add visuals to customize your feed.
Analytics- You can review your conversion analytics using Google Analytics UTM Tracking. However, there are data limitations on specific plans.
Sales Integration- Connect Instagram with Shopify to analyze which Instagram posts contributed to sales.
Multiple Links- With Later's Linkin.bio, you can include up to five links n each post.
Example:
Problme.me organization uses linking.bio

Landing page example of linking.bio: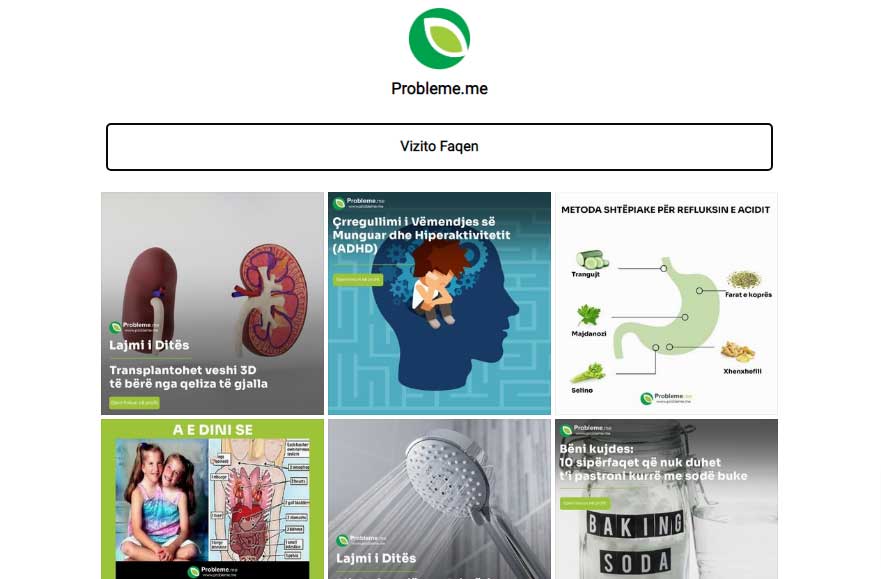 Linkin.bio Pricing
Linkin.bio has four pricing plans. They include:
Free Plan- Allows users up to 10 posts per social profile.
Starter Plan- This plan is ideal for small businesses looking to increase traffic and drive engagement to their websites. For $15/month, users get a maximum of 60 posts. It has a free trial offer.
Growth Plan- It's ideal for social media managers looking to drive traffic and sales. From $40/month, you get a maximum of 150 posts. Plus, you can add up to three users. It also includes a free trial for users to test out features.
Advanced Plan- This is the highest plan on offer. From $80/month, you get unlimited posts and can add up to six users. Like the other plans, it also has a free trial run.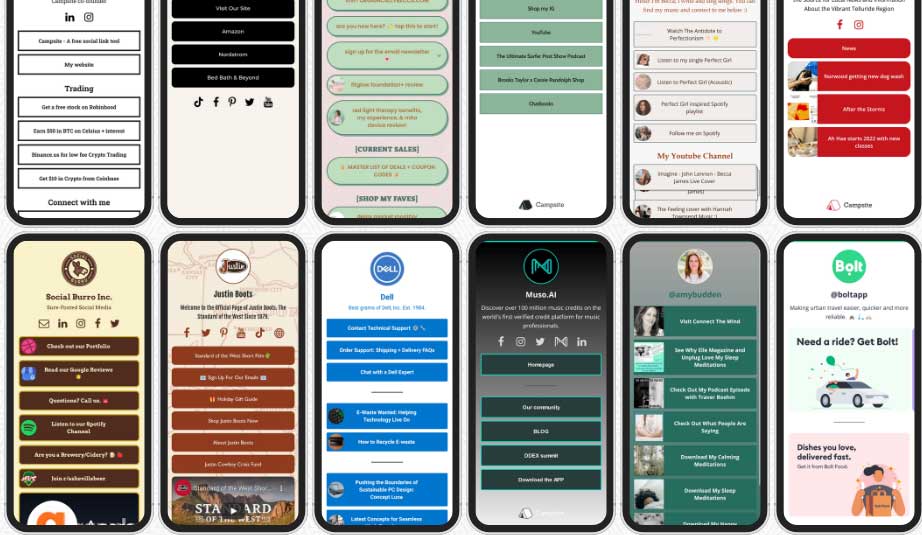 Campsite.bio includes a plethora of premium features that can assist you in quickly resolving the one link-in-bio issue. It allows you to create connections that you may use on social media networks such as Facebook, Twitter, and LinkedIn.
Like its tagline "Your social bio link outfitter," you are able to insert several links to your Instagram bio. All you need to do is link your own landing page rather than social media sites.
Key Features
This tool is similar to Linktree, except with the addition of a few bells and whistles. The key distinction is that the links on Campsite also include photos. If you value aesthetics, this is an excellent function.
It's worth noting that the free version of Campsite only allows you to utilize images from your Instagram feed, which is inconvenient if you want to link to anything that isn't in your posts.
Campsite also has a far more comprehensive range of customization choices. You can modify the social icons, colors, and even the fonts on your landing page. It is a significant plus if branding is important to you.
The landing page, like Linktree, contains a space for your Instagram profile photo and name. You can also include a brief introduction of your own.
Finally, you may incorporate your preferred platforms, such as YouTube videos and product landing sites. There are customization choices available to match your branding and social media platform.
You can also include your email address(es), giving users more options for contacting you. It is also possible to utilize your custom domain.
Other key features of Campsite.bio include:
Analytics- Campsite allows users to keep track of link performance using statistics such as clicks and views.
Scheduler- Campsite also allows you to schedule links and posts to be published before starting a new Instagram marketing campaign.
Retargeting Features- You can also retarget visitors using Google AdWords or Facebook Pixel with Campsite.
Multiple Accounts- Campsite allows users to have various accounts that they can swap effortlessly.
Example:
Dell uses the Campsite.bio on their instagram page

Also you can check their lading page build with Campsite.bio: https://campsite.bio/dell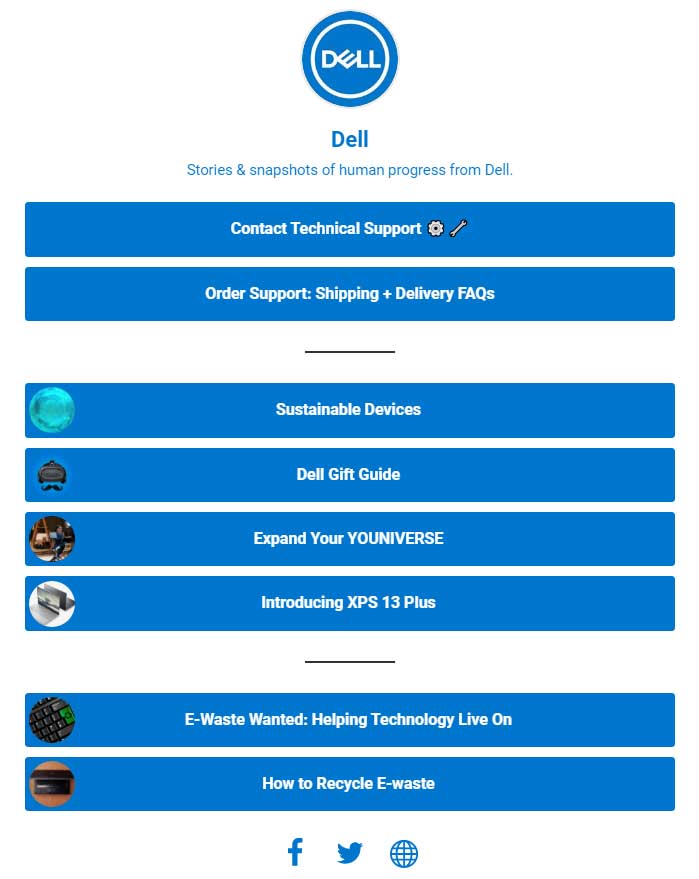 Campsite.bio Pricing
Campsite offers two pricing plans:
Free Plan- You get limitless links, complete branding control, traceable clicks, Instagram posts, archivable and restorable links, and video embedding in the free plan.
Pro Plan- Everything in the Free plan is included for $7/month, plus two extra customizable profiles, a unique subdomain, animated links, and advanced statistics.
PRO TIP: Campsite.bio includes a 10-day free trial.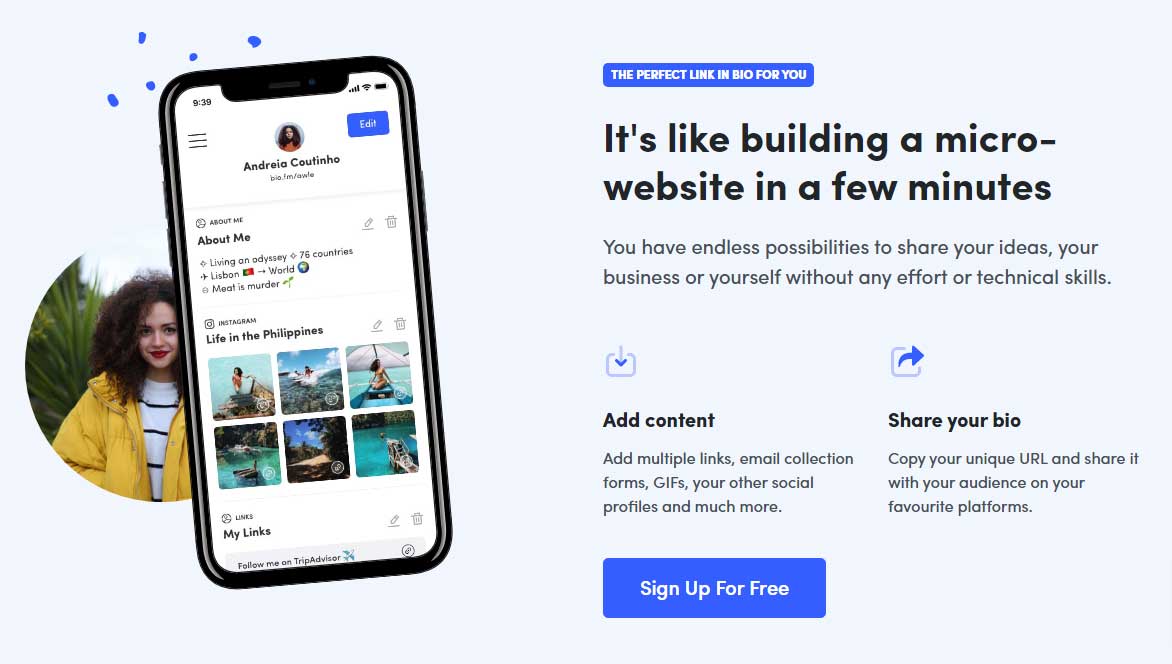 Bio.fm is a digital media integrator that lets you create the material from social media platforms such as YouTube, Instagram, Facebook, Twitter, Spotify, and Medium. You can also include an opt-in form to gather emails, GIFs, question polls, links, and other information.
Additionally, it enables you to show material from other platforms directly. It makes your bio page considerably more dynamic and information-rich.
Key Features
With this Linktree alternative, you can add several graphic blocks to your content and regular links. You can adjust your profile further using a drag and drop feature that allows you to swiftly move the blocks up and down. You can also use icons or cards to highlight up to five social media profiles.
You can display your information in various ways after importing it from a social network of your choice. Posts from multiple social media networks have a variety of layout types. For example, if you publish your blog on Medium, you can immediately import a portion of it onto your page. You may also easily add your Spotify podcast or express your music taste.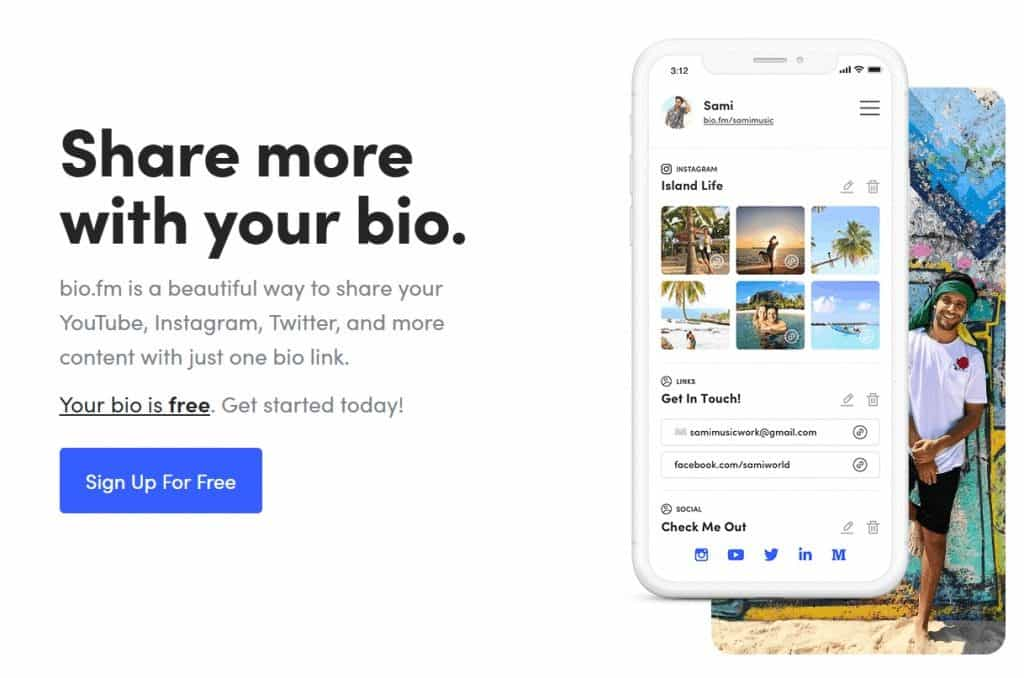 Its design is equally simple and easy to use. Even if you have never used the tool before, you will quickly learn how to utilize it. You can choose which stuff to display and how to display it after syncing your profiles. You can then swap their places until you discover the ideal formula.
Other features include:
Social Links- Bio.fm allows you to add social links and buttons to enable your audience to connect with you instantly through social media platforms.
Custom Themes- You can also select one of four themes or design your own using different colors and fonts.
Polls and GIFs- Bio.fm allows you to add interactive GIFs and polls to your bio page.
Example:
Expensive Atiaya a musician with 30K followers use Bio.fm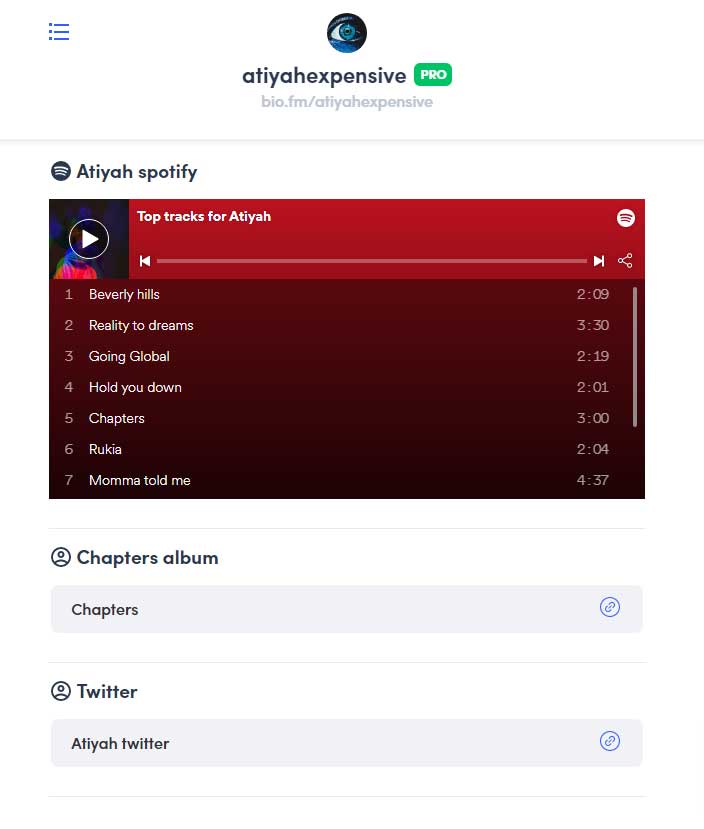 Bio.fm Pricing
Bio.fm is the best Linktree alternative that's entirely free to use. Their $10/month package was scrapped a while ago, and now all of its users can enjoy all of its services for free.
PRO TIP: I highly recommend it for musicians or podcasters
LinkFolio is a link-in-bio tool for serious brands and influencers, developed by FamePick, a well-known impact marketing agency. This platform functions as a brand extension, allowing you to share URLs to other assets and assisting you in monetizing your brand.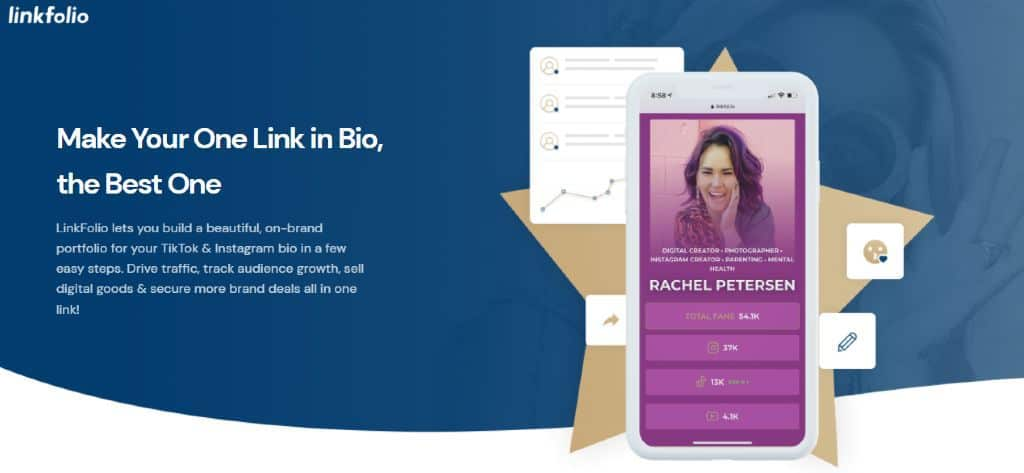 Key Features
LinkFolio provides creators with two distinct characteristics. The first is Collab Me, which allows you to sell services to your audience while invoicing them directly through the platform. This function can be used to sell anything from items to one-on-one video conversations.
The second benefit is having access to over 3000 brands. You can utilize their contact information to propose influencer marketing opportunities.
LinkFolio also features:
Customizable Interface- LinkFolio allows you to customize your page according to your preferences.
Analytics- LinkFolio also includes a built-in analytics tool," Folio-lytics." It lets you track and analyze URL performance, including the number of clicks and traffic flowing through the website.
Contact Form- LinkFolio has a built-in contact form for lead generation.
Example:
Gigi Robinson have used Linkfolio microsite for their socials.
LinkFolio Pricing
LinkFolio has three pricing plans, including:
Free Plan- You can link one social network account to an unlimited number of links in your LinkFolio. You can create a media kit with a built-in contact form to gain insights into your audience, and LinkFolio view counts.
Premium Plan(Yearly and Monthly)- LinkFolio has two premium plans, paid monthly and yearly. The monthly premium plan starts at $10/month, while the yearly plan starts at $99/year. Premium plans allow for up to 5 social accounts. Additionally, it includes channel and link insights that are updated weekly.
Finally, it includes 10 LinkFolio theme colors, a complete analytics suite, monthly outreach to 15 brand contacts, and the Collab Me tool, which allows you to sell services directly to your audience from your LinkFolio.
Is there a better option than Linktree?
If we were to choose the best Linktree alternative, we would have to go with Shorby.
It's easy to use and has a user-friendly interface. In addition to this, it includes nifty in-built tools that allow you to connect with your audience through different social media channels and platforms. You can also utilize it for your "link in bio" page, lead generation, and driving traffic.
Later's Linkin.bio is also a good Linktree alternative for small businesses looking to drive traffic to their websites. The best part is that their pricing plans provide a good value for money. Small social media teams can also utilize Linkin.bio built-in tools and features to generate leads and create sales funnels to their websites.
Micro websites are getting increasingly popular. There's just one challenge: marketers and customers use separate social media channels. As a result, displaying multiple connections in one location becomes critical. This is where solutions like Linktree and other alternatives listed above come into play.
Before you start looking for a better alternative to Linktree, though, it is wise to consider the following:
Ease of Use- You should be able to use the website builder to develop an engaging landing page and drag and drop elements onto it. It should also be simple to use, quick to learn and allow you to create a fantastic website.
Compatibility with Social Media Platforms- Including numerous social networks should be a requirement for any link-in-bio tool. It should allow you to connect to as many social networks as possible, such as Instagram, Patreon, Twitch, Discord, etc.
Pricing- Consider each tool's pricing structure and features to reap the most and get an excellent value for your money. No one wants to pay for a tool and get nothing in return.
Analytics- You should be able to track click rates, conversion rates, monthly revenue, and other metrics to determine which material is doing the best.
Visual elements– To captivate your audiences, your bio tool should allow you to add visualizations such as GIFs, incorporate YouTube videos, import images from your computer, etc.
Regardless, the pondering question remains unanswered. "Why don't you want to use Linktree?" If you're looking for a free Linktree option, Lnk.Bio, Milkshake, and Campsite provide substantial free plans to get you started with your Instagram bio.
They also offer unique customization capabilities to develop or make your landing page more aesthetically attractive to your target audience.
Why you should not use Linktree
Even though Linktree has some appealing and nifty features for a link-in-bio solution, it drives traffic to its website and not yours.
Additionally, users have to click at least twice to go to your website while using Linktree. If they don't click beyond your Linktree page or click the wrong button, you will lose valuable traffic that could have benefitted your SEO and supplied you with pixel data to help you optimize your ads.
Linktree is also not tailored to your brand and the free plan does not allow you to customize your landing page to your business. Branding is essential!
Keep in mind that your brand colors, fonts, and logo are all critical components of your business image and your potential clients' experience with it. Sending them to an off-brand landing page that feels separate from your on-brand Instagram feed may make them click away.
A potential client may not make an appointment or consultation with you after visiting your website for the first time. It's, however, critical that the first time they click on the URL in your bio, the experience matches your brand and profession.
Finally, you should also avoid using Linktree if you want more control over the design. Yes, Linktree is basic and straightforward, but it gives you less flexibility.
Bottom Line
Social network bio tools and micro websites are getting increasingly popular. And with customers & brands using several social media platforms, it's understandable why marketers and artists want to showcase several connections in one location.
Unfortunately, most social networking platforms only allow one link in their bio. Linktree arose as a solution to this issue, but it is no longer the lone player in the game. Numerous link-in-bio solutions are available, and they allow you to do more than merely curate links.
If you want to incorporate more than one link in your Instagram bio or other social media platform, one of these tools may be the answer. You can even use them to construct social media marketing campaigns that appeal to your target demographic.
Just go for a Linktree alternative that simplifies your work and allows you to achieve your social media marketing objectives.

As one of the co-founders of Codeless, I bring to the table expertise in developing WordPress and web applications, as well as a track record of effectively managing hosting and servers. My passion for acquiring knowledge and my enthusiasm for constructing and testing novel technologies drive me to constantly innovate and improve.
Expertise:
Web Development,
Web Design,
Linux System Administration,
SEO
Experience:
15 years of experience in Web Development by developing and designing some of the most popular WordPress Themes like Specular, Tower, and Folie.
Education:
I have a degree in Engineering Physics and MSC in Material Science and Opto Electronics.