Are you looking for Hubspot alternatives and competitors for some reason?
Everyone dealing with marketing knows about Hubspot and its benefits in the field of marketing. It is one of the easiest tools to use for your business and generate better revenues.
For many years, Hubspot has dominated the market (1 million customers) with its remarkable features and it is still popular among marketers.
Most of the people who start their setups and look for marketing options for their businesses choose Hubspot. It has been the first priority of many marketers as well. It provides the customer with amazing features and free plans as well. The CRM of Hubspot is an amazing offer for users to access the best segmentation options.
With the increase in the advancements in the fields of marketing tools, there are many alternatives available for Hubspot in the market. All the features of HubSpot have still liked everywhere the prices of Hubspot are a little bit expensive.
The expensive prices and the gated features of HubSpot have made people pick other alternatives over it. The features of the HubSpot come with their separate products and you have to buy them in bundles which get expensive.
When people are setting marketing strategies, they prefer to stick with affordable tools. Many startups and small businesses cannot afford to buy separate products. This is where people prefer using alternatives to Hubspot.
These alternatives are now available in the market including Activecampaign, GetResponse and many others. If you are wondering which alternative is best for your business, we have got you covered. This article will explain the 9 best alternatives for HubSpot that you must try for your business.
Why Should You Consider a Hubspot Alternative?
You can think of the question that if HubSpot is providing everything, why we should consider the alternatives. As we have already mentioned that the prices of HubSpot are pretty much expensive as compared to these alternatives.
All the products of the HubSpot have to be bought in separate bundles and when you are buying, then the collective prices will become too much.
You will also face extreme difficulty in setting up this software because of its complicated interface.
Another thing that compels people to use other alternatives is the gated features of Hubspot. When you are choosing their free version, you will have access to features but to select the top features you have to avail the high-priced packages.
Small business sales and non enterprise companies cannot use the best teacher of Hubspot. You will only have the access to the CRM feature and the automation provided by this marketing tool.
The interface of Hubspot is pretty much simpler, but going from one point to another will cost you a lot of time. This can get stressful when you have a lot to handle and you have already paid too much.
All of these reasons are quite enough to use alternatives for HubSpot to use the same features at fewer prices. Small and medium-sized businesses who cannot afford to spend too much just on the market think you are reluctant to use HubSpot CRM.
This is because as soon as the business starts to grow you have to have access to the best features but in HubSpot, you have to pay a lot of money for that. This is the reason why people are preferring to use alternatives for HubSpot.
Top 10 Hubspot Alternatives
Following are the top 9 hubspot alternatives that you can use easily and they have affordable prices as well. Their prices and their comparison with the hubspot are described in detail.
Read this article till the end to know what to choose as an alternative for your business.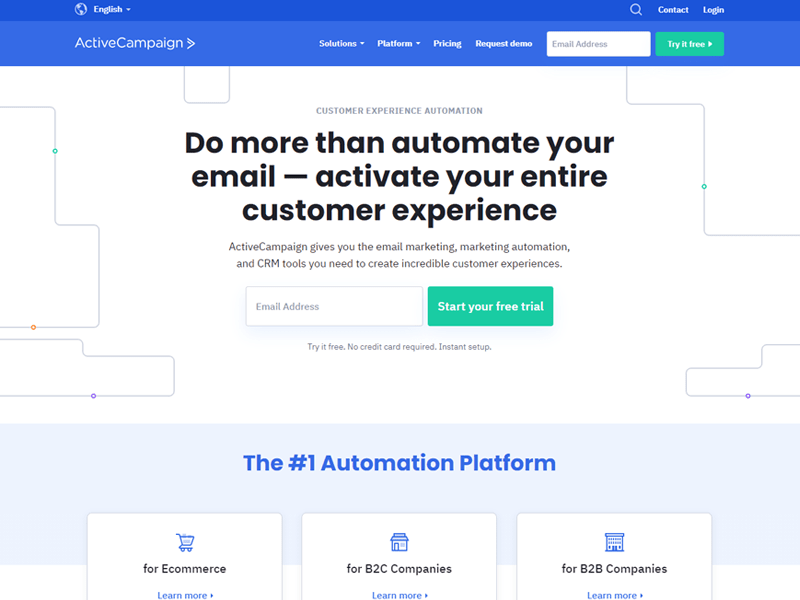 ActiveCampaign is one of the powerful marketing solutions if you are looking for an amazing alternative. Experts love using this marketing because of the amazing features and competitive services that it is providing. When it comes to the marketing of business, the thing that matters the most is automation.
The automation services of ActiveCampaign are known to be the best as it helps you in automating the campaigns and allowing you to edit things for your business.
The editor of the ActiveCampaign is amazing, and it is extremely user-friendly. Experts have ranked it as the top email marketing when it comes to exceptional automation.
The deliverability rate of activecampaign is greater than hubspot. All kinds of businesses can use this tool for their e-commerce setup without worrying about the money because it is super affordable.
Why Choose ActiveCampaign over Hubspot?
There are many reasons why you should use it as an alternative for hubspot. The most important thing that matters when it comes to marketing tools is CRM. The ActiveCampaign allows fast CRM which brings immediate automation tasks easily between your marketing and sales.
Their drag-and-drop features are also competitively better than HubSpot and you can also easily edit things on it.
If you are choosing the plus plan for ActiveCampaign, you can use the editor for landing pages as well. The best opportunity is that if you do not require a landing page editor, you will not have to pay for it. This is the biggest difference between ActiveCampaign and Hubspot because in the case of the latter one you have to pay the complete price given to avail of the services you do not even require.
ActiveCampaign compared to Hubspot, also provides you the calendar task synchronization with Outlook, Apple Calendar, and Google calendar. This feature is not available in Hubspot.
The reporting features of ActiveCampaign are also efficient as compared to the one you use in Hubspot. Hubspot only provides you the standard campaign report, but ActiveCampaign provides you the automation reports and the reports for your conversations and the metrics for contacts and Trends as well. The unique feature of providing reports for the conversations, including email and live chat supports helps you in keeping a track of your insights.
It also wins when it comes to the services of deep data integrations as it provides integration with Shopify and other tools. The integration of Hubspot or not as deep as provided by the ActiveCampaign.
Pricing:
The pricing of ActiveCampaign has for plans including the light line where you have to pay $15 per month. To avail of the features for plus and professional plan, you have to pay $35 and $79 per month. You can also subscribe to the enterprise plan for $139 per month.
Recommended for:
Because of its amazing features and the rates that are quite affordable, all kinds of businesses can get benefited from ActiveCampaign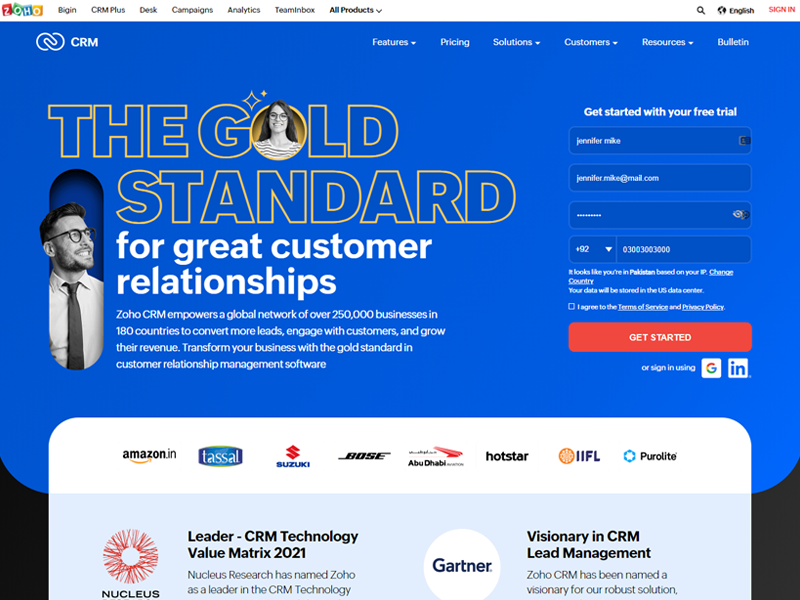 Zoho CRM is considered to be the All-in-One marketing solution for all your problems and it is highly recommended by marketers. It has been helping people in getting better revenues for their businesses because it provides the best customer relationship management. It is one of the most important alternatives for hubspot because of its effective customer service.
The CRM services for Hubspot are not as efficient as compared to Zoho CRM. It is known in the marketing industry for its website creation and email hosting services. If you are looking for a reliable alternative for hubspot Zoho CRM must be on your list. Unlike Hubspot, it also provides you the opportunity to avail the free plans for more than one user.
Why Choose Zoho over Hubspot?
The main reason to choose Zoho over Hubspot is the fact that there is a free plan available with the opportunity of more than 3 users using it for free. The paid plans of hubspot are quite expensive, but when it comes to Zoho, even the paid plans offering exceptional features come with reasonable prices.
Thousands of filters are available in Zoho CRM to provide you with quick access to whatever task you want to do. In the CRM section, you have the access to activities where you can filter anything from making tomorrow's meetings to calls and access to opening tasks. Hubspot lacks this feature, and it makes you wait for opening the task.
Talking about the overall view of the marketing to Zoho CRM will give you 3 views including the tubular, canvas, and kanban views. All of these three views are available for your contacts, deals, and lead accounts as well. These three views are not available when you are using hubspot, it only offers two views and those are not available separately for the contacts and lead accounts.
You will also have the opportunity to create custom dashboards to make access to your reports and analytics easy. The customization of the dashboard is not available in HubSpot's and it is difficult to manage the reports and analytics.
Pricing:
There are four plans for Zoho CRM available in the market. If you are looking for a free option, you can easily sign up and set up your Zoho CRM. For getting access to a standard plan, you have to pay $20 per month and for access to a professional plan you have to pay $35. You can also have the access to the ultimate find where you have to pay $65 per month. Another amazing thing about Zoho CRM is that all of its plans are available for a free trial.
Recommended for:
Zoho CRM is the best solution for all the enterprises and businesses that are just starting up. This is because it doesn't charge you anything for setting up, unlike hubspot.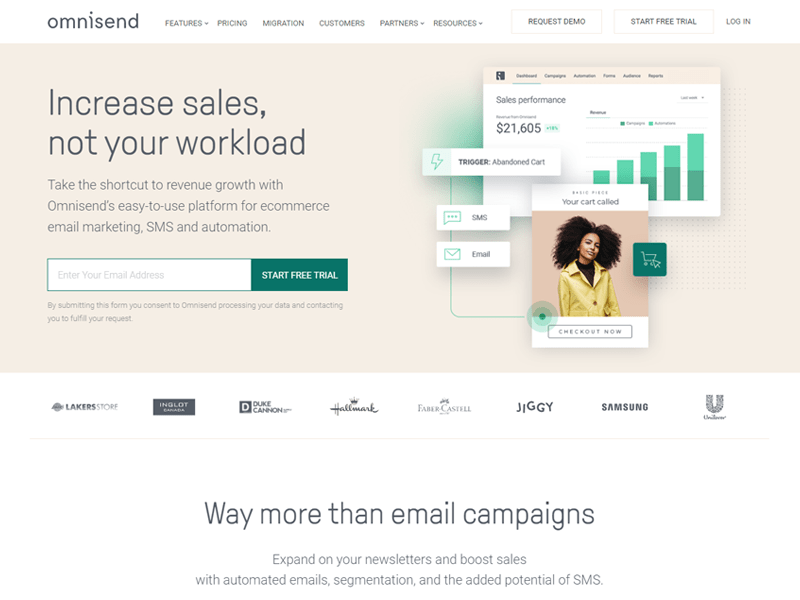 If you are looking for the best email marketing automation option, you have to stick with Omnisend as an alternative for Hubspot. It has multiple channels to speed up the progress of your business and it provides the best revenues and sales. It is the most popular marketing software tool in the market because of its exceptionally developed email growth.
Experts are highly recommended when it comes to automation and email marketing and more than 50000 brands are currently using this channel. You will have the opportunity to use the transactional emails welcome series and card abandonment for winning more sales.
It also allows you to track the history of your customers to let you know their shopping behavior to increase conversion rates. With the right SMS marketing tool, you can target a large platform, and this consistency is provided by Ominsend.
Why Choose Omnisend over Hubspot?
The main reason for choosing this alternative for Hubspot is because of the email list growth that is important for types of online businesses. It is providing better options as compared to HubSpot for improving the appearance of your landing pages and the lead generation forms that help track more customers to your website. Papa options are always available in this channel, unlike Hubspot. 
You cannot track the history of the customer when you are using HubSpot and you do not have the access to the campaign engagement and the shopping behavior of the customers. But this tool is providing you an All-in-One solution because it allows you to know the profile data and the rate of the engagement of the campaigns because of the advanced segmentation. Your ability to make sales will improve if you are using the channel as an alternative for Hubspot.
Pricing:
When observing the free plan, you can send up to 2,000 emails per day and for using the standard plan, you have to pay $16 per month. To have access to unlimited emails, you have to pay $199 per month.
Recommended for:
Because of its multiple Channel Marketing options, it is highly recommended for large corporations and all kinds of businesses.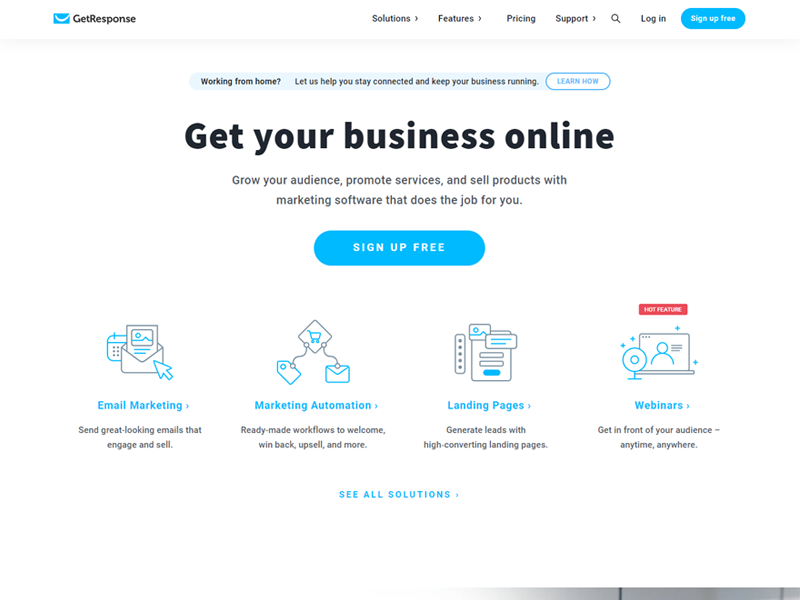 GetResponse is an important tool for sending emails and automating your market for you by creating effective landing pages. Increase your audience by providing you with the best lead generation tools and connecting the visitors to your services and converting them into your loyal customers. It offers online communication sources with the help of these your potential clients can get in touch with you and you can easily convert them into regular customers.
Dynamic content building is important when using marketing tools and getresponse provides you this benefit to expertise the features and make your business profitable. It also helps in the marketing of your ecommerce business by boosting your sales. Express recommended generating the maximum traffic for your website.
Why Choose GetResponse over Hubspot?
The best thing about GetResponse as compared to hubspot is that it will allow you to use the already built templates. Hubspot does not provide free templates at all and you have to pay to avail of their services. But when you are using this, you can efficiently create your own sales funnels that consist of many features. You will have access to the email formation and making unique forms and landing pages for your business.
Hubspot doesn't allow you to process the payments through multiple gateways but getresponse has this feature of providing multiple gateways for payments. These payment gateways are helpful to the customers for making payments through various channels. GetResponse has its integrations with PayPal, Stripe, and Square.
Another point where this tool wins is when it comes to the responsiveness of the landing pages. When you are using hubspot, don't have access to 180 responsive templates. Similarly, the choice of customization is only available in getresponse.
There are many other features that are more advanced when you're using this tool, including the unlimited webinar and sales funnels and access to built-in CRM. The unlimited custom workflows and the number of attendees go up to more than 300 for webinar hosting clearly show that it is better than HubSpot.
Pricing:
There are four plans available for this tool. You can get access to the basic plan by paying $15. For the Plus plan, you have to pay $49 per month. Professional plan is available at $99 and you can also get the max plan for your website according to your own choices and you will be charged accordingly.
Recommended for:
If you are an organization working with webinar hosting a lot, then this is the best option recommended for you and all the other e-commerce businesses. The amazing option for sales funnels will bring you the best traffic.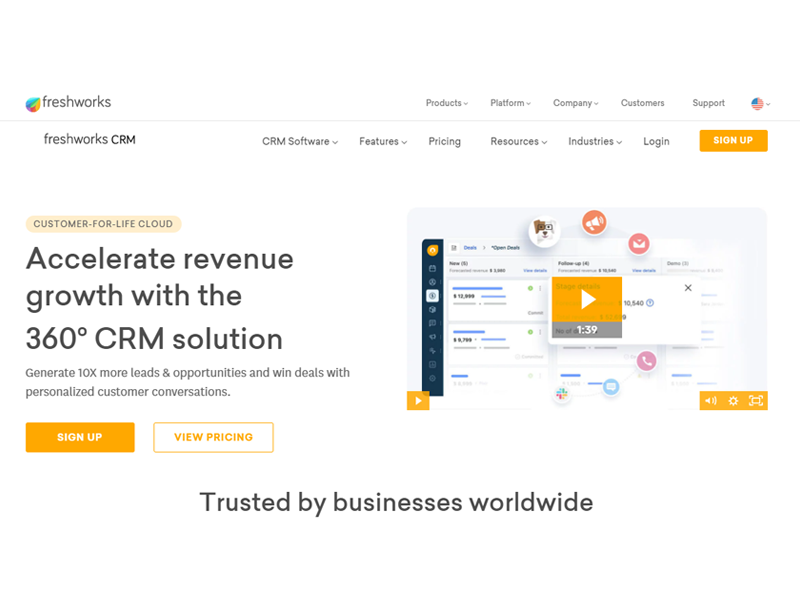 It is an amazing marketing tool to provide the complete view of the interactive few customers with your services. It helps you a lot and delivers the services that your customers are looking for by keeping the history of the customers' shopping behavior. If you want to generate better reviews for your businesses and use comprehensive solutions for your website, you should choose this tool. It beats Hubspot because of the exceptional customer service it provides to increase the conversion rate for your website.
You can also create options for personalized messages to attract more visitors to your website and convert them into your regular customers. It also has the option for predictive contacts scoring and it helps you in focusing on the latest updates and opportunities.
Why Choose Freshworks over Hubspot?
When you are talking about why it beats hubspot we have to focus on the amazing CRM software that it has. It is known to be the best marketing tool that provides customization options with an amazing deliverability rate.
You will have access to the amazing interface which can be easy to read and it will also allow you to drag and drop. It is more user-friendly as compared to hubspot and the dashboard is very simple and has access to the analytics and insights of the businesses.
If you are looking for a way to analyze your leads, you don't have to worry anymore because Freshworks will provide a leading score as well. They also have a ticketing service that will allow you to respond to the queries of your readers. It also has a simple pricing plan available as compared to Hubspot.
Pricing:
There are three plans available for availing the services of the CRM of Freshworks. You can subscribe to the growth and where you will have to get $29 per month and if you want to avail yourself the pro plan that will help you to build your business effectively you will be paying $69 per month in for enterprise plan you have to pay $125 per month.
Recommended for:
Experts recommended it for small businesses because of the reasonable prices.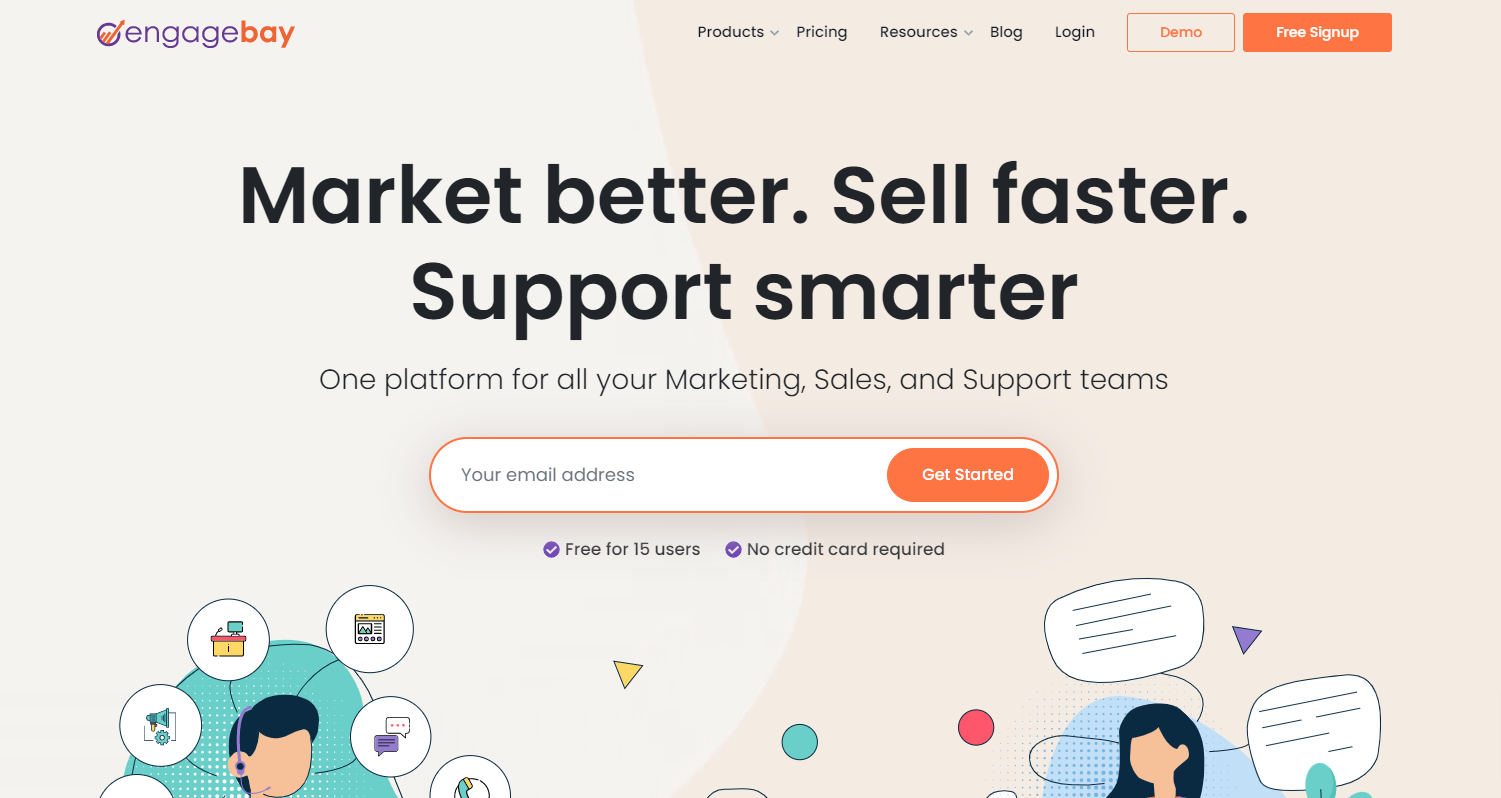 EngageBay is one of the most affordable all-in-one marketing, sales, and customer support solutions. Over 46,000 businesses use the platform globally for its comprehensive set of features and advanced tools. All of these revolve around a single view of the customer – making it easy for all teams to focus on the customer.
EngageBay's features are divided into sections, called 'Bays.'
The Marketing Bay features everything you need to launch email, SMS, and social media campaigns, automate the lead acquisition and nurturing processes, manage social media profiles, set up landing pages, segment your audiences, and so much more.
The Sales Bay has tools to convert your leads into prospects and ultimately into paying customers. In-CRM telephony, task management, deal pipelines, 360-degree customer view, proposals, and account-based marketing all come together to generate more revenue.
The Service Bay helps you offer exceptional customer support through helpdesk and LiveChat, ticket prioritization, service automation, ticket rerouting, knowledge bases, and canned responses.
Why Choose EngageBay Over HubSpot?
EngageBay is the go-to all-in-one CRM solution for small businesses and startups. Its affordability makes it one of the best alternatives to HubSpot.
Most businesses can't afford HubSpot's bundled plans. For example, HubSpot's Starter Bundle costs just $45 a month for 1,000 contacts. But as your subscribers increase, HubSpot starts charging more. If you have 25,000 contacts, HubSpot charges you a whopping $1,035 a month just for the starter plan!
HubSpot's Professional Bundled plan starts at $1,780 a month for 2,000 contacts. For 25,000 contacts, you need to shell out $2,825/month.
But it doesn't stop there. You need to pay an additional $3,750 upfront for the mandatory onboarding services. This brings the cost of the Professional bundle to $37,650 annually!
On the other hand, EngageBay's all-in-one Basic plan costs $14.99 a month for 1,000 users. Better yet, EngageBay's Pro plan costs $79.99 a month – and you get unlimited contacts and a whole suite of advanced tools. This means the annual cost is well under the $1,000 mark.
What's more, EngageBay's onboarding and migration services are entirely free. You also get a 20% discount on annual plans and a 40% discount on biennial plans.
Granted, HubSpot does offer more features than EngageBay. However, most small businesses and startups won't require all those advanced features, which is why EngageBay's tools are tailored to meet their needs.
Pricing:
EngageBay offers four plans: Free, Basic, Growth, and Pro. The Basic plan costs $14.99 a month for 1,000 contacts the Growth plan costs $49.99 a month for 3,000 contacts. If you want to unlock all the features, you have to go for the Pro plan, priced at $79.99 a month. This plan gives you unlimited contacts.
Recommended for:
Experts recommend EngageBay for small businesses and startups that need an all-in-one platform at an affordable price.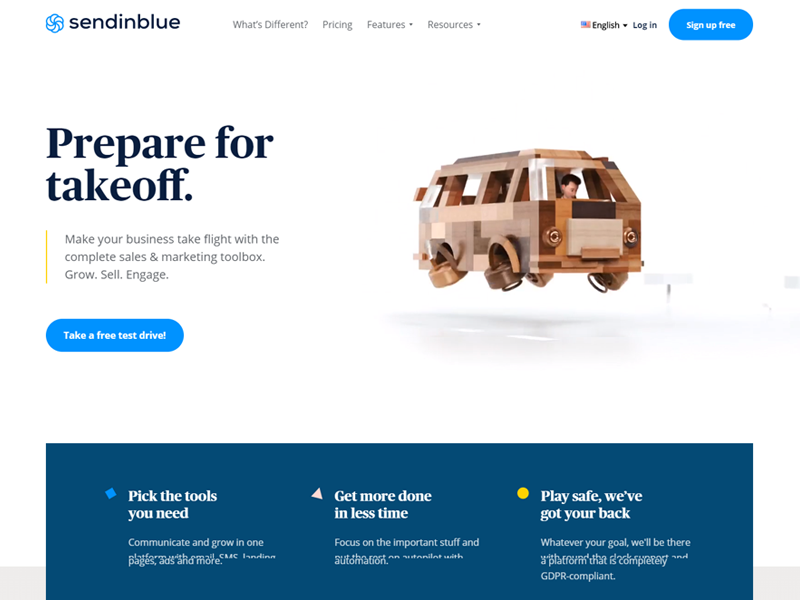 Sendinblue is one of the most used marketing tools because it has the cheapest price and it provides plenty of features. The less rate of the features is what makes it an eye-candy for the marketers and businesses.
The best feature of using this is the services for the newsletters along with its efficient workflow. You can also send transactional emails and have the access to lead scoring when you are using this feature.
The deliverability rates of this tool are amazing. It also has its integration with amazing existing tools such as WordPress and many other tools. The interface of this tool is quite smooth and beginners can easily get a hold of using the services.
Why Choose Sendinblue over Hubspot?
The best thing about SendinBlue is that it beats hubspot when it comes to their free plan because they offer unlimited contacts for their free plan. They also provide marketing automation, web tracking, and built-in CRM services with their fee plan.
Hubspot does not offer the opportunity to send transactional emails to your customers,, but this tool is offering this advanced feature of sending push notifications and signup emails to your customers. Best reserves in generating better revenues and gaining more customers for your business.
Last but not least, as this tool also offers you a great variety of templates for your landing page while in hubspot you don't have the access to any template. The customization of these templates is also available when you are using SendinBlue.
Pricing:
If you want to get access to the 10000 subscribers, you have to pay $25 per month. For availing 40000 subscribers, you have to be $54 per month and to send 6000, you have to be $69 per month.
Recommended for:
Some businesses that are on a short budget and need to utilize the best features should use this tool.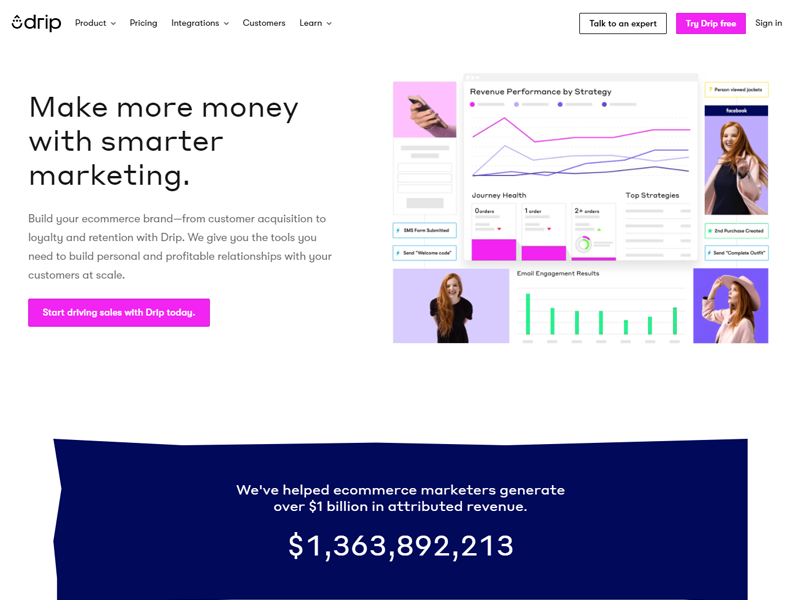 If you want to increase your customers and generate better sales for your business, you have to choose Drip. It will give you more customers with an increase in the conversion rate because of the presence of contact forms and the addition of lead ads. The ratio for their targeted promotional emails converting the customers into loyal customers is greater than hubspot.
You can also use advanced segmentation and create a personalized email to attract more customers. A/B testing of the emails is also available to make the most profit. It also provides integration with ecommerce platforms like Shopify, Magento, Woocommerce, and custom stores. It also allows integration with social media apps, including Facebook.
Why Choose Drip over Hubspot?
It is one of the best alternatives when it comes to beating Hubspot because of the advanced automation feature. The reason why it is the best is because of its flexible design and easy-to-use interface. You have the choice to choose the host for different features of your website, including the page views, the task assigned, and the clicks for the links.
The tagging system is where this Drip also beats Hubspot. Because of this tag and system, you can easily categorize your contacts according to the lead scoring. It will also help you in keeping the record of who visited your page and will help you in converting the visitors into your loyal customers. All you have to do is to add tags to the contacts who have visited the website.
It also gives you a strong analysis of other engagement rates of your website. This is because all the data of the contacts are stored in this tool. The database will help you in watching the insights of your business by giving you the excess to the analytics to see how many people are trying to purchase your products.
Pricing:
The pricing of Drip is amazing, and it comes with a flexible rate. For sending emails to the first 500 contacts you have to pay $19 per month. The prices increase as you increase the number of contacts, but they stay in between a very affordable range. For 10000 contacts, you have to pay $154 per month.
Recommended for:
The presence of amazing observations and simple integrations makes it the best fit for e-commerce businesses.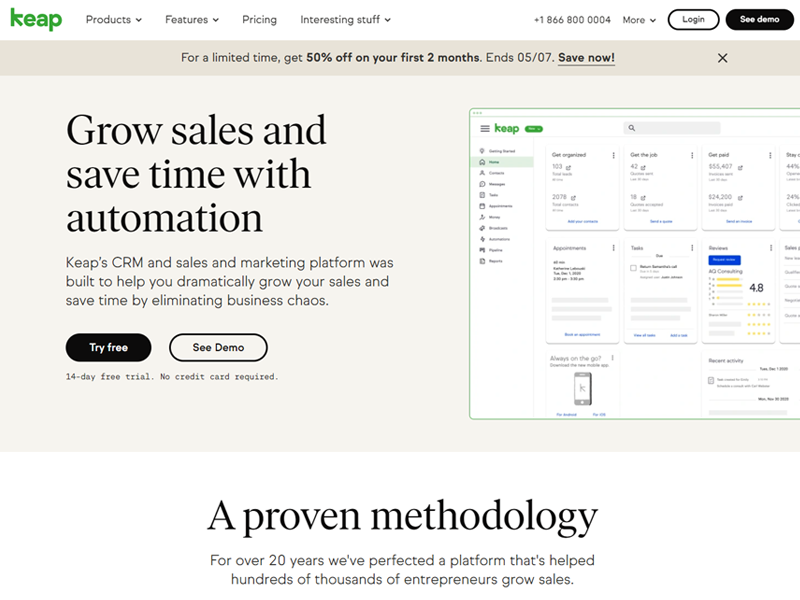 Keap is one of the most amazing marketing and automation tools to grow your business. If you are looking for ways to collect more leads and create more fans for your business, you should use this tool. It has the amazing segments listed for the CRM and it helps in sending convincing dynamic content to your customers.
It helps you in visualizing the traffic of the visitors and provides the dashboard for updates and analytics. The deliverability rate of this tool is amazing and it will also give you sales reporting. It also has amazing customer support for entertaining the queries of the visitors.
Why Choose Keap over Hubspot?
The best thing about this is that it provides you with the feature of appointments schedules which are not available in HubSpot. This tool will help you in making the appointments directly with your customers according to your calendar. This will result in the on-time deliverability of your services. Experts recommend using this to use this feature, which is not available in HubSpot.
If you are always wanting to keep the incoming Leeds and the contacts saved in your database, you should use this tool will save lots of time and you will not have to create a new email every time. Another amazing thing where it wins is that you will have the actors to integrate keap with your Google mail directly so the email can easily be seen in the CRM.
You will also have the access to create user-friendly landing pages along with the customized designs with the help of the drag-and-drop option. You can do it all in keap but when you are doing it in hubspot, you have to pay $800 per month.
Pricing:
There are three plans available for availing the services of keap. If you want to get the lite plan, you have to pay $79 per month and if you want to get the subscription for the pro plan, you have to pay $129 per month. The max plan, which includes 500 contacts per user, needs $199 monthly.
Recommended for:
If you are a business looking for management capability with exceptional lead scoring and smart CRM, then keap is the best recommendation for you.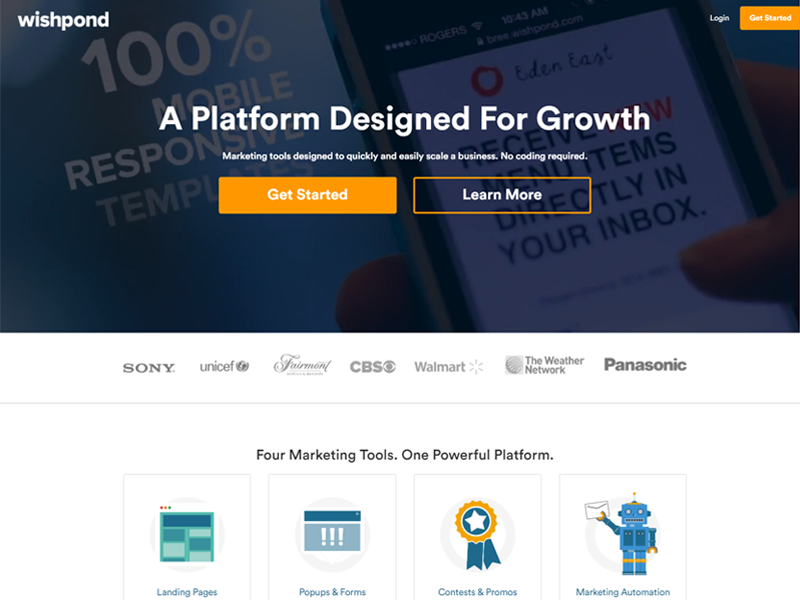 Experts recommend Wishpond as the powerful platform if you are looking for amazing features in one package. It is famous for its customized landing pages which are mobile responsive as well. You don't need to write codes for creating these pages when you can use the robust option of drag and drop editor.
The exceptional options for pop-ups and forms will give you more leads from every landing page of your website. With the help of its amazing promos and contests, you can easily use Instagram promotions and photo contests to gain a large number of audience.
When you are using all these amazing features, remember that wishpond also provides the best marketing automation tools that helps you and generates better sales for your business.
Why Choose Wishpond over Hubspot?
We are all aware that Hubspot does not offer any exceptional landing pages templates and the quality of the landing pages is not attractive enough to gain more customers. This is not the case when it comes to wishpond because it offers amazing templates at cheaper prices.
Wishpond also provides you the options for pop-up emails, push notifications, and marketing automation along with the social media contests and all that within very affordable ranges.
Pricing:
There are three plans available for this tool. If you want to avail of the services for the starting out plan, you have to pay $49 per month.
If you want to go for the features of starting plan along with the API access, you have to pay $99 per month and for the Rapid growth plan, you will be paying 199 dollars per month. All of these plans come with a 14-day free trial.
Recommended for:
This tool is the best recommendation for businesses that are small or they have just started up and cannot afford to pay a huge price.
What are The Top Features of Hubspot?
Customer support
The customer service of Hubspot is amazing, and it helps in promoting the business in the eyes of the customers. They respond quickly to all the queries of the customers with the help of the live email chat option. They also provide knowledge base tutorials to provide efficient learning to their customers.
Data automation
This tool also provides the best automation for your data to increase the revenues for your business. It also makes sure that all of your systems work together to enhance the potential of your e-commerce business.
Analytics and Reporting
It helps you in providing a clear picture of the reports and analytics of your websites. These analytics will help improve the services for your customers and giving them the facilities they want. This is one of the amazing features of HubSpot and it increases the conversion.
Conclusion
The above-mentioned alternatives are known to be the best alternative for Hubspot. They provide amazing features within affordable ranges for all kinds of businesses.
The reason for using these alternatives for your business is because of their reasonable prices and the free hand to use their features. Hotspot no doubt has been the best email marketing automation tool but when it comes to the same features within reasonable prices these alternatives win.
You can select the alternative you want for your business from the above-mentioned choices.

As one of the co-founders of Codeless, I bring to the table expertise in developing WordPress and web applications, as well as a track record of effectively managing hosting and servers. My passion for acquiring knowledge and my enthusiasm for constructing and testing novel technologies drive me to constantly innovate and improve.
Expertise:
Web Development,
Web Design,
Linux System Administration,
SEO
Experience:
15 years of experience in Web Development by developing and designing some of the most popular WordPress Themes like Specular, Tower, and Folie.
Education:
I have a degree in Engineering Physics and MSC in Material Science and Opto Electronics.