Today we will review Sender vs Mailchimp two important email marketing platforms.
Email marketing has been gaining extreme importance within small and large businesses. With the multiple statistics showing how well emails are performing, companies are starting to implement them into their marketing strategies more often.
No wonder, that in order for your email marketing to work well, you need to consider some external tools to ensure that your work is smooth and easy. Although there are many email marketing platforms available nowadays, we will be comparing two of them – Sender and Mailchimp.
Let's review both of these email marketing tools and check out which one is more suitable for your business.
An Overview Of Both Email Marketing Tools
Sender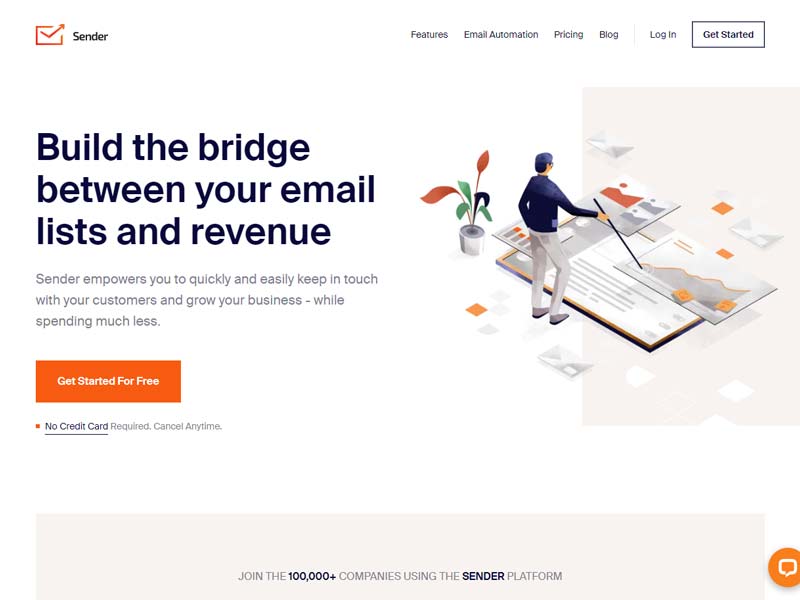 Sender was founded in 2012. More than 100 000 customers have put their trust in this company since its opening. Sender delivers more than 30 million emails daily and has been named as one of the TOP 3 best-performing email marketing tools.
Besides that, Sender was recognized as Number 1 Product of the Day and Number 2 Product of the Week by Product's Hunt page.
Apart from outstanding achievements, Sender offers many exceptional tools for e-commerce marketers to achieve stunning results in their email marketing. 1-click integration with webshops such as Magento and WordPress, a wide variety of email templates, high deliverability, and much more is being offered by this email marketing tool.
Sender provides businesses with everything they might need to be able to grow their businesses and send highly converting email newsletters.
Mailchimp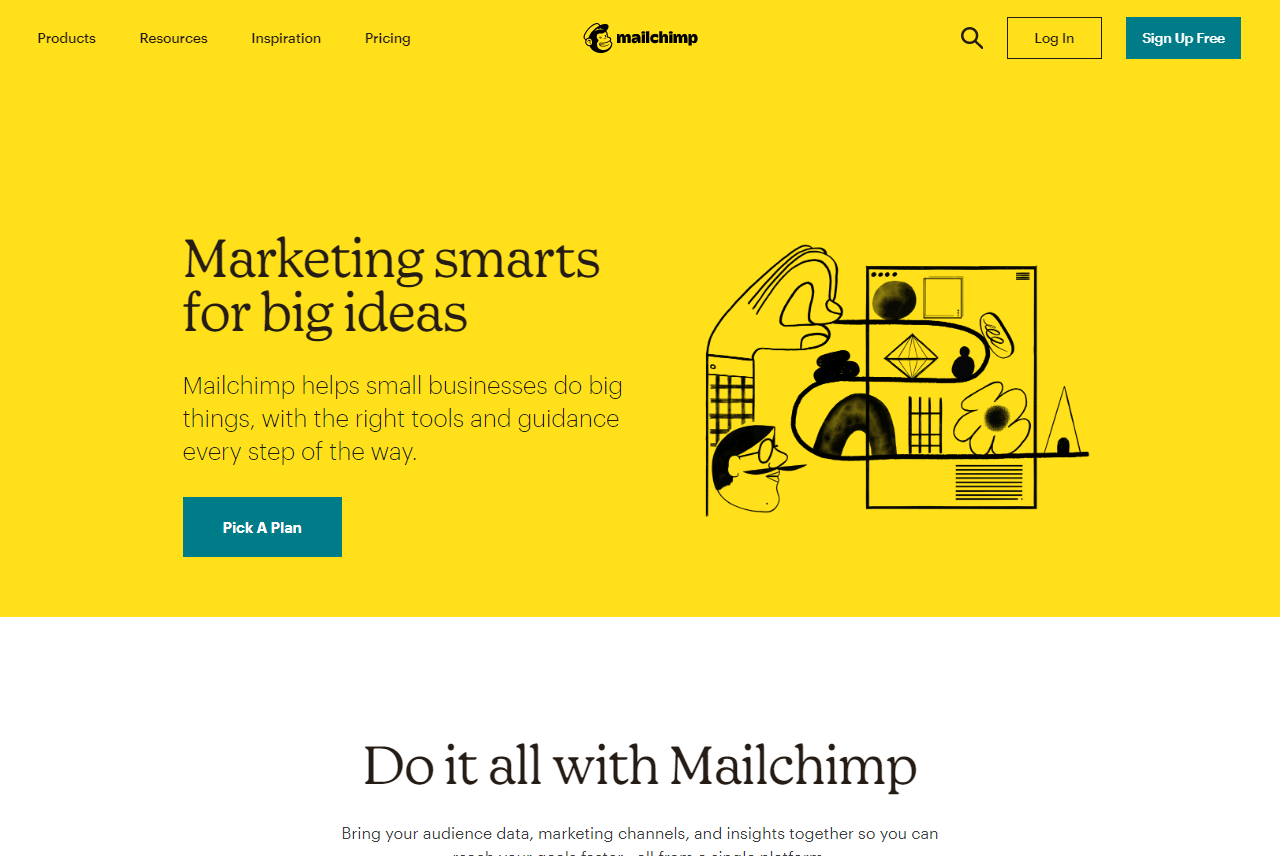 Mailchimp was founded in 2001 and had been successfully growing since then. The platform aims to focus on the customers and build relationships by helping small businesses grow faster and large companies develop even further.
Mailchimp helps to design, automate and manage marketing campaigns within multiple email platforms and provides many user-friendly tools to the clients, so they are able to send effective marketing emails and newsletters.
Mailchimp has also gained fame and appreciation. In 2016, the platform was ranked Number 7 on the Forbes Cloud 100 list. Besides that, Mailchimp was named one of the Most Innovative Companies by Fast Company business magazine in 2017.
Pros and Cons – Differences and Similarities
Although these platforms deliver similar services and focus on their clients, some differences might affect your choice once selecting an email marketing tool. Let's compare and contrast the use, pricing, integrations, and email marketing features of both platforms.
Ease of use – Sender Wins
Mailchimp is one of the most expensive providers in the email marketing world. Its subscription model separates small businesses by excluding essential features and tools from basic plans, meaning that small organizations have to sacrifice their budget to be able to have full access or choose an alternative email marketing platform. Mailchimp's platform itself is very complicated and takes a lot of time to get to know the features and ensure that you can fluently use all the essential tools for your email creation and design.
On the other hand, Sender's approach is quite different – it offers all premium tools to all subscription plans – even the "free forever" plan gets all these features. The platform's interface is user-friendly and intuitive, so even beginners can quickly adapt and learn.
Sender provides support agents who are ready to help 24/7 if your company has any issues or problems. With Sender, smaller businesses can benefit from full access to premium features without investing and enjoy the advantages while providing their customers with well-designed email newsletters that convert.
Pricing – Sender Wins
Even though both platforms offer free subscription plan, Sender provides its customer with more benefits:
| | | |
| --- | --- | --- |
| | Sender | Mailchimp |
| Contacts limit | 2500 | 2000 |
| Emails per month | 15.000 | 10.000 |
| Features | All features included. | Limited features. |
The paid plans also come much cheaper when using Sender compared to Mailchimp. Besides that, there is always complete access to all the features, while Mailchimp offers only limited features, even with some of the paid plans.
Comparison table:
| | | |
| --- | --- | --- |
| | Sender | Mailchimp |
| Up to 2,500 subscribers | Free | $31 |
| Up to 10,000 subscribers | $23 | $79 |
| Up to 25,000 subscribers | $59 | $200 |
| Up to 50,000 subscribers | $120 | $270 |
| Up to 100,000 subscribers | $240 | $540 |
Lastly, Sender offers more flexible options when it comes to prepaid credits. Instead of purchasing the monthly plan, the companies can buy credits that they can use anytime for the number of emails the organization has sent. Moreover, Sender's prepaid credits do not have an expiration date, while Mailchimp's prepaid credits are expiring after 12 months of purchase.
Integrations – Mailchimp Wins
When it comes to integrations, Mailchimp can integrate its tool with all other ecommerce platforms. However, Sender has integration with Zapier, which allows you to incorporate Sender with more than 3000 external tools.
Although integrations seem to be handy, it is not a must-have tool. For most businesses, the integration of email marketing platforms is not even necessary.
When choosing which tool to use – Sender or Mailchimp, the company should check for the suitable and needed integrations and ensure that the selected email marketing platform can provide them.
Email Marketing Features – Draw
When comparing which marketing tool has more features, Sender can offer extra on this occasion. The platform has all essential and top-notch functions, which are necessary when achieving the best results possible. As Mailchimp lacks some features, it complicates the users' experiences and disables them from making the most from email marketing.
Both companies have sign-up forms and pop-ups, drag & drop builder, HTML editor, templates, personalization, automation and triggers, subscription forms and pop-ups, GDPR compliant, subscribers and campaigns management, integrations, and API. Still, Sender wins again by providing a live reporting feature, which is not available in Mailchimp at all.
As previously mentioned, all these tools are available in Sender with any selected subscription – even with the free version. When it comes to Mailchimp, you will have to spend a much higher price just to be able to access all these features, as you will need a premium plan for that.
So What Platform To Choose?
We have now given you some pros and cons on both email marketing platforms – Sender and Mailchimp. Even though Mailchimp has been in the industry for a longer time and has better integrations, Sender wins on all other aspects such as pricing, ease of use, and email marketing features.
The best part about it is that you can benefit from all of these tools when using Sender with a FREE subscription, so why won't you give it a try?
Now is your time to dive into email marketing and grow your business!

As one of the co-founders of Codeless, I bring to the table expertise in developing WordPress and web applications, as well as a track record of effectively managing hosting and servers. My passion for acquiring knowledge and my enthusiasm for constructing and testing novel technologies drive me to constantly innovate and improve.
Expertise:
Web Development,
Web Design,
Linux System Administration,
SEO
Experience:
15 years of experience in Web Development by developing and designing some of the most popular WordPress Themes like Specular, Tower, and Folie.
Education:
I have a degree in Engineering Physics and MSC in Material Science and Opto Electronics.