Email Marketing Services such as Mailchimp and Activecampaign are one of the most famous platforms in the world. Marketers and brands are using both these sophisticated tools for growing their businesses online. Both of them have unique features and a list of advancements that they offer to marketers to increase their conversion rates.
If you are worried about which email marketing tool to use for your business, we have got you covered. This article will review a comparison between Activecampaign and Mailchimp. We will explain all the features and the capability of these marketing tools to let you have a clear idea about what to use for your business.
Most people use Mailchimp because of the use of templates and design making. The learning process in Mailchimp marketing is comparatively easier for the marketers who have just started. Mailchimp is popular for providing its consumers with a free plan by which we can send over 10000 emails to their 2006 subscribers per month.
For businesses that don't have a good budget can take the help of Mailchimp because their free account version has access to almost all the features. This marketing act as the best newsletter service for your company if you are looking for the best integrations. And also help you in setting up the profiles of the customers because of the CRM and the options for landing pages.
But the growing demands of more advanced use lead to the use of Activecampaign. For small to medium business owners, Activecampaign is considered being one of the most powerful platforms. ActiveCampaign has barrel flexible segmentation, and it has awards automation options work.
The best automation options of ActiveCampaign make it easier for you to manage your contacts and lists. The contact list management can also be used by utilizing the belt in marketing automation software of the ActiveCampaign. When it comes to deliverability, ActiveCampaign has proven itself to be on the top of the market and it is highly recommended by the experts. The automation provided by ActiveCampaign along with the free migration services has made it is an eye candy in the eyes of the marketers.
Because of the amazing features of both of these, email marketing to people often seems confused in deciding what to choose for their business. We have made it easier for you by providing a detailed review about ActiveCampaign and Mailchimp features. After reading this table till the end, you will get to know what is the best marketing tool for your business in terms of providing services and pricing for 2023.
We have covered all the features for your ease.
ActiveCampaign vs Mailchimp: Which One is better?
Consumers are asking this question and frequently what to choose between ActiveCampaign and Mailchimp. Well if it comes to popularity Mailchimp gets ahead of ActiveCampaign but we have observed that ActiveCampaign offers better marketing automation options and fast speed which are higher than Mailchimp. But despite the above-mentioned features, Mailchimp still gets popular because of the smooth design of the e-mail and affordability for all kinds of online businesses.
Everyone can have a clear idea about which service is better than the other if we take a look at the specific features of both the services. The main services that both email marketing tools provide include the design and ease of use and qualifying the potential of creating the forms and the management of the contacts.
You can also differentiate between the two based on the CRM and the sales management software they provide. Pricing of these email marketing tools is one of the main elements to distinguish between the functionality of these platforms. We have made a detailed list of each function mentioned below and you will get to know about the differences between the properties of these two in this article.
Ease of Use & UX
Starting from the east of heaves and design of ActiveCampaign and Mailchimp It is seen that Mailchimp was easier to use in the past.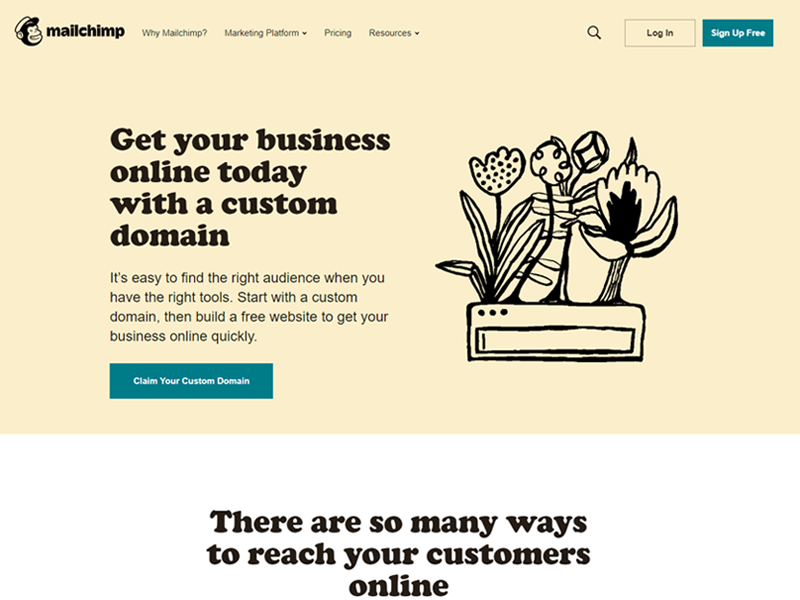 The consumers of Mailchimp were happy with the design of the app, but it was expensive and a bit too complicated for the newbies to manage. After getting the feedback from the users, they are now opting for simplicity in their design to provide easier navigation for their new users to provide a better interface.
This advancement and focusing on what users were asking has made Mailchimp setting a standard for making an easy-to-use email marketing tool. The only thing you are going to have trouble with when using Mailchimp is fine in some sections and features.
The landing pages Automations and the forms sometimes may be put together in the email, so it may be hard to find them in the campaign section. Another thing that can give you a difficult time is the creation of new forms and automation.
For more, you can read Constant Contact Vs. Mailchimp.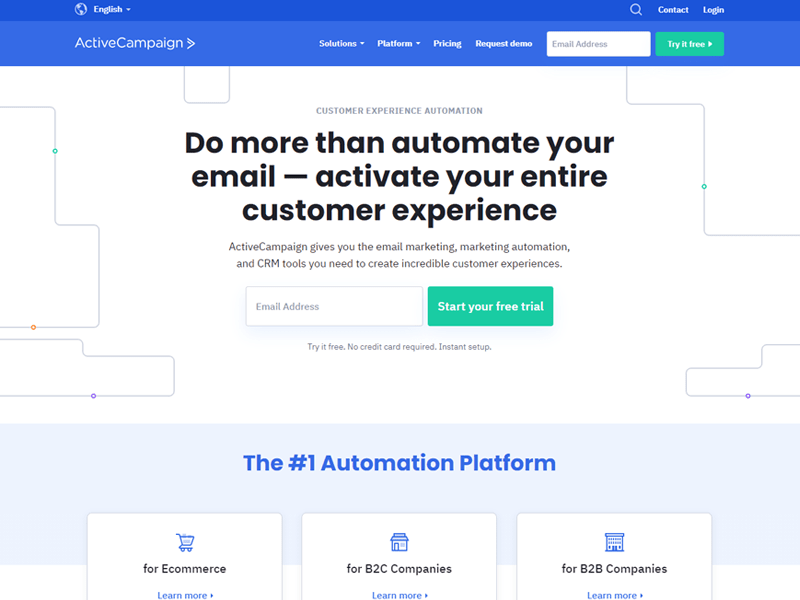 Now coming towards ActiveCampaign the design of the marketing few has more advanced features, and it is in the eyes of experts. Many people thought that the interface of this tool would be a little more complicated than Mailchimp, but to their surprise, it's not.
The interface of ActiveCampaign is easier and faster to navigate and it will give its user an amazing onsite experience.
Bottom line
You can say that Mailchimp is a friendly marketing tool for beginners but to use ActiveCampaign you have to get a little practice if you want to stick around for professional services. The ActiveCamping can also be used as mass email software
So for the ease of use and the design, we will give Mailchimp more points because of the flexibility and the ease but a few want to use ActiveCampaign you have to have a little of practice inputs effort.
Editor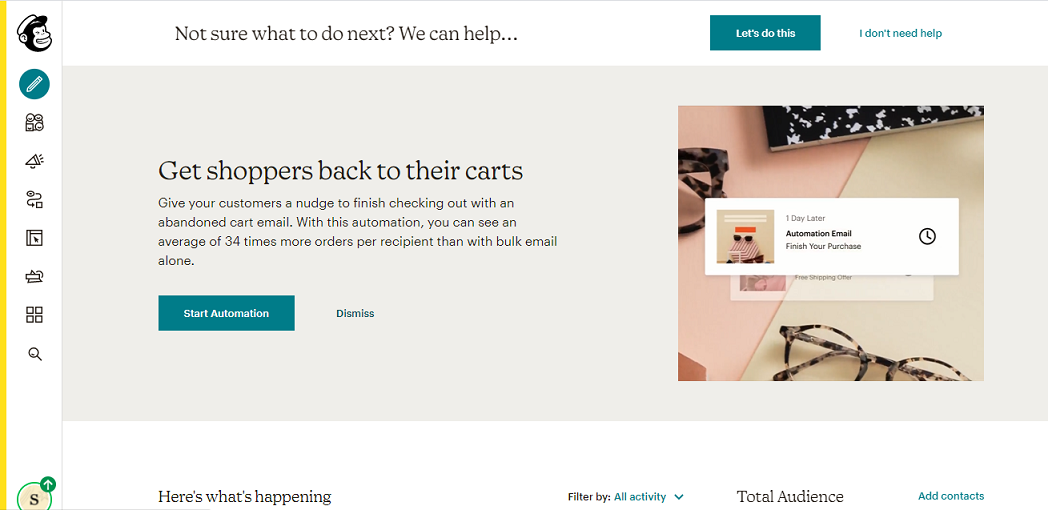 When it comes to the editing capabilities of these marketing tools, we also have competition here. Mailchimp has a more easy drag and drops email address, and this option is a very initiative to use by the marketers and the Businessman running their online platforms.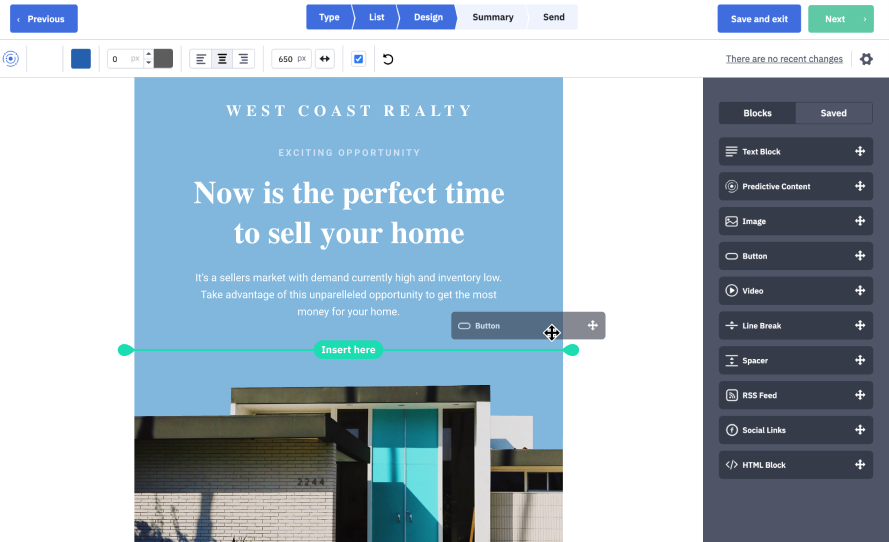 And when it comes to ActiveCampaign they also have the drag-and-drop editor option. Activecampaign is warning that editor option because of the reverting back services that they are providing.
Bottom line
When using ActiveCampaign you can easily revert to the older versions of your emails. This feature allows ActiveCampaign to win over Mailchimp when it comes to editing.
Create a Form
Creating a form is in foreign same email marketing tactics because it provides a better experience to users. Activecampaign we have many options for creating the forms and floating bars. We can easily create the popup forms as well because the editor forming is easy to use and you can also add new fields easily.
These forms which were created and registered in ActiveCampaign are responsive and they can easily be linked to different social media as well. If you have the right integration setup for your business, you can link these forms directly with Facebook and WordPress.
Activecampaign helps you in providing the options to attach these forms with the deals, tags, and lists.
These options are available on Mailchimp as well, but there are some differences. It will be a lot more complicated to embed or use popup forms in Mailchimp as compared to ActiveCampaign.
Bottom line
The responsiveness of these forms is not that friendly as compared to how it was an ActiveCampaign.
List Management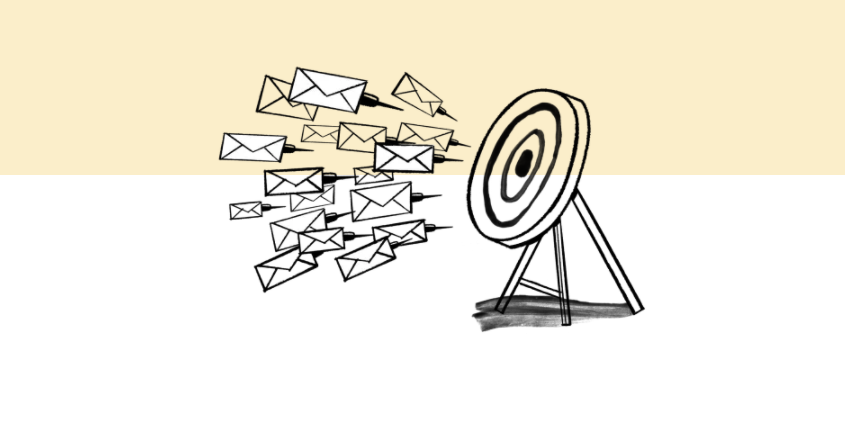 When it comes to the list management features, we have seen that users are not that happy about the complications of MailChimp's list management.
The reason behind this complaint is that the lists of Mailchimp are exclusively mutual, which means that if you want to include contacts on different lists within the same campaign, you cannot do that for free.
In case you want to create websites that are compatible with MailChimp or ActiveCampings check the best WordPress Themes.
You will have to pay for adding the same content on different lists if you are a subscriber of Mailchimp and it means that if you want to add them on the same list, you have to pay them twice. This could make sense if you are working on two different companies, but for the same campaign, if you have to pay more, this seems annoying and costly as well.
In addition to that, the organization of contacts in Mailchimp is also difficult because of the presence of different segments, groups, and tags. These distinctions can make the user confused because they are not fair and you can mess up the listing of a few contacts as well.
For more, you can read: Sender vs. Mailchimp.
If you are using ActiveCampaign, you can easily manage your lists in contact because the process of ActiveCampaign is very different. This tool believes in providing any ease of access to the users, so they have made their lists less rigid as compared to Mailchimp.
It also provides you with the facility of adding the same contacts on different lists within the same campaign.
The users also have the ease of segmenting their contacts with the help of tags and custom fields. The addition of custom fields is a very helpful approach for the users because with the help of these Steels they can add additional data related to any contact, for example, the geo-location of that particular contact.
If you do not want the standard and custom fields, we can easily remove them with the help of automation by using ActiveCampaign .
Another most amazing thing about using ActiveCampaign for making waste and managing them is the lead score option.
Bottom line
Using ActiveCampaign will allow you to give more subscribers based on the actions taken by them. Using this feature will help us in knowing the activity of your customer is on your business pages.
Templates & Customizability
An important thing to compare when you are creating the list of differences between active compare and Mailchimp is to compare their designs and templates as well.
Mailchimp has been famous among users because it has more than 100 templates for emails. These templates and themes are extremely user-friendly and are highly responsive when used on mobiles.
The look at these themes is advanced and modern and the user loves them because of their customizations.
You have a wide range of options to choose from for sending notifications, e-commerce emails, and newsletters, and much more to keep your users updated. The best thing about using Mailchimp is their amazing 14 boilerplate layouts.
With the help of these 14 layouts, you can easily customize your images and colors into the themes and designs of Mailchimp. With the help of the content logs, you can easily drag and drop multiple images, social buttons, and even promo codes into your template. Mailchimp also provides you with the option to load the template that you have customized.
ActiveCampaign on the other hand has many similar features it has almost more than 125 templates that can be customized easily and they are also mobile-friendly. The presence of flexible content options under the choice of customizing your template is available in ActiveCampaign. So we can say that when it comes to the template and customization, both have a good range and they contain a similar volume so you can go for whatever you want to.
Bottom line
After going through all the features we can easily say that ActiveCampaign is the winner when it comes to the management of the contacts. Mailchimp, on the other hand, is also doing a good job as it is a bit complicated. We will recommend ActiveCampaign for the management of your lists.
Email Marketing Automation
As we all know that both of these are amazing platforms for email marketing but we have to make a comparison to know which one is the best. Because of its popularity, most people think that Mailchimp is powerful marketing automation but when it comes to the capability of ActiveCampaign , it may be lacking.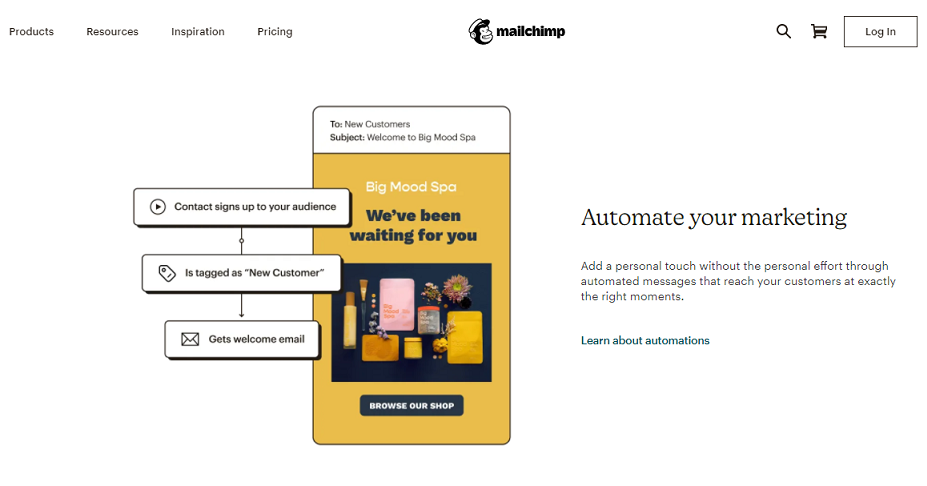 When it comes to Mailchimp, it has a good range for the automation company, including product purchase confirmation and the campaigns for abandoned carts. The recent updates in this marketing automation editor have made it much more user-friendly.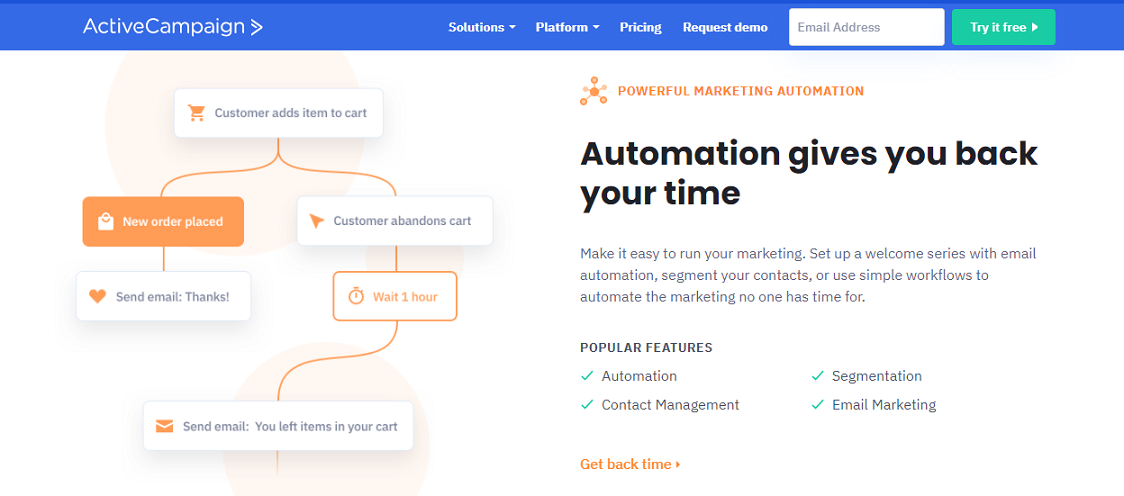 For ActiveCampaign, you will experience a lot of amazing automation options that you would not have even expected. When you are using ActiveCampaign, you can combine multiple actions conditions and triggers to improve the productivity of your work.
These actions and triggers will help you and maintain a steady flow of the scoring lead, tagging and segmenting data, sending emails, and much more. Last but not least good thing about ActiveCampaign is the built-in CRM bar increases your sales process. We can see that ActiveCampaign has better features when it comes to automation as compared to MailChimp.
The point where you add the designs of the form fields is easy but when you use a different attitude where you are trying to use the form in two different links you have to use different pop-ups again and again for forms which can be annoying.
Bottom line
This shows that ActiveCampaign is the winner here when it comes to the creation and registration of the forms.
Analytics & Data
When you are using any email marketing, as a user you would like to know the results and performance of these tools and how these are affecting your business. Both these tools do an amazing job of providing you with the true analytics and data of your business.
The ActiveCampaign and Mailchimp provide you the best email performance by giving you complete analytics and insights about how many users have opened, subscribed, or unsubscribed and click your site.
You will also have the opportunity to know about the geolocation of your users to have a better idea to improve your services. The social performance and regular e-commerce reports will help you in targeting your audience. When using ActiveCampaign you will also have access to the deal reports.
These deals reports are the summaries of the CRM and they play an important role in letting you know about the funnel overviews of the market.
It provides the same feature along with another amazing benefit. It goes one step ahead and provides better e-commerce reports.
Bottom line
The competition is tough for providing the best analytics and data but you can choose ActiveCampaign if you want to have deal reports. Otherwise, Mailchimp will provide you the best results for providing e-commerce reports.
CRM & Sales Automation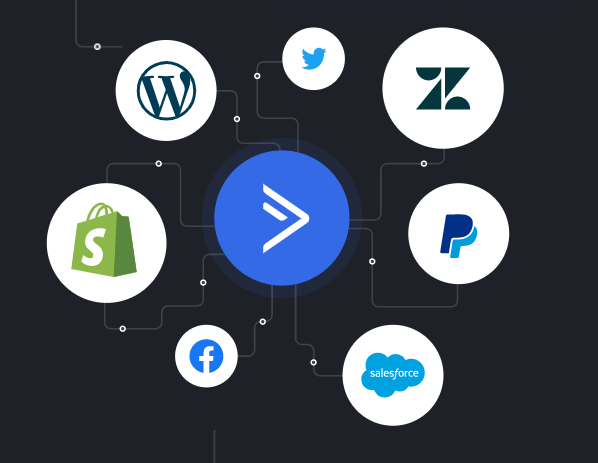 Talking about CRM and sales automation Mailchimp does not provide a CRM although they do claim that you can have the access to Mailchimp as a CRM. This can be true because technically it gives you access to the data of contacts which is comprehensive and the reports for the revenues of your business and the integration as well.
This might look tempting but when it comes to the purpose-built CRM of ActiveCampaign it does a much better job than Mailchimp. The reason for the famous CRM of ActiveCampaign is that it is providing its users the best fights for creating the records and assigning deals to the business owners.
The best thing about this CRM is it will help you and automating your sales and you will see better revenues for your online business.
Bottom line
It is quite clear that Mailchimp can be an attractive tool to you, but when it comes to the Best CRM ActiveCampaign is getting ahead.
Deliverability
It is time to take a look at the deliverability of both of these email marketing tools. Balls of the Email Marketing Services have been providing exceptional deliverability. But when it comes to a great interface and faster services, ActiveCampaign is the winner.
The deliverability rate of ActiveCampaign helps in providing the best maintenance for the list and keeping a good reputation for your overall business. It also makes sure that the performance of the regular tax is up to date and the results and reporting are always available on the dashboard to see the insight of your business.
Bottom line:
Mailchimp also provides the services that if you want to use a reliable and faster source, you should go with ActiveCampaign.
Integrations & Extensions
It is a well-established fact that these popular tools have amazing integrations with other tools. When it comes to selecting one of them we will like to tell you that Mailchimp is offering almost 200 integrations along with the CRM. This integration stands with the web builders and social networks.
Mailchimp has amazing connectivity when it comes to Zapier as well which is one of the popular integration options for businesses.
This tool on the other hand provides the facility of integration with almost 250 apps along with its connectivity with Zapier.
Bottom line:
You can easily choose the one with the highest integration apps, but just so you know these integration numbers keep on changing, both of them stand at a similar place when it comes to integrations in extras.
Pricing
MailChimp Price: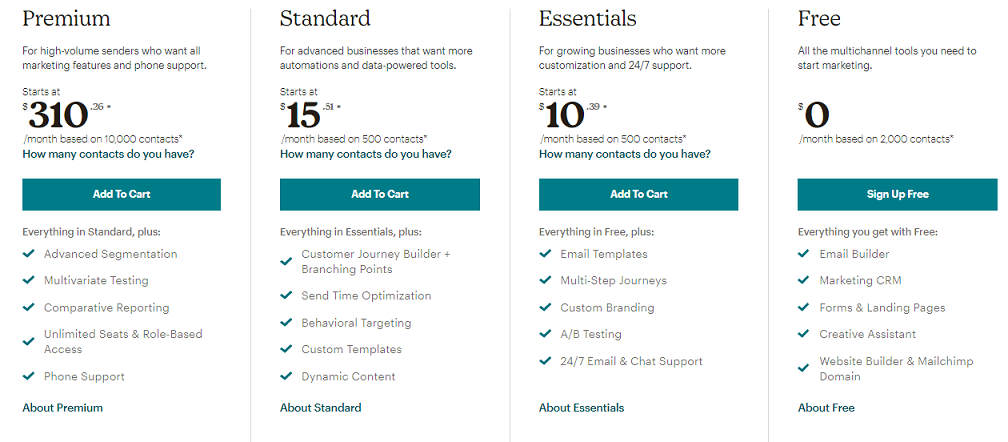 ActiveCampaign Price:

Many people say that because ActiveCampaign is providing so many features it could cost an arm and a leg but this is not true. It is observed that the pricing of ActiveCampaign is friendlier to your budget as compared to MailChimp.
You should also know that the free plan is not available in ActiveCampaign while when you are subscribing to Mailchimp you can send 10,000 emails free per month to 2000 contacts.
Similarly, for 5000 subscribers you have to take $52.99 per month in Mailchimp but for the same number of subscribers for ActiveCampaign, you can get a discounted early plan for $69. For 10, 000 and 50,000 subscribers, you have to pay $78 and $270 for Mailchimp, but ActiveCampaign will only have to pay the discounted prices of $111 and $239 for yearly plans.
This means that when you come to 50 thousand subscribers, the prices of ActiveCampaign and MailChimp are almost the same. The important thing to remember is that these prices are for the lowest plan, that is the light plan of ActiveCampaign and to get additional services like lead scoring and data integration you will need to upgrade to their professional or enterprise plan. But if you want to go with Mailchimp, you will have their most features in the monthly plan.
The only features that you will be missing include comparative reports, segmentation, and testing. To get your hands on the remaining features for Mailchimp, you'll have to subscribe to their Pro plan. The most amazing thing about Mailchimp is that they offer a free plan which is forever but ActiveCampaign does not even provide a free trial.
Bottom line:
This shows that if you want to go with small subscribers, you should go for MailChimp, and in terms of valuing the money your priority should be ActiveCampaign .
Support
Both of these services provide amazing customer service and support. Their services include email options and tutorials for increasing the knowledge of new users and live chat. But the support offered by ActiveCampaign has more complexities and they have provided a complete tutorial for that as well.
They also have a separate platform to get the accuracy of their users resolved. This is the reason that the support of ActiveCampaign is better than the Mailchimp.
Bottom line
You can easily access the support of ActiveCampaign from any screen but to use the chat and email support of Mailchimp you have to go through their knowledge-based questions. This shows that ActiveCampaign has a better support service.
ActiveCampaign vs Mailchimp: Table Comparison
| | | |
| --- | --- | --- |
| Features | ActiveCampaign (4.6/5) | Mailchimp (4.1/5) |
| Pricing | $39 / month | $30 / month |
| Starting price | $9 / month | Free |
| Refund policy | No refunds | Yes |
| Free demo | Yes | Yes |
| Social CRM | Yes | No |
| Automation | Yes | Yes |
| Analytics and data | Yes | Yes |
| Deliverability | Yes | Yes |
| Integrations | Yes | Yes |
| Support | Yes | Yes |
Conclusion
The above-mentioned features have clearly shown that ActiveCampaign is beating Mailchimp in many ways. It is a reliable marketing tool for 2023 when it comes to providing you with exceptional deliverability services and saving your money.
Activecampaign will be the right tool for you if you're looking for the best automation and exceptionally managing your contact lists. But if you are on a tight budget and you have to avail yourself of the services of an email marketing tool for free, Mailchimp is going to save your day because of its cheaper similar features offered by ActiveCampaign and easy-to-use interface.

As one of the co-founders of Codeless, I bring to the table expertise in developing WordPress and web applications, as well as a track record of effectively managing hosting and servers. My passion for acquiring knowledge and my enthusiasm for constructing and testing novel technologies drive me to constantly innovate and improve.
Expertise:
Web Development,
Web Design,
Linux System Administration,
SEO
Experience:
15 years of experience in Web Development by developing and designing some of the most popular WordPress Themes like Specular, Tower, and Folie.
Education:
I have a degree in Engineering Physics and MSC in Material Science and Opto Electronics.