Penji is a service for a demand graphic design that we are going to review. If you want to use Penji for your work preferences, you will be in the top 2 percent of the graphic designing community. We all know that graphic designing is important for businesses. Today if a business wants to prosper, it needs to win the digital race.
Hiring an experienced person can be tough when it comes to graphic designing. It is hard for people to understand your narrative on things. But you don't have to worry about finding a graphic designer anymore. Many online graphic designing services are working effectively.
You just have to choose a plan and sign up for them. There are plenty of options to choose from.
The best one to date is Penji. This service offers unique virtual designs and their models are out of the box. No matter how much creativity you need, Penji will get it for you. These services are cost-effective as well. You can easily choose the plan that suits you. The need for your business and organizational promotion will be accomplished satisfactorily.
Penji will provide you with creative output. You can even ask for custom designs. These services can be used monthly. Penji helps you in making logos, flyers, UI, and UX for your company. It creates blog images in the headlines as well. Utilizing this service will enhance the visibility of your business. Marketers and businessmen always rely on graphic designs to do their promotion in the right way.
If you register with our promo code: CODELESS15
The affordable solutions of the designs make it accessible for everyone. You will also be stress-free from the long waiting responses from online freelancers. Here is an honest review about Penji.
How Penji Service Works
The process of Penji services is really simple.
First, you have to choose from the plan you want to go for. You should select according to your budget.
Once you are all signed up you need to upload your projects after your requests will be approved by the dedicated designers. Their response time is quick.
You don't need to worry about the number of submissions. You can easily submit as many projects as you want. Your design projects will be made carefully. You can submit revisions of the projects as well.
Many people are using Penji for their logos, social media marketing, and infographics. Monthly charges will remain fixed. There will be no charges for the number of revisions.
Many apps present themselves as fixed-rate apps but they have hidden charges, when working with Penji this will not be an issue. You can read the reviews of the people as well. Many people recommend using it because of the quick turnaround time.
Create a Project for your Design
It is very easy to create your design on Penji. There are three main steps in creating a project for your design.
1 .You have to set the project title.
2.Describe the project and the things you want to be added to it.
3.The last step is to attach files.
Creating a design project is simple. You just have to fill simple forms. These forms will help the designers of Penji to understand what your project is about. And how you want them to do your work.
Your specifications will help them in knowing what you are looking for. Any additional attachments you think are important can be attached with the forms. Once you have selected the types of files you want, it is time to upload them. From here your work will be taken over by the designers.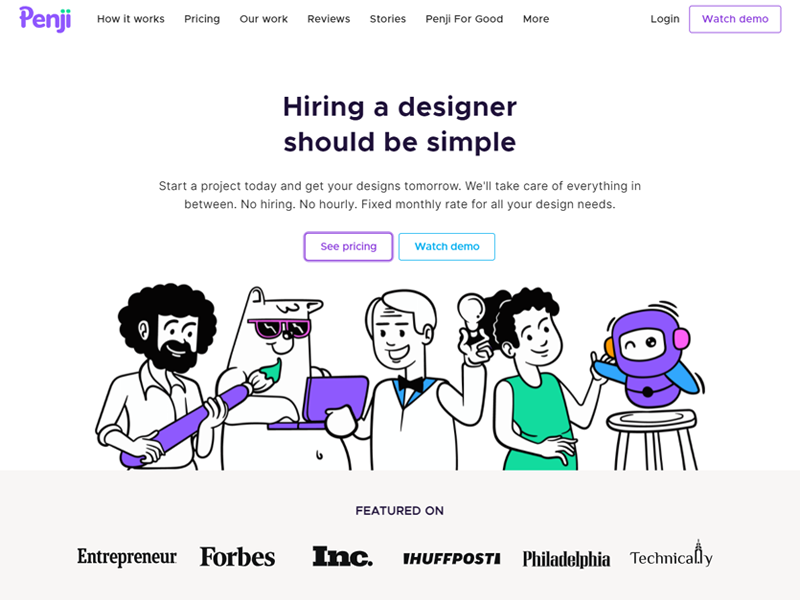 The process of creating a design for your business will always remain the same. For revisions and checking, you can utilize the same procedure. It is a quick step and you will be done with it in a few minutes.
Once you have uploaded the files you will be stress-free. Now you just have to wait for the designers to respond to your design. Penji will do these things for you. You can submit requests for all kinds of designs. It can be printing or digital graphic designing. There is an extensive list of the services provided by Penji and you can submit more than one project at a time.
It also depends on the plan you have chosen. An amazing thing about using Penji is that your first draft will be available to you within 48 hours.
How Penji Assign the Designer
Once all of your files are uploaded, Penji will do its magic and look for the designers. Penji always wants the best for its users. It will automatically search for the best designers for your projects. Designers are assigned usually based on relevancy to your design requirements. Penji only hires the designers with the best skills because of their great resource management softwares.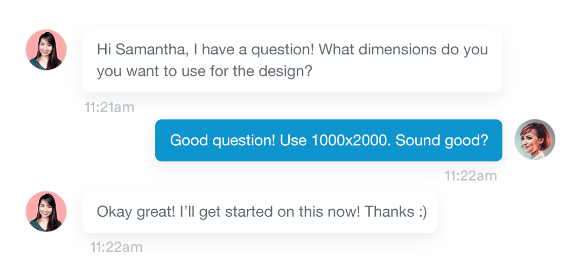 These designers have years of experience and knowledge. Their exceptional skills and qualities will get you the best of work. They apply their skills to making your designs distinctive among others. They are the best example of jack of all trades. They can create everything for you. If you need to design the landing page, Penji is your go-to app. They can do the custom illustrations for your clothing brands as well.
Your customized t-shirts with unique illustrations will look appealing, this will increase your sales as well. Many customers ask about the selection criteria for the designers. Penji makes sure that it provides quality services to its customers.
Penji takes a test before hiring the designers so only the top 2 percent of the graphic designers are selected to do your project. Their work will speak for themselves unlike other platforms, Penji believes in providing the best services throughout the customer monthly plan. It sticks to the motto of providing the best team of designers for all customers.
There is no chance of providing inefficient services.
Revision and Review of the Design
The most amazing thing about Penji is the quick turnaround. You will hear from your designer within 48 hours or maybe less. Unlike other freelancing services Penji knows that a customer gets annoyed because of the long waiting period.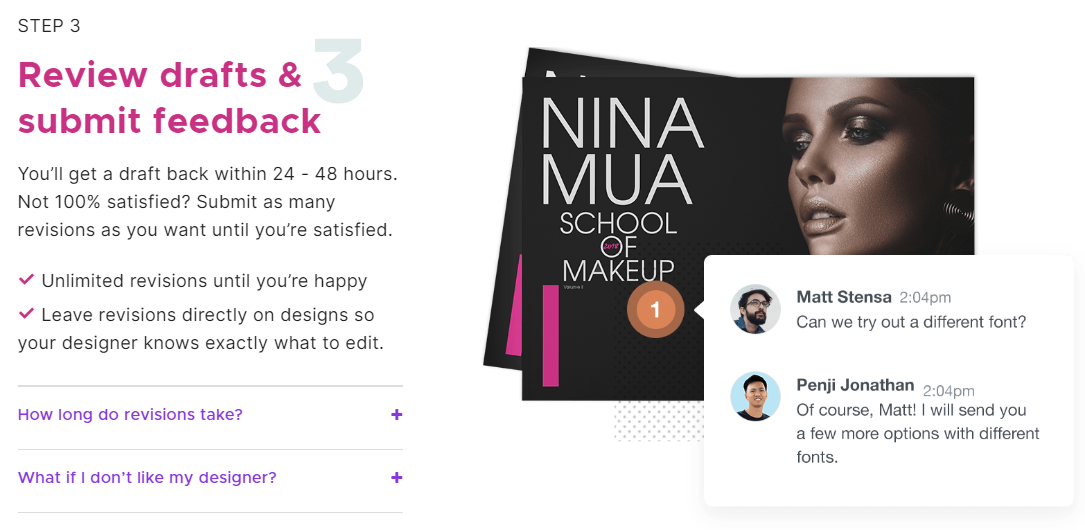 Customers might think low about the services if there is a long waiting period. When you receive your draft you have to take a look if you like it or not. If you want more changes to it you can ask for revisions.
There is no limit to the revisions options. It is entirely up to you. You can stop when you feel satisfied with the work. The hardworking and efficient designers will put all their energies into making your design exactly as you want. You have to keep one thing in mind while sending the revisions.
You must leave the revisions on the draft so the designer knows what to correct or change. Revisions have a quick turnaround time. You will get them back within 24 hours.
Their designers are aware of the fact that sometimes people need their projects urgently. This is why they send the revisions immediately. On rare occasions when the users are picky and don't want to work with the particular designer, Penji offers a swap as well, you can let them know that you are not getting the professional vibe from a designer and they will give you another one.
Download Your Design
If you are satisfied with the design, you can download your files. It is up to you to download them anytime. There is an option for an instant download of the files.
You don't have to stress over getting the files. Some sites email you the files and it takes a long time to do that. Penji saves you from trouble by providing you the instant options for download and the completed designs are downloaded in high quality.
Once the files are downloaded, you will have complete ownership so you can use them for your business growth. Even if you lose the files somewhere, you can always login and download them.
They will be stored in Penji so you can see them on the dashboard of the app. There are multiple formats for downloading the files and can download them in your desired formats like Microsoft Office files, PNG, JPEG, PDF, and Adobe suite files
Pricing & Packages
Three Packages (The right plan to match your design needs):
When it comes to cost-effective solutions, Penji has three plans for you. Monthly, quarterly and yearly. It depends on you what the requirements of your business are.
If you choose the monthly plan it will cost you around 399$ per month. You will be getting the option of unlimited designs and 1 designer option. Unlimited users can use this plan. You can also choose from pro, team, and agency options. These depend on the workload of tour designs.
If you get the subscription to a quarterly plan you will save 15 percent of the amount. It will cost you 399.15$. You will be getting more savings in the team mode for quarterly plans. Graphic designs, illustrations, UI, and UX will be present in these plans. If you opt for a yearly plan you will be saving 25 percent of your budget. It will cost you 299.25$ per month. It is better to select a yearly plan for saving and yearly access to the amazing services of Penji.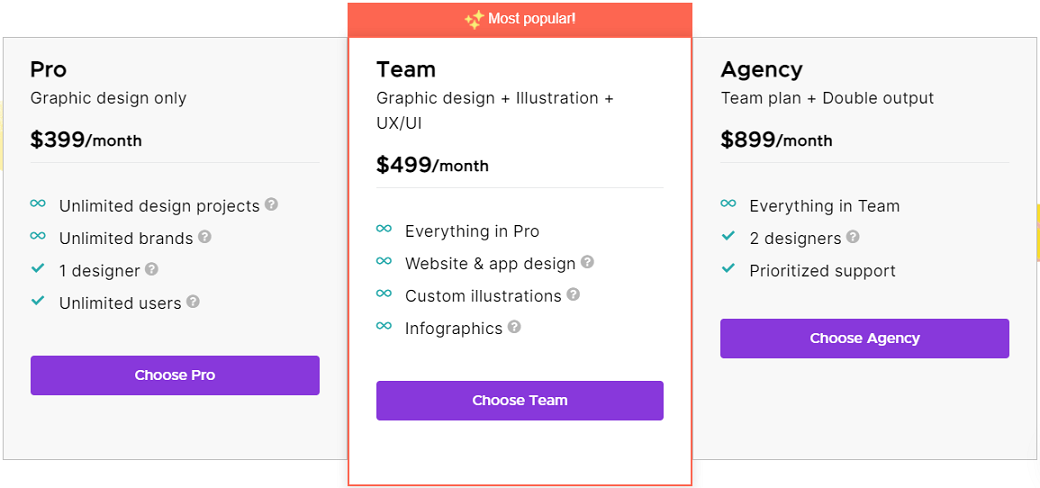 Money-back guarantee:
The best advantage of using this platform is the money-back guarantee. It has a 15-day money-back guarantee. You will not have to worry about your money going to waste.
There are conditions or hidden charges for this. Penji wants its customers to put their ultimate trust in its services. It is an honest and transparent platform for providing graphic designing services. The billing system of the Penji is extremely clear without any fine prints. You can cancel the subscription to Penji at any time.
Many people ask if they can use the team and pro plans together. Penji allows this option. You can add your team and create your designs.
Difference between memberships:
The unlimited graphic design availability in these plans means that Penji will not charge you separately for the designs. Regardless of how many submissions you are doing, you will be only charged every month. Pro and team plans will always provide you one designer to provide you with updates regarding your designs.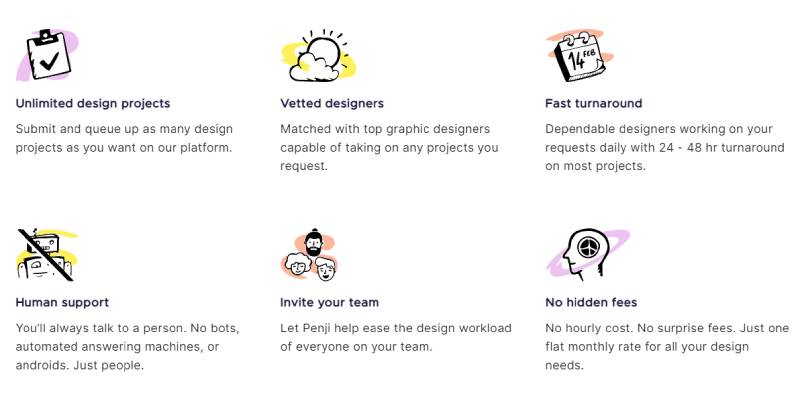 Agency plans on the other hand will have two designers. It will double the output of your designs. You can use 1 account for managing your multiple businesses.
Benefits of agency, team and Pro memberships:
There are many benefits of using this platform. The first one is the availability of unlimited designs for any kind of project. For all your illustrations and designs this is the perfect solution with cost-effectiveness. The professional designers will provide you excellent quality of work.
They will take your requests as a challenge and make the best designs for your business. The quick turnaround time will not let you feel stress at any point when using Penji.
If you are not getting a hold of the app you can always use technical support. There will be no bots or automated machines there are customer service agents will guide you in every step.
You have the benefit of adding your team members on Penji as well. Teamwork on Penji will make the dream work. You will have peace of mind because of the transparent payments. There are no hidden charges of any kind at all.
You also have the freedom to cancel at any time and company will never make you bound to a long-term contract.
Why Choose Penji?
There are many reasons for choosing Penji.
1.The reasons start with the ease of uploading your designs on the site.
2. You don't have to stress about choosing the designer.
3. It will select the designers according to your needs.
4.You will not have to wait to hear from a dedicated designer.
5. You will be getting the first draft within 2 days.
If you are a new business setup you can choose the monthly plan to try Penji. Once you are satisfied with the services you can easily shift to quarterly and yearly plans.
These plans are cost-effective and you don't have to spend a lot to get your work done. It gives the users lifelong access to the files. You can always come back and use your files and have complete ownership of the files.
You will have the best technical support team with you at every point. If you have any queries you can ask them. You can also discuss the design with the designers. If you feel stuck with a designer you can always ask for a change.
Penji is the best device when it comes to graphic designs.
Who is working with Penji?
World's best companies are working with Penji. They trust Penji with their services. Hope works is a famous nonprofit organization. The main focus of this organization is to improve technology and education.

ENGAGEathon is a community application working for social activities has also worked with Penji.
Onyx Valley and Red queen are also working with Penji to make a change in the world. Round-trip and snip snap are working with Penji. Big brands include Aweber (email marketing service), Penn, Lyft, Express, Reebok etc..
Pros:
The graphic designs formed by Penji are famous in the market.
Penji works for both pro and team plans. It includes web designs and apps.
They have unique approaches for designs.
The thing that everyone loves about Penji is the transparency of its services.
Penji does not just hire everyone. It has strict policies for the designers. Out of many candidates, only 2 percent qualify to be Penji consumers.
Their customer service policies are exceptional.
It has the best productivity.
Cons
If you do not need the monthly plan, it might not be worth it.
It will only benefit you if you have multiple submissions.
Another disadvantage of using Penji is that you cannot talk directly to the designer on the phone. You can communicate with them by email or on Penji dashboards.
They have many formats for the files but they don't have any option for the sketch.
You also need to give details about your designs or else you will have to submit your designs for multiple submissions.
What Clients think about Penji?
Clients love using Penji with great 5 stars reviews. People love their consistency and their quick turnaround time. Many clients have mentioned the solid designs and quality of work in their reviews.
About 89 percent of the clients recommended it as excellent and 9 percent have starred it as a great help. This is a high rate for recommending a platform.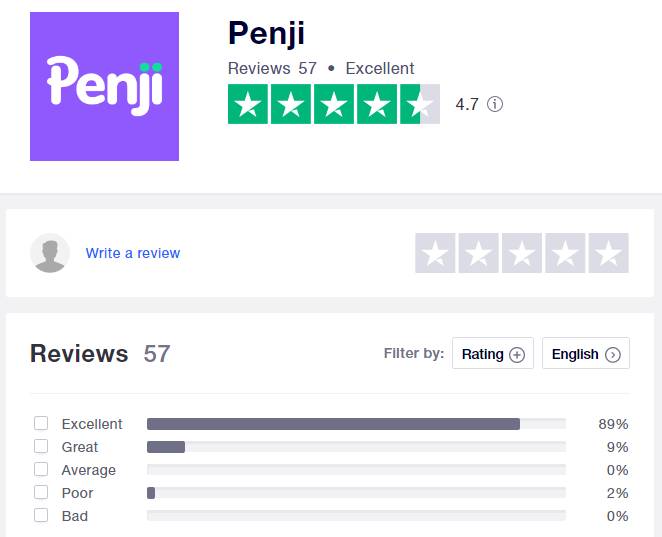 Penji has helped the clients in growing their business and gaining a distinguishing place in the market.
Conclusion
Penji is a great platform for providing excellent graphic designing services. It is cost-effective. It has three plans according to your budget. The supporting customer services platform help the client in each step of the journey. It is simple to use and can be accessed by anyone.
Qualified designers put all their effort into making your business grow.

As one of the co-founders of Codeless, I bring to the table expertise in developing WordPress and web applications, as well as a track record of effectively managing hosting and servers. My passion for acquiring knowledge and my enthusiasm for constructing and testing novel technologies drive me to constantly innovate and improve.
Expertise:
Web Development,
Web Design,
Linux System Administration,
SEO
Experience:
15 years of experience in Web Development by developing and designing some of the most popular WordPress Themes like Specular, Tower, and Folie.
Education:
I have a degree in Engineering Physics and MSC in Material Science and Opto Electronics.