The rise of the digital world fueled the developmental work on several tools and technologies that, once deployed in an organization, could lead to growth, automation, boost customer experience, and more. One special aspect of such technologies is the customer service software that you can leverage to further solidify your customer experience.
The field in itself is quite a wide notion. Therefore, it has become difficult to identify the customer services tools specially designed to serve the customers.
Long gone are the days when the customer was supposed to call the company on their dedicated phone number to get a solution for the problem that he or she was facing.
If the lines were busy or there was no one to pick up your call, chances are that you'd probably end up with nothing. Although the interactive voice response system was kind of an innovation that would engage the customers, even that wasn't a proper solution.
However, this was the best customer service that you could get 25 years ago, but today, technology has changed the game.
Today, customers can message companies on social media, messengers, chat with them on their website, get on a call with them via the internet and even write emails to them.
This rapid response, engaging the customers, and solving their queries in real-time is what sets a brand apart in the modern world. When you're running a business, it is super important to focus on the customer experience that you're offering.
And to ensure that, today, you can use customer support tools. Now, since there are a wide variety of tools out there, today I'm going to tell you about the most popular, feature-oriented, and cost-effective support tools that you can leverage for your brand.
Let's get started, shall we!
The Best Customer Service Software in 2022
Let's take a look at our top selected for customer services and support software.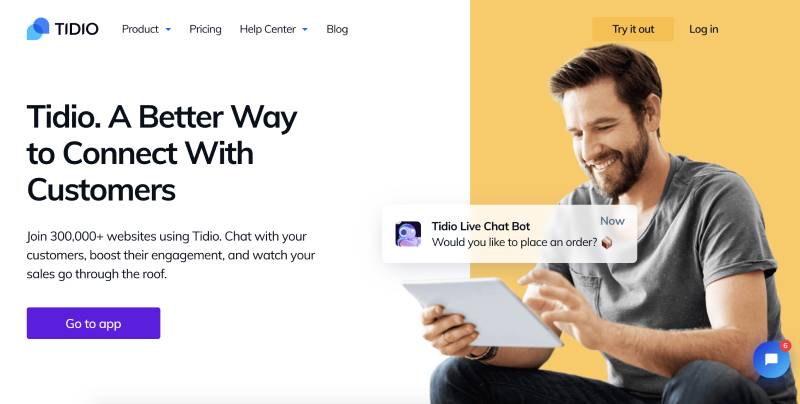 Features: Live chat, chatbots, integrations, customization.
Pricing: starting from 21$ a month, freemium version available.
Tidio is a perfect option for small and medium businesses. It's an all-around communication and marketing tool allowing one to provide an unforgettable customer experience.
Adding Tidio to a website can be done in 5 minutes, and no coding is required. At the same time, the live chat and chatbots are easily customizable so that the widget can blend with the look of any website. All interactions are located in one panel, and there is also a mobile application available to simplify the processes.
Another great thing is that Tidio allows the company to navigate what visitors are doing on the website in real-time – a customer success team can start interacting with them before they even type a word!
Tidio has integrations with most website-building platforms like Shopify, WordPress, Wix, Woocommerce, and more. The freemium version gives one the possibilities like up to 3 live chat operators, unlimited chats, 100 unique reachable users, desktop & mobile apps, 3rd party integration, and JavaScript API.
When a business grows, and it becomes not enough, one can easily upgrade to one of the paid plans for 21$ (or 18 euros) a month. They also offer chatbot builder software to help you build your bot for customer support.
Features: Live chat, ticketing, integrated knowledge base, email, customization, integrations
Pricing: starting from $4 only
Help Desk is a customer support tool designed to offer immense feasibility to the users by enabling them to serve a wide range of customer support activities.
From organizing messages to giving assistance to exchanging information and much more, the software is capable of becoming a one-stop solution for all your customer experience needs.
Help Desk also leverages tickets for communication hence the reason it is more popular as a ticketing system in the market.
Moreover, the tool fosters communication and collaboration. Plus, it is super-time saving as it gives you the facility of managing emails through one app.
Furthermore, the user experience of the system is amazing. It is fast and reliable, and it smoothens your response process making it more efficient.
Lastly, you can automate repetitive tasks, analyze customer support reports, add customer views and integrate Help Desk with LiveChat to solve tickers and talk on chat to your customers.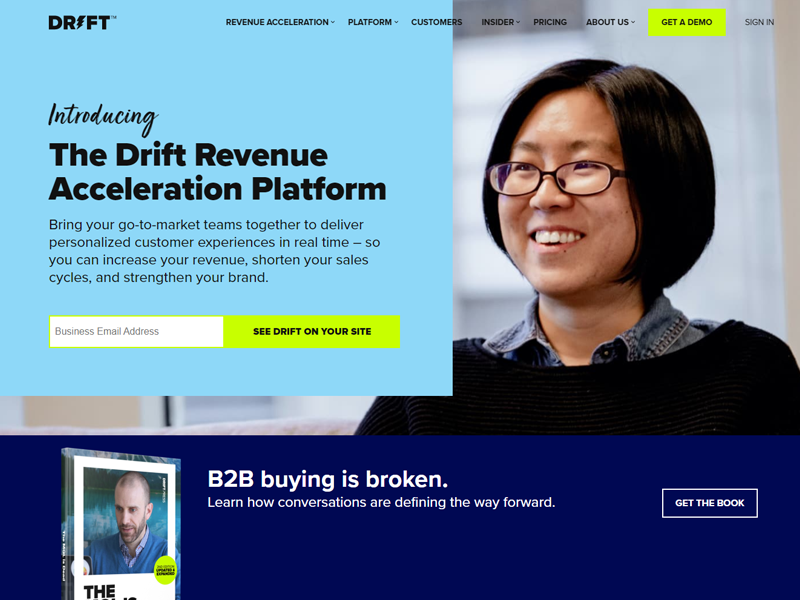 Features: Live chat, help desk, knowledge base, chatbots
Price: from $50/mo, free plan available
Drift is one of the best customer service tools. The tool is designed to support the sales and marketing departments with robust features such as chatbots, calendars, and even conversational landing pages.
The best part about this tool is that they've got a free version that comes with some basic features that you can avail of. This free version includes live chat, one agent seat, and even 150 emails/month for sales purposes.
But where they've given you a free version, they've also got much more costly subscriptions that are starting from $400/mo that give you live chat functionality to chatbots for $1500/mo.
Drift comes with a livechat WordPress plugin that can help you integrate it with your website.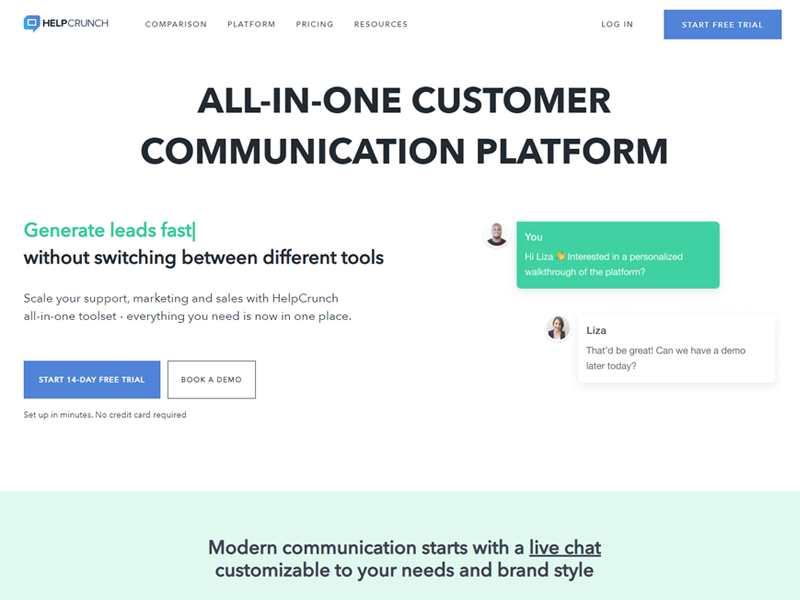 Features: Live chat, ticketing, integrated knowledge base, email marketing, pop-ups
Prices: from $15/mo/team member
HelpCrunch is more inclined towards being a one-stop solution for all your customer service needs. The software offers myriad features like Live chat, knowledge base, ticketing.
HelpCrunch also has some marketing and sales features. Moreover, you don't even have to leave the dashboard for communicating with your customers. The software collects all the queries (chats or emails) and displays them on its dashboard.
The information collected (aka 'ticket') can be assigned to separate agents or departments depending on their context. Additionally, the software's dashboard can also be used to assign, tag, move, add directions or not and send responses to customers.
Lastly, all the features and functionalities mentioned above are just the tip of the iceberg. There's a lot more than can be used to entice your customers to start a conversation.
And for all that, HelpCrunch demands only $15 for live chat, ticketing, knowledge-based, pop-ups, and unlimited contacts. Secondly, for $29/mo, you get the email feature in addition.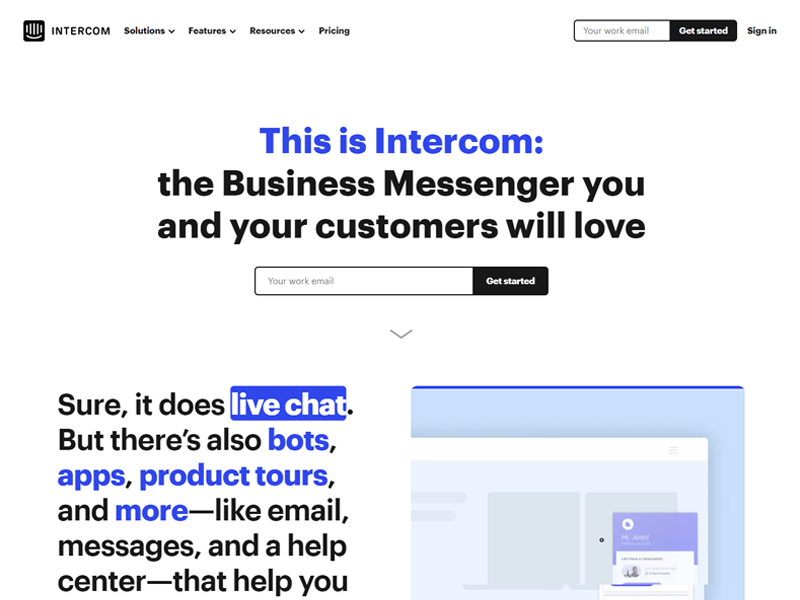 Witness a reliable customer service tool that allows you to engage your customers with an extensive set of tools. The tool USP is that it is also a complete solution for organizations that enable you to offer excellent customer experience to all your customer.
Perhaps the most popular feature of Intercom is the Messenger that allows you to integrate different apps to foster communication.
Intercom's most famous feature is their Messenger (or live chat). You can add different apps to the Intercom Messenger and use them not only for communication but also for showing company news, blog posts, knowledge base articles, etc. Their chatbot is also one of the best on the market.
The only drawback of this software is the pricing. Not only are the developers charging more prices than the average market, but they're also charging additionally for the knowledge base, chatbots, and contracts.
This is the reason why their platform is more suitable for enterprise-level organizations that require such expensive and modern solutions for their business.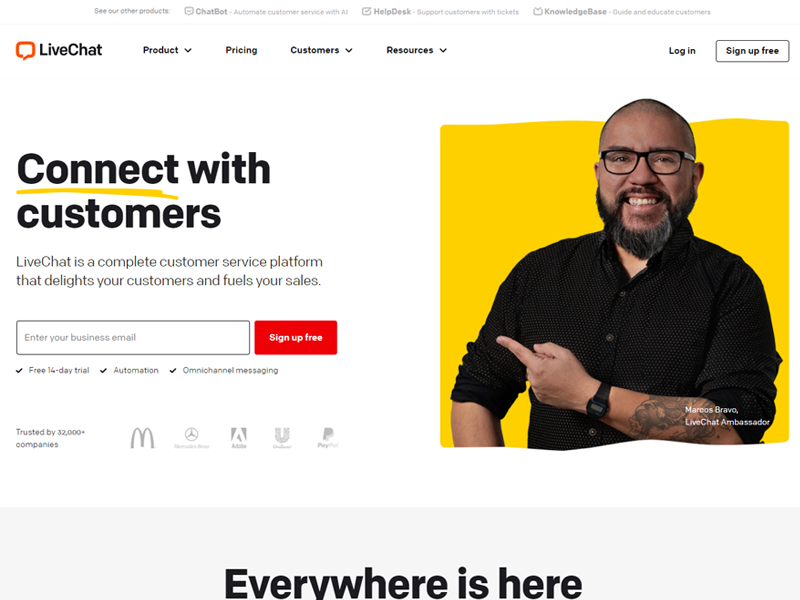 Features: Live chat, help desk
Price: $19/mo/seat
LiveChat is, as the name suggests, a tool powered by live chat functionality; however, the only thing that makes this tool different than others is the fact that its live chatting capabilities far exceed any other tool present in the market.
You get the features to create tickets, respond to people via email and live chat and foster robust communication to boost conversions.
However, this tool is great if you're looking for a simple solution or you're a small business because the tool provides only live chat functionality to businesses.
You do get automated greetings, response saving, and chat forms with Live Chat. One innovative aspect of Live Chat is that it enables your internal teams to view what the customer is writing before they send the message.
Livchat is more than a simple chat tool you can use it also as an sales funnel builder software.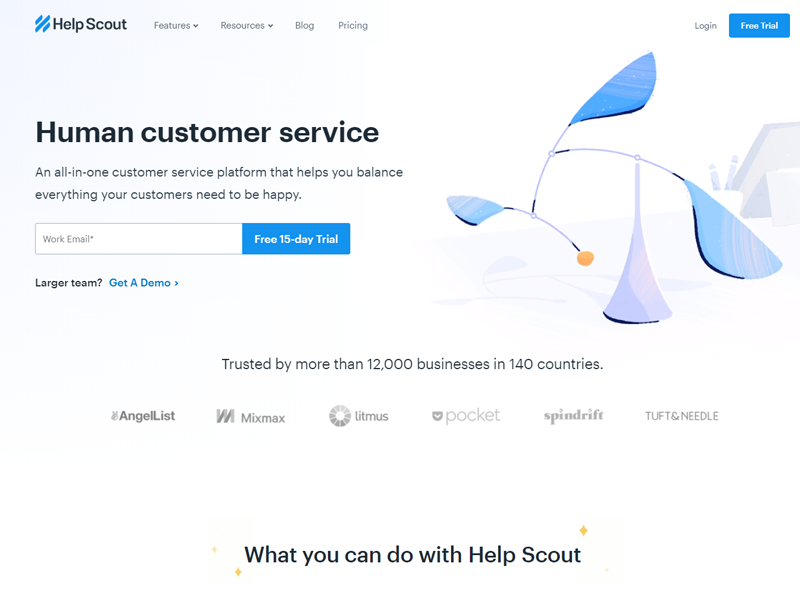 Features: Live chat, help desk, knowledge base
Prices: from $25/mo/user
Let's start with the innovative aspect of this customer service software!
When you're just starting with the Help Scout, you're immediately redirected towards something that they like to call the Mailbox.
The standard plan gives you 5 mailboxes for $25/mo along with a live chat feature and knowledge base.
But what does actually Mailbox mean? Well, Help Scout gives you the opportunity to connect 5 emails to your account and receive all the queries (emails) to a single dashboard.
You can even respond to the mails from the Help Scout's dashboard. Overall, I believe that it's a nice and simple customer support software that provides you with all the necessary tools that you need to stay on part with the competition.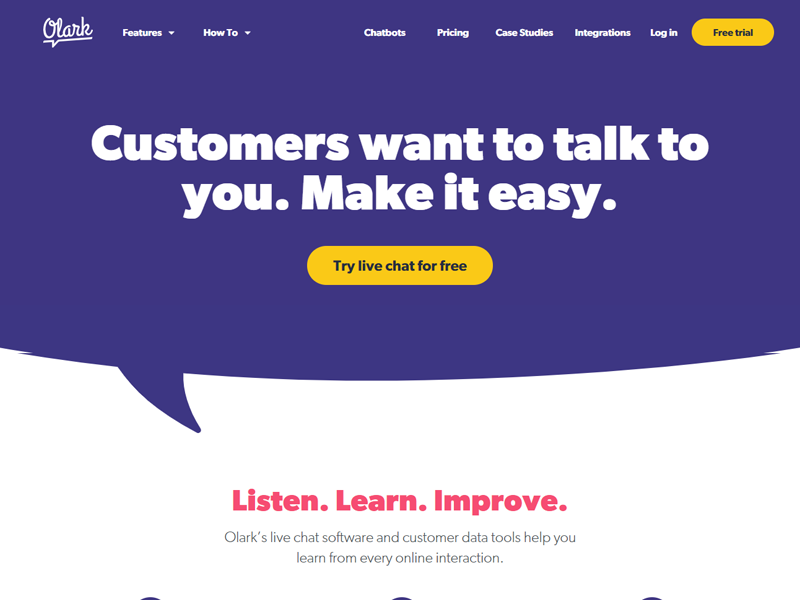 Features: live chat
Price: $17/mo/agent, free plan available
Olark is a little more on the simple side of revolutionary technology, but this doesn't mean that it lacks the necessary features or functionality.
Additionally, their pricing is cost-effective. They're asking for only $17/mo/agent, and they've only got one subscription plan.
Moreover, they've got a simple, engaging, and user-friendly interface that enables the users to operate the software easily. However, customization options are missing.
In terms of performance, the modern nature of the tool enables high customer support with chat forms, file sharing, live chat functionality, and customer data retrieving.
You also get the ability to send automated and targeted chat messages.
Moreover, the only downside of these tools is that unbranded chat or chat localization is only available at an extra cost.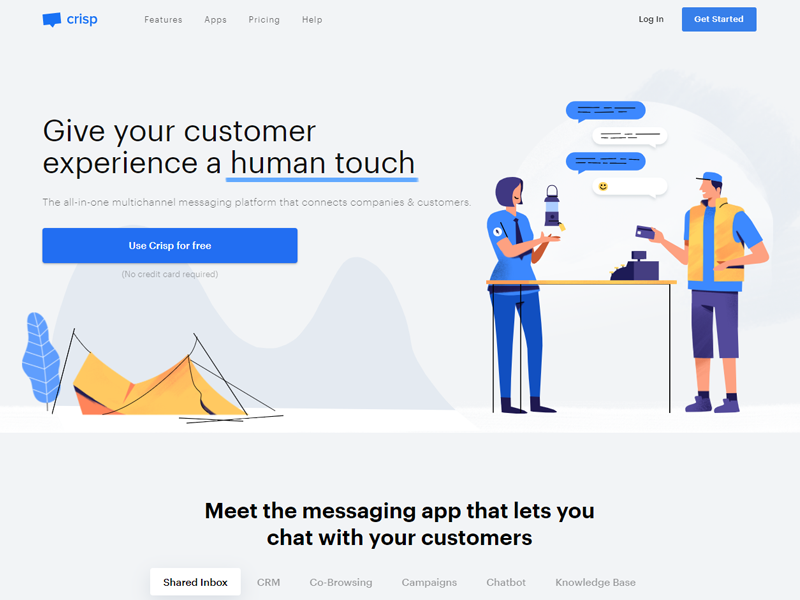 Features: Live chat, help desk, knowledge base, chatbot
Prices: from $25/mo, free plan available
Crips are more like Intercom is you ask me however;, it has some great features, and it is certainly not as expensive as other tools.
Another aspect that led me to put this tool on this list is the integration functionality of the knowledge base, live chat, and ticketing with each other.
The tool is also pretty dynamic and constantly adds new elements to its system while improving existing features.
Additionally, the pricing of this customer support software is also a point that needs to be addressed here. Firstly, they've got a free plan which is amazing.
Secondly, their subscription starts for only $25/mo, which is great considering the fact that we've got tools on this list that come with a price tag of over $400.
And thirdly, for the starting price, you get 4 agents/seats. However, the more intriguing features and functionalities are only open to you if you've got the $95/mo subscription plan.
However, in terms of performance, the tool is one digital force to be leveraged. Still, there are some individuals who have given some negative remarks on their sales and support team.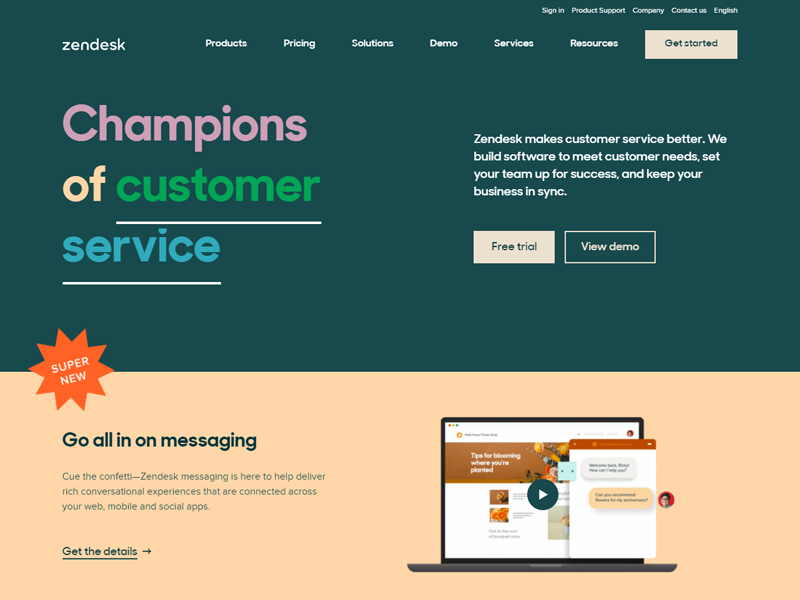 I'm pretty sure you've heard of this name before because Zendesk is kind of popular in the customer support services domain.
And today I'm going to tell you about their tool. Their tool offers a number of features, it is one of the oldest tools on this list, and over the years, they've improved their features stack.
Zendesk's customer support tool was initially launched as a simple ticketing system. However, the company later purchased a third-party live chat solution and integrated it into their tool.
The drawback of utilizing this tool is that their live chat feature may seem a bit outdated to some people considering the fact that it is pretty old.
But I assure you that the ticketing functionality is great. They really went all out when creating the best ticketing functionality, and I think you'll find Zendesk as the best solution for ticketing.
So, if ticketing is something important to you, this tool is hands-down the best tool in the market for that.
Lastly, the pricing of Zendesk is also on the lower side or flexible, to say the least. They've got an all-in-one plan and separate plans that you can leverage.
All you have to do is just select the features and pay only for the features that you're getting. You don't have to buy complete versions of the tools.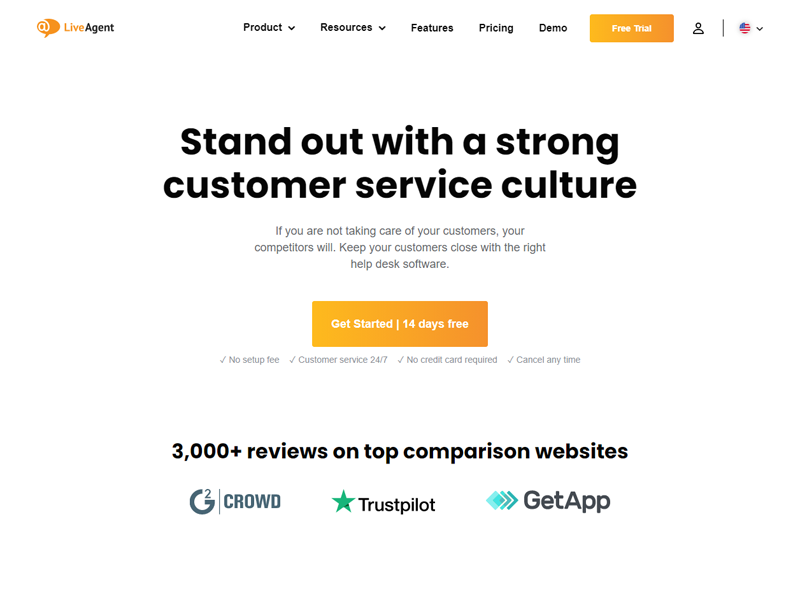 Features: Live chat, help desk, knowledge base, cloud call center
Price: from $15/mo
Looking for a more simplified version of Zendesk? Well, meet LiveAgent, your one-stop simplified version of Zendesk.
You can also call this tool an alternative to Zendesk.
Let's discuss the features now!
LiveAgent primarily focuses on ticketing features just like Zendesk, and although the live chat functionality is there, it is playing a secondary role.
This is the reason why their basic 'Ticket' sub-plan offers only a knowledge base and help desk channels.
You can get the basic version for $15/mo.
However, if you're planning on using the tool as an all-in-one solution, you'll have to pay $39/agent/month of additional features such as call center tools or live chat.
Live Agent comes also with dedicated software that can be used as help desk.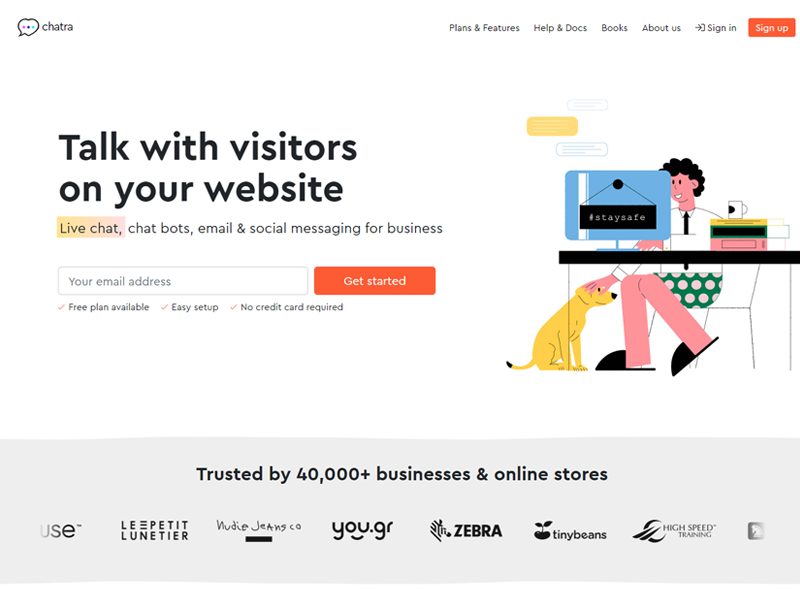 Features: live chat
Price: from $19/mo/agent, free plan available
Although this tool doesn't have something special, it still has got a spot on this list simply because of the word 'unlimited' attached to one of its offerings.
Chatra offers a free subscription plan that comes with one agent, unlimited chat, and even chat history.
That is some offer right there!
Additionally, the prices are pretty cost-effective. The starting plan is available for $19/mo that offers advanced features.
The extra features include chat messages, group chats, several support agents, customer data (detailed), and more operating hours.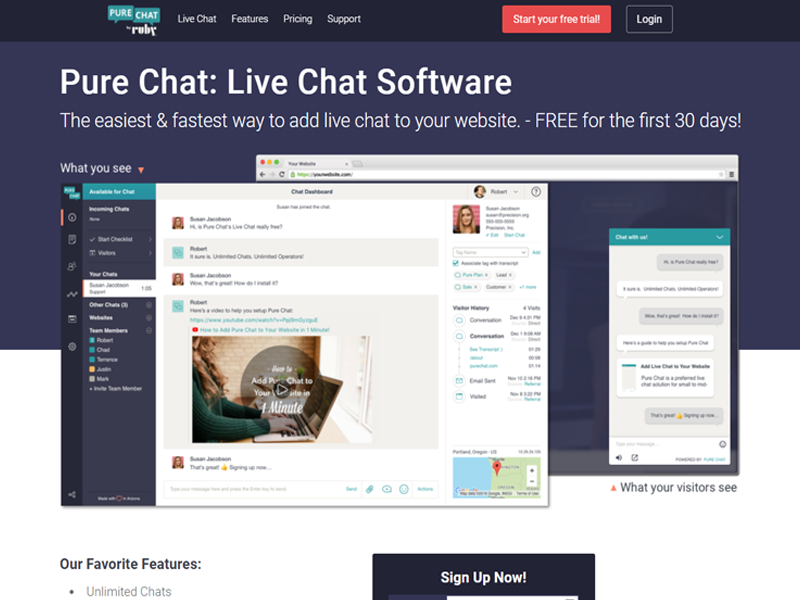 Features: live chat
Price: from $49/mo/agent, free plan available
Pure chat is yet another customer support tool that gives you a pretty impressive free plan. I said pretty impressively because it has got some amazing features to offer.
With the free plan, you get 3 agent seats, unlimited chats, and customization features, and all of this for free.
This aspect made up my mind to include this software on this list as it offers several features for free to the users.
Additionally, $49/mo; however, you're getting 4 agent seats, visitor tracking, and even chat branding features.
Another interesting feature of this tool is that if you want to get SMS notification about your new chats, Pure Chat offers a plan for $39 in which your get 100 messages sent to your phone#.
Plus, you get 1000 for $79.
Still, however, I think the message sending feature is useless because come on – it's the digital world – everyone has got mobile apps and 4g these days!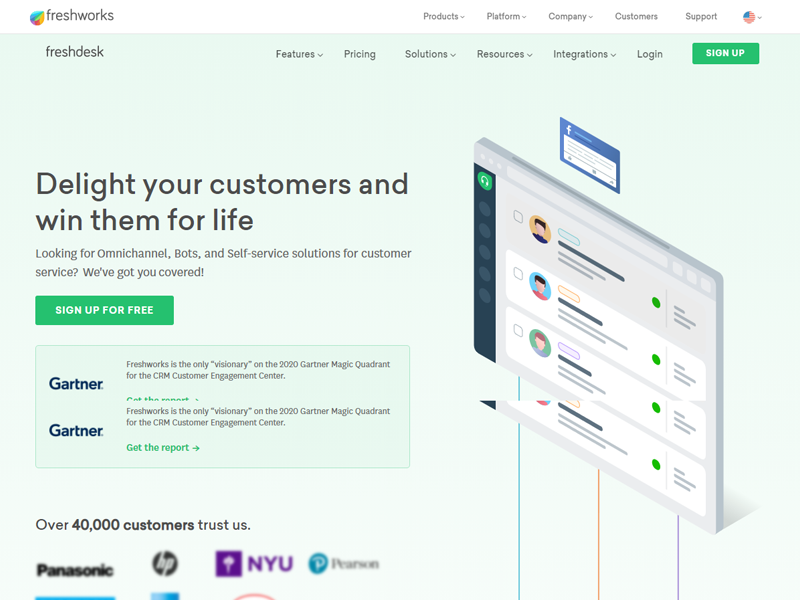 Features: help desk, knowledge base
Price: from $19/mo/agent, free plan available
We're down to the last 3, and #13 on this list is FreshDesk.
The interesting part? Well, it's not your conventional help desk tool.
The developers of this software knew that the digital world will evolve in the coming years. Hence, they never stopped with a single feature.
FreshDesk was integrated with modern customer service channel features to help it stay on par with the ever-increasing demands of the users.
Additionally, the company sells the features separately.
This means that you can buy FreshDesk for chat, call center software, CRM, and of course, Help desk.
So, let's talk about the pricing and other details now.
FreshDesk provides you ticketing and knowledge base customer support system for $19/mo/agent.
Although you get other subscription plans that have different features such as ticketing and security features or knowledge base localization, custom roles, or HIPAA compliance.
Oh, and you also get a free subscription plan so, here's another advantage.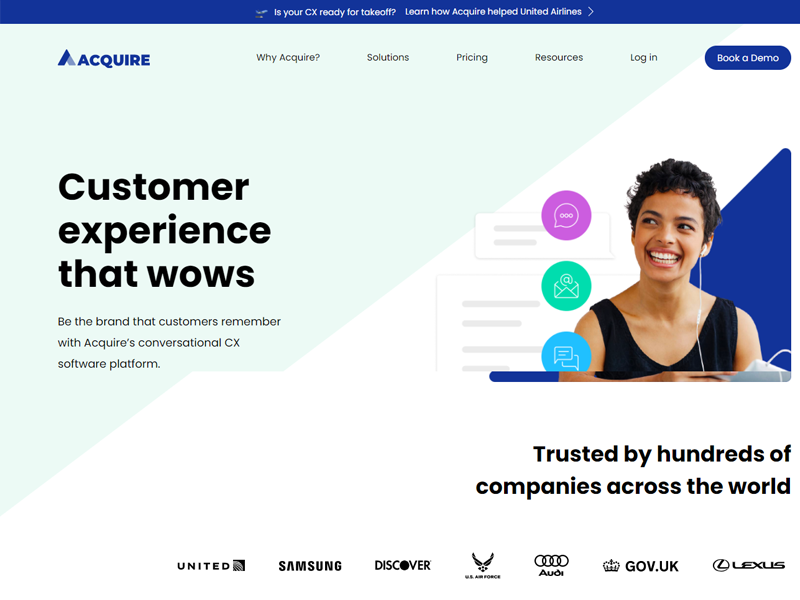 Features: Live chat, video and audio calls, knowledge base, chatbot
Price: from $300/mo
This specific tool's innovative feature is that it comes with a co-browsing tool that enables your agents to interact with the customer's screen in real-time.
Naturally, this accelerates your performance drastically!
Other feature of this tools includes live chat, video, audio calls, SMS and more. However, the prices are a bit high.
You get the basic plan for $300/mo and go as far as $950/mo.
You can also add knowledge base, and also, the prices mentioned above are only for annual users. For monthly, users the prices may be higher!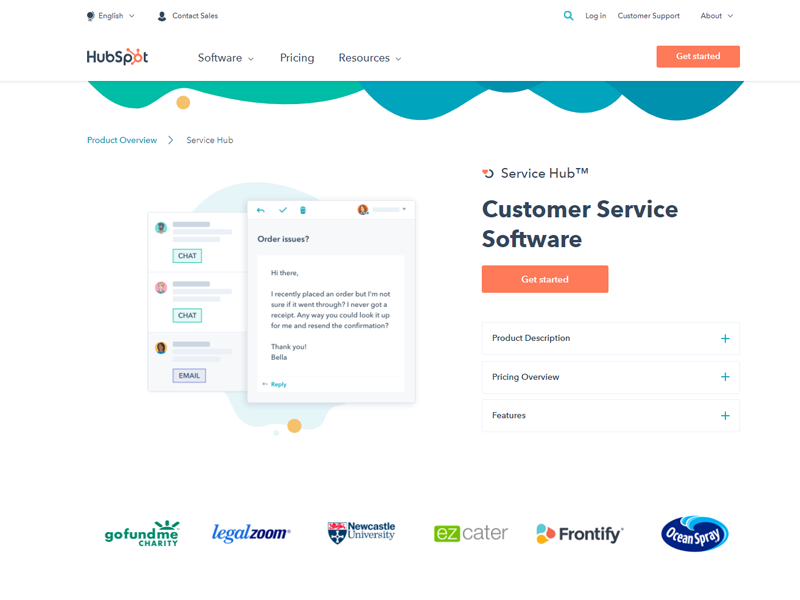 Features: Live Chat, Conversational bots
Price: $45/mo
HubSpot service hub is the last but certainly not the least as this tool is composed of some of the best features and functionalities.
Service hub brings all the customer service data and channels together in one place and displays them to you so that you can seamlessly make decisions, check progress, foster quick responses and do much more.
It also has automation and self-service features. The interface also supports collaboration features and identifies opportunities to increase customer experience.
Let's talk about the pricing now, shall we!
I've already told you about the starter plan; it's time to reveal other plans that Service hub offers.
Their professional plan can be bought for $800/mo and their enterprise-level solution for $3,200/mo.
What is Customer Service Software/Tool?
Perhaps the easier and most convenient way to describe customer support tools is by looking at the communication channels that they're capable of handling. So, essentially there are five popular customer support channels:
Social media

Live Chat
Call Center
Help Desk
Knowledge-Based
Let's evaluate the features that customer support tools provide concerning what they're covering as a customer support tool.
Complete Customer
These tools cover all the aspects mentioned above. They're designed to offer an omnichannel experience to their customers by integrating to several platforms and communication methods.
Whether it's a call, phone, email, chat, or anything else, a complete customer service tool manages and responds to all of them through its dashboard or single web page (If web-based).
Social Media
Tools of this niche as specially designed to help businesses and entrepreneurs to track their social media, see if there are any queries, and respond to them as soon as possible.
These tools are generally found in the arsenal of marketers as they're more active on social media than anyone else.
However, since customer service, conversions and marketing fall into the part of communication, it can be difficult to detect differences between the tools.
Live Chat
This is probably the most talked-about tool nowadays, and as the name suggests, this tool is designed to help you engage your customer while they're on your website by instantly connecting with them via the live chat functionality.
However, when it comes to customer support or service, the live chat option plays an integral role in helping customers get connected to a brand.
All the customers have to is open the live chat window on your web page and start chatting with an agent.
Call Center
Call Center customer service tools allow you to manage all your calls and meet them effectively. The software is designed to keep all your important data in one place so that you can access them whenever you want.
Call center services are the best way to solve a customer's query. However, several companies usually fail to offer optimum level service.
Even you may have encountered difficulties while connecting to a brand via phone call. The point is that it is common!
Help Desk
This software is mainly linked to emails, however; this is not the case with every customer service tool out there
When handling all corporate emails becomes a hassle, you can use help desk customer service tools to manage and receive all your emails on a single dashboard through which you can respond to the emails.
You can also track emails, keep a record of them and monitor their status through this software.
Knowledge-Based
Knowledge-based customer service tools are, as the fancy name suggests, 'intelligent.' They are designed to deliver pre-made answers to the customers in case the staff is unavailable.
However, the intelligence of the response system is limited to a certain degree. Hence, they are not completely reliable.
With the types out of the way, let's start learning about the best customer support software available in the market today.
Conclusion
In conclusion, all I have to say is Phew! That was one long list, my friend!
But now that you know all about the most revolutionary and status quo challenging customer support software, you can select the best one out of them as per your requirements.
Furthermore, getting the feature of viewing all your messages, emails, and more on a single dashboard is extremely time-saving and enables you to send quick responses to customers.
However, make sure that you've gone through all the details mentioned in the blog so that you can ensure the best solution for your brand. After all, you're getting this for your customers. Therefore, it should be the best of the best.