Starting a venture often seems an overwhelming task, especially when we talk about an area as intricate as web design. But what if you could learn how to start a web design business with no experience?
It sounds improbable, perhaps even "very unlikely," but with the right approach, tools, and dedication, this dream can become a reality.
This guide is crafted for ambitious minds yearning to take that first step into the digital domain of web designing without the barrier of prior experience.
Get ready to dive into the world of web design.
What a Web Design Business Does
Web design is not just about creating aesthetically pleasing websites; it encompasses a wide range of services such as layout design, content development, graphic design, and user experience optimization.
The role of a web design business is to combine these elements seamlessly, to present a website that not only looks appealing but functions smoothly.
It's the art and science of making the virtual space user-friendly and engaging.
How to Build Websites with No Experience
Building a web design business today is easier than ever, thanks to the simplification provided by WordPress Themes, Plugins, Website Builders, and AI.
You might wonder, "What role does AI play here?"
Below, you'll understand the importance of AI and how it has made creating a web design company in today's world not only possible but straightforward, even without prior hiring.
In this guide, we're looking at the case of someone with no knowledge of WordPress or website building.
The time to learn the entire process and start creating a website is incredibly short.
This is a result of WordPress and WordPress Themes, which today offer ready-made web designs for all categories. So for any website you will find a theme that is similar on what your client will is requesting.
After finding the right theme show to your clients and if they approve you can start build their website.
The first thing to do is to learn with our full guide: How to build a Website with WordPress. You will learn on step by step without having coding skills.
You expand your knowledge by follow this WordPress courses.
All you need to do is purchase a theme, install it, and then start populating it with data according to the client's needs.
I will recommend your multipurpose themes like Specular which let you create unlimited websites due to its 30+ demos.
Also you will get full 6 months support from our team and extensive documentation with video.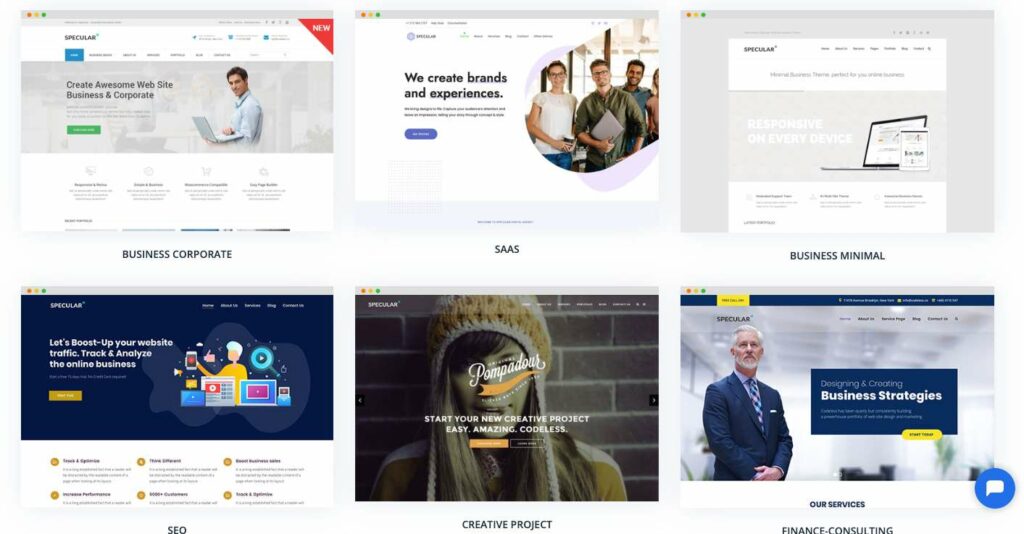 To make things easier keep in mind that the themes that you will purchase should work with Elementor, WpBakery or Gutenberg FSE. This is important if you are a beginner. You can install those themes in seconds and customize them with drag-drop features. Anyone can do that in a little time.
We know a lot of people who have started their businesses using our themes and creating real businesses. Most of them have generated $100K+ and have started before the AI was present. Now things are even easier.
The same principle applies to website builders, which offer drag-and-drop builders and endlessly customizable templates.
Some of these website builders include Wix, Squarespace, and my personal favorite for a web design business is Webflow.
Read More: Best No Code Website Builders.
The best part is that you don't need any specific coding skills in these process.
You might ask, "What about custom graphics since I lack the skill?" I have a straightforward answer for that too: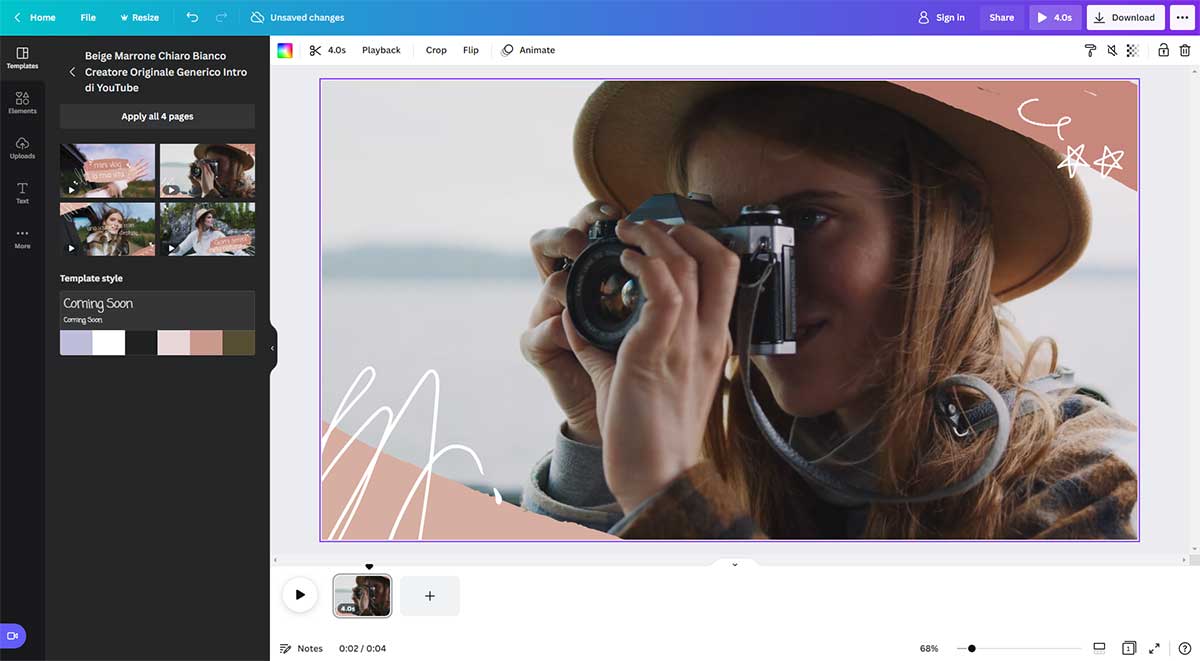 Canva, is an online software that offers ready-made graphics that can be modified and processed by anyone, even a beginner.
Adobe Photoshop (AdobeFirefly), which has recently added AI to its software, allows you to create any design with simple commands.
Another incredible option is Midjourney, which creates stunning images and graphics through AI with just a few commands.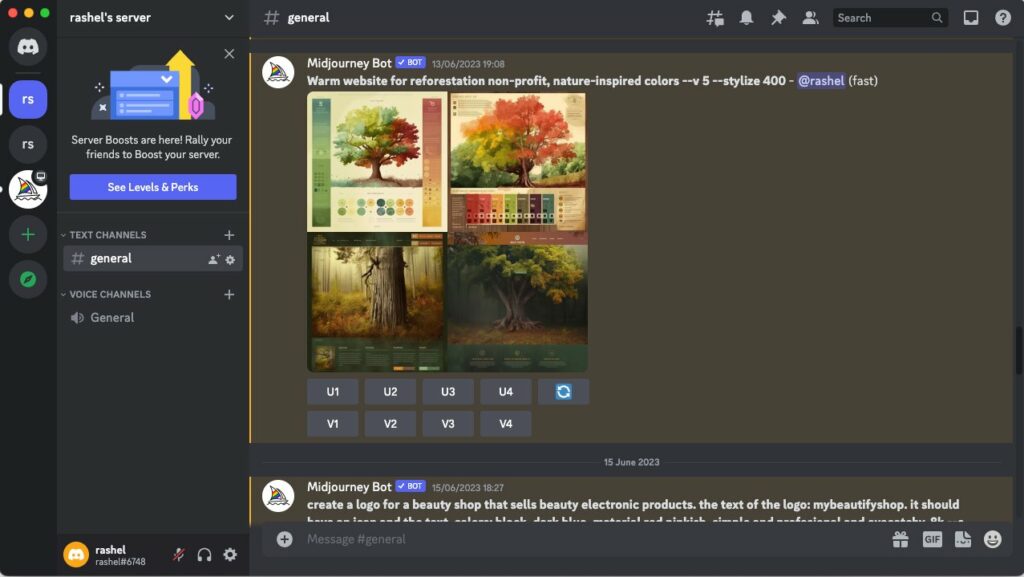 I have also written an article where on how to design websites with Midjourney. Also other AI UI websites can be found here: 5 Best AI UI Design Tools for Building Websites & Apps
Another question arises: "What about content writing?"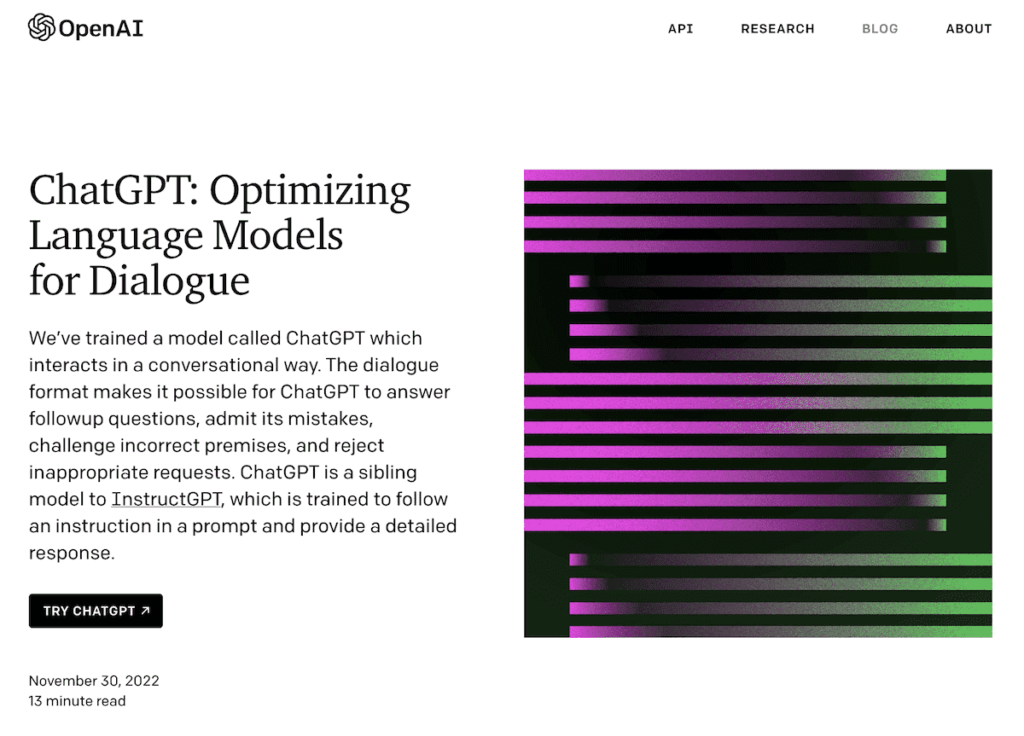 The answer is ChatGPT, which can generate copyrighted content for your client's websites in seconds. If you need photographs, you can also use Unsplash, where you can find them for free.
So, what's left? Just find clients that will jump us to our next section.
Keep in mind that a website can cost from $1,000 to $15,000, making this a highly profitable business.
Building a web design company has never been more accessible, even for those starting from scratch.
The tools and technologies at our fingertips today make it possible to create professional, customized sites without the need for extensive skills or investment.
It's an opportunity that's well within reach for anyone willing to learn and leverage these resources.
How to Find Clients
Finding clients when starting from scratch can be daunting. However, with a strategic approach, you can make it work:
Networking: Attend industry events, meet professionals, and get the word out.
Social Media Marketing: Utilize platforms like LinkedIn to connect with potential clients.
Freelance Platforms: Websites like Upwork and Freelancer can be an excellent starting point.
Networking is a pivotal aspect of building any business, including a web design venture. It's an invaluable method, particularly for those pondering how to create a web design business with no experience. Here's how you can tap into the power of networking to find clients:
Networking
1. Identify Your Target Audience:
First, you must know who you are targeting. Are you aiming for small businesses, bloggers, nonprofits, or large corporations? Understanding your target audience helps you identify the right networking events and groups to join.
I recommend you to start with small business first and after move to large corporations.
2. Join Industry Events and Conferences:
Industry-specific events, meetups, and conferences are fertile grounds for connecting with potential clients. They provide opportunities to meet like-minded professionals, discuss your services, and showcase your portfolio. Even if you don't have experience, showing genuine interest and enthusiasm can go a long way.
3. Utilize Local Business Networking Groups:
Local business chambers, community groups, and networking meetups often hold regular gatherings. Joining these groups can help you make connections within your community. Don't hesitate to attend these meetings and introduce yourself and your budding business.
4. Build Genuine Relationships:
Networking isn't just about handing out business cards and waiting for calls. Focus on building genuine, lasting relationships. Engage in real conversations, ask questions, and show interest in others' work. These relationships can lead to collaborations, referrals, and eventually, clients.
Social Media Platforms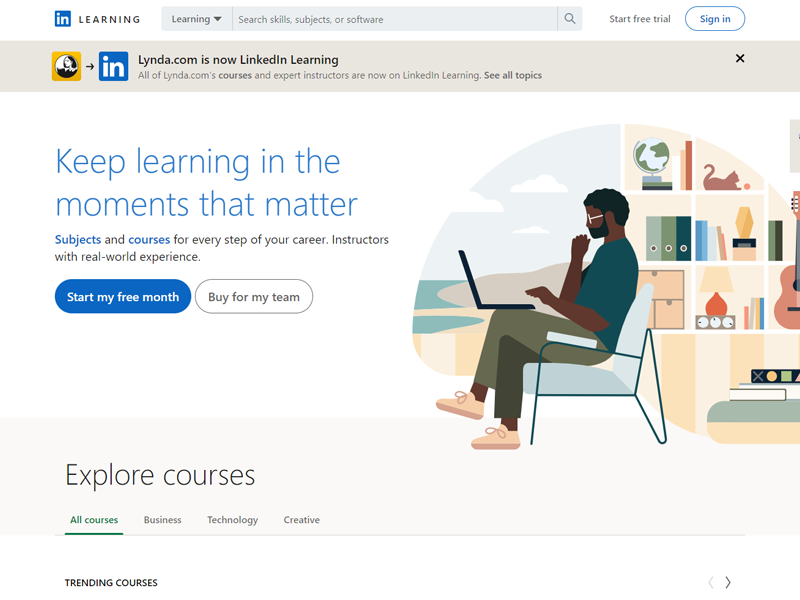 1. Identify the Right Platforms:
Different social media platforms attract different audiences. Determine where your potential clients spend their time. If you're targeting businesses, LinkedIn might be your best bet. For more visually oriented clients, platforms like Instagram could be more effective.
2. Create and Share Engaging Content:
Share valuable content that showcases your expertise in web design. This might include tips, tutorials, insights into industry trends, or even before-and-after shots of your website designs. Engaging content not only attracts followers but establishes your credibility.
3. Write Comments
Write comments on others related posts or tweets to your business. Business and people after looking to your comment can see your profile and decide to work with you.
4. Run Targeted Ads:
Platforms like Facebook and Instagram allow you to run targeted ads. You can pinpoint specific demographics, locations, or interests that align with your services. Even with a modest budget, targeted ads can reach potential clients who need your web design services.
5. Build Partnerships with Complementary Businesses:
Collaborate with non-competing businesses that complement your services, such as content writers or SEO experts. Joint promotions or shoutouts can expose your business to a new audience.
Freelance Platforms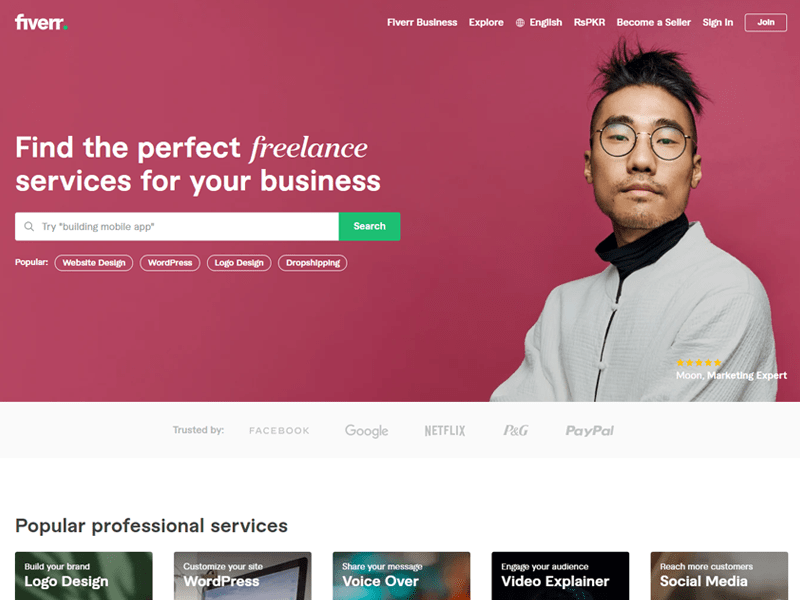 1. Choose the Right Platform:
Different freelance platforms cater to various audiences and industries. Platforms like Upwork and Fiverr are well-suited for web design, as they host a broad range of clients looking for these services. Research and select a platform that aligns with your target market.
2. Create a Compelling Profile:
Your profile is your first impression. Include a professional picture, a well-written summary highlighting your skills, and any relevant experience. Even if you don't have formal web design experience, include projects you've worked on personally or as part of a course.
3. Build a Strong Portfolio:
A portfolio showcases your ability to potential clients. If you don't have client work to display, create mockup designs or personal projects that highlight your skills. Use high-quality images and include a brief description of each piece.
4. Set Competitive Rates:
Pricing can be tricky when starting. Research the market rates for web design services on the platform and consider your skill level. Starting with slightly lower rates can attract initial clients, and you can adjust as you gain experience and reviews.
5. Write Personalized Proposals:
When applying for a project, avoid generic proposals. Take the time to understand the client's needs and write a personalized response. Explain how you can address their specific requirements and why you are the right fit for their project.
6. Communicate Effectively:
Clear communication is vital for success on freelance platforms. Respond promptly to client inquiries, ask clarifying questions, and keep clients informed about your progress. Professional and effective communication builds trust and encourages repeat business.
7. Deliver Quality Work:
Your reputation on freelance platforms hinges on the quality of your work. Meet deadlines, adhere to the project guidelines, and go above and beyond to exceed client expectations.
8. Request Reviews and Testimonials:
Reviews and testimonials play a vital role in attracting future clients. Encourage satisfied clients to leave positive feedback and consider showcasing standout testimonials in your portfolio.
Conclusion
I hope that this guide has inspired you, even if just a little, to start your web design business and begin creating your first website as soon as possible.
On our website, you will find endless tutorials that can help you build a website with WordPress, even for specific types of sites such as Portfolios, Business, etc. If you have any questions, don't hesitate to leave a comment, and please let us know if you are interested in a Full Course on this topic.
Your journey into web design could begin today, and we're here to support you every step of the way!

As one of the co-founders of Codeless, I bring to the table expertise in developing WordPress and web applications, as well as a track record of effectively managing hosting and servers. My passion for acquiring knowledge and my enthusiasm for constructing and testing novel technologies drive me to constantly innovate and improve.
Expertise:
Web Development,
Web Design,
Linux System Administration,
SEO
Experience:
15 years of experience in Web Development by developing and designing some of the most popular WordPress Themes like Specular, Tower, and Folie.
Education:
I have a degree in Engineering Physics and MSC in Material Science and Opto Electronics.