Rocket is a secure, fast, simple managed WordPress hosting built for WordPress websites of all sizes. It offers different hosting options for the users. For example, cloud hosting, and WordPress hosting. We monitored Rocket's start-up plans at cheap rates.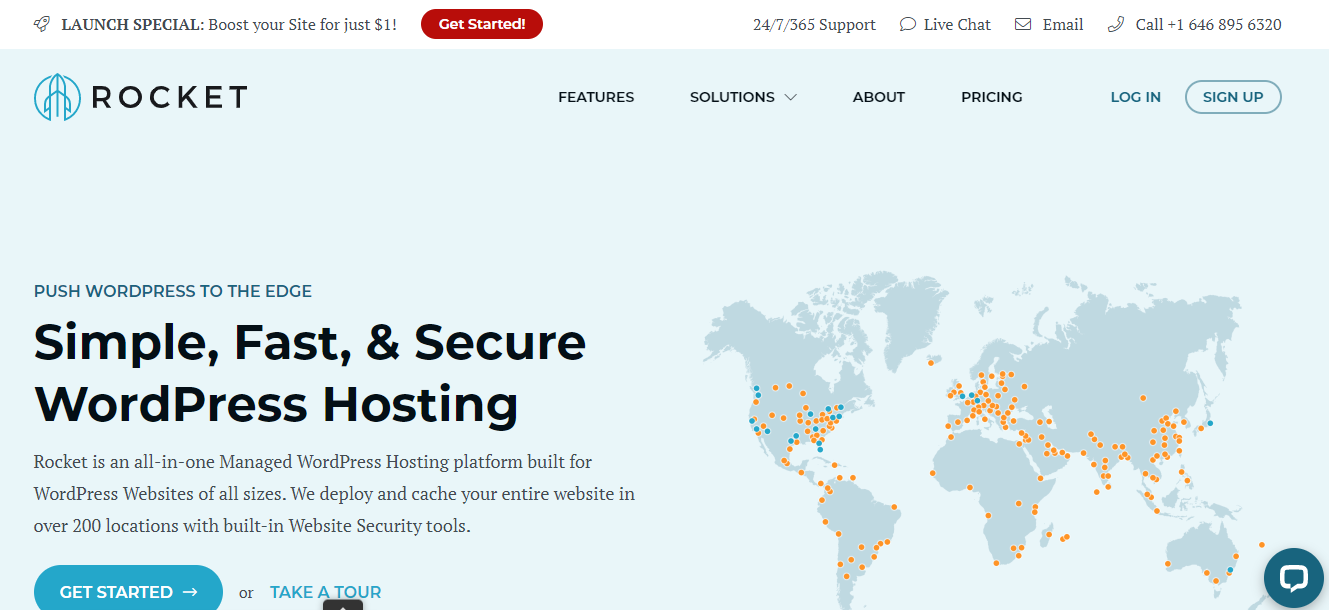 A shared hosting account is also set up as a live test site where we tracked their performance closely with a tool that provides an unbiased review.
Overall, Rocket has recently started getting reviews from its users and has proved to be an outstanding and one of the fastest WordPress hosting companies. All the plans are associated with email accounts, SSL certificated and CDN.
We have developed a breakdown of all the Pros and Cons in depth.
General Info and Hosting Overview
| | |
| --- | --- |
| Our verdict | Good customer support and reliable hosting service |
| Uptime | 99.99% |
| Support | 24/7 live chat |
| Apps | Over 500 |
| Features | Mission control, rocket speed algorithm, website security suite |
| Hosting plans | WordPress, cloud, single interface, CDN, emails support, Free SSL, and WAF |
| Site transfer | free |
| Pricing | Starting at $25/mo (renewal $30/mo, billed annually) |
Pros of using Rocket Hosting
The uptime of Rocket is 99% with a fast speed and lots of additional features which provide a best solution for beginners as well as power users.
99.99% uptime in last 2 months
The entire hosting review is based on the last 2 months review and actual statistics of the raw data available on the Rocket
The uptime performance of Rocket is perfect. This average of 99.99% ranks them among one of the most reliable hosts on the internet.
In such a way, the visitors remain happy. However, what matters the most is the most guaranteed working of the website around the clock. Thus, you will never miss out the ping your customers do when they want to make a purchase.
The third party tracking tool for the reviews give 99.99% rating of the uptime.
Good Load time
Speed of the site is the second most crucial aspect when you choose a host.
Research Google, if you are a beginner. It shows that more than 50% of the people leave hosts if the loading time is more than 3 seconds. Moreover, a slow host can't be fixed. You can compress your images to reduce the overall weight and load them with CDN so that most of the pressure is reduced from the server. However, a slow host can never be fixed anyway.
With Rocket, you don't have to worry about this. They good loading time may not be the fastest among all the hosts but it places Rocket above to compete the best ones.
Average load time is observed to be 99.99% in the August 2020.
Overall, the speed of Rocket is quite fast.
24/7 Customer support
The monitored grounds of Rocket for two months have showed that there has been no big issue. However, their support also ensured in time service. They also provide customers with knowledge based quick answers. You can also call them over a phone and use their live chat service 24/7.
For a test, we went for the live chat and we were immediately connected to the support person in seconds.
The answers were quick. It means that the person speaking on the phone knew exactly what he was saying. He was sure about the answers and wasn't looking for them every time we asked a new question.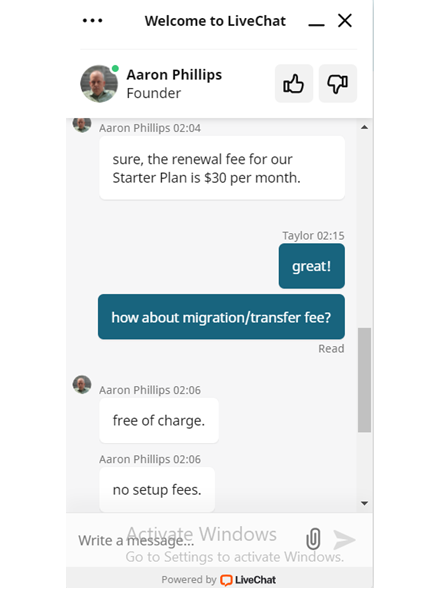 Overall, good experience.
Free migration for website
Whenever it comes to web hosts with DIY migration, we become a bit concerned. It is because most of them are not satisfying rather they put more pressure on the customer.
Rocket may give you an exception though. It is because they offer you free plugin of migration through WordPress which you can use to upload on other sites.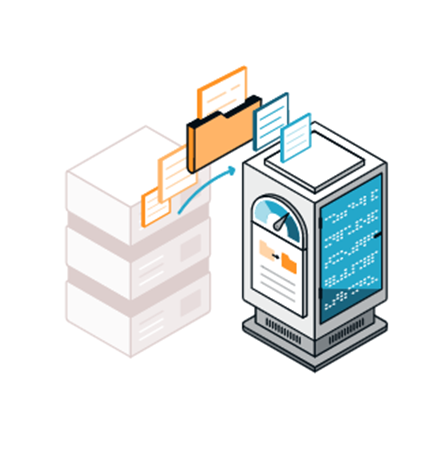 Also, the pathways they offer are not boring or long either. Simply, you need to create a token form the hosting account in Rocket and the migration plugin will automatically lead you with your data.
However, a little work is always needed. Also, you can freely migrate multiple websites using this option. On the other hand, some hosts claim that they offer "free migrations" but force you to pay after a certain point, Rocket doesn't.
If your limit exceeds their offered plan, they may charge a nominal fee of $30 for each site additionally.
Free CDN and SSL certificate
Google chrome is warning people of charge if the website does not have SSL certificate available.
This is because SSL certificate assists you protecting all the information that is moved back and forth among the websites and the users' devices.
It also include credit card information, IP and other personal information. If such information is left unattended or unsecured, it will be easy for hackers to raid and intercept. Thus, the best interests if users are offered by Chrome.
In addition to this, it makes the SSL certificate requirement mandatory for all the websites on the internet. And fortunately, Rocket offers there free of cost for all plans.
Another important aspect is the free Cloudfare content delivery network (CDN). It stores big files such as servers or images in different part of the world. It also makes sure that the files are stored closer to the site visitors and provide easy and fast access to them.

Rocket has multiple servers at multiple parts of the world that keep the loading fast. It also provides good customer experience.
Beginner to advanced features
Rocket offers something for everyone.
Bloggers as well as beginners are able to install website builders with Rocket. Such as Weebly. That too in a few clicks. Weebly comprises a drag and drop page building editor so that the feel and look of your site becomes under your control. Another good news is that you do not need any coding for this.
Rocket also builds great integrations with other page builders like Drupal, Joomla and WordPress. You can quickly install all the apps. You don't need any developer for your help.
For bigger plans, you can have phpMyAdmin, SFTP, WP-CLI and SSH as well. They offer you multiple pHp versions. Likewise, multi-level caching is also possible. Furthermore, you can get an access to sites' staging environment to test or prep prior to adding up new features with production process.
Rocket uses proprietary and thus is more helpful in security. It uses proprietary which detects new attacks before they even hit. The reports show that over 2 million attempts are blocked every hour on their servers.
So, it is not that you are alone bearing the headache.
30-day money –back guarantee
Rocket offers a full money-back guarantee of 30-day usage on the plans of shared hosting. Similar to other hosts, the fees of domain names and other extras stuff is not refunded. The amount that is refunded is only applicable to prepayment of the annual plan. This refund policy is only valid on the new customers. That's why, there is no refund on renewal plans.
Cons of using onrocket.com hosting
Rocket is impressive as it provides flawless uptime and also guarantee free services for 30-day trials period. The speed is quite fast although not the fastest. In addition, Rocket offers you with several different apps so that both the advanced and beginner users are happy.
Nevertheless, there are several limitations to consider before you choose Rocket. That's why we bring here some of the big issues you may face during the experience.
Higher renewal charges
The cheapest starting plan, featuring as low as $25/month is still a high price as compared to bigger names of hosting out there. It is just an advertised and discounted price shown on their website. However, with such a fast speed and other perks it looks good. This is a common trick of all the good web hosts for their marketing. This is a way of catching your attention with low rate of introductory prices but doubling the amount at the time of renewal.
The renewal price in case of Rocket is not doubled, though but it is quite high, i.e. $30/month. The solution that I would suggest is lock it for a longest term so that you can take advantage of the lower rates for a long time.
Cheap plans are limited
The pricing offered by Rocket for their lowest cost plan are comparable to other web hosts in the market. So it feels like a good deal when we first look at it. But, the features it offers are not well-defined. But at free trial, you are still paying $1 for the first month which is non-refundable at all scenarios. Also, you get only 10 GB web space and handle 25,000 monthly visits. The bandwidth is also limited to 50GB for the lowest plan. Thus, performance will suffer if your limit goes near to these digits.
That means it will be suitable for small sites only who do not reach these thresholds in a long time. However, as your site grows bigger, you will have to pay more and upgrade to get more resources.
Paid domain
The "freebies" are not Rocket's thing to attract customers.
It may be additional services or introductory rates like migration or emails. A free domain name is sometimes given by all web hosts.
Unfortunately, Rocket does not offer you that. If you already have a domain name, they will charge you from the first day.
24/7 service is not a claim
Previously, we mentioned that they are quick to respond, but did I mention they will serve you 24/7?
Their agents are not available sometimes and ask you to leave a message to receive a reply some other time of the day.
It may sometimes cause obstacle in your quick tasks and setup.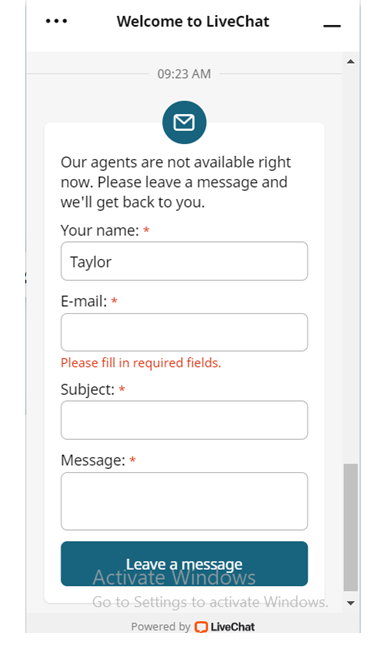 Rocket quick facts, hosting plans and pricing
Rocket has four hosting tier plans, their highlights with costs are given below: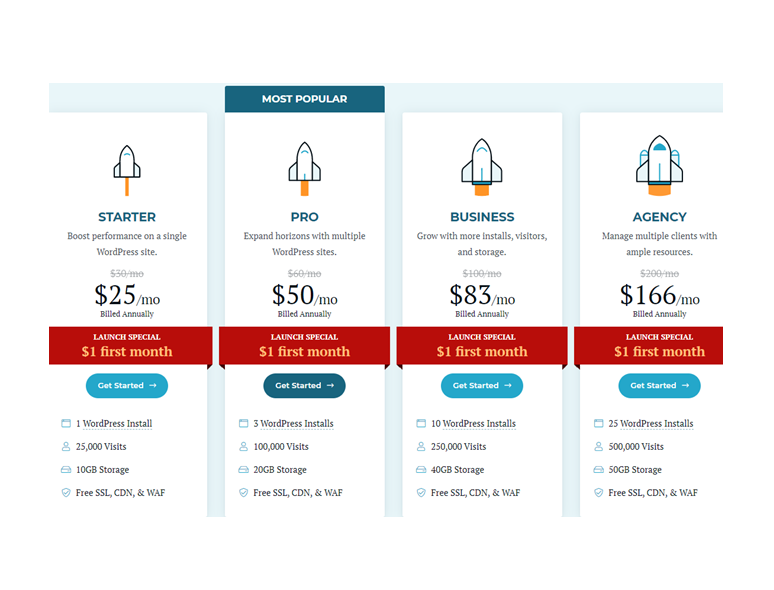 The starter plan offers performance boost on only one WordPress site. The discounted price for the hosting is $25/month. You have to pay $1 for the first month. It gives 25,000 visits and 10GB storage with one install. Hwever, free SSL, CDN and WAF are offered.
Pro plan offers your expansion to horizons with multiple WordPress sites. The discounted price is $50.month which is billed annually. The special launch offer gives you free trial yet you have to pay $1 in the first month. With this plan, you will get 3 installs and 100,000 visits. A web space of 20GB storage and free SSL, CDN and WAF are provided in this package.
Business plan increases the installs, storage and visitors. It costs $83/month and $1 for the first month. You get 10 WordPress install and 250,000 visits. A web space of 40GB with free CDN, SSL and WAF are given.
Agency plan lets you manage client with sufficient resources. It costs $166 per month which is billed annually. It gives you 25 WordPress installs with 500,000 visits and 50GB storage. Free SSL, CDN and WAF are also available in this package.
All the hosting plans come with free email accounts, free CDN but limited bandwidth.
Easy signup: One-page signup and very easy.
Payment methods: you can get more methods in chats but the signup page asks for the credit card only.
Hidden clauses and fees: the lowest starter fee is $25 in case of monthly. Renewal rates are also high. and the domain name is also not free.
Upsells: very few, but good
Account activation: quick
Installation of CMSs and APPs (WordPRess, Joomla etc): easy and quick installation of popular apps
Do we recommend Rocket?
Yes, we do.
Rocket has provided a good uptime for a few months. Their guaranteed uptime ensures that you will never have any issue with the downtime.
The speed is very good, too. Thanks to the well spread servers throughout the world with free Couldflare CDN account. The free SSL on all plans is also an element of us saying yes to it. Pricing is a bit higher as compared to renowned hosts. But if you want to take advantage of longest term, they'll suit you. The renewal rates in comparison are fine too.

Ludjon, who co-founded Codeless, possesses a deep passion for technology and the web. With over a decade of experience in constructing websites and developing widely-used WordPress themes, Ludjon has established himself as an accomplished expert in the field.