Either you are new to 3D printing or have tons of printed hundreds of elements, Thingiverse is the most popular website to find 3D, open-sourced and free printings. Yet, considering a single source of information is not the key. It can rather be risky. Therefore, we have collected a few Thingiverse alternatives in this post to inspire your sprint of 3D printing.
Not everyone is a pro in creating 3D models using 3D printing software or has time to sit back and polish the skills of creating 3D drafts.
Moreover, imagine the fun of 3D printing with 3D printers!
We are going to explore the top 10 alternatives of Thingiverse that you may opt for your next project to get 3D prints.
Before indulging in the new alternatives, let's know what Thingiverse is and why we have to use Thingiverse.
What is Thingiverse?
Thingiverse deals with the community submitted and open-source projects. It is owned by Makerbot. The projects are mostly based on 3D printing but it also includes craft and woodworking projects.
This software works with the objective of creating 3D models, allowing the community to submit their projects and remix and alter the design. This is further helpful in creating a 3D network of printing enthusiasts.
Thingiverse contains a repository of files that are reusable for similar or the same projects. It provides free 3D printing designs where drawing and designs are licensed by creative commons license. Also, they are all printable. It makes it possible for everyone to access all these 3D printable designs and use them for their printing.
Most users donate their self-made printings that are easily downloadable. You can also give tips, and comments and like the provider. However, depending on a single source for an entire project is precarious. This is why we had to create this list of best Thingiverse alternatives.
Why is Thingiverse important?
This is important to know because as we look for an alternative to Thingiverse, we need to consider a few key points. Such as:
Focus on 3D printing
Among hundreds of 3D model repositories, only a few dozen are geared solely to 3D printing. This post is all about those that fulfill the enthusiasts' requirements of 3D printing.
User experience
Software contains thousands of designs categorized in subcategories with a sorting option in your search. They also integrate community features such as collections, favorites, remixes and makes. These alternatives give the same great experience so you can enjoy browsing in the same way.
Cost
Thingiverse offers all the designs for free. So a good alternative should also host a large number of models for free.
Here are our hand-picked options for you to use as an alternative to Thingiverse.
The 9 Best Thingverse Alternatives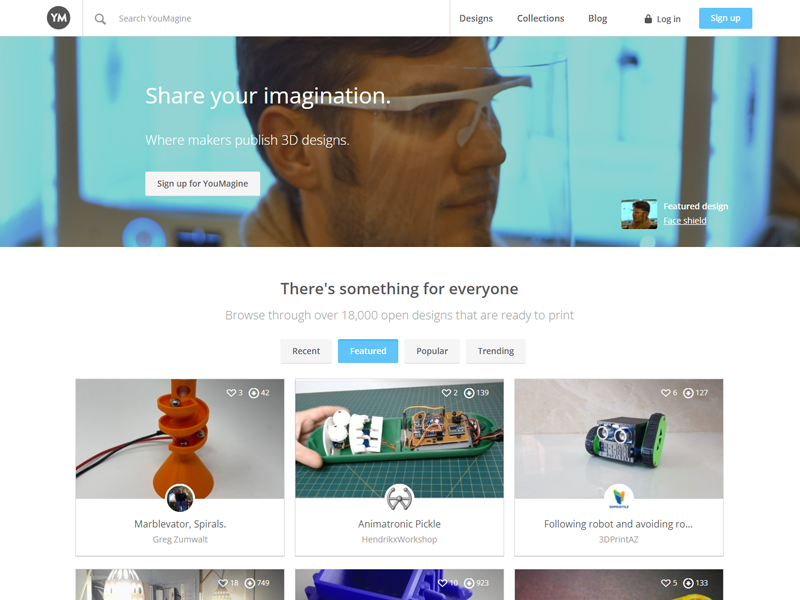 YouMagine can be the best Thingiverse alternative because it looks so much like Thingiverse. It is run by Ultimaker and navigates around their website also feels familiar so it becomes easier to use.
Besides having a well-designed website, they have filter and search functions as well. The model selection in YouMagine is also much smaller as compared to the big sites. Also, the designs offered by YouMagine are of high quality so they deserve kudos on good quality control.
The reason why you should choose YouMagine over Thingiverse is that all the designs it offers are free. You do not have to be disappointed in finding a suitable model of your choice and later finding that you have to pay a fee to download it.
Despite the high-quality designs, YouMagine does not have many active community activities. This is also because they have no forum. Thus, there is no convenient way of communication among the visitors.
Moreover, the visitors only occasionally leave any comment on the designs. These comments are a great source of inspiration and review from others' experiences.
3D printing is known to be a field that works on shared learning and collaboration. Therefore, lack of community features may be a major cause of less attention towards YouMagine.
Cost: 100% free
Features:
Typical features in the repository
Supported API
community collaboration
browser-based previews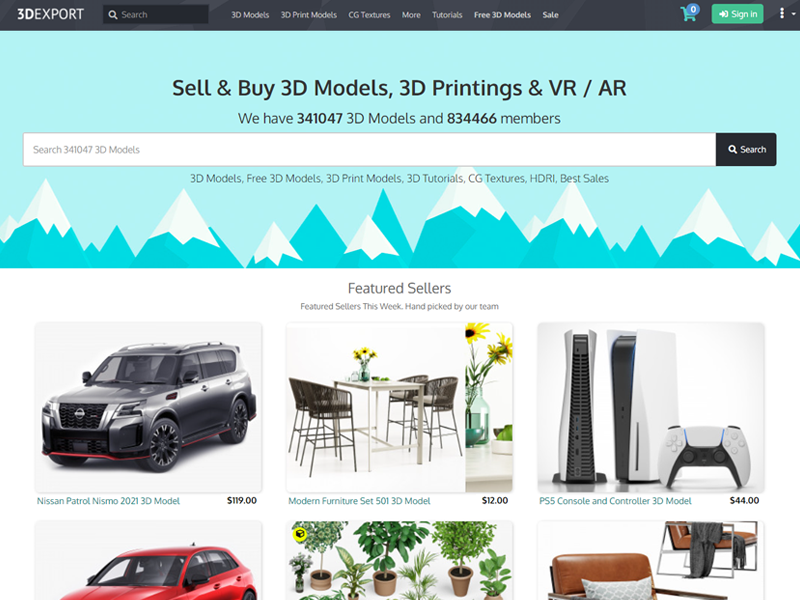 3DExport is another best alternative of Thingiverse which is also an excellent competitor of other options in our list. It contains a massive collection of 3D designs which are more than 200000. It is predominantly based on educational designs such as related to the automotive industry, engineering, astronomy, mathematics and physics.
There are options of paid as well as free designs. However, the prices are solely set by the designers. 3DExport allows designers to take 85% of the price share and the rest is paid for the website maintenance.
3DExport lets the users get their desired model designed by the designers if the users do not find what they want. The guide and tutorial features in 3DExport make it unique as compared to its competitors. This is an exclusive feature in 3DExport that is most useful for learners and students.
The tutorial proceeds in a detailed and stepwise guide to help you make a printing design. Also, you can access these tutorials anytime and every time you want, without any restrictions.
Cost:
Both paid and free models are available. The free version is highly limited. They offer a full refund within 24-hours of purchase. The minimum cost of a model or design is $1 that extends to over $100 or more depending upon the type of design.
Features:
Specific categories and subcategories of models
Few filters to narrow down your results
On request file conversions
Specific video tutorials are available
Customized models can be ordered from designers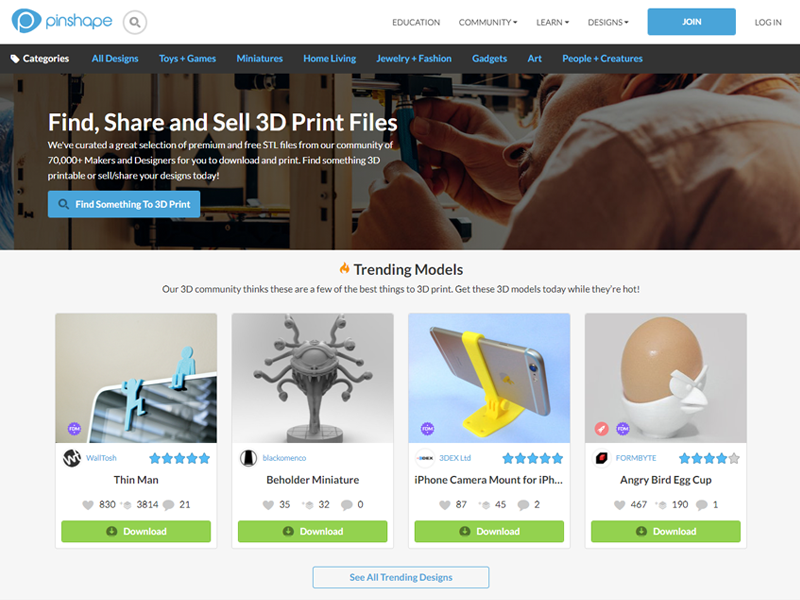 Unlike Thingiverse hosted by Makerbot, Pinshape is not run by any brand of 3D printer. It gives the Pinshape users more freedom of sharing experiences and information. Moreover, it is more recommended to 3D printers by multiple brands.
The community feature of Pinshape has a lot to discover and desire. Also, the community page has several threads that let users participate. However, it does not let the users make separate groups according to their interests.
It offers very high-quality models and it demonstrates that the site implements quality control measures. It also takes all the measures to make sure that the model's users download is well-equipped with the printer settings and technical details. It makes the model printing process successful and easy.
It offers two file formats; OBJ and STL. However, it should not be regarded as a limitation because most users work with these two formats only.
Another exceptional feature of Pinshape is the streaming service with which you can select and send a design directly to your printer. In this way, you can get quick prints instead of looking for another software platform to get them printed.
The streaming service gives it a competitive advantage especially for designers who prefer not to give an independent copy of their design to their users.
Costs:
Pinshape also offers both paid and free designs for download.
Features:
Easily filterable designs
Good filters
No subcategories for models
Great educational section
Worth checking for beginners
Updated designs and models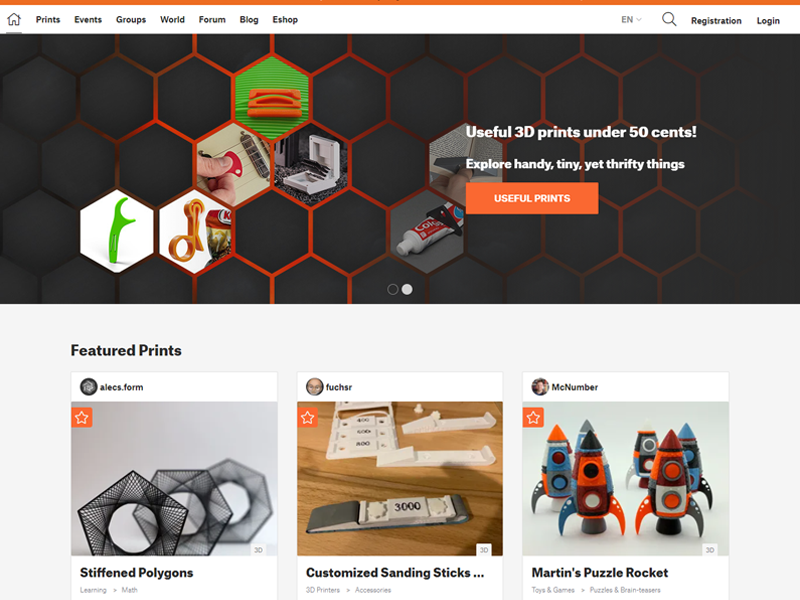 Prusa printers is an entirely free platform for 3D printing. It is beyond the 3D printing platform. This is because they are not limited to 3D models only. They have an advanced level of filtering which is absent in any other option in this list.
Prusa Printing filters and categories the designs in their printer model, printing time, filament quantity, and the type of nozzle used in a printer. These categories help you filter the exact design you need. It saves a lot of time as you don't have to look around and search for the desired design.
Moreover, there are options to offer a guide, share knowledge, comments and help the community through their forum. The community section makes it unique and gives it a great boost to be used as a Thingiverse alternative.
The repository of Prusa Printers contains over 40,000 designs with detailed filters and specific filters. You can get quick prints with the pre-sliced models of G-code files.
Cost:
It is 100% free.
Features:
Lots of filters
Good categorisation to narrow down results
Typical community features
Active forum
Contests with substantial themes prizes
Pre-sliced files to download G-code
Groups to follow communities or topics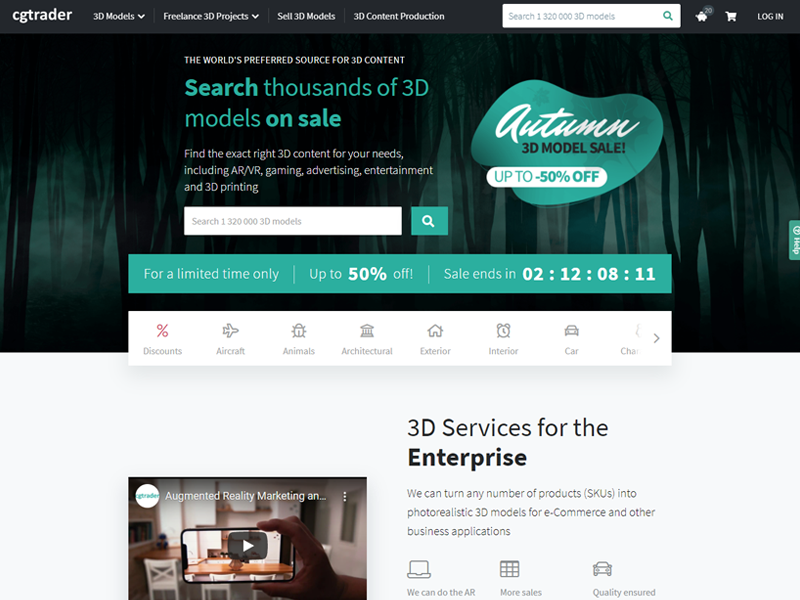 CGTrader is another 3D design marketing platform that makes you manage your expectations with it. It was principally made to assist designers to sell their models. Moreover, it also acts as a job marketplace that lets freelance designers interact with their potential clients who want a custom 3D design made.
If you want a free design or one that costs you less, then you need to find another platform. CDTrader is not suitable for those who want a free or low-cost design. It is rather a more professional designing platform.
In addition, its interface projects a high level of elegance and class. However, it has a more polished and smooth interface. Besides, the filter and search system offers several qualifiers.
Cost:
The models cost at least $50. However, free and paid designs are available and filterable.
Features:
1.2 million designs
Easy filter to sort paid and free models
A lot of subcategories
Good community forum and tutorials
Freelance 3D project section
Commission and hire me button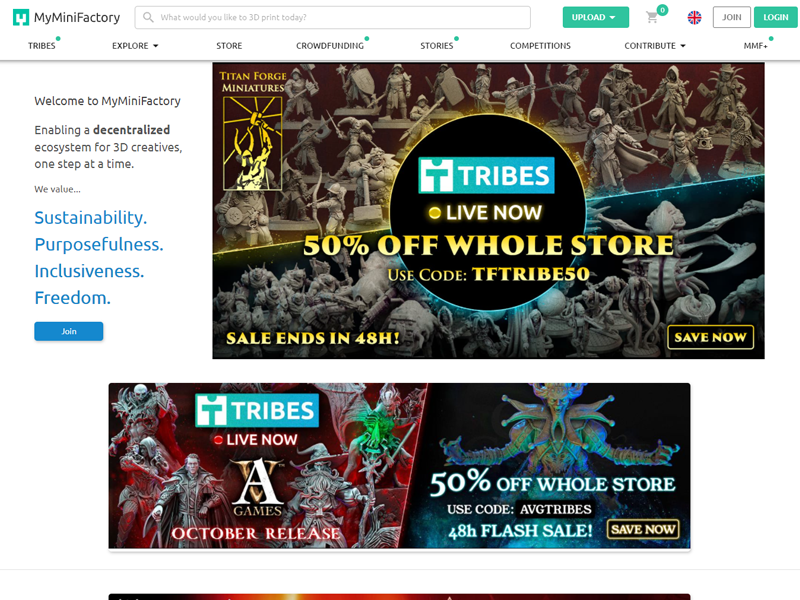 Next to Thingiverse is MyMiniFactory if you are interested in a community is driven 3D printing software. They have a large repository of models that are all free to use and download. If you want a free design and encounter the one that asks you to pay, the price will only be very justifiable or low.
All the designs in MyMiniFactory are submitted after a long process of quality control to ensure that they are free of any error. It further ensures that there will be no issue in the 3D printing process.
It may be highly frustrating for the designers and creators as the quality assurance takes time before the designs get published. Meanwhile, they ensure high quality on the site. Other options may largely lack this feature.
Each design in MyMiniFactory has comments from the image contributions and users. Yet, the designs may lack recommended settings for printers. They do not even have basic settings such as resolution or infill percentage. It may be highly infuriating, particularly for the users who have less time or filament than required.
Nevertheless, MyMiniFactory has a great community sense. It is one of the most welcoming sites for 3D printing in the whole world. The community at MyMiniFactory is extremely friendly for beginners and the most experienced community members are helpful too.
They also encourage creators to share their designs as the site receives high traffic through this.
Cost:
Both paid and free designs are available. The premium membership also gives significant discounts. But provides neat extras like slicer-free printing.
Features
Partnered competitors
Large table-top community with Kickstarter-Esque campaigns
Crowdfunding supported
Ideas section for community concept validation
100% community-verified files
Separated browsing options for paid and free categories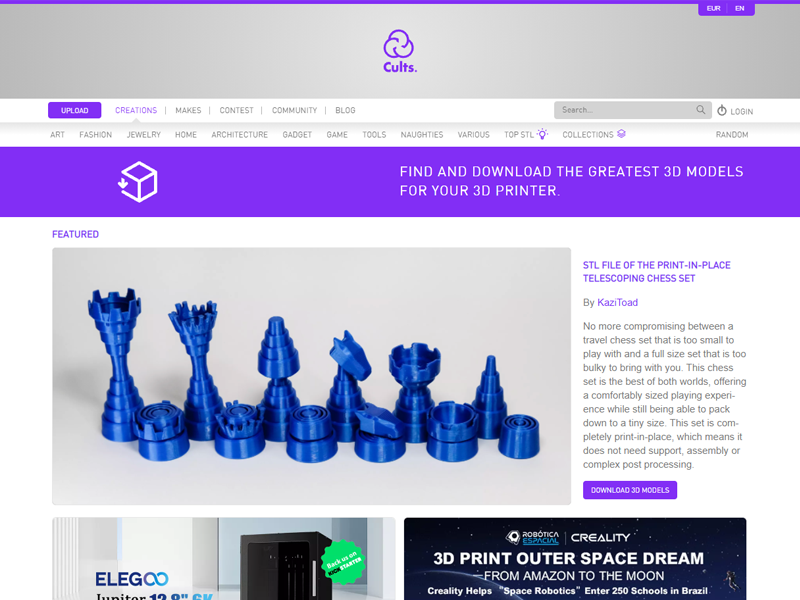 Unlike its name, Cult is a prominent and great alternative to Thingiverse. Cults is the first independent marketplace of 3D files. This means that you can find both premium and free printing files. You can either get them directly use or download your desired designs.
Currently, Cults has more than 85,000 3D printing designs. Besides, more than 8,000 designers are working with Cults. All of the designers are specialized in 3D printing designing. It is also a huge channel of more than 800,000 3D fanatics of printing.
In addition to offering printing designs, Cults also offers a wide range of printing accessories. These accessories include pliers, digital caliper, masking tape and filament, etc.
The digital library of Cults has a huge repository of open-source, paid as well as free designs. There is also a discount campaign that includes both printer accessories and 3D designs that you can even get free of cost in some cases. The users can also get on-demand customized models.
You can also interact on the social networking forum of Cults. The social networking features help to create strong and helpful communities.
If you want to connect to a network that has many designs, members and history then you need to check Cults. To proceed with Cults, you are not required to learn 3D CAD modeling as well. Creators on Cults are either professional designers or makers or they have a mix of skills to help you get your desired designs.
Cost:
Both paid and free designs are available. However, there is no filter option to find the designs according to the category.
Features:
Enticing random button
Sponsored contests
A dedicated section for recent prints
Filters available for keyword search
No subcategories
Ten file categories
More than 344,000 designs
Special 3D Printing Repositories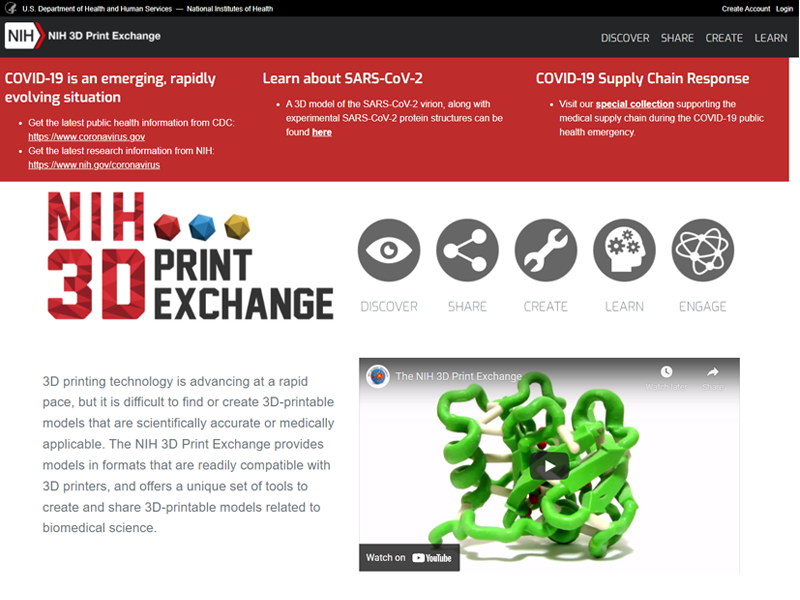 The NIH 3D Exchange offers models that are highly compatible with 3D printers. Besides, it offers a unique set of tools to share and create 3D printable models related to biomedical science.
It further fills the gap in medical research with an interactive, comprehensive and open website for sharing, downloading, browsing and searching websites. Here, one can interact in terms of biomedical 3D print files, educational material and modeling tutorials.
It is built with the specialty to create medically applicable and scientifically accurate 3D-printable models. Furthermore, it also ensures the availability of tools to share and create 3D printable molecular models with fused-filament and software fabricated printers.
It uses models and builds of 3D models that are all printable. Besides, it integrates tools that generate 3D model files automatically by using 3D medical and molecular imaging information.
All the available models are available for public use. Also, all the users can not only create but also share their models.
Costs:
100% free
Features:
Community Forum
Access to public databases
Tutorials and guidance
A curated collection of printable models in 3D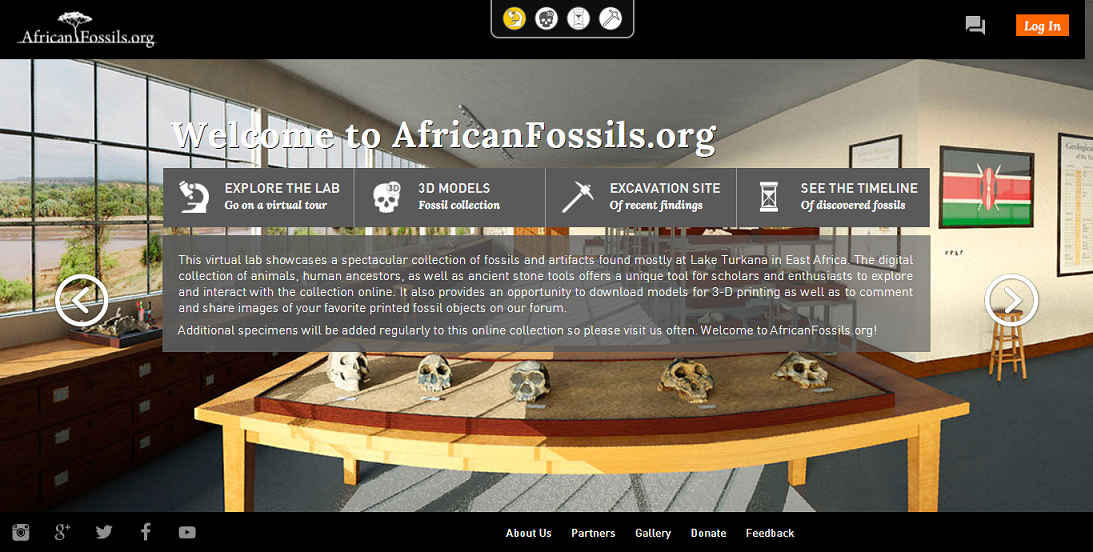 African Fossil is a spectacular collection to give a virtual view of artifacts and fossils. It mostly contains the display of the ones that are found near Lake Turkana in East Africa. It is a great source of information for enthusiasts and scholars who want to interact and explore the collection of ancient stone tools, human ancestors and animals.
It offers an opportunity for users to download models and designs for 3D printing. Moreover, you can also share and comment on the images and models that you like on your forum.
They continuously add new specimens to their online collection. The forum encourages participation from the enthusiasts, students and teachers to share ideas and inspire them to think about fossils.
Their collection contains the specimens, collected using photometry or an SLR camera mounted over a tripod. They are using Autodesk ® ReCap™ Photo and Autodesk® 123D ™ Catch software for converting photos to 3D digital models. Meshlab is used for processing point clouds.
Cost:
100% free
Features:
Filter selection
Selection sorting by fossil age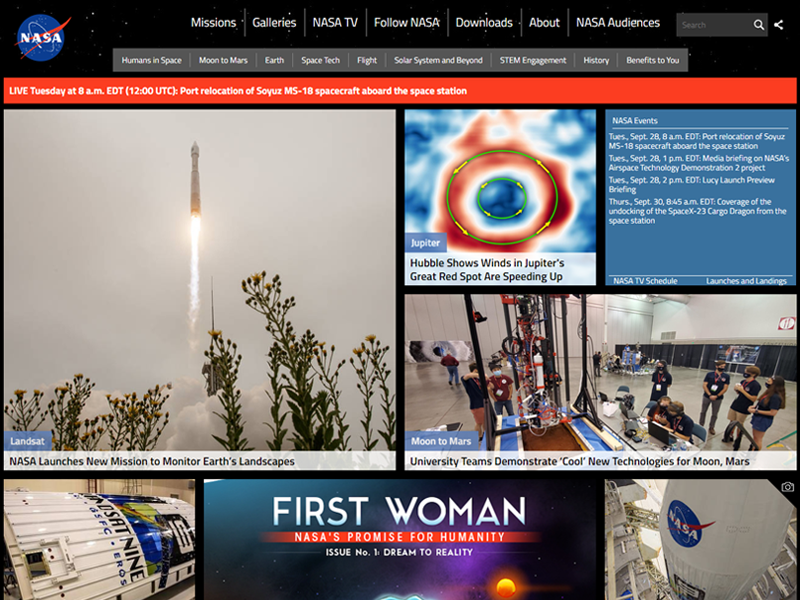 NASA provides a free repository of CAD having thousands of 3D models of the landmarks and organizations technology. If you are looking for a diorama of the moon landing, you can quickly find one in the NASA repository. It carries everything related to the process such as rovers, space-crafts, lunar landers and the moon's surface.
NASA has not optimized all these designs for 3D printing but it tries to support enthusiasts. One of the sections on their website is dedicated to printable 3D models and designs. This section also contains verified files with markers to indicate these files.
NASA also provides email addresses to keep interaction and activities continued on the website. It further facilitates communication regarding any difficulty while 3D printing. The support helps to adjust the designs or share your experience of using NASA with the beginners.
Cost:
100% free
Features:
Tutorials to gear designing
Open source scientific designs
A dedicated section for 3D printable design
Separate email address for communicating difficulties
Final verdict!
3D printing has gained great traction in the past decade when all the companies and industries started using 3D models. To get this opportunity, more designers stepped out into the online market. Some users love 3D modeling without having the resources to have 3D designs from 2D designs. Also, not all users could afford 3D printers.
At this hour of need, Thingiverse stepped into the scene and then we have tried to find Thingiverse alternatives as a savior for these users.
Even if you have less time and have to urgently get your 3D design or model assignment done then the free websites listed above can be a great help. Depending on a single source is always precarious.
Therefore, we have to mention the best Thingiverse alternatives that have more or less similar features to Thingiverse. Some of these are even better than Thingiverse.
Some are highly paid and ask you to buy premium. Some are cheap and reasonable too. Others are free with an even better collection of thousands of 3D models. All it needs is your little time to filter your required design. Sometimes, you don't have to pay a single penny to get your required design until you need a highly professional or premium design.
Some websites even customize your desired model at a very reasonable cost. So, don't waste more time. Get ready to enjoy the best Thingiverse alternatives.

As one of the co-founders of Codeless, I bring to the table expertise in developing WordPress and web applications, as well as a track record of effectively managing hosting and servers. My passion for acquiring knowledge and my enthusiasm for constructing and testing novel technologies drive me to constantly innovate and improve.
Expertise:
Web Development,
Web Design,
Linux System Administration,
SEO
Experience:
15 years of experience in Web Development by developing and designing some of the most popular WordPress Themes like Specular, Tower, and Folie.
Education:
I have a degree in Engineering Physics and MSC in Material Science and Opto Electronics.