For a new business or a freelancer, a photographer, or a struggling designer, if you are trying to make your own website with Webflow, responsive Webflow templates are your free employee which not only saves a lot of money but time as well.
If you are a beginner, check out this Webflow guide for absolute beginners!
Not sure about using Webflow or WordPress?
Do you have difficulties choosing between Webflow and WordPress? Check out our detailed review on Webflow vs WordPress and learn what's better for your purpose!
A well-designed and coded website template saves so much of your time. Here are the best Webflow themes that will help you create a new website with ease. We will help you to choose from premium & free Webflow templates.
Top 23 of The Best Webflow Templates & Themes of 2023
Let's take a look at the very best Webflow website templates & themes in 2023:
1. Sastek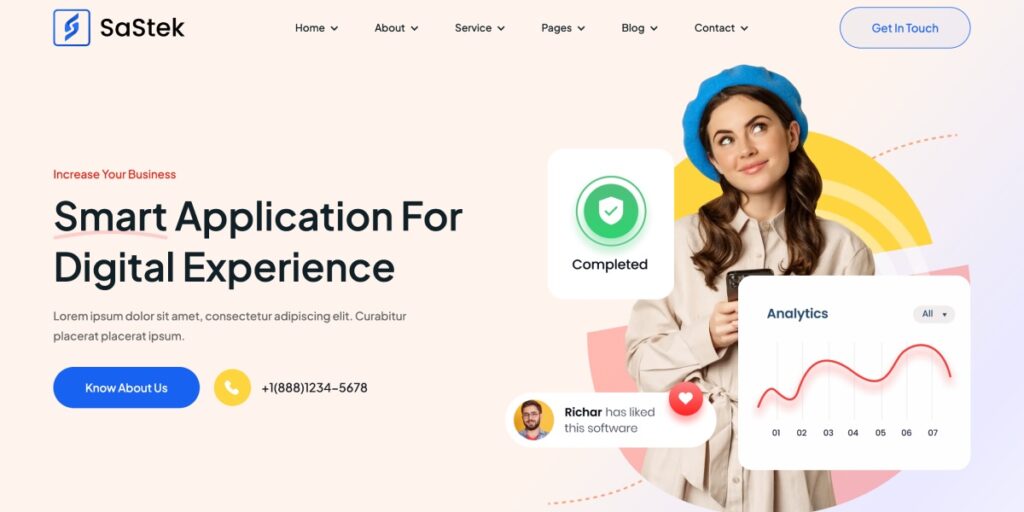 Sastek Webflow template is a powerful web design tool that is specially crafted for App, SaaS, Technology, and Startup companies. It is designed to provide a fully responsive, user-friendly, and modern-looking experience to impress your visitors. With a clean and vibrant design, this template is sure to make a lasting impression on your audience.
Created by RadiantThemes, Sastek Webflow template is an affordable option for startups and small businesses, priced at only $49. The template is designed to be easy to use, allowing you to build a professional-looking website in no time.
2. Infotox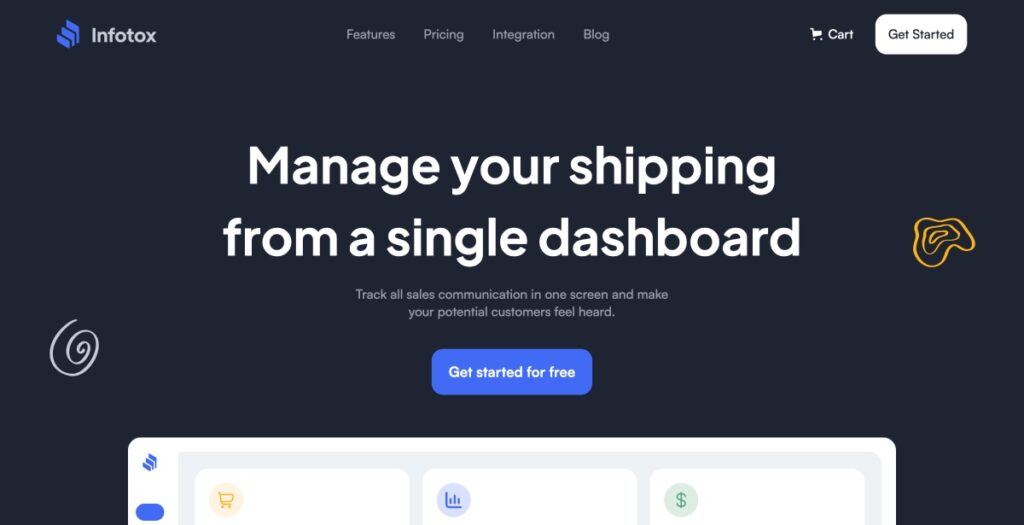 Infotox Plus is a modern and sleek SaaS website template that is perfect for any company or individual looking to showcase their software as a service product. This template features a responsive design that looks great on all devices, making it easy for potential customers to access your site on the go.
The homepage of Infotox Plus is designed to impress. A bold hero section with a striking image immediately catches the user's attention, followed by a clear and concise value proposition. The site's navigation is intuitive and easy to use, with clear calls to action that encourage users to learn more about your product or sign up for a free trial.
The template's design is fully customizable, allowing you to tailor it to your specific needs. With a variety of pre-built components and sections, you can create a unique and professional-looking website that stands out from the crowd. Infotox Plus also includes several pages for showcasing your product's features, testimonials, pricing plans, and more.
3. Byra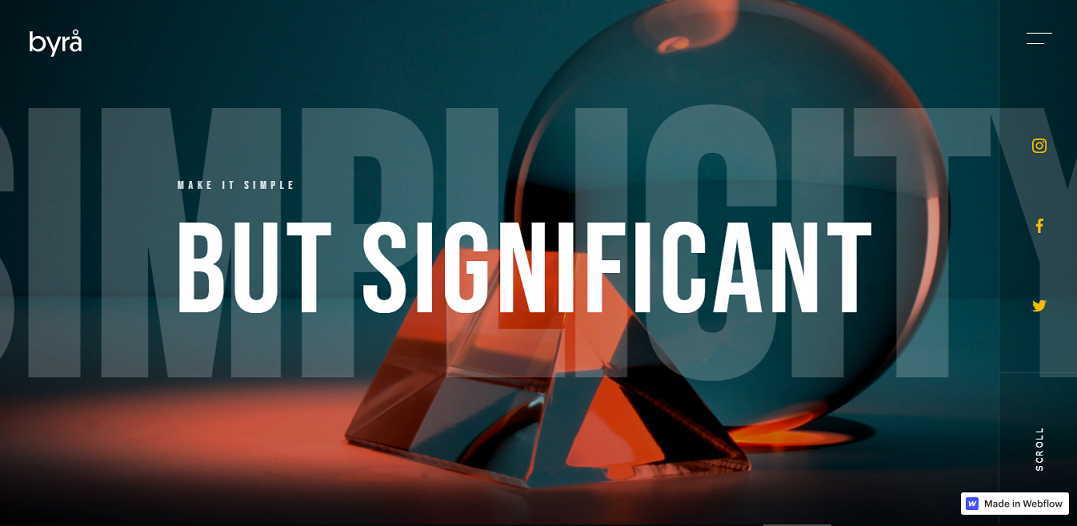 When it comes to creating website building, Byra – Webflow Website Template is the best choice available at WebFlow.com. This template is the perfect choice if you are looking for a creative touch for your portfolio, photography site, or even something related to your photography studio.
With Byra, all the requirements for a template to pass the quality test are met. Despite its user-friendly features, even novices can easily use it.
Free fonts and icons are available with the template. It has a highly responsive design that works flawlessly on desktops, tablets, or mobile devices. On smaller devices, its layout can be collapsed automatically into a mobile-friendly format.
Using a user-friendly interface, you can fully customize your template. The visual interface makes everything most accessible to be performed at your fingertips without requiring one to follow a complex procedure.
Features:
Retina ready
Sticky interactions
Fully developed contact forms
Free icons and fonts packages
Clean coding
Compatible with several browsers
100% customizable
Responsive navigation
4. Badi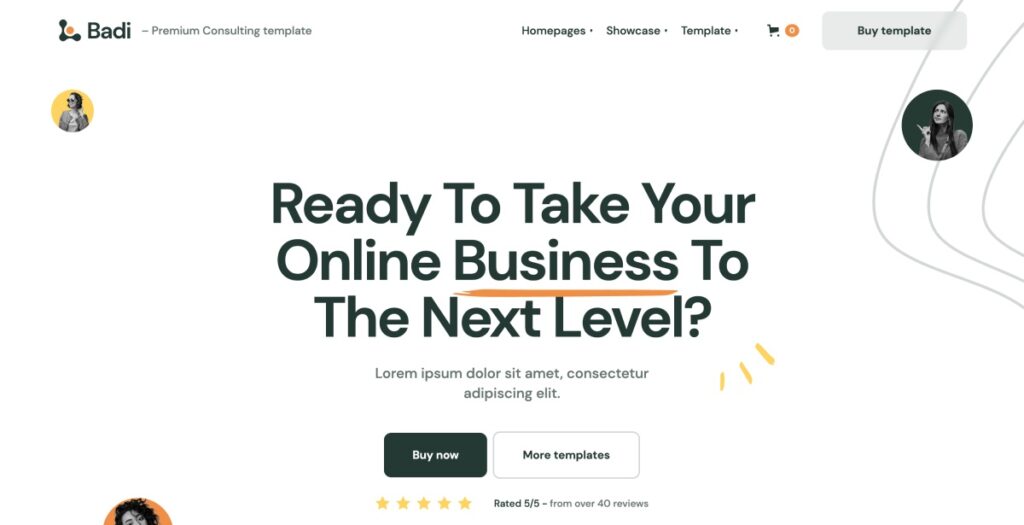 Badi Consulting is a modern website template designed for consulting firms and professional services. With its clean and minimalist design, this template offers a professional and engaging user experience.
The homepage features a bold hero section with a clear call to action, followed by sections for showcasing your company's services, team members, and client testimonials. The template is fully customizable, allowing you to tailor it to your specific needs.
The Badi Consulting template includes several pages for showcasing your team, services, and case studies. Its responsive design ensures that your website looks great on all devices, making it easy for potential clients to access your site on the go.
Overall, Badi Consulting is an excellent option for consulting firms looking to create a professional and engaging online presence. Its minimalist design and customizable components make it easy to create a unique and impactful website that stands out from the crowd
5. Zipline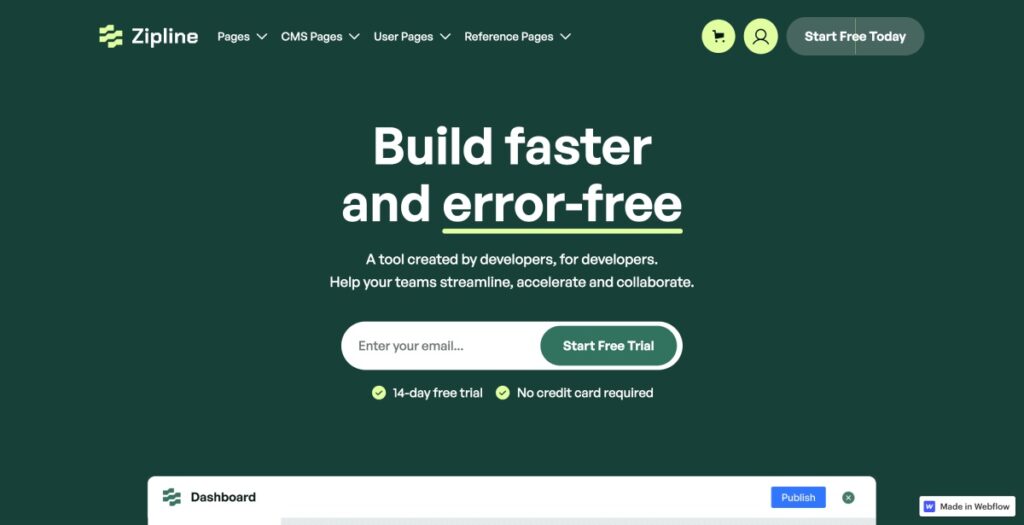 Zipline is a visually appealing and user-friendly website template that guarantees a seamless browsing experience across devices. With its clean and soothing aesthetic, visitors will enjoy scrolling through your website.
This template features smooth interactions and delightful graphics that transform your SaaS website from static to dynamic, enhancing your chances of converting visitors to customers. The versatile and flexible content sections are perfect for showcasing the benefits of your product.
Customization is easy with Zipline – everything from the color palette to the typography can be tailored to fit your company's branding. The Webflow Editor allows you to make changes directly without having to worry about code. You can also use the style guide and utility pages to adapt the template and publish your website without hassle.
6. Cosmo
Cosmo is a landing page Webflow theme for AppStore and showcase. Usually, it presents the app landing in mobile, app store, app showcase, and application introduction.
It offers 8 variations of homepages with different styles and layouts along with other information about the applications such as ratings, comments, screens, and features.
The basic features of this app are a Carousel slider, font icons, easily modifiable coding format, bootstrap framework, Browser Supports such as Safari, IE10+, Chrome, and Firefox, and CSS animation.
The premium plugins provide PSD files, slider revolution, and visual composer.
7. Otis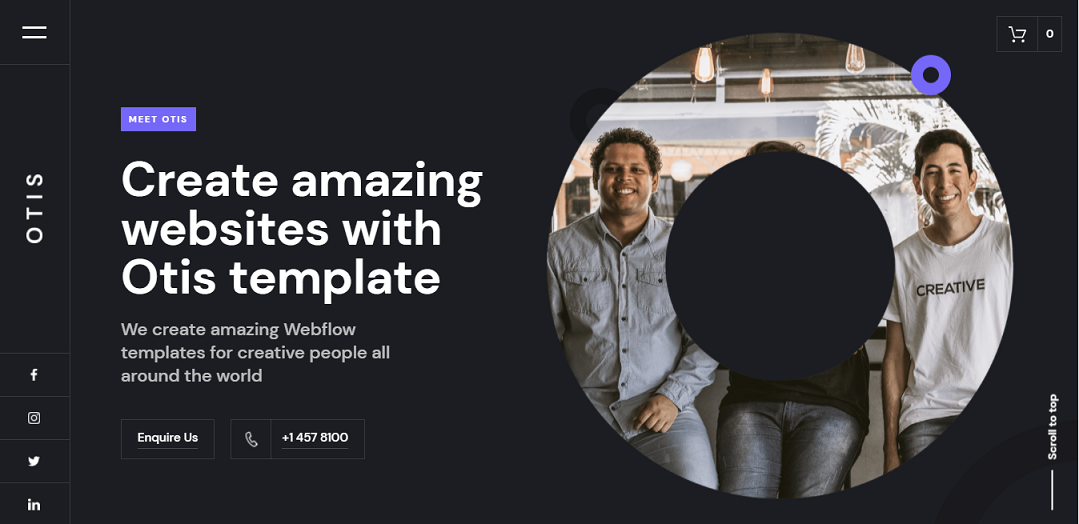 Are you trying to find the best WebFlow templates for your startup's online presence? You can explore a wide selection of those on WebFlow.com. For today, we are going to focus on Otis – WebflowWebsite Template.
The template is a unique and modern design for beginners and experts. Several special features make this theme stand out and generate maximum traffic – which is the ultimate goal. You can incorporate stunning headers and pre-designed layouts into your site.
In addition to providing much-needed creativity, it is highly compatible with various browsers, responsive, and provides high-performance results. The user interface allows for a high degree of customization. When you need to create an effective landing page for your product with the best possible chance of success, it will save you both money and time.
Features:
CMS project pages design
Fully responsive
Working contact form
Well optimized code
Compatible with browsers like Chrome, Firefox, Safari
100% customizable
Pre-designed content blocks
CSS Grid
8. Luna Flora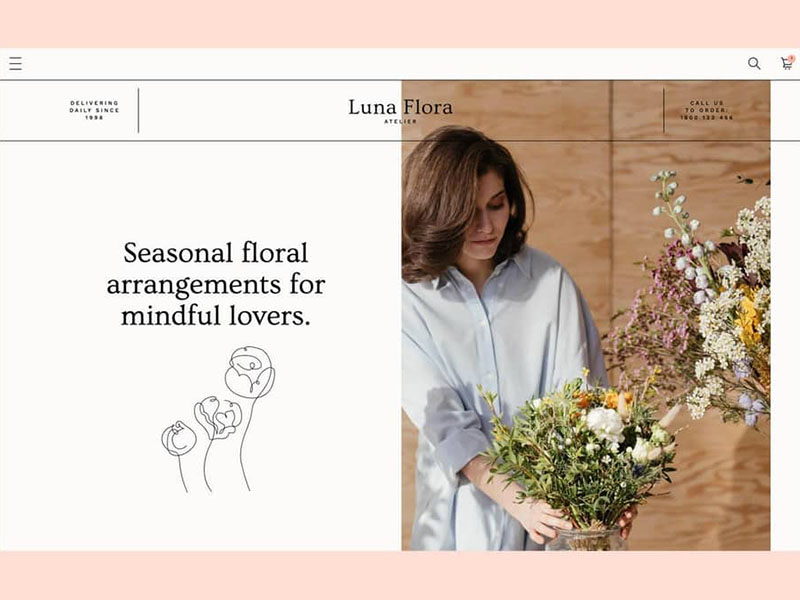 This template is the most elegant one and seems to be 'fashioned', particularly for florists. The special Lottie animations, interactions with components and page layouts will all combine to make your website waft in a floral way.
It is a simple but startling template for e-commerce. It will give you an ideal point to start your online floristry business.
The style types and colors are modifiable for each component on the template with easy access to switch typefaces and swatches according to your own desire.
Social interaction in the template gives a delightful website to explore with lovely animations.
9. Orion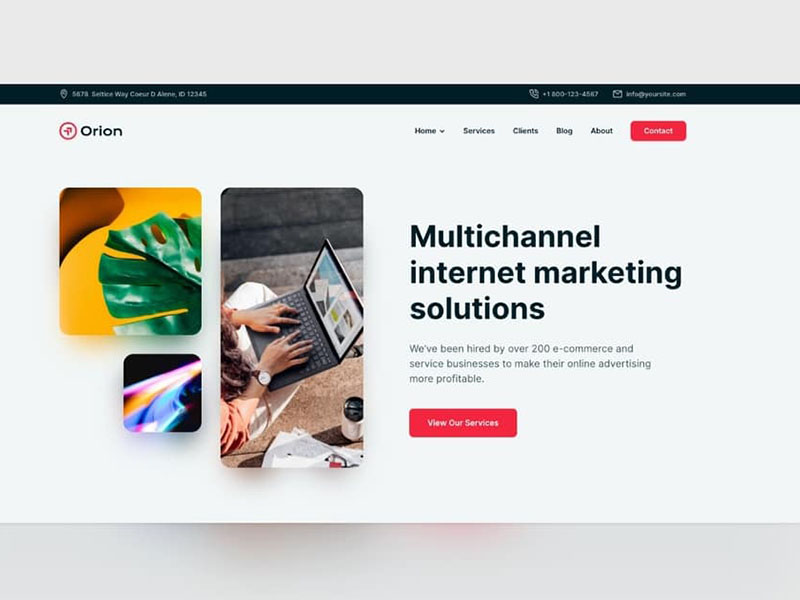 Orion is highly appropriate for startups, businesses, landing pages, digital studios, and most of all marketing agencies.
There are pre-made options for contact pages, blogs, clients, services, about, and home demos. The theme is specifically optimized for smartphones and tablets.
The Orion template is fully decorated with beautiful animations to give it a lively feel. Only a few clicks help you change the entire template color with the available global swatches.
In addition, it provides more than 12 subpages, 9+ shop styles, header and portfolio styles, header, elements, block style, and screenshots.
10. Radio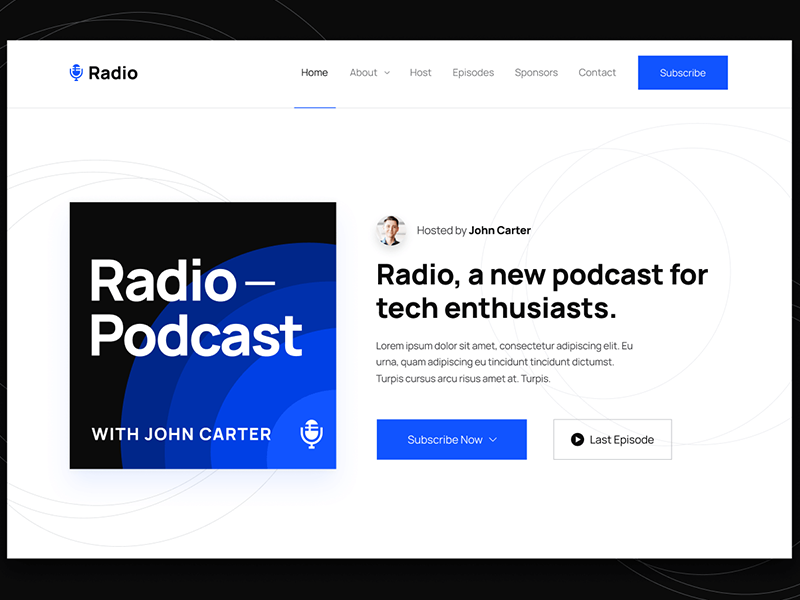 Radio is one of the best Webflow templates specifically designed for Podcasters and therefore it is a premium template that comprises sponsors, hosts, about, and podcast shows.
Stop researching if you were interested to host your podcast, radio can prove to be the best Webflow template.
There are 2 homepage options. Speed optimization makes the website move fast and radio provides a blazing load of websites so that a listener never gets bored.
The template aims at providing the best experience regardless of the device in use. All the pages in Radio Webflow show wonderful animations to make the browsing experience unique.
It is 100% customizable and is regular updates to add more features.
11. Banca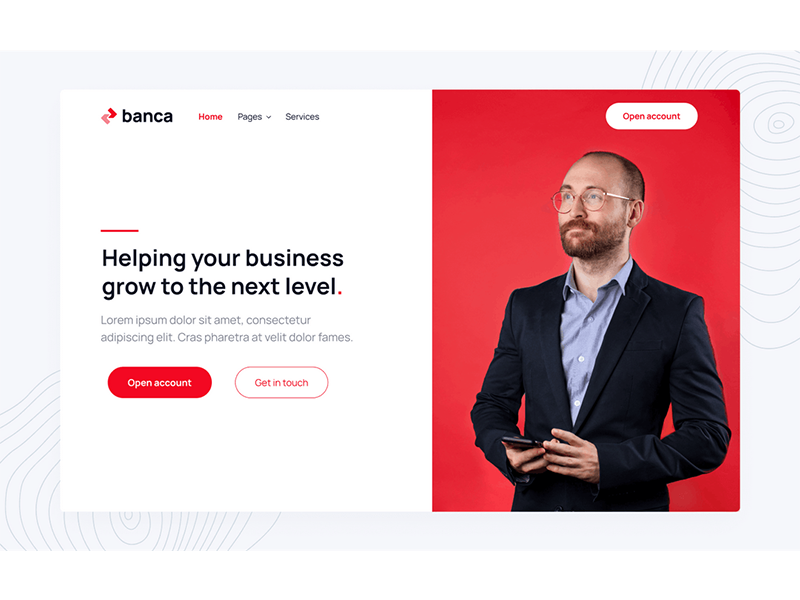 How could Webflow not have a template for the finance sector? Banca is specifically designed for Fintech startups and banks. The template is designed carefully to make clients out of visitors by providing a great browsing experience.
The features are mostly premium to communicate and build trust with the visitors.
Banca is optimized in such a way that it gives the smallest detail to the visitors in the fastest possible way. It is designed to be perfectly responsive to all types of devices.
The attractive experience and interactive animations offer a unique and smooth experience to the users with 100% customization.
12. Zigy – Webflow SaaS Template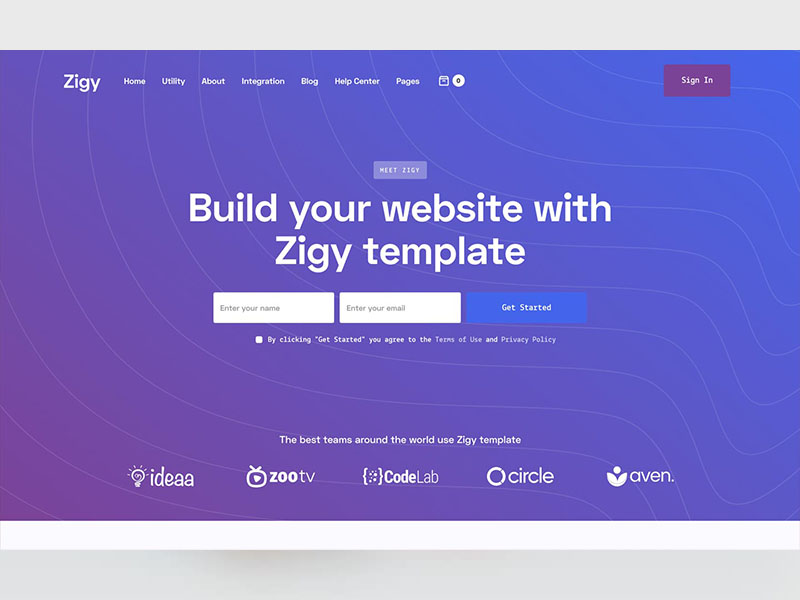 It is perfect for landing pages, mobile apps, SaaS, and startups. Template modification is very simple and it has more than 30 ready blocks.
The main features include header type which is hidden while scrolling up and down. It is highly responsive for all screens. The code is accessible and is seen to be neatly written with a guide to use which makes the task easier.
The template is compatible with your browsers. It includes Firefox, Safari, Chrome and IE11+. It is good for landing page startups and pre-designed blocks of content. It is 100% customizable while providing the right of using the gallery to all users.
13. Architected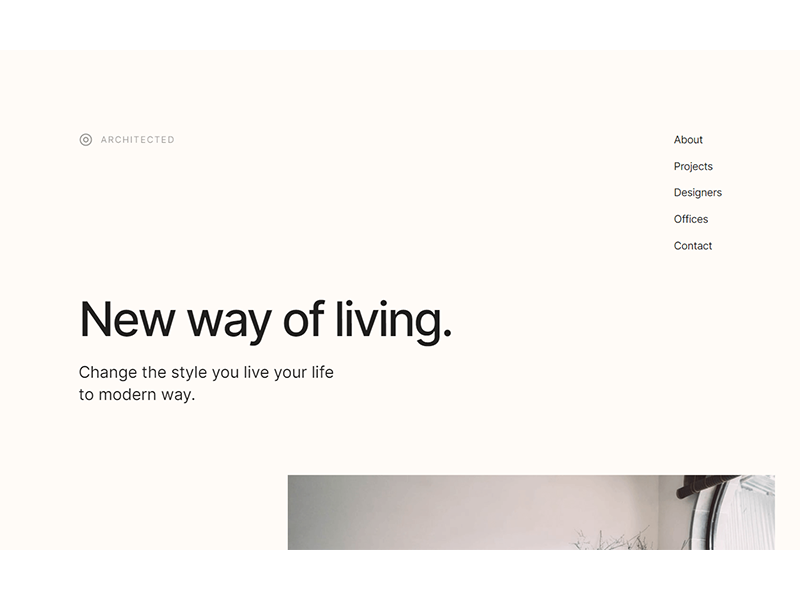 Architected is simple with limited design, clean layout, and very smooth animations for the agencies which provide architecture services.
It comprises a single landing page with the ready sections of contact, projects, team introduction, and about. All you need is to add content. The template has Inter font which is free.
There is a customizable contact form that is styled beautifully. Smooth animations throughout the template help create a feeling of perfection and pleasure in the template.
If you do not like anything in the template, you can simply change it. This is because the entire template is made without code.
14. Lulu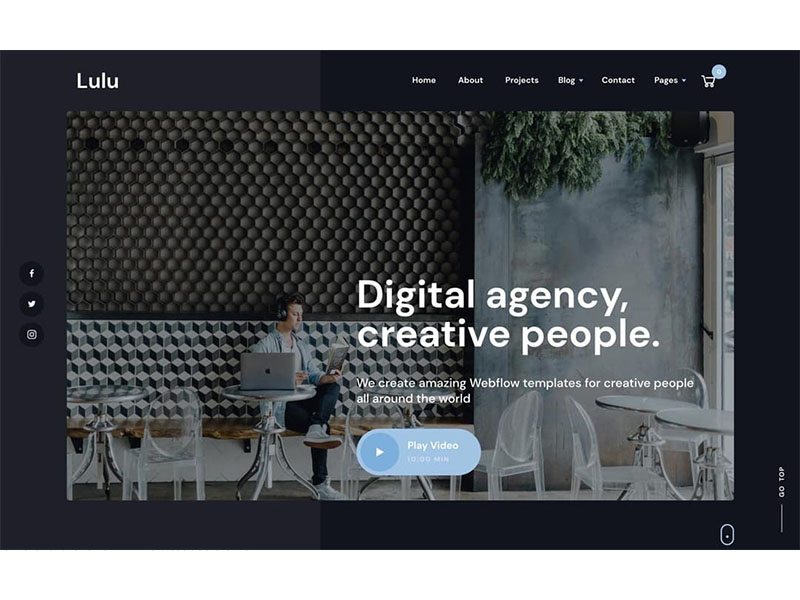 Lulu is a modern template focusing on the user experience to make it smoothest and increase the visibility of the website. Among the most dominant features are the project pages and header type. The header can be sticky or hiding while scrolling up or down. Lulu is fully responsive for all screen types and sizes.
Lulu provides the best solution for website creation as it is the starting point of creating a landing page. It is 100% customizable and has beautiful animations throughout the template. Moreover, the entire gallery can be used but only a few are licensed.
15. Vega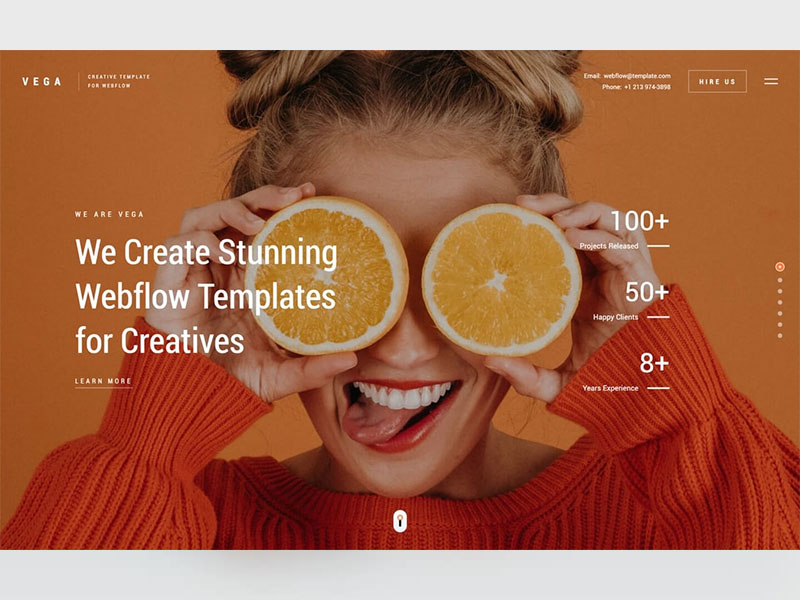 Vega is a fully responsive and very colorful Webflow template that has a user interface kit that helps design agencies keep their websites running.
There is an option for homepage layout which provides 5 homepage options. There is a wide range of layouts to be chosen from.
Responsive interactions and subtle animations attract users to see all the components of the website.
The Designer provides a test trial to design a website using Vega. The template works on Drag & the drop principle. Also, lots of blog options and strong content also help companies move ahead.
16. Jules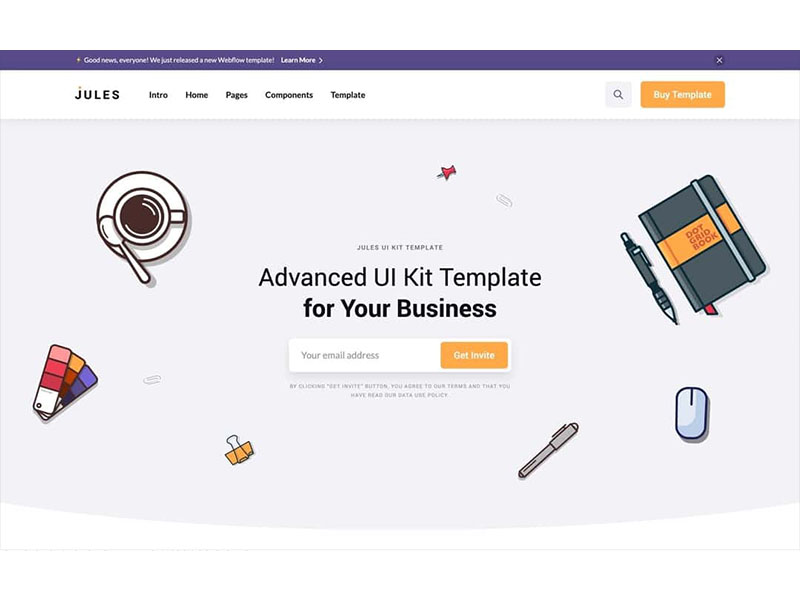 Jules is a responsive and stylish Webflow template for landing pages. It also helps create portfolio websites and beautiful blogs through CMS.
There are many other choices that let the user mix and match in order to create one's own website. Jules is best suited for a company that puts emphasis on blogging.
The theme is SEO-ready for SEO which means Google is able to crawl through the website.
The theme is highly suitable for anyone who wants to maintain a website
17. Ollie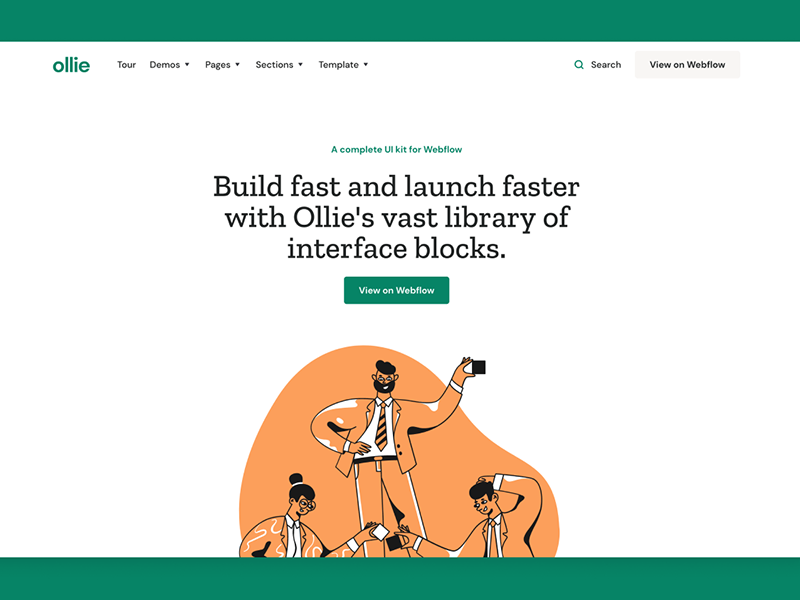 Anything that you want to stylize your webpage is available on Ollie. Building blocks assortment builds a responsive and polished website with these UI kits. These modular UI templates provide a unique design.
Ollie will prove best if you want to be a selling service. There are 100+ interface blocks like integration and social media. You may also make sure that the template provides a social media interaction.
The template also offers pricing elements through social media integration which makes the site more enjoyable. It suits all types of businesses.
Decide a color theme and you will see bringing in the transformation of elements into your new brand or Ollie.
18. Foray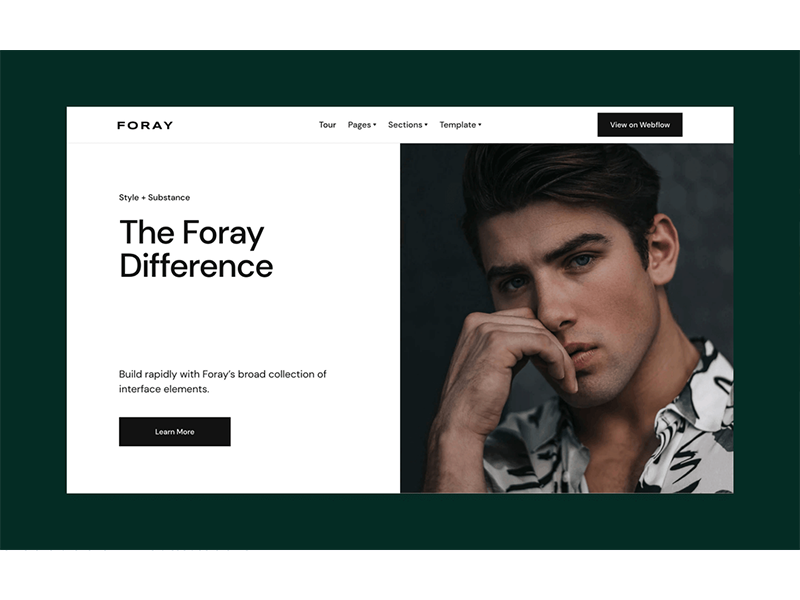 Foray provides another landing page theme that represents your brand online. It is highly important to present the work in an engaging and effective manner in order to keep the user experience responsive and strong throughout the website.
The theme is multipurpose with content blocks that can be utilized to create a noticeable presence. The template is considered perfect to create a SaaS startup and a portfolio website.
There are variations of choices in styles. The most distinct of all the features is the parallax scroll which gives a wonderful experience to the visitors.
19. Agencieos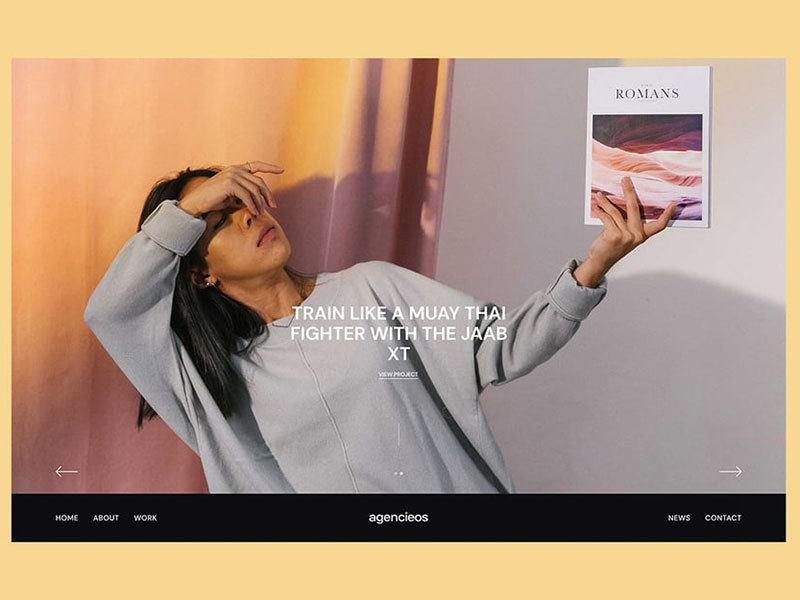 It is considered a multipurpose and one of the most powerful Webflow templates so much so that it blows away all other templates.
It showcases the work in such a way that it does not disturb the user interaction with his website. It offers several landing pages and homepage layouts. The major leap ahead for Agencieos is its use of fonts and typography.
20. Toybox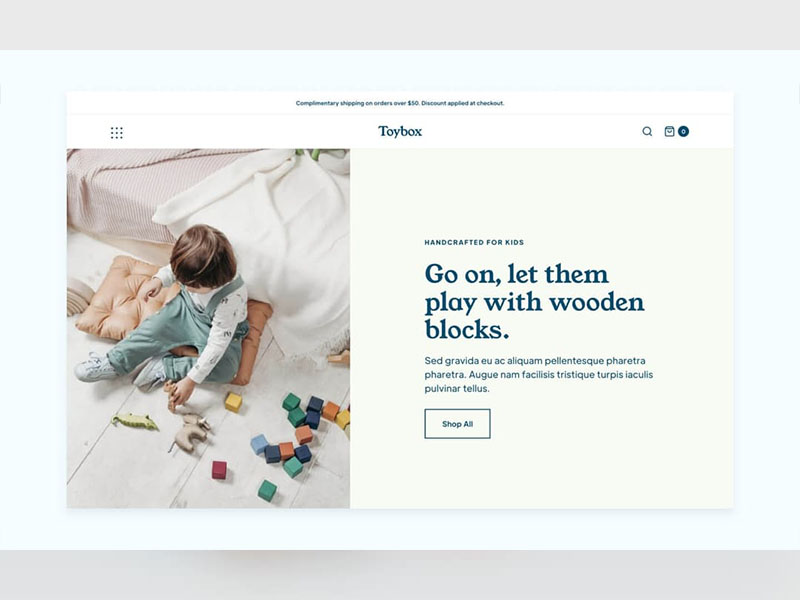 Toybox is the most eminent simplicity in hand-crafted quality of artisan. It is inspired by the wonders of childhood for acceptance of aesthetic trends keeping a foot strong today. The playful pastels with neutral and strong color palettes embellish the entire design of the template which invokes a mood of imagination. Meanwhile, it also retains its contemporary and clean mood.
The template provides a strong base to customize the boutique playthings of the personal brand. Toybox is very simple to design both in case of existing or new business in the inline market.
21. Landkit – Webflow Landing Page Template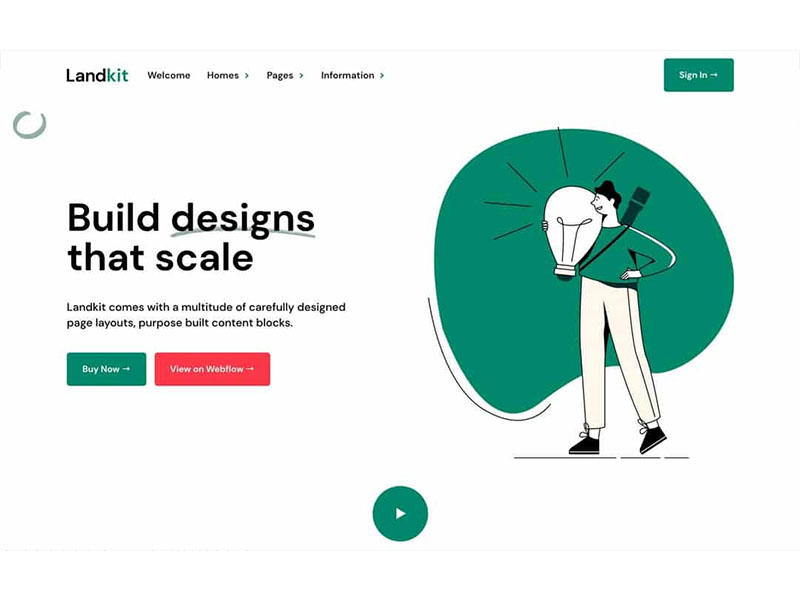 Carefully crafted page layouts that are combined to create one professional layout are present in Landkit. The pre-made home page is present and can be accessed.
Thus, the need to write from scratch and inspiration is not needed. The Landkit Webflow template is responsive and there are more than 50 ready blocks with full zero coding.
The template is responsive and compatible with Resolution graphics and Retina Ready. The template imparts strong typographical and usability experience.
22. Flatform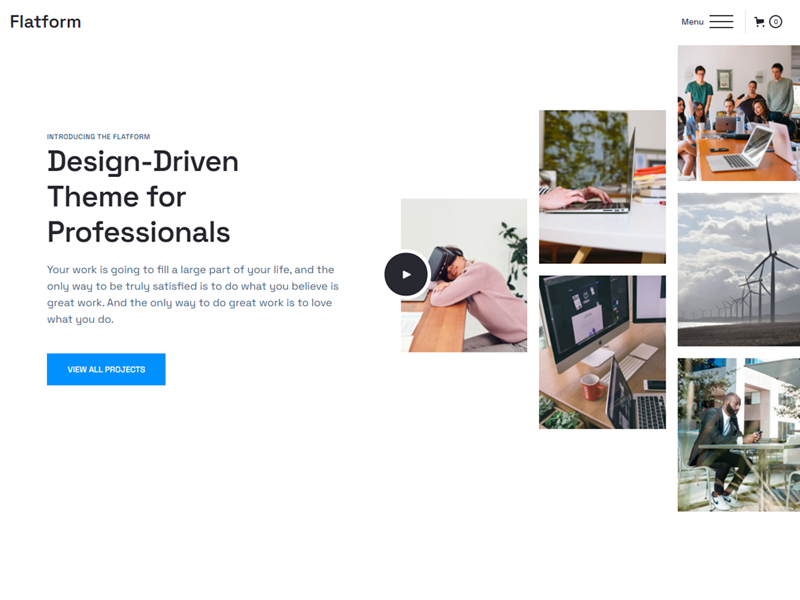 Flatform has a stunning collection of elements. It is an e-commerce template specifically designed in a unique style with a modern homepage and a set of fully customizable and beautiful inner pages.
This template gives you everything to create an impressive and professional portfolio. Moreover, it offers a design-driven theme for professionals.
Flatform Webflow gives a great and creative way to present your creative and design agency. You can display your graphic designing skills in a great style. The unique homepage layouts are topped with stunning hero sections with a lot of components that make the design stand out.
Features:
Beautiful typography
Infinite possibilities
Support and documentation
Fully responsive
Browser compatibility
Contact form
23. Saturn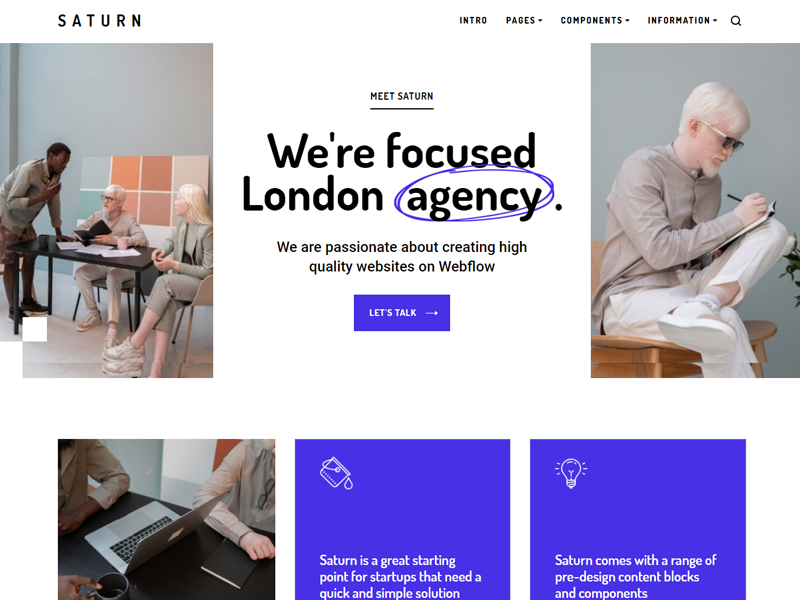 Saturn is another agency website template that offers all the necessary elements you need for making a perfect website for a startup or digital agency. It has a responsive design with responsive navigation.
Moreover, the package comes with interactions and animations for additional usability and polish.
You can creatively create your subscriber base and lead list with the help of the beautiful forms provided in the pack.
The template offers a content management system to customize the built-in database for the project or simply add new content.
There are multiple components and a wide range of pre-designed content blocks with Saturn. It gives infinite possibilities to your agency portfolio creation.
Features:
Ultimate startup pack
Browser compatibility
Contact form
Fully responsive
Project pages
Multiple header types
24. Grafi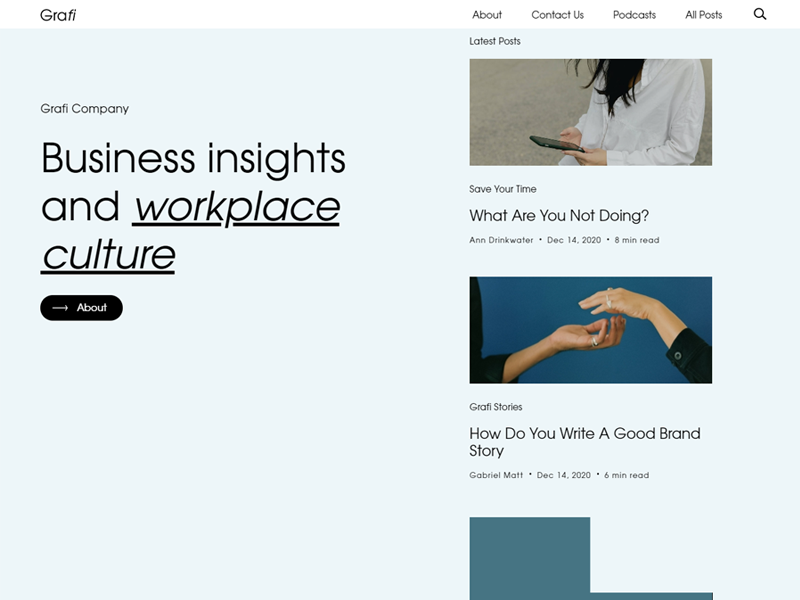 Grafi is a blog website template with the most unique features to publish podcasts and blogs in addition to reading stories. It can also help create a unique website to promote your brand. It is very easy to publish your blogs with this Webflow template as compared to other platforms.
Grafi provides a range of images, colors, and font options where you can maintain the brand guidelines in a range of a few clicks. You can manage everything from colors and font customization for your brand in a matter of minutes.
Moreover, Grafi helps you create a responsive and clean blob site in a few clicks. All of this is possible with the content management system and editor that lets you update and add content to the page.
Features:
Modular design
Mobile-friendly design
Free customer support
Search engine optimization
Built-in color palettes and styles
25. Blogos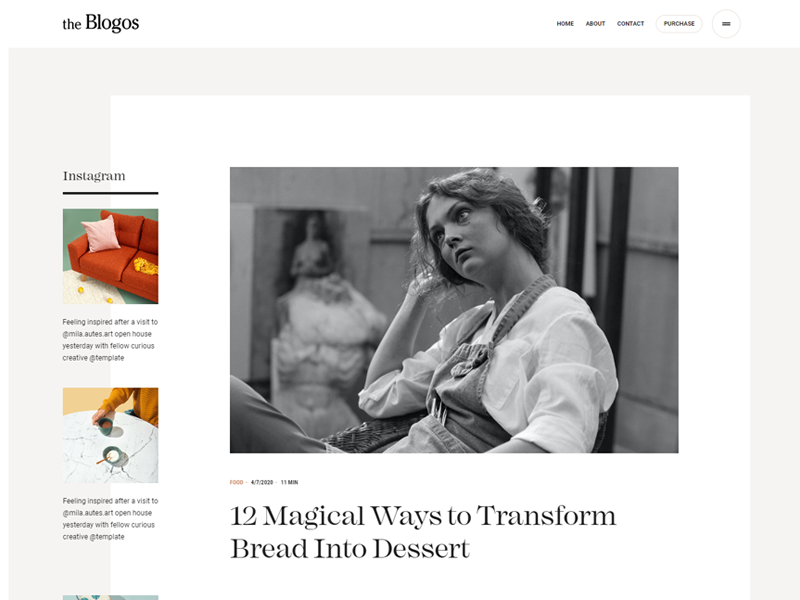 Blogos is a powerful yet flexible template for magazines, blogs, and news websites. It offers an easily customizable design, multi-column layouts, and a modern grid.
The option of global swatches makes it easy to change the entire color theme with a few clicks only. Moreover, the base elements can be changed easily like paragraphs, headers, and buttons with the options on the Style Guide Page. It also included the utility pages such as Password or 404.
The template is 100% customizable. The visual interface makes it easier to customize almost everything. Except for the demonstration images, all the other images can be used for commercial as well as personal purposes.
Features:
Responsive slider
Responsive design
Fully customizable
Animations and interactions
Contact forms
Google forms integrated
26. Tara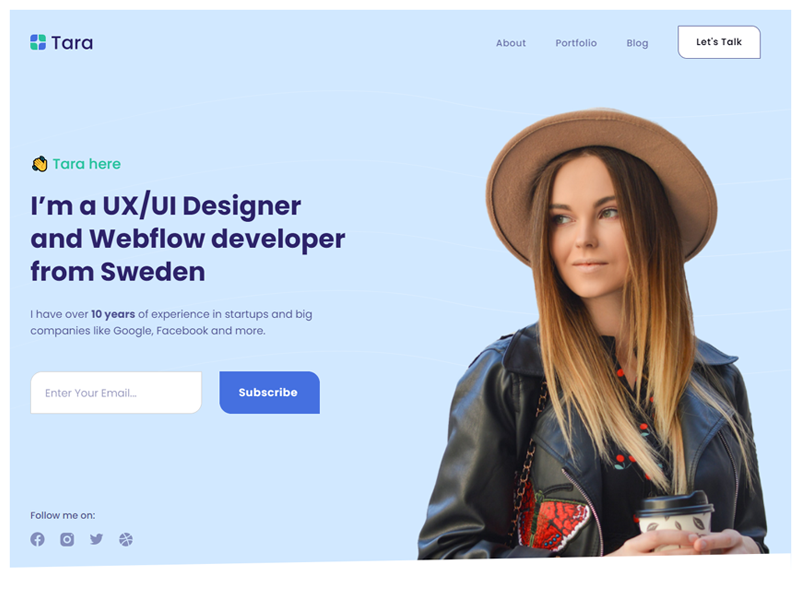 Tara is a unique option for creatives and designers. It lets you create a modern portfolio website template with smooth animations and a modern design. Tara is a fully responsive template specifically designed for creatives and designers. It has a fast loading speed and a responsive and easy-to-use design.
The numerous page options include separate pages for home, about, portfolio, blog, and contact. The template design is highly responsive to smartphones, tablets, and desktop devices. Moreover, the site navigation collapses into smaller devices and mobile friendly menu automatically.
The template allows resizing and repositioning items anywhere in the grid to generate responsive and powerful layouts without code.
Features:
CMS template
Free image
Clean code
Fully responsive design
SEO optimized
Smooth animations
27. SeeIT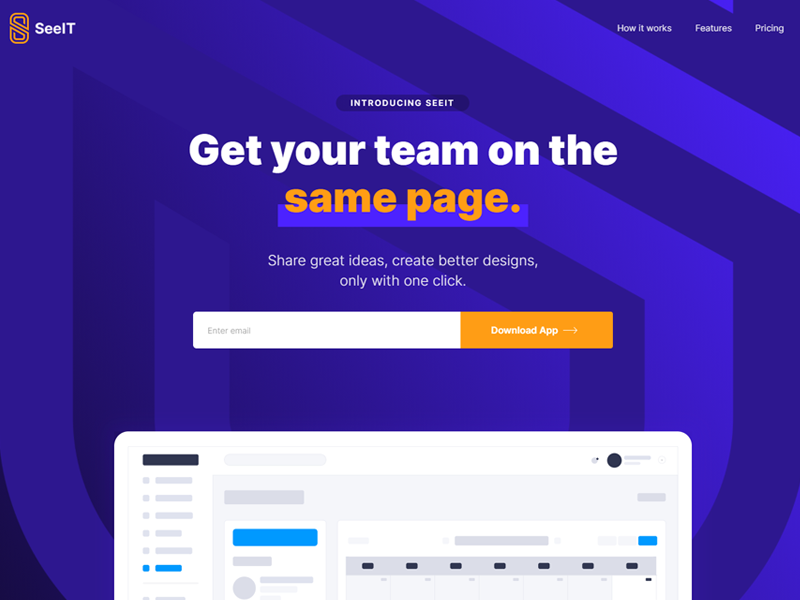 SeeIT is a specific design highly suitable for any kind of agency either for a small or big business. It is a tailored prototype such that anyone can easily edit it. SeeIT offers an easy-to-use mobile version with creative animated illustrations and user interface design.
It offers a responsive and mobile-friendly design. The usability and polishing are further enhanced with the interactions and animations.
Moreover, resizing and repositioning items is made easier to create responsive and powerful layouts. It uses the Google Web Font collection. Above all, all the graphics are optimized for high resolution which makes it retina ready.
Features:
Functional contact form
Buttons
Slider
Creative testimonials
Icons
Clean code
Global Swatches
28. Memories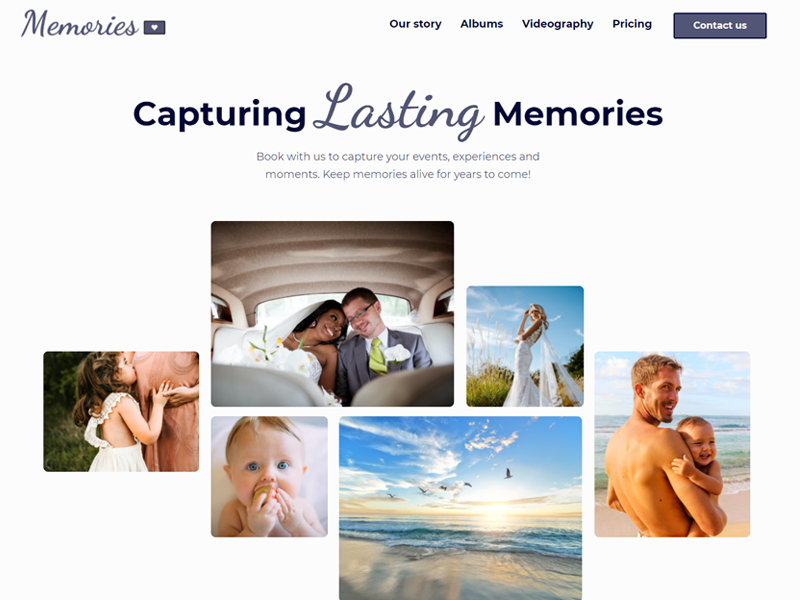 Memories is a photography and videography website template. It is perfect for any small business, freelancer, or agency that intends to market its services, display its work, and collect leads.
It includes an HTML5 template that lets you create responsive navigation, forms, animations, and interactions. The template also adds symbols. Also, it is retina ready.
The entire Memories template adds simple and smooth animations. It gives your users a more pleasing experience. It is also very important to determine the responsiveness of a website.
Memories are customized such that they can give the best experience to users on mobile phones.
It integrates contact forms that are easy to customize and style. Also, it is easy to change the base elements like paragraphs, headers, and buttons from the style guide page.
Features:
100% customizable
Fully responsive
Contact forms
Smooth animations
Google fonts
29. Brian Miller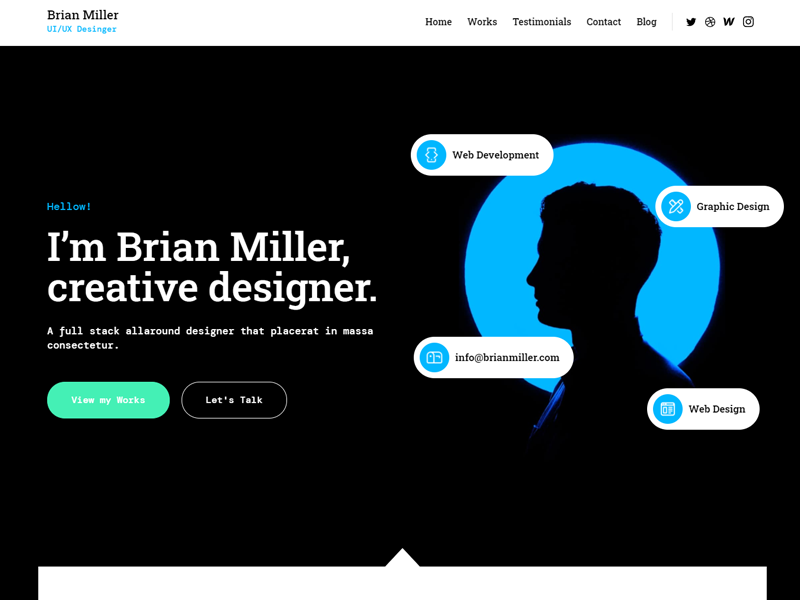 Brian Miller is a portfolio Webflow website template. It can also be used for personal portfolios and resumes. It is one of the best Webflow templates.
Brian Miller offers a multi-purpose, modern, and clean design that can be easily used for website layouts and design. There is one amazing design landing page so you do not need to worry about starting from scratch.
The template is highly responsive and is built with ultra-high resolution graphics which makes it Retina Ready. The template offers over 20+ ready blocks which ultimately help you create your website in a very short time. It gives a full user experience with wonderful typography.
Features:
100% customizable
Multiple utility pages
Highly responsive
Navigation responsive
Interactions and animations
Responsive slider

Ludjon, who co-founded Codeless, possesses a deep passion for technology and the web. With over a decade of experience in constructing websites and developing widely-used WordPress themes, Ludjon has established himself as an accomplished expert in the field.