Webflow and Squarespace are two top-rated website builders that work without using code or specific technical skills.
Both platforms are based on the no-code website builders movement which helps everyone to create websites within a few clicks and without the need for any skills.
If you see these two platforms from the outside, you will think there is no difference between each other, but in reality, there are so many differences.
The usage of Webflow or Squarespace varies on your requirements and your needs. So let's explore these page builders in detail.
1. Ease of Use
Webflow Ease of Use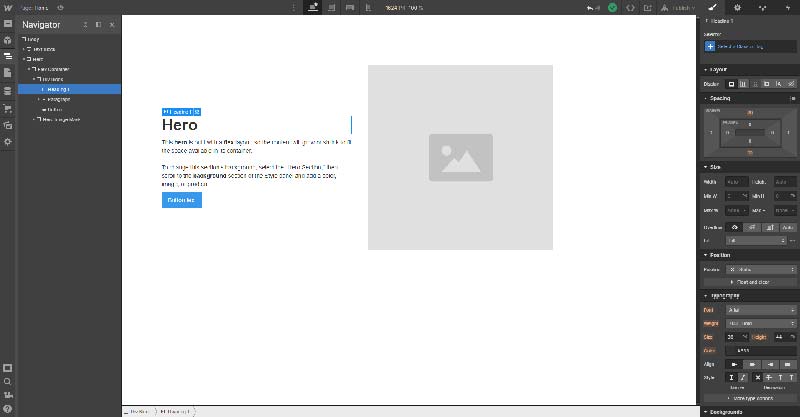 Webflow comes with a lot of options and features. If you come from a designer background, which is familiar with design elements and features the usage is very intuitive and simple. This platform looks like a simple Photoshop which is customized for web needs.
Also if you are not so familiar with design apps or web elements you can use Webflow templates that come ready and can be only customized with ease.
I think Webflow is perfect for designers that had before an approach to designing websites with Adobe Photoshop and now they can create any design directly into the Webflow Platform.
In the case of simple websites, you can install a minimal template and edit only the content and images with drag and drop features. So you don't need any complex skills and their website builder can be learned in a few hours.
Read More: Webflow vs WordPress
Squarespace Ease of Use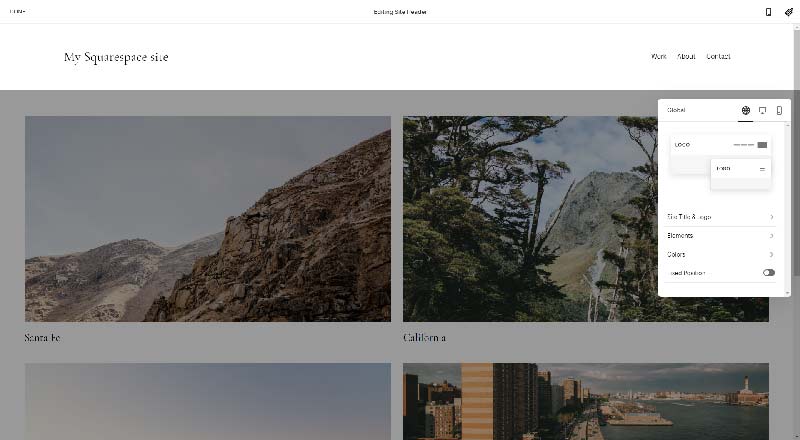 In case you are a complete beginner, I think Squarespace is one of the most intuitive and easy-to-use page builders. What makes it easier are also the templates that are very minimal and the options are limited. Anybody can use their page builder by editing the images with one click, changing content with live editing, and changing the preset options in real-time.
Squarespace doesn't give a lot of features and customizable options, overall this is done to make the process easier. When someone is a beginner and doesn't know anything about Webdesign in Squarespace you can choose a template and edit it like working on a Word file.
They have also created an IOS and Android App for mobile editing where you can publish content, upload images, and edit your websites from your smartphone.
A great feature for non-designers is the logo maker extension that helps you to create a logo with their present templates and fonts for your site.
Anyway if you want more features and options, they have the options to customize the templates and also add custom codes.
Final verdict:
Squarespace is easier and more intuitive for beginners with fewer editing options, while Webflow is a better choice for web designers.
2. Templates & Design
Webflow Templates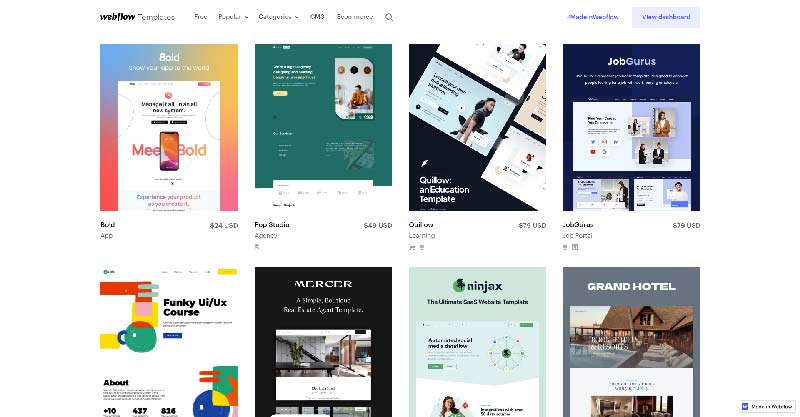 They have a marketplace of templates where everyday new templates of any niche are published. So you can find templates for every need.
Also, Webflow comes with templates for portfolios, photography, and even complex eCommerce websites. There are also minimal templates that can be changed very easily.
They're also a filter when the Webflow team reviews any templates before being approved. So their templates have a great quality
Squarespace Templates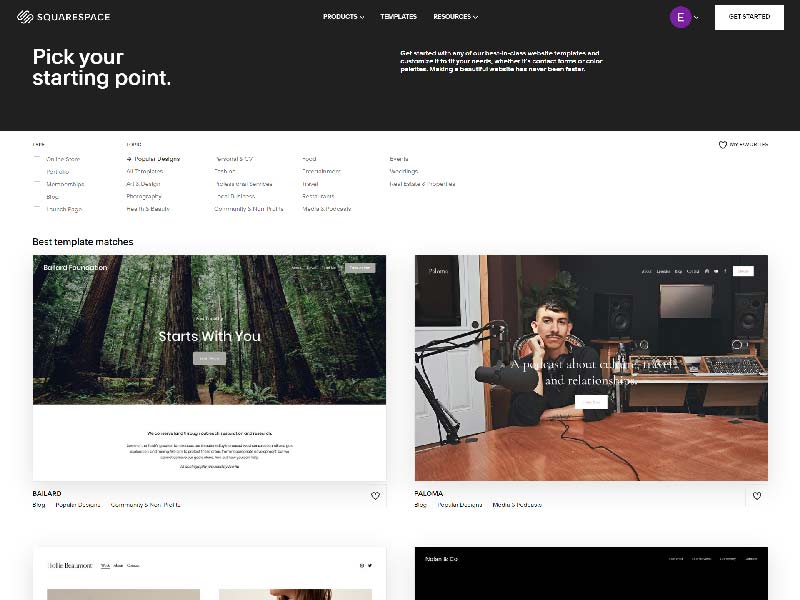 On the other side, Squarespace has amazing minimal templates. I have to say that their designs are very minimal but so clean and this makes any website looks good even if you don't have any special talent in web design.
Also, their minimal templates are easier to edit because you have only a few elements to edit. Minimal templates are good because they don't look like you are using the same template as other sites. Because of their limited number of elements they seem to be unique. At the same time, your website sometimes can look unfinished.
I think Squarespace should open a marketplace like Webflow to allow designers to create new templates and add diversity.
Final verdict:
Webflow has more templates and the possibility to choose more complex designs, while Squarespace has minimal templates and websites can look unfinished.
3. Blogging Features
Webflow Blogging
The platform gives you the possibility to create a blog with all the main features. Webflow comes with simple blogging templates which you can choose.
They have a category called CMS where you can add all the features like comments and the possibility to regulate your single posts and user role management.
I think you can create a blog on Webflow but I don't think is the best platform you can use for this reason. There are a lot of reasons like the impossibility to customize the SEO and the difficulty to add blog features.
Squarespace Blogging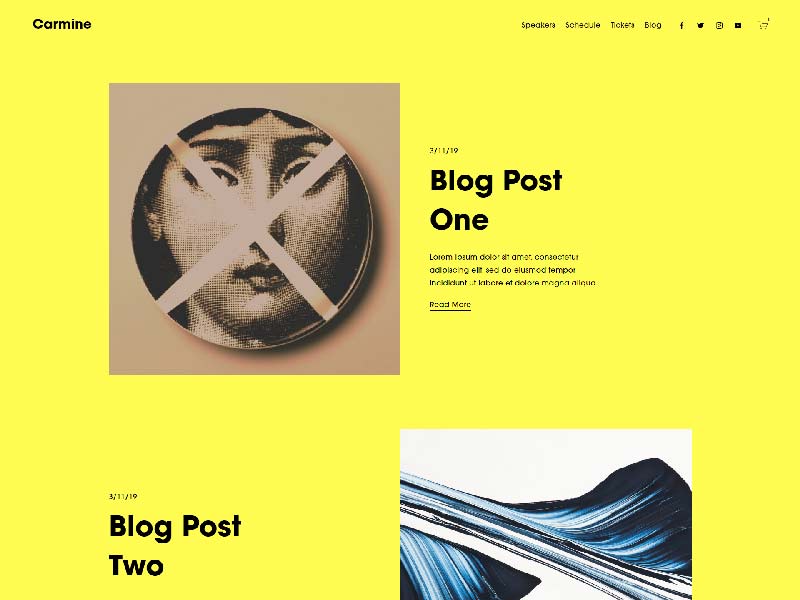 Squarespace offers some great features for blogs like the SEO options and some templates are dedicated to blogging. The creation of the blog websites with Squarespace is very easy as also the writing of the content.
You can add easily features like subscribers form and sending email campaigns.
They offer an RSS feed, commenting platform, sharing options, and also a lot of dedicated options for bloggers.
Final verdict:
Squarespace offers more advanced blog features like SEO and email campaigns. On the other side, Webflow is not the best choice for blogging because they don't provide SEO features and the writing system is more complex.
4. Best for eCommerce
Webflow eCommerce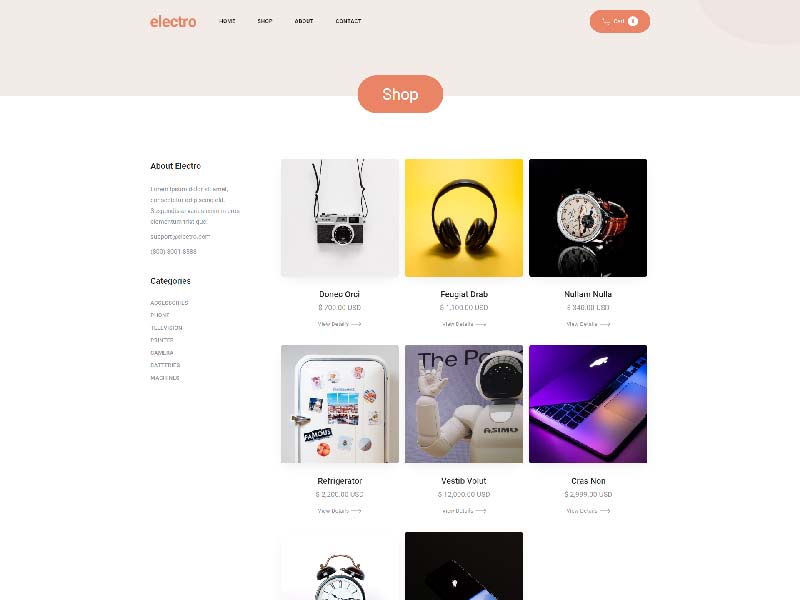 eCommerce websites are complex but with Webflow you can make them easier. Their eCommerce templates are beautiful and can be customized easily. Webflow offers payment gateway like Paypal and Stripe.
Also, they have a limit on adding a certain number of products like 3000. The tax transaction fee is about 2%. If you want to create a professional eCommerce website I think Webflow will give you a lot of limitations. Webflow doesn't have any integrated possibility to track visits and sales except Google Analytics.
Squarespace eCommerce
Squarespace offers some predefined payment gateways like Paypal, Stripe and Square. You can easily add unlimited numbers of products easily with their great, easy, and intuitive templates. Squarespace offers all the options like Product View, product quick view, and catalog features.
Their Inventory system is very advanced with notifications and API where you can sync them with other eCommerce platforms. Other great features are flexible shipping options where customers can choose from different possibilities.
What complete the whole are the reviews and the gift card system that makes Squarespace a great builder to create an eCommerce store.
Final verdict:
Squarespace offers everything needed to start an e-commerce website. On the other side, Webflow has some limitations like visits and sales analytics.
5. Best for Photographers
Webflow Photography
There are a lot of templates that can be chosen from Webflow for photography. If you are going to showcase your photos and want to have to possibility to edit your templates in detail, Webflow is the best solution.
What makes it better than Squarespace is the diversity of templates where you can choose from different possibilities. In case you had experience with the design I think Webflow can give you more satisfaction with their editing options.
Squarespace Photography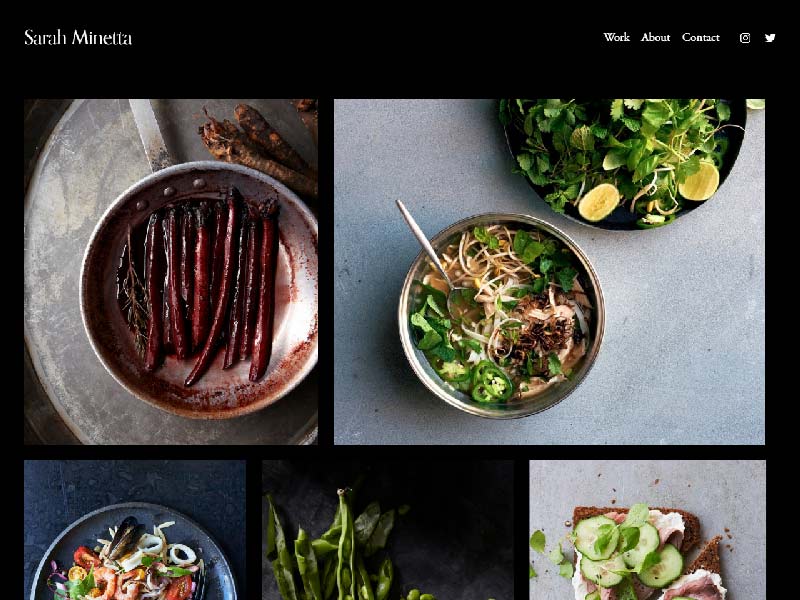 I think Squarespace is perfect for photography and portfolio websites. If you are only a photographer and don't have any experience in web design choose Squarespace. It is perfect because with their easy way to upload high-resolution photos and a lot of great photographers have already chosen them.
Also, their social integration makes it easier to share your photos on social media within a few clicks.
Final verdict:
Squarespace is the best choice for photographers with no web design experience, while Webflow is better for experienced designers that can customize their templates.
6. Pricing Comparison
Webflow Pricing List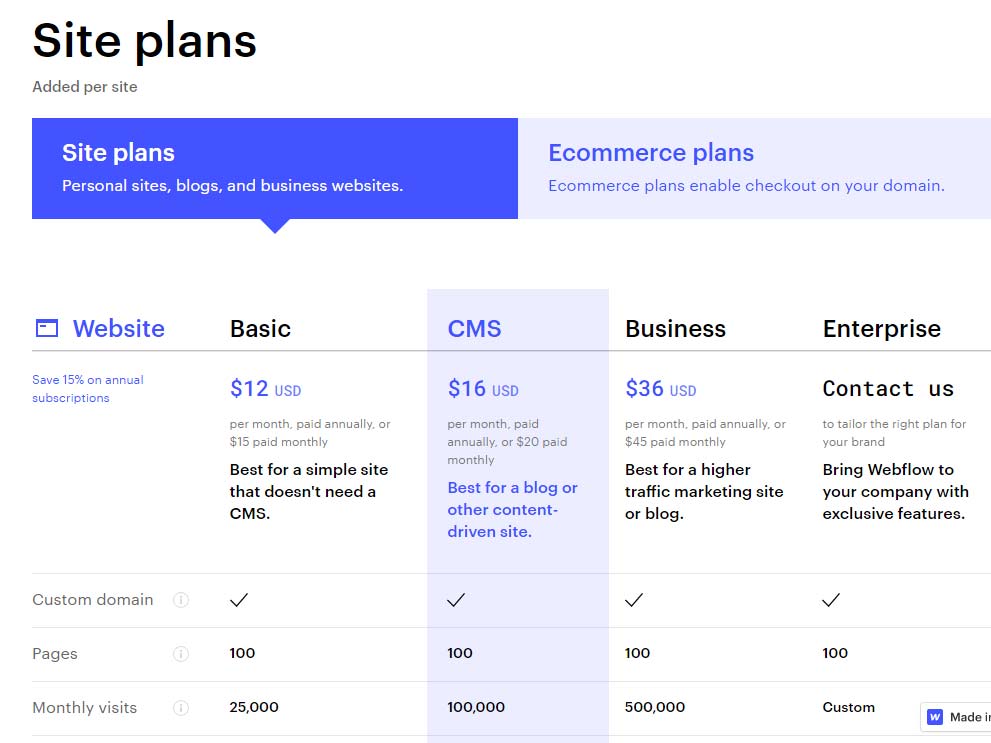 I think in this case this varies on what you are searching for: Webflow Basic Package is about 12 USD/month but you can create only 100 pages and 25000 monthly / visits.
In case you want a more complex website with CMS based where you can create blogs or data-driven websites you have to pay about 20 USD / month. Also, the package has about 100.000 monthly visits and 200 GB of bandwidth
Squarespace Pricing List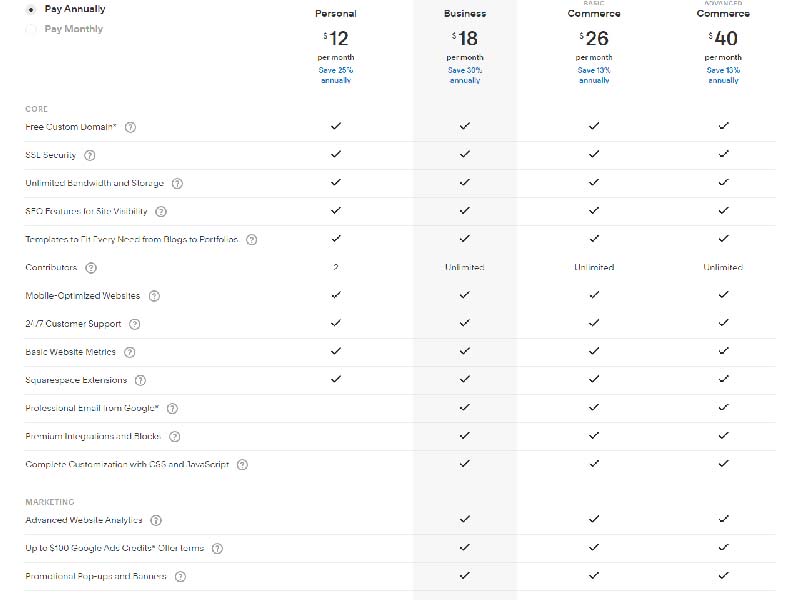 The basic plan of Squarespace is about 12 USD/ monthly where there is no limitation in bandwidth or the number of pages. If you want more features available you have to choose the business plan that costs about 18 USD / monthly.
In the case of eCommerce websites, you have to pay about 26 USD /monthly
Final verdict:
Squarespace is cheaper than Webflow when you consider there is no limitation in bandwidth or number of pages, while Webflow has the same price but with limitations.
7. Apps and Integrations
Webflow Integrations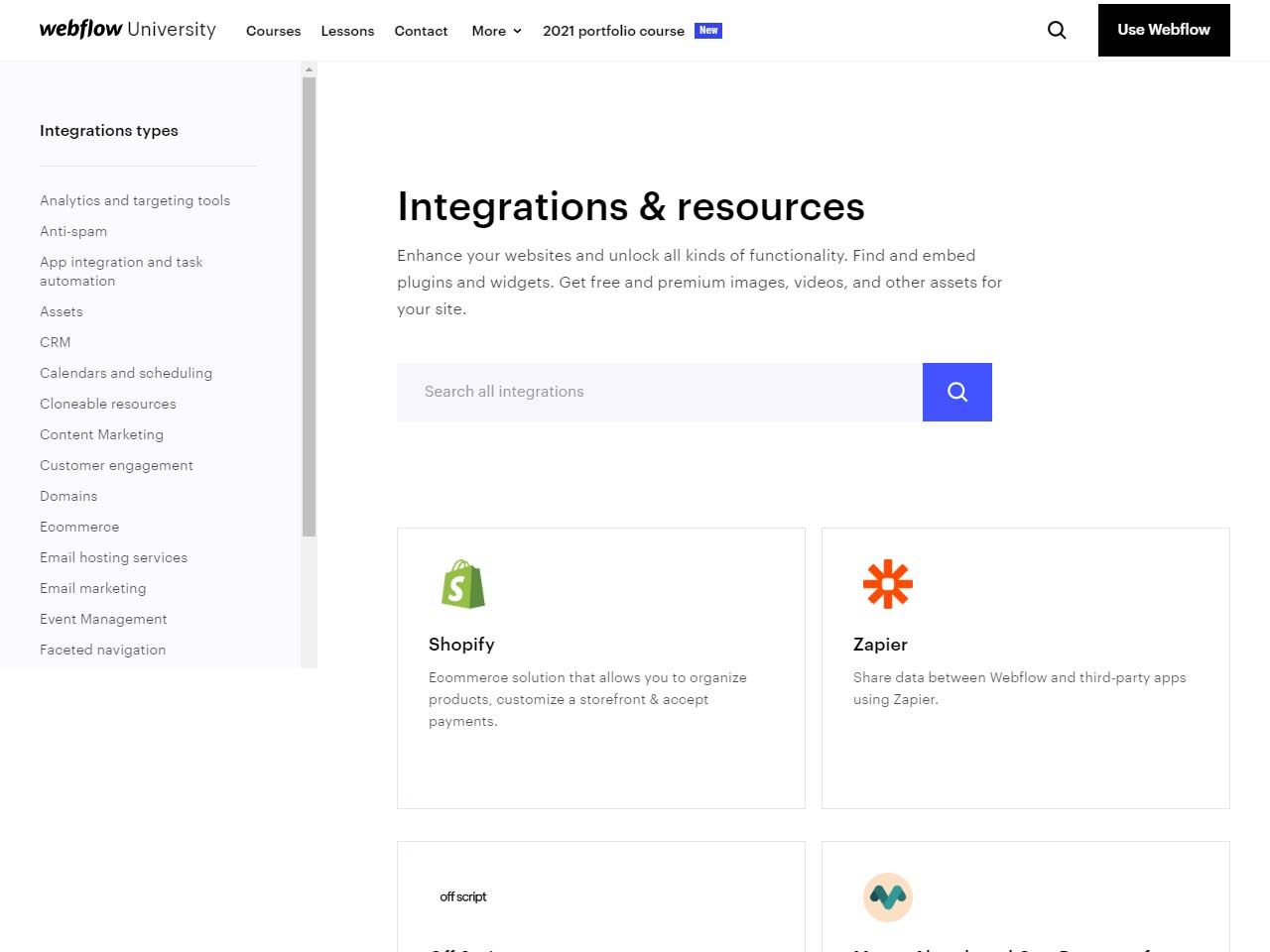 This is a new website builder and its developers are working every day to add new features. Initially, they were only an HTML editor with drag and drop, etc. In the latest years, they have included CMS so their platform can support blogging and eCommerce.
The main integrations and apps you can use with Webflow :
Intercom integration that provides real-time chat and other engagement user features like popups and the possibility to capture leads.
Google Analytics helps you to track your visitors and also see how they interact with your website
Mailchimp is so important for email marketing automation
SoundCloud
Zapier can automate your post publishing or other tasks.
Shopify
Webflow has also an integration library where you can check by yourself all the integrations they have. Every day they add new apps that can be used with their platform.
Squarespace Integrations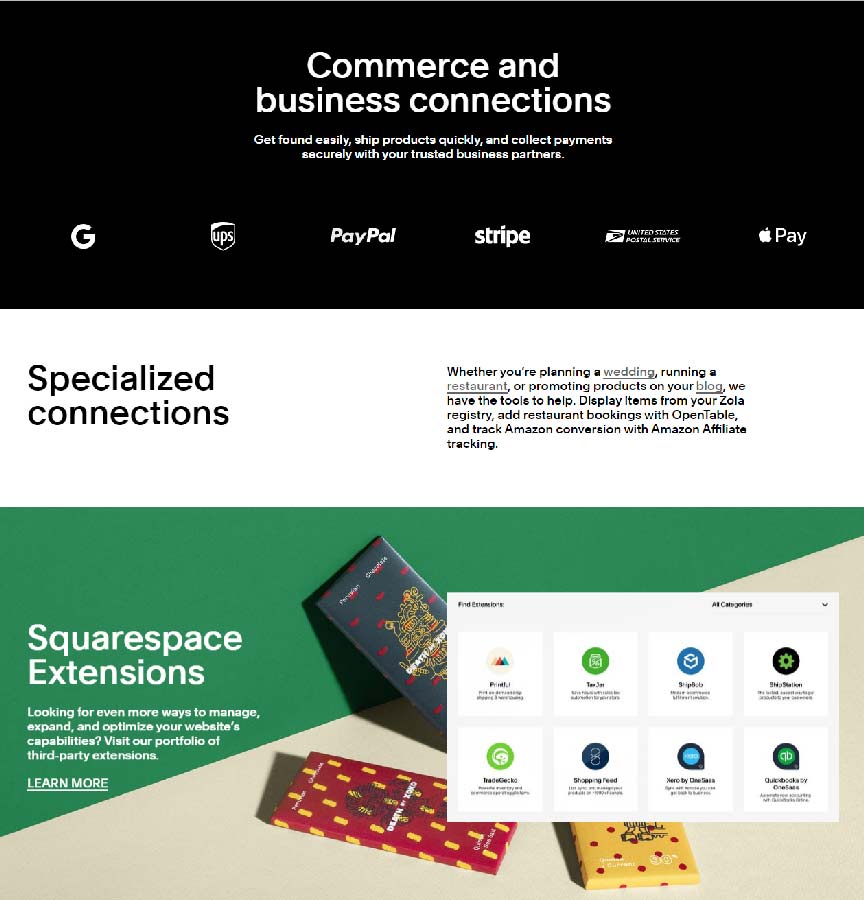 The app integration lets customers build websites without code. So integrations are very important for this kind of website builder. Squarespace comes with Paypal, Stripe, UPS, and a lot of social media integrations.
Squarespace comes with third-party extension integration like QuickBooks, SmartSeo and OrderDesk, and Freshbooks for financial management.
Final verdict:
When it comes to third-party integrations, Webflow and Squarespace are pretty similar. They offer various integrations for almost everything.
8. Support
Webflow Support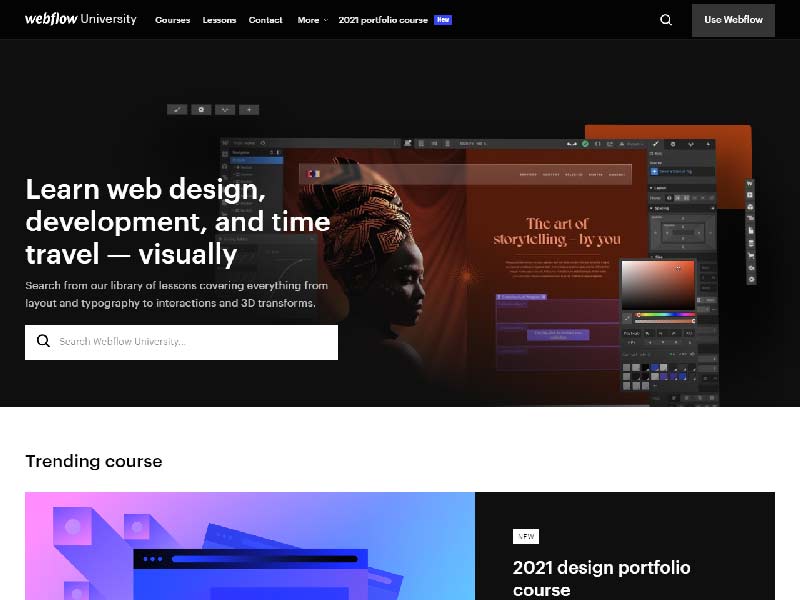 The support staff is great at Webflow and also they have a section called Webflow University where you can learn how to use their platform.
They offer email support and the response time sometimes needs about 1-2 days. In case you purchase a premium Webflow template, you can ask for support from the template authors which can be very helpful. Also, in case you will need an expert you can hire one from their platform too.
Squarespace Support
The platform offers fast support through live chat and email support. Also, Squarespace offers guide sections with tutorials and webinars. The Community Forum can be very helpful in some cases too.
I think that their support is very good but most of the time you can resolve your issue by chat support bot. Squarespace is a very intuitive platform and its templates are very easy to use. In case you want to add more complex functionalities or add code you can hire an expert from their website.
Final verdict
Squarespace offers live chat, email support and extensive tutorials, while Webflow offers only email support and it can take about 1-2 days to get a response.
Conclusion – Which is Better Webflow and Squarespace?
Webflow and Squarespace are both very easy to use and are perfect for beginners and not only. In my experience, I have seen web agencies that have also started using these platforms for their clients.
My personal choice as a webmaster is Webflow because it is very customizable and lets you edit any website detail. Also, their app and integration make it very professional and let you create complex websites. If you have a previous experience with web design Webflow is a perfect choice.
In case you are a beginner I will recommend you Squarespace as more straightforward to use but is more restricted and closed as a platform. Anyway, a beginner can also choose Webflow because of its large number of ready templates.

Ludjon, who co-founded Codeless, possesses a deep passion for technology and the web. With over a decade of experience in constructing websites and developing widely-used WordPress themes, Ludjon has established himself as an accomplished expert in the field.