Webflow is unique for one simple reason – the extent of creative freedom it allows. Hence, this in-depth Webflow review.
Webflow offers a similar promise as other site builders – effortlessly build a flawless website with little to zero code. The difference is that while most website builders force you to remain within strict restrictions of a design template, Webflow provides stunning design templates that are 100% customizable.
After hours of testing, we have an in-depth review of the Webflow site builder.
You will learn:
The different features and benefits
Pricing plans
All the pros and cons
Webflow vs. popular alternatives.
Are you ready? Let's begin.
Webflow the best website builder for designers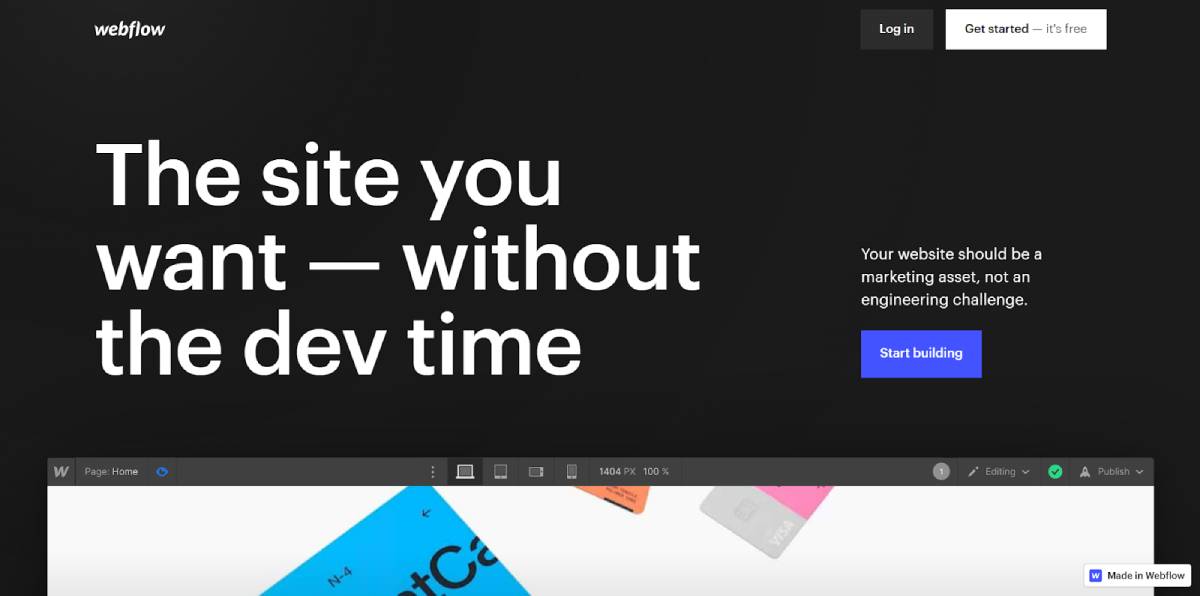 Overview Tables
Webflow Features
| | |
| --- | --- |
| Features | Availability |
| Design Templates | 1000+ |
| Content Management System (CMS) | Yes |
| Customer Service | Email Support and Webflow University |
| Web Hosting | Yes |
| Domain Registration | Yes |
| eCommerce | Yes |
| Search Engine Optimization (SEO) | Yes |
| Integrations | 5000+ |
Webflow Pricing
| | |
| --- | --- |
| Name of plan | Price range (per month) |
| Site Plans | $0 to $45 |
| eCommerce Plans | $29 to $212 |
| Workspace Plans | $0 to $60 per team member seat |
Webflow Pros and Cons
| | |
| --- | --- |
| Webflow Pros | Webflow Cons |
| Webflow allows you 100% creative freedom | Webflow does not support drag-and-drop |
| All Webflow templates are mobile responsive | Webflow's customer service needs improvement |
| Webflow supports web page animations and interactions | It does not support amp pages |
| Webflow supports 5000+ integrations | Webflow is more expensive than many website builders |
| Sites hosted on Webflow are highly secure | |
| Webflow offers step-by-step eCommerce site setup | |
| There is an in-built CMS and Editor | |
| Webflow has a free version; it also supports building sites for free | |
Features and Benefits (Plus Ratings)
Template Design and Customization | 4.8/5
Webflow has over 1000 available templates. 45 of them are free.
From inside the Webflow dashboard or a new project, you can browse and select from the template list. You also get to decide whether to build from scratch.
By default, the templates are grouped based on website type—for instance, eCommerce, portfolio, or SaaS. You can also browse templates by popular tags, languages, included features, types, and styles. For example, you can look for templates that have about pages or templates that come with a customizable 404 page.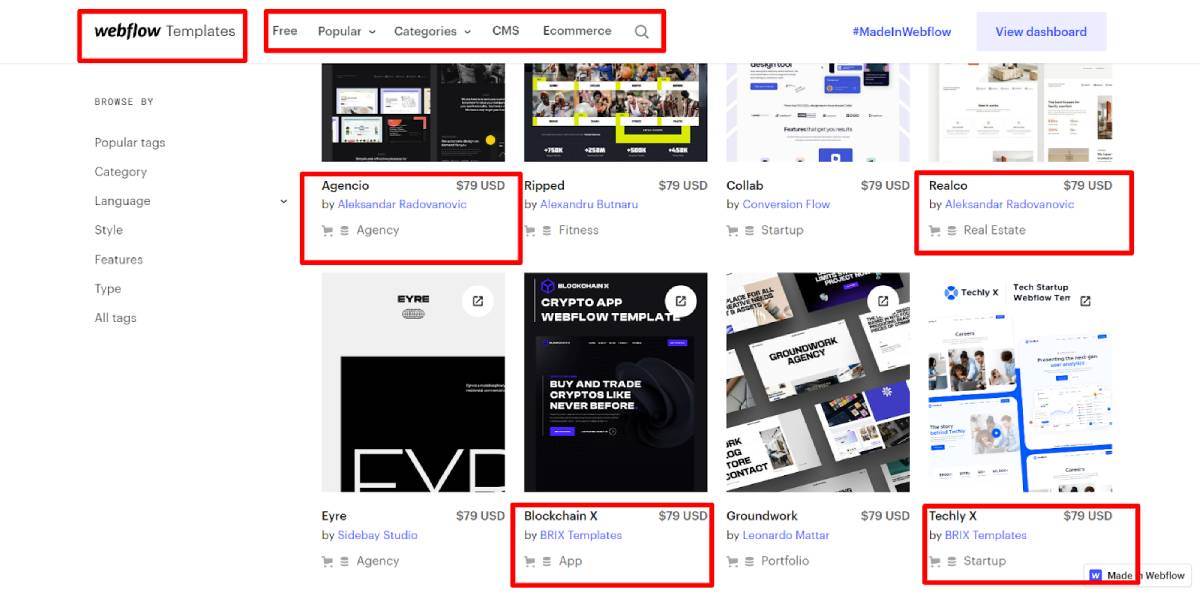 After clicking a template, you get a list of all available features and an overview of all functionalities. You also have three options – preview in a browser, preview in designer mode, or complete payment.
Previewing in a browser allows you to visit the test site and browse it like you would if it were live. Viewing in designer enables you to see the layout of web page elements and the way they render on different screen sizes. Webflow allows you that much previewing because a template is not easily changed once selected.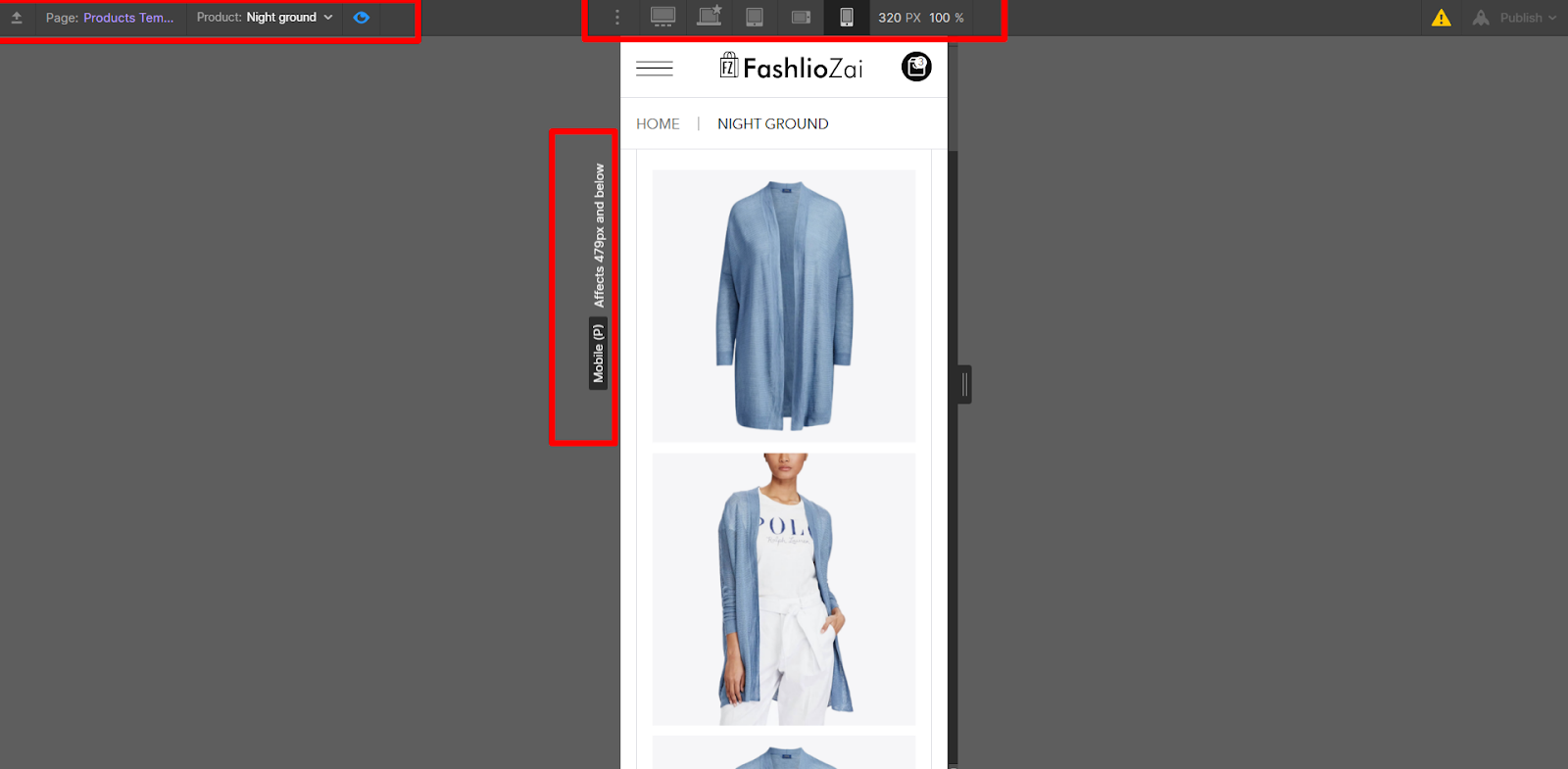 All Webflow templates are highly customizable with a wide range of features. If you select an eCommerce template, it will probably have a homepage, a blog page, an about us, contact us page, checkout, and thank you page.
Most of the available templates have animations and interactions included. Some come with Figma files, so you have complete control over the designs. All of them are mobile responsive.
You get total control to customize a template the way you want. Everything is customizable, from the general layout model of a page to the typeface design.
The only downside is that you have to design all the web pages of your website one at a time. Therefore, you cannot just duplicate the contact page and customize it for the about page. You can only copy and paste elements from one page to another. Copying and pasting are tedious and more error-prone than just duplicating a page.
User-Friendliness (Ease of Use) | 4/5
Webflow is not very intuitive when you are a first-time user. Of course, when you enter the dashboard for the first time, there is a brief onboarding tutorial, but the interface still needs a lot of getting used to.
However, I will say that the interface is well laid out.
The main builder is divided into three primary sections. The web page layout configurations are on the left side, a preview of the site is in the center, while settings like margins and fonts are on the right side.
Basically, you select a section of the webpage from the left-hand side, and it reflects in the middle. You then change the margins and other properties on the right-hand side.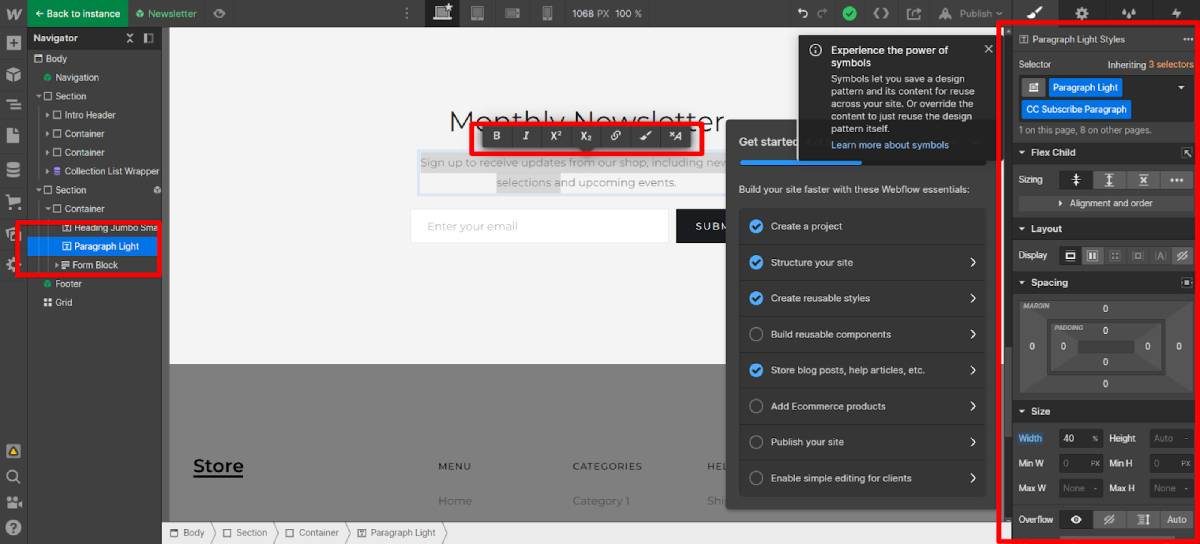 The complexity lies in fully understanding the full range of features you can access.
For beginners and first-time Webflow users, the learning curve is slightly steep. Less experienced designers and entrepreneurs may find themselves struggling with the number of features that Webflow provides.
Building a simple landing page takes several hours because you may have to design every section. To make matters worse, designs cannot be automatically copied page to page. You have to create every page separately.
But once you get used to it, you find that the extensive creative freedom allows you to create something that reflects your brand and your clients' brands.
Some site builders like WordPress are far more restricting on the freedom you have to customize a site. The main unique selling point of Webflow is that it allows you to create a fantastic website without hiring a developer.
Webflow becomes a lot easier as you design more web pages with it.
SEO – Search Engine Optimization Capabilities | 4.5/5
Webflow facilitates SEO strategy by allowing site owners to tweak page elements like meta titles and meta descriptions.
Some of the elements that you can edit directly in Webflow's builder include:
Meta titles
Meta descriptions
Alt texts
Canonical tags
301 redirects
Site maps
Webflow stands out because it has advanced SEO optimization features.
Firstly, you can automatically generate and enable a site map for your website. For perspective, sitemaps help Google crawlers know which pages are the most important on your website and what keywords to rank them for.
So, even if you are not an SEO expert, Webflow gives you the option to create a site map automatically. Better rankings mean more traffic and more conversions.
Secondly, Webflow supports SEO integrations like Google Analytics.
You also get to optimize SEO settings for every page on your website.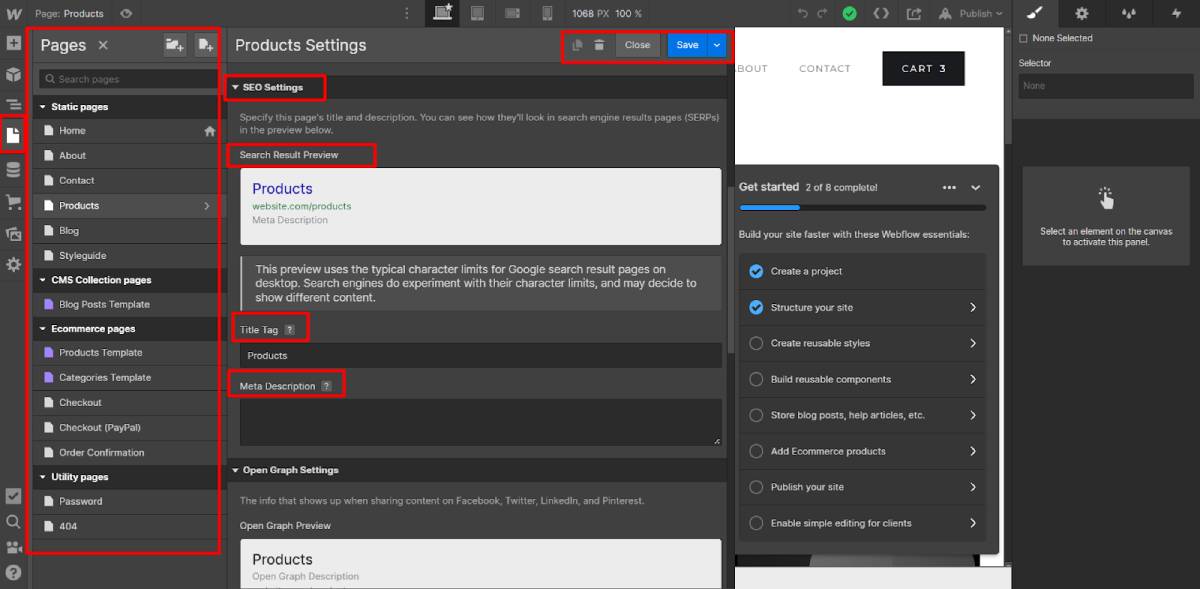 eCommerce Features | 4/5
During our Webflow review, we found out that Webflow is suitable for building out online stores.
Firstly, there are scores of eCommerce templates in the Webflow library, both free and paid. All of them have specific eCommerce web pages and are previewable.
After you choose a template, there are so many places where you can start to create your eCommerce website. You can immediately begin to edit web copy, customize template design, or import products. For beginners, this process can be overwhelming.
Impressively, Webflow has a bunch of steps to follow to create and launch an eCommerce website. Look at the screenshot below.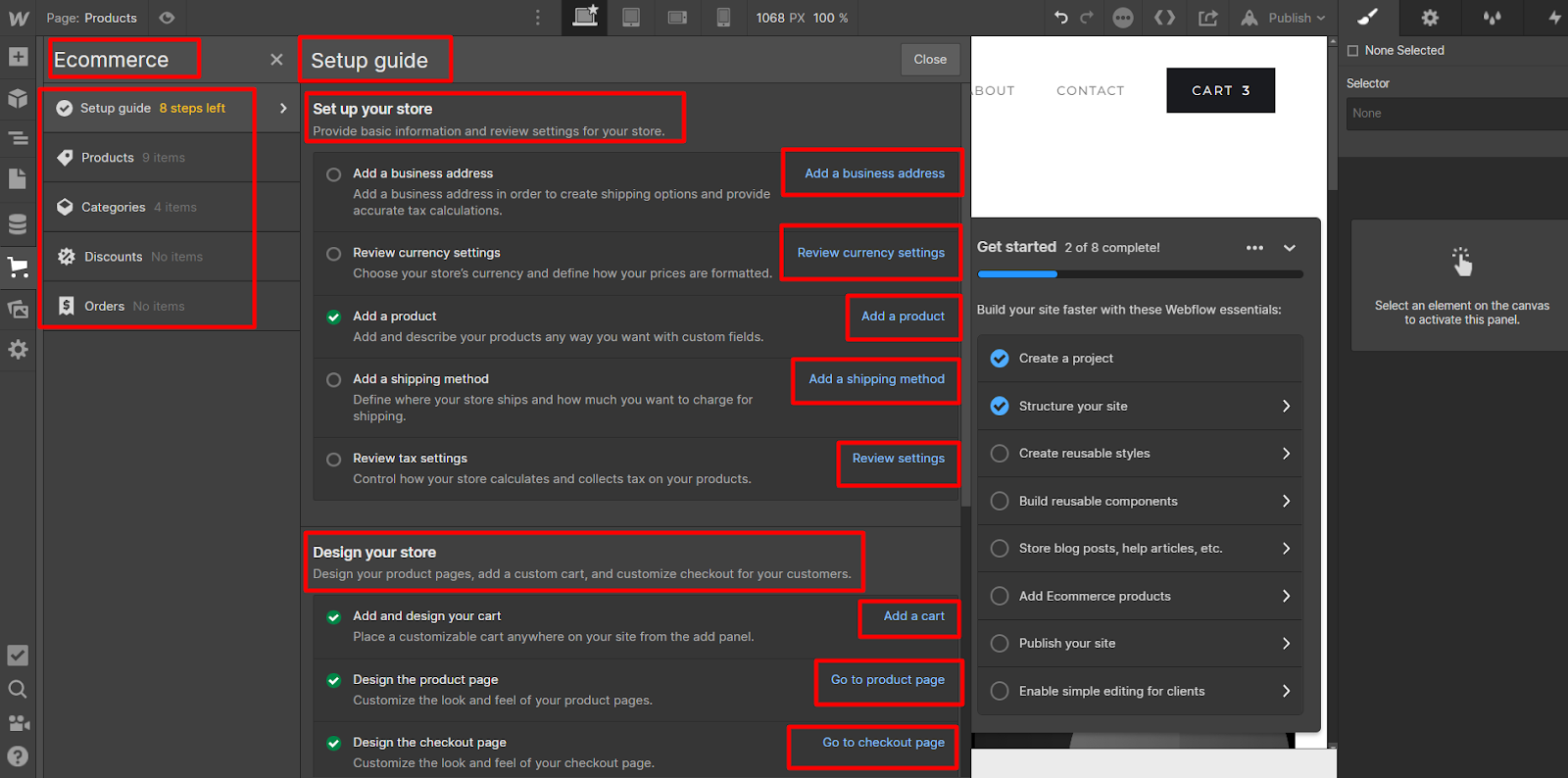 There are 13 steps divided into three main categories – setting up, designing, and launching.
Under setting up your store, you edit parameters like business address, shipping address, how tax is calculated and collected, and the primary currency for your online store. You also add a product in this step. Webflow supports manually adding a product and importing new product info as a CSV file.
Designing your store includes creating the pages on your website like the product pages, cart pages, and emails.
Launching your store comprises adding a payment provider like PayPal, selecting a hosting plan, enabling SSL, and enabling payment checkout.
With Webflow, it is easy to get an overview of all the products in your store. They are arranged by name, price, product type, etc.
You can add new products one by one, in bulk, or by importing an external CSV file. You can categorize products to create online catalogs and discounts for special offers.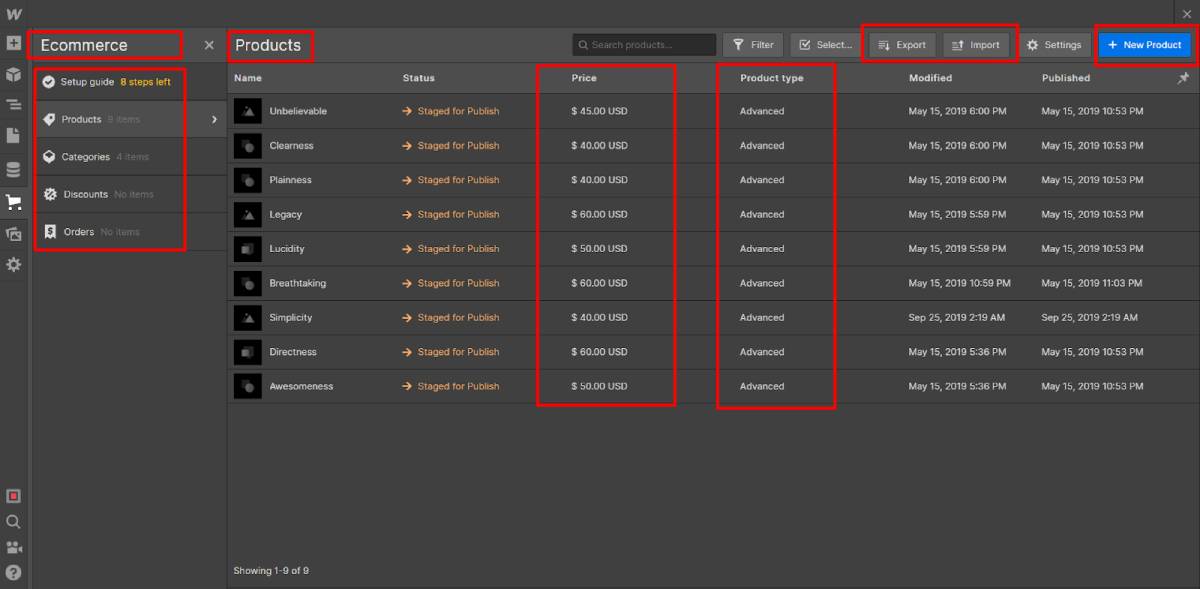 Webflow CMS or Editor | 4.5/5
Webflow has a Content Management System to help you group the content you share with your audience. In the most common sense, CMS allows you to organize resources significantly blog posts. This way, you don't have to design a blog post page every time.
Also called Webflow Editor, this CMS is built to work for both solopreneurs and business teams. It allows you to set access levels for several team members, including the designer, developer, and editor.
In a sense, Webflow is an alternative to WordPress and other CMS. With Webflow, it is super easy to add new blog posts, group them, and embed HTML in the content we produce. You can structure the content on our website and edit them directly in the designer. Webflow CMS also allows you to import CSV content files.
From the designer's end, you can easily edit the URL for your blog and the title of the homepage. It is also super easy to add password protection to blog posts.
The default CMS organization is a collection that arranges blog posts on a single web page. You can create new groups like ebooks, guides, assets, etc.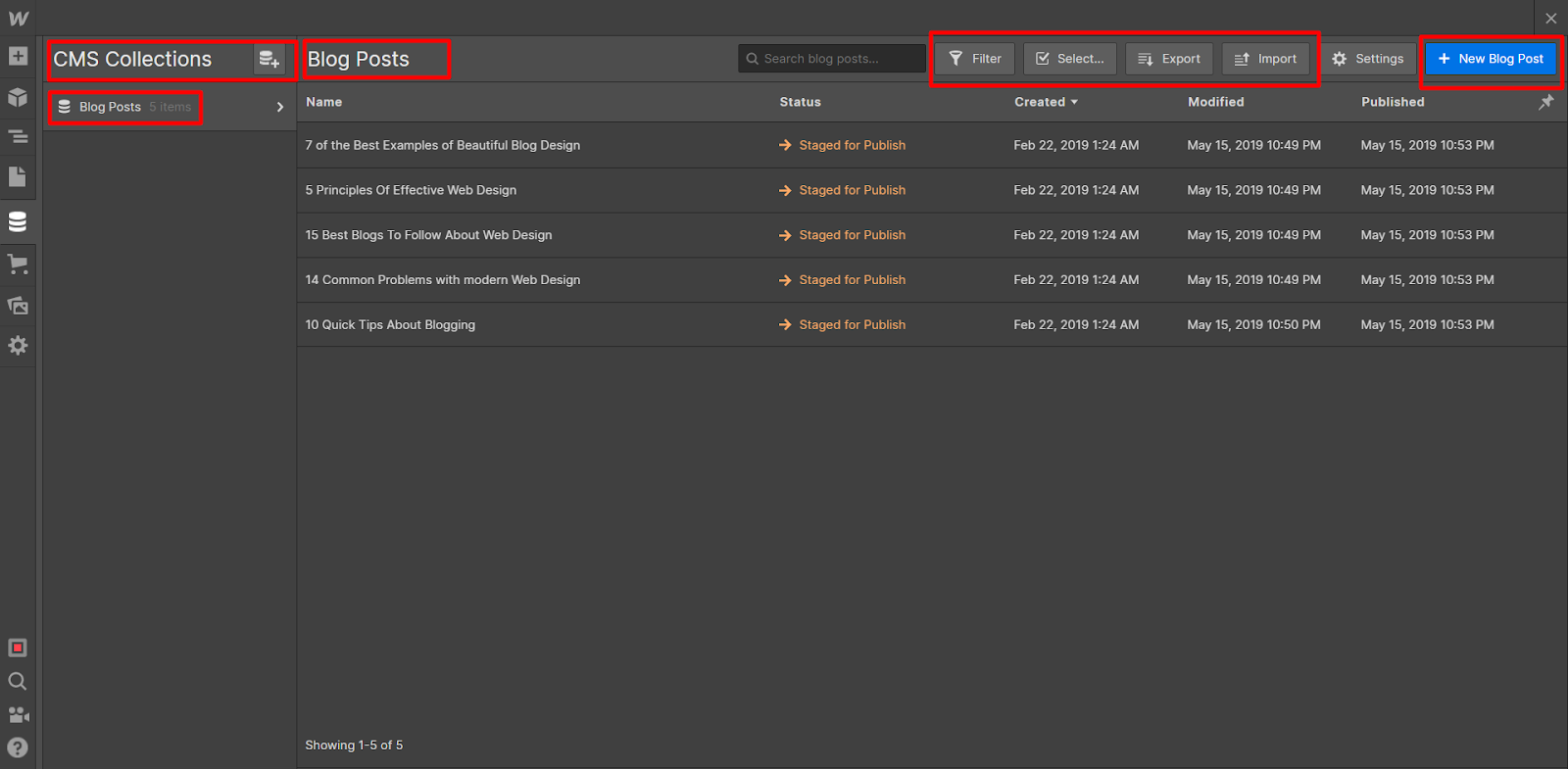 Customer Service and Docs | 3.5/5
Webflow offers customer support via email only. There is no option for telephone support or live chat. If you have an issue, you must submit a ticket request through email. Sadly, that's the barest minimum.
On top of that, email support is not available on Webflow every day of the week or even 24/7. It operates 12 hours a day, from Monday through Friday. Any weekend problem will have to wait till Monday to get solved. Live chat or telephone support is only available to enterprises.
The bright side is that Webflow has Webflow University, an extensive compilation of design documentation and tutorials. Just about any problem you have can be solved when you search for it in the tutorial base. Webflow also has a youtube channel for video tutorials.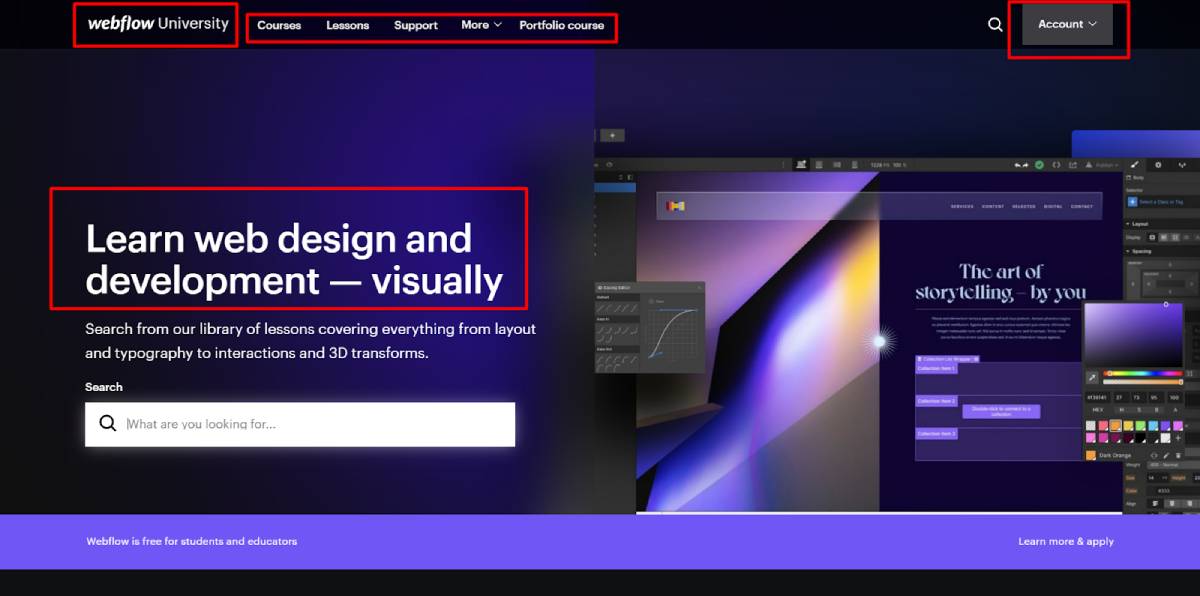 Webflow tries to compensate for the lack of 24/7 support with Webflow University. While almost all issues are explained in the tutorial and Docs base, I think Webflow should still extend email support hours and include telephone and live chat support options. What do you think?
Security | 4.5/5
Webflow takes security seriously. For several reasons, you can trust Webflow to keep your site's data safe.
First, Webflow provides integrated hosting plans built with Amazon Web Services (AWS), one of the most secure hosting platforms. You also get a free one-year SSL certificate for encrypting sensitive data when you purchase a hosting plan.
Second, Webflow is SOC-2 compliant. The site builder meets strict standards like high security, confidentiality, and privacy.
Third, Webflow automatically updates your store and stores backup files. Therefore, if something goes wrong or you make a mistake, you can return to an older version of your site. The extent of backup storage depends on the plan you get.
Fourth, Webflow is built so that you don't need any plugins. Too many plugins tend to expose sites to security breaches. With Webflow, the essential customizations are made from inside the designer.
API Integrations | 4.5/5
Webflow directly integrates with 200+ apps, including Calendly, Shopify, Hubspot, Printful, MailChimp, and AWeber.
Even better, Webflow integrates with Zapier. Zapier is a SaaS app that connects the API of different applications. Because Webflow integrates with Zapier, you can indirectly connect Webflow with 5000 other applications.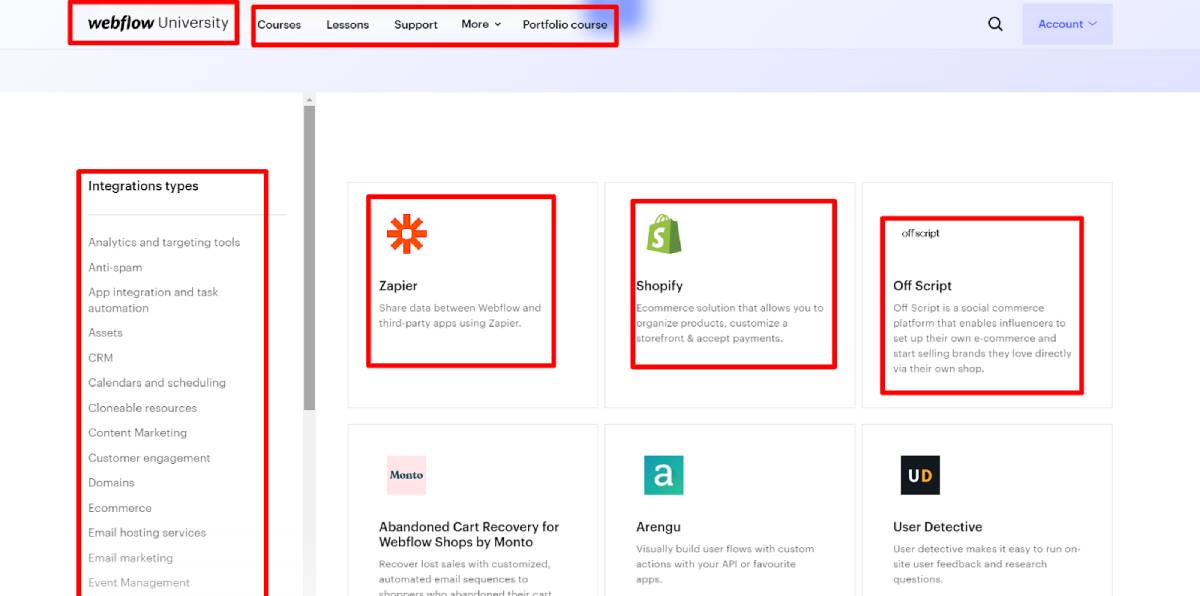 Webflow Hosting Plans | 4/5
When launching a site, you need a web host to provide your website's online home.
Webflow gives you two options. You either buy hosting from an external provider like Hostinger, or you buy hosting from Webflow.
Using another host, you have to export your designed website there. Buying hosting from Webflow gives you access to features like Webflow Editor and CMS.
Webflow hosting packages offer impressive features:
100+ data centers
99.99% uptime guarantee
Fast page loading speeds and low latency
Free SSL certificate for one year
We will discuss the hosting plans in more in-depth in the following section.
Pricing Plans
Creating and designing sites are entirely free in Webflow. However, you cannot launch anyone without purchasing a pricing plan.
Webflow pricing plans are divided into two main groups:
Site plans
Workspace plans
The site plans are for websites and the functionalities that go with them. Workspace plans are for managing the way you collaborate with your team on projects.
Site plans are divided into four:
Starter
Basic
CMS
Business
Starter is a free version that allows you to host one site on webflow.io with a maximum of 3 pages. You get a free subdomain, 1,000 monthly visits at maximum, up to 1GB of CDN bandwidth, and a maximum of 50 CMS items. The CMS items can be blog posts, projects, or client testimonials.
Basic costs $15 per month. You get a custom domain hosted on Webflow and 50GB of CDN bandwidth. You cannot use the CMS at this tier, but it allows up to 25,000 monthly visits.
The next tier, CMS, costs $20 per month. It is best for small businesses running a content-driven website or blog.
When you purchase the CMS plan, you get a custom domain and 200GB CDN bandwidth. You also get up to 2000 CMS items and three guest editors. The maximum number of monthly website visits allowed is 100,000 per month.
The next tier is Business, which costs $45 per month. You get up to 10,000 CMS items, ten guest editors, and 400GB CDN bandwidth. Your site is allowed up to 250,000 monthly visits.
CMS and Business use global CDNs while Starter and Basic get regional ones. Also, only CMS and Businesses get unlimited backups. For the rest, the number of stored backup files is limited to two.
Apart from these site plans, there are eCommerce plans for online stores. So, to launch a site, you need to buy a site plan. To run an online store, you have to purchase an eCommerce plan.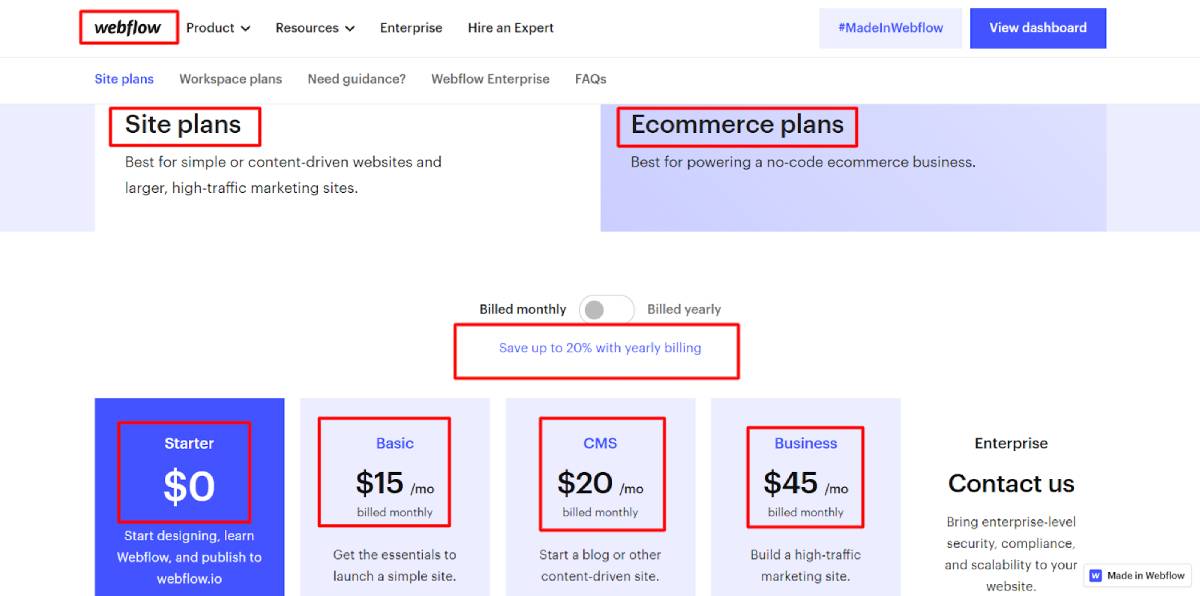 eCommerce plans are divided into:
Standard costs $29 per month. You get to add up to 500 items, but you must pay 2% transaction fees. Annual sales volume cannot exceed $50,000. You also get all the features in the CMS site plan.
Plus costs $74 per month. You get all the features in the Business plan, up to 1000 items, 0% transaction fees, and an annual sales volume of a maximum of $200,000.
Advanced costs $212 per month. You get all the features in the Business plan, up to 3000 sales items, 0% transaction fees, and an unlimited annual sales volume.
All Webflow eCommerce plans support payment providers like PayPal, Stripe, and ApplePay. They all allow custom shopping carts and checkout pages. They all have automatic tax calculations plus support for marketing apps like Facebook and Instagram.
Workspace plans determine how you work with your team. They are divided into:
Starter features only one seat (also called user) and allows up to 2 unhosted sites. It costs $0. FYI, an unhosted site is still being designed and has not been launched yet.
Core allows up to 3 seats and 10 unhosted sites. You have to pay $28 per month, per seat. You are allowed to add your code or export it.
Growth costs $60 per month per seat. You can have up to 9 seats and unlimited unhosted sites. Growth is best for growing design businesses and agencies.
All of these plans can be combined the way that you see fit.
Webflow Pros and Cons
Webflow Pros
Webflow allows you 100% creative freedom
You can build a site from scratch or choose a template that is 100% customizable.
All Webflow templates are mobile responsive.
Every template on Webflow has been tested for mobile responsiveness. So, you don't have to worry about losing web visitors.
Webflow supports web page animations and interactions.
Imagine being able to add interactions and animations without ever knowing a line of JavaScript. Awesome, right?
Webflow supports 5000+ integrations
Webflow directly integrates with 200+ apps and indirectly integrates with 5000 other apps through Zapier.
Sites hosted on Webflow are highly secure
Webflow is SOC-2 compliant. It constantly monitors websites for threats and regularly stores backup files.
Webflow offers step-by-step eCommerce site setup
Webflow makes it super easy to set up and launch a fully functional online store.
There is an in-built CMS and Editor
Webflow has an in-built CMS for organizing and editing the content on your site.
Webflow has a free version; it also supports building sites for free
The free version allows you to create and launch a site on Webflow's subdomain. No matter what, you don't have to pay for a site plan until you're ready to launch a site.
Webflow Cons
Webflow does not support drag-and-drop
For some website owners, drag-and-drop functionality may make it a lot easier to build and launch a site.
Webflow's customer service needs improvement.
There is no 24/7 Webflow support. You only get email support five days a week. There is also no phone or live chat support. All Webflow support is in English.
It does not support amp pages, yet
Webflow cannot build AMP pages. Just in case you didn't know, AMP pages are web pages that load super fast. Some site owners use them to optimize conversion rates.
Webflow is more expensive than many website builders.
Many website builders like Zyro, WordPress, and Squarespace are cheaper than Webflow.
Webflow vs. Other Site Builders: Webflow Alternatives
Webflow vs Squarespace
The most significant advantage that Webflow has over SquareSpace is that it affords very high creative design.
Every template you get from Webflow can is customizable to the smallest element, from the website layout to the font size of the footer section.
Squarespace templates are not very flexible, so you don't get a lot of creative freedom. Yet, it is effortless to use and offers more features at a lower price. Squarespace pricing ranges from $16 to $65 per month.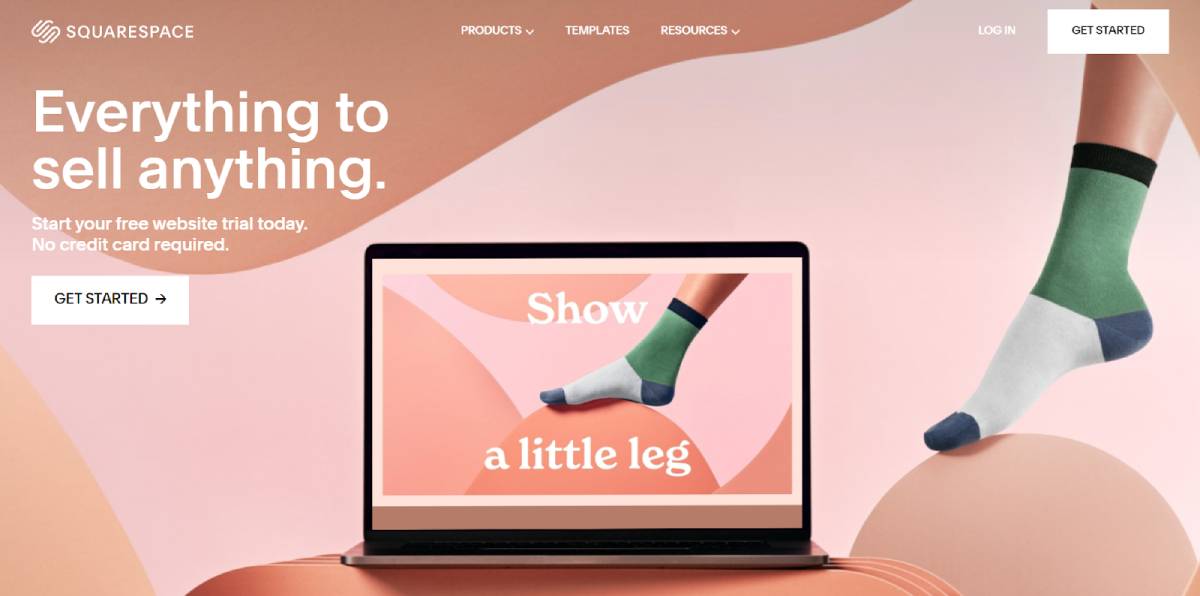 Read More: Webflow vs Squarespace – Which is Better for Beginners?
Webflow vs Shopify,
The most prominent USP for Webflow is creative freedom. You can build your store the way you want because templates are 100% customizable. On top of that, Webflow offers an extensive CMS.
However, Shopify has more comprehensive features that are perfect for large eCommerce sites. They include cross-selling and 100+ payment options.
Shopify offers 24/7 support, something that Webflow does not. It also has an app marketplace with 3000+ apps that you can install to extend the functionality of your online store.
However, Webflow has lower transaction fees than Shopify. Do you want to know more? Check out our Shopify review.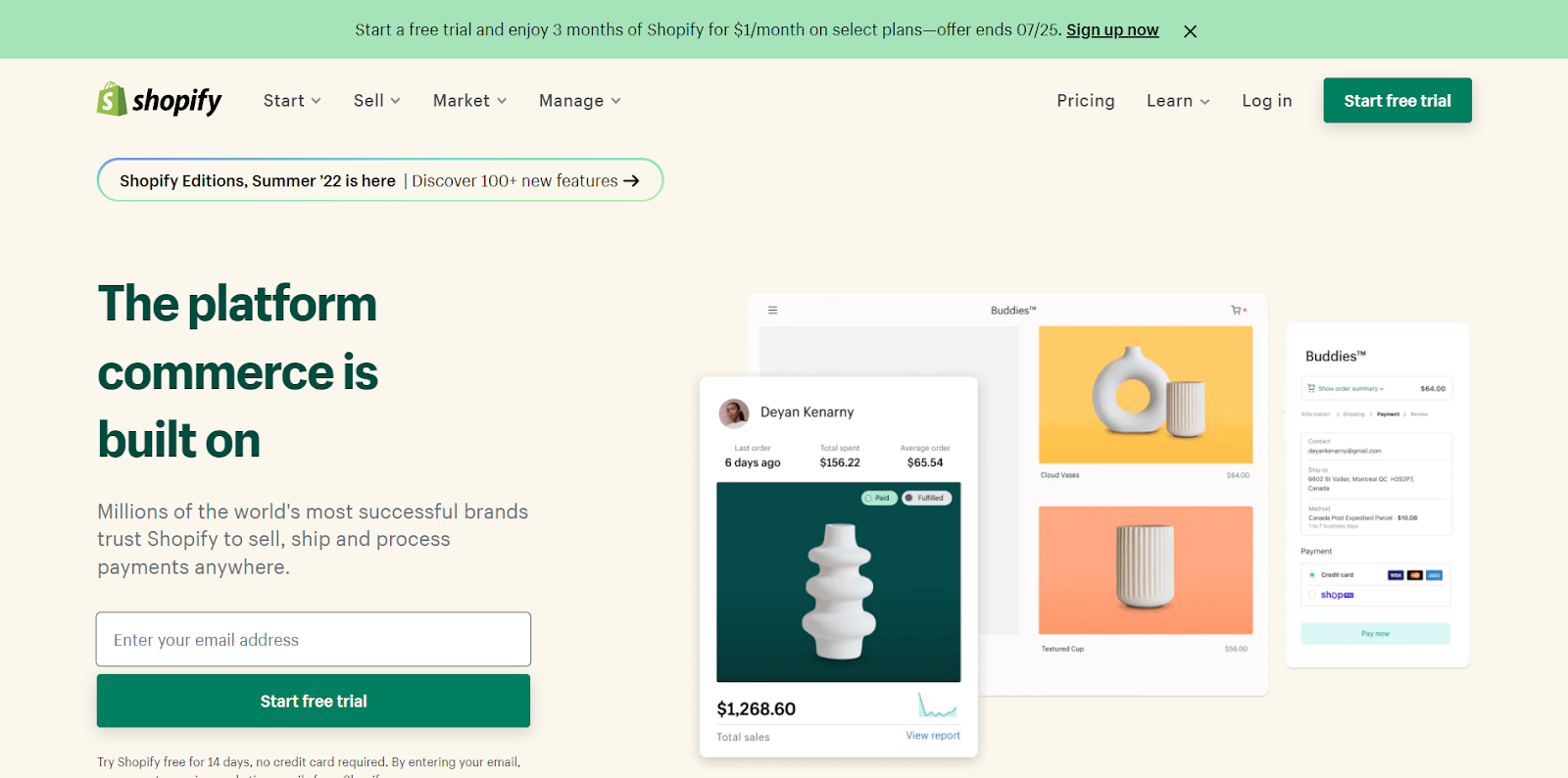 Webflow vs WordPress
WordPress is the largest website builder and CMS in the market today. 30% of all the websites in the world run on WordPress. Yet, here are some reasons why you should choose Webflow over WordPress.
100% creative freedom
High security
In-built features instead of multiple plugins,
However, WordPress is more affordable than Webflow.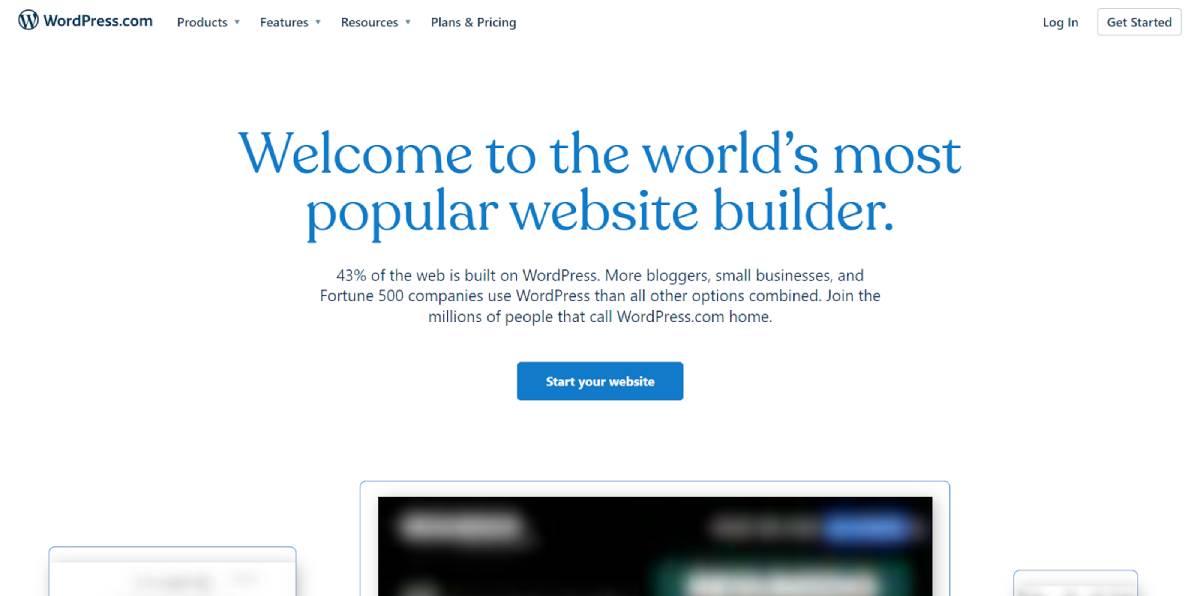 Read More: Webflow vs WordPress
Webflow vs Wix
Webflow will suit you better than Wix if you are okay with spending hours customizing every bit of a landing page to make it completely yours.
Wix has stunning template designs that you can use to build your website, but just like other builders, you don't get the creative freedom Webflow offers.
Plus, Wix does not have as extensive integrations as Webflow. It cannot integrate with Zapier.
But, Wix is more cost-effective, better for absolute beginners, and has 24/7 email support. See our in-depth Wix review here.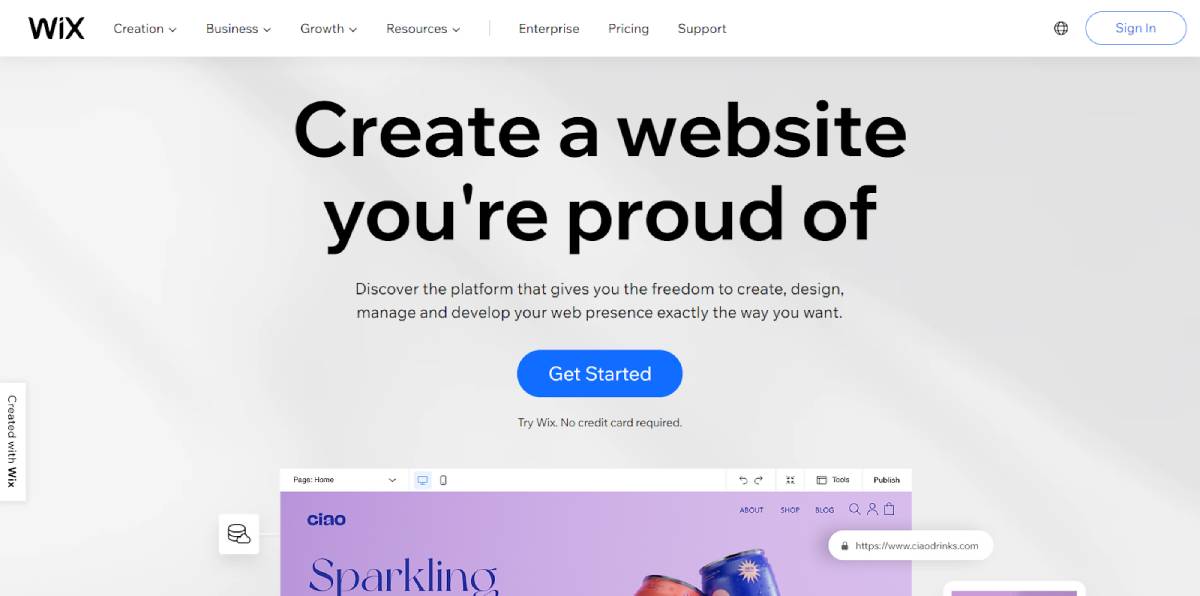 Webflow vs Zyro
Zyro is best for website owners on a budget. Pricing plans start as low as $2.61 per month, with the highest being $14.31 per month.
The range of Zyro templates is fewer than Webflow's. Zyro has about 100+ templates, while Webflow has 1000.
If you want something easier to use and cheaper, go for Zyro. If you are looking for advanced web design features, check out Webflow. Learn more about Zyro here.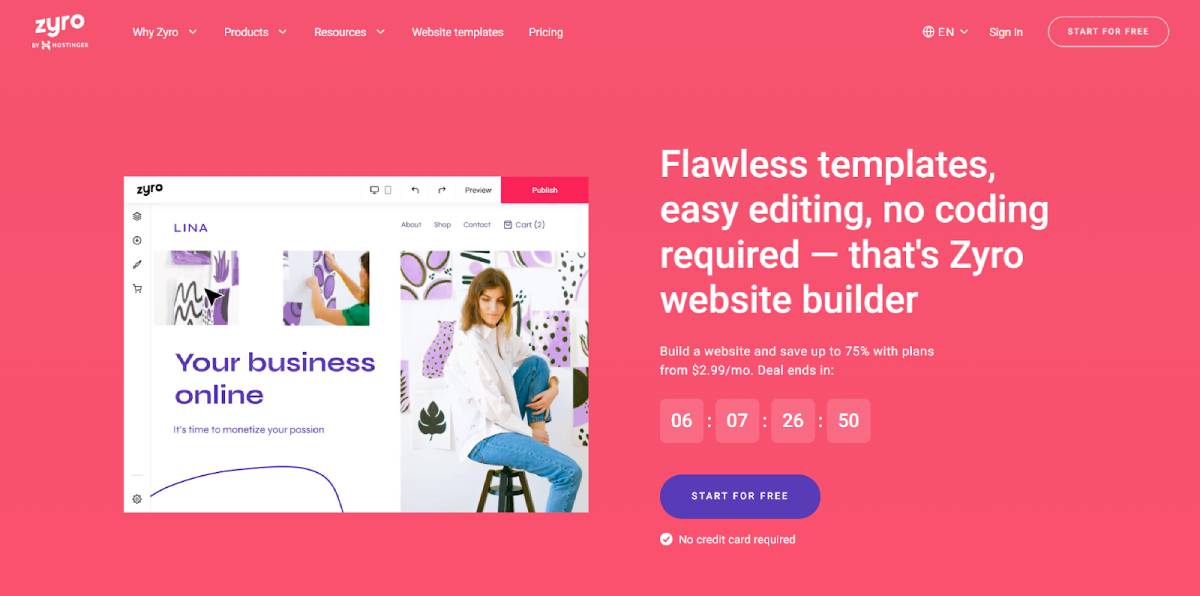 Webflow Review: Who is Webflow Best for?
Webflow is best for web designers, companies, and entrepreneurs that want to build websites that reflect brand stories closely. The numerous customization options Webflow offers allow website owners to create websites that stand out from the competition.
Therefore, web designers who want to quickly push a fully functional and well-designed website to market will love Webflow. Entrepreneurs who wish to launch unique online stores, create a portfolio website, or start a small business will love Webflow too.
Wrapping Up
Webflow has become one of the most popular website builders in the world, despite being founded in 2013, less than ten years ago. The website builder has served thousands of businesses, including Upwork, Dell, and Zendesk.
You don't have to spend any money today. Sign up on Webflow and begin to design the following website that will change your life. Enjoy.
FAQ
What is Webflow?
Webflow is a website builder that allows business owners and designers to create and launch dynamic websites without hiring any web developer. The site builder is unique because it enables users 100% creative freedom while providing them with more than a thousand stunning website design templates.
How good is Webflow?
Webflow is a very effective site builder. It offers a wide range of features, including 1000+ template designs, 100% customizability, 5000+ API integrations, and an extensive Content Management System. Another impressive Webflow feature is adding animations to your website without knowing any line of code.
Is Webflow secure?
Yes, Webflow is secure. The site builder has a 24/7 threat monitoring system, regularly creates and stores backup files, and is certified S0C-2 compliant. Purchasing a domain from Webflow gets you a free SSL certificate for one year. You can rest assured that your site's data is in good hands. 
Is Webflow the best?
Yes, Webflow is among the best site builders available. Almost any feature you need is already built-in. And if not, Webflow integrates with 5000 other apps.
Is Webflow really free?
Yes, Webflow is free for designing and building your website. However, when you are ready to launch your site. There is a free version where you can launch a site on Webflow's subdomain.
Is Webflow responsive web design?
Yes, Webflow is responsive web design. All the templates in the Webflow library are mobile responsive.

As one of the co-founders of Codeless, I bring to the table expertise in developing WordPress and web applications, as well as a track record of effectively managing hosting and servers. My passion for acquiring knowledge and my enthusiasm for constructing and testing novel technologies drive me to constantly innovate and improve.
Expertise:
Web Development,
Web Design,
Linux System Administration,
SEO
Experience:
15 years of experience in Web Development by developing and designing some of the most popular WordPress Themes like Specular, Tower, and Folie.
Education:
I have a degree in Engineering Physics and MSC in Material Science and Opto Electronics.