Are you looking for a gaming website builder? In this article, you will find a list of all the best website builders for gaming websites. Now, anyone can create a website without needing specialized skills to do so.
Thanks to no-code website builders, you can build the website you desire in a short amount of time. Below, you will find which of these platforms are most suitable for building a website for your gaming website.
The Top 5 Best Gaming Website Builders
Cheapest Website Builder for Gaming Sites

Pre-designed templates perfect for gaming websites
Responsive designs for mobile and tablet screens
Competitive pricing with scalable options
See Pros & Cons
Pros
One-click installations for game plugins and features
Customizable templates suited for gaming niches
Seamless integration with social media platforms for game updates
24/7 customer support with gaming expertise
Cons
Limited advanced design customization
Some features may require additional payment
Hostinger's Website Builder offers an affordable and user-friendly solution for gaming enthusiasts looking to create a dedicated website. The platform offers an array of pre-designed templates well-suited for gaming niches, making it a breeze to set up forums, blogs, or even game guides.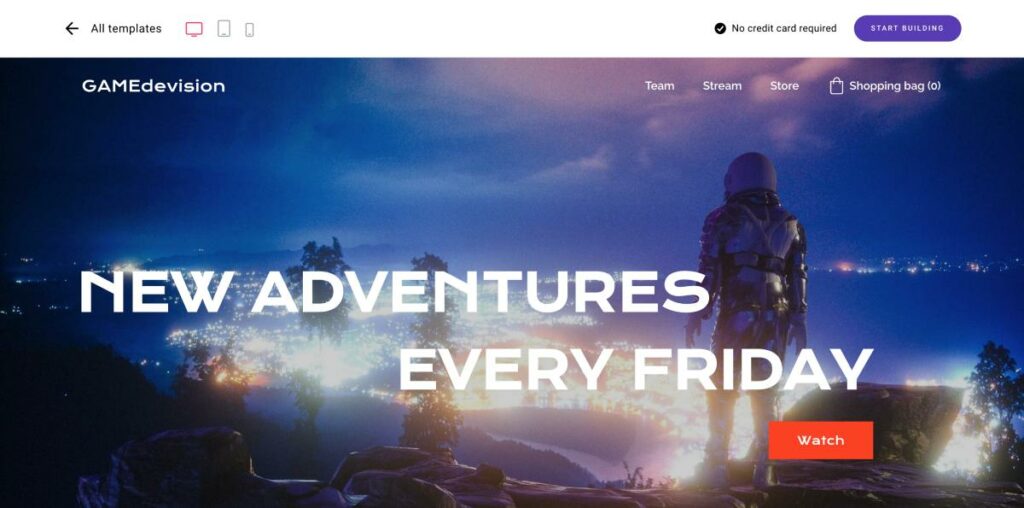 Moreover, the platform supports seamless integration with popular game communities, enabling you to foster a vibrant gaming ecosystem on your site.
Best for Design

User-Friendly Page Builder

Gaming Dedicated Template

E-commerce for selling game merchandise
Analytics for tracking
See Pros & Cons
Pros
Excellent design flexibility to create unique gaming websites
Built-in SEO tools to help boost the online presence of your gaming site
Integrated blogging platform to share gaming news and updates
Responsive customer support
Cons
Slightly higher starting price compared to other builders
May require a steeper learning curve for beginners
Squarespace stands as a powerhouse in the website builder sector, offering a range of tools to create visually striking gaming websites. Its intuitive drag-and-drop builder is a boon for gaming creators looking to craft an engaging platform without delving deep into coding.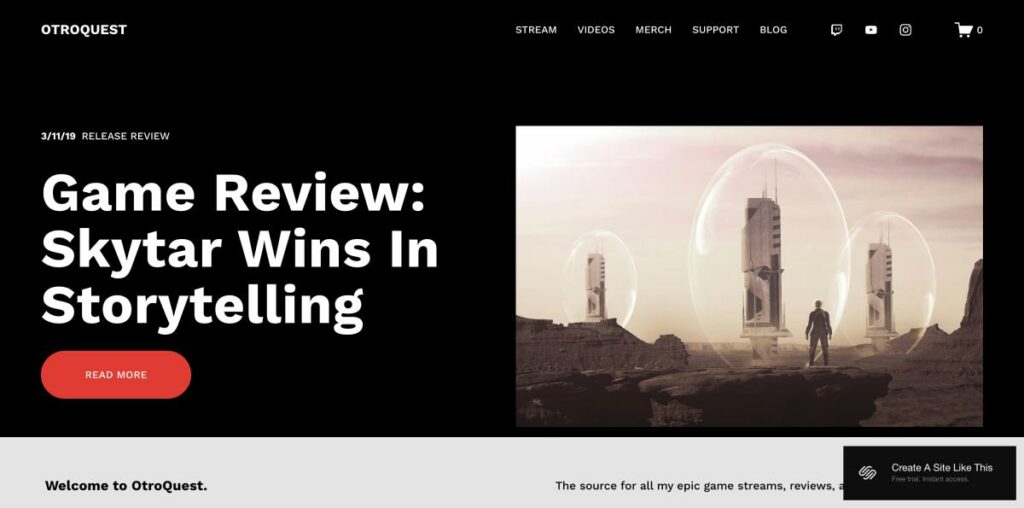 Whether you're building a gaming blog, a portfolio, or an e-commerce site to sell game merchandise, Squarespace offers the right blend of design flexibility and functionality, making it a top pick for gaming enthusiasts.
You can also check some of their best templates for Squarespace.
Best for User-friendly

Templates suitable for gaming websites
App Market with gaming-relevant integrations and plugins
Advanced site customization
See Pros & Cons
Pros
Intuitive interface suitable for non-tech savvy users
Ability to add forums and community sections easily
Flexible design options to create a unique gaming website
Integrated SEO tools to enhance your site's visibility
Cons
Slightly higher cost for premium plans
Can get complex with too many added features
Wix stands out as a versatile choice for individuals and businesses venturing into the gaming website domain. The platform offers an expansive selection of templates that cater well to gaming niches, giving creators a head start in building immersive, feature-rich websites.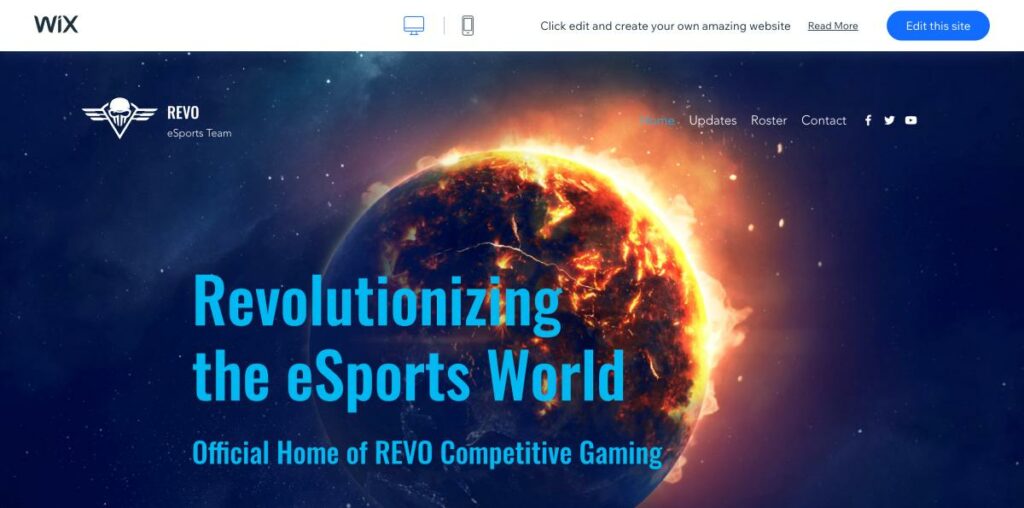 The drag-and-drop editor facilitates an easy customization process, even if you're not tech-savvy. Plus, with a plethora of plugins available in the Wix App Market, you can add gaming-relevant integrations to enhance your site's functionality further.
For gaming developers and pros, Corvid by Wix allows for more advanced site customization to create a truly unique gaming platform.
Read the full review of Wix: here
The platform also makes it a breeze to add community sections and forums, fostering interaction and engagement among the gaming community. While the cost may be a tad higher for premium plans, the flexibility and functionalities offered make Wix a go-to choice for building robust gaming websites.
Best for Gaming Website Builder for Customization

Visual development environment for designers
Advanced CMS capabilities
Integration with popular eCommerce platform
See Pros & Cons
Pros
Complete creative control for a unique gaming website
Responsive design features for optimal mobile experience
Robust community and educational resources
Advanced SEO tools and analytics integration
Cons
Steep learning curve for beginners
Additional costs for higher-level hosting plans
Webflow offers an innovative platform for those looking to craft a highly customized gaming website. Its visual development environment enables creators to build bespoke designs without needing to delve deep into coding.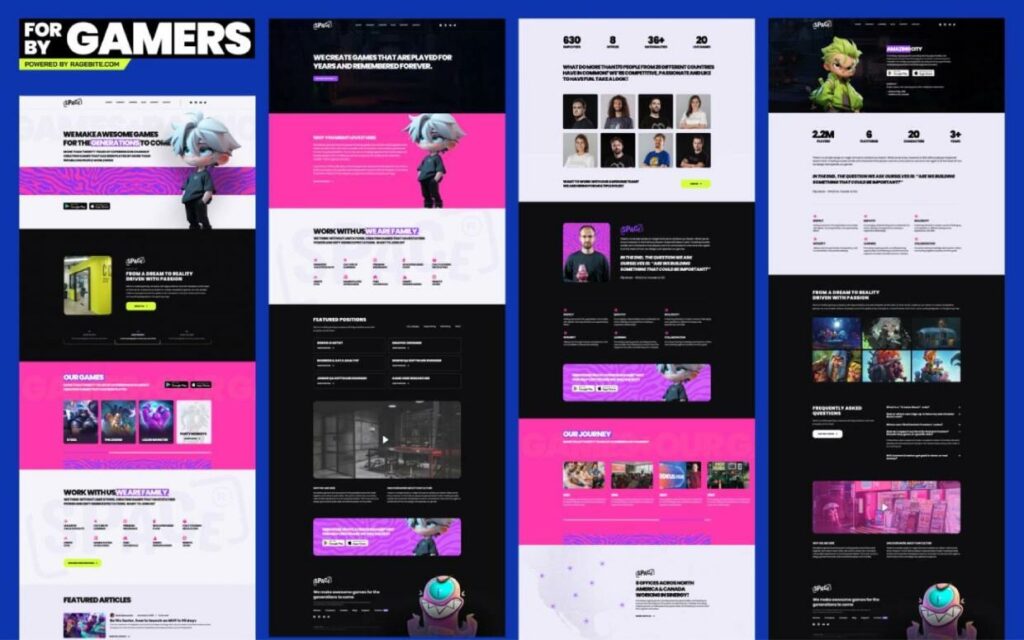 For gaming platforms that require dynamic content, Webflow's advanced CMS capabilities come in handy, allowing for the creation and management of complex gaming narratives and updates seamlessly. The platform also integrates well with popular eCommerce platforms, facilitating merchandising opportunities for gaming brands.
Learn more about Webflow and Squarespace if you are not sure.
While the learning curve might be a bit steep for beginners, Webflow's extensive resources and community support can help ease the transition. Additionally, it offers advanced SEO tools and analytics integration to help your gaming website rank well and attract a steady stream of gamers.
It is the perfect website builder for designers with no coding skills.
Best Made for Gaming Websites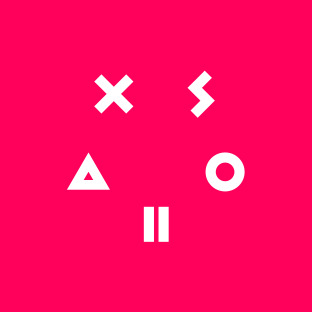 Specifically tailored for gaming industry needs
Monetization tools
Integration gaming commerce
See Pros & Cons
Pros
Focused tools and features for gaming websites
Flexible monetization options
Integration with a larger gaming ecosystem
Supports community building and engagement
Cons
Pricing information not transparent
May require some technical know-how for optimal use
Xsolla Website Builder emerges as a powerhouse for gaming website creation, offering tools and features specifically tailored to meet the demands of the gaming industry. It integrates seamlessly with Xsolla's gaming commerce ecosystem, providing a cohesive environment for gaming platforms to flourish.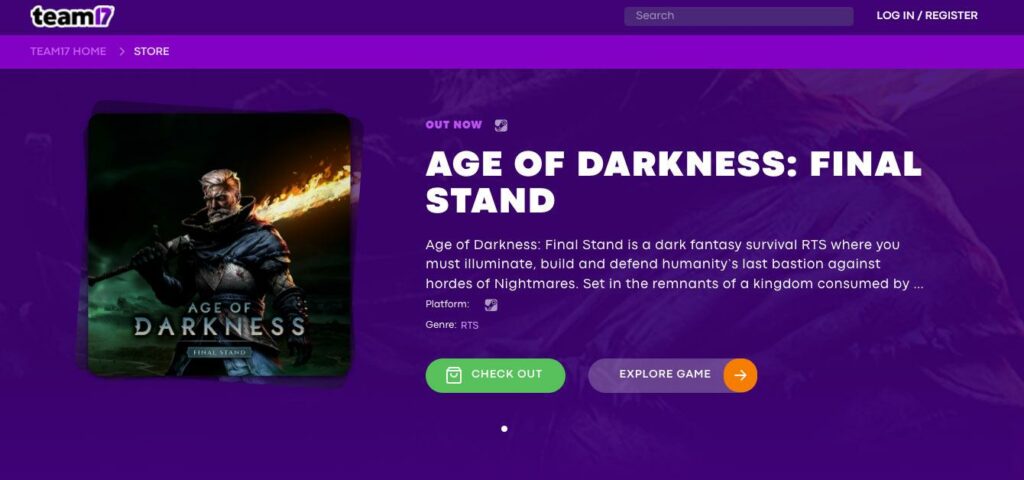 One of the standout features is its robust monetization tools, which allow gaming website owners to generate substantial revenue through various streams. Furthermore, the platform supports community building and engagement, fostering a vibrant and interactive gaming community.
While the pricing details are not transparently available, and it may require some technical expertise to navigate optimally, the Xsolla Website Builder's comprehensive features and integrations make it a worthy consideration for gaming enthusiasts looking to create a dedicated space in the gaming industry.
Read More: Best Gaming WordPress Themes
FAQs
What is a Gaming Website Builder?
A gaming website builder is a tool or platform that helps you create a website specifically designed to showcase, distribute, or promote video games, gaming communities, or esports events. These builders come with features that cater to the gaming industry, like game integration, community forums, and monetization tools.
Can I Build a Gaming Website Without Coding Skills?
Yes, most gaming website builders offer a no-code platform, which means you can build your website using drag-and-drop interfaces and pre-designed templates without requiring any coding skills.
What are Some Essential Features I Should Look for in a Gaming Website Builder?
When choosing a gaming website builder, consider looking for features like:
Game Integration: To integrate games directly onto the site.
Community Forums: To build and nurture a gaming community.
Multimedia Support: To showcase game trailers, screenshots, and blogs.
Monetization Tools: To set up online stores and implement in-game purchases or ad revenues.
SEO Tools: To optimize the website for search engines and attract more visitors.
Can I Integrate Community Forums and Social Media Platforms with My Gaming Website?
Yes, many gaming website builders allow integration with community forums and social media platforms to foster a vibrant gaming community and enhance user engagement.
How Much Does It Cost to Build a Gaming Website?
The cost of building a gaming website can vary depending on the builder you choose and the features you require. Many builders offer basic plans for free or at a low cost, with options to upgrade to premium plans for access to additional features and functionalities.
Can I Customize the Design of My Gaming Website?
Yes, most gaming website builders offer customization options to tailor the design of your website to match your brand's aesthetics and the gaming experience you wish to create.
Conclusion
After analyzing all the suitable website builders for a gaming website, I am here to give you some recommendations. If you are looking for a cheap website builder, I recommend the Hostinger Website Builder. In case you want to create a website that is aesthetically beautiful, choose Squarespace. For ease of use, go with Wix, and for customization options, choose Webflow

Ludjon, who co-founded Codeless, possesses a deep passion for technology and the web. With over a decade of experience in constructing websites and developing widely-used WordPress themes, Ludjon has established himself as an accomplished expert in the field.