Creating a WordPress restaurant website has never been easier, thanks to themes like the Picante Restaurant WordPress themes or website builders. By using the Picante theme, you can showcase your culinary delights, ambiance, and services with style.
If you happen to have reservations about WordPress, allow me to recommend an alternative approach by exploring our article on Website Builders for Restaurants.
The benefits of using the Picante theme for your restaurant website are numerous. For instance, it offers a wide range of customization options, allowing you to create a truly unique online experience.
Moreover, the theme is user-friendly, making it accessible even for those without advanced technical skills. Additionally, Picante is optimized for search engines, ensuring your website ranks well in search results.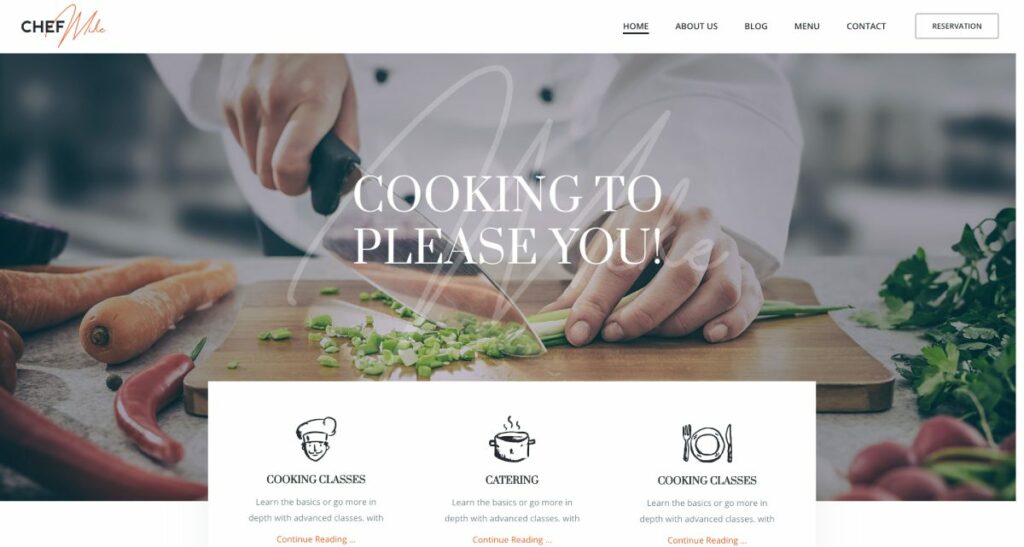 Throughout this article, we will guide you step by step on how to create a stunning restaurant website using the Picante Restaurant WordPress theme.
From purchasing and installing the theme to customizing it to your specific needs, this guide will cover it all.
So, let's dive in and start building your dream restaurant website!
Get Hosting & Domain
Before diving into the Picante theme, let's first cover the basic requirements for setting up a WordPress restaurant website.
Domain name
To establish a strong online presence, select a domain name that represents your restaurant and is easy to remember. Keep it short and relevant to make it simple for customers to find you online.
You can generate an interesting domain with our AI Domain Name Generator tool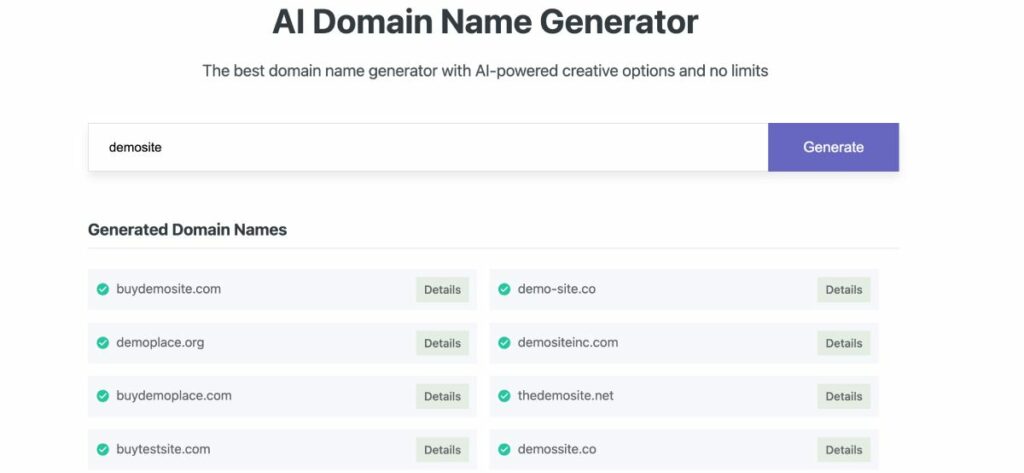 Hosting service
Choose a reliable hosting service that offers fast loading times, excellent uptime, and robust security features. Some popular options include Bluehost, Hostinger, SiteGround, and WP Engine.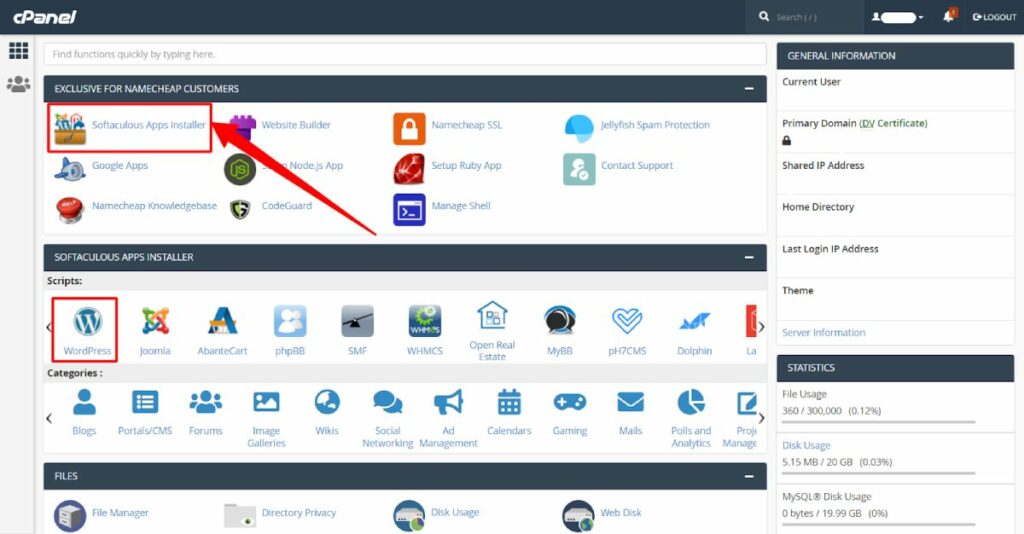 Check our article here for more: 10 Best Shared Hosting Services: Reviews
WordPress Installation
Install the latest version of WordPress on your hosting account, following the instructions provided by your hosting provider. Once installed, log in to your WordPress dashboard to create your restaurant website.
Here is a full guide on how to install WordPress
Select a WordPress Theme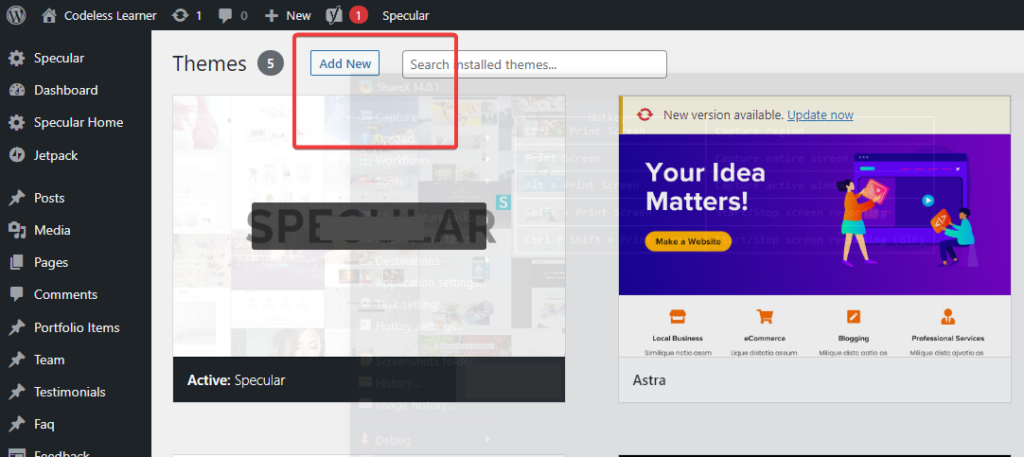 There are different Restaurant WordPress themes that you can choose but we have chosen our Picante WordPress theme to make this tutorial.
Purchasing and installing the Picante theme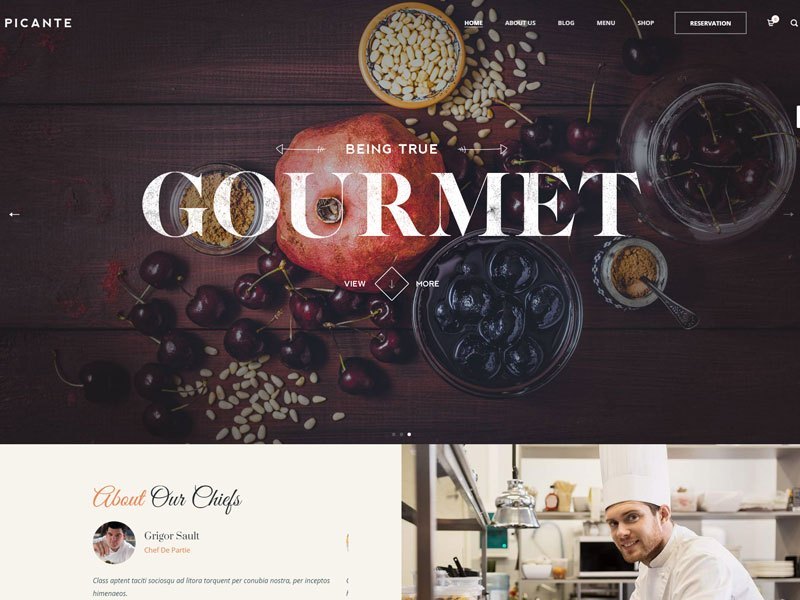 Where to buy the theme: The Picante theme can be purchased from ThemeForest. Make sure to purchase a license that suits your needs, whether for a single site or multiple sites.
How to install the theme on your WordPress site: After purchasing the Picante theme, download the theme files and follow these simple steps to install it:
Log in to your WordPress dashboard
Navigate to Appearance > Themes > Add New
Click "Upload Theme" and select the downloaded Picante theme .zip file
Click "Install Now" and wait for the installation process to complete
Activate the theme by clicking "Activate" once the installation is finished
WordPress Dashboard > Picante > Choose Demo > Click Install
For a more detailed tutorial: How to Install a WordPress Theme (in only 5 Steps)
Now that the Picante theme is installed, you're ready to start customizing it to create the perfect restaurant website for your business.
Customizing the Picante Theme for Your Restaurant
With the Picante theme installed, it's time to tailor the theme to your restaurant's unique needs and style. Here's how you can customize various sections of your website:
Setting up the homepage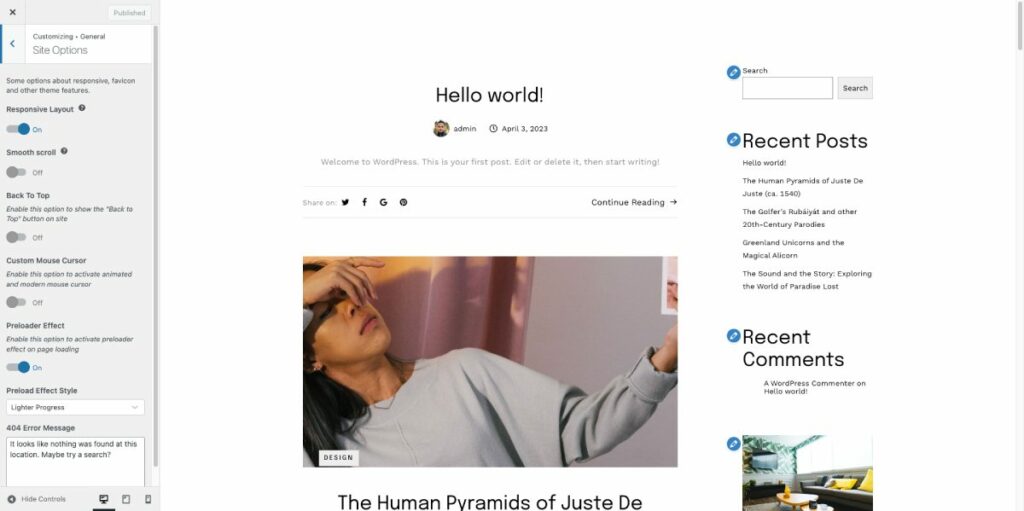 Choosing a homepage layout: Picante offers multiple pre-designed homepage layouts to choose from. Browse through the options and select one that best represents your restaurant's vibe. You can customize the chosen layout further to make it unique to your brand.
Customizing the header and footer: Make sure your header and footer contain essential information like your restaurant's logo, contact details, and navigation menu. You can customize the header and footer in the theme options panel, adjusting their appearance to match your restaurant's style.
All these options can be set through Codeless Builder. Here you can find the whole tutorial on how to customize the menu, home page layout, and header footer: Full Documentation for Picante WordPress Theme.
Create menu section
Creating and organizing your restaurant menu: Design an appealing and easy-to-navigate menu by categorizing your dishes and displaying them with beautiful images and descriptions. To create a menu, go to your WordPress dashboard, and navigate to the menu settings. Add new food categories and items as needed.
Adding food categories and items: With Picante, you can create unlimited food categories and items. Use high-quality images and write mouth-watering descriptions for each dish. Don't forget to include essential details like prices, ingredients, and allergen information.
Add the reservation system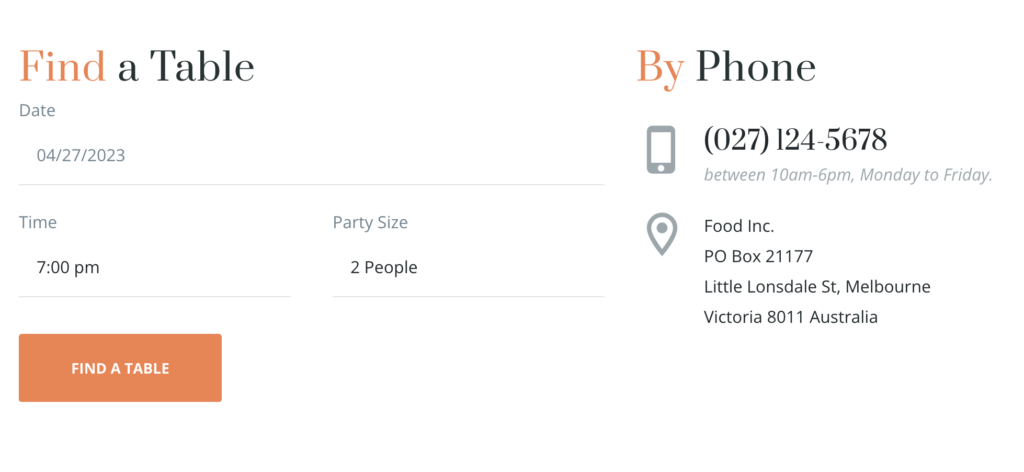 Setting up the reservation form: Incorporate a reservation form on your website to allow customers to book tables quickly and effortlessly. Picante offers a built-in reservation system that you can customize to suit your restaurant's needs, including fields for date, time, party size, and special requests.
Integrating with third-party reservation platforms: If you prefer using a third-party reservation platform like OpenTable or Resy, Picante allows seamless integration. Follow the instructions provided by your chosen platform to embed the reservation widget on your website.
Add the blog and events section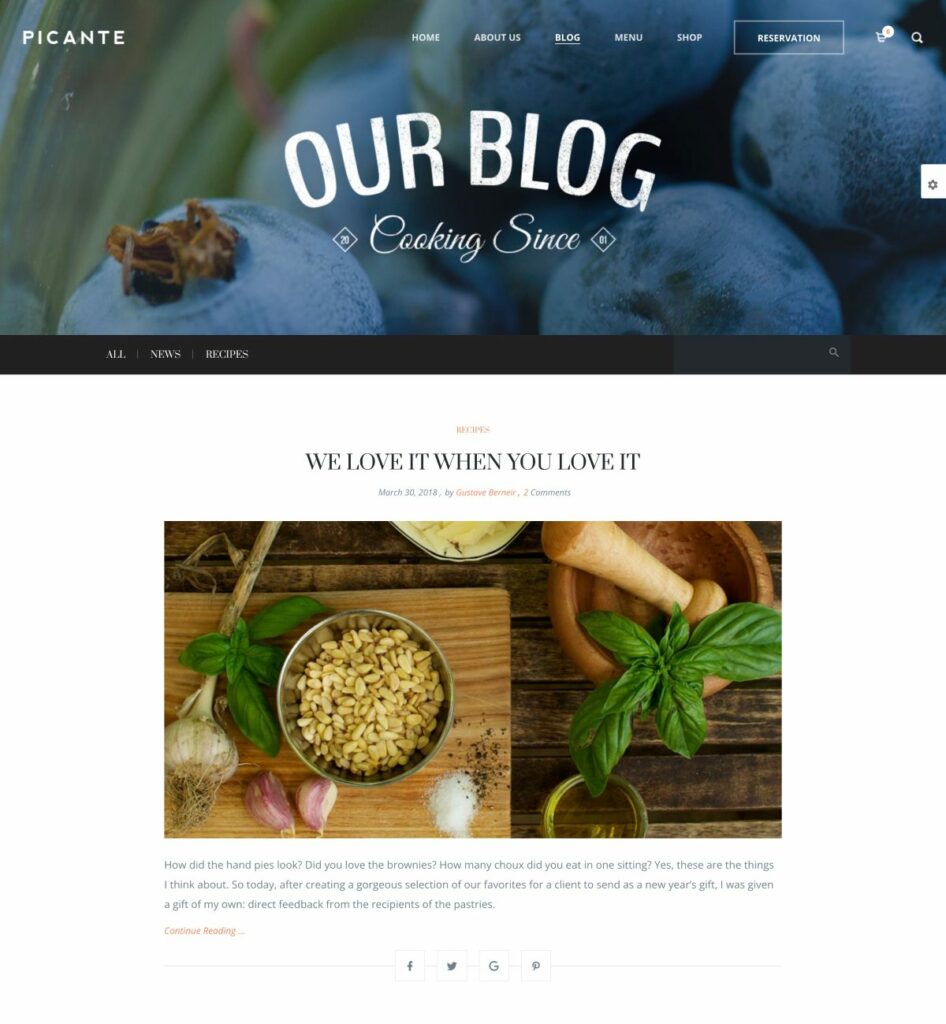 Creating blog posts: A blog is an excellent way to share news, recipes, and updates with your customers. To create a blog post, go to Posts > Add New in your WordPress dashboard. Use engaging titles, images, and content to keep your audience interested and informed.
Adding and managing events: Highlight upcoming events, such as cooking classes or wine tastings, to engage your audience and encourage repeat visits. To add an event, navigate to the events section in your WordPress dashboard and input the necessary details, including the event title, date, time, location, and description.
Creating a Food Online Ordering System with Picante WordPress Theme and WooCommerce
The Picante WordPress theme and WooCommerce integration can help you create an online food ordering system for your restaurant.
This enables customers to conveniently browse your menu, place orders, and make payments directly through your website. Here's how to set up an online ordering system using the Picante theme and WooCommerce: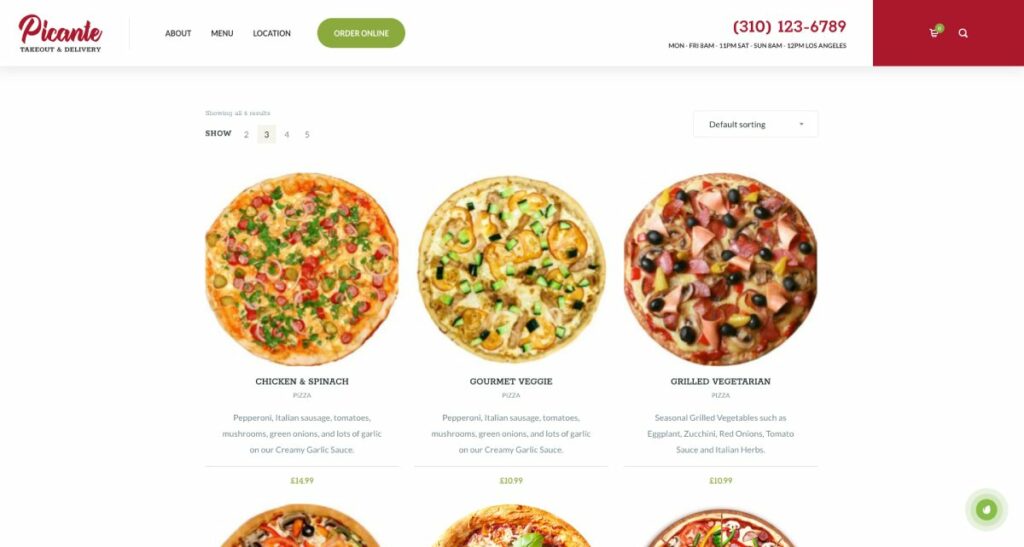 Installing WooCommerce
Install the WooCommerce plugin: To begin, log in to your WordPress dashboard, navigate to Plugins > Add New, search for "WooCommerce," and click "Install Now" followed by "Activate."
Complete the WooCommerce setup wizard: Follow the on-screen instructions to configure your store's settings, including location, currency, and payment gateways.
Configuring WooCommerce for Your Restaurant
Create product categories: Organize your menu items by creating product categories such as "Appetizers," "Main Courses," or "Desserts." To do this, go to Products > Categories in your WordPress dashboard and add each category accordingly.
Add menu items as products: Add each dish as a WooCommerce product, ensuring you provide a detailed description, price, and a high-quality image. Assign each product to the appropriate category to keep your online menu organized.
Set up product variations: If your menu items come in different sizes or with optional extras, use the product variations feature in WooCommerce to enable customers to customize their orders.
Integrating Online Ordering with the Picante Theme
Customizing the food ordering page: With the Picante theme, you can easily create a visually appealing and user-friendly food ordering page. Customize the layout, colors, and design elements to match your restaurant's branding.
Adding a shopping cart and checkout functionality: Incorporate the WooCommerce shopping cart and checkout functionality into your website, allowing customers to review their orders and complete the payment process securely.
Configuring order notifications: Ensure that your restaurant receives timely notifications for incoming orders, either through email or other communication methods. This allows your staff to process orders efficiently and provide prompt service to your customers.
By combining the Picante WordPress theme with WooCommerce, you can create a robust and user-friendly online food ordering system that helps drive sales and enhance customer satisfaction.
In these various sections, you'll create a comprehensive and engaging WordPress restaurant website that showcases your business and drives customer engagement.
You can also read our full guide on: How to Customize a WordPress Theme (Tutorial)
Tip & Tricks for Restaurant Website
Here are some valuable tips and tricks to help you create a standout restaurant WordPress website that engages visitors and drives business:
Mobile responsiveness: Ensure that your website is fully responsive and looks great on various devices, including smartphones and tablets. The Picante theme is mobile-friendly, so make sure to test your website on different screens to guarantee a seamless browsing experience.
Clear call-to-action (CTA) buttons: Incorporate clear and visible CTAs throughout your website, such as "Reserve a Table," "Order Online," or "View Menu." This encourages visitors to take action and engage with your restaurant.
Online ordering integration: If you offer takeout or delivery services, integrate an online ordering system into your website. This allows customers to place orders directly from your site, increasing convenience and boosting sales.
Showcase customer testimonials: Display positive reviews and testimonials from satisfied customers to build trust and credibility. Use a dedicated testimonial section or a rotating slider to showcase these reviews prominently on your website.
Leverage social media: Integrate social media sharing buttons and feeds to encourage visitors to follow your profiles and share your content. This increases your online visibility and helps build a community around your restaurant.
Promote special offers and events: Highlight exclusive deals, promotions, and events on your website to attract new customers and encourage repeat business. Use eye-catching banners or pop-ups to draw attention to these offers.
Use an email subscription form: Encourage visitors to sign up for your email newsletter to stay informed about the latest news, promotions, and events. This helps you build a loyal customer base and maintain ongoing communication with your audience.
Optimize your website's speed: Slow-loading websites can harm user experience and hurt your search engine rankings. Optimize your images, use a caching plugin, and choose a high-quality hosting service to ensure fast loading times.
Keep your content fresh: Update your website regularly with fresh content, including blog posts, menu items, and events. This keeps your website engaging and improves your search engine rankings.
Monitor website analytics: Regularly check your website's performance using tools like Google Analytics. This helps you identify areas for improvement and make data-driven decisions to enhance user experience and increase conversions.
By implementing these tips and tricks, you can create a WordPress restaurant website that stands out from the competition and drives more customers to your business.
FAQs
Is a website necessary for a restaurant?
Yes, having a website is essential for a restaurant in the digital era. A professional and user-friendly website can significantly benefit your restaurant business.
How does having a website increase a restaurant's business?
A well-designed and optimized website can significantly boost a restaurant's business by enhancing online visibility, attracting potential customers searching for dining options, and showcasing the establishment's menu, ambiance, and special offerings.

Additionally, a website enables online reservations and ordering, providing convenience to customers and potentially increasing revenue. It also helps build credibility and trust among potential patrons, who may perceive a restaurant with a professional website as more reliable and established compared to competitors without an online presence.

Furthermore, a website offers various marketing opportunities, such as promoting events, discounts, or new menu items, allowing the restaurant to reach a wider audience and grow its customer base.
How often should a restaurant change its website?
There is no fixed rule on how often a restaurant should change or update its website, but it is essential to keep the site's content fresh and relevant to provide an accurate representation of your establishment.

Update your website whenever you make significant changes to your menu, introduce new dishes, or remove items. Also, ensure your website reflects any adjustments in your restaurant's hours of operation or contact information.

Regularly updating your website's blog or news section with engaging content, such as recipes, events, or promotions, can help maintain visitor interest and improve search engine rankings.

It's generally a good idea to evaluate your website's design and functionality periodically (e.g., every 2-3 years) to ensure it remains visually appealing, user-friendly, and compatible with modern web standards and devices.
Conclusion
In conclusion, creating a restaurant WordPress website using the Picante WordPress theme offers a comprehensive solution for showcasing your establishment, engaging customers, and boosting your online presence.
By customizing the theme, designing your website, and integrating functionalities such as online ordering and reservations, you can build a platform that caters to modern customers' expectations and enhances their dining experience.
Implementing the tips and tricks mentioned, you can create a standout restaurant website that drives more business and helps your establishment thrive in an increasingly digital world.
Ultimately, investing in a well-designed and optimized website is a valuable asset for any restaurant aiming to succeed in today's competitive landscape.

As one of the co-founders of Codeless, I bring to the table expertise in developing WordPress and web applications, as well as a track record of effectively managing hosting and servers. My passion for acquiring knowledge and my enthusiasm for constructing and testing novel technologies drive me to constantly innovate and improve.
Expertise:
Web Development,
Web Design,
Linux System Administration,
SEO
Experience:
15 years of experience in Web Development by developing and designing some of the most popular WordPress Themes like Specular, Tower, and Folie.
Education:
I have a degree in Engineering Physics and MSC in Material Science and Opto Electronics.