Finding Apache Tomcat Hosting can be quite challenging, so developers typically look for VPS or dedicated servers based on Linux to subsequently install the Tomcat server to run various Java and JAVA EE applications
In the article below, I have listed the best options for setting up an Apache Tomcat server.
The Top 7 Best Apache Tomcat Hosting

Optimized for Apache Tomcat applications
99.9% uptime guarantee
Dedicated IP for VPS plans
Seamless scalability for growing applications
Starting at $3.99/month
Coupon Code: CODELESS get 7% OFF
See Pros & Cons
Pros
Expert 24/7 customer support
Intuitive hPanel control panel
Quick setup for Apache Tomcat applications
Robust security features
Cost-effective VPS solutions
Cons
Limited storage on basic plans
No free domain with VPS plans
Migration fees for some services
Hostinger VPS is well-regarded for its tailored solutions for Apache Tomcat applications. By leveraging its infrastructure, users can deploy JAVA applications swiftly, backed by solid server performance and speed.
Hostinger offers a range of VPS plans to fit varying needs, all of which come with dedicated resources ensuring your Tomcat apps run seamlessly.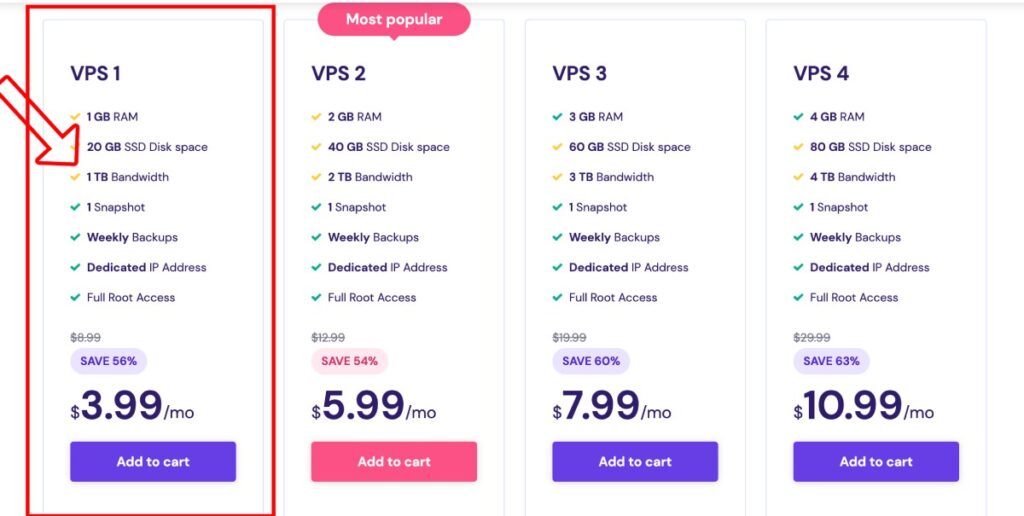 The integration of hPanel makes it simpler to manage and configure your apps, while their expert support is always available to assist, making it a reliable choice for Tomcat Hosting.
Also, you can have your personal Tomcat server only for $3.99/month with a Linux system and you can also apply our exclusive coupon CODELESS for a extra 7% discount.
You can learn more about how to install the Apache Tomcat server: here.

Optimized specifically for Apache Tomcat Hosting
High-speed SwiftServer platform
Up to 20X faster with Turbo Boost VPS
Choice of server location and free SSDs
99.9% Uptime Commitment
See Pros & Cons
Pros
Top-tier speed with Turbo Boost VPS
Reliable performance with 99.9% uptime
Expert 24/7/365 Guru Crew Support
Advanced security measures for peace of mind
Multiple awards and recognitions in the hosting industry
Cons
Premium speed features might increase costs
Higher traffic websites may require customized plans
A2 Hosting distinguishes itself as an exceptional Apache Tomcat Hosting provider. Their infrastructure is designed from the ground up to provide blazing-fast speeds and optimal performance, especially with the Turbo Boost VPS feature that promises up to 20X faster page loads. Their commitment extends beyond just performance – A2 Hosting is dedicated to offering an all-around premium hosting experience.
The company's SwiftServer platform and Turbo Servers featuring AMD EPYC Servers with NVMEe drives ensure that users get unparalleled speed benefits such as 40% faster CPU performance, 2X faster response times, the ability to handle 9X more traffic, and 3X faster read/write speeds.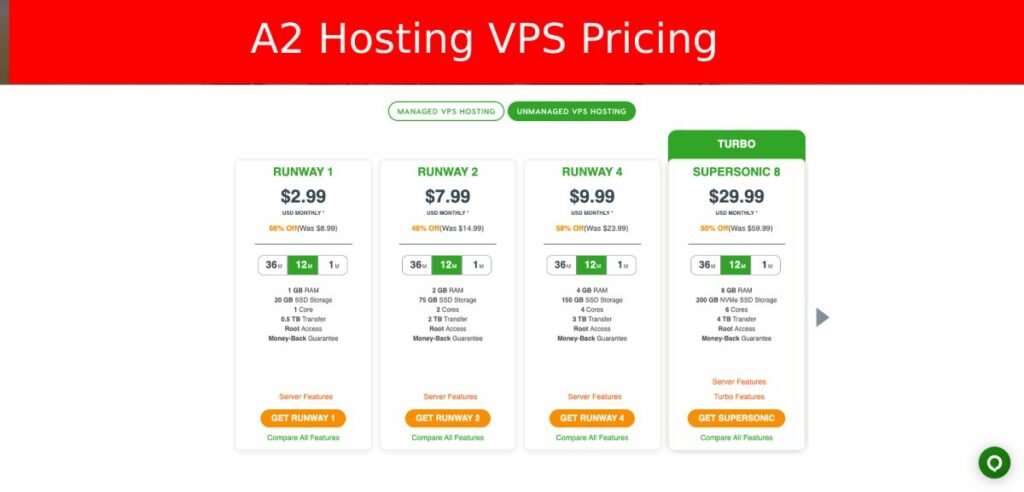 Choosing A2 Hosting means not only getting top-tier server performance but also an assurance of reliability with a 99.9% uptime commitment. Add to that the dedicated Guru Crew Support ready to assist 24/7/365, advanced security measures, and a plethora of accolades, and it becomes evident why A2 Hosting is a leader in the hosting domain.
Backed by numerous industry awards and positive customer reviews, A2 Hosting proves that their main goal is to offer unparalleled web hosting solutions that are fast and ultra-reliable. Whether you are a developer or a business owner, A2 Hosting ensures that your Apache Tomcat applications will run seamlessly.

Basic plan for simple applications and low-traffic servers
NVMe SSDs
Flat pricing with monthly caps for predictable billing
Dedicated tools for monitoring,
Competitive pricing starting at $5.00 for a basic virtual machine
See Pros & Cons
Pros
Simple yet robust solutions for various app needs
Affordable pricing with a clear structure
Diverse tools for security, management, and performance
Flexibility in choosing the right Droplet for specific workloads
Option to deploy and scale without managing infrastructure
Cons
While the range is extensive, some complex apps might require tailored solutions
For beginners, the variety of offerings might be overwhelming
DigitalOcean is known for its transparent and straightforward hosting solutions that cater to a diverse set of needs. From small businesses running basic blogs to fast-growing enterprises with data-intensive applications, DigitalOcean offers tailored solutions.
At the heart of their offerings are the Droplets – virtual machines with specific optimizations. Depending on your needs, you can opt for Basic, Premium CPU-Optimized, General Purpose, Memory-Optimized, CPU-Optimized, or Storage-Optimized droplets. With these diverse choices, DigitalOcean ensures that every app or website gets the resources it demands, whether it's higher CPU, more memory, or expansive storage.
The competitive edge of DigitalOcean lies in its transparent pricing. Starting at just $5.00 for the Basic virtual machine, it provides a cost-effective solution. When juxtaposed against other giants in the cloud hosting domain like AWS, Azure, and GCP, DigitalOcean consistently offers lower costs, especially when factoring in bandwidth pricing.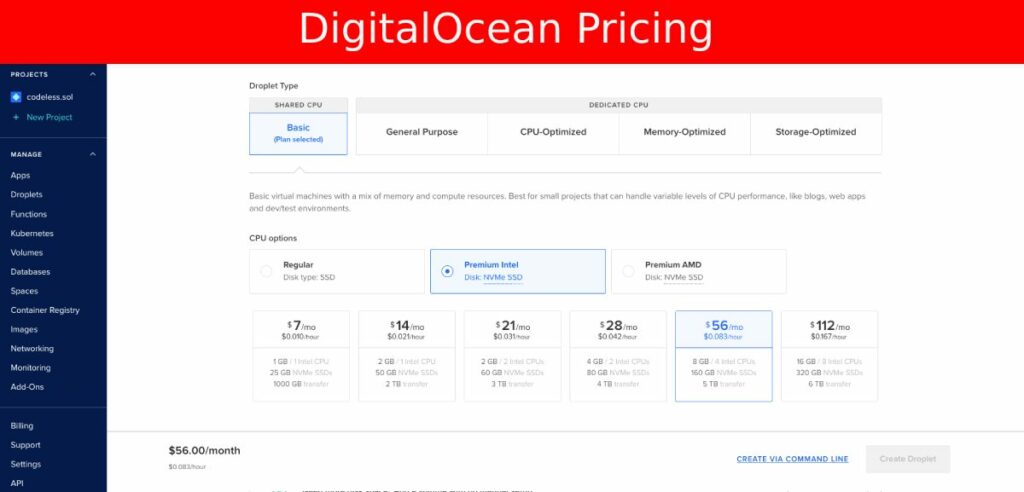 Moreover, DigitalOcean equips users with a suite of tools designed to enhance the hosting experience. From the free Cloud Firewalls to enhance security to Snapshots for on-demand disk imaging, it's evident that the platform has been built with user ease and efficiency in mind. Their team management tools, storage solutions, and monitoring features further attest to the comprehensive nature of the services provided.
Digitalocean provides a free environment where you can easily install any server like the Apache Tomcat through root access to their virtual machines.
In summary, DigitalOcean is a compelling choice for anyone – from novice developers to seasoned businesses – seeking a reliable, cost-effective, and robust cloud hosting solution.

Unmetered bandwidth across all plans
Full root access
Unlimited Domains, emails
Weekly off-site backup
Competitive pricing with 75% off promotions, starting at $23.95/mo for Snappy 2000
HostGator is a household name in the web hosting domain, and for good reasons. Their offerings, particularly in the realm of VPS hosting, are tailored to accommodate a broad spectrum of needs, from individual bloggers to burgeoning online businesses.
The "Snappy" series, including the Snappy 2000, Snappy 4000, and Snappy 8000, encapsulates the versatility of HostGator's VPS offerings. Each plan in this series offers a sweet spot of storage, RAM, and CPU cores, ensuring performance reliability irrespective of your website's demands. The unmetered bandwidth is an added bonus, allowing sites to handle varying traffic without fear of overages.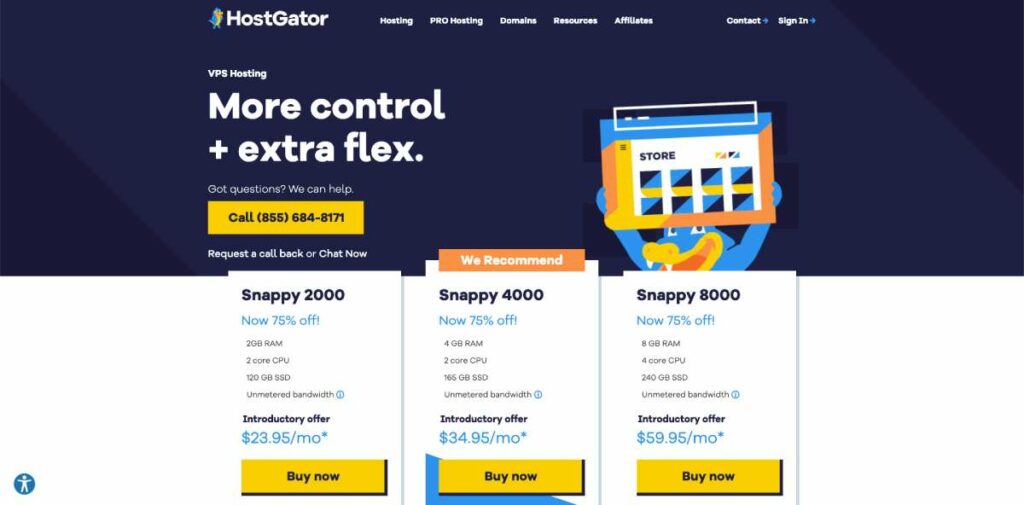 But where HostGator truly shines is in its VPS features. The flexibility granted by full root access allows users to customize their server environment precisely to their needs. Whether it's the choice of a CMS, installation of a particular software, or execution of custom code, HostGator's VPS provides the freedom to do it all. This, coupled with the ability to host unlimited domains, emails, and databases, makes it a powerhouse for web hosting.
On the hardware front, HostGator doesn't compromise. Leveraging top-tier components from industry leaders like Intel and AMD, the platform promises blazing fast speeds and unwavering reliability. Additionally, the suite of tools, ranging from site templates to powerful script installers, makes the hosting experience smooth and efficient.
Overall, HostGator's VPS hosting is a comprehensive, reliable, and affordable solution for those seeking a balance between performance and cost.

Memory-optimized and CPU-optimized VPS

AlmaLinux or CentOS 7
InterWorx Control Panel
DDoS protection for enhanced security
Ability to host Apache Tomcat or JSP
Inclusion of 50 GB Acronis Cyber Backups
Attractive long-term discounts, with savings up to 68% on the Professional plan
Liquidweb has always been a stalwart in the realm of web hosting. The company's commitment to staying abreast of technological advancements is evident in their new offering: the Next-Gen VPS hosting. This novel solution is the perfect fit for businesses that are expanding and need an additional boost in memory or processing capabilities.
Recognizing the diverse needs of its clientele, Liquidweb has segmented its VPS offerings into general, memory-optimized, and CPU-optimized categories. Each category is meticulously crafted to cater to specific use cases. For instance, eCommerce stores and businesses running multiple sites on a single server might gravitate towards the general VPS. In contrast, those with intense database requirements or high-traffic sites can leverage the memory or CPU-optimized plans.
The four plans, namely Essential, Advanced, Professional, and Elite, are robust, offering up to 12 vCPU, 12 GB RAM, and 200 GB SSD storage. Each of these plans is bundled with the InterWorx Control Panel and the option to choose between AlmaLinux or CentOS 7 (CentOS VPS), providing users flexibility and control.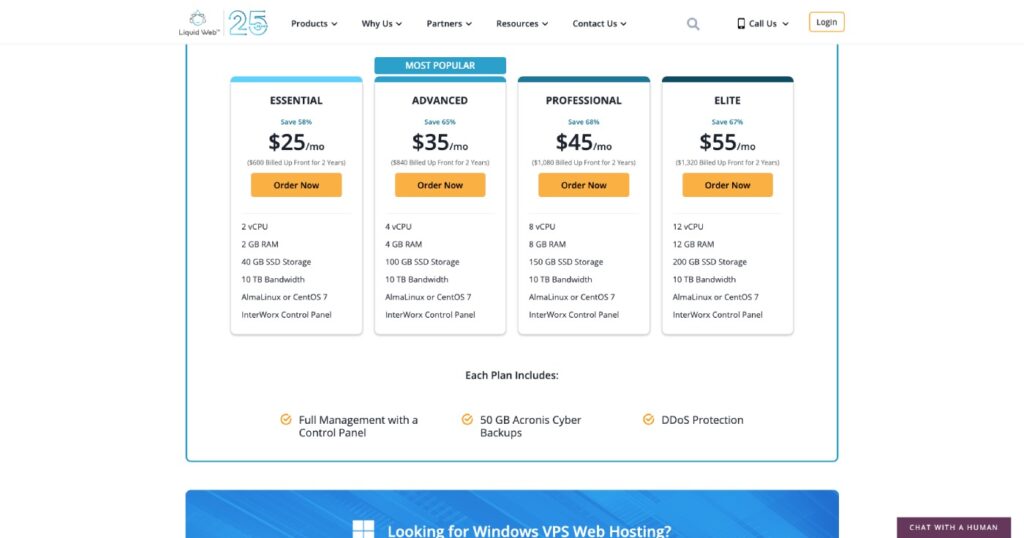 Beyond the standard features, Liquidweb ensures that businesses don't have to fret about security. With DDoS protection in place, websites are safeguarded against malicious attacks. Furthermore, the 50 GB Acronis Cyber Backups ensures data integrity and aids in disaster recovery.
Overall, Liquidweb's VPS offerings stand as a testament to their dedication to quality and performance. The addition of features like the ability to host Apache Tomcat or JSP further underlines their commitment to catering to specialized needs.

Enhanced cPanel

Start with 2 GB RAM
Unmetered bandwidth
Begins at a mere $29.99/month
See Pros & Cons
Pros
User-friendly navigation
Primed for WordPress hosting
Consistent uptime and robust performance
Diverse hosting plan spectrum
Cons
Steeper prices upon renewal
Select features restricted to upper-tier plans
Bluehost VPS plans can easily host an Apache Tomcat server and they are great like their shared web hosting plans.
Averaging a server response time of roughly 400ms, Bluehost ensures your audience enjoys fluid and interruption-free navigation. This swift performance is a testament to their state-of-the-art infrastructure.
Enhancing its global outreach, Bluehost integrates effortlessly with Cloudflare's CDN, ensuring prompt content relay to users, regardless of their geographical locale.
Diving into their pricing structure reveals a spectrum of plans tailored to diverse web needs and financial brackets.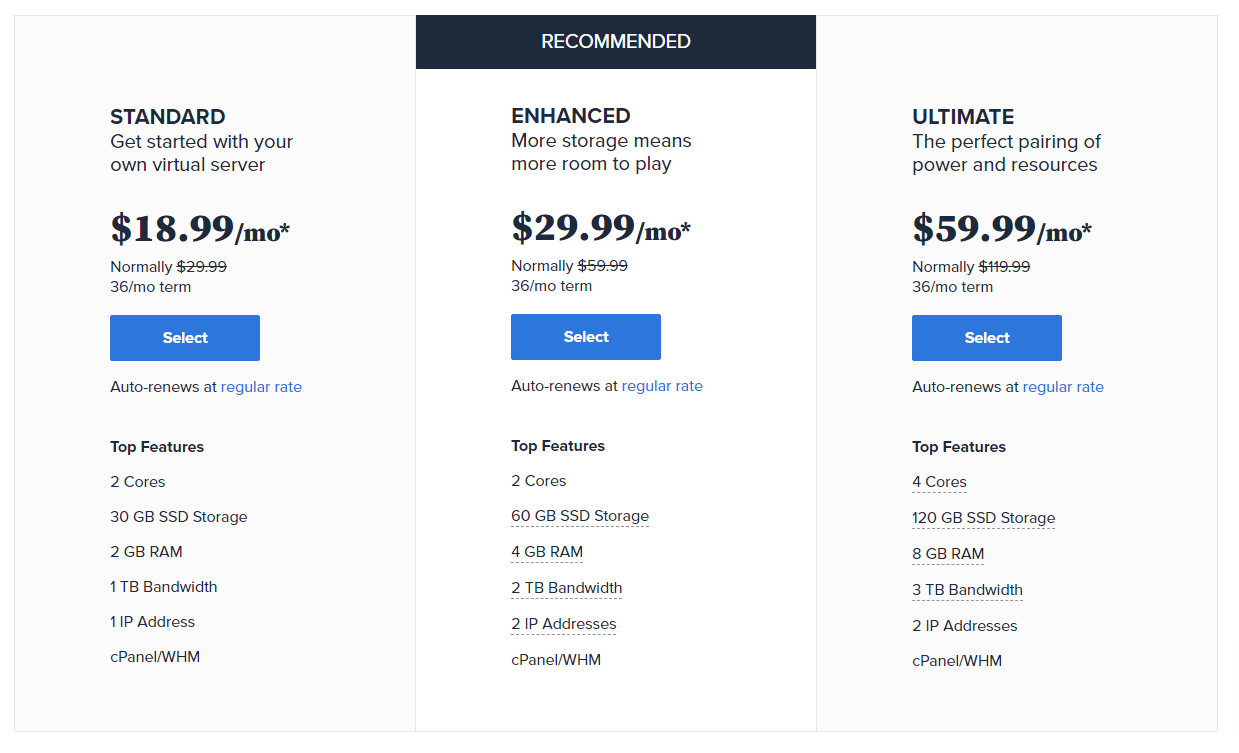 Starting with VPS hosting plans at $29.99 per month, they cater seamlessly to someone who wants to have a personalize Linux-based Virtual Private Server.
These shared offerings come enriched with a domain (complimentary for the first year), an SSL certificate at no extra charge, and the ease of one-click WordPress installs. But, where Bluehost truly shines is in its robust Apache Tomcat hosting features, providing a seamless environment for Java-based applications and websites.
For those with a penchant for enhanced speed and granular control, Bluehost's VPS hosting and dedicated server plans stand ready, armed with a higher degree of resource allocation and customization.
Garnering accolades for speed, reliability, and a buffet of pricing options, Bluehost stands tall, making it a preferred sanctuary for web enthusiasts in pursuit of a top-tier hosting solution, especially for Apache Tomcat applications.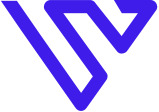 Fully managed cloud cPanel servers
Tools tailored for business success
Savings up to $837 with an annual subscription
Equipped for both personal and large-scale agency use
Starts from just $39.50/month
See Pros & Cons
Pros
Flexible server choices for diverse needs
Generous dedicated resources
Included cPanel/WHM
Unlimited traffic and website hosting
Verpex Cloud Hosting stands tall in the realm of managed cloud solutions, specializing in cPanel servers designed for a spectrum of needs. Whether you're an individual seeking a robust personal hosting environment or an expansive agency in need of hefty resources, Verpex has got you covered.
One of their flagship offerings, the **Managed Server – D4**, is the quintessential first upgrade from shared cloud platforms. Priced at an introductory rate of $39.50/mo, this server is adept for hosting a majority of websites, packed with 4GB RAM, 80GB SSD storage, and 2 Xeon vCPUs.
Moving up the ladder, the **Managed Server – D8** emerges as a powerhouse with resources sufficient for hosting numerous websites or a handful of bustling e-commerce platforms. With a starting price of $59.50/mo, it offers 8GB RAM, 140GB SSD storage, and quadruple Xeon vCPUs.
The pinnacle of Verpex's offerings is the **Managed Server – D16**. Lauded as their most coveted hosting plan, it's tailored for intricate websites or burgeoning agencies. Boasting 16GB RAM, a whopping 300GB SSD storage, and 6 dedicated Xeon vCPUs, it starts at a promotional rate of $94.50/mo.
Across the board, Verpex ensures an unwavering commitment to quality, with features like unlimited traffic, cPanel/WHM, backups, SSL certificates, app installer, and round-the-clock support. The cherry on top? Potential savings of up to $837 when you commit to their annual plans. Truly, Verpex offers a cloud hosting experience that's both top-tier and economical.
FAQs
What is Apache Tomcat Hosting?
Apache Tomcat Hosting refers to web hosting services that offer environments specifically optimized for deploying web applications developed with the Java programming language using the Apache Tomcat server.
Is Tomcat the same as a web server?
Not exactly. Apache Tomcat is an application server used to run Java Servlets and JSPs. While it does have built-in capabilities to serve web content, it's often paired with a web server like Apache HTTP Server for enhanced performance and capabilities.
Why would I need Apache Tomcat Server?
If you have a web application written in Java and want to deploy it in a web-accessible environment, you'd need Apache Tomcat. This type of hosting provides the necessary tools and optimizations to run Java-based applications efficiently.
Can I host my Java EE web application on any web hosting platform?
Not all hosting platforms support Java web applications. You'll need a hosting environment with Apache Tomcat or another Java application server installed to deploy and run your application.
How does Apache Tomcat differ from other Java application servers?
Apache Tomcat primarily focuses on providing a compliant environment for Java Servlets and JSPs. Other Java application servers might offer broader Java EE (Enterprise Edition) functionalities.
Can I integrate my Apache Tomcat server with databases?
Yes, Java web applications hosted on Apache Tomcat can integrate with various databases, such as MySQL, PostgreSQL, Oracle, and more, using JDBC (Java Database Connectivity) or other frameworks.
How secure is a Tomcat Hosting?
While Apache Tomcat itself is a robust and widely-used platform, the security of your hosted application will also depend on the hosting provider, the application's code, and other configurations. It's essential to keep Tomcat updated and follow best security practices.
Can I migrate my existing Java application to an Apache Tomcat Hosting provider?
Yes, most hosting providers will offer support for migrating existing Java applications to their Apache Tomcat Hosting environment. Ensure to consult with your chosen provider about the migration process and any associated costs.
Conclusion
I hope that in this article you've found the best provider for hosting your Java applications through Apache Tomcat. My quick recommendation would be to choose a VPS like Hostinger, which is affordable yet offers great performance. If you're looking for a more advanced option with additional features and cloud capabilities, I would suggest DigitalOcean.

As one of the co-founders of Codeless, I bring to the table expertise in developing WordPress and web applications, as well as a track record of effectively managing hosting and servers. My passion for acquiring knowledge and my enthusiasm for constructing and testing novel technologies drive me to constantly innovate and improve.
Expertise:
Web Development,
Web Design,
Linux System Administration,
SEO
Experience:
15 years of experience in Web Development by developing and designing some of the most popular WordPress Themes like Specular, Tower, and Folie.
Education:
I have a degree in Engineering Physics and MSC in Material Science and Opto Electronics.