The virtual conference market is flourishing. Every day, more and more platforms are in entering the market. Because of such a great number of platforms online, purchasing decisions are becoming difficult.
If you don't have time to read the full article here are the top picks: vFairs, Livestorm, Demio
Online conferences offer great convenience and cost-saving options. Due to this, companies today tend to host double the number of conferences online as they were doing in the past two years.
With online conferences, enterprises are able to connect to new markets, increase their sales and get valuable feedback on their services and products from the attendees.
Moreover, the success of an online conference depends on the virtual conference platform you choose. You need to consider many things before you consider selecting a virtual platform for hosting your conference.
Below, we have listed down 11 best virtual conference platforms to help you create an interactive and unforgettable conference.
What are Virtual Conference Platforms?
In the era of pandemics, when most people are working remotely, conferences are likely to happen on Webex, Google Meet, or Zoom. Conference platforms are a great source of taking an interactive session with the participant audience.
Using a virtual conference platform, you can even break your session into smaller groups. These platforms are managed by the company's IT department and are used company-wide. Mostly, these conferences are internal gatherings of a company and have no marketing purpose.
Using a virtual platform is still an alien concept for most planners. It is because of the uncertainty of gaining equal attention and engagement with the audience to reach the goals.
There are, however, several benefits of going virtual which are mostly neglected. Go through the reviews of our hand-picked virtual conference platforms and you will know what miracle they can do to your business.
The Top 11 Best Virtual Conference Platforms in 2023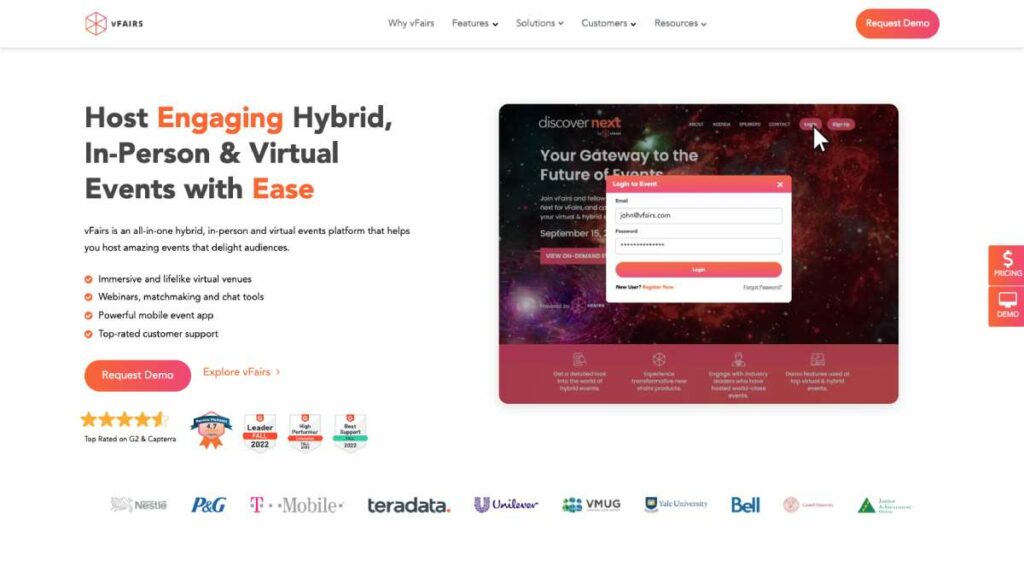 vFairs is the best virtual conference hosting platform after reviewing each product in the market. It is the only one that comes with incredible innovations like virtual events in virtual venues. This makes the experience of these 3D events very immersive.
They offer an all-in-one solution in which you can create your virtual conference and also promote it with email marketing or by creating a custom landing page.
vFairs have gamification features that enrich the experience of the participants. Paypal and Stripe are integrated to collect payments directly from the software.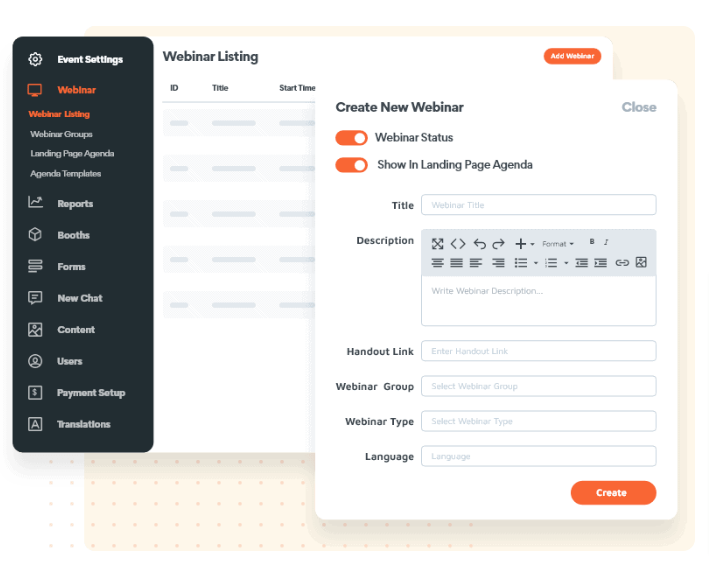 Another great feature is the advanced reports and analytics of the platform where you can check even the journey of each user and also monitor them in real-time.
They don't have a pricing table but you can request a quote based on what you want to organize.
Features:
Webinar
Virtual Environment
Networking and Matchmaking
Event Sponsorships
Chatrooms

Event Builder

Event Gamification
Event Reporting
Virtual Event Marketing
Mobile Event App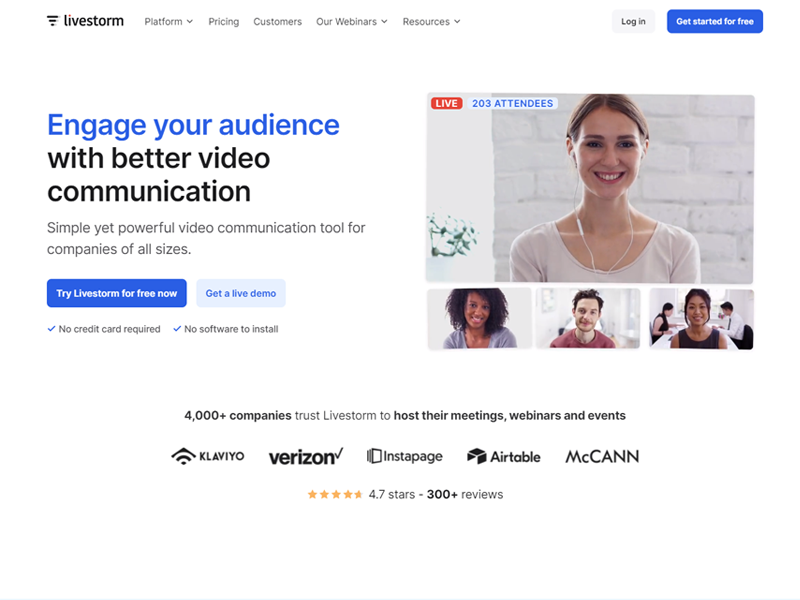 Livestorm is a tool for video communication and interactive virtual event software with a free unlimited plan. It helps in conducting internal communication, customer training, live chats and product demos. With Livestorm, you can allow your attendees to join the online conference, using a simple link.
It is well integrated with all the major browsers such as Internet Explorer, Safari. Chrome, and Opera. Besides, Livestorm helps to get automatic reminder registration.
To get started with Livestorm, you need to follow these simple steps; setting up and planning your virtual conference, engaging and going live with your audience and then taking important insights.
It further enables you with the sales demo by scheduling meetings in a transitory meeting room. It integrates Calendly which helps you embed sessions with your workflow.
Livestorm is free after your first sign-up. There is no limit to the free trial. Thus, a subscription is free. The lowest-paying plan starts from $104.43 per month.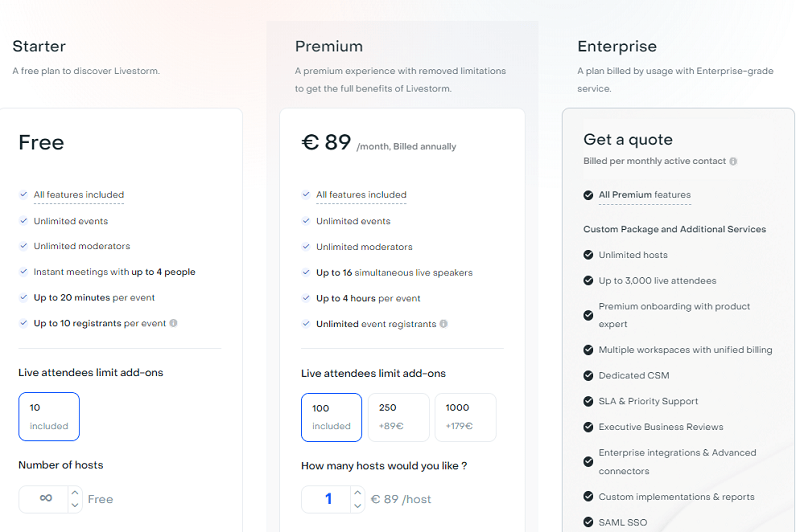 Features:
Registration pages
Dial-in by phone
Unlimited replays
Q&A during events
Chat during events
Browser-based events
Screen-sharing
Unlimited HD webinars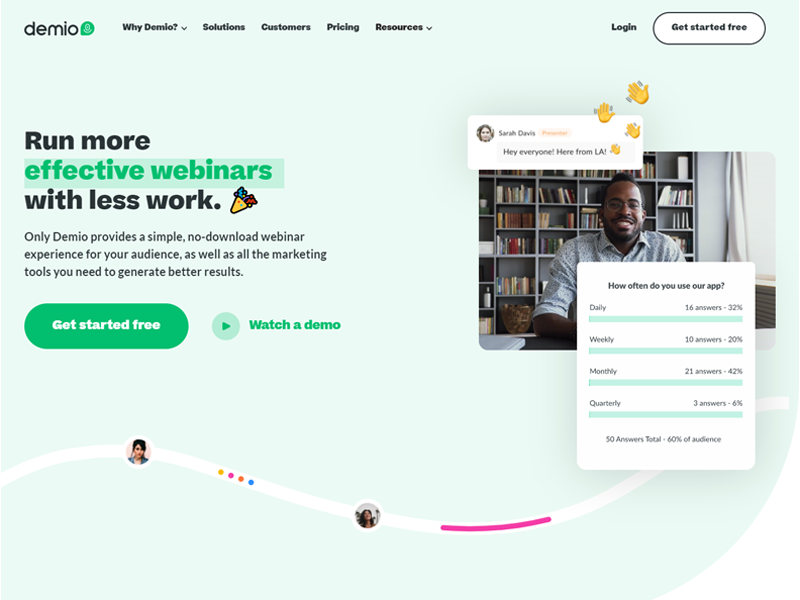 Demio is best for promoting and hosting conferences with a no-download conference. With Demio, you can reply to webinars and create registration pages. You get a bundle of marketing tools in the package so you can promote your events and get better results.
Moreover, you can embed the logo into the branded elements. With Demio, you can stream all your conference presentations in HD. Also, you can share them with other people included in the virtual meeting.
It includes a feature of "Hybrid Event" with which you can present both recorded and live stream videos at a time. You can also play pre-recorded presentations as required by your meeting members.
You also get to enjoy several functions such as promotion, email marketing and event planning. It provides you options with which you can embed your registration page with the landing page or your main website. There are additional custom fields in the contact form that allow you to get customer's information, import data, manage it and view all the contact details.
The pricing of Demio starts from $49.00 per month. It also offers a 14-day trial but after the completion of the free trial, you have to buy a plan. This plan offers a limit of attendees with standard features. It is best suited for all types of small businesses.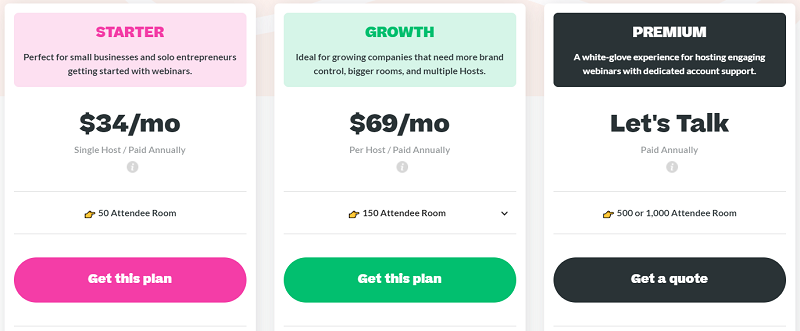 Features:
No downloads
Interactive rooms
Flexible registration
Automated events
Live events, HD streaming, workshops, training with real-time, Q&A sessions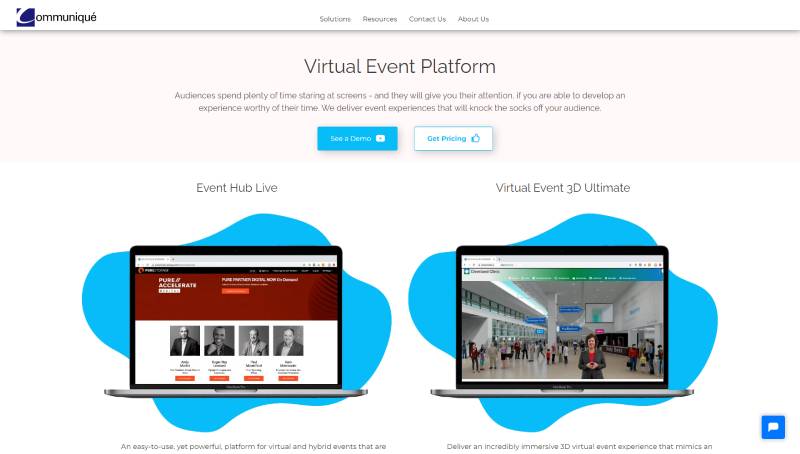 Communique Conferencing is one of the most professional and customized platforms for hosting virtual conferences and events of any size. The company is part of Communique Conferencing that is a leader in the USA in producing software for digital conferences.
The software is easy to use for virtual and hybrid events and enriches a simple video conference with the possibility to share and access content through the participants. The platform also offers immersive 3D virtual events, webinar sessions, networking, and gamification.
They have earned the title of the best platform for online events for this year from SourceForge. The software was also trusted by over 3000 customers like Disney, HP, Sony etc …
One of the best features is the ability to get fully customized for your company with the help of dozens of templates and the possibility to track everything in detail from attendee activity to chats, content views, and logins.
Features:
Information Transfer
Design Customizability
Tracking
Data Protection
Full Support
Easy Integration with other softwares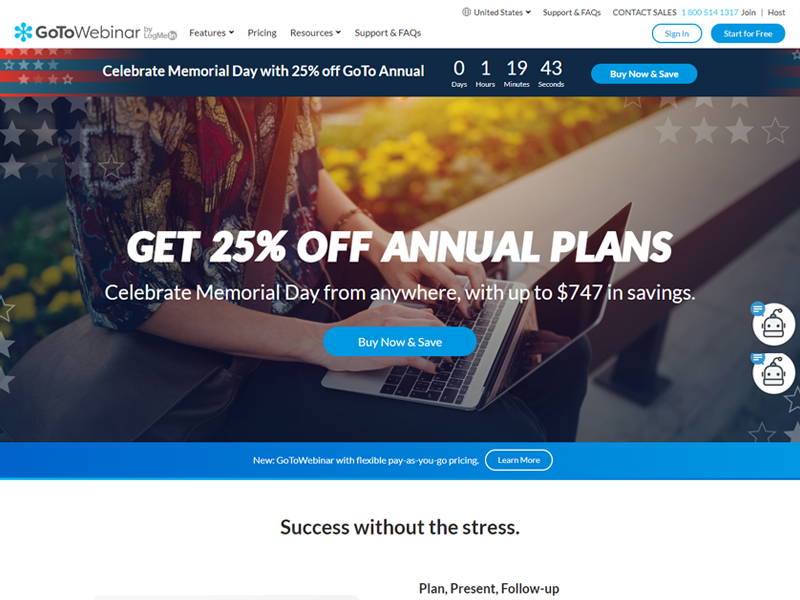 GoToWebinar is a more trusted software for the customers in comparison to any other webinar solution in our list. You may be using webinars for corporate communication, training and marketing, GoToWebinar puts in the reliable technology that you can easily adopt.
It brings in several analytical tools, integrations and features to keep your audience engaged and general connections to drive your business.
The pricing of GoToWebinar starts from $59.00 per month based on its usage. They do not offer any free version but there is an option of a free trial. In a free trial, you get Cloud, SaaS, and good support. Also, there are training videos to seek any help in running the solution.

Features:
Webinar performance insights
Interactive engagement tools
Instant join links
Automatic email reminders
Flexible scheduling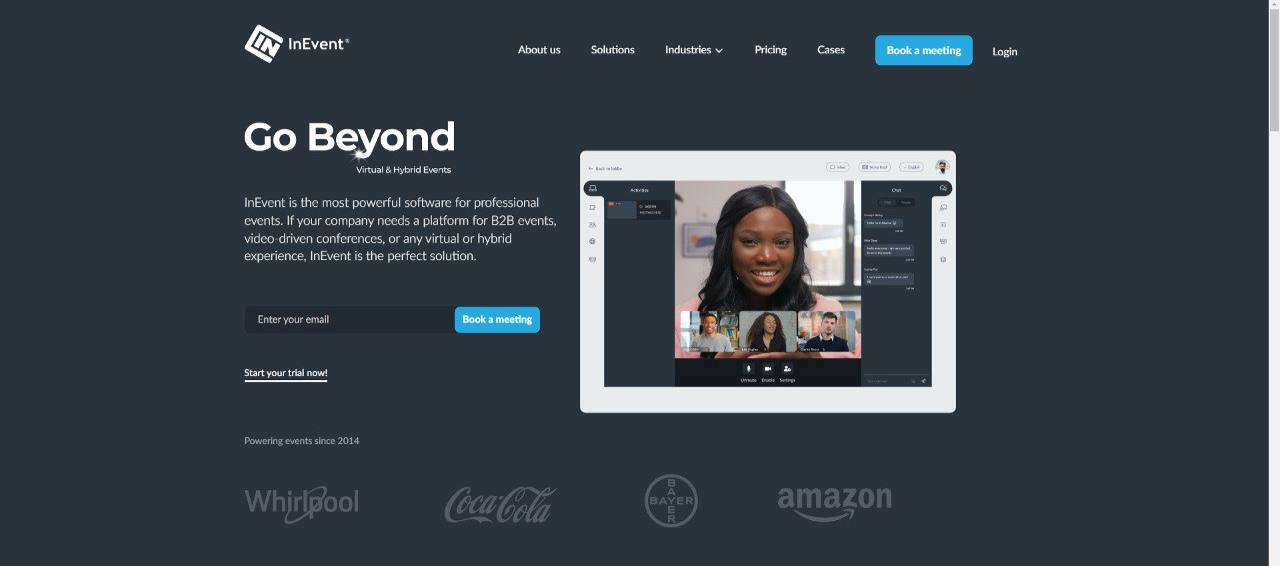 InEvent powers experiences that transform attendees into customers, driving sales, profits, efficiency and cost benefits for virtual conferences and events.

InEvent gives you complete control in a single platform, including managing and organizing your online conference with our self-service system, giving you full autonomy over logistics no matter your event type or size.
This platform is a great solution for agencies and organizations that produce multiple conferences, large meetings, events, or symposiums. The integrations with Salesforce, Marketo, Oracle, Microsoft and other vendors create a simple, easy-to-use marketing ecosystem for all our customers.
InEvent has catered for over 400 companies in 138 countries, including leading corporations such as Unilever, Santander Bank, Coca Cola and Facebook.
The pricing of InEvent starts from US$ 2990 per year based on the basic plan. You can also enjoy the free version of the platform for 30 days!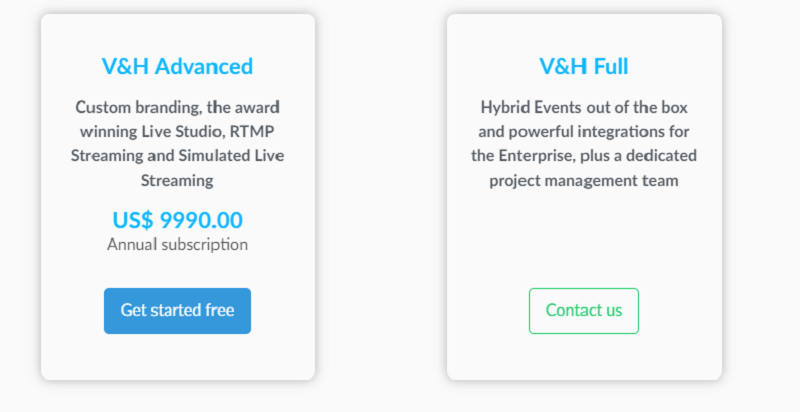 Features:
Attendee Management
Speed Networking
Customizable Branding
Social Media Integration
Virtual Lobby
Self Check-in/Check-out
Gamification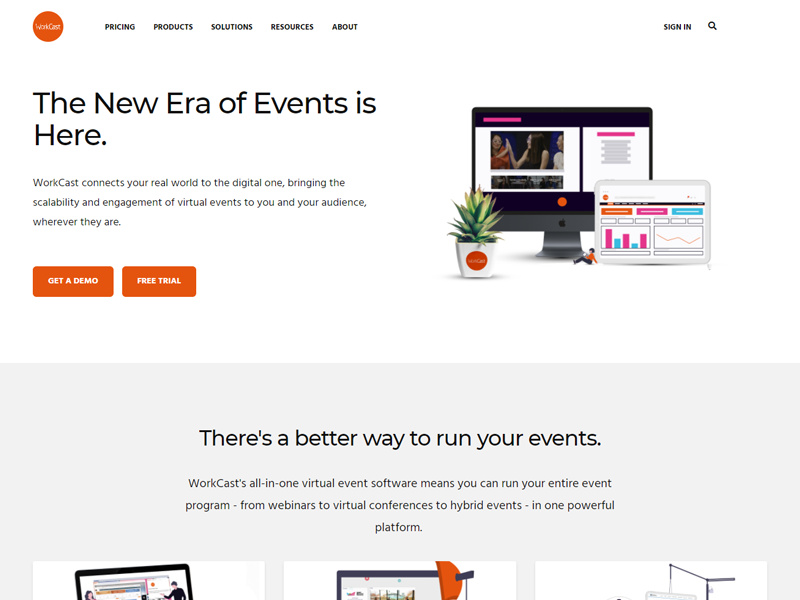 WorkCast is the imagery of webinars. It is a powerful platform where the users can make webcasts and webinars simply and more engagingly. Thus, you can simply generate more leads to get connected to your audience globally.
It is built on purpose. Your customers are fully aware of any potential barrier they may face with the webinar platforms. Moreover, you don't have to face any barrier, plugin or downloads issue for attendees or presenters.
All these features help in generating more leads, maximizing engagement and grow your business. WorkCast is best for large, medium and small businesses. It provides the best solution for you if you want to engage more employees, generates leads and runs a training program.
WorkCast has not provided any pricing details yet. However, their pricing model charges per feature. Above all, they offer a free trial as well but no free version.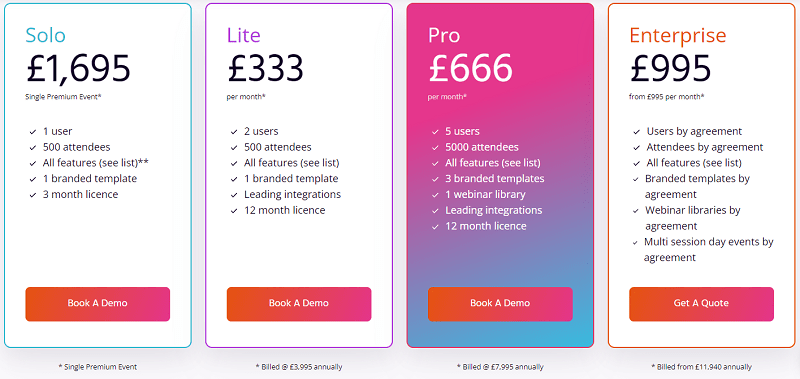 Features:
Integrations
Advanced event reporting
Advanced polls
Screenshare and webcam
Multiple custom event templates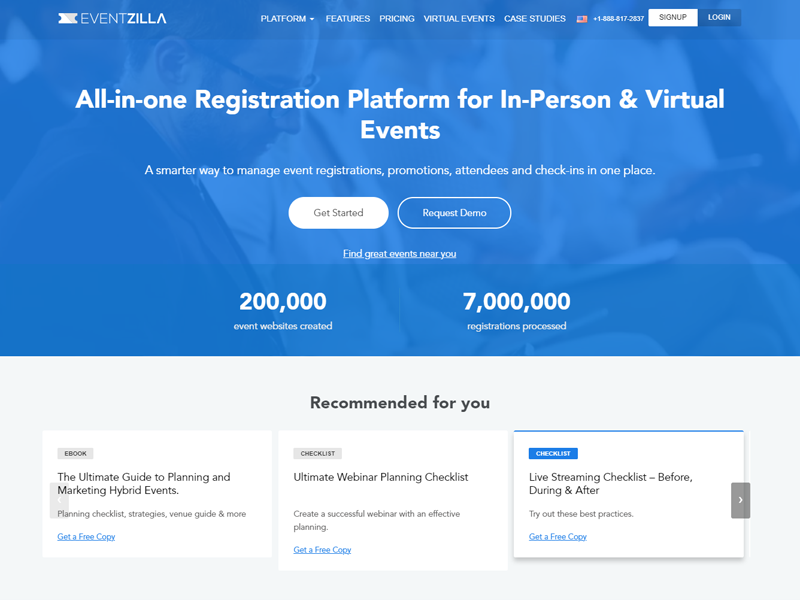 EventZilla is another powerful live streaming, webinar, mobile app and registration platform. It offers a complete suite of solutions that assist with live, hybrid and virtual event formats.
EventZilla is best for online sports events, training, fundraisers, virtual events, webinars, classes and conferences. It provides you with all the features that you may need to create and publish a beautiful event website, easy check-in, manages attendees, Livestream content, processes payments, accepts registrations, and event agenda.
The pricing of EventZilla starts from $1.50. It is a one-time payment option and the cost increases with the usage.
It also offers a free version and a free trial too.
In a free plan, you get to enjoy Web-Based deployment, SaaS and Cloud. The support is highly appreciable and knowledgeable. The training is included with several documentation, webinars and lives online.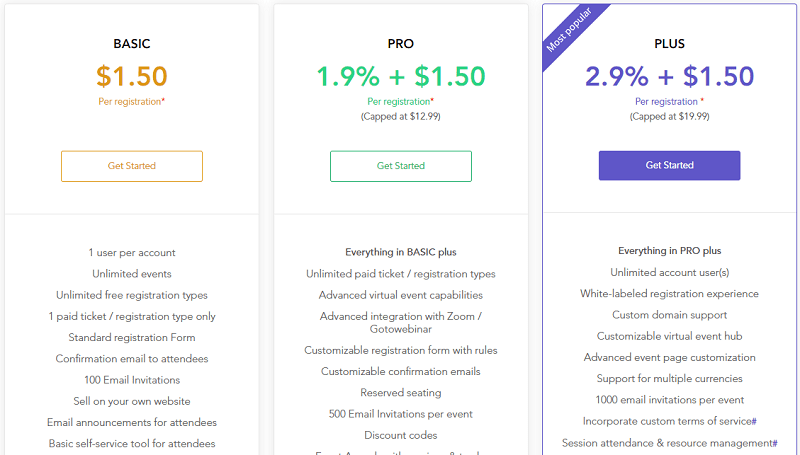 Features:
Private events access codes
Attendee list exporting
Order management
Ticketing widget
Offline and online payments
Email notifications and invitations
Location map display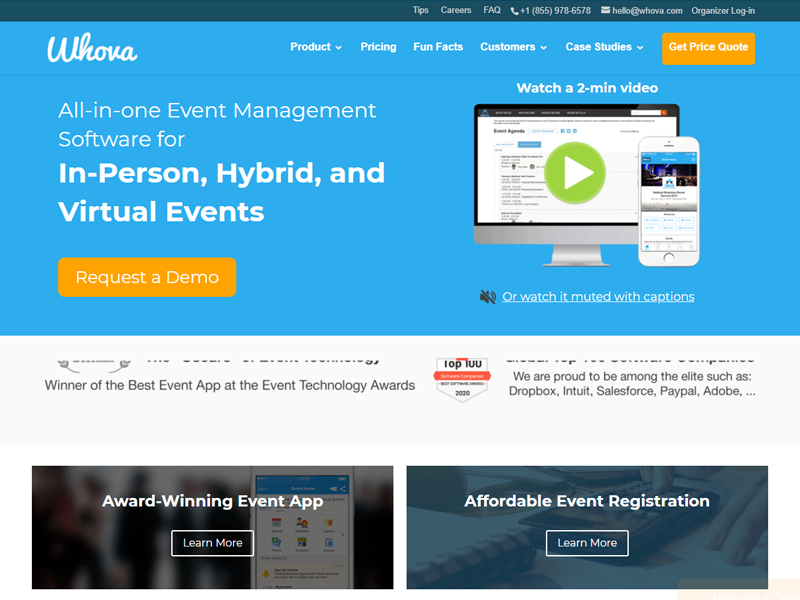 Whova is an all-in-one type event management solution. It assists the organizers to create very organized and most engaging events. It is made possible by making the event planning easy, increasing the opportunities of networking and improving attendee's engagement. Moreover, it also enhances the ROI of exhibitors.
Many large enterprises are using Whova. Such as IEE, Harvard, Rockefeller Foundation, DOE, NASA, IKEA, Oracle, US Bank, and Hilton.
Whova is best for any organizer who seeks Event management software and mobile event app. The main features of Whova include customizable branding, event maps, gamification, conferences and conventions, and vendor management. It also assists in badge management, attendee profiles and management and managing forecasting and budgeting.
Whova has not provided any details of pricing yet. However, it does not offer a free version. There is a free trial for a certain number of days.
Features:
Event calendar
Security management
Scheduling
Payments
Task and inventory management
Customizable dashboard
Reporting and online booking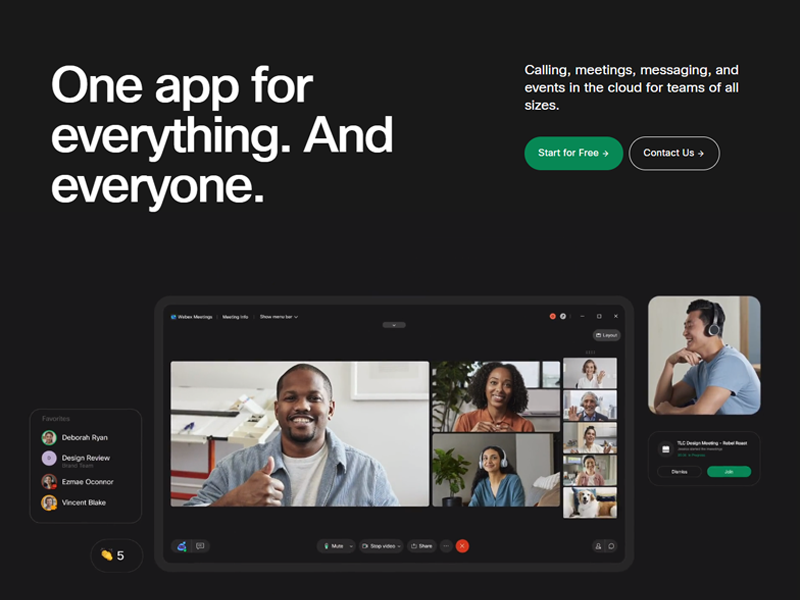 Cisco WebEx Events is another powerful tool to host webinars or virtual events. It provides hosting to over 3000 participants in a single meeting thus it is highly suitable for large conferences or corporate events.
It also can record the entire event which can later be used for training or reference purposes. Moreover, it enables the users to plan the event as well as customize it so it can suit and fit their brand. The enrolment of attendees can also be designed in such a way that it includes multiple questions and answers to generate leads. These aspects can be followed easily later after the meeting ends.
Cisco WebEx Events also supports features such as screen-sharing, Q&A, online polls, multiple presenters, attendance security, reminders, and automated email invitations.
It offers three-tier pricing plans. The pricing plan starts from $16.97 per month per host and the annual plan would make you pay $203.68 per year per host.

Features:
Collaborate with your team
Easily present online
Webex webinars are delivered reliably
Free Screen share
Free video calls
20 million reliable video conferences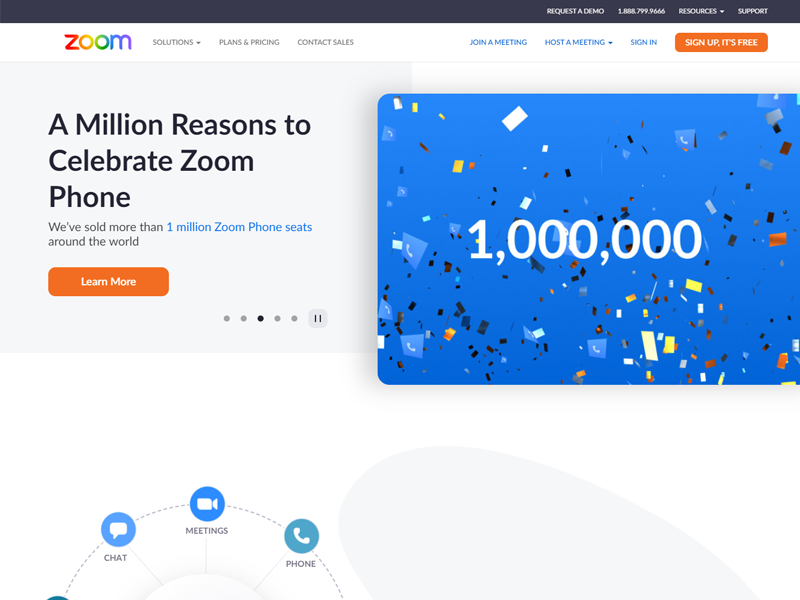 Zoom meetings are secure, reliable and easy that provide content, audio and HD video sharing across all the users from desktop to mobile devices. It includes several special features such as local recording and cloud recording with multi-user and transcript annotation abilities. You can also work by sharing screens.
You can have easy access with one click, share files, and chat across the platforms through compliant and encrypted settings for more security.
Zoom video is best suited for cloud-based video conferencing solutions. It assists the large and SMDs enterprises with screen sharing, video system interoperability and wireless media sharing options.
The pricing of Zoom video starts from $14.99 per month per feature. It also offers a free version. However, it does not offer a free trial.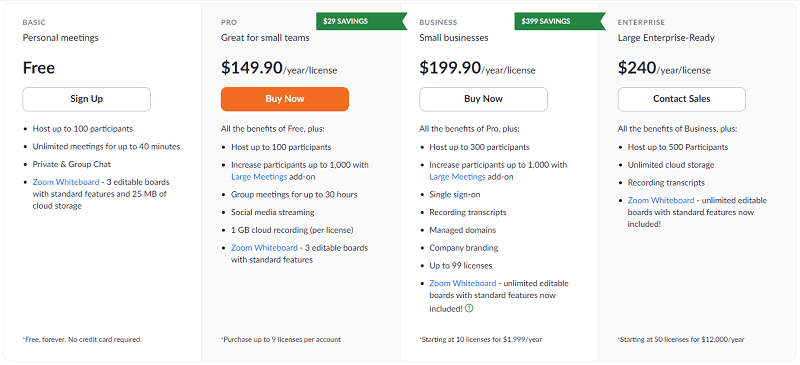 Features:
Polling features
Host control like mute/unmute
Live broadcasts via YouTube and social channels
Analytics and reporting on engagement and attendees
HD audio and video for over 100 panellists
Recurring and on-demand webinars
Auto-generated transcripts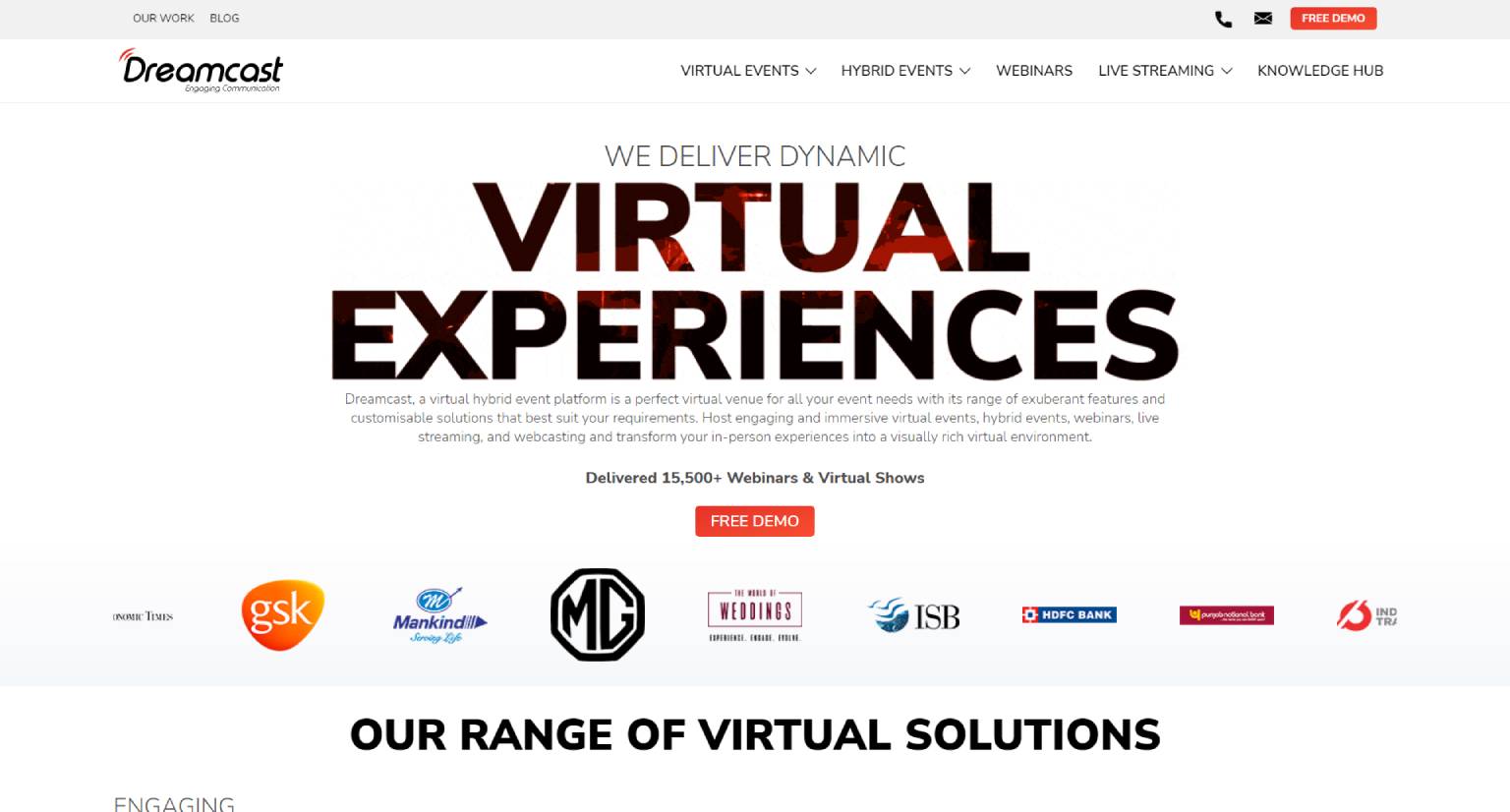 Dreamcast is one of the leading webinar platforms packed with rich features and visuals. It is
probably the most flexible, scalable, and customizable platform that can elevate the level of your
virtual events. You can insert your logo and brand colors to create a customized venue.
The platform also provides endless opportunities to engage with a global audience. It includes
AI matchmaking, a live chat feature, a library of 100+ games, and many more.

Key features:
100% customizable platform
Numerous template designs with different layouts
Multi-channel live-streaming
100% secure and trustworthy platform
Live and Evergreen webinars
Ticker and countdown features
Detailed analytics
24/7 customer support
Engaging tools (live polls, surveys, and Q&As)
User-friendly and affordable platform
Multi-device support
Create multiple CTA buttons
Virtual lobby
Customizable branding
Real-time chat
Emoticons, hooting, and clap sound
Compelling landing page
Custom questions on the landing page
On-event announcements, pop-up features, and push notifications
360-degree tour & 3D environment
AI-based recommendations
Badge management
Lead generation
When to use Dreamcast?
Dreamcast is your one-stop solution with 100% customizable and interactive features. The
platform provides stunning designs and unique tools to create unique and bizarre event
experiences. They seamlessly include AI matchmaking, live chat, live polls, surveys, and Q&A
sessions to let people engage, interact, and make new connections.
What's the Dreamcast's Pricing?
Free demo is always available, and prices start based on the customized brief and your
business needs.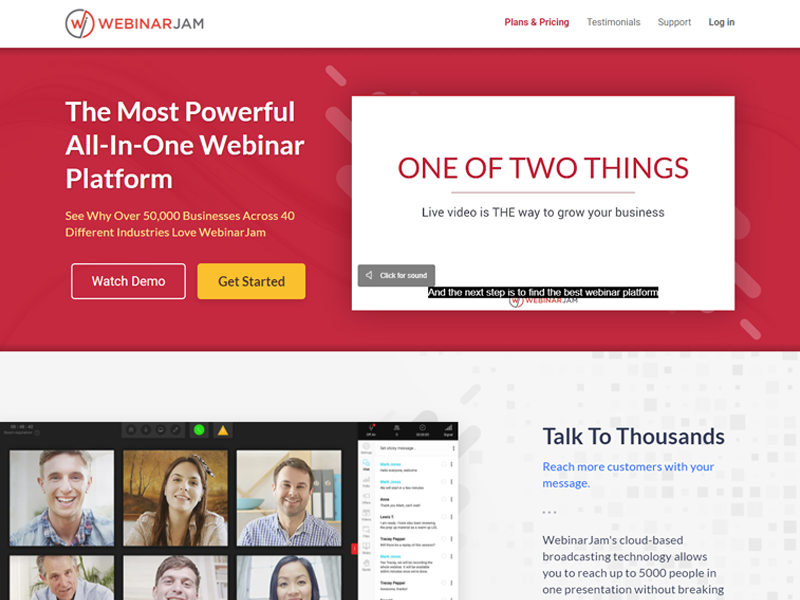 WebinarJam increases the number of attendees and sales with only a webinar system. It produces an entire live stream event starting from registration to response.
WebinarJam offers multiple features with zero downloads. Moreover, it includes the most dramatic improvement to Webinar Broadcasting, Event Streaming and Live Casting ever released.
The key features of WebinarJam include customizable branding, automatic transcription, notifications, file sharing, multi-hosts and voting etc.
The pricing of WebinarJam starts from $499 per year per feature. It includes 500 attendees. The professional plan costs $699 per year where you can include 4 presenters and up to 2000 attendees. They do not offer any free version. However, there is a free trial available.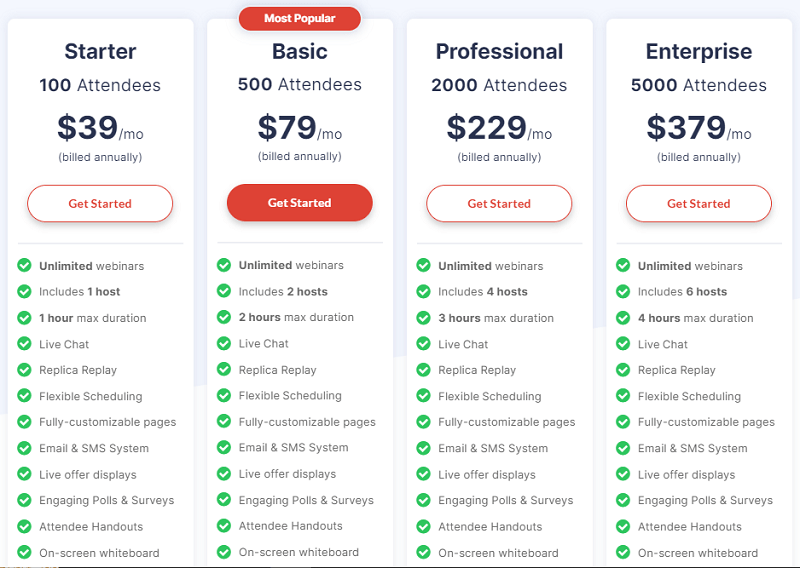 Features:
Quizzes, exams, MCQs, Surveys
Recording downloading and sharing of complete meet
Easy presentation, screen content and documents and slideshow
Real-time video and audio and text-based communication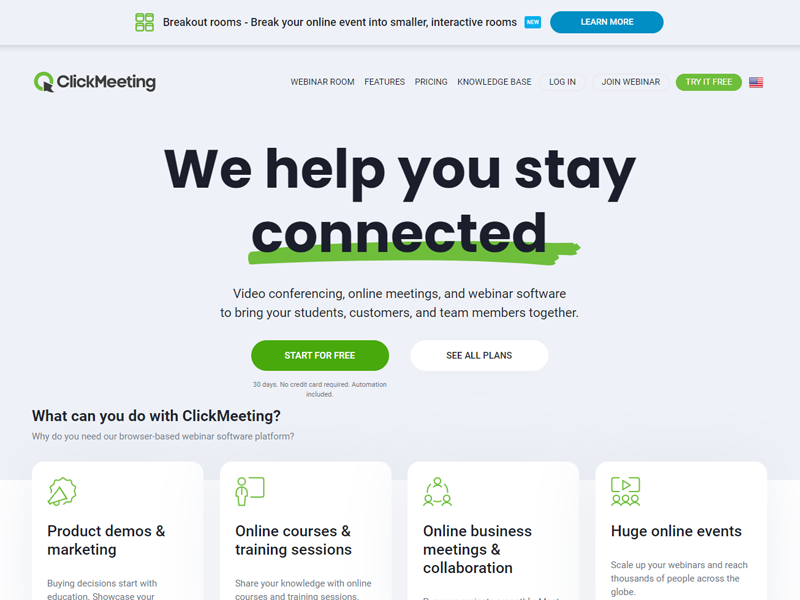 ClickMeeting is a webinar solution that works on the browser to bring about power to the webinars of any type of organization. The range of organizations can be multinational enterprises or single-person firms.
ClickMeeting is the best web-based solution that covers the entire process of a webinar and is easy to use. It controls all the processes in a webinar from the preparation of a presentation and sending invites to attendees and interaction to follow-up.
The solution does not require any installations. Moreover, it works fine with all sorts of operating systems and devices.
ClickMeeting works best for all types of organizations, ranging from a single person company to multi-national enterprises. The target markets of ClickMeeting are training, HR, education, sales, and marketing.
The pricing starts from $25 per month per feature. They also offer a free version and a free trial as well. It is a subscription-based pricing model. Here, the user decides to choose how to bill; monthly or annually. It also includes the attendees allowed in a webinar session. Non-profit organizations can enjoy 40% discounts and 20% discounts on annual subscriptions.
They also provide free technical support and upgrades for the accounts without any additional free.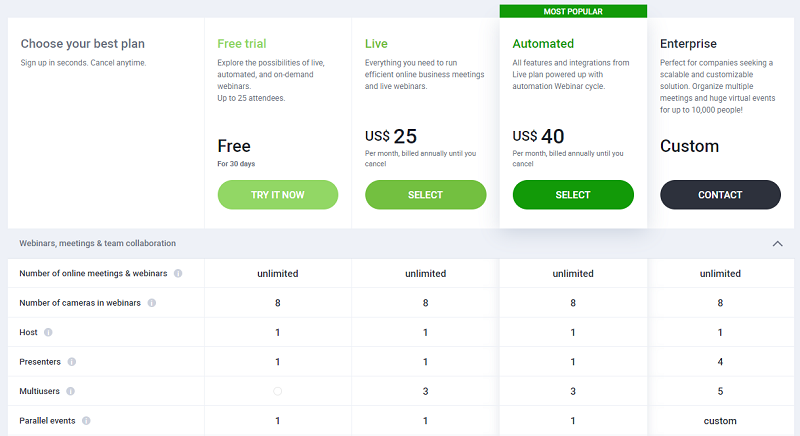 More features include:
Electronic hand raising
Access controls
Annotations
Lead generation
Live chat
Browser sharing
Badge management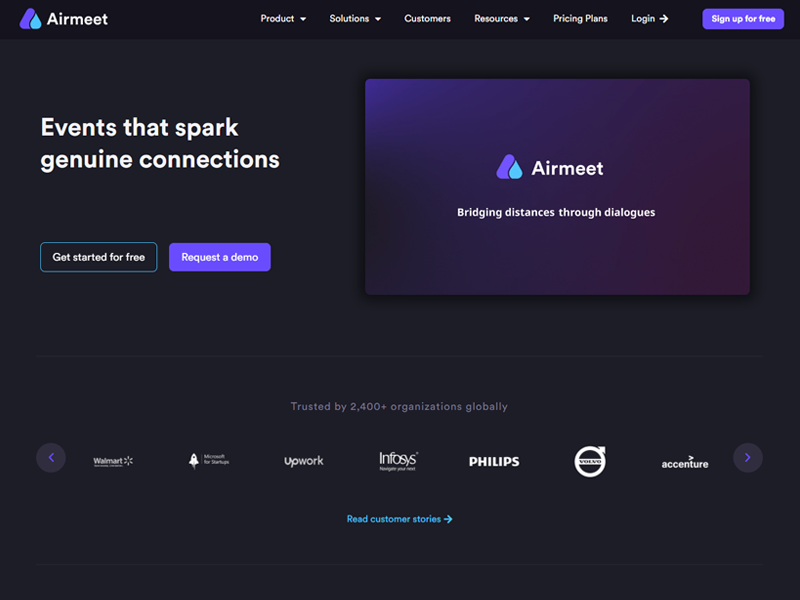 All webinars are not audience-focused. Airmeet runs the social webinars. It enables special connections for your audience and delivers the content alongside. For this purpose, it uses an immersive engagement space and a dedicated networking lounge.
With Airmeet, you can get an edge over the social webinars for competition, positive word of mouth and higher audience retention. Many renowned brands such as the University of Toronto, Accenture, Microsoft for Startups, Volvo and Walmart host their events and conferences on Airmeet.
Airmeet is meant to serve communities that intend to build genuine and inclusive interactions. It is not limited to broadcast information only. Enterprises and communities of all sizes can use Airmeet for their meetups and virtual events.
The pricing of Airmeet starts from $99 per month based on usage. It offers a free version but does not provide a free trial.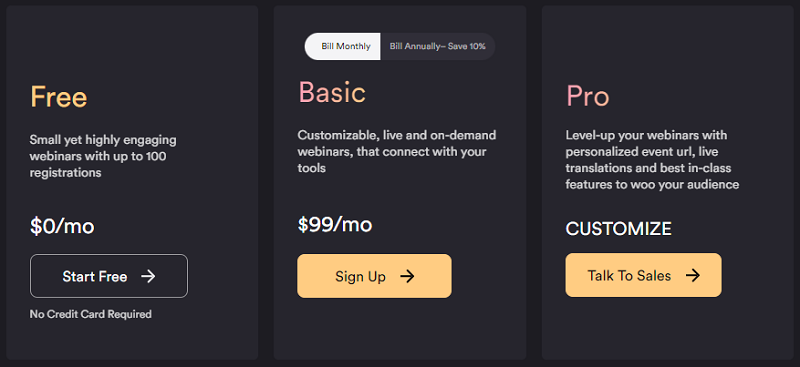 Features:
Notifications
Badge management
Q&A management
Registration management
Online registration
Live to stream
Event management
---
Virtual Event Platforms Essential Features
In the era of pandemics and technology, many virtual conference platforms have carved their ways with their acquired features. Yet, in terms of technology, everything seems to be evolving. Technology provides ways to make new updates with new features.
Here are some essential features of virtual conference platforms:
1. Event management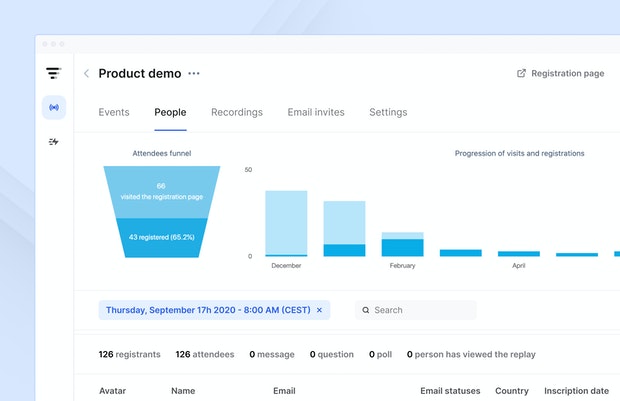 A virtual platform offers support in conducting a virtual event. It offers a complete package with features to facilitate basic cycles of event management. Users may prefer transactions that are just a click away.
Thus, it provides essential features to conduct an event such as troubleshooting, payments, feedback, cancellations, and ticket access and event registrations.
2. Network optimization, scalability and responsiveness
Any platform must be responsive across multiple devices. The virtual conference platform should be designed to be scalable. These days, the platforms are made on the cloud as it ensures efficient and easy availability of resources. Cloud acts as a saviour for the companies that deal with content management such as media companies.
Network optimization is another underlying feature that is achieved by VPN integration. Some of the VPN services resolve network issues by converting networks in terms of bandwidth.
3. White labelling
A platform can also expand and be reused by so-called licensees and different clients. Thus, any event platform should offer white labelling. All the processes in an event management platform shall display the licensee's name or logo. Thus, it opens up a way for many more clients. Many platforms provide white labelling services to let various organizations use their products.
4. Social media integration
It indeed adds great value addition to include social media integration. Leveraging social media helps in connecting and getting more users on a platform and channelizing the personal experiences of different users on one platform. It adds more value to the business by expanding the outreach to the masses.
5. Content play and live streaming
Any virtual event works on broadcasting. Different live videos need different supports such as large-scale broadcasts, group videos and one-to-one live videos. All these requirements add in-house communication solutions by integrating streaming solutions.
A few popular tools that help in effective communication are WebRTC, Agora, OpenTok, Wowza and Twilio. Integration with such tools facilitates communication and support for the enhanced features such as analytics, recording and screen sharing.
6. Live Broadcast
Your virtual conference platform should have the ability of keynote speakers and hosting. Live broadcasting creates a situation of urgency as well as engaging attendees through Q&A and live to poll. Moreover, some virtual conference platforms feature live broadcasting features through multi-speaker sessions. This allows multiple people to present at the same time.
7. Third-party integrations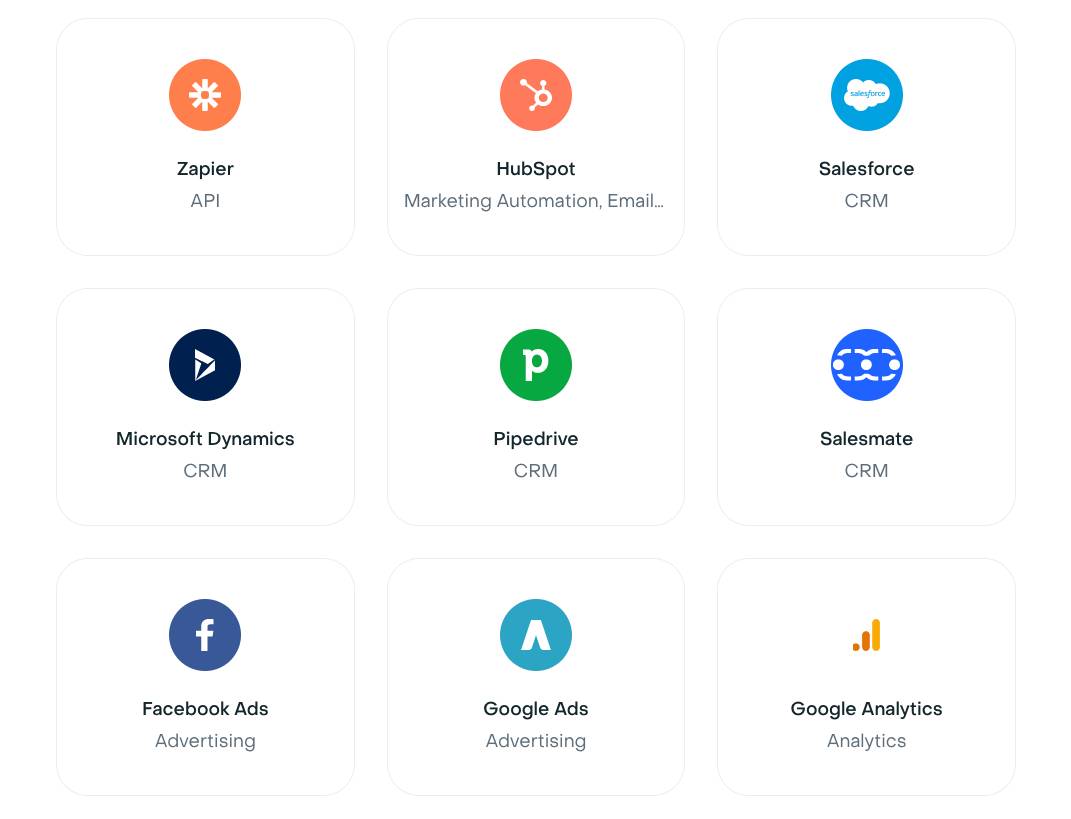 Conference calls and video conferencing should be integrated to resolve several problems and perform various functions in real-time. You will have to add fewer additional applications if you have more integrations for your business. Most of the virtual conference platforms in or list offer third-party integrations such as iContact, Aweber, Kartra, MailChimp etc.
How to Use a Virtual Conference Platform: Different Types
Before determining how to use a virtual conference platform, you need to first know the different types of virtual conferences.
Different types of online conferences include: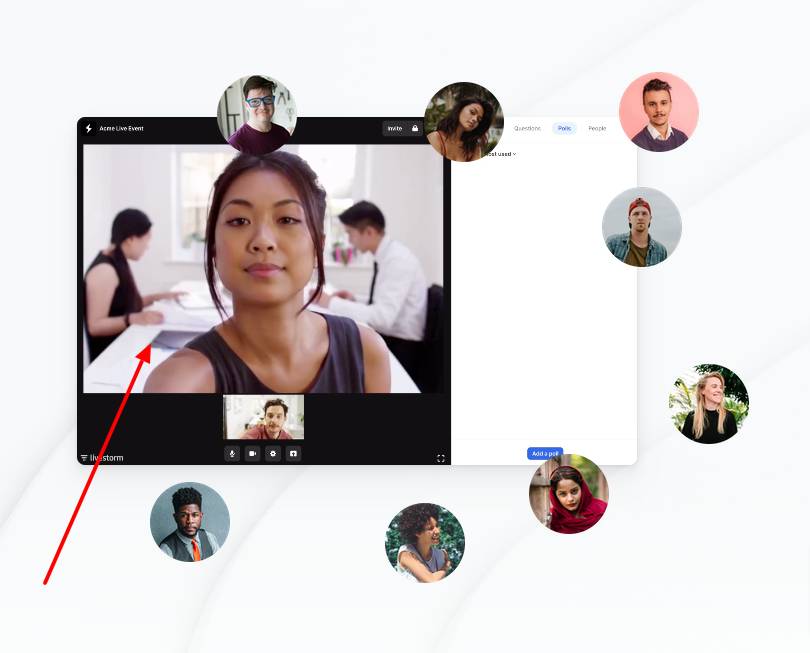 Hybrid events – These include a combination of virtual and in-person events. It is usually adopted by industry-specific and company-wide events. It has all the breakout sessions, encourages mingling, keynote speakers and host panels.
Lead and sales generation events – It is free to enter a sales Webinar to attract attendees to purchase services and products. It includes special offers and registration on email marketing and social media.
The virtual conference as a product – These are the online events where your company charges entry fees for conferences. It is the case in both industry and education-related events.
Online fairs – It includes conferences for internships, volunteers and job fairs.
Virtual trade shows – These include online expos and trade shows with vendors and interactive elements through virtual booths.
Online training sessions – These include all the training sessions for software use, company policies, internal training, continuing education or external pieces of training that help clients determine the use of a product or software.
Conclusion
Overall, virtual events have a great role in the events and meeting industry. Enterprises quickly realise that hybrid or virtual events and meetings offer several benefits with a suitable host. Significantly, they connect more attendees with your sessions, speakers and content, provide better brand outreach, and global attendees' reach.
Also, a good host reduces the costs per lead with higher revenues.
Can you imagine an event in which your attendees can see a live stream of your speakers' chats or an event where they can participate without any barrier? This is only possible by integrating virtual technology to conduct your online conference.
Covid-19 has drastically changed the way events are used to conduct. But the virtual platforms are there to help planners and companies make strategic decisions. They add an effective strategy that helps to expand your audience. Moreover, you can achieve your goals, discover powerful tools and enhance engagement with the event planning toolkit offered by your virtual conference platform.

Ludjon, who co-founded Codeless, possesses a deep passion for technology and the web. With over a decade of experience in constructing websites and developing widely-used WordPress themes, Ludjon has established himself as an accomplished expert in the field.