If you are considering starting an eCommerce business, you must keep your customer's Credit Card information safe and secure. This is where the PCI compliance steps in to ensure all the measures are taken into account to protect the data. Hence, you need to set up your business on the best PCI hosting platform that follows these security standards.
PCI SSD standards apply to eCommerce businesses and those that use Credit cards for transactional purposes. Considering web hosting platforms, hundreds of options are available in the market, but only a few of them comply with the PCI DSS security standards. So, we tested and tried multiple PCI-compliant hosting providers and all their security measures.
We have curated a list of the seven best PCI Hosting providers you can choose based on your business needs and budget.
Shortlist of the top 7 Best PCI Hosting
What is PCI Compliance in Web Hosting?
Web hosting providers that follow security necessary measures such as Firewalls, Intrusion detection, secure data centers, and much more to keep the customer's data safe and prevent any means of fraud come under PCI compliance.
Furthermore, web hosting service providers cannot guarantee 100% PCI compliance since taking security measures for your business goes both ways. Hence, you need to use better payment gateways such as Paypal, which is safer and holds the PCI DSS compliance certification.
Furthermore, since the attacks and frauds are directly related to the servers your business is hosted into, choosing the right web hosting service provider becomes even more essential. Many companies use WordPress or even Woocommerce, which are considered the most secure, but there still needs to be a guarantee. Hence, ensure that you and the service provider understand all the security measures before hosting your business.
The 7 Best PCI Hosting for 2023
Best WordPress PCI Hosting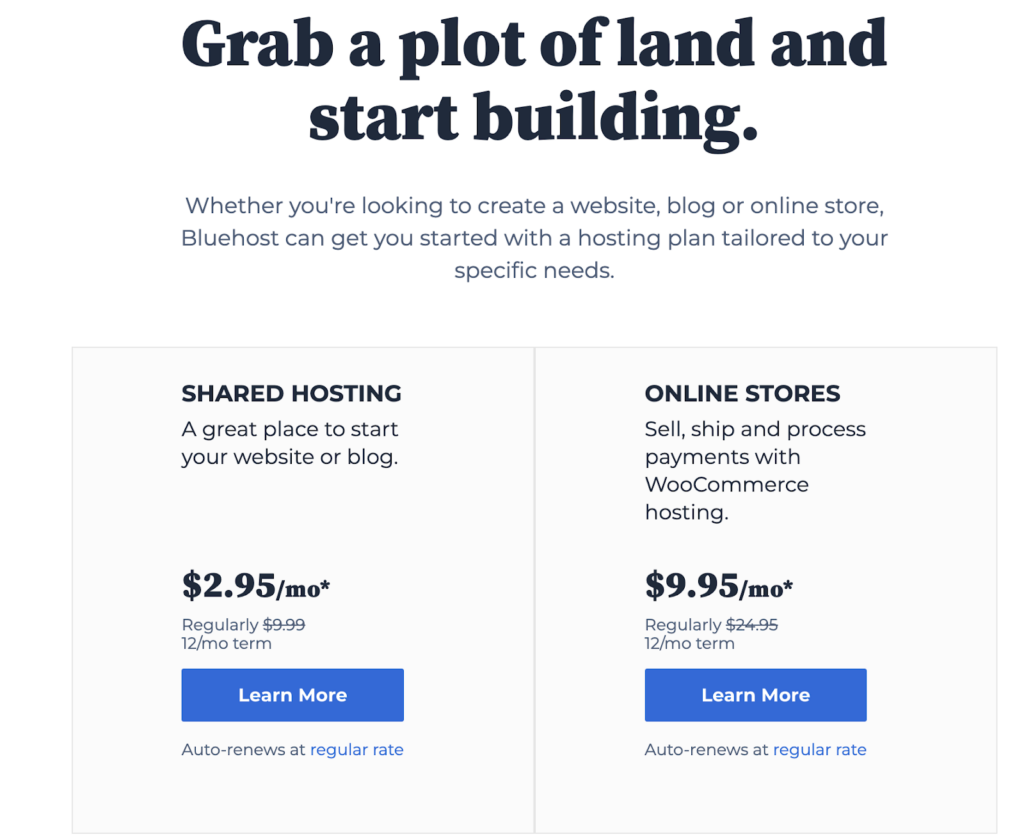 BlueHost is the best WordPress PCI Hosting among all the others we have tested and tried for our websites. It is a perfect all-in-one solution for beginners and large-scale businesses looking to keep their customer's data secure on the server end.
Speaking of security, Bluehost takes extensive measures such as SSL certificates, DDoS protection, secure payment gateways (Paypal & Stripe), secure hosting environments, and other resources. This PCI hosting provider provides a free SSL certificate with all its plans that protect websites from hackers and cyber threats. Also, we all know that PayPal is considered the safest mode of transaction and a PCI-certified platform.
With several data centers worldwide and advanced caching technology, Bluehost never compromises with speed. Even after hosting several sites over the years, we never faced any issues with downtime or the time taken for the website to load.
Additionally, businesses can only achieve PCI compliance on VPS and Dedicated servers, not shared hosting on this provider. However, you need to surpass the PCI scan, a measure taken by the platform to ensure that your website meets all the standards set by policymakers before providing you with all the PCI-compliant features.
BlueHost gives you all you need to set up your website from scratch without worrying about fraud, attacks, or data theft. Above all, this platform offers 24×7 customer support that ensures all queries are resolved quickly.
Pros
Beginner Friendly
Exceptional customer support
Advanced security measures such as DDoS protection, malware scanning, etc
Offers free SSL certificate for added protection
Cons
Hidden fees
Uptime issues on multiple occasions
Pricing and Plans
Shared Hosting- Starting at $2.95/mo
VPS Hosting- Starting at $19.99/mo
Dedicated Hosting- Starting at $79.99/mo
WordPress Hosting- Starting at $2.95/mo
Woocommerce Hosting- Starting at $29.95/mo
Email Hosting- Starting at $6.00/mo
Cheapest PCI Hosting Provider
Hostinger is another top-notch and cheapest PCI Hosting provider. It is available in the market with an all-in-one website solution that can easily manage up to 100 websites. In addition, you can choose between a range of plans, including cloud hosting, VPS, WordPress, and Shared.
Not only this, you even get to choose based on the type of business you are currently running, such as Single, Premium, and Business. Although Shared hosting is economical and offers all the features you are looking for to protect customers' data, there is no guarantee of PCI compliance.
The servers here feature SSD hardware for quick loading of the websites, along with a 99.9% uptime guaranteed. Furthermore, to ensure there is no compromise on the speed, Hostinger features a custom-built cache manager for server-side caching and browser caching for faster loading time.
Although Hostinger does not offer direct PCI compliance, it has taken appropriate security measures to meet these standards. For example, to provide secure and encrypted connections, you can add a free SSL certificate that is PCI DSS compliant. Furthermore, their Payment options include PayPal, which works as a PCI-compliant platform for secure payments.
Pros
Cheap and Affordable Pricing
Faster Loading speed using caching technologies
Offers 24×7 support in 20+ languages
User-friendly interface
Payment options include PayPal and cryptocurrency
Features LiteSpeed Web Server technology
Cons
Poor customer service
Prices fluctuations after a year of usage
Pricing and Plans
Web Hosting- Starting at $1.99/mo
Cloud Hosting- Starting at $9.99/mo
WordPress Hosting- Starting at $1.99/mo
PCI DSS hosting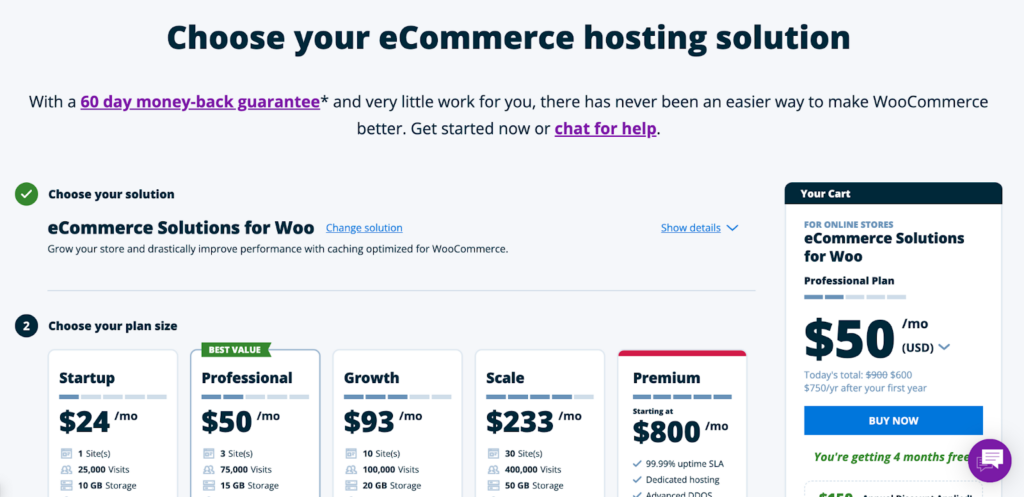 When searching for a WordPress hosting service provider that does not require much effort to set up your website or even manage it, WP Engine is what you need.
WP Engine does not directly comply with PCI regulations; however, it encourages using third-party payment gateways such as Stripe and Paypal that comply with these regulations.
Apart from this, WP Engine offers free SSL certificates with all its hosting plans, which is considered to be a primary security measure. Furthermore, the platform takes multiple measures to ensure all the data on your website are secure through malware scanning, security updates, and much more.
They offer an excellent customer support system available 24×7 via calls, emails, and even live chat for a quick solution. Currently, there are 19 server locations to handle the workload coming their way from across the world.
Regarding the performance, WP Engine has a load speed of approximately 1.6 seconds, which may not be the best, but decent enough. It even comes with a free Content Delivery Network (CDN) service that is included in all its plans and ensures content delivery to users worldwide.
Pros
Exceptional Customer service
Affordable pricing
Offers Automated website maintenance
Free automated migrations for existing stores
Global Data centers are available
Custom plan available
Cons
Does not offer direct PCI Compliance
No email hosting included
Pricing and Plans
Managed WordPress Hosting- Starting at $20/mo
Woocommerce Hosting- Starting at $50.00/mo
Best Uk PCI Compliant Hosting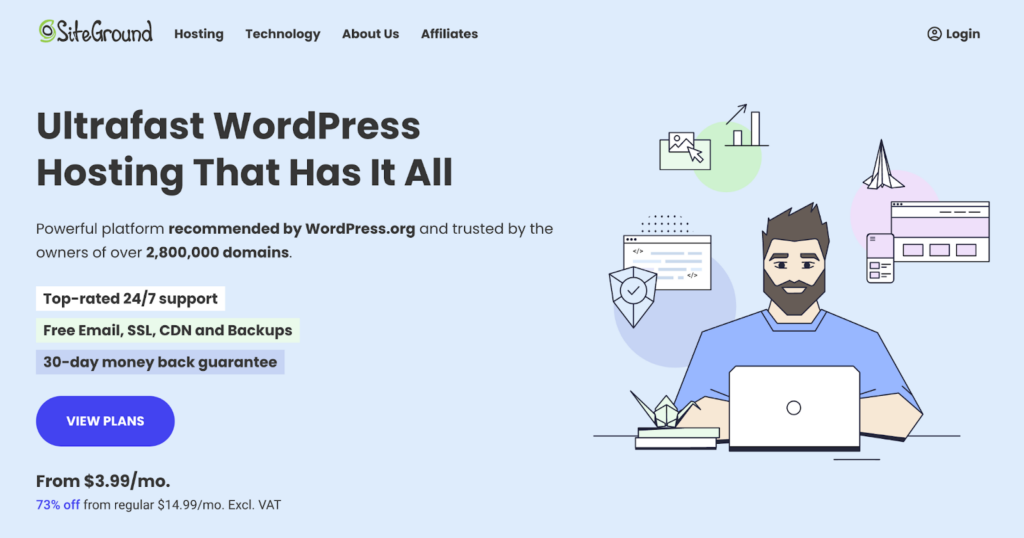 Another safe and secure hosting service that boasts excellent uptime is Siteground. It is known to be one of the best UK PCI Compliant hosting platforms that take strong security measures by the PCI DSS requirements.
One of the significant advantages of using Siteground is that you get to choose your preferred server location that is spread worldwide. For example, if you want to set up your eCommerce site for users in Asia, you can select the Asia-Pacific data center. Whether you are a small business owner or a large-scale firm, Siteground has to host plans for everyone.
Considering security measures, similar to other hosting platforms, Siteground also uses SSL certificates for all the sites hosted to ensure there is no data leakage during transformation. Also, the platform performs measures such as session management, 2-factor authorization, and other aspects to avoid any unauthorized transaction.
The only difficulty with Siteground is that it does not offer VPS, dedicated, or Windows servers. Instead, you can use Cloud, WordPress, and Shared hosting to host your website with the best possible features. Furthermore, this platform has exceptional uptime, and customer support is a blessing in disguise during downtime.
Pros
Great Uptime speed
Multiple hosting plans are available
Ensures proper security measures based on PCI requirements
User-friendly interface
Data centers are available across the globe
Cons
It does not offer VPS, Dedicated, and Windows servers
Relatively low storage
Pricing and Plans
WordPress, Web, & Woocommerce Hosting- Starting at $3.99/mo
Cloud Hosting- Starting at $100.00/mo
Reseller Hosting- Starting at $6.69/mo
PCI Compliant Cloud Hosting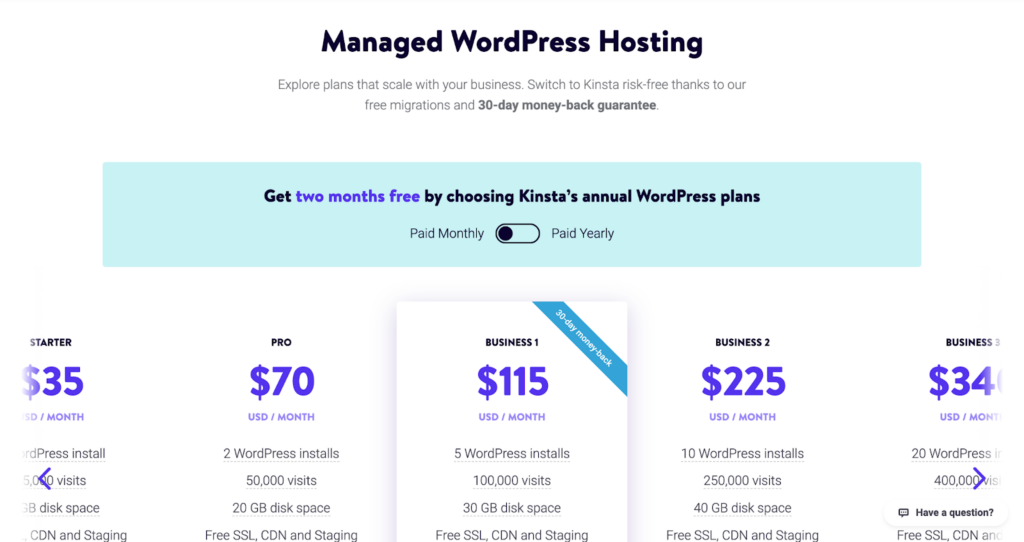 One of our favorites in this list of the best PCI-Compliant Cloud Hosting is Kinsta. We have personally tried and hosted multiple sites on this platform, which always satisfied us in terms of performance and security. One of the major advantages of Kinsta is its managed cloud hosting service, which makes it easier for beginners and professional bloggers to manage everything.
Kinsta offers Managed, Application Hosting, and WordPress Hosting, the overall cost for even a basic plan might be more than average, but it is worth spending every penny. You can set up your site with the basic plan that costs around $35/month that gives free SSL, CDN, and staging.
Speaking of Speed, Kinsta offers free Cloudfare integration that provides customers access to HTTP3 protocol. This is the latest upgrade from the previous versions of HTTP and TCP protocols to offer superior speed to your websites.
Furthermore, Kinsta features Cloudfare's firewall solution that blocks any malware in the tracks to ensure all-in-one security of your site and your business. Also, to make it even more secure, customers are protected by GCP's IP-based protection firewall. Another essential security aspect is that your site is free from any DDoS attack that is pretty common in the industry.
Kinsta is a PCI Compliant hosting service provider; however, they cannot guarantee 100% compliance since it largely depends on you handling the data correctly. But, Kinsta has actively participated in helping their customers with special requests to help them in auditing to pass PCI compliance scans.
Read More: Kinsta vs A2 Hosting: High WordPress Performance Meets Affordability
Pros
5 Countries with 34 Data Centers
Features C2 VMs to boost the site's performance
Offers Automatic Daily backups
Blazing fast speed
Easy migration of site with zero downtime
Cons
Some WordPress plugins are restricted
Prices are higher for entry-level sites
Pricing and Plans
Managed WordPress Hosting- Starting at $35/mo
Application Hosting- Starting at $20/mo
Database Hosting- Starting at $18/mo
PCI Compliant Shared Hosting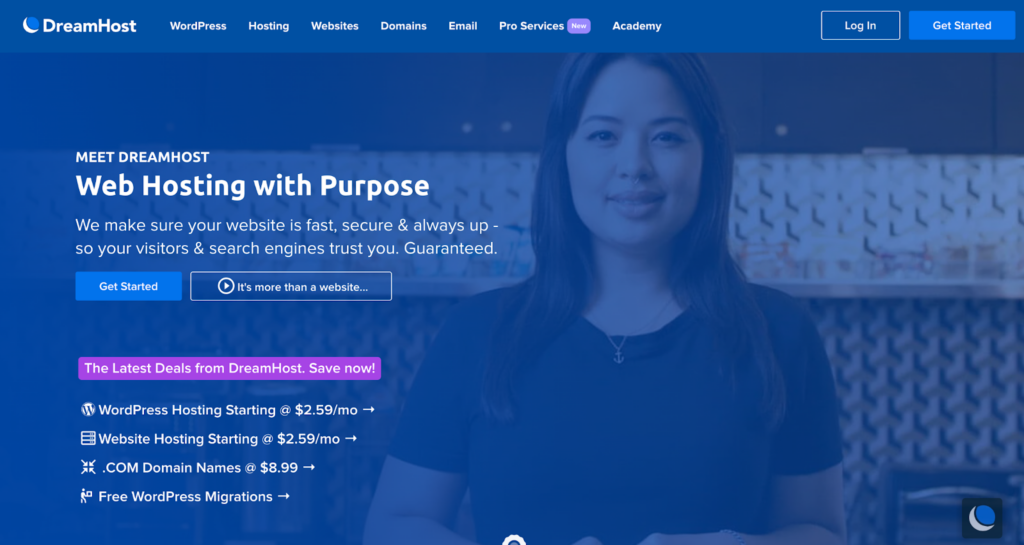 Next, we have Dreamhost, which ensures that the platform supports all PCI-compliant requirements and is up-to-date. One of the major reasons to include Dreamhost in our list is its low price and high quality. Not only this, it takes major considerations while providing security and reliable support to its customers and their sites.
It is a popular platform among beginners looking to host their first blog or site, considering the overall cost as well as the custom control panel that is user-friendly and easy to manage. Moreover, with Dreamhost's popular Shared Hosting, you can avail of features such as a free domain, pre-installed WordPress, SSD storage, an SSL Certificate for free, and unlimited traffic.
Multiple customers, such as ourselves, often need help with downtimes and poor service with different hosting platforms. However, Dreamhost has taken special care in these sectors and features 100% guaranteed uptime. They also offer unmetered bandwidth to ensure a high conversion rate and manage incoming traffic.
Furthermore, the WooCommerce hosting plan is something your business needs since Dreamhost is PCI compliant. In addition, all your data and transactions are well protected on their servers due to their security-centered features such as the availability of Let's Encrypt SSL certificate, Dreamshield (Malware Removal), firewall for Apache, and Nginx built on OpenResty.
Above all, you can contact their customer support, which is available 24×7 via email and live chat. Of course, you may not be able to call them directly, which might cause ick, but overall, the response is brilliant through all other means.
Pros
Affordable pricing and multiple plans available
One-click Installation
Remarkable speedy performance
Uptime guarantee of 100%
97-Day Money-Back Guarantee
24/7 customer support services
Features Email Hosting service
Free Automated WordPress Migrations
Cons
Data centers restricted to US states
Expensive add-ons
Pricing and Plans
WordPress Hosting- Starting at $2.59/mo
Shared Hosting- Starting at $2.59/mo
VPS Hosting- Starting at $10.00/mo
Managed WordPress Hosting- Starting at $16.95/mo
Dedicated Server Hosting- Starting at $149.00/mo
Cloud Hosting- Starting at $4.50/mo
PCI Compliant Server Hosting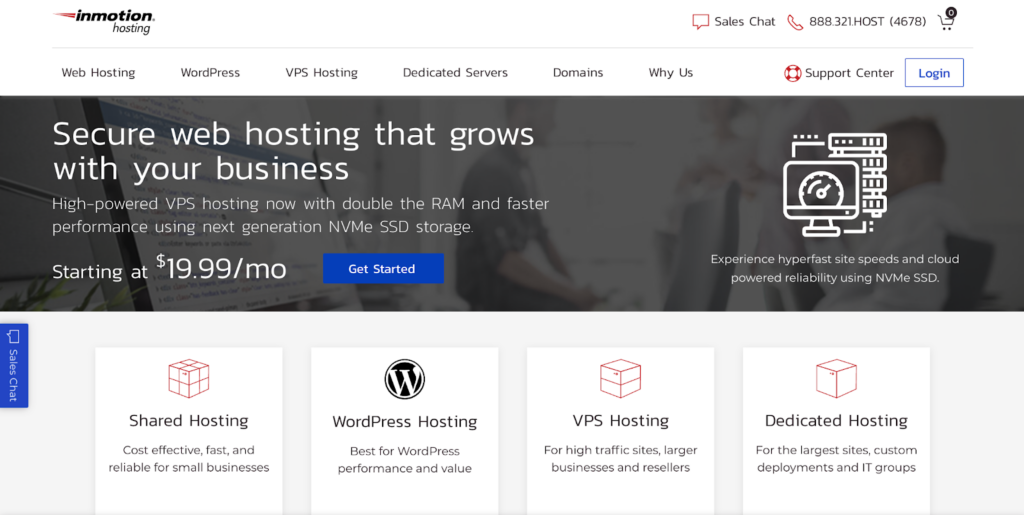 Lastly, we have Inmotion Hosting on our list, which offers a wide variety of hosting services, out of which almost all offer PCI-compliant server hosting plans. In addition, it offers a server uptime of 99.9% with a 90-day money-back guarantee to all its customers.
To configure your site and ensure it complies with PCI policies, you might need to migrate your site from Shared Hosting to either VPS or Dedicated hosting plans with Inmotion Hosting.
Read More: Best Cheap Dedicated Server Hosting
Speaking of speed and performance with this hosting service provider, Inmotion features SSD drives that boost your site's speed. Moreover, we discovered zero downtime while testing the services and plans, along with multiple language support that includes Ruby, Perl, and PHP.
Adding more to the security-centered features, Inmotion brings a free SSL certificate and DDoS protection that protects your site from any potential threat. Moreover, this hosting platform also introduced Monarx Security, explicitly dealing with PHP malware protection against web shell attacks.
The support is what spoke to us the most. You can contact and engage with the customer support team 24×7 through calls, emails, and live chat. However, it is only limited to US-based states. The other feature offered by Inmotion is that it automatically brings you free data backups so that your site does not lose any data under any attack.
Pros
99.9% uptime guaranteed
BoldGrid, the premium site builder
90-day moneyback guarantee
Free SSDs and SSL certification provided
Brilliant customer experience
Remarkable speed and performance
Cons
Complex pricing structure
Data centers and customer support are limited to the US.
Pricing and Plans
Shared Hosting- Starting at $2.29/mo
WordPress Hosting- Starting at $3.49/mo
VPS Hosting- Starting at $19.99/mo
Dedicated Hosting- Starting at $89.99/mo
Conclusion
If you want to switch your e-commerce site or start a new one, a PCI-compliant web hosting solution is the need of the hour. There are a limited number of service providers on the internet that are PCI compliant; hence, this guide might be perfect for you to find one.
All the hosting service providers are tried and tested on our sites to ensure all the information provided is correct. So you can choose the right one based on speed, data centers, security, and much more to ensure your site grows from hereon.
Kanika is a Tech Enthusiast who is looking to add meaning to what people read. She is passionate about the emerging technology, gadgets, and web. Kanika has been writing for over 7 years on multiple publications and blogs.