Looking for the best chatbot builders? Chatbots are becoming quite prominent amongst digital platforms for their automated task-dealing capabilities; with increasing demand, the competitors in the market are increasing too.
Here is a short list of the best chatbot builders:
Chatbots are widely preferred because they lessen the burden of individual customer dealing, which might not be effective if performed manually. According to stats, bots now deal with almost 85% of customer-company interactions.
There are a lot of new platforms emerging with chatbot building possibilities, we have narrowed our article to the top 19 companies that have impressed their customers with their services. Furthermore, the article covers the basic details, pros & cons, and pricing plans of each provider.
Let's get started!
The Top 18 Best Chatbot Builder Software
Best Overall Chatbot Builder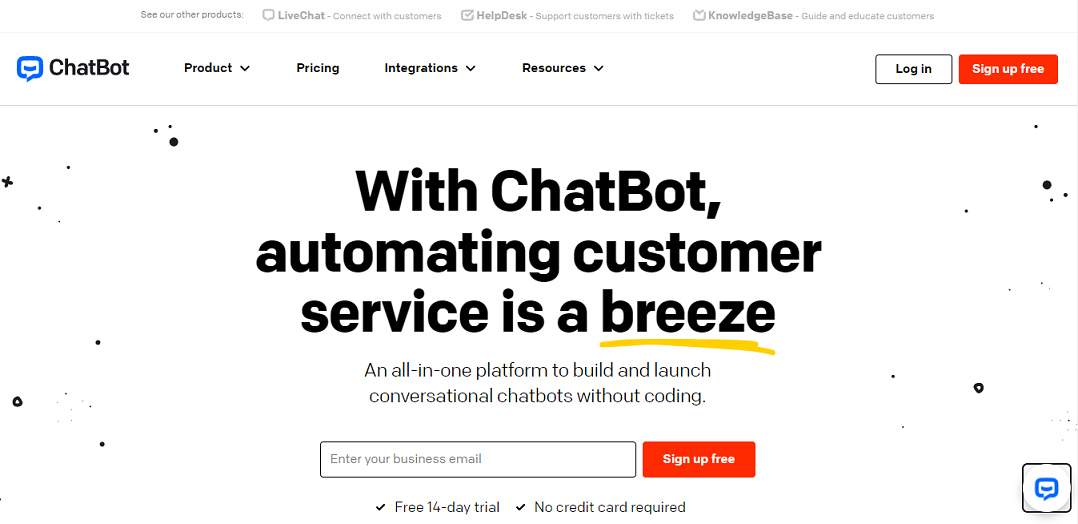 Pros
Variety of ready to import pro templates
Fast enough to handle extra site traffic efficiently
Drag and drop editor for designing custom templates
Extensive tracking tools
Ensured digital safety with 256-bit secured socket layer data encryption
Cons
Steady application launch
Inability to operate offline
Expensive pricing plans
The live chat option does not come packed with pricing plans; one has to pay some extra bucks to access that
ChatBot.com, the top chatbot builder available in the market, is a highly recommended platform for its capability to create intelligent virtual assistants. It is compatible with Facebook Messenger and multiple messaging apps.
A list of specified templates will make chatbot launching very beginner-friendly. The list ranges from sales to booking, recruitment, and beyond. An alternative is also available if the user is not satisfied with the pre-designed templates. It is their cutting-edge drag and drop builder where the user can easily construct a chatbot template based on his business's brand.
Moreover, ChatBot also contains a unique feature where the user can preview his creations before finalizing them. This attribute ensures a hundred percent customer satisfaction which is further facilitated by options that allow the creation of dynamic combinations of text, buttons, and images. The AI chatbot can learn very smartly about keywords integration and filters mobile apps.
Finally, the practical analytical tools display the real-time performance of the chatbot. With pre-built reports and insights, you can easily judge areas of improvement and take necessary actions.
CRM and other marketing tools can also use this collection of statistics for effective lead generation. All in all, ChatBot.com is a powerful builder packed with every critical feature needed to achieve maximum results from chat marketing.
Pricing
There are four different pricing plans available at ChatBot.com.
Starter plan, best suited for small companies, costs $42 / month
Team plan, highly recommended for team-oriented small companies, costs $126 / month
Business plan, suitable for teams based on comprehensive setups, costs $424 / month
Enterprise plan has a fixed-price contract with annual billing
Best Instagram Chabot Builder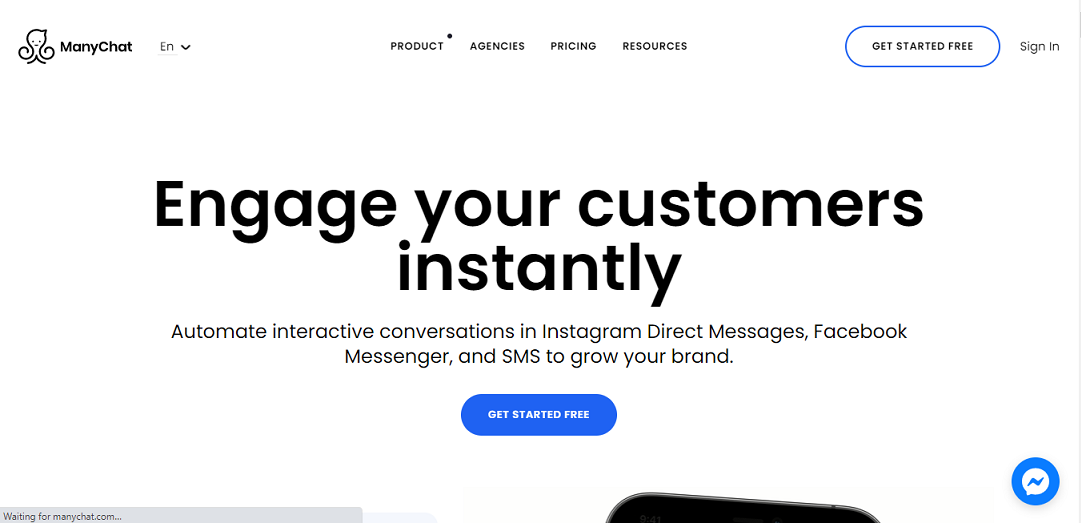 Pros
Straightforward interface; allows the creation of a chatbot theme in a few clicks with a visual flow editor
Multiple elements that facilitate the chatbot building process
Practical growth tools to attract maximum traffic to your website
Simple options to categorize users by giving them tags based on varied attributes; it is called segmentation
Multichannel support includes leading platforms like Facebook, Messenger, Instagram, Websites, Messaging, Email, etc.
A pre-built live chat option in the ManyChat application for both Android and iOS users
Prompt Zapier, Integromat, and Google Sheets integrations
Tons of pre-built chatbot theme templates
Cons
Limited messaging support to only two countries
No artificial intelligence-powered actions
Limited variety of chatbot designs, i.e., only a Facebook-Messenger widget can be instilled on the website
ManyChat is a chatbot tool creator that provides excellent value for the money paid. Its extensive set of features ranges from straightforward chatbot building to direct integrations with multiple platforms – all with one intention of making chat marketing simple and effective.
It has many inbuilt templates and an easy backup if the available templates do not match your brand. With their straightforward drag-and-drop interface editor, you are a creator yourself to design a template however you like.
It supports three powerful chat marketing mediums: Instagram DM, Facebook Messenger, and SMS Text Messages – you are free to choose your way of convenience. Moreover, they have great support for integrating critical applications like Shopify, HubSpot, Zapier, etc. This feature is another important aspect for running an effective sales and marketing campaign through the chatbot.
The builder allows the insertion of customizable flows with a single click, and the paid plan also displays analytical data about your website's progress. All in all, ManyChat is a perfect choice for small and medium-sized startups as it is elementary to use and is quite budget-friendly.
Pricing
The two significant pricing plans at ManyChat are stated below:
A free plan that costs $0
A plan titled pro charges around $15 per month
Best WordPress Chatbot Builder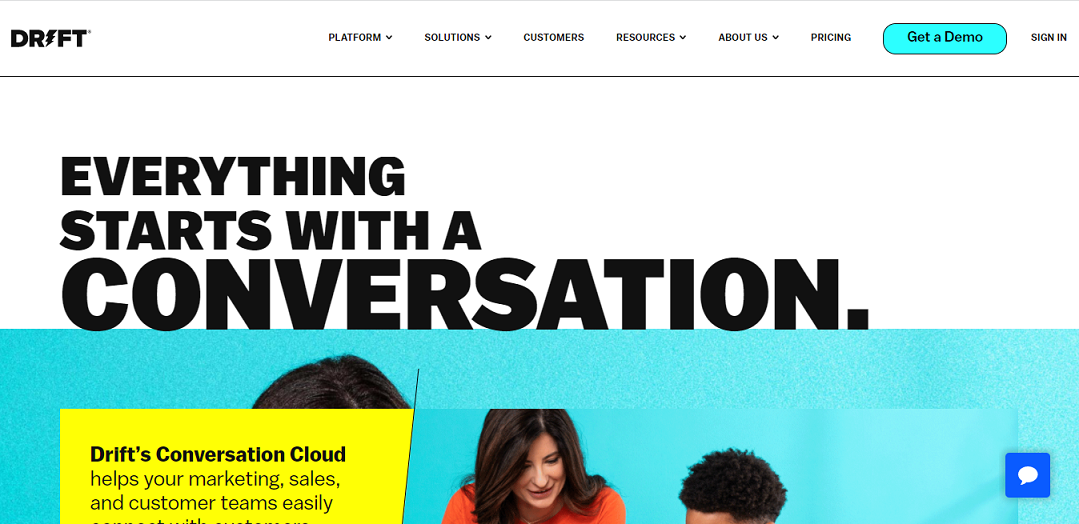 Pros
Highly efficient lead generating tools
Segmentation capabilities
Great user engagement
Unified dashboard
Intuitive user interface
Seamless integrations with multiple third-party applications like HubSpot, SalesForce, and Slack
Knowledge base powered chatbot
Cons
High pricing
Restricted team functioning; the feature is only available with their most expensive enterprise plan
Slow performance
Complicated builder; only available at pro or higher plans
Lacks messaging bot marketing tools
Drift is the top choice of chatbot builder for B2B companies which comes with an advanced visual flow builder to produce custom flows without having any extensive tech knowledge. The workflows at Drift are referred to as Playbooks and are composed of multiple elements which are easily insertable and editable.
The platform also allows you to test the chatbot you have created to know how efficiently it can perform before introducing it into your website or any other communication channel.
The Drift chatbot flows deserve a good amount of appreciation for their widely spread options which include:
Storing customer's email and phone numbers in the database
Search for customer's query related articles in the helpdesk and refer them through the link
Automated tickets creation
Redirecting conversation to live chat if needed
Switching to a separate node in the flows playbook according to the situation
Customers have reviewed positively about the chatbots meeting scheduler as it automatically makes aware the user of possible dates and time slots to arrange a meeting with any of the site's consultants.
Drift offers at the same time one of the best WordPress live chat plugins.
Pricing
There are three pricing plans available at Drift. Let's have a look at these pricing plans:
The premium plan is a suitable choice for small businesses with all crucial tools intended for customer satisfaction and business growth
The advanced plan is well suited if you have a medium-sized business set up and want to achieve the goal of improved customer interactions and top-notch marketing pipelines implications
The enterprise plan is preferred chiefly for large organizations intending to grow their business on a broader scale
Best for extensive features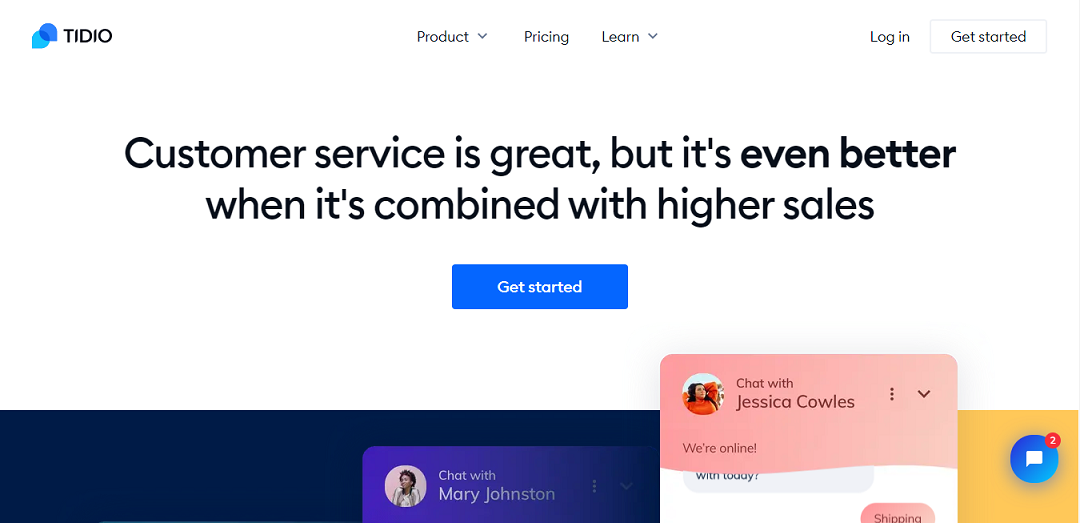 Pros
A simple user interface perfectly suited for novice users
Advanced chatbot elements
Custom fields and tags for segmentation
Conditional workflows
Easily accessible live chat feature
Zapier Integrations
Natural Language Processing under Artificial Intelligence
Budget-friendly rates
Cons
Lacks growth tools specifically for Facebook Messenger
Supports only two chat marketing mediums which are Websites and Facebook Messenger
Analytical details and trends can do much better
Tidio is one such chatbot creation platform that does not restrict the number of integrated bots. It is widely preferred for its extensive features, from its compatibility to several communication channels like Facebook Messenger, Websites, email, etc., to direct integrations with 17 top preferred third-party integrations. Zendesk, Wix, JavaScript API are to name a few.
Besides, beautiful in-built templates of 30 different designs, it also features an easily accessible drag and drop editor to create custom templates that fully match your brand.
A few other vital features listed at Tidio are abandoned cart reminders, customer satisfaction analysis, and many other attributes of similar nature intended to satisfy each customer fully. Additionally, the automated flows and nodes make bots highly independent, saving a significant portion of your time.
Pricing
Tidio chatbot application offers three plans out of which one is free of cost while the other two are:
The chatbots plan costs around $39 per month with three operators
The communicator plan starts at $15 per month, but the pricing depends on the number of custom operators
Best for SMS Messaging Chatbot Builder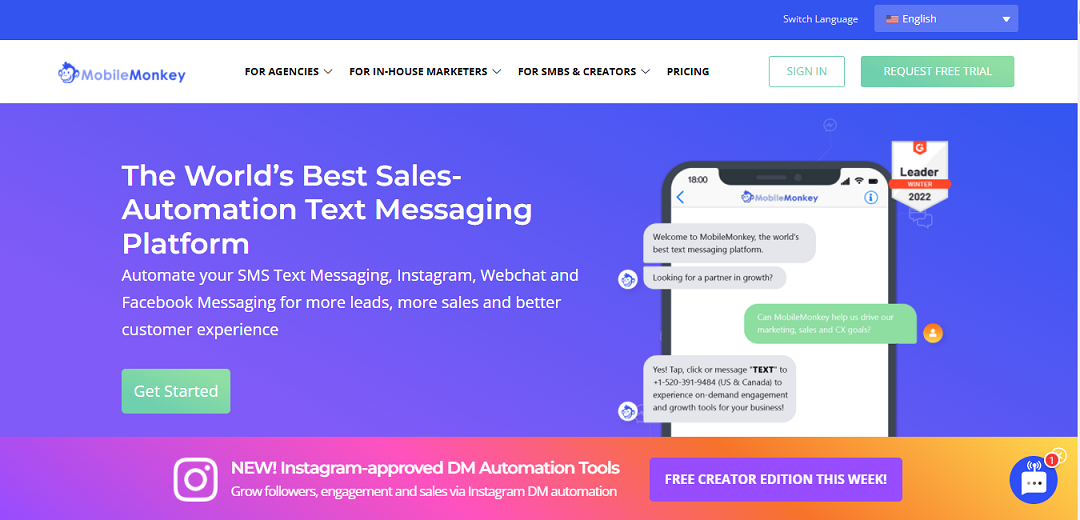 Pros
No technical knowledge is required to create a chatbot with pre-designed templates.
Effortless user interface
Direct segmentation capabilities based on tags and attributes
Premium website widget which allows messaging depend on the page user has visited
Supports extensive chat marketing channels including Messenger, Website, SMS
Smooth integrations with Zapier
Advanced trends and analytical details
Cons
Lacks an inbuilt Artificial Intelligence system
Inefficient compatibility with Facebook's newly updated policy (Facebook had blocked their CEO's chatbot)
Absence of e-commerce integrations for improved sales productivity
MobileMonkey is a highly efficient lead-generating chatbot creation platform; the lead-generating tools at MobileMonkey range from drip email marketing campaigns to list segmenting and beyond. Besides these extensive tools, MobileMonkey also manages safe storage of leads into an excel file – every action is completely automated. The prior mentioned attributes have made MobileMonkey a favorite amongst marketers of businesses ranging from small setups to large enterprises.
Although the platform lacks a drag and drop editor for custom templates creation, the advanced visual flows mask entirely off the need for it. Moreover, the flows are arranged very neatly in one designated line; the users can even customize the position of flow elements according to their working needs.
Besides everything, MobileMonkey's collaboration of lead generation and analytical capabilities is what takes the dominance. They collectively display important data involving customer bot interactions to be further used to run enhanced marketing campaigns. A few other essential features like the proper alignment of the contacts list, quick registration of customers for webinars, and enhanced Slack deliverability make MobileMonkey a great choice as a chatbot creation.
Pricing
You will find three different plans at MobileMonkey. Let's have a look at those:
InstaChamp VIP edition, which is free of cost for the ongoing week
InstaChamp Platinum will cost you around $9.95 per month
Finally, the MobileMonkey Start-Up Edition starts at $59 per month
The original price of InstaChamp Platinum is $19 per month, but there is a special promotional discount applied at the platform for this week only.
Best for beginners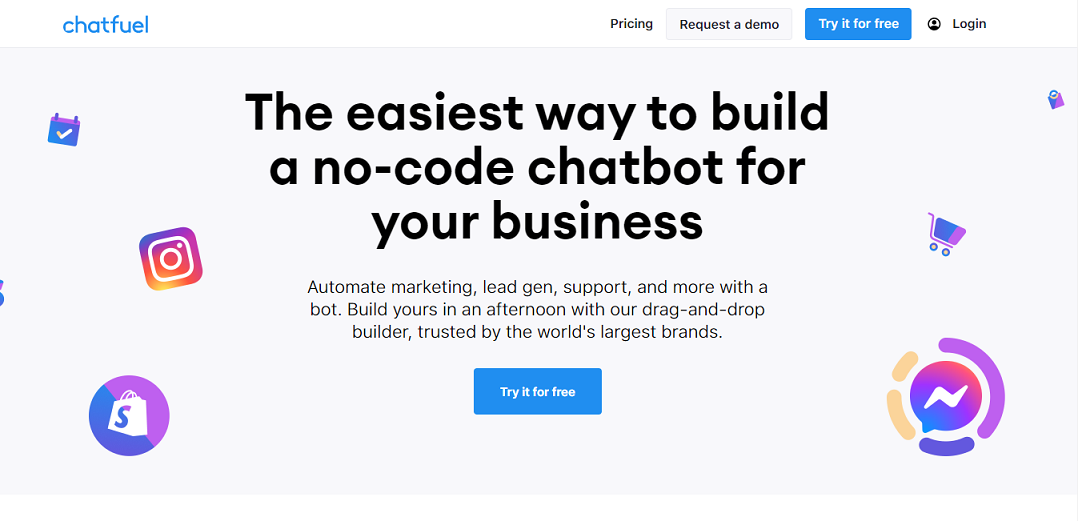 Pros
An easily manageable drag and drop builder for chatbot templates creation
Menu-driven user interface
Multiple actions, triggers, and flows to build a highly functional chatbot
Updated growth tools to increase website's conversion rate
Extensive integration options that include Zapier, Google Sheets, and more
Live chat support
Premium analytical display aware user about areas that need of potential improvement
Shopify integration allows convenient management of abandoned cart reminders
Cons
Absence of Artificial Intelligence support
Incorporation of only Facebook Messenger like widget on the website; needs more diversity in this area
Chatfuel's builder is usually preferred for its straightforward interface. It is particularly suited for beginners who want to incorporate a pro chatbot without going deep into programming details. Besides the ease of use, Chatfuel is quite efficient for integrating the bot in varied platforms like Facebook, Messenger, Instagram, etc. The platform possesses a library of several pre-designed chatbot templates that can potentially save much of your time and efforts.
Pricing
Chatfuel has four business plans available, out of which three are paid. Let's shed some light on what is the cost of these plans:
A trial plan that costs not a single penny and allows up to 50 conversations
The entrepreneur plan charges $14.99 per month for up to 500 conversations, along with a fully-featured bot
The startup plan can cater to around 1000 conversations and charges $24.99 per month only
The small business plan allows up to 3000 conversations in just $59.99 per month
Best Omnichannel Chatbot Builder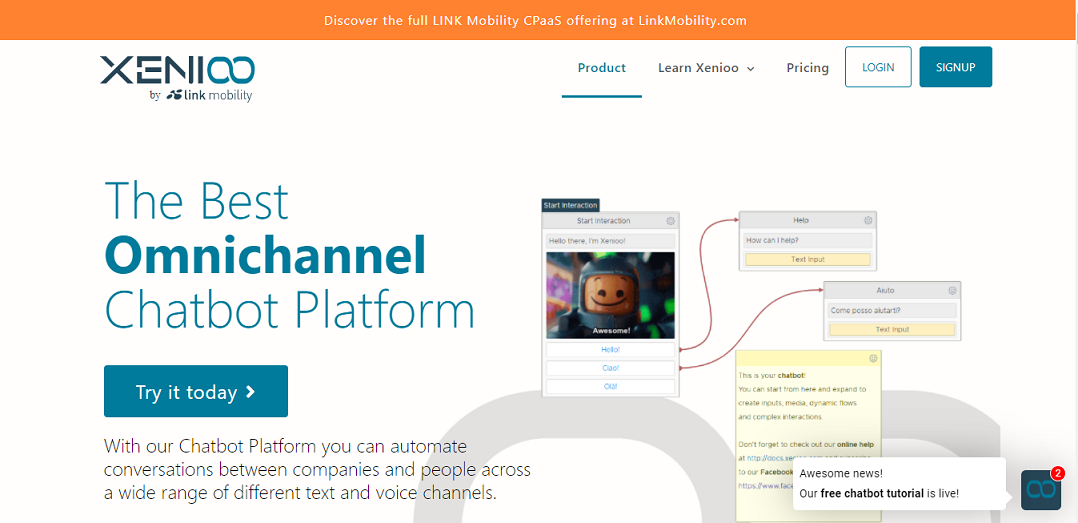 Pros
Straightforward visual flow building chatbots capabilities
All essential options available required to create a high caliber conversational chatbot
Insertion of customized tags and characteristics leads to an organized working system
Fully automated NLP for enhanced bot-human understanding
Supports up to 12 different chat mediums
Inbuilt live chat support
Reasonable price
The custom placement of the chatbot widget on the website
Cons
Overwhelming interface for beginners
The minimized activity of analytical tools
Xenio is an omnichannel best chatbot platform whose automated tools are a perfect medium for developing advanced conversational interactions between companies and their precious customers. The platform displays its diversity through multiple voices and text-based communication channels.
Moreover, you can also test the chatbot live to ensure its functionality free of cost. It supports up the 12 conversational mediums, out of which Facebook, Telegram, WhatsApp, website, SMS, RCS, discord, Slack, Google business, and Alexa are a few. Above all, the highly advanced Xeenio chat flow editor ensures efficient designing of chatbot templates through its sleek and intuitive interface.
The extensive options of adding pre-determined inputs, cards, carousels, images, and more make the bot trained to deal with every interaction in an organized way. Xenio is undoubtedly a worth investing platform for chatbot integration because of its extensive features and advanced functionality.
Pricing
There are four different pricing plans offered at Xeenio.com. Besides a free one, the three paid plans are:
A growth plan costs $49 per month for 10,000 messages on a single chatbot
The professional plan costs $99 and supports up to 3 chatbots with a limit of 30,000 messages
Finally, the custom plan lets you build a perfect plan based on your business requirement and is priced accordingly
Best for Affordability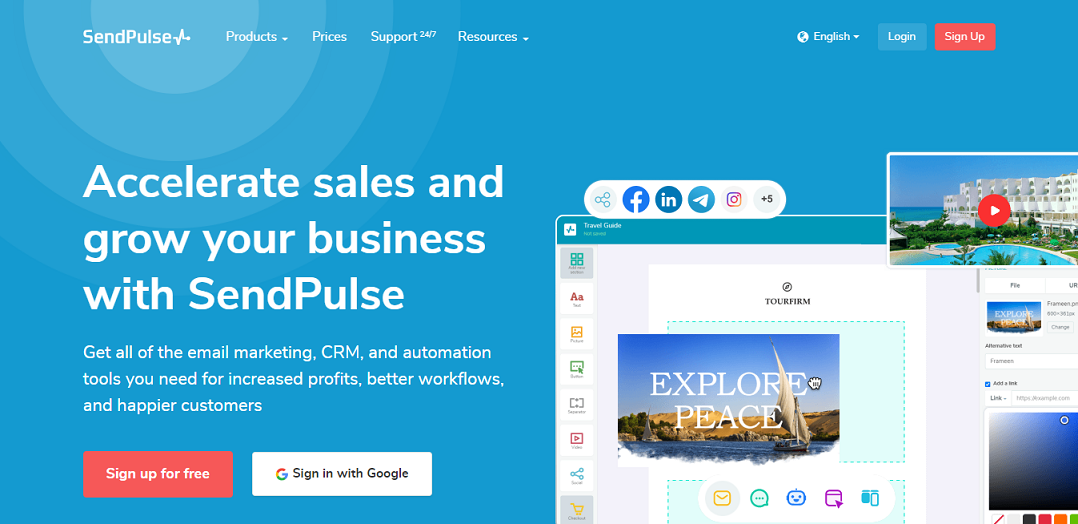 Pros
Auto-reply workflows
Efficient delivery of personalized promotional campaigns through Messenger
Three prominent chatting mediums are supported include emails, messaging, and website push notifications
Pro chatbot template creation through easily manageable drag and drop editor
API integration
Zapier integrations
Bulk SMS delivery
Highly supportive customer care services
Advance deliverability
Cons
Pricing needs to be improved
Outdated inbuilt templates
SendPulse, a chatbot builder with 15+ straight integrations, is likable for its efficient payment methods. With SendPulse, your bot can be so efficient to accept payments from customers through platforms like PayPal, Fondy, Money, Kassa, etc. This feature has proved to be a game-changer for increased sales productivity as most customers prefer purchasing plans without having to leave the page they are currently browsing.
The best thing about SendPulse chatbot is its free plan that allows the creation of up to three bots that can cover all three major platforms conveniently without having you spend a single penny.
Furthermore, they also have a mobile application for both android and iOS users allowing quick delivery of messages to subscribers of your chatbot through mediums like WhatsApp, Facebook Messenger, and Telegram. It means you can now control your business's chatbot at your fingertips.
SendPulse is also one of the best cheapest email marketing services on the market.
Pricing
Besides a generous free plan, SendPulse offers a high volume sending plan that starts at $9.60 per month for around 1000 chatbot subscribers. With increasing numbers of subscribers, the prices increase too.
Best No-code chatbot builder for websites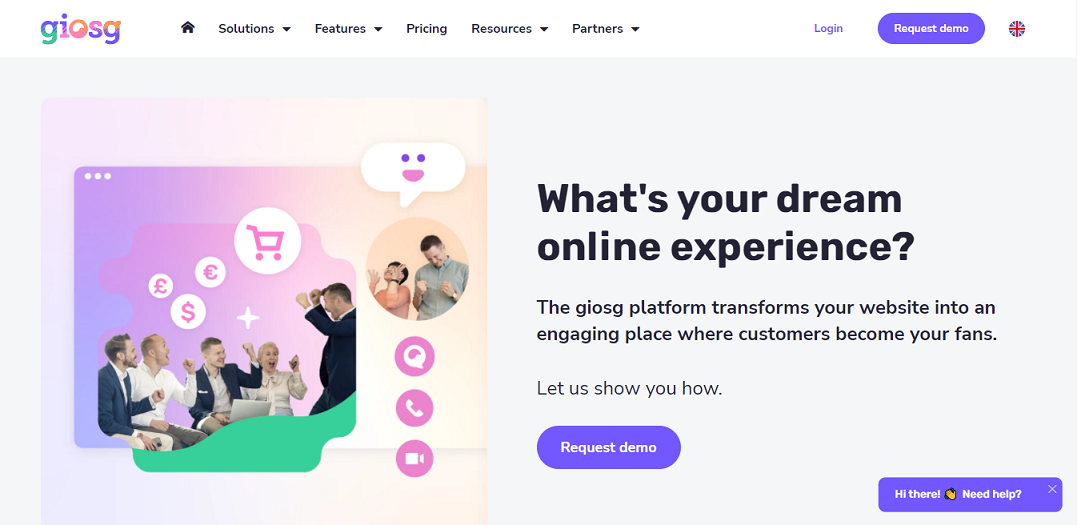 Cons
Overwhelming flows creation
Messed up interface
Inefficient optimal performance of sales and conversion features
Reporting should be packed with. less unnecessary details
Pros
AI-powered bot
Website visitor tracking
Chat history in the form of transcripts
Proactive and real-time conversations
Automated transfer or routing of bot chat to live chat
Autoresponders
Customizable chatbot theme builder
Mobile phone access
Giosg is one of the finest chatbot providers well suited for businesses ranging from medium-sized setups to large organizations. It is majorly a sales acceleration platform, and each of its features is directed to enhance the sales productivity of your business.
The platform is packed with essential features like inbuilt live chat, chatbots, artificial intelligence-powered flows, and more engaging content to create refined relations between the customers and the business organization.
You can deploy this tri-language chatbot on Cloud, SaaaS, websites, Mac, Windows, Android, iPhone, iPad, etc. The platform uses data collected from bot and customer interactions to direct it for qualified lead generation.
Pricing
Giosg does not offer any pre-set pricing plan; instead, it allows you to be aware of your needs, and they will set a customized quote based upon that. The plan is based on actual attributes like user count, service level, integrations, customization solutions, and the degree of required customer support. You can get started by talking to their sales department and make a perfect choice.
Best AI Chatbot Builder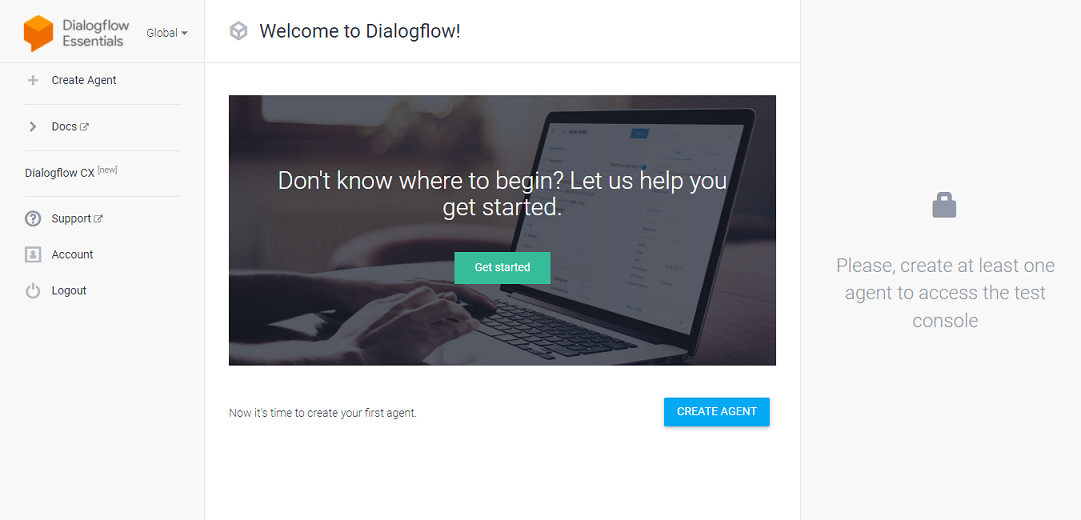 Pros
Interactive flow builder
Extensive integration across platforms like web, mobile, messenger and other third party applications
BERT based natural language understanding model react according to customer's tone and context
Inbuilt CI/CD analytics and bot evaluation tools
Cons
Not so beginner-friendly interface
Lacks built-in live chat support
The Google-sponsored Dialogflow chatbot creation platform is efficient for conveying natural conversations with an ample amount of multi-turn and supplementary questions without actually diverting from the customer's primary concern. Moreover, you don't have to spend hours building a bot; the pre-built visual flow builder and relevant agents can do the work quickly and effectively.
With Dialogflow's quick tools, integration of the bot into multiple communication channels is also made easier. These channels can range from websites, mobile applications to messaging services. The most appreciated attribute of this bot builder is its AI-powered NLU models that are highly optimized to understand human behavior and respond accordingly.
In simpler words, Dialogflow is the builder of modern times with premium attributes that function on automated flows, saving a huge amount of time for entrepreneurs.
Pricing
The pricing at Dialogflow is arranged on the type of different agents. These include:
Cx Agent
Text $0.007 per request
Audio input/output $0.69 per minute
Design time and other session requests cost nothing
ES Agent
Trial Edition
Text, audio input and output – free
Essential Edition
Text – $0.002 per request
Audio input – $0.0065 per 15 seconds of audio †
Audio output – Standard voices; $4 per 1 million characters
WaveNet voices; $16 per 1 million characters
Best for integrations with third-party platforms
Pros
Manageable conversational tools for creating a top-notch chatbot
Compatible with several platforms like Facebook, Telegram, Slack, Messaging, Websites, etc.
Possess an inbuilt purchase option within the chatbot further enhanced by the WooCommerce integration
Unlimited workflows
Cons
Absence of segmentation options
Lacks Zapier integrated tools
Not so good analytical capabilities
Flow XO is a quick and easy chatbot creation software with high functional performance using its robust attributes. The chatbots created at Flow XO are highly efficient that play a significant role in improving customers' interaction and engagement with the business platform. The platform is open to many communication mediums like Facebook Messenger, Telegram, Twilio SMS, or can even incorporate an independent messenger widget on the website.
Furthermore, the connected workflows are composed of trigger-based actions that start the bot's automated chain of responses. This feature is time-saving and prevents you from putting in too much effort to create an independent bot.
The most significant part about Flow XO is its over 100 direct integrations with third-party applications. These integrated tools are highly functional for creating custom flows based on your business type and customer demands.
Pricing
There are two significant plans available at Flow XO, out of which one is free of cost. Another one, the paid plan, costs around $19 per month for 15 active bots with the capacity to deal with 5,000 interactions each.
There are a few add ons as well, which you can use if required, as the incorporation of 5 more bots or active flows for just $10 per month, and the addition of further 25,000 interactions will cost you around $25 per month.
Best with Natural Language Processing Models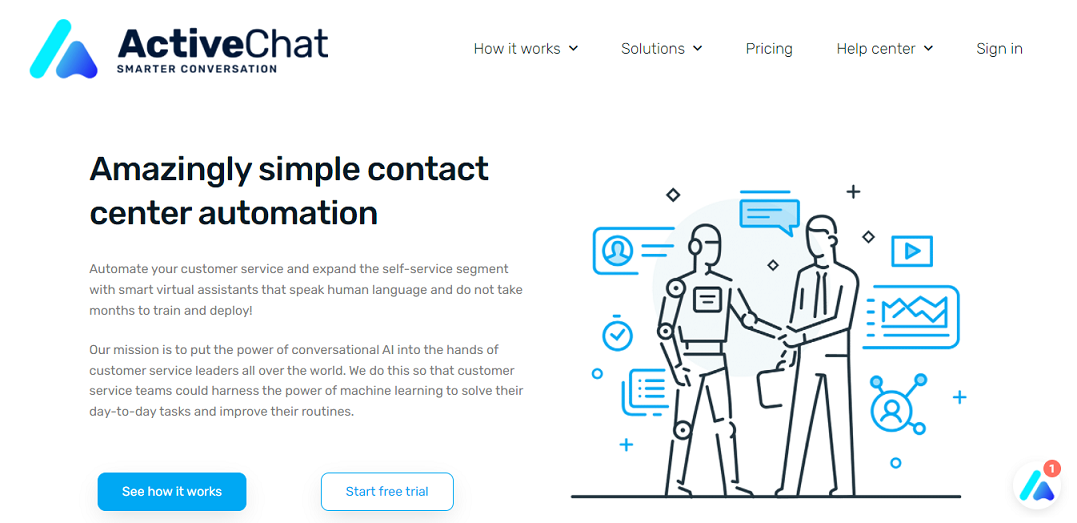 Pros
Comprehensive chatbot channel support including most important platforms like Facebook Messenger, Telegram, and Messaging
Advanced host page elements that allow the user to receive messages based upon the page they have visited
Highly functional integrations with primary e-commerce tools like Shopify and WooCommerce etc.
Chat live with customers through their built in tool
Integration with Dialogflow, an efficient bot building company
Cons
Steep learning curve
Inefficient problem-solving tools
ActiveChat is a premium chatbot software with tons of seamless integrations and an extensive set of tools to develop an efficient chatting bot. Natural Language Processor powers it under Artificial Intelligence which holds the capability to trigger a series of visual flow builders to produce an independent and intelligent Chabot for several communicating platforms supported by ActiveChat. These include Instagram, Facebook, TikTok, LinkedIn, Telegram, to name a few.
The tracking and analytical tools keep complete track of each conversation between bot and customer, which is further facilitated for improving bot's lacking areas and overall CRM. Moreover, the platform of ActiveChat is top-rated for it allows single-click integrations with most essential platforms of e-commerce, CRM management capabilities, and other similar business enhancers.
Pricing
Similarly, as Giosg, the ActiveChat bot builder does not have any pre-set pricing plan. Still, it charges you based on interactive conversations performed by your bot and the number of live chat agents using the tool. They also allow you to take a demo ride of their pricing strategy through a free trial. Moreover, large enterprises also offer contract-based custom plans with extra adds ons like wire payments, dedicated support teams, on-premises deployment, custom analytical dashboards, etc.
Best for Scalability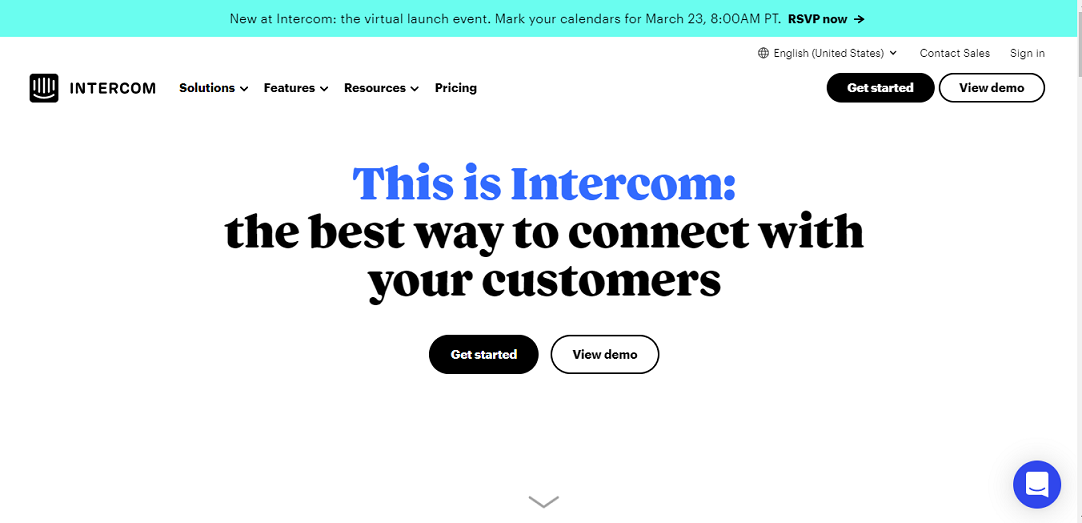 Pros
Elementary user interface; easy to use once you get familiar with it
Single click user segmentation based on tags and features
Innate Artificial Intelligence-powered Natural Language Processor
More than 100 quick integrations
Pre-integrated live chat option
Extensive marketing capabilities
Inbuilt or integrated e-commerce tools for enhanced sales
Highly advanced and precise depiction of data statistics
Cons
The messy organization of some interface options might pose a problem for beginners
Restricted channel support, i.e., only websites and applications
Artificial Intelligence systems lack entities
Quite expensive
Intercom chatbots are calibrated to scale each part of your business through enhanced customer resolutions, qualified lead, and pipeline management by automated custom workflows setup. The AI-powered bots at Intercom are extensively trained to give correct directions to the customer based on their queries, prioritizing high-caliber conversational interactions.
Moreover, the data collected from these interactions is then analyzed to aware users of potential areas of improvement. The endless bot-building capabilities of Intercom allow widget building even for beginners who don't know anything about coding skills processes.
Pricing
There are three pricing plans available at Intercom with different intensities of features. These are:
Conversational support plan which is highly qualified and personally scalable
Conversational customer engagement plan for onboard customer support, highly active and engaging chatbots
Conversational marketing plans are highly suitable for turning website visitors into regular customers
Best for Landing Pages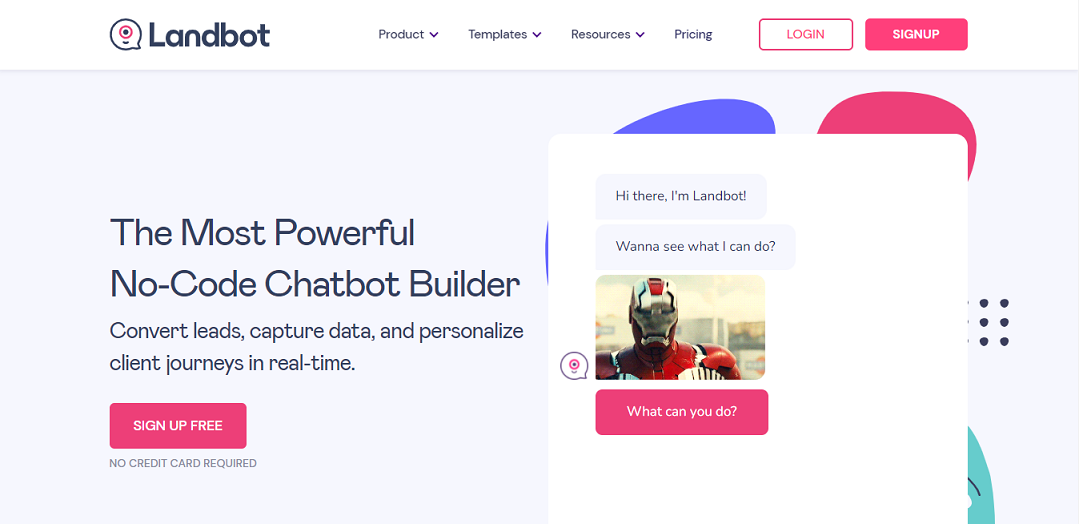 Pros
Highly efficient for creating a chatbot to be placed on landing pages
Supports multiple mediums for chatbot integration
A straightforward visual flow builder for creating custom chatbot templates
Integrate media-rich chatbot including images, videos, gift coupons, etc.
Pre-built templates for lead generation, job application, event launch, etc.
Keywords jump trigger
Live chat support
Personalized conditional flows
Cons
No options for segmenting users based on tags and attributes
Absence of Artificial Intelligence and Natural Language Processor
Below average efficiency of analytical details
LandBot is a free bot builder for chat intended to facilitate beginners with its no-code bot-building capabilities. It is highly capable of converting qualified leads, capturing essential data, and real-time personalization of customers' interactions with the intelligence-powered bot. It has served up to 12 thousand+ big companies till now, and everyone has got to say something positive about its use.
The intuitive drag and drop flow editor is perfect for developing personalized bots with your brand's style. Furthermore, the seamless native integrations enhance the overall functionality and produce a satisfactory outcome. It has extensive support for WhatsApp, Facebook Messenger, or any API-based medium.
The easy to set up interface at LandBot is not the primary function. Still, the platform also ensures that maximum visitors of your digital site are converted into loyal customers through a faster chatbot assistant.
Pricing
The four effective LandBot pricing plans are:
A lifetime free plan
The starter Plan costs €30 per month
The Pro plan costs €80 per month
The business plan has custom prices based upon features included in the plan
Note: These plans are specified for websites only. For WhatsApp plans, have a look below:
The Pro plan charges €150 per month
Business plan with customized pricings
Best Open Source Chatbot Creator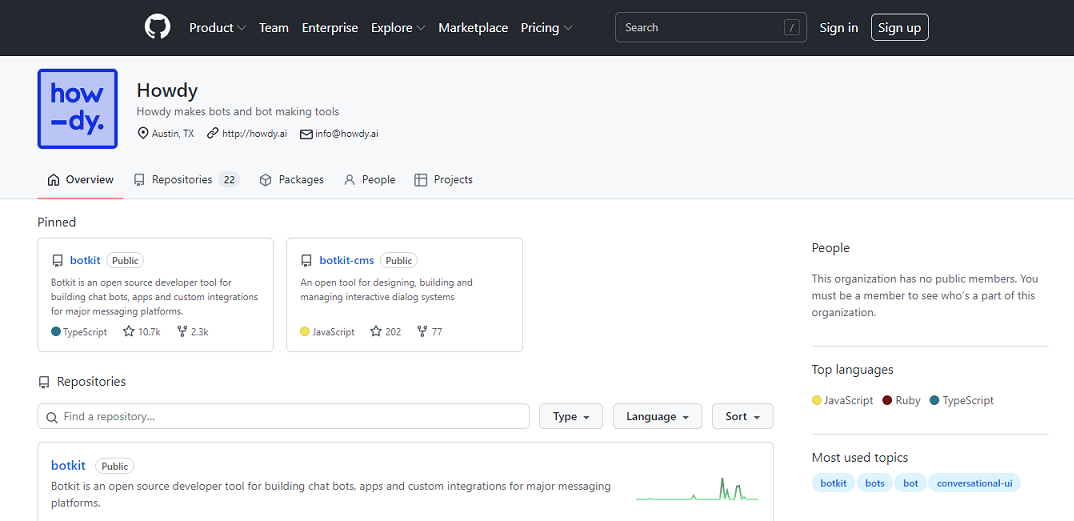 Pros
Quick integrations with third-party tools like slack
Understandable documentation
Open-source platform
Active community
Visual flow builder
Cons
Steep learning curve
The interface is overwhelming sometimes
Botkit, an open-source platform for chatbot creation; integrating multiple tools further enhances the quality of interactions between companies and their valued customers. Botkit comprises several plugins and extensions for incorporating chatbot widgets into websites and other essential communication platforms.
Pricing
No pricing details are provided by Botkit.
Best for Multipurpose chatbot templates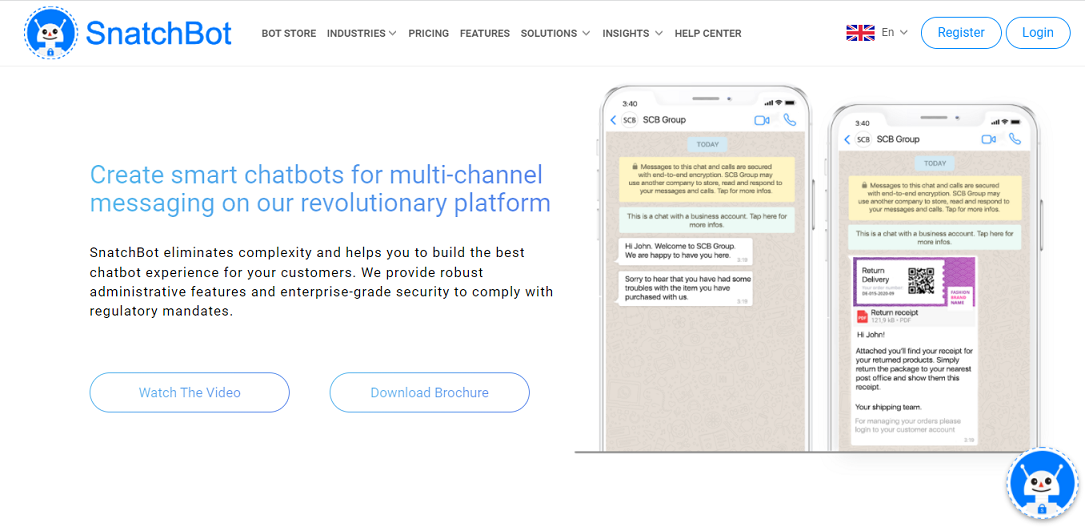 Pros
Widely spread chatbot mediums
Test chatbot
Email, phone number, and date validation
Keywords, intents, and entities integration
Compatible with the website, Facebook, WhatsApp, Telegram, SMS, Slack, Skype, and email
Zapier integration
Cons
Absence of drag and drop
Overwhelming user interface
Lacks segmentation options
SnatchBot is a robust and highly functional chatbot builder with around 50+ pre-designed templates. It is widely known for allowing chatbot integration to multiple channels compared with its competitors. Although a wide variety of channels remain unavailable until you subscribe to their pro plan, the availability of mediums like Facebook Messenger, Skype, Slack, email, SMS, and Microsoft applications are no less significant at a meager price.
Although the platform lacks a drag and drop builder, its alternative is also not straightforward. At SnatchBot, the chatbot flows are arranged in steps where you can program the bot's system very effectively. Besides, it also allows the insertion of custom items like variables, files, and logical operations to train the bot on a more technical side. If you necessarily need multiple chatbot channels, opt for SnatchBot, or else the interface is not too impressive and requires quite a lot of effort to operate.
Pricing
The single major plan at SnatchBot will cost around $30 per month with a limit of 10,000 messages. After the limit, each message will be charged $0.0030.
Best with Real-Time Animation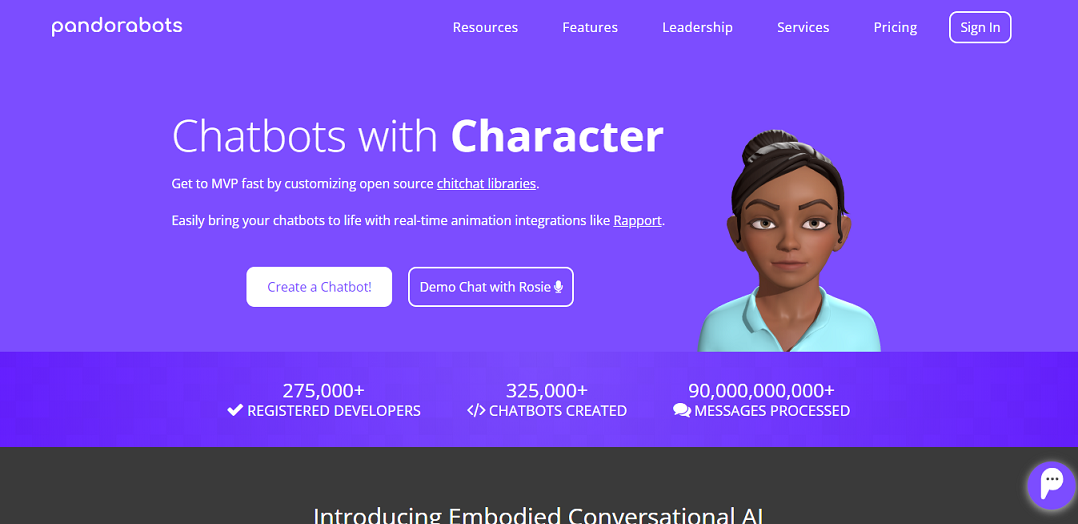 Pros
Artificial Intelligence Markup Language for script writing
An open-source platform where you are the sole owner of your data
Inbuilt dialogues are quite a time saving
Compatible with WhatsApp, Slack, Facebook Messenger, LINE, Viber, WeChat, and many more communication channels
Cons
Steep learning curve
Requires the user to possess primary programing language to get familiar with its features
Lack of machine learning tools
Inefficient AI performance
PandoraBots is the oldest and most sophisticated bot builder for livechat currently available. Its extensive features for the relevant purpose masks off its steep learning curve quickly. Moreover, the platform uses Artificial Intelligence Markup Language, making human-like conversations more possible than ever before.
It allows the incorporation of the chatbot in several mediums; mobile applications, Telegram, Slack, and personal websites are a few. Furthermore, their flexible pricing models let you scale the plan as your business needs grow, very conveniently.
The principal proof of PandoraBot's success lies in it being the creator of the world's best chatbot, Mitsuka.
Pricing
There are four different plans available at PandoraBots. Besides a free plan titled sandbox, the paid plans are:
Developer plan costs $19 per month and an extra $9 per channel integration
Pro plan costs $199 per month with unlimited integrations
Enterprise plan at PandoraBots is designed for customers based on their demands and priced accordingly
Best Chatbot Software for Customer Support
Pros
Appointment scheduler
Contextual guide
Easy to manage dashboard and friendly user interface
Lead distribution capabilities
Performance metrics
Social media integration
Text analysis
Cons
Lacks customizable workflows
System lags during extra traffic on site
Live chat support is clumsy sometimes and takes up more than a few minutes to connect the agent
Verloop.io might have come last in our list but is equally effective. It is the world's leading customer service platform based on artificial intelligence and advanced machine language, which guarantees a minimum of 65% positive results of sales productivity and customer satisfaction. Moreover, the built-in live chat option is highly essential if the bot cannot solve the query; it redirects the customer to your live consultative desk.
Pricing
You will have to directly consult the sales team through Verloop's official web page to get detailed information about pricing plans and relevant features offered at Verloop.
FAQ
What is a chatbot builder?
Chatbot builder is such software that gives the possibility to create custom chatbots to automate different communications processes.
What is the easiest chatbot builder to use?
In terms of ease of management and advanced features, ChatBot.com is the finest choice for users.
Is it challenging to build a chatbot?
Not really; with so many chatbot providers available in the market working on high automation and drag & drop builders, even beginners can also use the attribute. ChatBot.com, Drift, and Tidio are to name a few. However, if you intend to code one from scratch, it might be tough to do so and take up a significant part of your time.
Final Verdict
Running a digital business was not very easy with manual technicalities. However, with the introduction of AI, the world is changing, and so are the online business handle ways. One such remarkable change is the replacement of manual customer handling with automated chatbots. Due to its increasing importance, we decided to list down some significant providers in the market and how they can benefit your business for the long term. We hope that you can now make the right choice of chatbot integration platform for your digital venture.

As one of the co-founders of Codeless, I bring to the table expertise in developing WordPress and web applications, as well as a track record of effectively managing hosting and servers. My passion for acquiring knowledge and my enthusiasm for constructing and testing novel technologies drive me to constantly innovate and improve.
Expertise:
Web Development,
Web Design,
Linux System Administration,
SEO
Experience:
15 years of experience in Web Development by developing and designing some of the most popular WordPress Themes like Specular, Tower, and Folie.
Education:
I have a degree in Engineering Physics and MSC in Material Science and Opto Electronics.