Today's digital world demands a strong online presence. However, building a professional website from scratch is a daunting task, especially for beginners or small business owners who lack the technical expertise. This is where the Durable Website Builder comes in a revolutionary product that harnesses the power of artificial intelligence to streamline the website creation process and makes it accessible to everyone.
Embarking on your journey with Durable Website Builder, you'll soon discover its practicality and efficiency. Known for being an AI-powered website builder, Durable AI is designed to provide an easy and affordable solution for creating professional websites.
This simplicity is a boon for beginners and small business owners who may not have the time or resources to create a website from scratch.
Let's explore it together.
Pros & Cons
Pros
Easy To Use
Fast Website Building in 30s
Extra Tools Included
Cons
Not Customizable
No Scalability
A limited number of templates
Pricing and Plans
What about the pricing? Durable offers a 14-day free trial for users to test the waters. Upon completion, users can opt for a Starter account at $12 per month, with unlimited access to the website builder and limited monthly access to the Durable app.
For business owners requiring more resources, Durable provides a Business plan that cost $20 per month, the details of which can be found on their pricing page.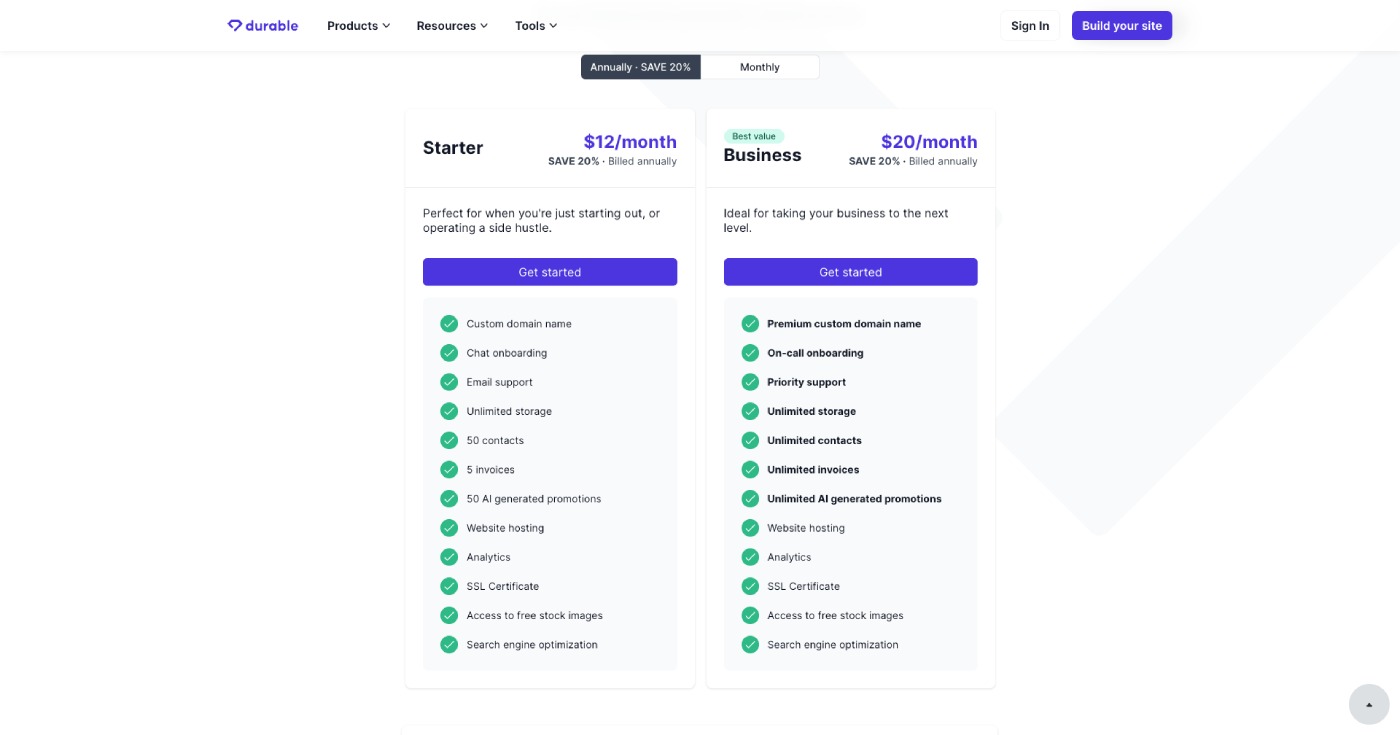 Durable Features
Durable is not only about building a website. It also offers a variety of tools to enhance and streamline your online presence.
Durable includes a CRM, an AI writing assistant, and invoicing tools. It utilizes Unsplash and ChatGPT to provide visually stunning images and a smart chatbot, enhancing the user experience. This comprehensive package makes it particularly useful for coaches, freelancers, and creators selling digital products.
Website Builder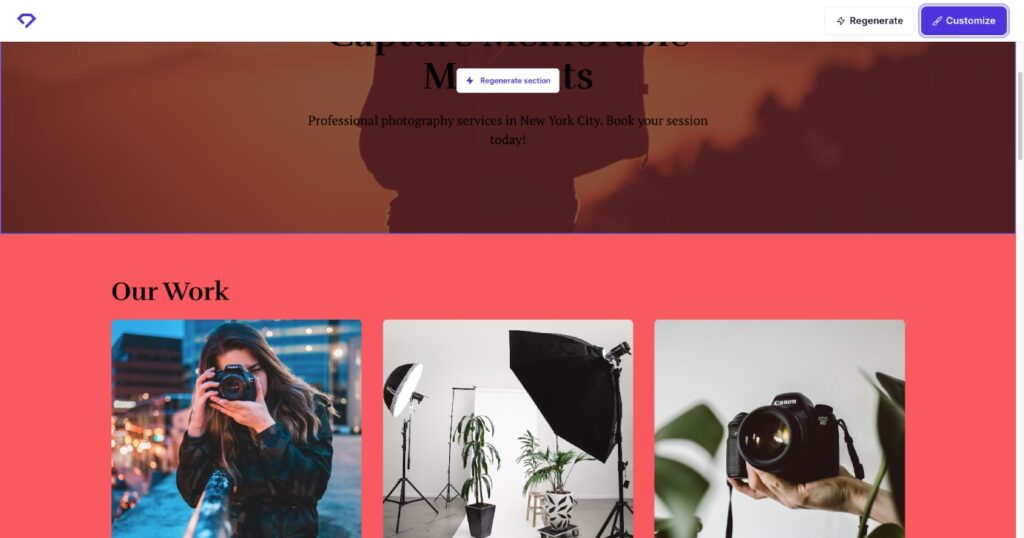 One of the standout features of Durable is its speed. Proudly boasting that it can generate a website within 30 seconds.
Unlike traditional website builders, Durable AI stands out for its unique approach. In just three clicks, it generates all the necessary elements of a website, including content, images, colors, and icons. This process is not only efficient, but also customizable. Users can tailor the generated sections to their preference using Durable's user-friendly drag-and-drop editor.
Read More: 20 Midjourney Prompts for Website Design 2023
The platform's AI capabilities extend beyond website creation. Durable offers dynamic AI features like search engine optimization and content creation, which are vital for a website's visibility and engagement. It essentially takes care of the technical aspects, so users can focus on their business.
Durable's AI-driven platform is complemented by integrations with Unsplash and ChatGPT. These provide users with high-quality images and a smart chatbot respectively, enhancing the overall user experience.
The goal is clear: to create exceptional and memorable websites that engage and convert visitors.
While there are alternatives to Durable AI, such as 10Web, Wix ADI, Jimdo, Teleport HQ, Hoocos, and Zyro, Durable's AI-powered features and comprehensive solutions set it apart from its competitors. The platform's focus on simplicity, efficiency, and user experience, combined with its affordable pricing, make Durable AI Website Builder a strong contender in the market.
CRM Tool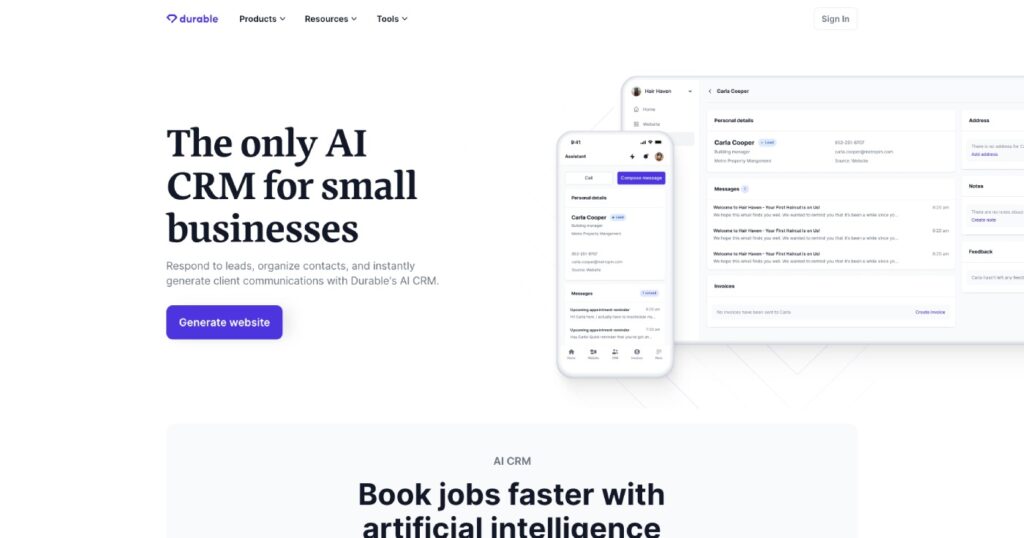 Plus, it also offers marketing and CRM tools, invoicing solutions, and even integration with GPT-3 for automatically generating website content. This makes it not only a website builder, but a full-suite tool for digital professionals.
Another remarkable feature of Durable is its CRM. This tool helps you manage your customer relationships more effectively, keeping track of interactions, and providing valuable insights that can help improve your business. This feature is particularly beneficial for small business owners, freelancers, and creators selling digital products.
Invoicing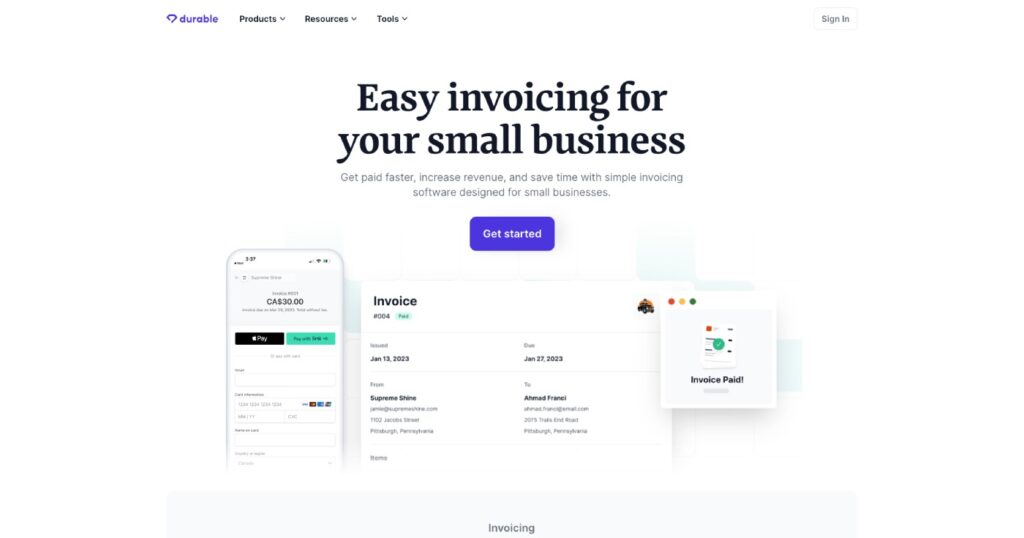 Let's not forget about Invoicing. Durable makes billing a breeze with its easy-to-use invoicing tools. With this feature, you can quickly create and send out invoices to your clients, helping you maintain a smooth cash flow.
AI Assistant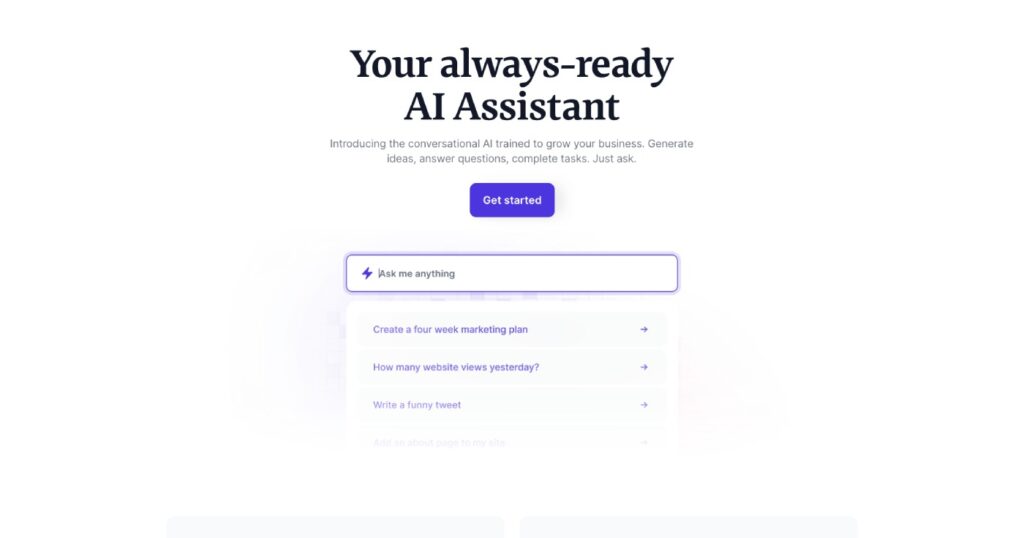 The AI Assistant is another standout feature that deserves mention. This tool integrates with GPT-3 to automatically generate website content, saving you significant time and effort. It's like having a virtual assistant who never sleeps!
AI Blog Builder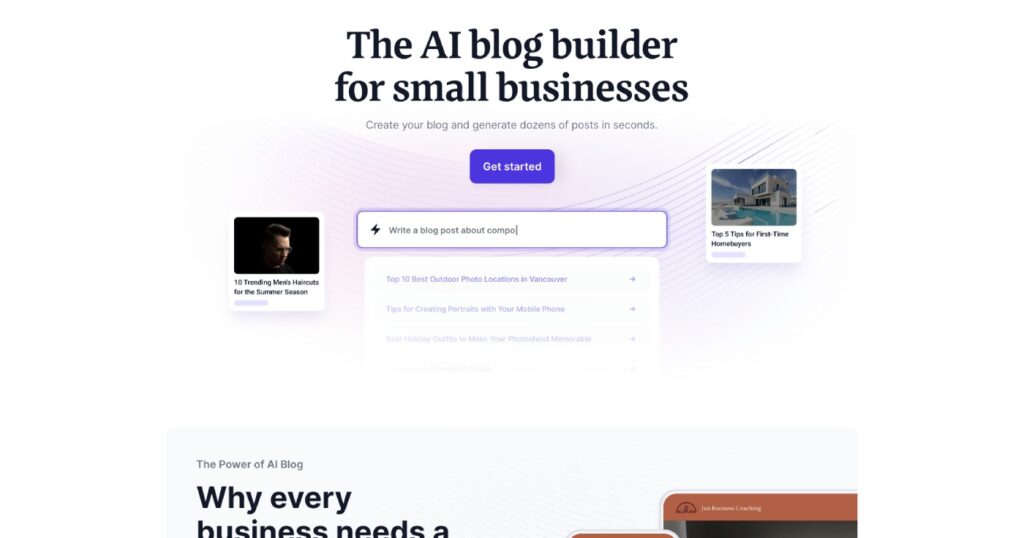 Finally, the AI Blog Builder is a game-changer for content creators. With this feature, you can generate blog posts in a snap, making it easier than ever to keep your site fresh and engaging.
Looking for an effortless way to build your professional website? Durable AI Website Builder could be your ideal solution.
This AI-powered builder is a game-changer in the realm of website creation, offering a quick and cost-effective route to establishing your online presence.
What's more, the AI technology doesn't stop at website creation. Durable also offers dynamic AI features like search engine optimization and content creation. This means your website won't just look good, it'll perform well too. Its AI writing assistant powered by GPT-3 ensures your website content is engaging and optimized for search engines.
Overall, Durable AI Website Builder is a robust option for anyone looking to quickly create a functional and visually appealing website. Its ease of use, AI capabilities, and additional features make it a standout choice in the crowded landscape of website builders.
Conclusion
In summary, Durable AI Website Builder is a strong contender in the world of website builders. Its emphasis on AI technology and user-friendly features make it a cost-effective and efficient solution for creating professional and visually appealing websites.
Whether you're a beginner or a seasoned website designer, Durable can help streamline your website creation process and enhance your online presence.

As one of the co-founders of Codeless, I bring to the table expertise in developing WordPress and web applications, as well as a track record of effectively managing hosting and servers. My passion for acquiring knowledge and my enthusiasm for constructing and testing novel technologies drive me to constantly innovate and improve.
Expertise:
Web Development,
Web Design,
Linux System Administration,
SEO
Experience:
15 years of experience in Web Development by developing and designing some of the most popular WordPress Themes like Specular, Tower, and Folie.
Education:
I have a degree in Engineering Physics and MSC in Material Science and Opto Electronics.