The best AI website builders facilitate simple, beautiful, and quick site design with a few clicks–based on your preferences–and don't require any coding knowledge. Time is money, and with AI, you don't need to waste it.
According to Forbes, GPT-3.5 AI technology is currently 'the most powerful AI engine in the world.' With such advancements, it's important to find the best AI website builder for you.
Overwhelmed? Don't worry. This guide dives into the industry's most popular and up-and-coming AI website builders.
Here's our shortlist of the top 5 AI website builders:
The Top 5 Best AI Website Builders
Best Overall AI Website Builder

Generous AI tools
Dedicated editor
User-friendly experience
Starting price from $2.99/month (in a two-year contract) $14.99/month
See Pros & Cons
Pros
24/7 customer support via chat and email 
Free web hosting, free SSL certificate
Unlimited bandwidth and storage
Domain-linked email available
Cons
Lacks an app store 
The monthly billing option doesn't include a free domain
Hostinger Builder is a cost-effective website builder for small businesses and entrepreneurs that want a modern site or store up and running in less than an hour. It's owned by the cloud-based web hosting provider, Hostinger which changed its name from Zyro to Hostinger Builder.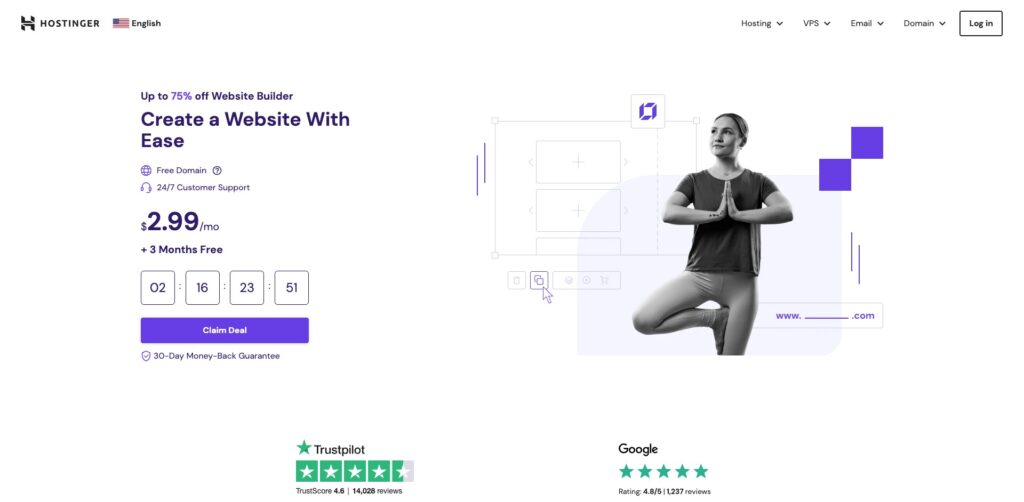 The software features an extensive suite of AI tools to enhance images, automate processes, and upgrade your overall brand. Hostinger Builder includes a logo maker, AI image upscaler, and business name generator, to name but a few.
Hostinger Builder is also known for its AI writer and heatmaps. Hostinger AI writer is a text generator powered by GPT-3.5 technology, the prequel of GPT-3.5. It offers language modeling that predicts words in a sentence based on preset categories for your blog and pages.
The heatmap functionality predicts where your users will likely click and view the page and recommends CTA button placement to boost conversions.
Hostinger AI website builder is seamless. Simply click 'generate the website' and answer the questions. There's a handy feature at the end to select 'generate again' if you want a different design or to simply test the AI.
Every decision made can be tweaked in Hostinger's dedicated grid-based editor later. Additionally, you can preview each design fully with ease.
Hostinger Builder provides over 130 pre-made template designs. Integrations include Google Analytics, Facebook Pixel, and WhatsApp live chat.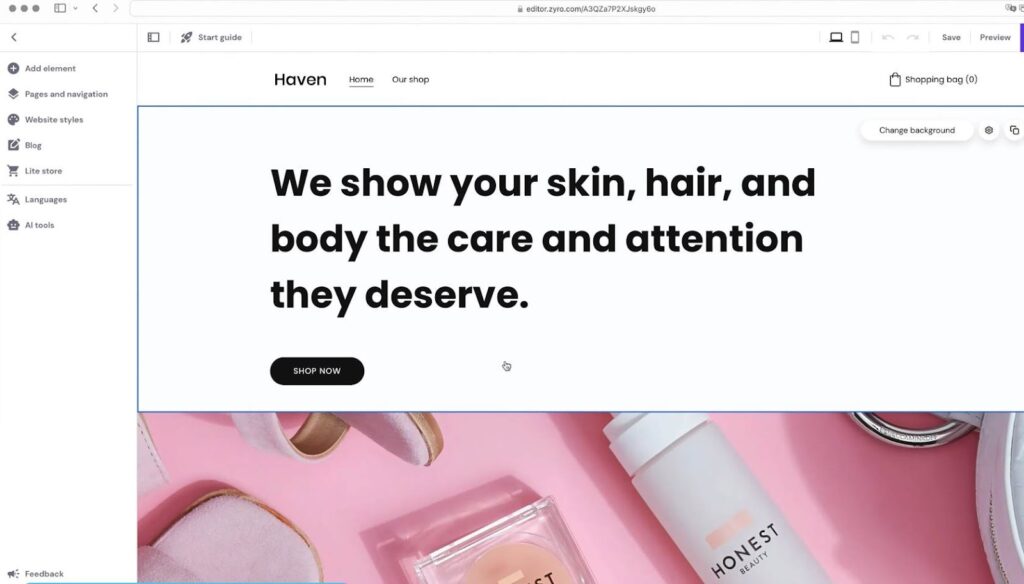 Pricing
Hostinger Website builder has two main pricing plans, Website, and Business (adds eCommerce features), which come in monthly, annual, and biannual cycles. You can receive significant discounts on extended contracts.
Best for Ease of Use

Fast setup
Intuitive customization 
Freemium option
Starting price from $16/month (in the yearly contract) – customizable enterprise tiers
See Pros & Cons
Pros
Decent eCommerce features
Massive library of free images and a
Wix app that allows you to make photo edits
AI can pull details from your existing site
Free domain for one year on the paid plans
Free hosting on all plans
Cons
No customer chat support, although callback and ticket support is available
Restricted features in ADI compared to the Wix Editor
Wix is synonymous for being a site builder that offers stunning templates. It also paved the way for using AI to create and design websites with the launch of Wix ADI (Artificial Design Intelligence), which uses a machine learning algorithm.

ADI is available in all plans (including the freemium plan); it's perfect for beginners that need a site, blog, or professional store up and running in the time it takes to make a coffee.
ADI is a more accessible version of the Wix Editor, which features over 250 apps, over 900 templates, and numerous design elements.
Here you can see some of the best Wix blog templates.
You don't choose the templates but can instantly build a comprehensive site based on the information you feed into the AI tool, such as your business name. We have also created the first AI Tool with GPT-3 for generating business names.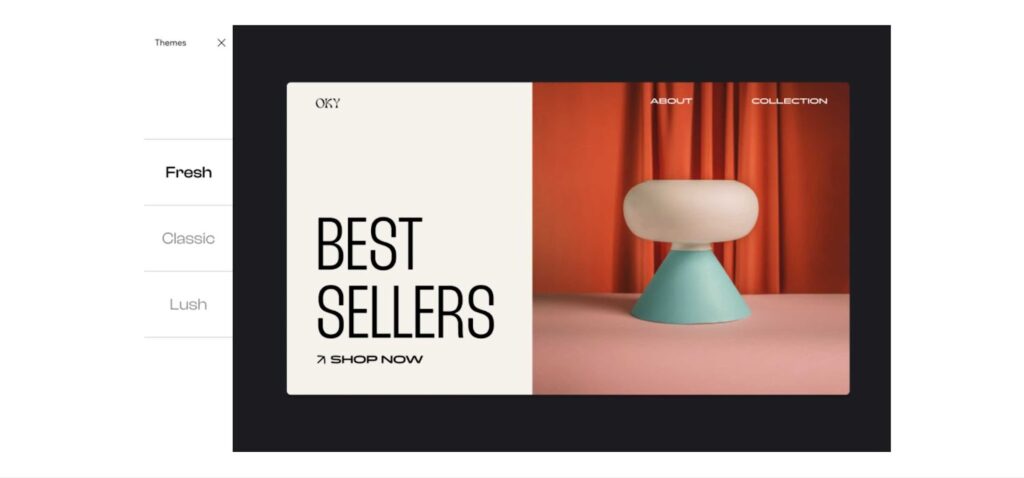 Editing while using the ADI tool is smooth with its grid-like, drag-and-drop page editor– you simply click on the area you need to change. It's easy to customize your site by adding sections from the 'add menu' to implement apps, live chat, and scheduling tools.
ADI is user-friendly and even provides an interactive tour to familiarise users with the software. If you want more creative control, you can change to the Wix Editor at any point.
Wix offers a freemium plan; it includes a subdomain and 500MB of storage, but the features are limited.
Pricing
Wix has seven main pricing plans available in monthly, annual, and biannual cycles. In addition, they offer a 14-day money-back guarantee.
If you are not sure read our full review of Wix
Best AI WordPress Builder

Versatile tool and platform
Elementor-styled editor
Fast page speed
Starting price from $10/month (yearly contract)
$85 (monthly contract)
See Pros & Cons
Pros
Automated real-time backups and a staging area for testing 
Attentive 24/7 customer care on live chat and ticket support 
Managed hosting, free SSL, and SSH access
30-day free trial 
Cons
Limited ready-made templates
No built-in email; however, it has third-party options
10Web is an automated WordPress platform fuelled by Google Cloud. The AI builder is far from ordinary; you can make a near replica of any page layout by copying and pasting any URL.
The AI assistant takes a few minutes to extract all the information from the original site and recreates a close copy with minimal tweaks needed. The potential of Web10 is great, and you can have all your sites managed and hosted under one roof from the dashboard.

10Web's AI uses neural networks (machine learning) to copy your existing site–excellent if it's challenging to move. Web10 also has the added benefit that all websites are moved, and then turned, into a full WordPress-powered site.
10Web's editor is similar to Elementor, with drag-and-drop functionality and the ability to preview changes. In addition, edits are live and it features over 50 widgets, including the Form Maker, Instagram feed, and MailChimp.
For those worried about website loading time, 10Web focuses heavily on extensive backend speed optimization features and updates. All plans include a 90+ PageSpeed score so that pages load instantly across multiple devices, which ultimately makes users less likely to leave your site.
Overall, 10Web offers great scalability with a team or client access available on all plans.

Pricing
10Web offers three paid plans: Personal, Premium, and Agency. Each tier provides monthly or annual billing options and a 30-day money-back guarantee.
Best for Solopreneur Business Owners

Business setup
Instant site creation
Future plans with AI
Starting price from $9/month – $39/month
See Pros & Cons
Pros
Free 30 days for testing
Inspirational tool for web designers
Manages your business finance, tracks revenue, goals, and reports 
AI-generated promotions, automated features, and unlimited pages
Cons
Syncing your email to the CRM is limited to the higher plan
Only email support is available on the first plan
Durable is an all-in-one platform running on AI, and it aims to make owning a business as easy as possible.
The tool incorporates customer relationship management software (CRM), marketing automation, financial tools, and AI resources in a streamlined application.

The AI website builder works in three clicks; firstly the AI asks to use your location (make sure you enable this). Next it asks for the type of business, and then, finally, your business name. Durable's AI gives you three generated name suggestions if you don't have a business name.
After selecting a name, the AI generates a professional website in 30 seconds with a description of services, a hero image, a color palette, a Google map, and testimonials. If you need to restyle the design, the editor is easy to use.
Durable's automation offers lead-tracking communication follow-ups and review requests, so clients get prompted to review your services.
Durable's AI site builder also uses Unsplash and OpenAI software, the research company behind the GPT series, and ChatGPT. The fact that their AI technology can clone websites points to them using GPT-3 AI.
Although Durable launched its AI builder in December 2023, the company plans to build more AI tools in the future.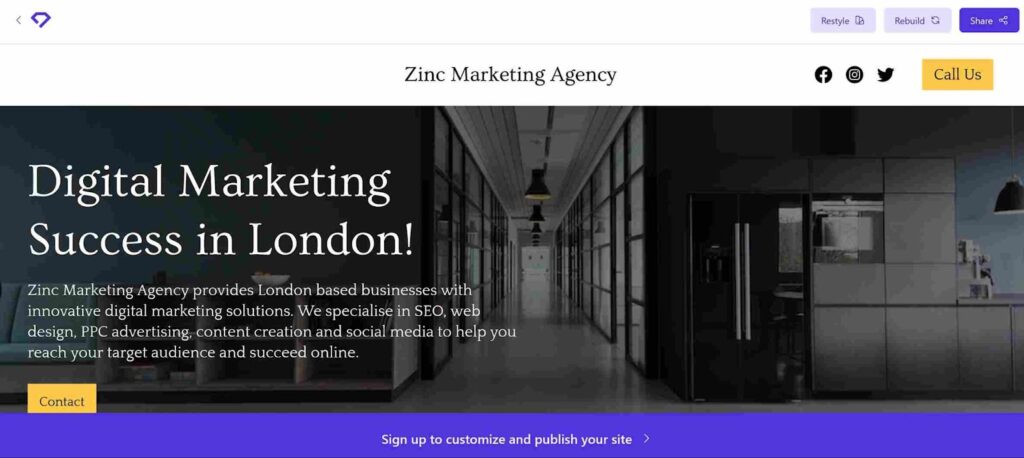 Pricing
Durable has two pricing options for Startup and Pro, which are available monthly.
Best for Freemium Plan

Vast amount of marketing features
AI Recommendations
Best freemium plan listed
Starting price from $13.30/month (in the two-year contract) 'MAX' custom-made tiers
See Pros & Cons
Pros
Free AI website builder and SSL on all plans
Advanced AI and marketing automation tools work side-by-side to deliver recommendations
Excellent in-depth email features and customer support 
Over 350 integrations
Cons
The website loading speed needs improving
Selecting a blogging feature in the AI builder isn't available yet

GetResponse is well-established as an email and marketing automation platform. It offers excellent value for money with the sheer amount of features that are able to facilitate customer engagement at every step of your marketing campaign.
GetResponse has continuously grown to provide eCommerce features, SMS marketing, webinar hosting, chat functionality, funnel automation, AI tools, and their AI website builder.
The AI site builder creates minimalistic websites based on questions like website type, color, and recommended features–the AI assistant then designs three final results for you. The builder is also available for a test run directly from GetResponse (without signing up).
GetResponse has a solid editor with drag-and-drop features to enhance your generated site, with the option of premium elements such as HTML blocks and galleries.
Since the recent acquisition of Recostream, a machine technology company, GetResponse gained its ML/AI personalized software known as 'AI product recommendations', which is available on the MAX plan as an add-on.
The AI predicts the customer's buying habits and preferences and product recommendations themselves boost your average order value by 33%.
GetResponse wins with their freemium plan too. The account comes with one hosted website (including a website builder and editor), 5GB of bandwidth, SEO tools, 500 contacts, signup and lead forms, and one landing page.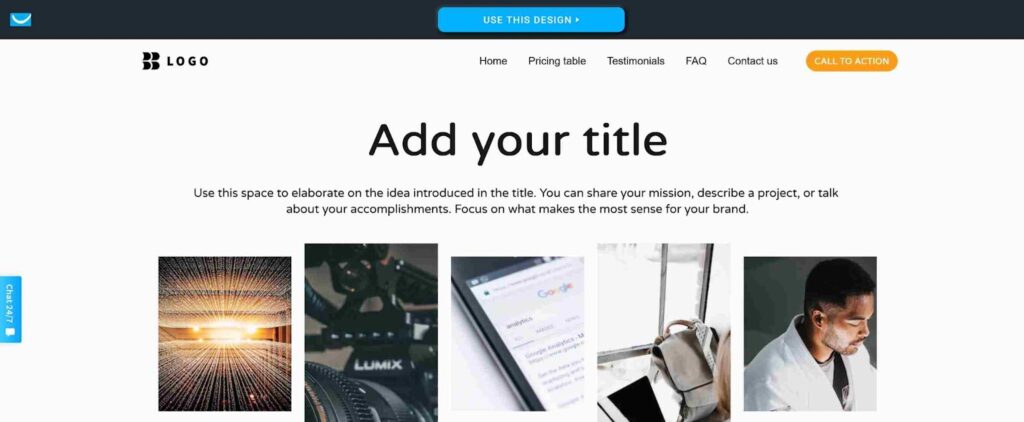 Pricing
GetResponse has five paid pricing plans available in monthly, annual, and biannual cycles.
FAQs
Below you can find some frequently asked questions on AI website builders.
Why use AI for Website Building?
AI website builders can now facilitate stunning out-of-the-box websites for people with no coding experience and those with limited time.

Although AI technology isn't perfect, it provides tools and automates tasks so you use your time more effectively–it's worth stating, of course, that it doesn't replace professional human input.

Web developers and designers do coexist alongside AI. They often use AI tools for inspiration and then add their own area of expertise when designing websites.
Are AI Website Builders better than traditional ones?
It depends on the whole package, including the AI technology and the editor itself. In terms of quickness, AI website builders beat traditional website builders.
Who should use AI for Website building?
Simply put anyone. There is a big market for those that don't have the time, budget, or skills to make their website alone.
What is GPT-3 technology?
GPT-3 stands for Generative Pretrained Transformer (in its third generation). It's a machine-learning model created by OpenAI.
Once trained, GPT-3 can generate natural human language text using a small amount of input text. The AI scans internet data and resources to create an article or website.

Developers have used GPT-3 technology to create AI website builders based on a single URL. 

ChatGPT is the latest launch in the GPT-3 family (version 3.5). The chatbot can follow up on questions, acknowledge mistakes, and has the ability to challenge incorrect scenarios or requests.
ChatGPT does have shortcomings, however, as OpenAI listed.
Conclusion
AI website builders deliver impressive results, from online stores to multifunctional sites and blogs.
AI itself is now a normal part of everyday living with smart kettles and appliances that mutually rely on humans to function and improve.
Our shortlist of the 5 best AI website builders is as follows:
1. Hostigner Builder – Best Overall AI Website Builder
2. WIX ADI – Best for Ease of Use
3. 10Web – Best AI WordPress Builder
4. Durable – Best for Solopreneur Business Owners
5. GetResponse – Best Freemium Plan
Thanks for reading. Please let us know your thoughts and experiences using AI website builders and AI tools in the comments below.
You can also read more:
10 Best No Code Website Builders for 2023
Jamie is an experienced digital marketer and writer with a Joint Bachelor of Arts (B.A.) in English and Journalism. He has created online guides and reviews for over eight years and loves helping people make better decisions. When he's not researching, Jamie likes to complain about the weather, hike, and drink plentiful amounts of tea