There are several compelling reasons to start a blog.
One of the main reasons is for business purposes. A blog is a way to create awareness for both digital and tangible products. Therefore, people often use it to sell digital products and make money through advertisements and affiliate links.
Moreover, blogs are relatively cheap to start and maintain compared to other business ventures.
However, starting a blog will still cost you money. So, this article will break down the cost and expense structure of starting a blog.
General factors to keep in mind when starting a blog
Answering the question, "how much does it cost to start a blog," is more complicated than it seems. This is because there are many reasons for starting a blog, so each goal and purpose will ultimately drive the cost structure.
Hence, depending on your goals, your answer will differ from someone else's. Therefore, while we'll provide some estimates, these projections will most likely be oversimplified.
Due to these reasons, most beginners are puzzled when calculating blog costs. After all, some blogging platforms like WordPress.org are free, so why should you consider costs?
However, like all things in life, costs depend on the type and quality of the blog you are trying to start.
For instance, the downsides of free hosting platforms include cluttering your blog with intrusive advertising. These ads don't look professional and will negatively impact the user experience of your customers. Also, free hosting platforms don't offer the same quality support and features that other paid services do.
In addition, the amount of money you will invest in your blog depends on the type of blogger you choose to be, like the following:
Hobby blogger: As the name implies, this blogger doesn't necessarily want to make money or monetize their blog. They primarily just want to use it as a creative outlet. They share their personal insights and life.
Since it isn't meant for business, this constrains the amount of money they are willing to spend on their blog. Therefore, these bloggers are comfortable making zero financial investments in the blog.

Side hustle or part-time blogger: This type of blogger wants to monetize their blog, but it hasn't yet grown to the extent of supporting them full-time. Or perhaps they have other family commitments that prevent them from devoting their full attention to their blog.
As a result, in the meantime, they keep their regular job or pay more attention to their family commitments. However, these bloggers invest significantly more time and resources into their blogs than the hobby blogger. They are willing to spend some money upfront though they are aware it'll take some before they'll eventually make money from blogging.

The full-time blogger: These bloggers make or intend to make their livelihood from blogging. They treat it like a business and are willing to spend significant money to make money. They purchase premium products like top-tier hosting platforms and plans to ensure they have premium support and don't experience site disruptions.
So, how much it'll cost you to start a blog will depend on which of one of these bloggers you are.
There are several areas where you can cut costs as a blogger, while there are some other aspects you need to invest more to achieve your goals.
For example, suppose you want to drive traffic and profit through affiliate marketing, especially in a highly competitive industry like the tech sector. Then, you'll need to invest time and money in hiring freelance writers to create content.
Therefore, we shall be looking at costs through the lens of these types of bloggers.
Costs of Starting a Blog
These are the minimal, general, unavoidable costs involved in starting a blog.
1. Blog Domain and Hosting
This is the initial place to start the journey of owning a blog. Let's explore the domain as your blog's identity and the costs required to acquire it.
Domain Name and Registration Costs
Domain costs start with your domain name. The domain name of your blog is essentially the address of your blog on the internet that people will use to find it.
Technically, creating a domain name is free, but you have to contend with domain registration costs.
Domain names typically end with ".com," ".net," ".org," and ".io." However, as we shall see, choosing a free hosting platform like WordPress.org, Weebly, or Wix will automatically cause the platform to append its business domain name to your blog.
For example, if you want your blog to be called "theJohnRamboBlog," and you decide to use the free WordPress platform, it'll become "theJohnRamboBlog.WordPress.org," which doesn't exactly look very cool! Moreover, it might affect the credibility of your blog if it is perceived as being hosted on a free platform.
So, while you're supposedly offered a free domain name and hosting services, you indirectly pay by having the platform use your domain name for its advertising and branding.
Hobby Blogger Doman Registration Costs: $0
In this section, so far, we've mainly discussed domain name registration. However, hosting plans and domain registration typically go hand-in-hand. It is infinitely preferable to choose paid hosting plans with free domain registration.
While free hosting is something the hobby blogger may consider, it should never be an option for the side hustle or full-time blogger.
Choosing a domain name is important because it is the calling card that immediately distinguishes you from the competition. Therefore, if blogging is more than a hobby, you don't want to use a custom domain name generated by free hosting sites.
To select a domain name as your own, you'll need to register it. Domain name registration links and ensures no one else uses the domain for business purposes except you.
We'll tackle hosting plans more comprehensively in the next section, but if you choose a service like Bluehost, you'll get a free domain name. But after the first year, Bluehost will charge you $10 to renew your domain name.
Bluehost and other domain name registrars provide a search box so users can find domain names or come up with their own unique names. GoDaddy is also a very popular domain and hosting platform.
Domain name costs on GoDaddy are equally low, as low as $4.99 as seen below:
Side-hustle Blogger Doman Registration Costs: <$10 per month
You are free to come up with any domain name you wish to use. But the internet has existed for over two decades, so most good domain names are already taken.
Therefore, you have to find creative means to come up with a unique domain name that reflects your brand and the type of business you are involved in. As long as the domain name hasn't already been taken up, you can use it at no cost.
If there's a domain name you really like and it's up for sale, then you'll need to consider purchasing it from the owner.
Full-time bloggers who want to explore a particular niche are those most likely to purchase a domain name that is memorable and distinguishes them from the crowd. However, the costs are variable, and for some bespoke domain names, really expensive.
For instance, below is the price for the techmaverick.com domain name up for sale on Godaddy:
The price of this domain name is a whopping $3,688! As a result, the cost of purchasing a domain name will therefore add to your cost of starting a blog.
Fortunately, purchasing an existing domain name isn't mandatory to start a blog since you can follow the cheaper alternative of creating a unique domain.
We are very knowledgeable about domain registrars and have written comprehensively about them. Check out how to get a free domain name and the best cheap domain registrars.
Hosting Costs
After acquiring a domain name for your blog, it needs to be hosted somewhere on the internet so people can access it. You can decide to host it on your own server or rent space on a commercial platform.
If your blog is self-hosted, you have to bear the hardware costs of the server machine and other equipment. You also have to consider the electricity cost and personal time required to maintain it and ensure it is available for your audience.
While there are free hosting sites, these aren't the best option because they aren't "free" in the true sense of the word. On the other hand, there are cheap hosting platforms like Bluehost.
While BlueHost hosting is as low as $2.95 per month for Codeless customers, the price is a bit higher for other regular customers, as shown below. However, there are some other WordPress hosting options under $3.00.
Hobby Blogger Hosting Costs: $4.95 per month
While sites like Godaddy provide affordable prices, Bluehost offers even better cost savings. However, unlike Godaddy, BlueHost delineates its hosting offers mainly through shared or dedicated hosting.
Dedicated hosting is hardly an option if you're just starting out for the apparent reason that you haven't generated enough traffic to justify the need for it. More or less, dedicated hosting is probably more suited for high-traffic eCommerce websites than blogs.
Fortunately, shared hosting is fiercely competitive, so there are many good deals with great features that are in the affordable range of most bloggers.
However, hosting services don't offer a one-size-fits-all approach.
For instance, Godaddy hosting plans generally come in three flavors:
Basic hosting: As its name suggests, it deals with the bare minimum required to set up a blog or site. It is thus ideal for the hobby blogger or cash-strapped side-hustle blogger.
Most of these plans feature free domain and email offers.

WordPress hosting: While you don't need your blog to run on WordPress, it is highly recommended to do so. Fully-managed WordPress sites provide an ecosystem of features and functionality that makes maintaining a blog much easier. In addition to enabling you to take full advantage of the WordPress CMS, you can also manage WooCommerce stores.

Advanced hosting: This encompasses VPS and dedicated server hosting along with highly customizable resources you can tailor to the needs of your blog.
Side-hustle Blogger Hosting Costs: $5.99 per month
Remarkably, the cost of domain hosting for a full-time blog doesn't differ very much from what a side-hustle blogger will pay. Bluehost's Shared Hosting and Godaddy's Basic Hosting provide competent and robust plans for a full-time blogger.
The only exception is if you're a successful blogger fortunate enough to attract thousands of readers each month, you might need advanced and expensive hosting plans.
Full-time Blogger Hosting Costs: $5.99 per month
Another low-cost hosting alternative is SiteGround at $2.99 per month. It is similar to BlueHost because it's ideal for beginners and provides reliable service with remarkable customer support. Moreover, it allows you to "test drive" it with a 30-day money guarantee.
There are so many web hosting platforms that it can feel overwhelming to choose, especially for someone starting a blog. Fortunately, part of our deep expertise involves web hosting. So, learn about the fastest WordPress hosting options, including the best free web hosting platforms with cPanel but without clustering ads.
Hardware costs
A decent laptop is typically enough for blogging. However, hardware costs are very subjective because they depend on individual preferences, like the type and number of gadgets you want to use.
If you prefer Mac or Apple products, then be prepared to pay a premium price. For example, a new MacBook Pro 15-inch costs around $2,399. If you are self-hosting, you also have to factor in the cost and maintenance of a server machine.
The hardware costs for the hobby blogger tend to be the bare minimum. They probably just need a laptop within the price range of about $200.00
Hobby Blogger Hardware Costs:~$200
Video and podcasts have become an important part of how bloggers reach their audience. So, in addition to a laptop, the side hustle blogger or full-time blogger may want to get a webcam and microphone. You can get a cheap podcast microphone (USB) for under $100.
2. Blog Design and Customization Costs
Your blog is the portal through which you engage the world. Hence, you should put considerable effort into how its appearance, color, layouts, logo, and other things that promote your brand and identify with your audience.
2a. Do-it-yourself custom design
This is where you build a custom-designed blog from the ground up. A full-time blogger may take this route to address their unique tastes and requirements. Unless the blogger has a programming background and sufficient time, they'll most likely hire a professional WordPress and PHP developer to do the task.
However, remember that software programming is a highly sought skill, and it doesn't usually come cheap.
A more cost-effective way to achieve blog identity is primarily achieved through blog themes and plugins.
2b. Blog and WordPress Themes
Luckily, you don't have to design your blog from scratch. Blog themes customize the appearance of a site. Most hosting platforms offer blog themes through WordPress and other website builders.
In addition to design and user interface elements like color and font type, themes provide structural elements like layouts, hero sections, and navigation menus.
WordPress has a lot of themes of varying scope and quality. WordPress offers both free and paid themes. Most free WordPress themes are more than capable for starting a blog. Most hobby and side-hustle bloggers are content using free WordPress themes.
Hobby Blogger WordPress Theme Costs: $0
We assume most hobby bloggers won't be inclined to spend money on themes, but this might differ for each individual.
Moreover, it's important to put thoughtful consideration into choosing a theme. While you can change a theme, reconstructing your site can take some time and may require manual tweaking if you have already published content.
However, you might need to purchase a WordPress theme if you want to customize it to suit your taste further. This will add to the cost of starting or running your blog.
Premium WordPress themes range in price from a couple of dollars to hundreds of dollars.
Side Hustle and Full-Time Blogger WordPress Theme Costs: >$39
Bloggers who want to stand out from the crowd with their own unique look can hire a graphic designer or web developer to create an entirely new theme. This'll boost branding efforts by giving their blog a distinct look that separates it from others.
WordPress also has visual builders like the Elementor Page Builder that allow you to further tweak and customize the design of your blog.
3. SEO and WordPress Plugins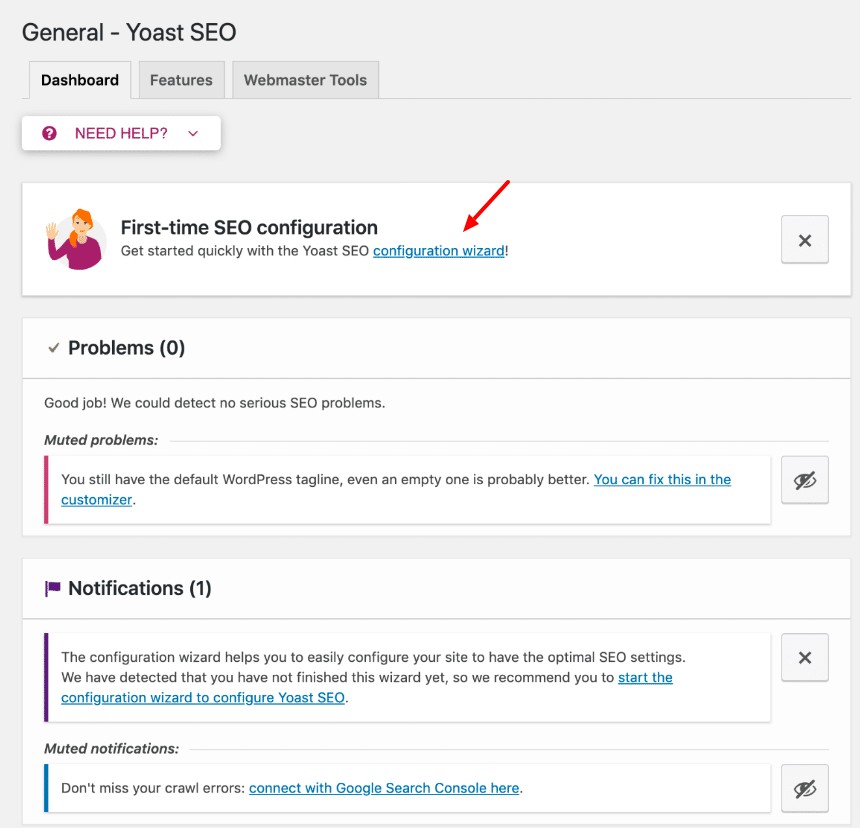 Plugins provide a way to extend the functionality of your blog since WordPress doesn't provide all the functionality you need. So, plugins provide an easy way to improve the capability of your blog without building the features yourself.
Plugins are software code that you "plug" into your site to provide needed features. While plugins aren't absolutely essential to start a blog, they make your life substantially easier.
Some offer analytics that lets you determine the number of visitors or traffic to your site. Others allow you to incorporate social media links and SEO enhancements.
Like WordPress themes, there are also many free plugins for site building.
Here are some free plugins:
Instagram Feed
HubSpot
WooCommerce
RafflePress
Autoptimizer
Duplicator
Smush
Really Simple SSL
WPFormsLite
Envira Gallery
Hobby Blogger WordPress Plugin Cost:$0
However, the side hustle and full-time blogger typically move beyond free plugins to purchase those that'll improve their productivity and quality of work.
However, some of these paid plugins, like Yoast and WooCommerce, also have free plans available.
Side-hustle Blogger WordPress Plugin Cost: >$49
Because their income depends on it, full-time bloggers typically want to maximize the potential of their blog. Therefore, they usually invest in more advanced, smart functionality that positions them to monetize their content.
For instance, the full-time blogger might want to incorporate live chat so they can interact with customers in real-time. Those with an international audience may have to add multilingual plugins to reach other regions of the world. Others may wish to incorporate CRM plugins to understand their customers better.
Full-time Blogger WordPress Plugin Cost: >$200
3. The Cost of Producing Content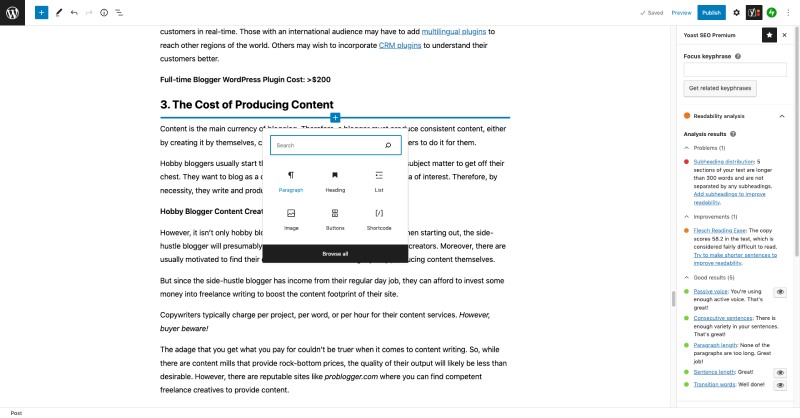 Content is the main currency of blogging. Therefore, a blogger must produce consistent content, either by creating it by themselves, contracting agencies, or hiring freelance writers to do it for them.
Hobby bloggers usually start their blogs because they have a passionate subject matter to get off their chest. They want to blog as a creative outlet or to bring attention to an area of interest. Therefore, by necessity, they write and produce the content by themselves.
Hobby Blogger Content Creation Cost:$0
However, it isn't only hobby blogger who produces their content alone. When starting out, the side-hustle blogger will presumably not have enough resources to hire content creators. Moreover, there are usually motivated to find their own voice and distinct writing style by producing content themselves.
But since the side-hustle blogger has income from their regular day job, they can afford to invest some money into freelance writing to boost the content footprint of their site.
Copywriters typically charge per project, per word, or per hour for their content services. However, buyer beware!
The adage that you get what you pay for couldn't be truer when it comes to content writing. So, while there are content mills that provide rock-bottom prices, the quality of their output will likely be less than desirable. However, there are reputable sites like problogger.com where you can find competent freelance creatives to provide content.
Side-Hustle Blogger Content Creation Costs: $0 – $500 per month
Full-time bloggers should write some or most of their content while also maintaining editorial oversight of the content written by others. This is because it's ideal for a blog to have a recognizable writing style and voice that serves as a distinct feature that attracts readers. Hence, they should therefore wield it as a competitive advantage.
The frequency of creating content and its quality are huge factors in determining costs. Since there are so many variable costs with respect to content creation, it is challenging to gauge an accurate estimate.
Full-time Blogger Content Creation Costs: $0 – $500 per month
4. Marketing and advertising costs
While you can rely on organic SEO to drive traffic to your blog, digital marketing, and advertising strategies are also options. However, if you are just starting your blog, it is always preferable to focus on organic growth before considering paid marketing channels.
Hobby Blogger Marketing and Advertising Costs: $0
It is better to blog for a period of time before considering paid advertising. This allows you to develop a comprehensive understanding of your target audience and its demographics. Without this insight, you might needlessly waste your money on ineffectual data points. After you have blogged for a while, you can better understand your target and analytics.
Here are the things marketing and advertising costs help you do:
Define your reach: You can target where to advertise and new customers to reach, whether local or global regions.

Define your target: Specify certain demographics or people to contact, especially those you think will be interested in your blog's content.

Set your budget cap: Specifying daily or lifetime budgets for a campaign ensures you'll never spend more than you intend.

Reconnect with existing customers: It is a maxim in sales that it's easier to convert existing customers than to make new ones. So, retarget and engage visitors after they have left your blog.

Track the performance and impact of your ads: Optimize your marketing campaign by understanding what's working so you pay for real results.
Paid advertising typically operates on a pay-per-click or cost-per-click (CPC) model, with its costs often depending on the competitiveness of the keywords being targeted. These advertising elements come in the form of search ads, display ads, and map ads.
Google ads (formerly Google AdWords) is the main vehicle for search engine paid advertising. Here, advertisers bid for advertising real estate on both Google search engine results and other affiliate products.

Facebook ads: Social media campaigns are a great way to get people's attention to your blog. Measure organic impressions and how your people engaged with your ads.

Email Marketing: People underestimate email because it seems dull and unsophisticated by comparison. But email has the highest ROI, with every $1 invested yielding about $36 in return! Regarding email marketing, there are plenty of tools, but the most prominent services are MailChimp, Convertkit, HubSpot, and AWeber.
The amount a blogger commits to advertising depends on their budget, but several things can affect this ad costs. Most email marketing platforms like MailChimp provide a free plan you can use indefinitely until you reach a certain subscriber threshold (2,500 monthly email sends).
Hobby Email Marketing Costs: $0
It is safe to assume that those who pursue blogging as a hobby won't likely exceed MailChimps' 2,500 subscriber mark limit since they aren't actively trying to monetize their blog.
On the other hand, once a blogger starts amassing subscribers through monetization efforts, especially when they reach, say, 1,000 subscribers, then it's time to consider moving forward with paid plans.
So, bloggers serious about monetization should look for email services that deliver automated email sequences, A/B testing, audience tagging and segmentation, and other advanced features.
Side-hustle and Full-time Blogger Email Marketing Costs: $9 – $25
While this may likely be fluid, Shopify states that the average CPC price for Facebook (Meta) ads is $0.94 per click or $12.07 per 1,000 impressions.
5. Accounting costs
Unlike paid employees who have their payroll, taxes, and other administrative tasks handled by their employers, a blogger has to bear the responsibility for these accounting costs.
Creatives like bloggers don't usually like dealing with accounting and administrative tasks, but they are essential to ensure you don't run afoul of the law. Therefore, you need to be aware of the local and national taxes you must pay as either a sole entrepreneur or small business owner.
If you live in places like the United States, you still need to file taxes even if you aren't making any money on the blog, for instance, to legitimately claim or write off some business expenses with the IRS.
The hobby blogger has minimal accounting duties since they don't typically generate money.
Hobby Blogger Accounting Costs: $0
Once a blog starts generating revenue, the blogger needs to keep adequate financial records. There are relatively cheap accounting software for small businesses like QuickBooks to handle this task.
Side-hustle Hobby Blogger Accounting Costs: $8 – $18 per month
Some successful blogs generate several thousands of dollars a month through revenue sources like affiliate links, advertising, subscriptions, and digital products. At this stage, they typically need to hire an accountant to manage the cash flow and maintain compliance with tax regulations.
Full-time Blogger Accounting Costs: $1,000 per year
Takeaway
How much does it cost to start a blog? As you can see, there isn't a straightforward answer to the question. However, this article has listed the major factors and various cost scenarios to consider when embarking on such a creative endeavor.
We'll love to get your feedback and wish you luck in your endeavor to start a blog.

Ludjon, who co-founded Codeless, possesses a deep passion for technology and the web. With over a decade of experience in constructing websites and developing widely-used WordPress themes, Ludjon has established himself as an accomplished expert in the field.