In this article, we will list the best content curation tools that can help you organize, edit and schedule your social media viral content or videos.
Whenever I think of curation, it brings about the art of creation to my mind. Such as, curating a soundtrack or curating a painting for an art gallery. Content curation, however, may bring about a bit of confusion and extra workload. Yet, I would say it's fun and important too.
Content curation is integral to content marketers for a successful strategy. Effective content curation economically leads you to be consistent in your publishing.
The question is, where do you start?
Effective curation requires automation tools. This post guides you on how to curate your content along with some tools that you should use for content curation.
What's content curation?
Content curation comprises sorting the most relevant content for your audience. This content is strategically shared via communication channels. Such as, if you are creating content about marketing, then you would need to curate examples of related content in writing. It is tricky as well as cool.
There are several infographics, emails, newsfeeds, and social networks comprising such content which demand a lot of attention and time.
Curation is a physical act of sharing and finding the best content. It is done when teams or individuals constantly annotate, organize and find the high and best quality content. Moreover, it covers specific topics to engage the target population. Thus, it is now considered an integral and critical part of digital marketing, social media, and content marketing strategy.
It's never easy. However, we provide you with a list of tools with which you prioritize the resources. We have listed down the content curation tools that cost you your imagination and time only and not a buck.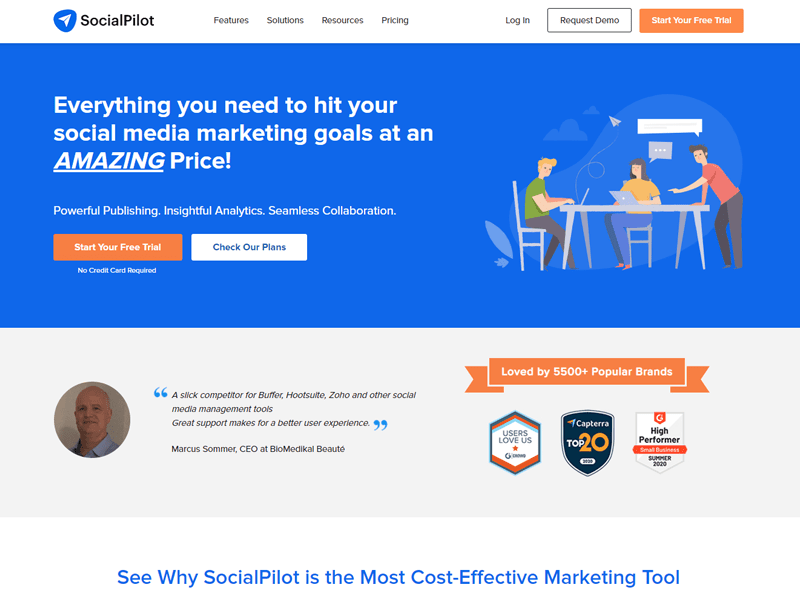 SocialPilot is a social media content curation tool that conducts campaigns on social media. It provides services for excellent content curation. Above all, it is free of cost.
Amazing. Isn't it? You can save all your time on content curation and marketing.
There's more to that,
SocialPilot provides features for content curation in the dashboard. It presents elaborated content where you get multiple choices as a user. Meanwhile, it divides the content into particular categories such as tech, music, marketing, travel and business.
All you need to do is to click on the relevant business category and you will find a list of blogs. We refer to it as a one-stop shop for your activities related to content marketing.
The cherry on top is your content will always stay relevant. Such content is called evergreen content. This content will also offer maximum engagement and excludes the need for worth-sharing content.
Why SocialPilot
Content discovery tool helps gather the evergreen content. The audience will love such content. Also, they further perform to strengthen the relationship between the curator and the customer.
It integrates a social media analytics feature to help you analyze the performance. This analysis gives you an insight into the important data regarding your performance and the audience.
It provides options for advanced search. Here you can add a relevant keyword to extract useful and amazing articles. It is also practical to conduct searches by writing an author and a website name. However, it results in a list of content suggestions but it will boost their content marketing campaigns.
SocialPilot and other tools like this have made content curation very interesting and simple.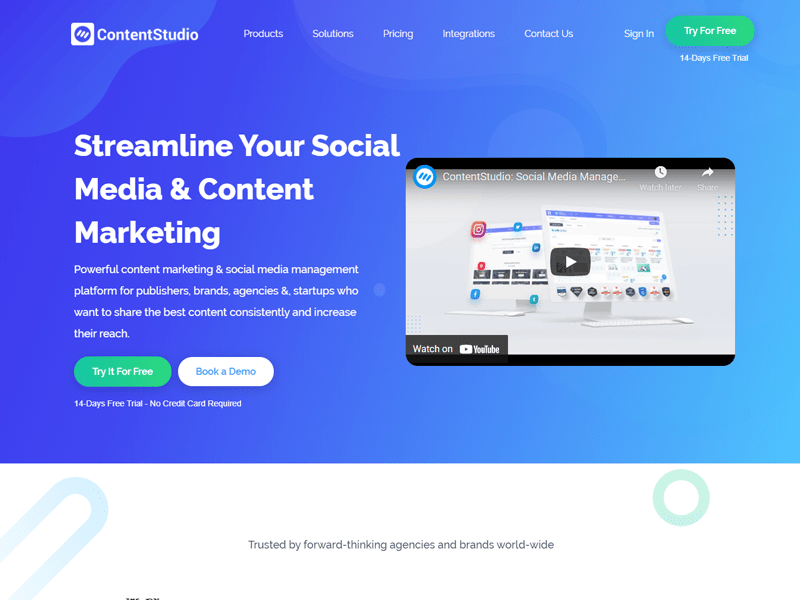 Content Studio is a content curation tool that helps in sharing, monitoring and discovering content on social media channels. It also includes uploading content on your blog. You can discover content by virility, media types and social shares.
It proceeds by selecting individual posts from the topic feed and sharing content automatically according to the rules. Certain amplification tools provide you with recycled posts, enhance images and hashtag suggestions. Bit.ly and Medium-like platforms have several third-party integrations.
There's more to that,
The content studio is a powerful social media management and content marketing tool for startups, agencies, brands and publishers. Marketers who want to increase their reach and share their content on regular basis can get high benefits from the content studio.
Why Content Studio?
The multi-channel composer helps you compose fresh content for social media and blogs from an intuitive editor. Moreover, it makes it easy to manage approvals, team collaboration and embed content from other sources. It is further integrated with UTM manager, hashtag suggestions, image editor, SEO optimization toolbox.
It lets you streamline your workflow through planning campaigns and team member collaboration from an interactive list view and calendar. Schedule, reject, approve and plan content for all the marketing channels.
The templates guide you step by step to set up various automation campaigns to help you save a lot of time. You can easily get relevant and targeted content to post on your channels according to the required settings. With advanced tools, you can plan and find relevant content to your interests and industry.
With the integration of analytics, you can make informed decisions through meaningful insights. Social media analytics use the feedback from fine-tuning and analytics reports for optimal performance of your social media strategy.
You can appoint specialized team members to increase productivity at designated projects. Moreover, you can approve workflows with user-based permissions. Besides, you can review, comment and tag posts in real-time to increase collaboration and team efficiency. In return, you can master customization with varying access levels.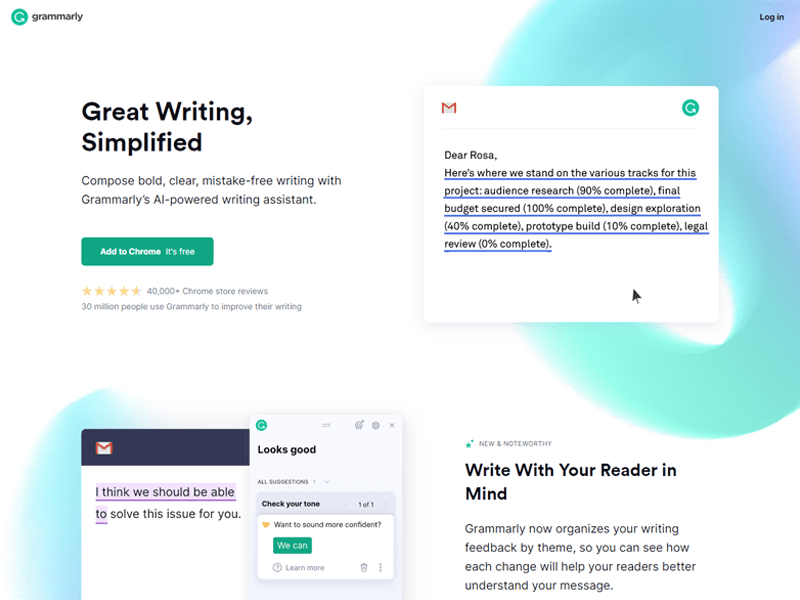 Grammarly is a content-simplifying and AI writing tool. With Grammarly, you can not only create but rectify your content with an AI-powered writing assistant. It allows you to compose mistake-free, clear and bold content.
What's more about Grammarly?
Grammarly organizes the feedback on your writing by theme. In such a way, you can easily see the change your readers may experience and understand your message in a clear way.
It is free for chrome. The Grammarly App can be activated on Microsoft Word, Chrome or mobile phones.
You can integrate Grammarly on LinkedIn, Twitter, Gmail or all your working sites.
Not only spelling and grammar, but you can also modify the tone and style of your writing. With Grammarly, you can eliminate errors while finding the most suitable words to express your content.
Grammarly is free to add to your devices and chrome. But the premium version is also available. The free version gives basic writing suggestions such as conciseness, punctuation, grammar and spelling. The premium version also looks into the clarity, tone and style improvement by having to look at the fluency, formality level, word choice, plagiarism detection, tone adjustment, and clarity in the sentence structure of your content.
Grammarly is unique because it
Strikes the right tone with the best impression
Supports to rely on from the second pair of critical eyes on your content
Gives comprehensive real-time feedback
Provides confident and clear communication
Features:
Plagiarism checker
Grammar checker
Tone detector
Product feature news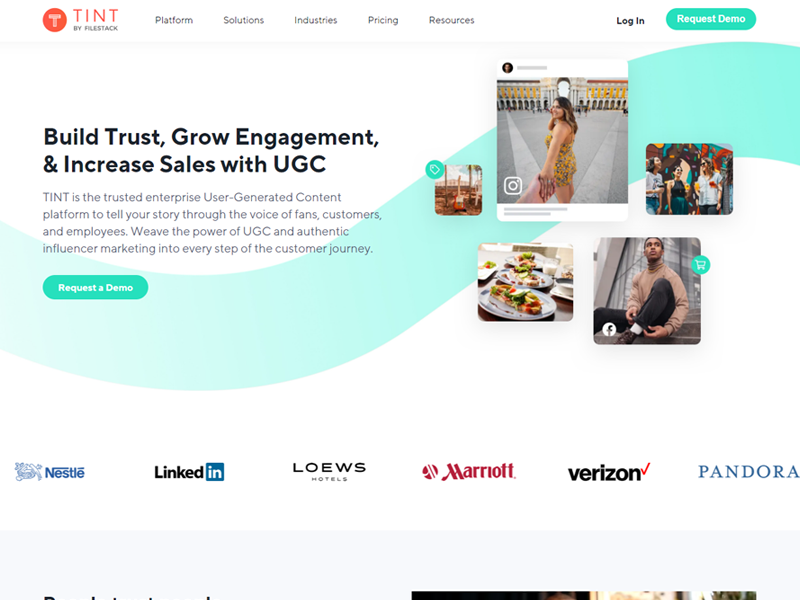 The tint is another trusted user-generated content platform that curates your content through the voice of employees, customers, and fans. It uses the power of authentic influencers and UGC in each step of your content creation.
Over 92% of the customers listen and believe the recommendations from other people. 70% of people trust the UGC before making a purchase decision. User-generated content is already considered trustworthy content. This foundation of trust is built on the comments, videos, and photos created by your customers.
Hyper-personalisation is the future of marketing. Tint provides a way for marketers to generate authentic content. Ultimately, it emerged as the most powerful user-generated content platform which creates engaging and personalized experiences to build trust.
What's more with Tint?
It creates omnichannel UGC experiences for your customers which means it builds highly personalized experiences to deliver seamless engaged and sophisticated content. This content is influenced by user-generated content and word of mount on social media channels.
Filestack powers Tint as a premier platform to process quality visual content. It performs over 2 billion curation operations per month. It offers users, the ability to handle a great amount of content with its unique AI capabilities of moderation while embedding the fastest UGC in the online world.
You can sell more on social commerce with UGC. It has never been more shoppable. It turns your visitors into buyers with user-generated content that ultimately increase conversions by over 50%. Also, it leads the purchases from the social channels, galleries and product pages using dynamic tagging, product lists, hotspots and shoppable UGS.
Storyful helps to find the newsroom with the most valuable content on social media channels. It uses the human algorithm to find curated and verified news from different mediums.
It helps to make sense of the information centers for business partners and news. News organizations, advertisers and production houses can get high support, content, and quality from Storyful.
Storyful updates the newswire in real-time with on-screen and licensed news footage and viral content with accuracy and unrivaled speed. They also connect brands, creative agencies, production houses, broadcasters and newsrooms to viral and newsworthy videos for commercial and editorial use. All this content is user-generated content from around the world.
Storyful has a team of visual, audio and video analysis experts. They specialize in open-source reporting that finds and uncovers original and false narratives of disinformation prevailing online.
What's more, what does it offer?
Whether you are a brand marketer or a publisher trying to reach user-generated and authentic content, Storyful helps in navigating the content from the internet to licensing.
Reporting and news gathering on social media reporting needs expertise, technology and data mix. The investigations offered by the Storyful unit bring the newsgathering expertise, technology and elevated access to social media platforms to analyze conversations. The services and support provided by Storyful in this regard are investigative, ongoing, and exclusive for the print, digital and broadcast services.
Storyful offers business investors and leaders an integrated evaluation of the opportunities and risks posed by the new information environment. It offers reporting, methodology and technology-related services. The reporting involves tracking and forecasting market trends to assist the partners to make informed decisions. They employ a proprietary framework to assess and answer business impact and questions. Ultimately, you can get digital maps through data normalization and machine learning for the new information.
They monitor, measure and model market trends to take proactive and critical decisions. The unique methodology further simplifies and allows the complexity experienced analysts to track and forecast market trends, make detailed recommendations and access business impact.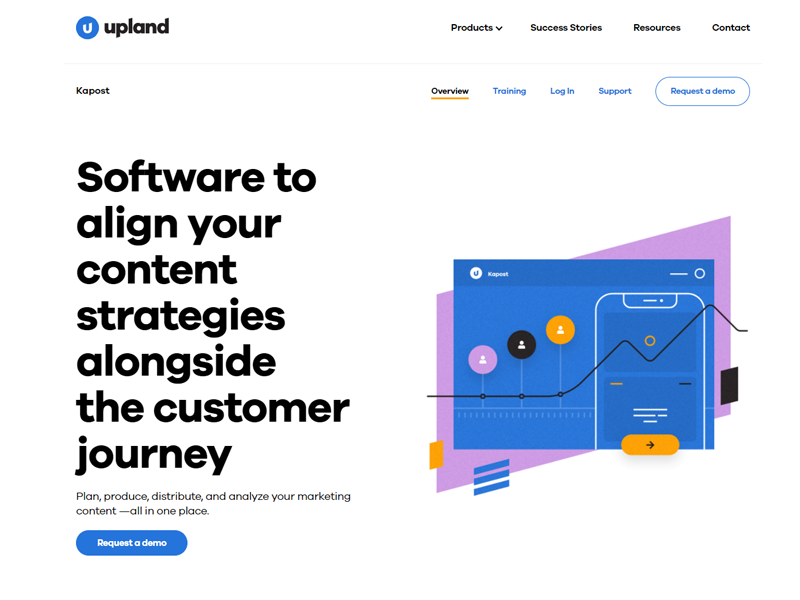 Kapost is software that is created to align your content strategies according to the customers' journey. It analyses, distributes, produces and plans the marketing content in one place.
With Kapost, you can find a platform that helps to bring together business strategies and content all in one place. Further, you can find the defined content that helps to engage the customers with powerful and strategic modules.
Moreover, you can deliver and create content that fulfills business objectives in addition to buying specific items through the customer journey. Likewise, you can prioritize and allocate requests to support initiatives of marketing across organizations.
Here's more to Kapost,
It helps you discover the real market content. With this, you can collaborate with the team members and plan initiatives, connect with messages and build the content journey toward the right target. It is as simple as that. Such as you track and managing every single bit of a campaign from content creation to distribution.
Later, distribute and publish the content on multiple platforms using a single tool. This tool helps in aligning the content with sales. Your sales team gets a specific product line, buying stage and persona that recommends relating content and connects the gallery to the on-demand experience of Salesforce.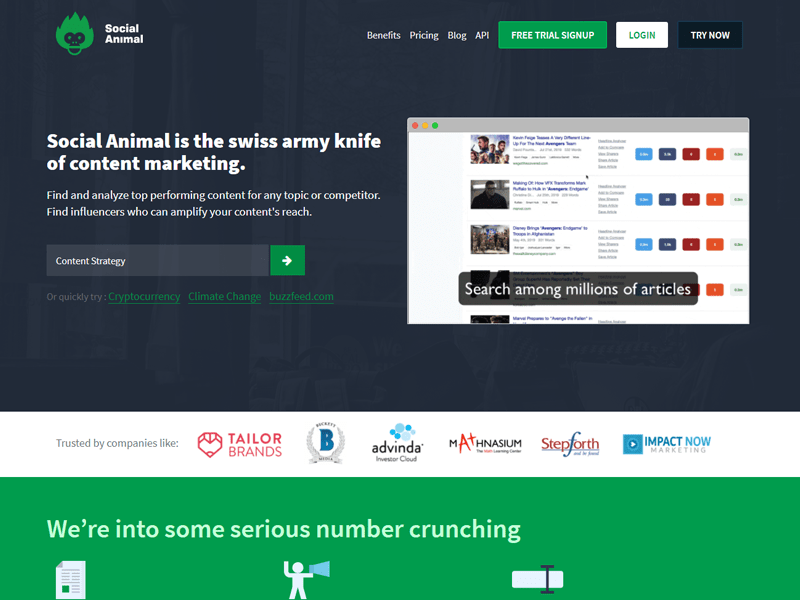 The Social Animal makes it easy to get the content that you imagine. It helps you narrow down your search with keywords, author, shared date, published date, and domain. Also, you can combine multiple criteria of searching to track the content type you are looking for.
It offers a design that is keyword-centric. The entire system of Social Animal revolves around keywords. Merely, a single click will start searching for the required article for you.
What's more?
Content curation is not at all an easy peasy task. Instead, you need to know the trending content. Thus, it keeps the audience in look. It does this by keeping the social media feeds kicking and alive with a single click. Moreover, you can build a credible list of followers in interesting niches.
Social Animal uses Natural Language Processing (NLP). It helps you always proactively look for the influencers and content that might be of your interest.
After adding a keyword you need to keep a track of the Daily Digest email. Daily Digest Email is an executive summary of all the happenings that you need. It is automatically sent to your inbox.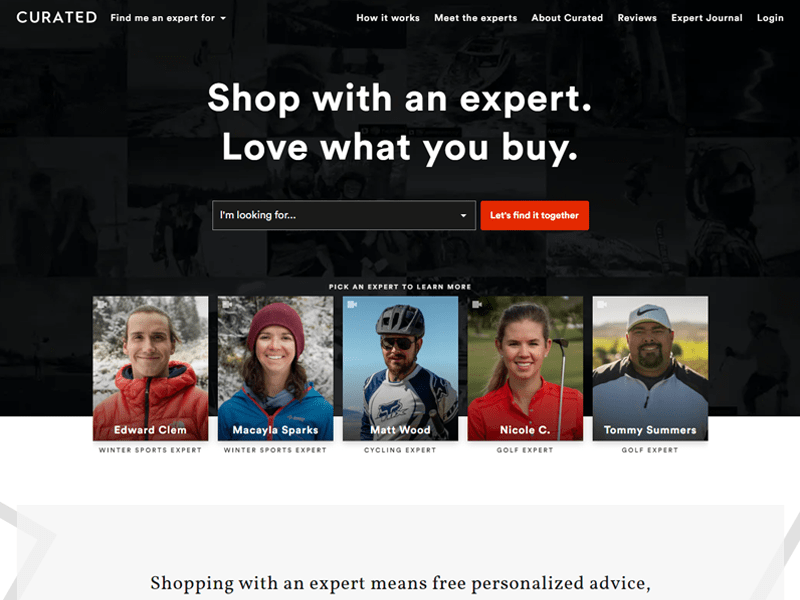 Curated helps you create a publication. It fulfills all your needs of content curation except that it is not automatic. You are the curator here. But it helps you gather information for curation using email or browser bookmarklet.
After discovering the required and interesting content on Curated, you can capture it in a few seconds with the "save to curated" link. Now you can email content directly to the Curated in a simple way.
You get effortless editing. This proves is completely aligned with the publication style. Look at the links you gathered and effortlessly assemble all the issues. You can also add images to your publications to make them more engaging. They manage all the resizing and hosting so you can easily focus on the content.
Curated has optimized the layout of the publication to be successful in a beautiful way. You can completely customize the publication to perform well. This pixel perfection leads to your email as well as to your website. It helps you customize imagery and typeset perfectly.
There is powerful Curated analytics to improve your publication. You can even get information about how, where and what your readers read and see. These analytics are unified. It means you can see all your data in one place.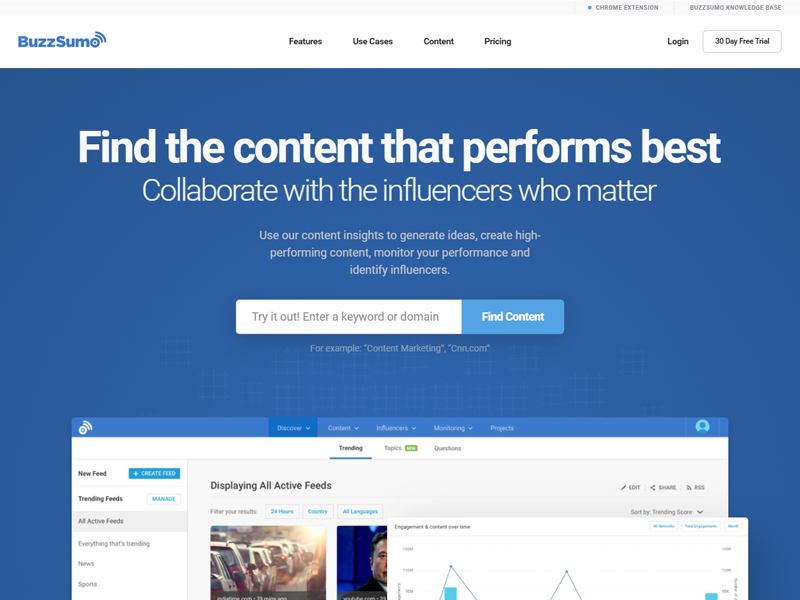 Buzzsumo targets marketers. It helps marketers around the globe to reveal how the content works and sinks without a track. BuzzSumo has three main components.
First is discovery where you can explore high-quality and ultra-performing content so you can get more shares, links and likes.
The second is Research where you analyze billions of data points to enhance the marketing strategy you already use.
This is about influencers where you identify influential people to sharpen your campaign or brand.
Last but not the least, monitoring with which you can track trends and comments to rapidly respond to your customers and get opportunities.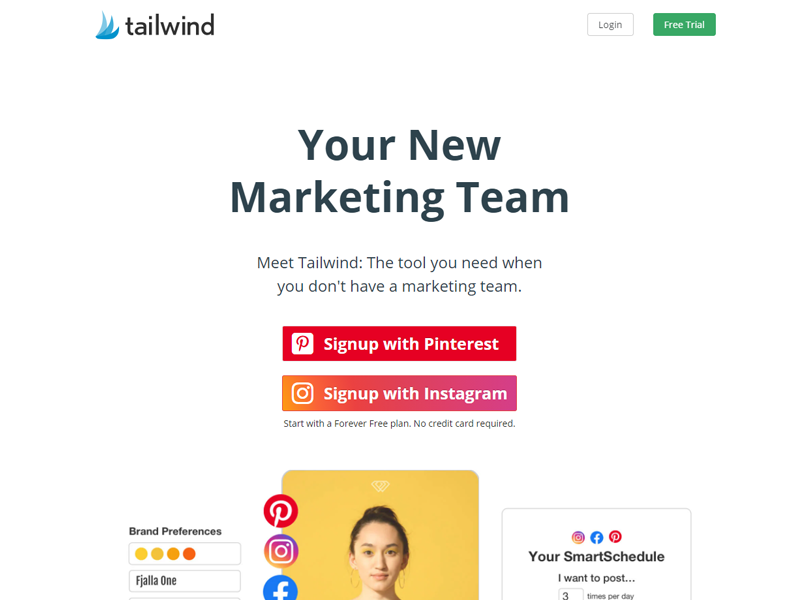 A Tailwind is a tool that you might need to overcome the shortage or absence of any marketing team. Thus, we call it a smart marketing assistant that helps in the automation of analytics, scheduling and social media designs.
Tailwind offers a single platform that leads to visual marketing success. it is the only tool that assists you to optimize and manage visual campaigns from start to end. It assists in content management, smart scheduling and actionable analytics.
You can well integrate your tool with social media. For example, you can schedule a week's post for Instagram only in 15 minutes. It includes scheduled hashtags in the comments, carousels and stories to boost engagement and to ditch distractions. Auto posts allow push notifications and automatically publish videos and posts on Instagram.
Social media analytics tools are also available with actionable data. It helps you guide the content strategy, measure impact and gain deep insights for actionable and rich reports for Instagram and Pinterest. Thus, you can track and measure your success on Pinterest POI.
Social media monitoring tools are also available on a single dashboard. It further helps to monitor the industry, products and company-related activities across the visual web. Moreover, you get all the pinning activities on your site while discovering the conversation regarding the brand across social media channels.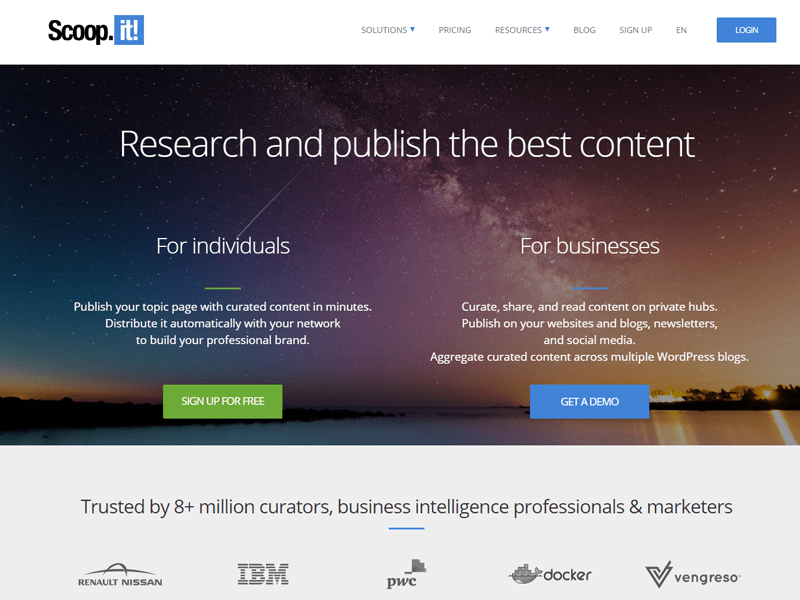 Scoop. is a content-curating tool both for businesses and individuals to research and publish content. It allows you to publish your topic page in a few minutes. Also, it distributes the content automatically with the professional branding network.
Moreover, you can read, share and curate content on private hubs as well. It helps you publish entire content on social media, newsletters, blogs and websites. With this tool, you can aggregate your curated content through multiple blogs on WordPress.
What's more to Scoop.it?
Scoop. is a powerful content engine. Its advanced monitoring sources work worldwide to curate and find the most relevant third-party content. This content curation tool enhances credibility while raising brand awareness with the readers.
Also, you can strengthen connections between influencers and establish leadership thoughts. Moreover, it allows you to access sources between niche publications and mainstream media.
Scoop.it lets you publish the topic pages in minutes. It is also very easy to share them with professional brands and networks.
With Scoop.it you can share and monitor knowledge with professional experts. Thus, it is easy to share, discover and curate content online. With this feature, you can also generate curated content hubs and internal email newsletters for your team.
Scoop. is well integrated with enterprise, intranet and SSP social networks.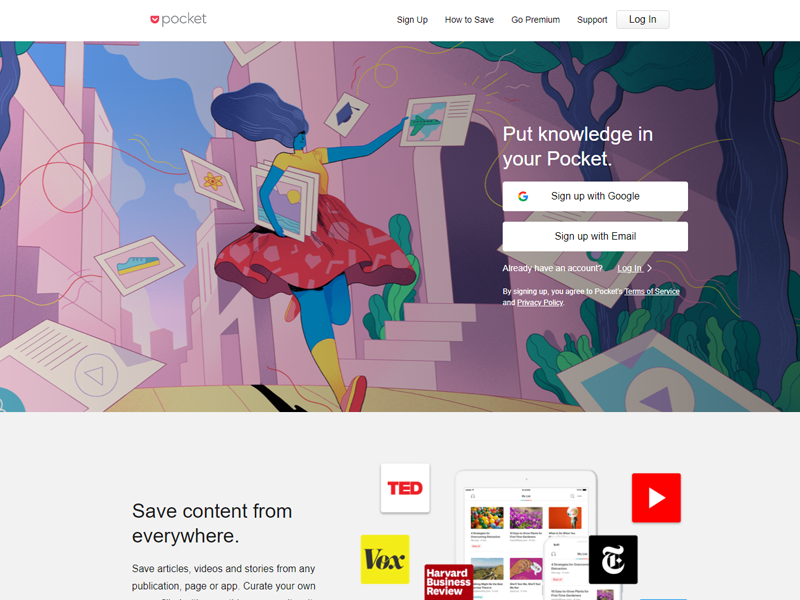 Pocket is a content curating tool that helps save content from everywhere. The content may be from an app, page, and publication of stories, videos or articles. It allows curating your own space that comprises everything you want to learn.
You can also learn the content offline. Moreover, you can listen to or read the content without any distractions. It is highly responsive and works great will all types of devices.
Here's how you can save to your Pocket,
Pocket provides the best way to save your desired content to Pocket with a single click. You can save from any device or app. It integrates over 1500+ apps into your devices.
The premium version of Pocket gives advanced features. Such as full-text search, subscription and billing preferences. In addition, you also get access to the permanent library, suggested tags, and customization options for the reading experience.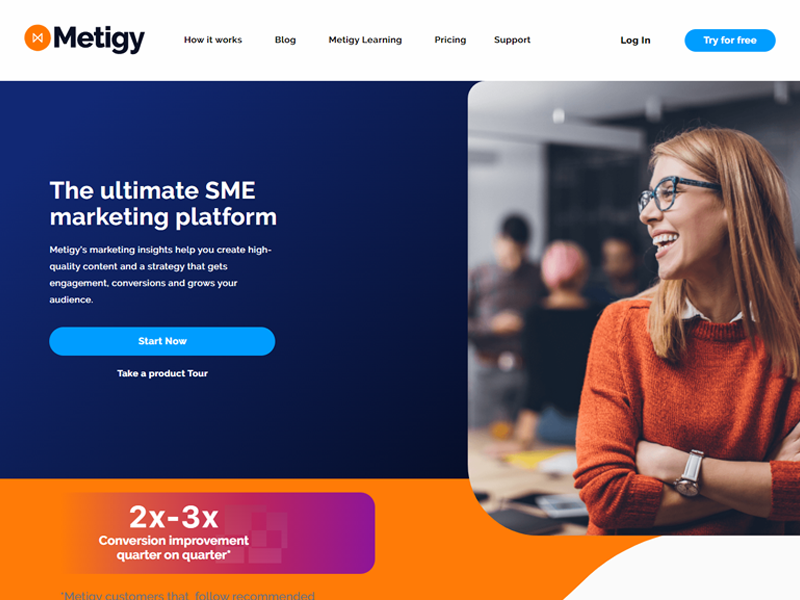 Metigy is an SME marketing tool that incorporated artificial intelligence and deep learning to provide real-time insights and actions to enhance expansion and conversion. It is specifically built for SMB marketers, content creators and enterprises.
Moreover, you will find the platform extremely suitable for small marketing firms that lack enough resources, skills and expertise. This is because, Metigy provides several features such as collaboration, trend tracking, influencer tracking, dashboard, conversion tracking, post-scheduling, content management, brand tracking and automated publishing.
Besides, Metigy helps you execute and run existing and new social marketing projects. It lets you improve engagement in posts by posting at ideal times.
What's more to Metigy?
You get the main benefits from Metigy as it offers strategies and tips, automates tasks, saves time, and provides an analytics dashboard.
You get social media strategies with Metigy. In this way, you can optimize your Facebook posts. It provides efficient suggestions and tips for you on creating and publishing posts. In addition, it provides you with an ideal number of posts suitable per week.
Besides, you also get the analytics dashboard to make and customize your dashboard. With this feature, you can improve your performance to stand in line with your competitors. In this way, you can also track and manage your pages effectively.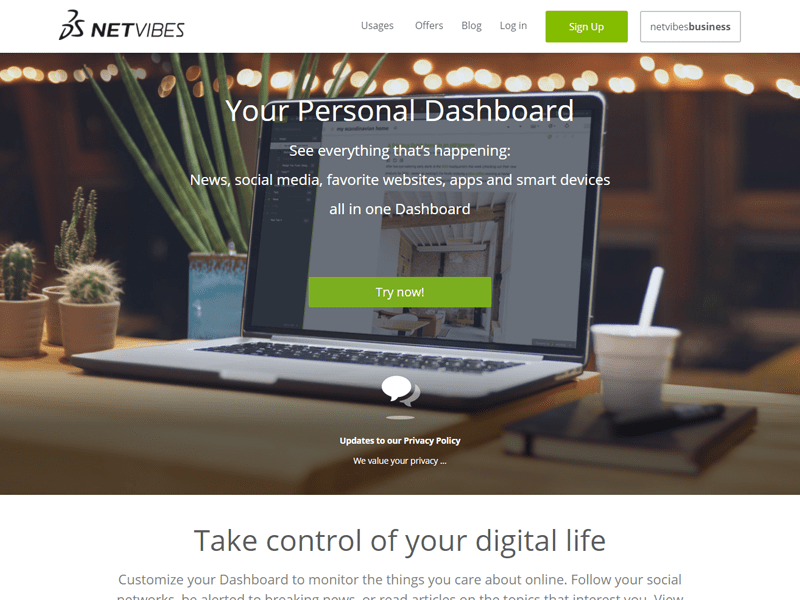 Netvibes allows you to the customer and monitors your dashboard for the things you prefer online. It also lets you read articles, and get alerts of breaking news and social network. In addition, you can also see your calendar, apps, and emails and to-do lists. You can also automatically control the things at your command.
What's more?
Although the number of triggers and connections is limited for the free version. An upgrade to the premium version includes more content search options. This version starts at $2 per month.
You can monitor and read everything from the options available in the Dashboard. Put all the devices and apps in working by automating personalized actions. All you need to do is select actions and triggers to take place and Netvibes will do it.
The dashboard upgrades to Premium or VIP help to do even more with Netvibes. You can even connect your data to the dashboard for analysis in one place. It further evaluates the metrics of business in a social context. Moreover, there are drag-and-drop charts to carry out all the comparisons.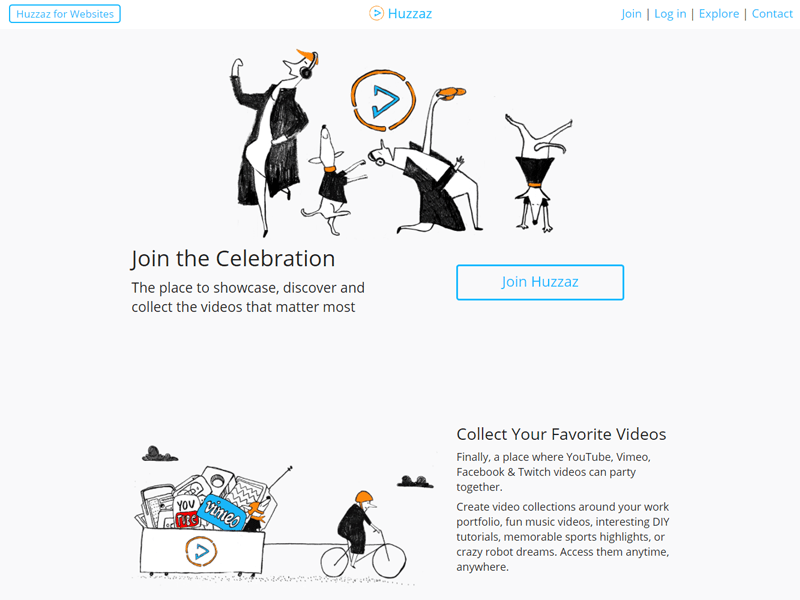 Huzzaz is a simple content curation website that provides you with a place to collect, discover and showcase the content that you want to learn. It is a place where the videos of twitch, Facebook, Vimeo and YouTube party together.
Huzzaz lets you organize and save playlists from the known vie platforms and create a video gallery for your website. It is free but if you want to enjoy it to the fullest and get a full range of video searches, HD playback, descriptions, gallery designs and video titles.
You can also search for videos with topics and themes on Huzzaz.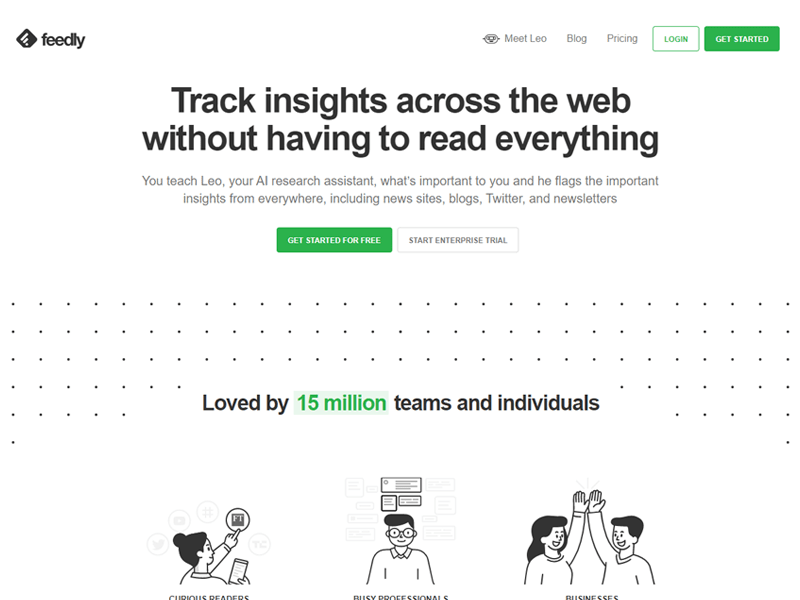 Feedly allows you to track insights through the internet without reading everything. You can read and organize everything through blogs and trusted publications on one platform.
Feedly offers professional and automated services that filter everything that you want from the content.
It moves to work in three simple steps; finding and organizing the right sources, training to filter the required content and sharing insights with the team.
They provide you with full control over personal information. It further provides a secure space that lets you privately research and organizes the research trends and topics of your choice.
The user community funds Feedly. Therefore, it is easy to optimize time rather than create a feed that takes up your attention.
To start working with Feedly, first, you need to collect information on boards. This information is sharable with others if you have the correct account.
The reasons for curating content
Effective content curation offers certain benefits. Such as,
Adding content to an editorial calendar – With content curation, you can supplement your blogging and social media editorial calendar. In this way, you can share high-quality, relevant and fresh content with your audience.
Rationalize your nurturing lead – You can also use curated content for email newsletters where they provide you extra content to enhance your leads.
Lead the content – You can become a go-to information source using content curation. As a result, your audience will trust you more, considering you an authority and leader on some topics.
Enhancing brand awareness – With content curation, you can offer a constant stream of quality content for your audience from different sources instead of merely your content.
Lead to traffic generation – You can get an increased amount of leads as a result of content curation. This is because of the increased traffic on your website.
What is needed to be a content curator?
Keep the time checked for Content curation
The resources of external information should be prioritized to effectively streamline the efforts of content curation. This is made possible with technologies and websites to easily and quickly curate the content.
Keep a balance in promotional content with Content curation
Customers can create content that ceaselessly promotes their wares. It depicts the need of keeping the brands beyond features and products. The product transcends because of the customer relations with the brand. It is called inbound marketing. The product that you are attracted at the first glance is the product that a progressive brand wants to offer. Thus, in this case, remarkable service and great content are the products.
Create value with Content curation
The customer always wants to stay informed with the product of their choice. They also have demands and possibly follow the updates in the industry. The personalized content may help solve their problem. Content curation is a great opportunity for brands to build strong relationships with their potential customers.
Get a personal content curator
The customers do not want to see a whole lot of browsable links. Instead, you need to create value to make customers read your content and create a way of relevance to the reader. This personalized content creates a significant bond between a reader and a curator.
Why we created this list?
Now that you know the purpose and benefits of content curation, we propose a list of content curation tools for your website. Such that you can navigate the increasing demand for curation and locate the best tool that fits the needs of your content. This universe of content marketing tools is huge and is yet expanding.
Marketers get simple solutions to publish high-quality content. It increases the responsibility of content curation. Your selection may not be safe or ad hoc. So rather than gathering everything common on the web, you search and collect everything interesting and most relevant for your audience.
Conclusion
Before choosing the right tool, you need to understand the functionality of content curation. If you are working independently, the intermediate and beginner options are enough to fulfill your needs. However, with the growth of your business, there is a larger role of content curation and it should be a powerful one.
At an advanced level of your business, you would need advanced features to help saving time in curation. The key point of content marketing strategy should be content curation. Good curators are an indispensable source to build trust among the audience.

As one of the co-founders of Codeless, I bring to the table expertise in developing WordPress and web applications, as well as a track record of effectively managing hosting and servers. My passion for acquiring knowledge and my enthusiasm for constructing and testing novel technologies drive me to constantly innovate and improve.
Expertise:
Web Development,
Web Design,
Linux System Administration,
SEO
Experience:
15 years of experience in Web Development by developing and designing some of the most popular WordPress Themes like Specular, Tower, and Folie.
Education:
I have a degree in Engineering Physics and MSC in Material Science and Opto Electronics.