In this article we are gonna list the best Magento hosting platforms to run Magento CMS in the best performance possible.
Looking for a leading eCommerce platform? Magento is the answer. It fits into the scene with a set of features that make it easy to use. If you create an eCommerce site to sell clothes, creations and downloadable products, you can get the best-required features with Magento. Therefore, we designate Magento as the best platform to develop an eCommerce store.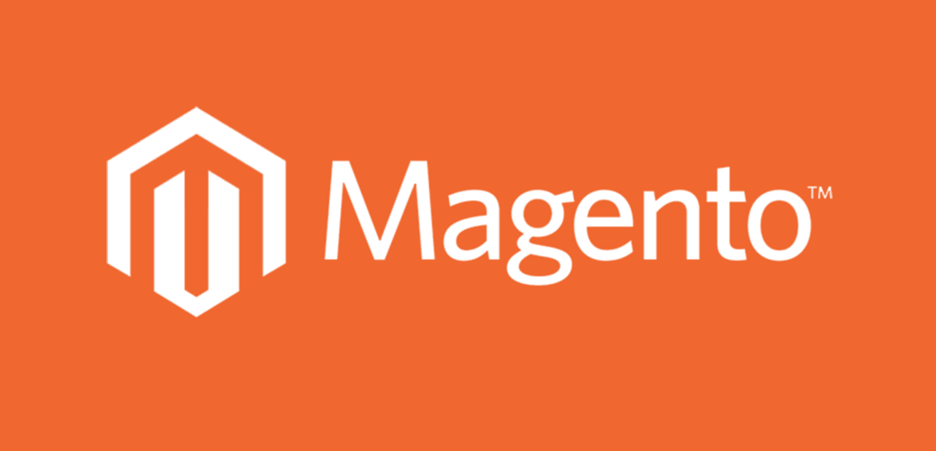 Magento is considered one of the most popular eCommerce websites that offer all the plugins and themes required for your operations. The Enterprise version is the premium version and of course, it has more features as compared to the basic free version. Also, it offers better user support. Yet, the free version provides great features to support online shops.
Due to these reasons, Magento needs a powerful hosting service to support eCommerce. Most of the solutions today offer one-click installation that is all required by Magento. If you already have a host, make sure that you have the following features to successfully install Magento.
MySQL 5.6+
PHP 5.4+
Apache 2.x/Nginx 1.7.x
Linux x86-64
The system should also support HTTPS based on the payment gateway. It means that there is a need for a hosting provider that supports SSL certificates. Magento can support a large number of e-commerce sites. In such a case, you should rather choose VPS instead of shared hosting.
In case you are searching for Magento 2 hosting i will suggest to your this article: Best Magento 2 Hosting Providers
What does Magento offer?
Before choosing the best hosting for your Magento, it is vital to know the basic features it brings for you that makes it the best eCommerce platform.
It provides promotion and marketing features where it provides all the items about a single product. Along with that, it displays promotions and offers and allows you to personalize the special pricing and coupons. Moreover, you will also find promotions for new items, wish lists, poll surveys, and landing pages.
Magento is optimized with the features like pretty URLs, Google content API, popular terms pages, HTML MetaData for products, and XML site maps. In addition, it also offers order management, shipping, checkout payment, product display, catalogue browsing, catalogue management and site management features.
You can create customer accounts with Magento where you can see the reports and analytics and thus offer customer support. The Enterprise Edition lets you get into dedicated support which makes it easier for the customers to manage the site. Moreover, the open-source community edition provides general features to enhance the general operations.
The Top 6 Best Magento Hosting Providers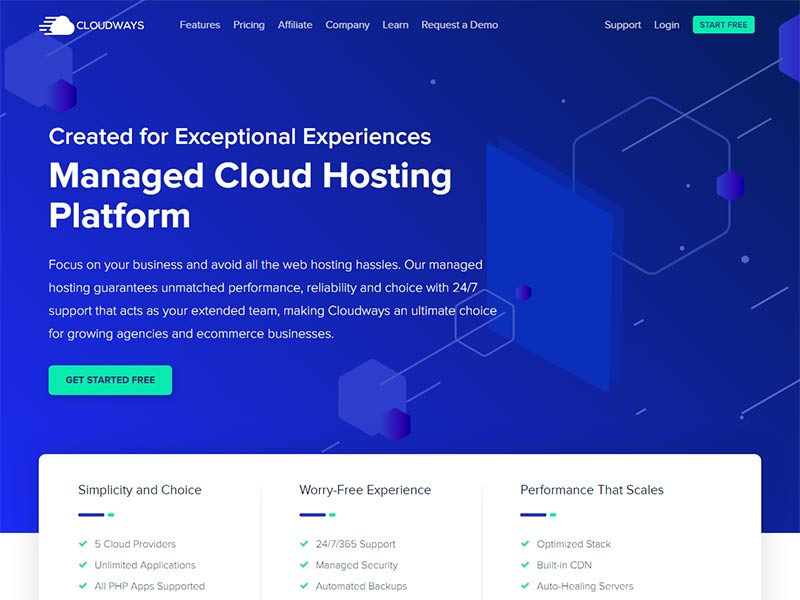 Cloudways hosting is serving to satisfy several store owners running a Magento-based managed cloud hosting. It provides the Magento hosting with the applications to build their infrastructures such as Amazon Web Service, Google Cloud Platform, Linore, Vultr, and DigitalOcean.
Cloudways offer data centres around the globe that offers a balance between sustainability and affordability for the users and customers. With this service, you can launch the Magento server in a few clicks.
It provides an attractive server and GUI deployment in a few simple steps that you do not want any technical knowledge of. Besides, Linode, Vultr, and Digital Ocean offer 3 days trial for free.
What's more to Cloudways?
With Cloudways you get exciting features to help the online sellers in the optimization of the Magento store.
Scalability of server
If there is a sudden traffic surge, relax! That's not your headache. Cloudways offers a feature of vertical scaling with which you can change the size of the server using a GUI interface.
It uses its internal features to enhance the application performance and server. This stack contains PHP-FPM, MySQL, Apache, Varnish, New Relic, Memcached, and Nginx.
Hosting plans for Magento
Magento hosting plans of Cloudways start at $10 per month according to the size of an eCommerce website. If it is just a startup small business, then it is a fair deal. The great thing about this plan is the ease of scaling up. With the growing business, you can easily upgrade your plan according to your increased requirements.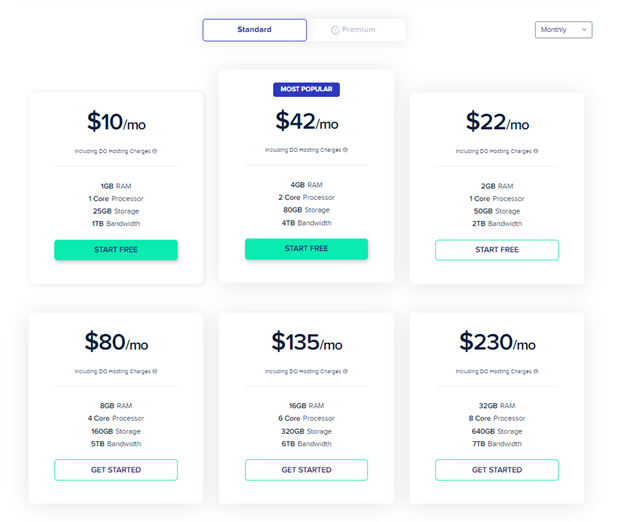 CDN
It does not consider the server location. The CDN add-on enabling only improves the load time of your page.
Security
Cloudways offers several security features such as two-factor authentication, application isolation, database security, firewall, and IP whitelisting. All these functions together offer ironclad protection to your online store.
Pros
Easy backup
1-click SSL certificate
Magento 1 and 2 installers
Launch unlimited application
Choice of cloud hosting AWS, Google Cloud, Linode, Vultr and DigitalOcean
Cons
No file manager. SSH is used to access the application files.
No access to the server.
In a cliché,
Cloudways offers a cloud server for Magento which is highly scalable. You should have an exact allocation of resources. Thus, you can have an extremely high share.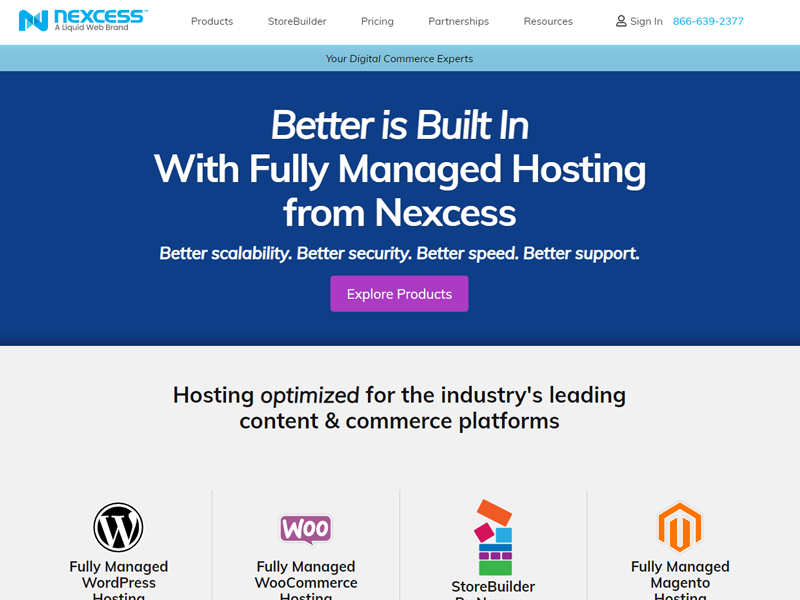 Nexcess is considered the only original managed hosting provider for Magento. Magento has Nexcess forever which continues to offer the best services in the industry. It is a bit costly but the users admit that the functionality is worth the cost.
The hosting offered by Nexcess is great also as WordPress managed hosting which can be used for WooCommerce based websites.
The most unique feature of Nexcess is that it is much flexible as compared to its competitors. You get a solid configuration setup with Nexcess. You will get your hosting setup strategically so that it is ultra-tight secure and fast speed.
There's more to Nexcess;
Efficiency and performance
Nexcess offers automatic scaling. It is a unique feature that enhances performance. If your plan has limited resources, the system of auto-scaling will prove to make a difference.
Nexcess scales up the resources on your website in such a case instead of driving the traffic away. Thus, it will ensure to accommodate over 25 extra users. But, this scaling up costs you a lot. Most plans, however, allow auto-scaling of 12 hours for free. Beyond this limit, the service costs more per hour.
You also avoid a lot of issues with automatic issues. Your existing plan remains intact which keeping the customers engaged in their shopping. Above all, you don't have to upgrade the entire plan in times of random traffic spikes.
Additional features
As compared to other hosting providers, Nexcess offers more to Magento users. You will get unique and valuable features to completely utilize the available resources.
Such as, you can test the no-demand performance and site staging testing. The troubleshooting system also helps in improving the overall site speed. It even gives an option of PCI-compliant and Progressive Web Apps.
Nexcess provides on-security monitoring. More reliable protection is available with Magento Sentry against scammers and hackers.
Customer support
Nexcess offers impressive support. It is more knowledgeable as compared to its competitor hosts. You are directly connected to Magento professional as soon as you contact a support team. You don't need to suffer to find knowledgeable support about your required query.
The customer support team ensures support 24/7. You can also contact them through live chat, email and phone.
Pricing and plans
Nexcess offers 6 tier plans to fulfil the requirement of businesses of all sizes. These plans start at $49 per month to $849 per month.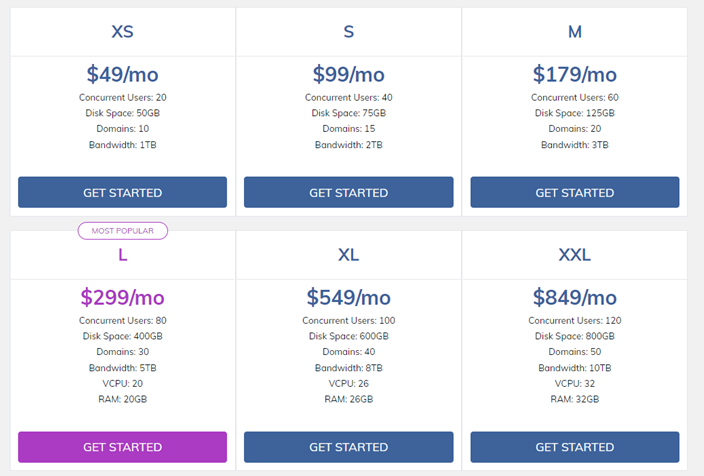 XS is the smallest plan which offers 1TB bandwidth and 50GB disk space. XXL is the biggest plan with 10TB bandwidth and 800GB storage. All the plans come with SSD storage and nightly backups. Nexcess further provides additional features and enterprise-level servers for those who want to have vigorous equipment
In a cliché,
It is visible why Nexcess is the best hosting provider for Magento. The service is open-source type. Ultimately, you get an optimized performance with a blazing fast speed and unique features.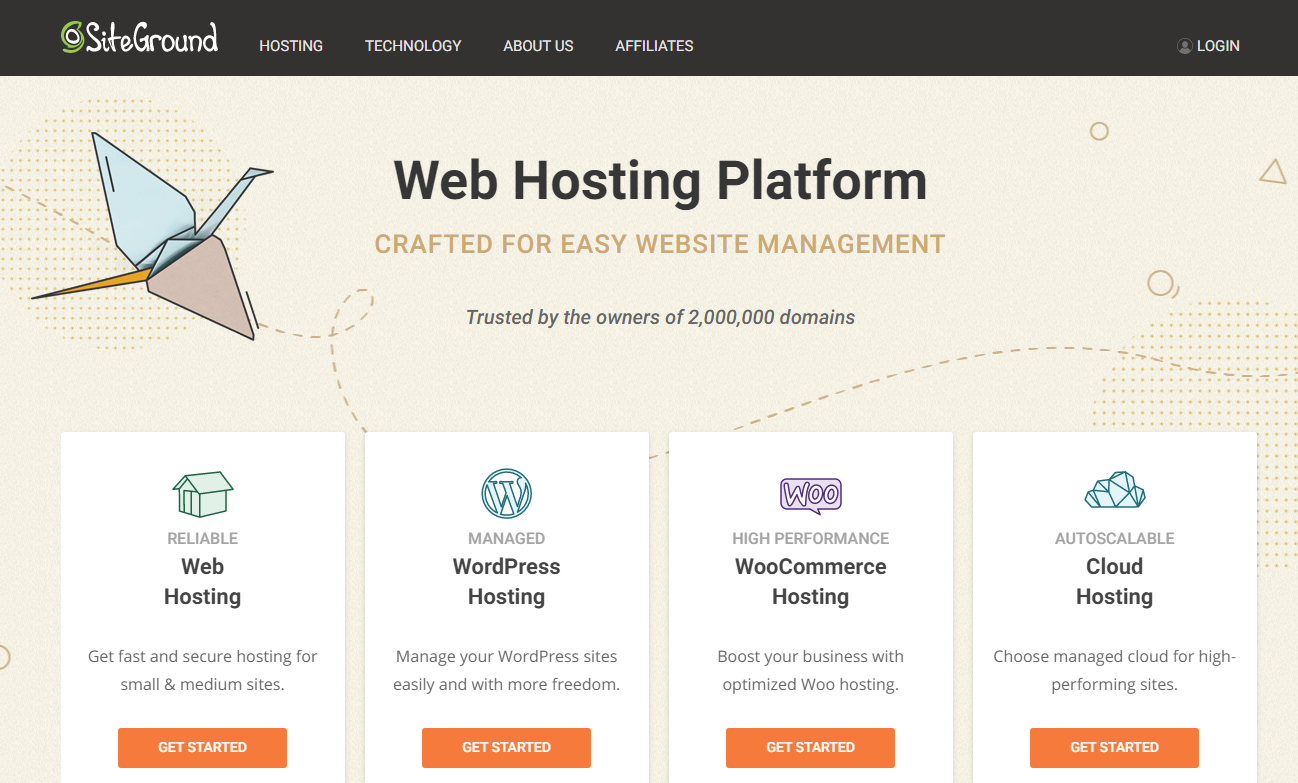 SiteGround is operations since early 2004 and is now known as one of the most popular web hosts in the market. It is the highest-rated host so far. It offers excellent in-house security and speed. Thus, it makes your eCommerce business secure and fast. The host is popular because of its 24/7 support.
The top features of this host are GIT version control, automatic upgrades and one-click staging. SiteGround hosts the website worldwide. It is counted as one of the hosts that provide hosting specific to locations. Their data centres are located in Europe, the USA and Asia.
What's unique about SiteGround?
SiteGround is a host that does not compromise on performance, no matter what. The sites with SiteGround as their hosts open the pages in less than 650ms which is faster than its competitor hosts. The best aspect of this feature is that the speed is not affected by the increased traffic.
For more you can read our review Siteground vs Bluehost
Response time of the server
The loading time of a page depends on the content that comprises those pages. Yet, the response time of the server shows the speed of the site regardless of the page content. SiteGround's response time lies between 34 and 54 ms. This feature makes it the fastest of all the competitive hosts.
Pricing
SiteGround offers shared hosting dedicated and cloud hosting plans. If you have a small eCommerce Magento website, the shared plans can work fine. As your site grows, there are options to upgrade the plans.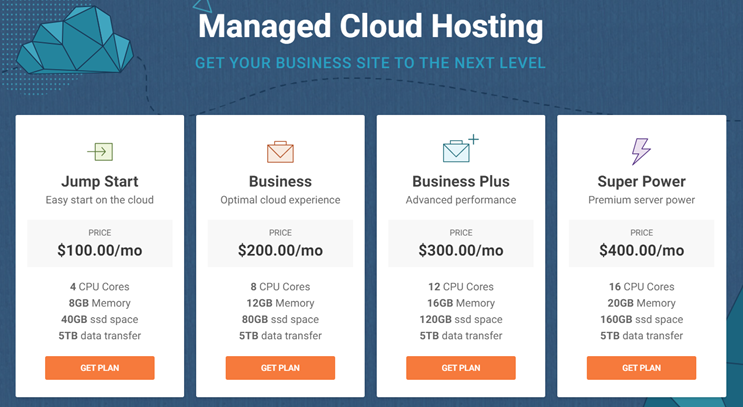 Shared hosting plans are handy and support low traffic. Whereas, the enterprise hosting plans are suitable for large websites that invite more traffic.
All plans offer great customer support. It is also easy to upgrade hosting plans as the content and business on the website grows.
Pros
Three different server locations
Free SSL and CDN
Offers support 24/7 on the phone, live chat and email
Fast servers
Cons
Monthly billing costs setup on fee
Limited storage though it is large, yet limited
Siteground offers hosting that is easy to use and grow with your Magento website.
In a cliché,
SiteGround gives the value of your money. It then offers more features and resources with on-demand backup and robust caching.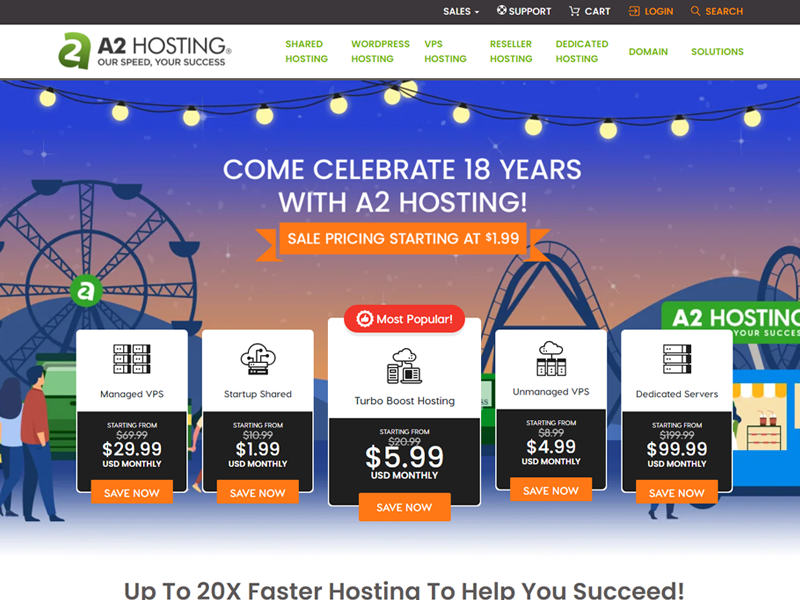 A2 Hosting is an established and old player when we talk about the Magento site. A2 is a reliable and strong hosting provider.
Like other hosting providers, A2 also offers one-click installation but A2 also includes the preinstalled software on shared accounts.
What's unique about A2?
A2 claims that the resources are unlimited. It might be a bit misleading in the sense that it offers unlimited storage. It also migrates for free if you are already running a web host.
In addition, you also get prorated refund at any stage of Magento. It suggests Turbo Max and Turbo Boost for Magento. The plans offered by A2 are more resourceful as compared to its competitors.
Support
A2 hosting services offers decent and knowledgeable support through professional agents. You can contact them all the time by email, phone call, or live chat.
They also provide tutorials that are dedicated to Magento hosting such as managing the CMS and caching mechanism in CMS extensions.
Performance
Turbo Max and Turbo Boost plans offer 40x faster CPU and 20x faster services which are meant to finally able to handle 9x more traffic, lower bounce rate, increased rankings in search engine and conversion rates on the eCommerce websites.
Pricing
A2 offers two pricing tiers for Magento and Magento 2. These are under shared hosting; Turbo Boost and Turbo Max.

Pros
Excellent support
Cloudflare CDN
Tight security
Daily backups
Many features for speed optimization
SSD storage
Fast servers
Cons
The only limitation of using A2 hosting is two hosting plans to support Magento and Magento 2.
In a cliché,
The prices of A2 hosting plans seem reasonable concerning the resources they offer. In addition to speed-optimization features, the host provides excellent support, outstanding resource allocation and prorated refund.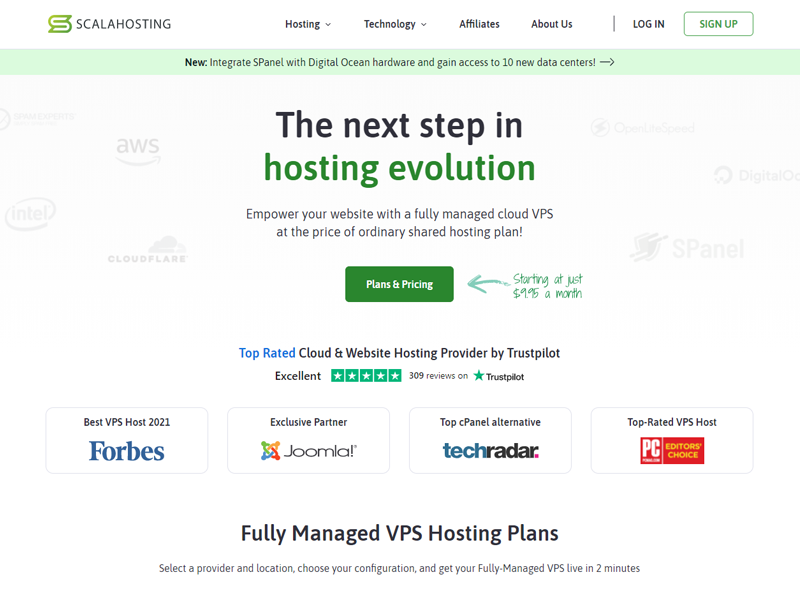 Scala is a US-based hosting provider which is now expanded to Europe as well. Let's find out the way how Magento works with its plans.
What makes it unique?
It carries a vigorous setup with a webserver, LiteSpeed. It is packed with a CDN, speed optimization extension and three levels of caching. With these features, you will get a fast speed as compared to the standard stack setup of LAMP.
ScalaHosting offers the Magento updates with automated features. The things may vary in updates because of the complexities in CMS. It is easy to manually update and take a snapshot of the server particularly when it is about the core storefront software.
It further offers a heck of protection against anti-hacking. Such as malware scanning, a firewall, custom security functions, and an in-house security system.
Moreover, there are SEO tools included for free. They are not significantly required but help you to dominate your website as a newcomer. The auditing feature of SEO is significantly important as it saves you from the robust duty of manual check.
Scala provides you with daily backups of your hosted websites. Therefore, you will always find server versions of the website where you can get the backup.
Another plus of this host provider is that you get to start with the shared hosting Magento and move to VPS. The virtual server provides an in-house and unique control panel. The in-house cPanel is free of cost that makes the VPS plan inexpensive. However, you will still find it compatible with the cPanel.
If you already own a running website, the host team will do your migration free of cost even though you are transferring it to VPS or shared hosting.
The most important aspect to note at this moment is that ScalaHosting controls the average number of visitors that it can handle. It depends on the WordPress website, so these plans may be insufficient to fulfill your requirements with Magento.
You get a price-lock warranty in Magento hosting. It means that you get a fixed cost on purchasing the required plan. However, you can avoid price hikes which may be the most annoying aspect of any hosting company.
Overall, the plans are decent and provide a lot of security and speed optimization tools.
Support
All the plans offer quite awesome services. They are available 24/7 to respond to your queries. The knowledge is however limited with no practical tutorials of using Magento.
The Stellar support in Magento directly answers the questions from the managing team.
User reviews
There are thousands of positive reviews on ScalaHosting in the recent past. The website users find consistent help useful for the past 13 years.
However, there are a few negative comments as well. These issues are common and are due to users' misunderstandings at some stage.
Pricing

ScalaHosting offers four plan tiers of shared hosting with Magento. It does not mention the limits for RAM and CPU on shared plans. However, you can easily transfer to the affordable plans of VPS.
In a cliché,
You get ultimate security and speed optimization options. Moreover, you find affordable plans which make Scala the best choice for Magenta hosting.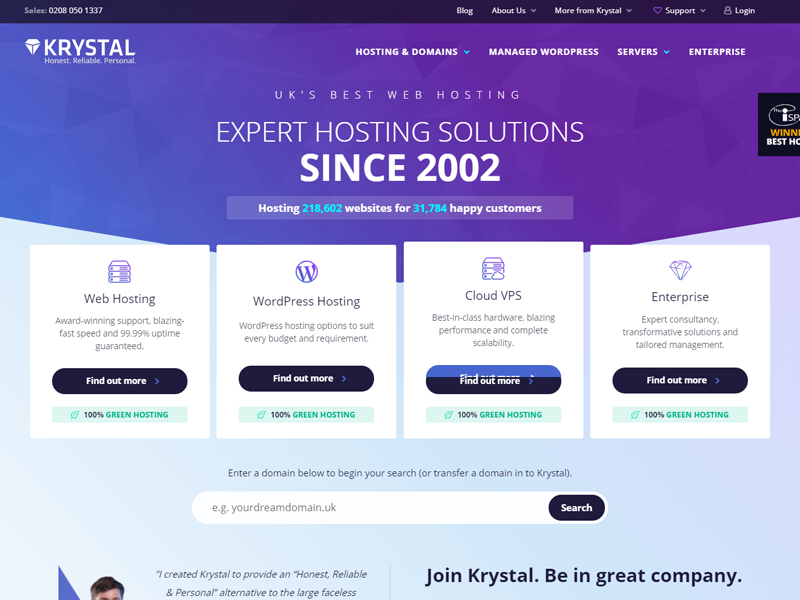 Krystal hosting is an independent yet largest hosting provider. They offer environmentally friendly, transparent, and honest management. Moreover, their website is well equipped with options that give you a heavy dose of humour.
To explain this further, we would like you to have a look at its store.
What's unique about Krystal?
It equips the Magento hosting with tight security, high speed and optimized tools and fast server configuration.
Moreover, you get 6 backups a day which is helpful for your online business. It also ensures PCI compliance. The open-source Magento is not compliant with PCI by default.
It also gives you a free domain name thus you save a few bucks annually. AND, if you plan to change the domain name through host change, it may be expensive.
The attractive part its use of words such as "awesome" for Let's Encrypt SSL and cPanel. However, it is standard among the hosts that provide quality services.
Krystal provides outstanding Magento hosting. Yet, it is only operational in London.
Support
The optimized plans for Magento provide 24/7 support on phone. However, they serve during business hours only for live chats.
Krystal offers solid and knowledgeable support for Magento. It also maintains its strength in the case of in-house and does not plan to outsource this support.
The support is very professional and responsive.
Pricing

With Krystal, you get three web hosting plans for Magento. It ranges from £29.99/month to £99.99 per month. Moreover, these plans are very fulfilling in terms of resources distribution. You can easily enjoy good support and plentiful store traffic with these deals.
All the plans have fixed prices but above all, you get a free domain name which is a gift for life for your website.
In a cliché,
Krystal Hosting is an outstanding host that offers 60 days money-back guarantee for all its services.
Take away!
The above discussion clearly shows that Magento helps you with its extraordinary hosting services with high scalability and unlimited features. If you are a beginner, simple services and shared hosting are a perfect fit.
As you start getting more visitors per day, you can start with a basic plan and keep upgrading. It will not only save your money but also ensure that you get the best plans.
Magento offers a faster content management system than any other provider. It means that it requires the most powerful hosting solution for its sustenance. However, it is still difficult to conclude what solution is the best.
Pricing is different for all the hosts, it is however always expensive to run a simple shopping cart or a WordPress cart. Also, determining the best host is not possible. The choice of the right hosting depends on the traffic it helps you to generate. Reviews can help you find the best solution for your Magento hosting.
The only problem with this hosting is that its complexity increases as you go deeper into its options.
Magento is seamlessly straightforward yet it requires enough management and handling in terms of technical editing. Moreover, some simple things such as speed optimization need dwelling into the code and SSH. The same thing is required to handle in other CMSs. Finally, if you are inexperienced in running a Magento website, you may need extra help which may cost you more. To ensure positive results, you would need to hire a professional Magento certified developer.