Over the last few years, the best Minecraft hosting servers gives the possibility to the gamers to play online in multiplayer mode and anyone can create a personal server and invite other games to join it.
Minecraft was played by 141 million gamers every month so there is a lot of need for servers to host their games.
You must be thinking that which Minecraft provider offers the best services in optimizing your Minecraft gameplay? There is a list of Minecraft server Hosting providers, making it difficult to select to modify your game for fun purposes and interacting with people.
There are tons of game servers that offer you the services to turn on the multiplayer mode of Minecraft. To get to them, this article is all set to make you aware of the best Minecraft Server Hosting providers for your ease.
| | | | |
| --- | --- | --- | --- |
| Provider | Price (PER MONTH) | RAM | No. of players |
| Hostinger | Alex plan: $6.95 Villager plan: $9.95 Enderman plan :$29.95 | 2GB 3GB 8GB | |
| Shockbyte | Dirt plan: $2.50 Sand plan: $5 Iron plan: $10 Diamond plan :$17.50 | 1GB 2GB 4GB 7GB | 20 40 80 140 |
| Sparkedhost | $1 $2 $6 $8 | 1GB 2GB 6GB 8GB | Unlimited |
| Apex Hosting | $4.49 $7.49 $11.24 $26.24 | 1GB 2GB 3GB 7GB | Unlimited |
| GGHosting | Stone plan: $3 Coal plan: $6 Diamond plan :$24 | 1GB 2GB 8GB | 12 24 96 |
| Zap Hosting | $3 $27 $120 | 2GB 4GB 8GB | 4 14 36 |
| ScalaCube | Minecraft VPS 3GB: $10 Minecraft VPS 6GB: $18 Minecraft VPS 8GB:$24 | 3GB 6GB 8GB | 40 100 150 |
| BisectHosting | BUDGET PLAN 1: $2.99 BUDGET PLAN 2: $5.98 BUDGET PLAN 3:$29.90 | 1GB 2GB 10GB | 12 24 96 |
| GameTeam | Coal plan: $5 Iron plan: $7.50 Diamond plan:$20 | 2GB 3GB 8GB | Unlimited |
| ServerPro | Basic: $5 Medium: $10 High:$20 | 2GB 4GB 6GB | |
The Best Minecraft Server Hosting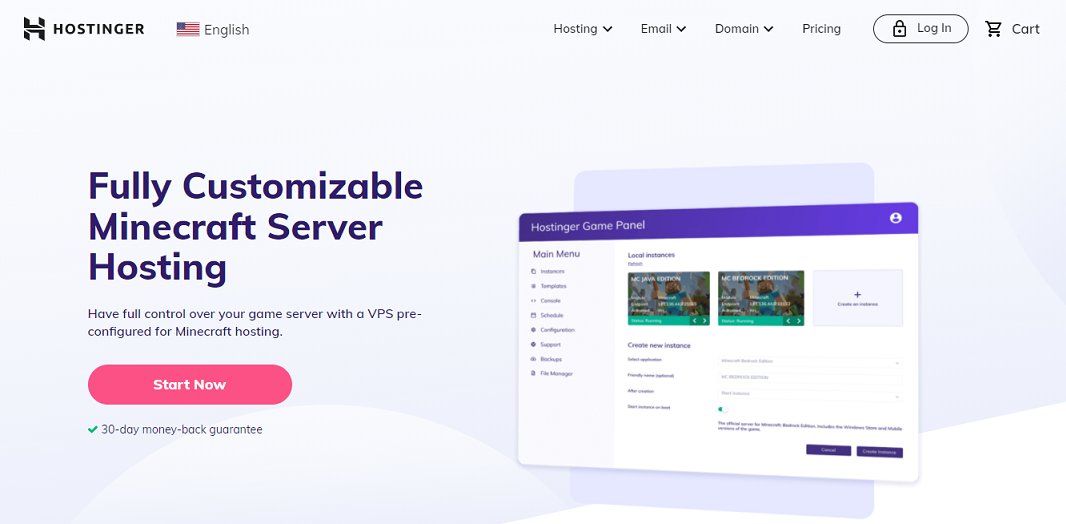 If we look into the hosting servers that promise to be the best web hosts to manage a website perfectly, Hostinger is one of them. Along with that, it has specialized itself by including the features that optimize the performance of Minecraft to another level. Keeping its aspects in mind, it comes as no surprise that it is on the list of the best Minecraft server host providers.
Hostinger offers five different unique plans as per the need of the client. Get any of its perfect packages that are the collection of all features that you ever desire. It is a secured host server and easy to use with top-of-the-line features. Moreover, its rating is unbelievable, making it reliable and well-reputed. Thus, making you sure that it can be the perfect choice after all.
Hostinger is also one of the best WordPress Hosting sites providers.
Features
Following are the features of Hostinger that make it stand distinct in the market of Minecraft serve host providers:
Refund Policy- Cancelling the hosting services purchased from the Hostinger within 30 days is not a big deal. Their refund policy can save you from the loss of your money.
Customer Services- Hostinger has set the customer services for 24/7. Cooperative staff and on-time maintenance elevate their level in the crowd of servers.
Downtime- They have set up a website for sending notifications regarding downtime alerts. The message pops up when it gets resolved.
App Facility- Downloading apps from the app store further facilitates Android and IOS using customers.
Security- Offering the best of their security is the only wish that arises in the hearts of a lot of customers. Hostinger is one of those hosts that has kept this aspect in mind and managed to create fantastic security. Thus, changing the password of your subscribed package is easy to maintain security.
Price
They have several plans that one can subscribe and the following are the price mentioned per month.
Alex Plan- $6.95
Villager Plan- $9.95
Creeper Plan- $15.95
Herobrine Plan- $23.95
Enderman Plan- $29.95
Evoker Plan- $57.99
Wolf Plan- $77.99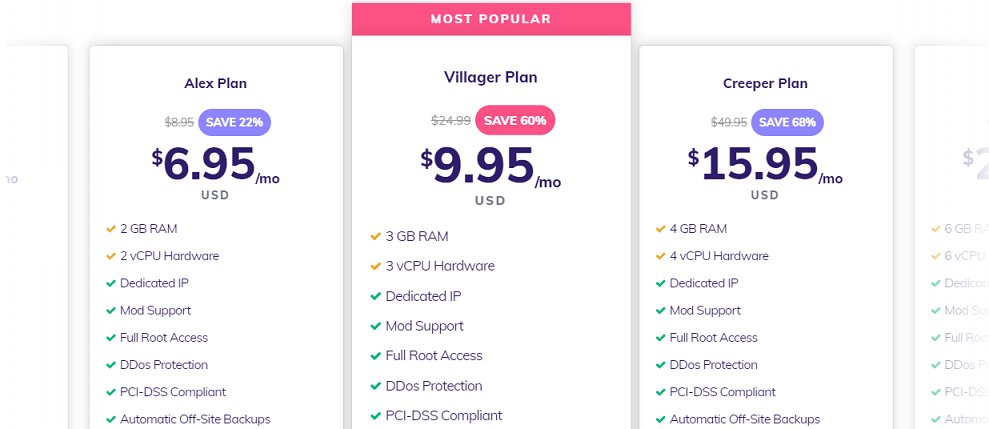 Pros
Instant setup
Great customer support
Easy server management
Strong security
Cons
In case you aren't already sure please read our full Hostiger Review guide.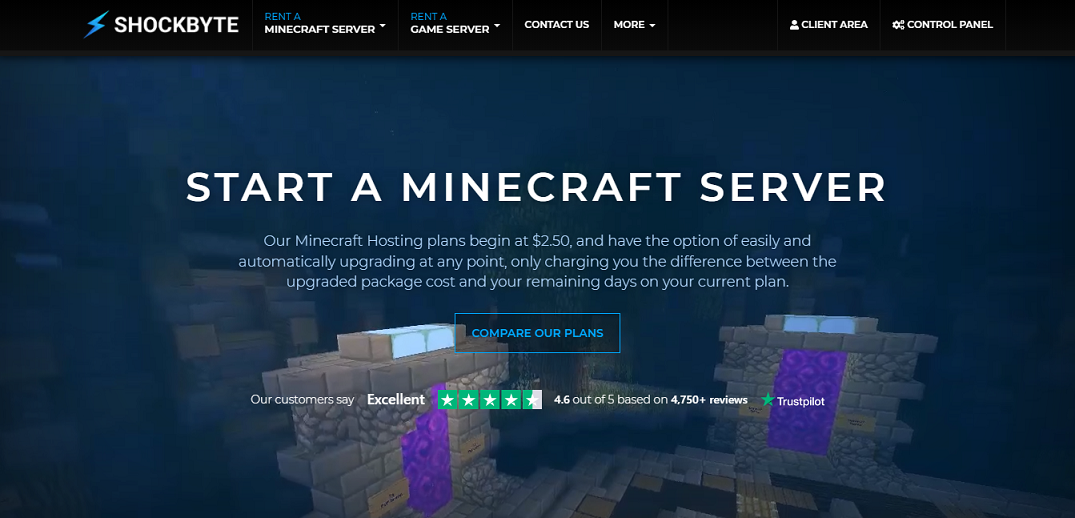 Another awe-inspiring server host provider in the world of Minecraft is Shockbyte. It has made its reputation in-game host providing services and is known for offering cheap but super-brilliant packages. Shockbyte solely caters to Minecraft; however, it also hosts other games. It has significant experience in hosting fun and offering setups for many games.
It also includes a subdomain that is free of cost, Safeguarding from DDoS attacks, and 100% uptime. RAM ranging from 1GB to 16GB is included in most plans. It also offers unlimited slots, and higher subscription tiers are Spartan Plan, Zeus Plan, and Titan Plan.
Look for the top-notch features of these plans. If you think that you can have a good time when hosting your Minecraft, you can subscribe to their services. It can also offer you a calm environment to make every task easy and joyful.
Features
Refund policy- Shockbyte offers 24 hours to refund the dues for the subscription of any hosting plan. Many clients are satisfied with this as this characteristic strengthens the others.
Backups- It offers automatic backups to store the data of your requirements. Automated backups are significant in making Shockbyte in demand.
IP Support- It offers devoted IP support along with 100% uptime and a multicraft Control Panel.
Downtime Alert- For the maintenance of the hosting site, they notify their clients before time to avoid any disturbance. After it is resolved, they send a message to enable their clients to continue their tasks.
Customizing Plans- Shockbyte enables you to customize the plan by adding the feature you want to have. The personalized plan exactly offers you the services that you desire. It has every aspect to please you.
Price
Their Minecraft hosting service plans began from $2.50. Updating the project as per your demand and desire adds to the money. Thus, offering you the best of the time with Minecraft.
Dirt plan- $2.50
Sand plan- $5
Cobblestone- $7.5
Iron plan- $10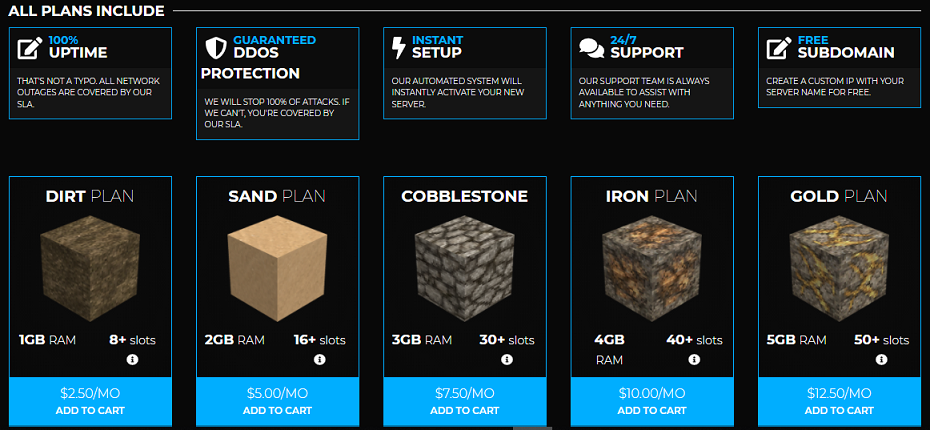 Pros
Powerful hardware
Low latency
Brilliant performance level
Automated system to assist instant setup
Java and Bedrock edition support
Cons
No network SLA
No BBB page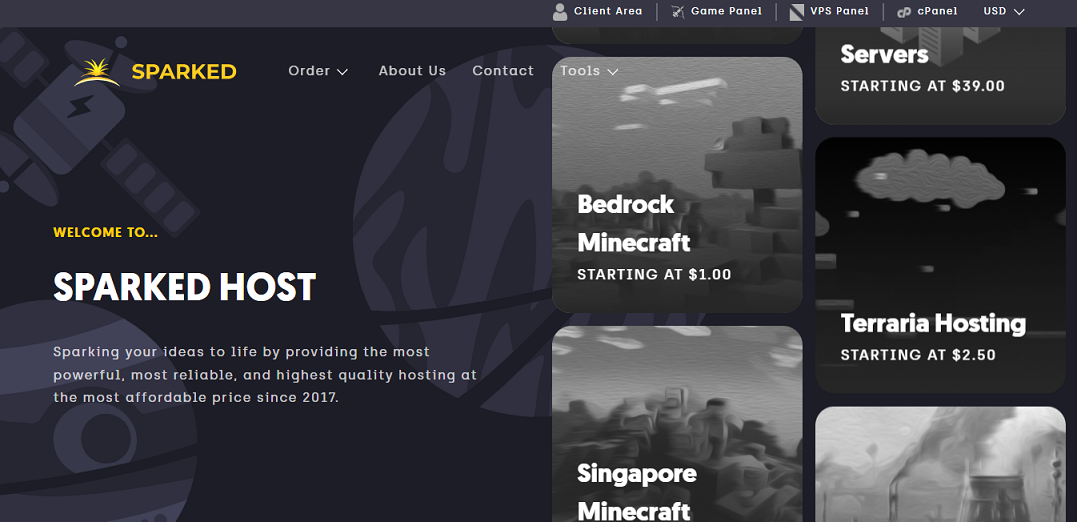 The best level of Hosting is offered by a fantastic Minecraft hosting provider known as Sparked host. All of its features are awe-inspiring and marked as the most efficient ones. It offers cloud hosting along with game hosting. It has 13 different and perfect plans that anyone can opt for are planned with the gathering of such features that are necessary to have. Every project is the collection of such aspects that mold the heart of every game lover and force them to subscribe to it.
The sparked host is a reputable hosting server that offers reliable and high-quality services to host the games like Minecraft. Their budget, enterprise, and other features are managed according to the categories of the user. It has a rating of 4.6 out of 5, which shows its approval in the market of hosts.
As Minecraft world is favored in children and adults also, having a setup to make this gaming time more zealous is a must. For this, the sparked host assists you in the complete journey.
Features
Refund policy- A limited money-back guarantee assists the customers in many cases. Depending on the topic to the point, the offers of a money-back guarantee are implemented. The interruption of the services can refund your money.
Customer services- A highly trained team of Sparked hosts is dedicated enough to aid the customers in maintaining the services. The average time in which they respond is about 1.23 minutes.
Network SLA- For all the applicable services, 99.99% of networks are available. If this agreement is not maintained for 10 minutes continuously, then the affected services will be compensated.
DDoS protection- Another feature of Spark host is DDoS protection. It makes you feel safe at all times. As security is the preference of every hosting provider.
Enterprise Hardware- Spark host offers powerful enterprise hardware as it keeps in the view that your product is always running and up.
Downtime alert- Spark hosts make their clients aware of when the site is under maintenance. Notifications are sent to the clients when all is done regarding maintaining services.
Premium location- They offer premium locations at every point of the world.
Price
They have several plans with different pricing. Visit their website and look for the program you want to subscribe to. The price of every project is so affordable.
| | | |
| --- | --- | --- |
| RAM | PRICE $ | PLAYERS |
| 512MB | 1.80$/qua | Unlimited |
| 1GB | 2.94$/qua | Unlimited |
| 2GB | 2$/mon | Unlimited |
| 4GB | 4$/mon | Unlimited |
| 6GB | 6$/mon | Unlimited |
| 8GB | 8$/mon | Unlimited |
| 10GB | 10$/mon | Unlimited |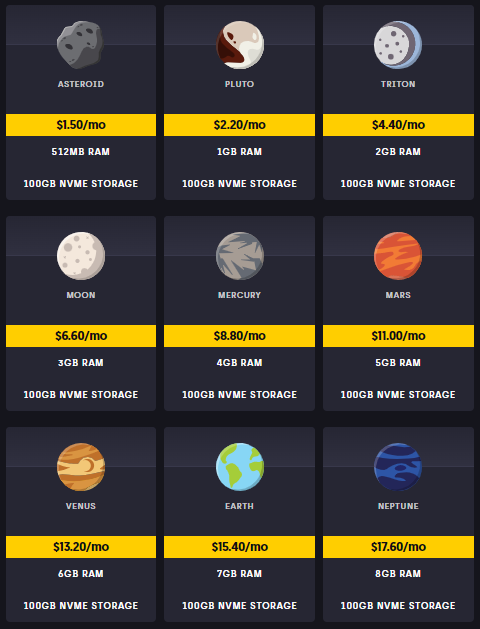 Pros
DDOS protection
Instant and easy setup
Money-back guarantee
24/7 customer care
Cons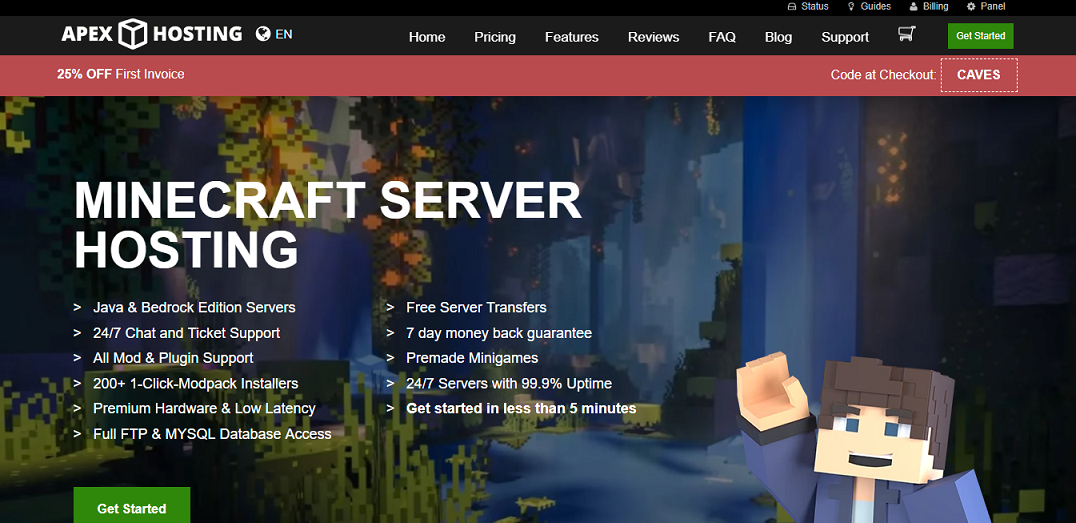 Trustpilot ranks Apexhosting as a well-known platform that can act as a Minecraft server host provider. Its rating given by the reviewers is about 4.7 stars out of 5. This rating proves the users' response to working with this platform for a very long time. It is no doubt that setting up your own multiplayer game with is host is not the wrong decision. It is because they have hosted more than 200,000 custom forge servers in this whole year.
They offer many plans that you can subscribe to. The division of the plans is based on the storage space. It is recommended that go for a plan that meets the requirement of your number of players acceptable. If you want to have a version with more player numbers, subscribe to the plan that has unlimited bandwidth and storage space like 6GB, 8GB, etc.
It supports the servers like Java Minecraft and Bedrock edition. For every plan, they have marked different features and pricing. Look for all the aspects from all the programs and subscribe to the one that suits you the best.
Features
Refund policy- Reposting offers the refunding of money within seven days of subscription. After the first seven days, they are responsible for the loss concerning refunding your dollars.
User support- 24/7 live chat and responsive customer care are significant features of Apexhosting. A dedicated team for helping the customers is brilliant.
Site creation- It allows you to create a server like a Technic launcher by the use of the free subdomain of the server host of Minecraft.
Friendly team and Services–Version files of the offered server can be changed by clicking a few options. In this way, they assist their team that is united and friendly.
Uptime and servers- It has an uptime of 99.9%. This host supports Java and Bedrock edition servers. Moreover, the hosting site gets started in less than 5 minutes. More than 200 1-click mod pack installers are included in this hosting service.
Price
Many features of hosting servers are gathered in the form of hosting options plans. Get any of the below-mentioned plans as per your desire and requirement.
2GB RAM- $7.49
3GB RAM- $11.24
4GB RAM- $14.99
5GB RAM- $18.74
6GB RAM- $22.49
8GB RAM- $29.99
10GB RAM- $37.49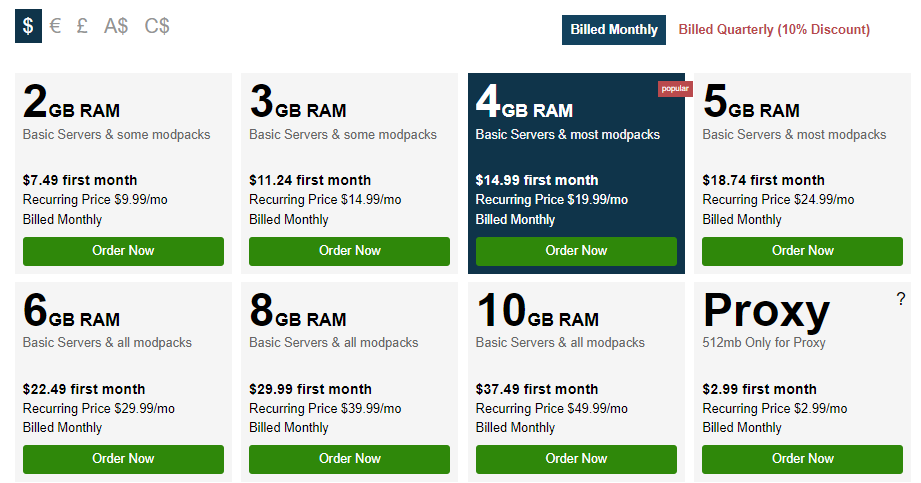 Pros
High-level control
automated backups
tons of server choices
friendly team
Cons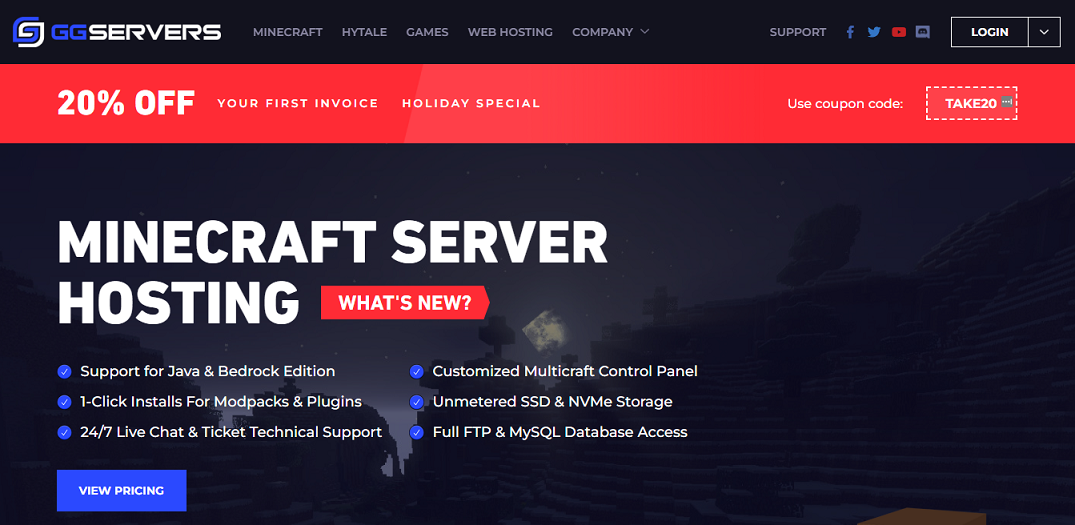 One of the cheapest Minecraft host providers is GGServers. Being the most affordable of all the servers in the market, its features are remarkable that one can subscribe to it without thinking. Its high-performance specs are included in all of its plans. Since 2013, this host has marked itself with affordable prices and features. The speed of the hosting server is mesmerizing.
This company has given great importance to the point of customer services. They are offering 24/7 customer support team to make them satisfy. Humans are hired for this, and they provide the best response. This helps the general public as a result. They can resolve any of the problems in the mentioned time in the most efficient way.
The organizing team of GGServers is devoted to its work and has succeeded. Every person on the GGServers team has made it through the hard times and ensured the customers' satisfaction. It is proved by the demand for this host among the users. Moreover, an experienced audience recommends this host provider.
Features
Refund policy- Customers who have subscribed to Minecraft host's plan have the opportunity to give their money back if they want to unsubscribe from the services. To do so, they have a time limit of 24 hours.
Customized control panel- The feature of customizing the control panel easily for you to handle is the most vital.
Database access- Full FTP and free MySQL database access are among the splendid aspects of GGServers.
Single click installs- GGServers provides single-click installs for Modpacks and Plugins. It further elevates the demand of GGServers among the audience interested in Minecraft.
Downtime alert- When the downtime is negligible, they provide the clients with no alerts. However, in case of severe and essential downtime that requires more than the usual time, they notify all the customers.
Customer Care- In less than 5 minutes, the dedicated people replied to the question. Moreover, if the client has any problem, they satisfy them in the best way and practically work to resolve the issue.
Price
Following are the plans offered by GGServers:
stone-$3 per month
coal-$6 per month
iron-$9 per month
gold-$12 per month
lapis-$15 per month
Redstone-$18 per month
diamond-$24 per month
emerald-$36 per month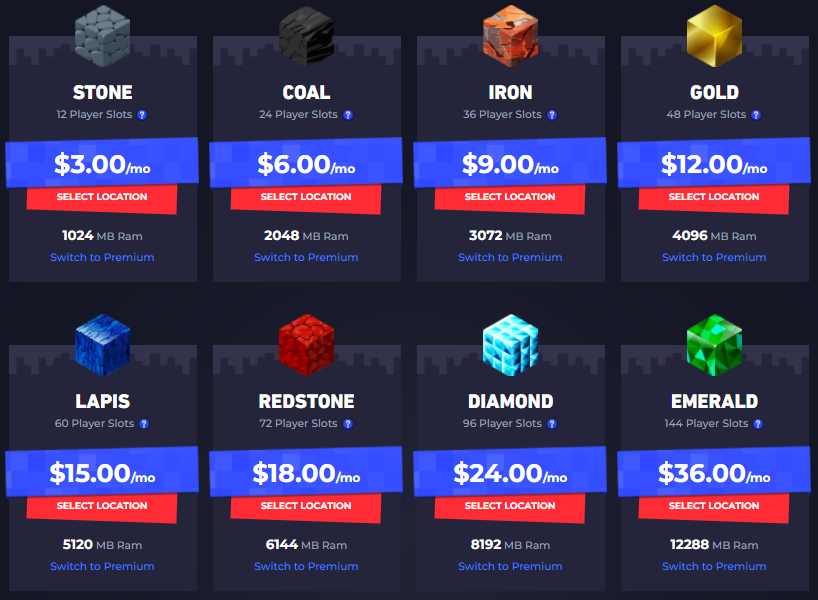 Pros
high-performance processors
4-5Hz processor speed
Unmetered SSD storage drive
Intuitive control panel version
Premium modpack by 1-click install
Cons:
Too many plans to select from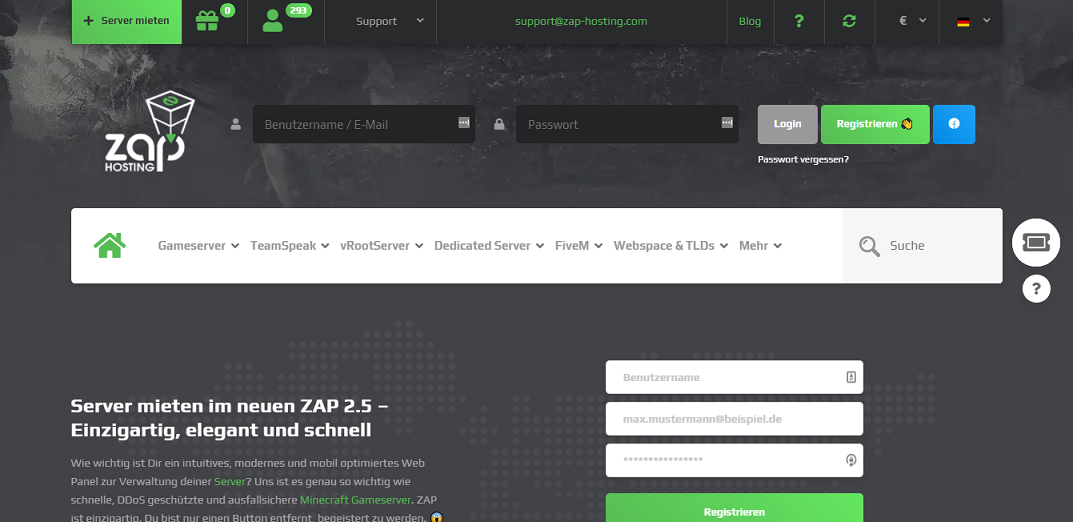 German server provider, Zap Hosting, is well-known and provides hosting services for more than 100 minigames, including Minecraft. It has its servers spread worldwide, including areas like Europe, the USA, Canada, South America, North America, Asia, and Australia. It includes dedicated servers that are instantly set up and accessible after that. Ease in accessing the server is a must-have thing, and people often look into this feature. Thus, Zap Hosting is not a bad idea to pursue.
The aspects like Uptime, hardware, development and DDoS protection are the other critical significant terms. These features are reliable, making Zap Hosting a reputable dealer in the space of its own Minecraft server host providers. Moreover, other elements of Zap Hosting are efficient, and you can go for it.
Features
Refund policy- There is no refund policy for Zap Hosting.
Customer Care- They offer the options like tickets, emails, and live chat to the customer to ensure efficient assistance 24 hours a day.
Uptime and Hardware- They keep on showing the availability of the site for the customers. Thus, reliable Uptime is a crucial feature to look into, and Zap Hosting is good at it. In addition to it, fast server hardware with low latency is another attractive feature.
Use and Protection- Zap Hosting is organized so that for the public, opting for this host for their Minecraft hosting is the best decision. Furthermore, the DDoS protection feature appeals to most clients.
Network SLA- Network SLA accessibility of 99.5% is the characteristic of Zap Hosting, marking it distinguish.
Easy to use- It has panels that make it easy for the clients to work with it in hosting their multiplayer Minecraft. With TCAdmin and Multicraft, Zap Hosting is the perfect duo. Development of the site has become too easy when the panels are involved in it. Panels have trouble-free the process of development.
Price
Three excellent plans that are the mixture of all the best features are mentioned below:
2048MB- $3 per month (4 players)
4096MB- $27 per month (14 players)
8192MB-$120 per month (36 players)
Pros:
Easy to use
Easy panel development
Fast server hardware
Amiability of lifetime
Cons
No refund policy
No downtime alerts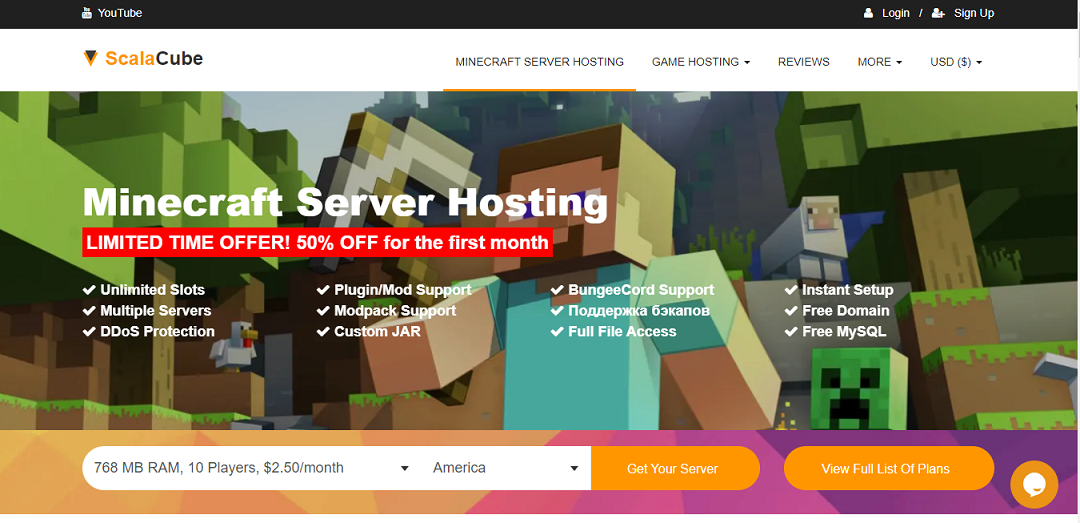 ScalaCube is aware of the demands of the general public all over the globe. It has widespread features, which are vital to elevating the potential of the game hosting companies. Thus, due to these aspects, Minecraft hosting by ScalaCube is a super-brilliant task to do. It offers flexibility to the user and creates an easy situation to do all the jobs. Moreover, the tools used to launch Minecraft can play their best in all the steps till the destination.
ScalaCube is a one-click instant setup. Its feature that entices most of the audience is making different slots for hosting different games by using the same VPS server. The audience is more towards this host because of its efficient feature lacking in most of the other hosts.
Features
Refund policy- They are not offering such a refund policy to the customers. When you are done with the payment for the subscription of any plan, it is considered final. The procedure can make no changes in this.
Customer assistance- They have satisfying customer assistance. However, they offer no help regarding any of the problems during weekends. No customer service at the weekends is not a good sign. The only aspect that makes it lacking in the eyes of the audience is no assistance during weekends.
Downtime and alerts- They notify their clients if they have any downtime. These notifications pop up in the control panel. Moreover, all the time that is lost during downtime is compensated.
File access and player monitoring- ScalaCube provides easy access to all the files. Further, online player monitoring is another fascinating thing.
Backup plans- Regular offsite backups are easy to handle and are more in demand. ScalaCube is known to offer such regular backups to all the Minecraft servers. Thus, no need to worry about the loss of previous important data.
Plan customizing- As per your choice, you can change the plan design by opting for the platform arranged for this purpose. Customizing can further make you satisfied as you have chosen every spec of the plan.
Joining server- It allows you to join your server with the assistance of the launcher. Moreover, it makes a connection with the player of the server.
Price
Four major plans are designed for the public to make Minecraft hosting service a handy task for them. Their prices are mentioned below:
Minecraft VPS 768MB- $2.50 per month (10 player slot)
Minecraft VPS 1.5GB- $5 per month (20 player slot)
Minecraft VPS 3GB- $10 per month (40 player slot)
Minecraft VPS 4.5GB- $13 per month (70 player slot)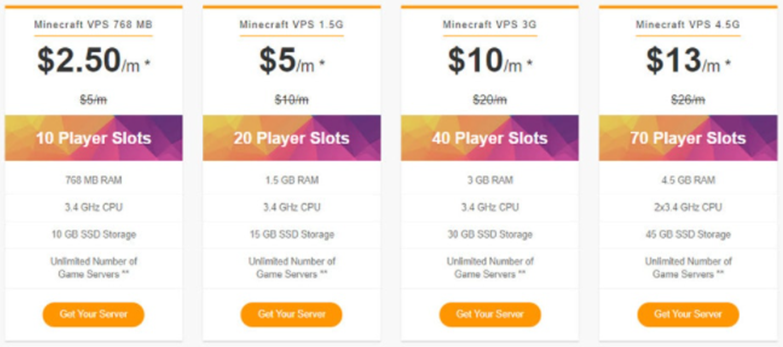 Pros
Customizable launcher design
Online tutorials player monitoring
Easy file access
Regular backups
Editing list of mods
Cons
No refunds
No SLA networking
No customer care during weekends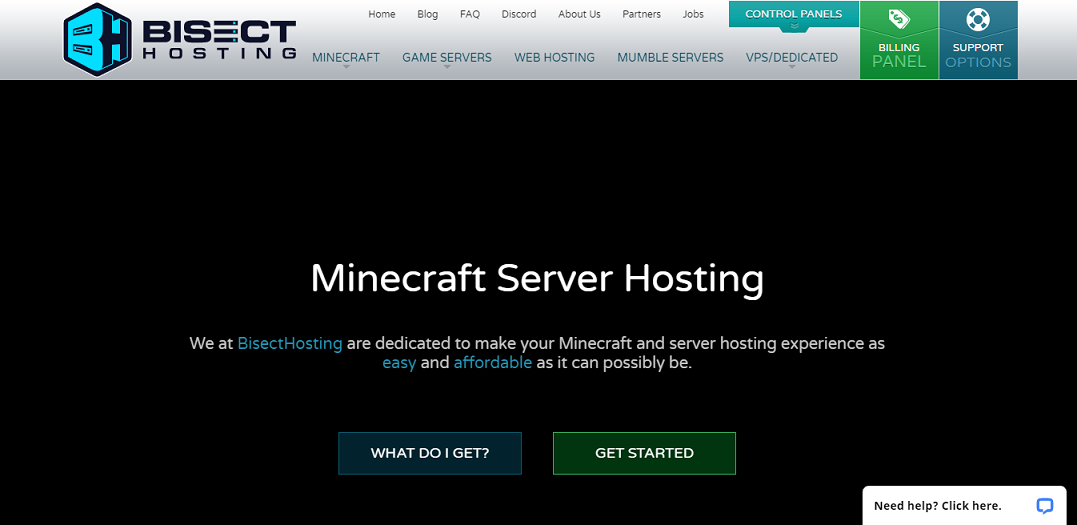 If you are looking for a hosting provider that is devoted to the services it is offering, no doubt you are on the right track. BisectHosting is one of the most committed hosting providers in the crowd of tons of hosts. Offering the best services at the most affordable price, BisectHosting can be the one you have been searching for for so long. Dedicated and VPS servers are also available in BisectHosting if you are interested in them.
It is highly recommended in the community of Minecraft hosts. The rating of this host is around 4.7 stars, and reviews are given by more than 700 people. From the reviews and ranking, it is sure that it is shared among the public and many people are into this hosting site. BisectHosting offers premium services at affordable prices and top-notch servers.
Features
Player Adjustment- This feature allows you to adjust the number of players whatever you want. Select the plan that has the player acceptance as you need.
Money returning policy- Full refund is available to the new customers till three days of payment. After that, no refund is possible, neither full nor partial.
Customer support- The average time they respond to any of the queries or questions is 13 minutes. For various time zones, these hosting sites have managed different slots of people offering services to the customers.
SSDs and Space- They make use of SSD to store Minecraft servers. BisectHosting offers unlimited SSD space to perform the actions and to keep.
Access to file- Accessing the files is not a difficult task for subscribing to BisectHosting. As you know, it has introduced the specs that appeal to the audience for doing this task.
Uninterrupted MC game- With the presence of DDoS protection, we can get to play MC games without any kind of interruption that can make our gaming session disturbed.
Downtime Alert- The server status page is set to announce downtime. Moreover, the control panel has a slot to notify the customers about downtime.
Best latency and Daily backups- Choosing the server that is near to you offers the best latency. Moreover, an organization for allowing daily backups is mesmerizing.
Price
BisectHosting has two types of plans:
Premium plans
1024MB NVME- $7.99
2048MB- $9.98
3072MB- $14.97
4096MB- $19.96
Budget plans
1024MB- $2.99
2048MB- $5.98
3072MB- $8.97
4096MB- $11.96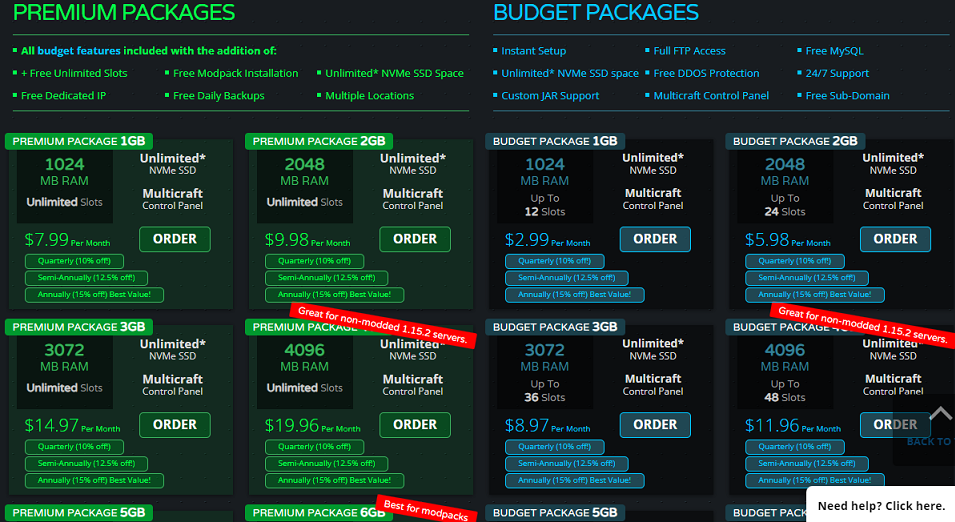 Pros
Feature-rich
Unlimited SSD space
File access with FTP client
Support custom JARs
Affordable plans
SSDs for Minecraft servers
Cons
Customer care is inefficient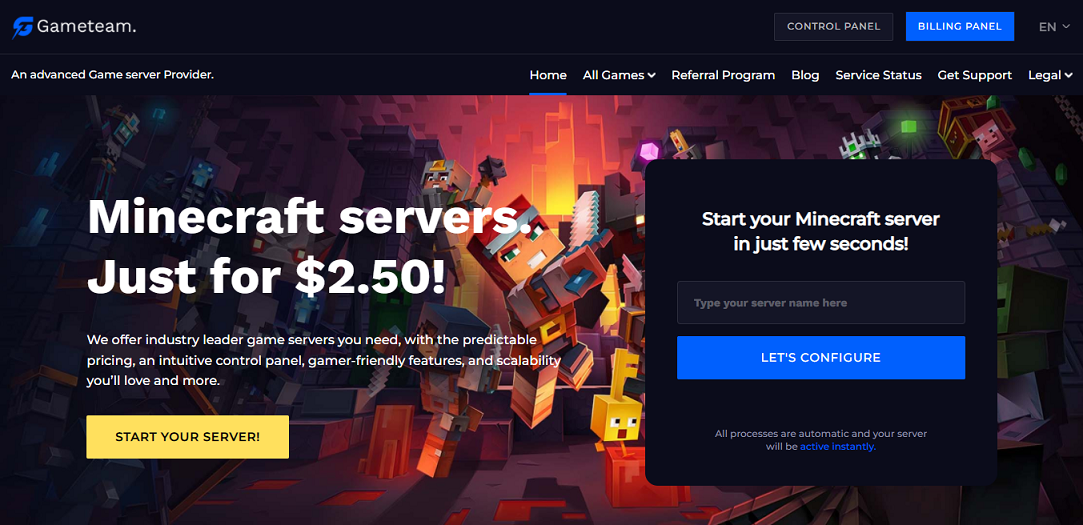 New to the crowd of tons of Minecraft server host providers, GameTeam has made its reliable name in the field of hosting. No doubt, it is the combination of such features. People constantly desired to have as old hosts lack them. Through its services and management, it has done a lot in hosting. Its services and significant to make them touch the height it stands today.
It supports all the features like Minecraft Java, and Bedrock edition 1-click installs like modpacks and plugins. This feature is impressive as it allows the customer to have more than one slot on only one subscription. However, when you pursue this, the game lag in adding the additional players. All the features are super-remarkable as they enhance the potential to play and enjoy the game.
Features
12 server locations- Offering 12 server locations to the audience makes it helpful to select any of them.
Independent Uptime- 99.99% of uptimes are independent of server locations.
Fast gaming experience- For storing information and data, SSD provides a fast gaming experience at low latency to most of the servers. It makes gaming time awe-inspiring.
FTP Access- It offers you full FTP access that can assist in managing files and plugins of all types. FTP clients are more into these features and are considered beneficial for them.
Regular backup- Backing up the data regularly is a must-have thing living in this modern time. Automatic backups are significant and should be done.
Price
About eight plans are available by GameTeam and the pricing of each of them is listed below:
Stone plan- $2.50
Coal plan- $5
Iron plan- $7.50
Gold plan- $10
Lapis plan- $12.50
Redstone plan- $15
Diamond plan- $20
Emerald plan- $30
All the prices as mentioned above are as per month. Moreover, every plan is priced as per the number of players involved.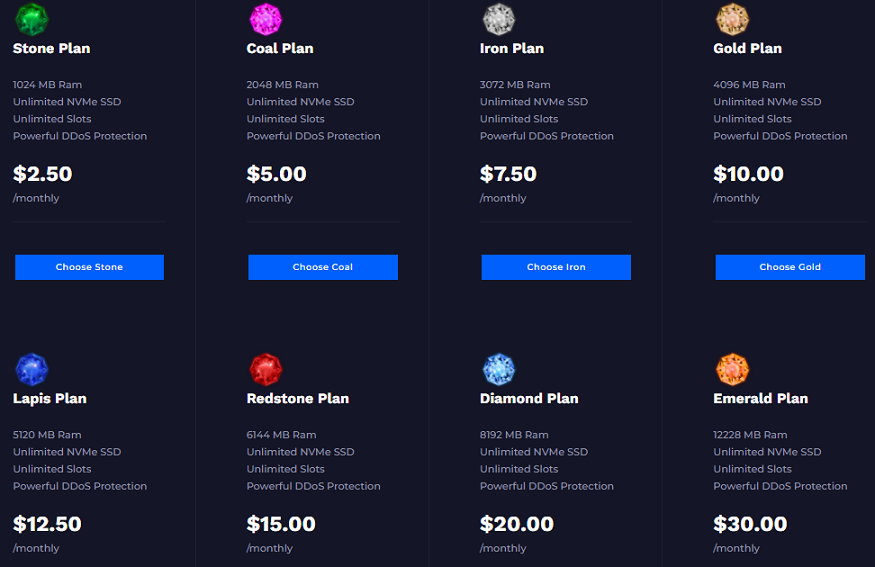 Pros
99.99% uptime
Handy to set up
Excellent performance
Player adjustment possible
Cons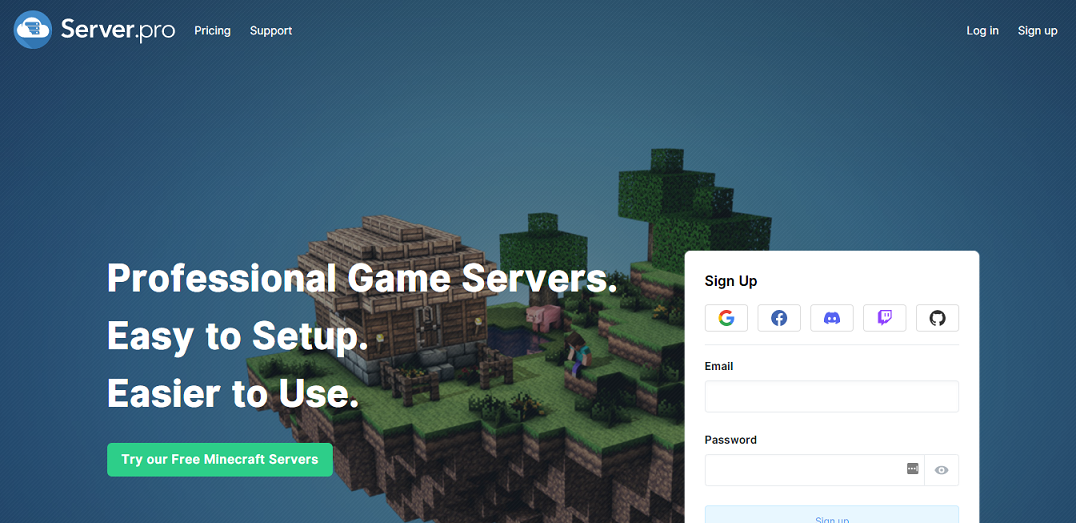 This platform hosting offers a platform to establish the connection to ease the number of players interested in playing Minecraft. It portrays itself as a collection of desired features. Datacenters that connect them are available all over the globe to keep up with their friends through gaming. Interaction through the games like Minecraft can keep your mind fresh. The server is a platform for providing hosts to manage your own multiplayer Minecraft.
Customizing the design by changing the host's name is an option that is available to them. Server page, multiple mods, plugins, sizes, and others are the basic gameplay features, and Serverpro has assembled all of them. Mods and plugins add a special spice to the gaming zone. Give exclusive significance to this before you select the one.
Features
Editing files- Editing files is a versatile task, along with syntax highlighting.
Backups- Storage servers of Serverpro keep your data backed up all the time. Moreover, you can get the option of automated backup or backup with a single click. This is totally up to you.
Plugins and mods- There is no fun in playing without plugins and mods. To do so, the control panel is ready all the time. You can install any of the plugins or mods.
Multi-admin- Share your panel with your friends to allow them to make some changes in your forum as you want.
Custom game- You have an option to add some features to the game as per your choice. This feature is as astonishing as you can make changes in the game.
Customer support- Their website is active 24/7 to maintain what they offer to the public. The friendly staff always listen to the problem that any customers are facing and try to get it resolved before the deadline.
Price
Serverpro is too easy on your pockets. It has a few plans but their specs prove that they are worth the price. However, some of the features are so incredible that it is not possible to get them in such amount. Pricing of their plans is mentioned below:
Premium plans:
Basic- $5 (2GB)
MEDIUM- $10 (4GB)
Pro plans:
High- $20 (6GB)
Ultra- $40 (12GB)

Pros
Easy file access
Daily backups
Instant setup
Ad-free
Multi admin
Dedicated IP
Cons
Dedicated IP not present in every plan
MySQL server absent in pro plans
What is a Minecraft Hosting
Minecraft hosting is just like web hosting in which you subscribe for any of the plans that suit you presented by any of the best host providers. It is a devoted hardware server that offers easy ways to enjoy Minecraft with your friends and family. Virtual Minecraft is another thing. You can customize the game that enables you to play with any of your friends online worldwide.
These host providers charge you for their services per month and, in return, provide you with security, high potential performance, mods and plugins, and other resources to enjoy the game to its fullest. In the modern era, this game has appealed not only to children but also to adults. It is well-known among the public, and everyone yearns to play it.
How to choose a Minicraft Hosting Provider
You must follow some tips to choose the best apex Minecraft hosting provider. Due to the gaining popularity of the game Minecraft, many hosts have made their way into the market. However, it is not an easy task to select any of them without any research. You have to keep some important things in mind as some of them are mentioned below just for you.
It is a hardware-intensive game, and to add mods and plugins to your Minecraft version, and you have to keep some tips in your mind. Therefore, you must go for the host that offers the latest and most speedy server processors.
A good host always satisfies you by installing the setup without any installation fee.
Customer service is the essential part to consider while selecting the host as it is a need of every client using any of the host-providing services.
It would be best if you upgraded OS and the firewall regularly. Use their available utility to do so as there is high traffic if doing live.
FAQ
What is the best modded Minecraft server host?
Following is the list of best-modded Minecraft server hosts:
1. Apex hosting
2. Shockbyte
3. Sparked HostING
4. BisectHosting
5. GG servers
These five best-modded Minecraft server hosts, Ark are ranked as the best out of all. Some features and package designs make them favored by the audience. Otherwise, all the hosts are considered super-mesmerizing as they remarkably assist in the hosting task.
How much RAM do I need for the Minecraft server?
The RAM you need for your Minecraft server's proper and effective working depends on the number of players included in the game. The relation of RAM is inversely proportional to the number of players. If more players are willing to play, you need to have larger RAM, CPU to support all the features and systems. On the other hand, fewer players in the game demand less RAM space.

For example, ten players require about 1GB RAM on the webserver for a small setup to provide a smooth and steady gaming experience. It gives a pleasing impact on the mind of the player. Stick to this point and always ensure this before you subscribe to any plans.
What is the best free Minecraft server host?
There are tons of Minecraft server hosting providers roaming in the market. In addition, some of them offer free plans with limited features. They have also organized the supreme element in their premium and paid methods to uplift its demand further. If you adopt a free program for Minecraft hosting, you have to compromise on some points.

All the server data is stored in paid or premium plans, including a free game with IP address, maps, mods, plugins, etc. There are only options that you can go for in free programs. The server offers a free plan for the customers who cannot afford it or for trial purposes.

If you need a suggestion, it would be beneficial for you to opt for a paid plan. The reason behind this is the features and organizing systems used to make them work better than free plans. Paid plans can up heighten the potential of every feature to work. Moreover, it upgrades the working of different game systems to create an enticing impact on the audience.
Conclusion
To conclude, it is no doubt that Minecraft has reached that level of demand and popularity that everyone is thinking of getting g a host and creating their version of Minecraft to play with friends and family. Playing Minecraft with many players all over the globe can elevate your happiness to the next level and give you the best of your time.
Moreover, it offers a phenomenal level of comfort while playing. This comfort makes you glad and enthusiastic from the core of your heart. It is true to say that a person should do what he wishes for. So, if you ever thought of getting a hosting provider and customizing your Minecraft had come to your mind, select any of the above options and conquer your wishes.
The cheerful feeling and zeal that Minecraft offers are undeniable. It is recommended to choose any of the hosts mentioned earlier that fall in the category of your demand. ENJOY!
Want to Learn More?
Check out some of the most popular gaming server hosting solutions below:

As one of the co-founders of Codeless, I bring to the table expertise in developing WordPress and web applications, as well as a track record of effectively managing hosting and servers. My passion for acquiring knowledge and my enthusiasm for constructing and testing novel technologies drive me to constantly innovate and improve.
Expertise:
Web Development,
Web Design,
Linux System Administration,
SEO
Experience:
15 years of experience in Web Development by developing and designing some of the most popular WordPress Themes like Specular, Tower, and Folie.
Education:
I have a degree in Engineering Physics and MSC in Material Science and Opto Electronics.