In this article, I will cover anonymous and offshore hosting for 2023. If you've been ever stuck in an unfortunate scenario where you're super doubtful that your domain information or web host's IP is being monitored or can be hacked or something similar to that could happen, consider this normal.
In a hurry? Check below the list of the best anonymous hosting providers:
You're not the only one out there who's wondering that something like this could happen, as there are thousands of ways through which a hacker or anyone could find who is hosting your website.
The most probable harm this aspect could cause you are the losing data of your customers that you must keep secure at all cost. So, how could you save your brand for this?
Is there any solution? What is it?
Well, don't worry because today, I'm going to reveal the tactic and strategy that you can leverage to keep your hosting anonymous!
Anonymous hosting is the process of getting your website or digital presence registered under a pseudo-name. Plus, you're not required to give your postal address while registration the domain.
We all know that online payment requires details that are often personal, like your name, address, phone number, and more. And this aspect, too, is covered by the cryptocurrency option present in the anonymous hosting that you're using.
So, whatever the reason is that you're looking for anonymous hosting (starting an anonymous blog), here's what I know about how you can stay anonymous from the nosy individuals out there.
However, before getting started, let me just tell you this that if you're thinking that you'll be safe even when you're surfing the dark web or performing any unusual activity, know that such acts will not be condoned by web hosting providers.
So, with that out of the way – let's get started!
What are the Best Anonymous Hosting Providers?
I'm giving you a list of the best anonymous offshore hosting services providers but make sure that you select the one with the best speed, bandwidth, space, and features.
Also, determining what you actually need from a hosting service provider might just be the key to selecting the best provider for your brand.
That said, here's a list of the 7 best anonymous and off-shore hosting providers in 2021 that you can leverage to keep your data safe while ensuring and optimal performance and experience.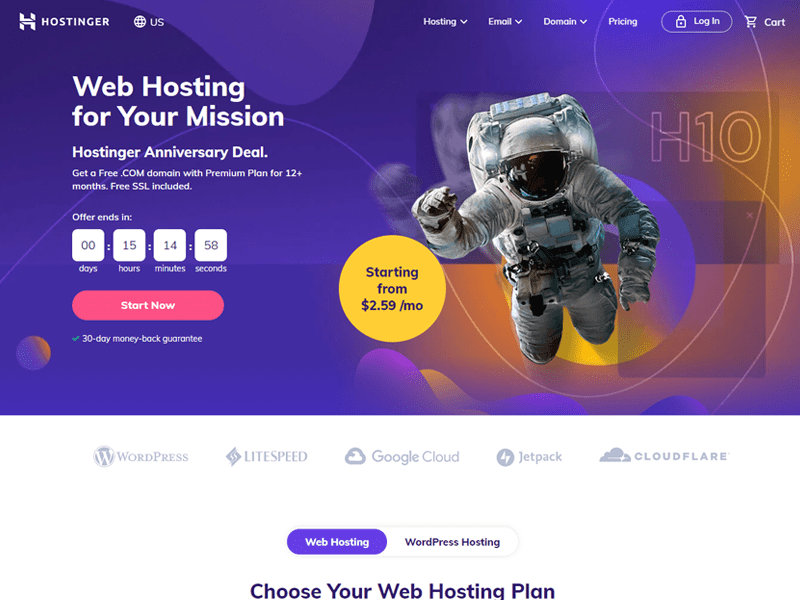 If you're looking for a hosting service that ensures performance and speed that Hostinger is the perfect one for you.
The hosting service providing brand has a record of +99.9 uptime along with cheap and super-fast and anonymous hosting.
However, from the start, I want to tell you that the brand 'Hostinger' doesn't have phone support and they don't have daily backups so, that's the only drawback.
Although Hostinger is the most cost-effective and optimal solution for personal and professional websites, SMEs, and revenue-generating digital businesses, it comes with some other advantages as well.
For starters, Hostinger accepts payment in cryptocurrencies and does not ask for your personal data before or after accepting the payment.
From only six data centers to now being available and operating in four continents, Hostinger surely has come a long way, and it doesn't matter wherever you are in the world; your website will guarantee performance and speed when you're hosting service provider is Hostinger.
Plus, I've already mentioned their uptime so, it is needless to say that your website will never experience low latency or poor performance.
But where are Hostinger's data centers?
Well, they're conveniently located in the USA, Brazil, Netherlands, Singapore, EU, and Indonesia.
Furthermore, they have their own cache manager that allows the fast loading speed of your website. Therefore, the users stay engaged with the speedy experience.
The above-mentioned experience is also known to reduce bounce rates.
Pros
Hostinger has data centers on four continents around the world
The hosting provider offers 99.9% uptime
Hostinger automatically caches site files, therefore increasing loading speeds
There is low latency
Hostinger supports payment in cryptocurrency and does not ask for your data
Cons
Hostinger does not have phone support
There are no automated daily backups
Read More: Hostinger Review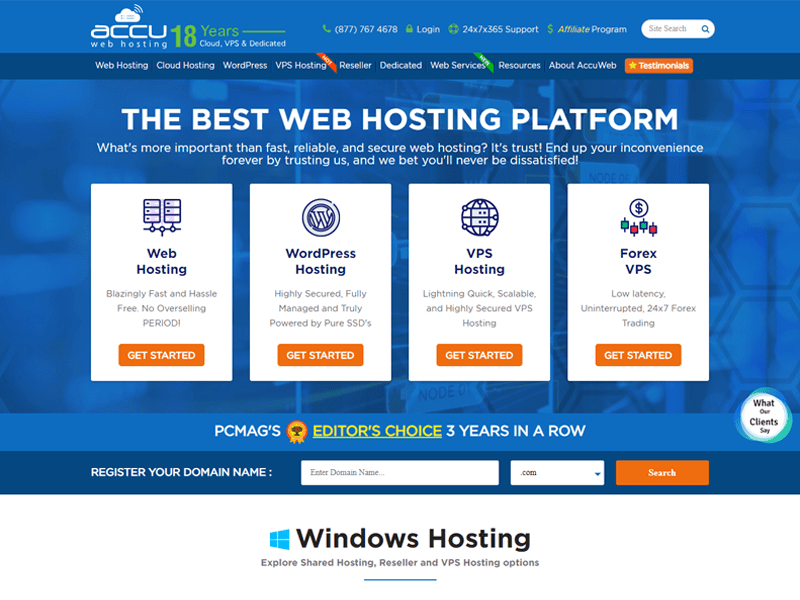 If security is your prime concern, then this hosting ACCU web hosting is the one that you should totally check out.
Unlike other hosting providers on this list, this hosting service provider also has 99.99% uptime, amazing speed, and reliability.
However, the only drawback that I encountered when I was skimming through this service provider was mandatory reviews for free shared hosting plans.
Specifically speaking, if your site is WordPress that this solution may be the best one for you as it fully supports a WordPress site because it is a fully managed WordPress hosting service provider.
With reliability, speed, uptime, and performance ensured, there's no telling how much you could accomplish by leveraging Accu web hosting.
Furthermore, the starting plan that ACCU offers you comes with 60Gb of bandwidth, free domain registration, site migration functionality, and more.
There are literally premium features integrated into the service for you!
Additionally, the security aspects of this hosting provider depend on a robust foundation which includes mitigation, DDos protection, Git, WP-CLI, SSH, and more.
However, when you sign up for their service, they'll ask you for your social media profile, government ID, but after collecting all the information, they'll grant you the authority to skim through the digital world anonymously.
Furthermore, ACCU accepts Bitcoin as the mode of payment hence, minimizing the need to enter any personal information while paying the fees.
ACCU themselves set up IIS Server, ASP.NET frameworks, and Microsoft SQL Server database to provide maximum security to your business.
Other than the aspect mentioned above, this hosting service provider also has 24/7 phone support, security and ensures customer satisfaction by the end of the day.
Lastly, ACCU has also got multiple data centers around the world.
Therefore, it is safe to say that wherever your customers are, it would be extremely easy for them to ensure your site's maximum performance from wherever in the world.
Some countries in which their data centers are located are the UK, USA, Poland, Canada, Germany, India, Australia, Netherlands, and in all of these locations, the hosting service provider is offering robust security.
There's an entire dedicated team that ensures your anonymity and optimal safety while ensuring performance too.
Pros
Accu's lowest payment tier is pretty robust, with features like free domain registration and 60GB bandwidth
The hosting provider offers 99.9% uptime, high security, and fast site-loading speeds
There are data centers in the US, Asia, and Europe
Accu has 24/7 phone support
The provider supports Bitcoin as a form of payment
Cons
The only accepted form of cryptocurrency is Bitcoin
There are mandatory reviews for free shared hosting accounts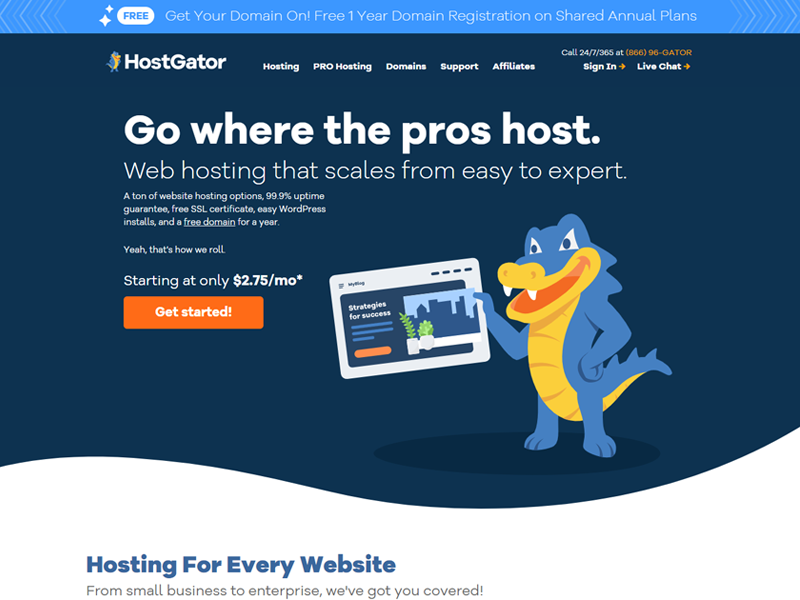 HostGator is perhaps the most popular one on this list, and I have to say that their experience in the hosting providers market and the features that they've added to their plans over the years are amazing.
Well, for starters, it would say that HostGator is also great in terms of storage, unmetered bandwidth, and more. However, there's just this one issue that they're a little costly as they're really tricky, and a foreign intervention can't be done.
Other than that, HostGator is quite popular when it comes to its cost-effective solutions and super-fast hosting speed. The packages also include storage and unmetered bandwidth.
The primary objective of providing your website all of these aspects is to ensure that your site is geared towards delivering a speedy and robust experience to your customers, ensuring optimal success.
Furthermore, since 2012, HostGator has been offering shared hosting.
A VPS (virtual private server), domain names, dedicated servers, cloud hosting, and even entire website builders are today being offered by HostGator.
However, one of the most notable and credible functionalities of HostGator is that it safely creates a cloud backup of your data automatically. Plus, you get 24 hours of support so that you're never alone when working on your hosting.
Additionally, HostGator also charges very affordable renewal charges from your in case you really liked their service, and you're willing for a long-term commitment.
HostGator also supports Python, Ruby on Rails, Perl and uses SSD for hosting storage; hence even your backups are completed pretty fast.
Apart from being recognized as the best hosting service provider out there, HostGator is also known to offer an affordable and anonymous web hosting option called domain privacy.
This domain privacy is where you can add your information within the registrar.
So, let's take a quick rundown on the information that we've just learned!
HostGator has speed, security, VPS hosting scalable resource, and much more that is designed to further improve the user experiences.
Furthermore, if you've selected this hosting service, you've ensured not only ultimate performance but also full control and management.
Additionally, HostGator is home to some of the best plans that are designed to well fit your business's requirements and help it achieve its goals.
Pros
Their lowest tier offers features like a free SSL certificate, unmetered bandwidth, and free domain registration
You are guaranteed 99.9% uptime and fast loading speed
Hostgator automatically creates a daily cloud backup of your site
The provider offers 24/7 customer service
Site migration from another provider is completely free of charge by the Hostgator team
Cons
HostGator does not accept cryptocurrency, checks, bank transfers, and money orders
Their options are a bit more expensive than alternatives like Hostinger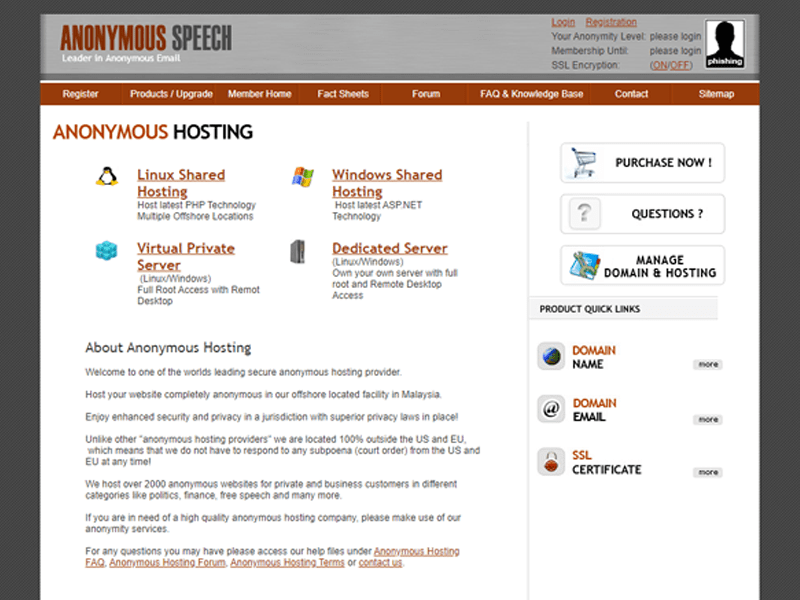 AS the name suggests, anonymity is what this hosting service provider is good at. It is their USPs, to say the least.
So, after all the robust options that I've given you above, why another hosting provider why choose this option for anonymous off-shore hosting?
Well, there are reasons for that!
First of all, Anonymous speech accepts Bitcoins, guarantees an anonymous state, and they've got constantly moving servers that ensure optimal security.
They've got servers outside of the UK and USA. And these servers are in constant motion from country to countries like Malaysia, Japan, Panama, and more.
This approach has rendered them free of any legal dispute, and this is why they've got full authority to prove you the best anonymous hosting service.
Aside from just giving your digital presence anonymity, the hosting service is also capable of allowing you to send anonymous emails and surf the internet in this state as well.
Unlike the feasibility provided by other tools such as Hotmail and Sharpmail, Anonymous speech makes your IP anonymous, applies SSL encryption, and provides you legal protection insurance.
However, Anonymous speech does require your information at one point. They require information whenever an individual is willing to use their service; however, the information is kept safe.
Recently, I've heard the news that they've upgraded their services to meet the ever-evolving needs of their customers.
Plus, the hosting provider has been in the business since 1996 and with over 20,000 emails send on a daily basis today – the platform has made a name for itself.
And even after being the oldest one in the game, this hosting provider has got specific policies and enforces policies to detect and minimize any illegal activity being conducted while using their hosting.
Pros
Anonymous Speech has servers outside the US and Europe to ensure anonymity
The company routinely changes servers to ensure legal anonymity
It offers anonymous email hosting, and you can send up to 20,000 anonymous emails per day
Anonymous Speech supports Bitcoin as a form of payment
The hosting provider automatically keeps your IP address anonymous
Cons
Anonymous Speech requires you to input your personal info, but they promise they never use it
You get no options for servers in the US, UK, or Europe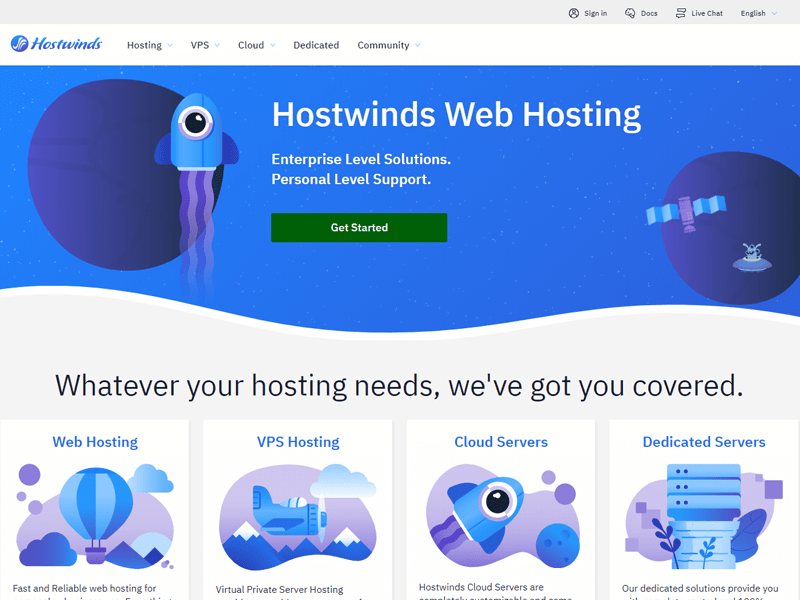 With high uptime, cost-effective pricing, amazing support, and other important features, Hostwinds become your #1 anonymous hosting service provider out there.
Although there are limited dedicated servers and asking for refunds due to poor service can be a little difficult, but after using the service, I was pretty satisfied.
Therefore, I decided to include this platform on this list as well.
Their services are award-winning and satisfying while being affordable as well. You're actually ensuring scalability, performance, and domain privacy while opting for this great hosting provider.
You can also avail of their privacy add-on service for just $5 per year!
However, one thing is for sure that their services guarantee performance in specific domains. For example, the platform is known to provide 99.9% uptime which means your site will never be down no matter what!
Their services can also be considered super reliable as there's a 60-days guarantee intact with almost all their packages. Plus, their packages are competitive.
Moreover, other features of this platform include unlimited bandwidth, control panel, unlimited subdomain, email accounts, site building tools, free IP address, unlimited FTP accounts, and much more.
This list simply doesn't end here as there are several other tools and features that Hostwinds comes with.
The starting price of their services/plans starts at $4.95/mo, and from the initial start, they're offering phone and live chat, robust customer support and assistance, and other important features.
From security to safety to optimal satisfaction, with Hostwinds, you get everything at a fraction of the price that other anonymous hosting providers are offering.
Also, the standout aspect of Hostwinds of focusing on the customer experience more than their pricing makes them even more competitive and a better choice.
Pros
Hostwinds guarantees 99.9% uptime and fast site loading speeds
The provider offers phone and live chat support for easy access
Domain privacy is pretty cheap. It costs $5 per year
All Hostwinds packages come with a 60-day money-back guarantee
You get features like unlimited bandwidth and an unlimited number of business email accounts
Cons
The number of dedicated servers available is limited
Getting a refund is a complicated process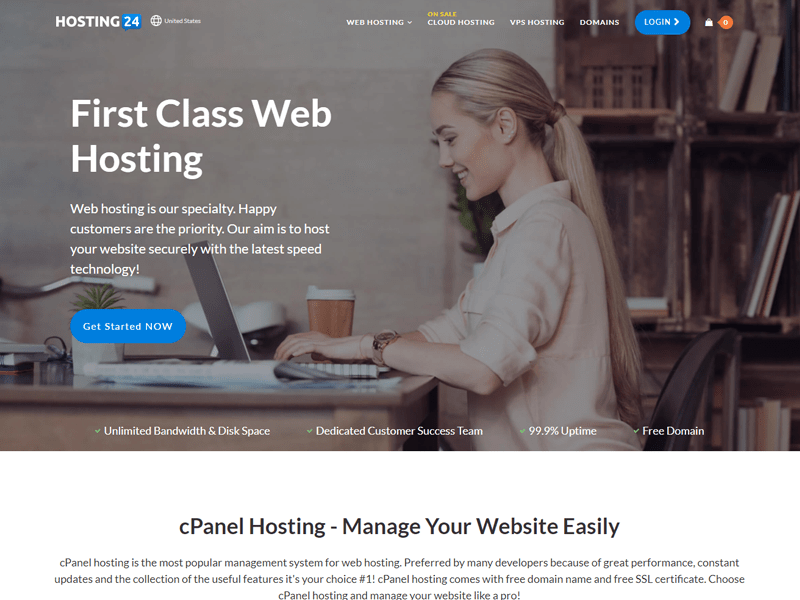 Hosting24 is certainly not as big as Hostinger or HostGator, but that doesn't mean they're not competitive. In fact, Hosting24 is equally trusted and competitive as other anonymous hosting providers on this list are.
They've got 99.9% uptime, free PHP and MYSQL hosting, they're capable of accepting cryptocurrency, and there are several other advantages that just make them a valuable choice when it comes to hosting anonymously.
The only two disadvantages that I found in their service are the limited backup functionality and the lack of phone support. But these two elements are the aspects that can be added in the long run to improve a brand's offerings.
Moreover, while using Hosting24, you can pay cryptocurrency or PayPal account.
This also means that they've already planned a way to enable you to never disclose your identity, i.e., name, address, email, or other aspects, by paying through cryptocurrency.
Moreover, let's talk about the performance of Hosting24!:
There's no downtime, the hosting service comes with amazing features, and the plans are super-affordable. Plus, you get a guarantee on several functionalities and reliable services.
The satisfaction ratio is super-high as there's a whole lot of audience who's using their service, and they're highly satisfied with what they're getting from this hosting service provider.
Furthermore, their plans are what intrigue me the most!
Their hosting services literally start from just $2/mo, the premium hosting plan starts at $3.50/mo, and the business web hosting is available for $3.50/mo.
What are the USPs of the plans? Well, for starters, the premium and the business plan both have unlimited websites, SSD disk, unlimited bandwidth, MYSQL databases, email accounts, FTP users, and much more.
Other than that, they've also got some additional features such as auto daily backups, deluxe live support, 2X processing power, and 4X WordPress optimization speed.
Pros
Hosting24 is very affordable, with plans starting from $2 per month, with no hidden pricing
The provider offers a host of features, including an unlimited number of websites and unlimited SSD storage, even for the cheapest packages
Hosting24 supports cryptocurrency
The provider will never ask for your personal information
It guarantees 99.9% uptime
Cons
Limited backup options
No phone support is available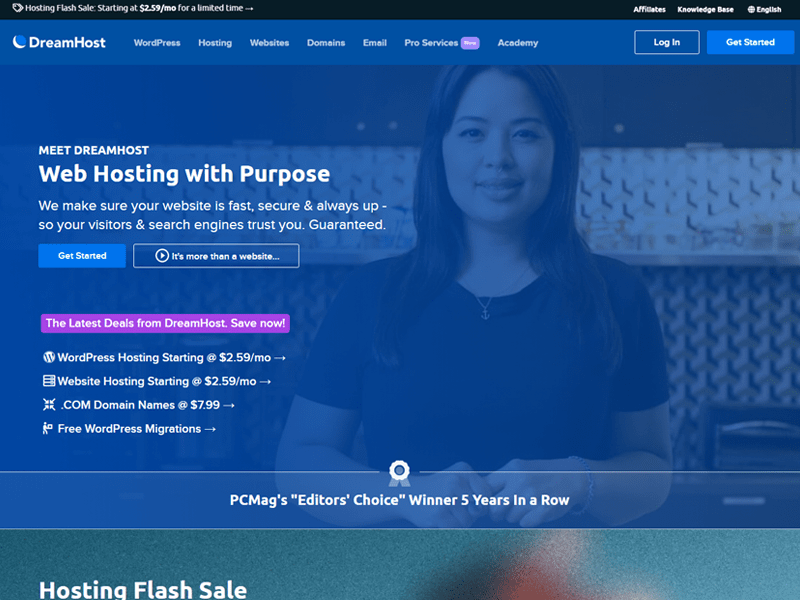 If you're looking for a WordPress hosting provider with an affordable price tag and anonymous hosting features, well meet DreamHost, your one-stop anonymous hosting provider.
Literally, this hosting provider has got amazing performance, it offers unlimited storage + bandwidth, and you get a whopping 97+ days money-back guarantee.
Did I miss the 100% uptime guarantee? Well, that's there too!
Although the live chat support functionality is limited to Pacific Time from 5:30AM to 9:30PM, other than this aspect, nothing else bothers me.
Therefore, it is safe to say that DreamHost is one of the finest options that you can leverage to conceal your information and secure your digital presence.
For starters, they've got two hosting plans, the first one being the $2.95/mo plan, which includes free domain protection, unlimited bandwidth, a limited but huge amount of disk space, and a free domain.
Moreover, with a 100% uptime guarantee which is quite frankly a thing that no other platform on this list is offering, this tool becomes the innovator here.
Although unlike several other hosting providers on this list who have their servers and data centers globally, the servers and data centers of DreamHost are only present in the US.
However, this totally doesn't mean that the hosting service would be poor. Instead, I have to say that their hosting performance is stellar, and how do I know this?
Well, I've taken into consideration the fact that they're providing hosting to nearly 1.5 million websites, and they're super satisfied with what they're getting.
Additionally, the migration plugin that comes with DreamHost also enables you to seamlessly transfer your site to any other platform.
So, in a nutshell, the most popular service of these hosting providers is website hosting, VPS hosting, Managed WordPress solution, Cloud hosting and server hosting.
Other than these components, they've also got several other features embedded within these specific services that enable you to reach the maximum potential of your website, gain control and get a feature-rich platform that you can leverage to manage and maintain your secrecy while surfing the internet.
Pros
DreamHost offers a 100% uptime guarantee
You get to try their packages for a long time because they offer a 97-day money-back guarantee
DreamHost offers free and automated site migration via an inhouse built plugin
Free domain anonymity
Free domain registration
Cons
Data centers are only located in the US
Live chat is only available during certain periods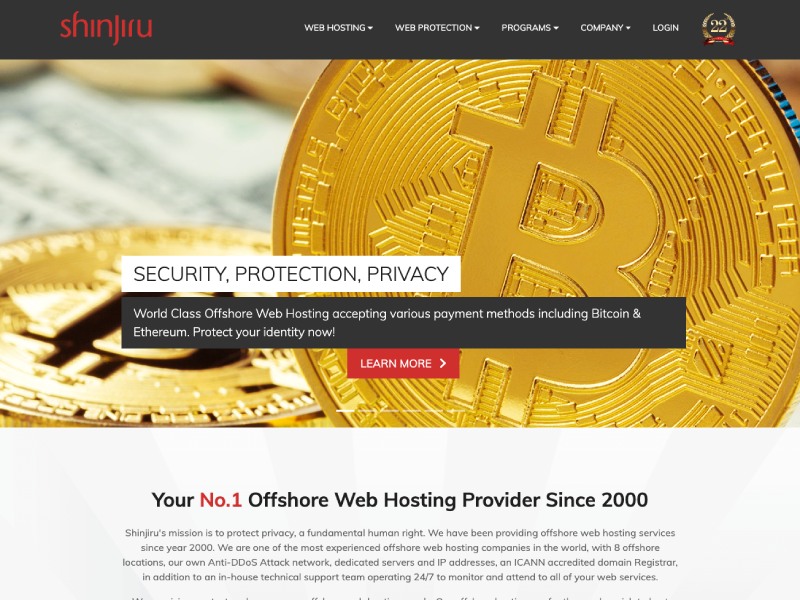 If you are looking for a solid offshore hosting provider, check out Shinjiru. Shinjiru offers offshore hosting via 8 data centers scattered around the world. The hosting options include shared, VPS, and dedicated hosting.
The hosting provider guarantees 99.9% uptime, fast loading speeds, and high-security processes that make your website impenetrable to malicious hackers.
Another reason Shinjiru is the offshore provider to select is the impeccable customer support. All users can reach support agents 24/7 via email ticketing, live chat, and phone support.
Shinjiru offers several payment options, including cryptocurrency – bitcoin and Ethereum. Other options are credit card payment, wire transfer, PayPal, and perfect money.
If you move to Shinjiru from another provider, you get free and automated site migration.
Pros
99.9% uptime guarantee and fast loading speeds
24/7 email, live chat, and phone support
Shinjiru accepts several payment options, including Bitcoin and Ethereum
The provider also offers shared hosting, VPS hosting, and dedicated hosting
8 data centers are available to choose from
Cons
There is no cloud hosting option
Only two cryptocurrencies are allowed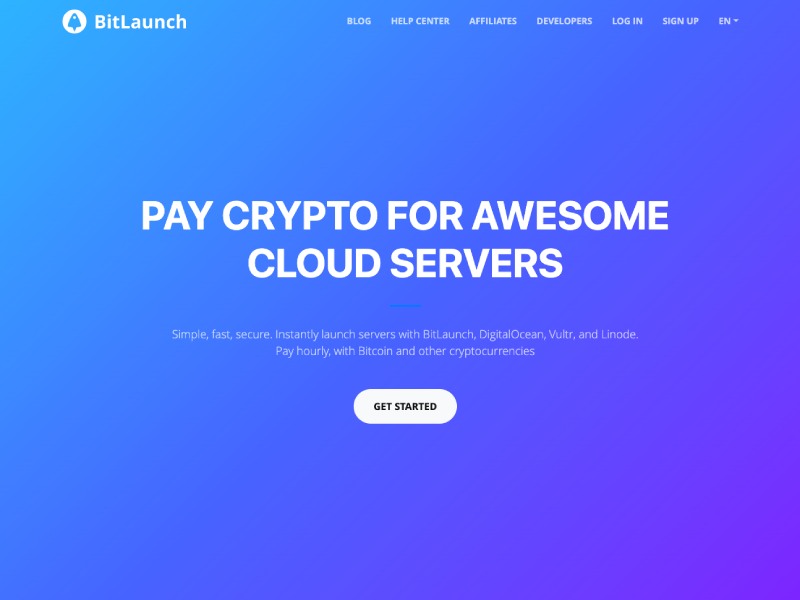 BitLaunch is the perfect anonymous server if you are looking for full support for cryptocurrency payment.
When you sign up with BitLaunch, you get access to Vultr, Linode, BitLaunch, and Digital Ocean servers for as low as $10 per month. Not only that, BitLaunch offers both Linux and Windows RDP servers.
You get access to features like a 99.9% uptime guarantee, a provider with several data centers worldwide, and advanced DDoS protection. You can set up a VPN with one click to protect your IP address from tracking. At no point will BitLaunch ask for your personal info.
BitLaunch collects cryptocurrency payments via Bitcoin and 40+ other coins. They also offer you an hourly pay-as-you-go option. The types of hosting provided are limited to cloud hosting but at a very affordable price.
Pros
BitLaunch accepts Bitcoin and 40 other coins
You get access to important features like high uptime and DDoS site protection
The provider allows users to set up VPNs for privacy and anonymity
You get to choose from both Linux and Windows servers located in many data centers around the world
You can also choose from BitLaunch, Vultr, Linode, and DigitalOcean servers
Cons
Only cloud hosting is available
It's not the cheapest option available
What Is Offshore Hosting?
Think of off-shore web hosting as the practice of hosting a website on servers that are located beyond the country in which you're currently located. Normally, this practice is implemented to gain specific benefits.
In a nutshell, when you select a foreign server to host your website on, you're basically engaging in offshore hosting.
However, as I said, this is done specifically to achieve a particular goal that may be related to privacy, safety, security, freedom, or free speech.
How to keep hosting details anonymous
The best way to keep details anonymous is by using the off-shore hosting providers mentioned above for your digital presence. However, there's another way you can ensure anonymity while surfing online, and that is by not getting a domain.
Instead, I recommend you register with a blogging platform like WordPress or Tumblr who'll give you a sub-domain once you've signed up.
So, why should you be doing this? Well, because you don't have to worry about protecting your IP or email.
Moreover, you can also protect your online presence by using certain VPNs like Tor browser or HideMyAss.
Conclusion
Keeping sensitive domain information from the public is important. You have to make the right choice to ensure you get the anonymity you need and not lose core features.
Start by making a list of hosting features important to your business, and select the anonymous hosting provider that will offer you those benefits.
If you are looking for affordability, check out Hostinger. If you want a host with many features, check out BitLaunch. To select the best option, keep the needs of your business in mind. Good luck.
Anonymous Hosting FAQs
What's the cheapest anonymous web hosting provider?
There are a few different providers that offer anonymous web hosting services, but the cheapest option is typically to go with a shared hosting service like Hostinger. This means that your website will be hosted on a server along with other websites, and your identity will not be revealed to the other users on the server.

However, it is important to note that your website may still be subject to the terms and conditions of the hosting provider, so be sure to read through those carefully before signing up.
Is anonymous hosting reliable?
Anonymous hosting can be a good option for people who want to keep their identity and personal information hidden online. This type of hosting can be useful for people who are concerned about their privacy, or for those who want to avoid being tracked online. It is important to remember that anonymous hosting is not foolproof. While it can provide a certain level of anonymity, it is not impossible for someone to find out your identity if they are determined to do so.
How to anonymously register a domain?
There are a few ways to anonymously register a domain. The most common way is to use a service that provides anonymous domain registration, such as Domains By Proxy. This service provides a layer of anonymity between you and the domain registrar, so your personal information is not attached to the domain.

Another way to register a domain anonymously is to use a public facing registrar, such as GoDaddy, and use a PO Box or other physical mailing address in the WHOIS information. This will prevent your personal information from being attached to the domain, but it is not as secure as using a service like Domains By Proxy. Finally, you can use a service that provides anonymous web hosting. This service will not only register your domain anonymously, but it will also host your website anonymously. This is the most secure way to create an anonymous website.
Want to Learn More?
Check out some of the most popular gaming server hosting solutions below:

As one of the co-founders of Codeless, I bring to the table expertise in developing WordPress and web applications, as well as a track record of effectively managing hosting and servers. My passion for acquiring knowledge and my enthusiasm for constructing and testing novel technologies drive me to constantly innovate and improve.
Expertise:
Web Development,
Web Design,
Linux System Administration,
SEO
Experience:
15 years of experience in Web Development by developing and designing some of the most popular WordPress Themes like Specular, Tower, and Folie.
Education:
I have a degree in Engineering Physics and MSC in Material Science and Opto Electronics.