A good bot is like a personal assistant. It does what you want it to do by giving it specific commands. Discord bots do exactly this, helping you perform multiple functions in a go. For the best performance, these bots need a reliable host. The best discord bot hosting services will ensure these bots are always up to serve their functions.
The popularity of Discord has also seen the rising demand for chatbots on the platform. This article covers some of the best bot hosting services we consider to be perfect for Discord bots. .
What are Discord Bots?
Discord bots are bots that you can utilize for various tasks on your server. You can use these bots for scheduling events, collecting useful information, moderating conversations or content, and delivering notifications. You can even use bots to welcome new members. Some popular Discord bots include Dank Memer, Trello Talk, MEE6, Apollo, and more.
The best Discord bots can significantly improve your productivity. You can also spice up the experience by using bots that add music, games, and other interesting features. These bots are ideal for everyone – from team members who need frequent collaborations to administrators who want to track activities in their servers.
The Best Discord Bot Hosting Providers (Cheap)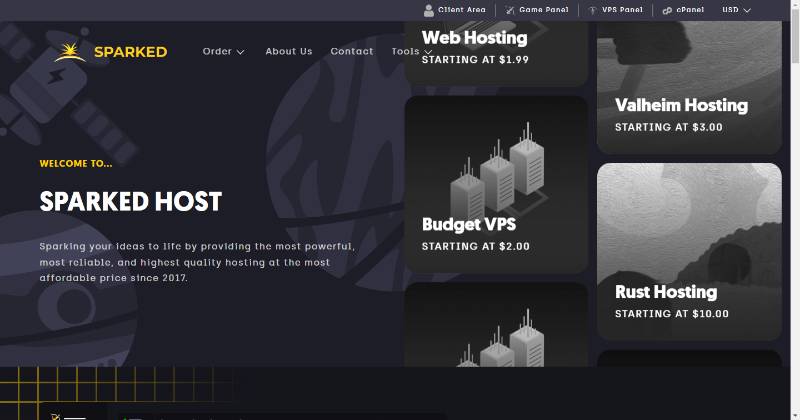 Sparked Host is a cheap Discord hosting service, with their basic plan going for $1.00 per month. The company has a track record of keeping projects online 24/7. This guarantees you minimum downtimes if you use the service.
Sparked Host also makes it easy for non-programmers to quickly set up their bots through their pre-installed Discord bots – by using the custom panels.
The company has experience hosting Python, Node.Js, and Java applications. They also have a Bot Management Add-on, a service that allows Sparked Host to check for errors, correct your code, and much more.
The high performance of Sparked Host is possible because of their amazing features like efficient hardware, DDoS protection, free MySQL database, 99.99% uptime guarantee, and more. You also get Git support and a 48-hour money-back guarantee.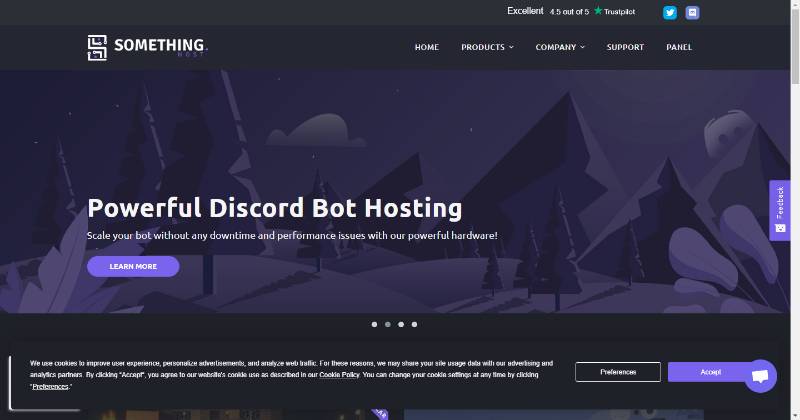 Something host is known to provide reliable bot hosting. The company accommodates a variety of programming languages, making it possible to host a wide range of bots. In addition, Something Host installs a free SSL certificate for their customers.
The company also makes it easy for users to scale up their plans. This allows you to quickly get the resources that you need for your bot. Control all aspects of the platform through the easy-to-use cPanel. For example, it is easy to control your bot's RAM and CPU usage.
Something Host also makes it possible for you to host custom web servers in your bot. These servers can be accessed with a custom domain.
Something Discord bot hosting plans start from 1.49 EUROs per month.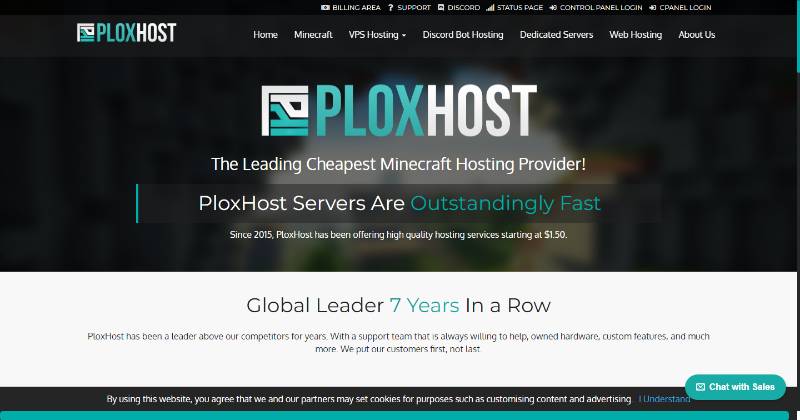 PloxHost comes packed with high-end features that guarantee an enjoyable user experience. The host uses the Pterodactyl Panel, an open source control panel for game servers. Get quickly started through the pre-installed bots on the platform.
Some useful resources like Cloud Linux, SSD Caching, 100% uptime, and RAID hardware leave no doubt that you will get the best bot performance. You also get Github tools, FTP access, and unlimited control of your server.
PloxHost supports Python, JavaScript, Java, and more. Your security is guaranteed through their DDoS protection and PCI compliance. In addition, you get fast and reliable support if anything goes wrong.
PloxHost plans start from $1.25 per month.
This host has all the features you need for a smooth Discord bot hosting experience. It is also easy to operate through their custom-built panel.
The system at Gameserver Kings detects the type and scale of resources your server needs to run properly. All you have to do is upload your bot and leave everything else to them. The team at GameServer Kings continually monitors the server infrastructure and the bot to ensure optimum performance at all times.
Every server offered by Gameserver Kings has a minimum of 64 GB of RAM, multiple SSDs, and a quad-core CPU with minimum clock speed of 3.6GHz. Some useful Add-ons you get from this hosting service include Dyanamodb, MongoDB, Redis, and MySQL.
The monthly subscription at Gameserver Kings starts at $2.99 per month.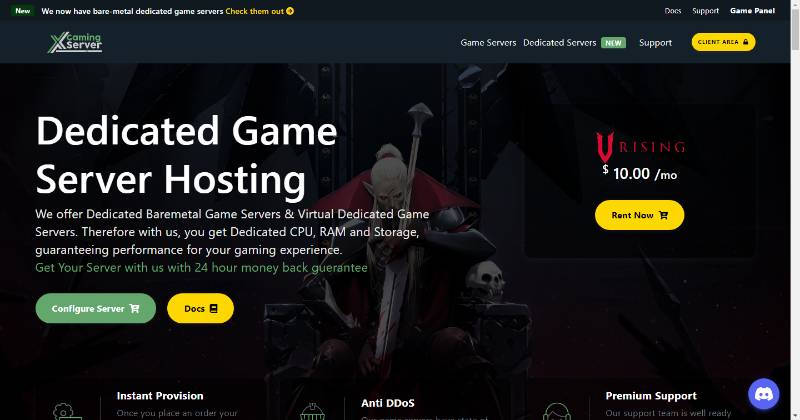 Although not as popular as other hosts in the list, its extensive features make XGaming Server a reliable Discord bot hosting service. The company allows you to try their services for free before committing through their free trial.
Use the comprehensive panel to manage your bots. XGaming Server also secures your data from deletion – by conducting automatic backups and storing data in Amazon S3 cloud storage. The company also has one of the most powerful DDoS protection.
Your bot will be hosted on their 250 Mbps network interface, which is enough for any game. You also get AMD Ryzen and Intel i7 6700k/7700k hardware for faster performance.
The cheapest plan at XGaming Server is the Discord Bot Hosting Novice which goes for $2.58 per month.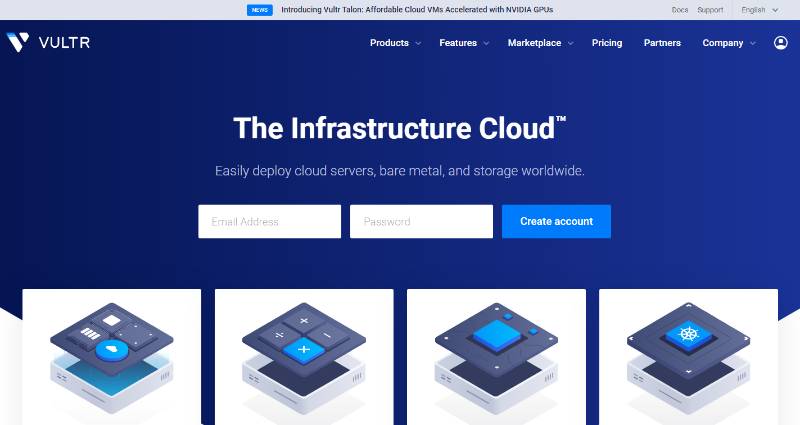 Vultr is a big brand in the technology industry. One of their products for hosting services is Vutr Compute, and this is where you can host your Discord bots.
You are guaranteed high-performance courtesy of the server resources. These resources include high-performance Intel CPUs, 100% SSD drives, and 17 server locations across four continents. They also have pre-installation applications like Docker, GitLab, cPanel, WordPress, Drupal, and others.
Their operating system combination includes Ubuntu, FreeBSD, Windows, CentOS, and others.
The flexible payment plans allow you to only pay for the resources your Discord bot needs. The cheapest plan goes for $6 per month or $0.009 per hour.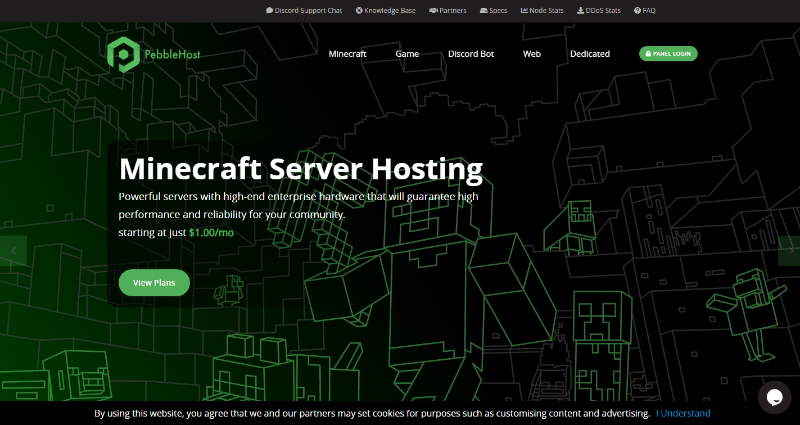 PebbleHost supports many languages and frameworks, including Node.Js, Java, Discord.py, Discord.Js, Python, and JDA. You also get prompt Discord support.
To get you started quickly, PebbleHost has one-click bot installs. Features include a package manager that allows you to scale up and down based on your needs. You also get 3 free MySQL databases. Daily automatic updates prevent data losses.
PebbleHost uses powerful Xeon processors, unmetered enterprise SSDs, 250 Mbps uplink, and DDR4 ECC memory. These resources guarantee optimum performance and minimum lags.
You can access detailed statistics and a dashboard that gives you important information about the bot. For example, you can access information about the server resources consumed.
The Discord bot hosting plans start from $3.00 per month.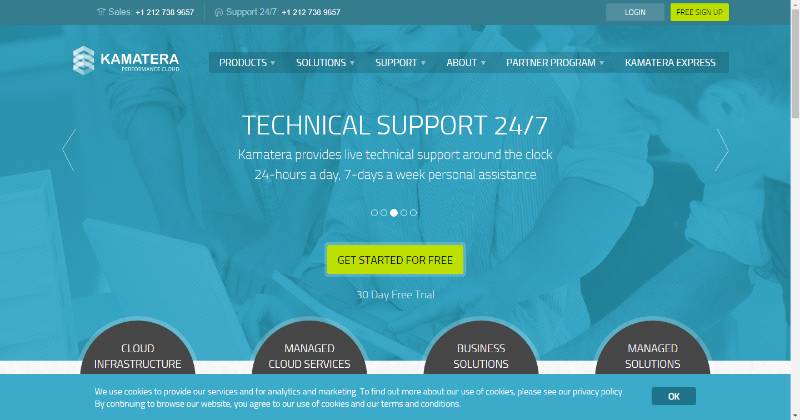 Kamatera allows you to easily and quickly create servers and deploy bots. The company has some of the best hardware for optimum performance. This hardware, among other resources, makes it possible for Kamatera to guarantee their customers over 99.95% uptime.
The platform has a convenient panel for easy management and monitoring of your bots. The company also gives you support for CRMs, WordPress hosting, IoT servers, and VoIP servers.
You can choose your preferred server based on its type, SSD storage, RAM, OS, data center, add-ons, bandwidth, billing cycle, and CPU. The company has 13 data centers in four continents.
You can pay hourly or monthly. Plans start from $4.00 per month or $0.005 per hour.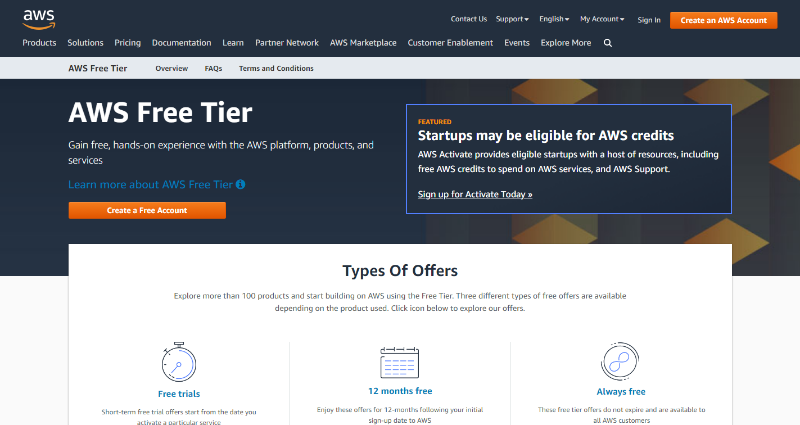 Amazon web services have customized hosting services that anyone can afford. Although the first year is free, the payment plans after that are flexible enough to let you only pay for what you need.
Amazon's cloud processors are the fastest with 400 Gbps of Ethernet networking. In addition, they are the only cloud service provider that supports macOS, 24 regions across the world, and 77 server availability zones.
Amazon EC2 is designed to make scaling easy for users. It is also easy to measure server capacity.
AWS supports 89 conformance certifications and security standards, and some of them include FedRAMP, FIPS-140-2, NIST800-171, GDPR, Effect, and PCI-DSS.
Amazon Web Services does not have fixed pricing plans.
What to Look for in a Good Bot Host
A good bot host will ensure you get maximum performance from your bots. This is only possible if the host has all the essential resources and features to achieve high levels of performance. You should consider the following factors when looking for a good Discord bot host:
Security: The host should be able to protect your servers from malicious files or viruses. A good host provides DDoS protection, enables SSL, secure file transfer, and firewalls.
Dedicated Resources: A reliable host gives access to exclusive server resources for RAM, disk space, CPU, and more. High server availability minimizes downtimes and lags.
Flexible Pricing: Flexible pricing means only paying for the resources you need. In addition, the billing cycles should be flexible enough to accommodate all types of clients.
Scalability: A good host provides room to scale up or down depending on your needs. You can customize your server for your preferred RAM, storage, CPU, etc.
Customer Support: Look for hosts that have a reliable customer support team that can be reached 24/7.
Conclusion
A good Discord bot host service will guarantee a smooth user experience. You don't want your team members or users on your platform to experience delays when interacting with the Discord bots. Choose a reliable hosting service based on your specific needs.
Want to Learn More?
Check out some of the most popular gaming server hosting solutions below:

As one of the co-founders of Codeless, I bring to the table expertise in developing WordPress and web applications, as well as a track record of effectively managing hosting and servers. My passion for acquiring knowledge and my enthusiasm for constructing and testing novel technologies drive me to constantly innovate and improve.
Expertise:
Web Development,
Web Design,
Linux System Administration,
SEO
Experience:
15 years of experience in Web Development by developing and designing some of the most popular WordPress Themes like Specular, Tower, and Folie.
Education:
I have a degree in Engineering Physics and MSC in Material Science and Opto Electronics.