Cloud Server Hosting for Small Business is a service that has been seeing an increasing demand recently. Now, many webmasters have started to use cloud-based hosting as these services offer competitive prices, security, and high uptime.
Additionally, cloud platforms make it exceptionally easy to scale to more powerful hardware depending on needs. Seeing this growing interest, I thought to list and compare five of the best platforms for the Cloud that are perfect for an SMB.
The Top 5 Best Cloud Server Hosting for Small Business

60% off Cloud Hosting
Free Domain and Website Migration
24/7 Customer Support
Cloud Hosting for Maximized Performance
Starting at $9.99/month + 3 Months Free
7% OFF Exclusive Coupon: CODELESS
See Pros & Cons
Pros
Highly affordable with 60% off discount
Advanced WordPress tools for optimized performance
Enhanced security features
Impressive suite of tools for website building and management
Cons
Renewal prices might be higher
Hostinger has emerged as a premier choice in the cloud server hosting landscape, especially for small businesses. Offering up to 60% discount on its cloud hosting plans, Hostinger aims to deliver maximized performance while being incredibly budget-friendly.
Their Cloud Startup plan begins at just $9.99 per month, and includes features such as daily backups, free email, unlimited SSL, unlimited bandwidth, and a dedicated IP address. This plan supports up to 300 websites with 200 GB NVMe storage, and provides 3 GB RAM and 2 CPU cores, making it ideal for business and eCommerce websites.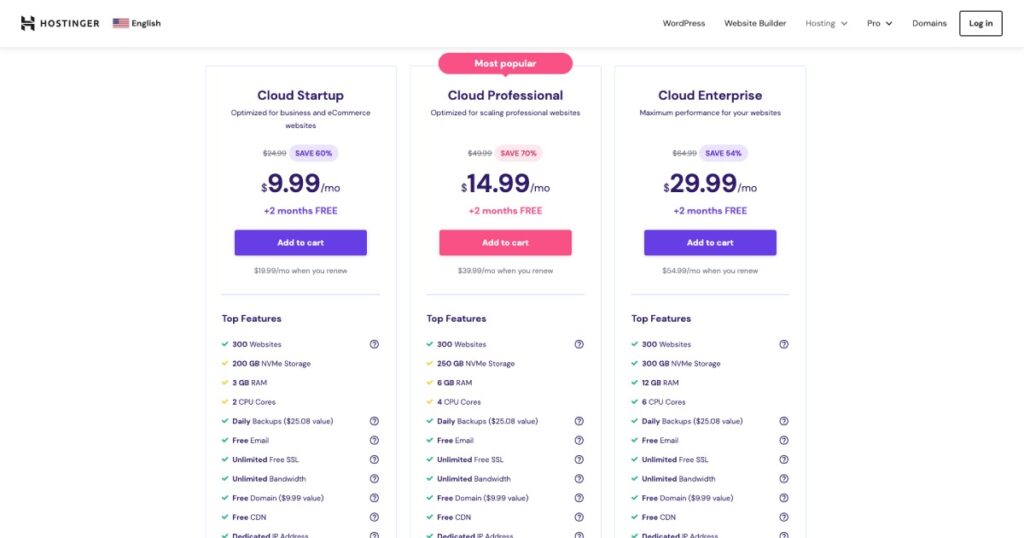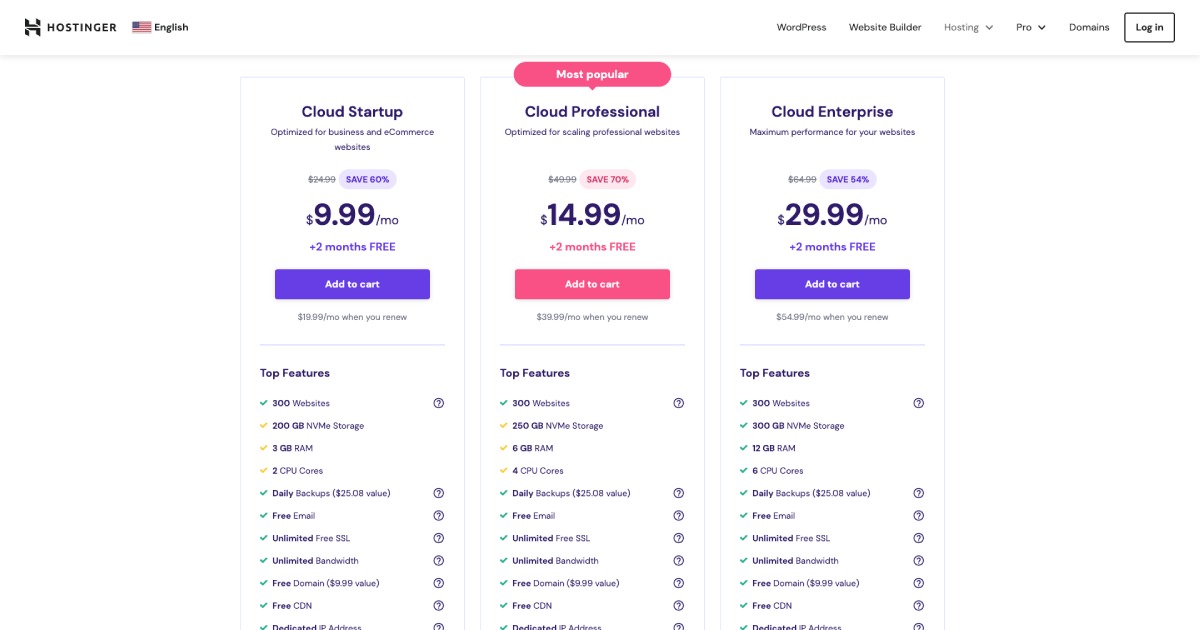 What sets Hostinger apart is its suite of advanced tools for WordPress including WordPress acceleration, AI tools, auto-updates, vulnerability scanner, and a staging tool.
Their unique no-code website builder, AI website creation tool, and 200+ designer-crafted templates offer small businesses an easy way to create and manage their website.
In terms of security, Hostinger is top-notch, offering enhanced DDoS protection, web application firewall, Cloudflare protected nameservers, and a malware scanner, providing a safe environment for your website. Also, they guarantee a 99.9% uptime and have a 24/7 customer support available, ensuring your website is always up and running and help is just a call away.
Hostinger provides a perfect environment for growth with scalable solutions that offer 4x more speed due to high-speed CPUs and ample RAM.
With data centers available in various locations worldwide, including the USA, United Kingdom, France, India, Singapore, Brazil, Lithuania, and the Netherlands, you can choose the one that best serves your audience for optimized performance.
Considering their competitive pricing, an impressive suite of features, and commitment to high performance and security, Hostinger continues to be a favored choice for small businesses seeking a robust and efficient cloud hosting solution.

Linux-based virtual machines (Droplets)
Wide range of CPU options and storage configurations
Ability to resize Droplets as needs change
Robust documentation and community tutorials
See Pros & Cons
Pros
User-friendly interface and comprehensive documentation
Scalable and high-performance Droplets
Excellent value for money
Flexible pricing and configurations
Cons
No phone support
No beginner friendly
DigitalOcean provides a high-performance, cloud-based hosting environment that's optimized for small businesses and developers. They offer flexible and efficient Linux-based virtual machines called Droplets, which function as standalone servers or as part of a larger cloud-based infrastructure.
Their server response time is highly dependable, ensuring a smooth and efficient browsing experience for your users. DigitalOcean's robust infrastructure also provides a reliable platform for hosting complex, resource-intensive applications.
DigitalOcean offers seamless scaling options for your applications, which means you can increase or decrease your resources depending on your current needs. This level of flexibility is highly beneficial for businesses with variable workloads.
When it comes to pricing, DigitalOcean offers a wide range of plans, starting at $4.00 per month. This makes their services accessible for businesses of all sizes, delivering excellent value for money.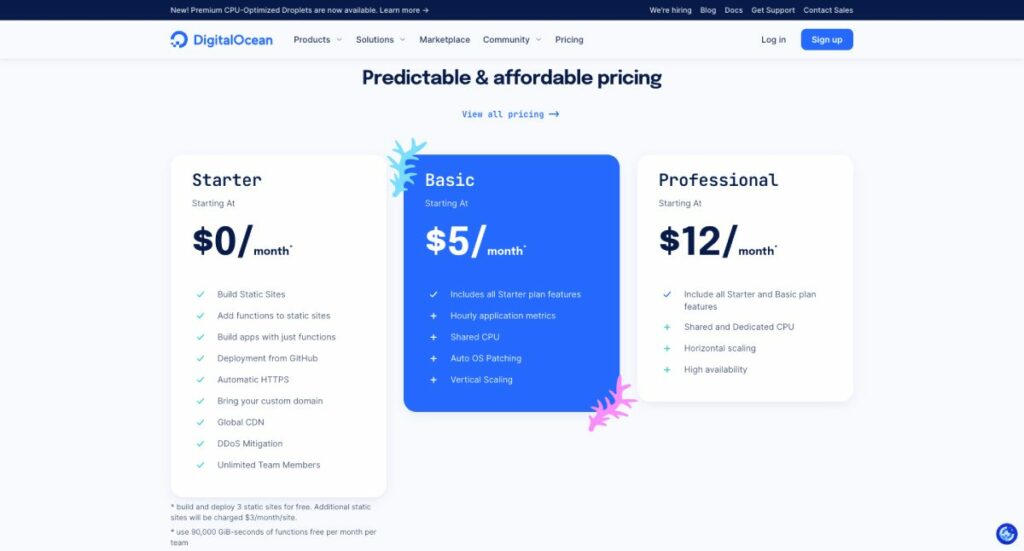 These plans come with a variety of features, including different CPU options, memory and storage configurations, and the flexibility to resize Droplets as your needs change. Furthermore, DigitalOcean's comprehensive documentation and community tutorials offer valuable guidance on maximizing the use of these features.
For users looking for more advanced performance, DigitalOcean offers CPU-Optimized Droplets that provide dedicated hyper-threads from best-in-class Intel and AMD processors to your Droplets. These are particularly beneficial for CPU-intensive applications like CI/CD, video encoding, machine learning, ad serving, batch processing, and active front-end web servers.
With a high reputation for reliability, scalability, and performance, coupled with flexible pricing options and a wealth of features, DigitalOcean continues to be an excellent choice for businesses and developers seeking a robust cloud server hosting solution.

Fast cloud-based hosting
Free domain included
Free SSL certificate
Easy website management
See Pros & Cons
Pros
Fast and reliable cloud-based hosting
Automated failover for increased reliability
Data mirroring for data safety
Integrated caching for optimal speed
Cons
Higher renewal rates
Additional features can add up
HostGator's cloud hosting platform is designed to offer high-speed performance, minimal downtime, and an easy-to-use dashboard. If you're looking for hosting that can offer more speed and reliability, HostGator's cloud hosting might be the perfect choice for you. With their cloud hosting, you'll enjoy faster website load times, reduced downtime, and an intuitive dashboard for managing your site.
The cloud hosting plans come with a range of features. The Hatchling Cloud plan, starting at $4.95 per month, offers 2GB memory and 2 core CPU, perfect for small businesses or personal websites. The Baby Cloud and Business Cloud plans offer more resources, including 4GB and 6GB memory respectively, and more CPU cores. These plans are suitable for websites with higher traffic.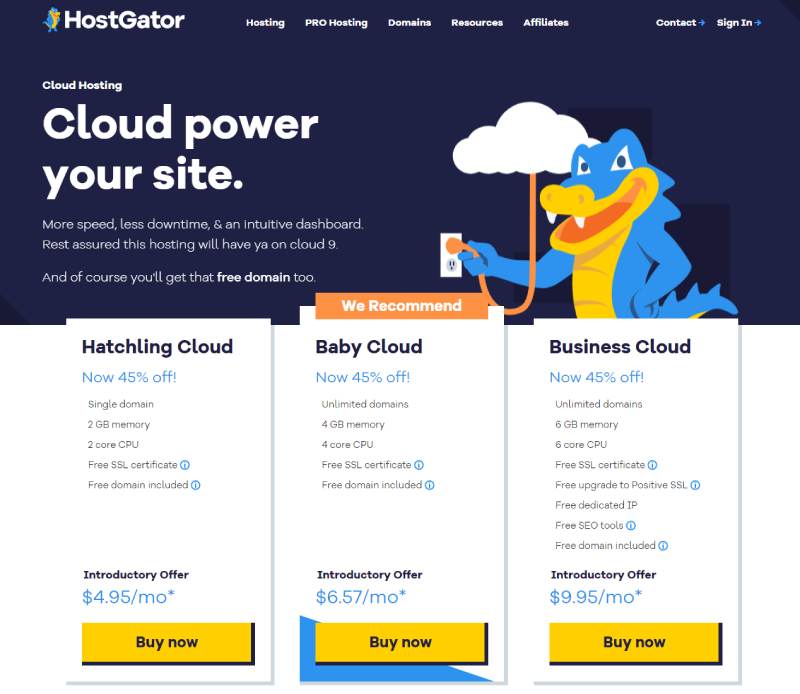 All HostGator's cloud hosting plans come with a free SSL certificate and a free domain, making it easy and cost-effective to set up your website. The Business Cloud plan also offers a free dedicated IP and free SEO tools, offering additional value.
HostGator also prioritizes website performance. With integrated caching, an optimal configuration is ensured for fast page loading. The resource management feature allows you to easily scale your resources in response to traffic spikes, ensuring your website remains fast and responsive at all times.
The automated failover and data mirroring features enhance the reliability of your site. If a hardware issue arises, your site is automatically switched to another server. The data mirroring feature creates three copies of your data for added redundancy and safety.
Overall, HostGator's cloud hosting offers fast, reliable, and scalable hosting solutions, making it an excellent choice for businesses of all sizes.

Fast, scalable cloud servers
30-day free trial
24/7 support
Customizable server configurations
See Pros & Cons
Pros
Scalable servers for growing businesses
Easy-to-use management console
Excellent 24/7 support
Global data centers for worldwide reach
Cons
Requires some technical knowledge
Additional costs for extra storage and traffic
Kamatera is a leading provider of scalable cloud servers, offering high-performance servers that you can instantly deploy. Their services are ideal for businesses that need a flexible and scalable hosting solution. With Kamatera, you can scale up or out your server at any time to match your specific needs, providing you with the flexibility to grow your business.
One of the significant advantages of Kamatera is their simple management console and API, which offers greater control and flexibility over software installation and configuration. Plus, their 24/7 support means you'll always have assistance when you need it.
The pricing model of Kamatera is straightforward and flexible, allowing you to pay a flat monthly fee or per usage. You can cancel at any time if you're not completely satisfied, providing peace of mind and flexibility. Furthermore, you can try their service free for 30 days to determine if it's the right fit for your needs.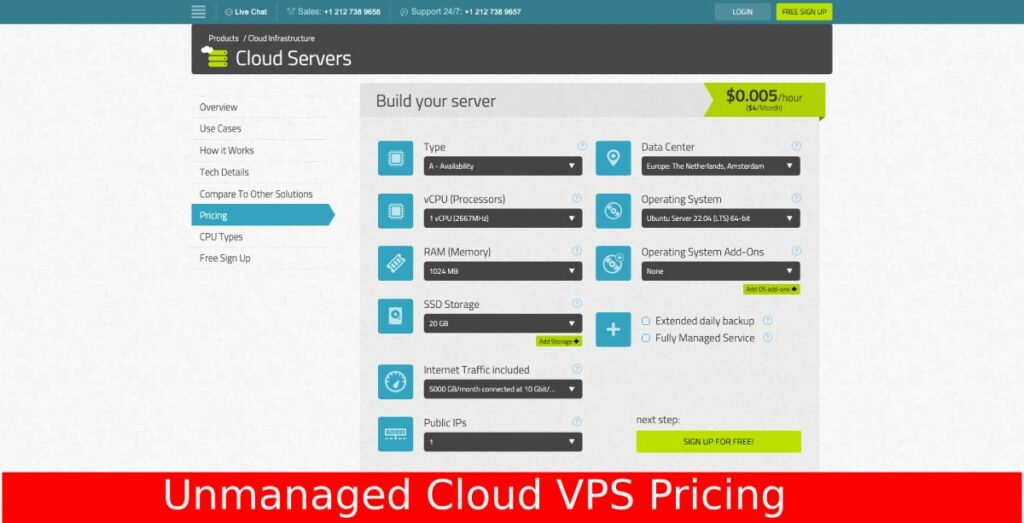 Kamatera offers global business solutions with data centers located across America, Europe, Asia, and the Middle East. This means you can launch your service from any location around the world, providing your business with a global reach.
With Kamatera, you can select the server configuration that suits your needs and have it deployed in 60 seconds. Whether you need additional storage, extended daily backup, or a fully managed service, Kamatera can cater to your specific requirements.
With their commitment to providing fast, scalable, and reliable cloud servers, along with round-the-clock support, Kamatera is an excellent choice for SMB looking for high-performance hosting solutions.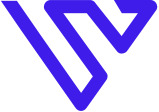 Cloud web hosting solutions
24/7 expert support
45-day money back guarantee
Free migrations and SSL certificates
See Pros & Cons
Pros
Fast cloud hosting
Excellent customer support
Generous 45-day money back guarantee
Free domain, SSL certificates and migrations
Cons
Higher tier plans can get expensive
Limited SSD disk space on lower plans
Verpex is a superior managed cloud web hosting solution relied upon by businesses and individuals around the world. They offer robust hosting packages that are scalable and suitable for any user, whether you're a startup, an established business, or a blogger. With Verpex, you can grow your site at your own pace without any limitations.
One of the primary advantages of Verpex is their 24/7 expert support, always ready to provide assistance when you need it. They also offer a generous 45-day money-back guarantee, showing their confidence in the quality of their services.
Verpex offers a comprehensive range of Managed Cloud cPanel Servers to suit a variety of needs. Whether you require a compact server for personal use or a robust server for your agency, we provide fully managed solutions with dedicated resources. Equipped with all the necessary tools, our managed cloud servers are designed to help your business achieve success.
Take note, if you choose our 12-month plan, you could enjoy substantial savings of up to $837!
Managed Server – D4: Our D4 server is an excellent first step up from a shared cloud environment, offering sufficient power for most websites. For the discounted rate of $39.50 per month (50% off the original price of $79.00), you'll get a multitude of features including 4GB Dedicated RAM, 80GB Dedicated SSD Disk Space, 2 Dedicated Xeon vCPUs, unlimited traffic, cPanel/WHM, backups, SSL certificates, the capacity for unlimited websites, an app installer, and round-the-clock support. The plan renews at the regular rate of $79.00 per month.
Managed Server – D8: The D8 server, our recommended option, provides substantial resources for hosting either a large number of websites or a few high-traffic e-commerce sites. At 50% off the regular price, you'll pay only $59.50 per month for a package that includes 8GB Dedicated RAM, 140GB Dedicated SSD Disk Space, 4 Dedicated Xeon vCPUs, and all the other features listed above. The plan renews at the regular rate of $119.00 per month.
Managed Server – D16: The D16 server is our most popular hosting plan, offering greater capacity for complex websites or agencies. At a discounted rate of $94.50 per month (50% off the original price of $189.00), you receive 16GB Dedicated RAM, 300GB Dedicated SSD Disk Space, 6 Dedicated Xeon vCPUs, and all the standard features included in our managed cloud servers. The plan renews at the standard rate of $189.00 per month.
With Verpex, you get quality and value in our pricing structure, ensuring your cloud server needs are met without breaking the bank.
Verpex cloud hosting packages are designed to deliver faster sites. A faster website means customers are more likely to stay on your site, leading to more purchases and gaining subscribers. Verpex's worldwide network of servers means you can deliver a quicker website no matter where your customers are located.
If you require even more power, Verpex also offers dedicated WordPress hosting for larger or very busy sites. This provides enhanced security, performance, and flexibility.
Verpex's commitment to providing high-quality cloud hosting solutions, backed by robust customer support, make them an excellent choice.
FAQs
What is cloud server hosting for small businesses?
Cloud server hosting for small businesses involves providing web hosting services from virtual servers pulling their computing resources from extensive underlying networks of physical web servers. These services are specifically designed to accommodate the needs and budget constraints of small businesses.
How does cloud server hosting benefit small businesses?
Cloud server hosting offers numerous benefits to small businesses. These include cost-effectiveness, scalability, high uptime, robust security, and the ability to easily upgrade or downgrade services according to business needs.

What should a small business look for in a cloud server host?
Small businesses should consider factors such as price, customer support, security measures, scalability, and the availability of add-ons and features when choosing a cloud server host. Reviews and reputations are also important considerations.
Can I migrate my existing website to a cloud server host?
Yes, most cloud server hosts offer migration services which allow you to easily move your existing website onto their platform. It's important to verify this with the host, as some may charge an additional fee for this service.
Is cloud server hosting more expensive than traditional hosting?
Not necessarily. While pricing structures are different, the scalability and flexibility of cloud hosting can often make it a more cost-effective solution for small businesses. You generally only pay for the resources you use, which can keep costs lower than traditional hosting where you pay a fixed amount regardless of usage.
What happens if my business outgrows the capacity of my current cloud server host plan?
One of the advantages of cloud server hosting is its scalability. If you find that your current plan no longer accommodates your needs, you can typically upgrade your plan to access more resources. It's best to discuss these scenarios with your provider to understand how they handle scalability.
Can I host multiple websites on a cloud server hosting plan?
Yes, many cloud server hosting plans allow for multiple websites to be hosted on a single plan. However, the specific number can vary by plan and provider, so you should verify this detail when choosing a plan.
Conclusion
I hope that I have provided the answer you were looking for through this article. There are other major cloud hosting platforms on the market like Google Cloud or AWS, but here I have brought forward the platforms that best suit a small business.
If you have any questions or suggestions, please feel free to write them down in the comments below.

Ludjon, who co-founded Codeless, possesses a deep passion for technology and the web. With over a decade of experience in constructing websites and developing widely-used WordPress themes, Ludjon has established himself as an accomplished expert in the field.