Welcome to our comprehensive "Fozzy Hosting Review". A digital landscape bursting with web hosting options can be daunting. Fozzy, a lesser-known but influential contender, deserves your attention.
This article offers an insightful look at Fozzy's features, performance, and pricing, with a human touch. We've done the deep dive, so you don't have to. Sit back and get the real scoop on Fozzy's web hosting service.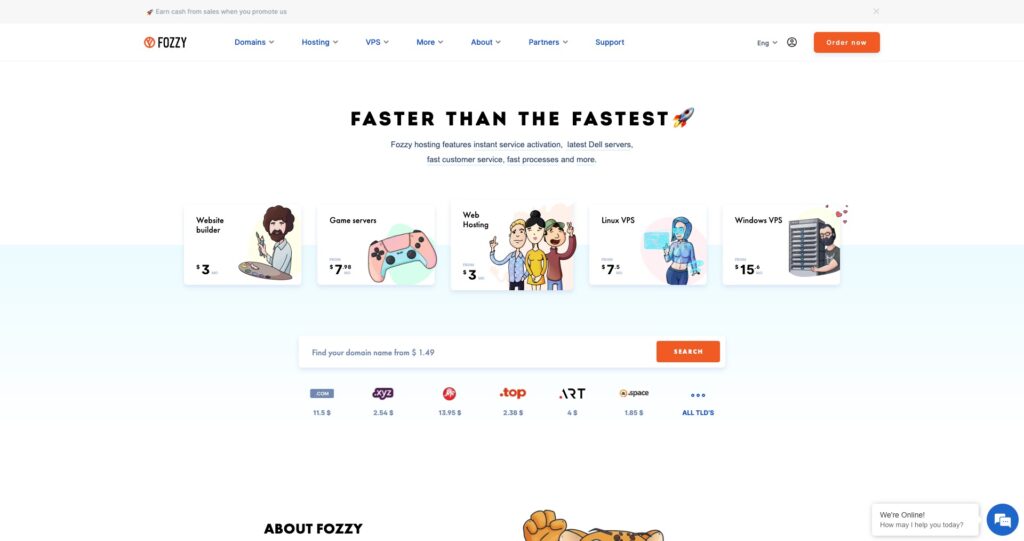 Fozzy Hosting Services
Employing advanced technology and potent hardware, Fozzy delivers super-fast and remarkably stable web hosting services. Their suite of solutions is broad, catering to a variety of website needs. Let's delve into what Fozzy has on offer:
B. Shared Hosting
The shared hosting package from Fozzy comes with an array of features like LiteSpeed servers, Automatic Vulnerability fix, unlimited subdomains, and emails. Moreover, daily backups, spam protection, and SSL and 7 day free trial to test it before decide to use.
Fozzy also offers a unique perk to its Netherlands-based customers, a free dedicated IPv6 address, a rarity in the hosting sphere.
Pricing plans of shared hosting start at $3/month but keep in mind that these plan let you host only one static so if you want to host a WordPress site for example that need a database you have to choose Fast Website plan which cost $4.97/month but let you host only one 1 site.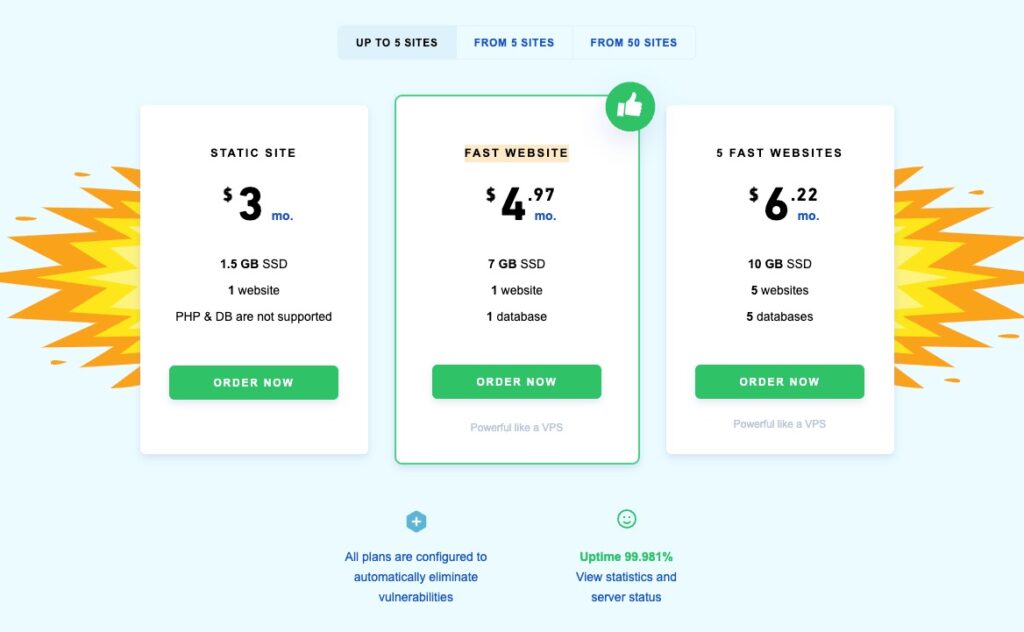 If you are searching for a plan that can let you host 5 website there is another plan that cost $6.22/month.
VPS Hosting
Fozzy's VPS solutions are impressive, offering both managed and unmanaged options. They offer the standard Linux and Windows VPS hosting, but their Forex VPS stands out, offering less than a millisecond connection time to leading Forex firms, thanks to their server locations.
Plus, managing Forex servers is a breeze, with control panels accessible from desktops or mobile devices.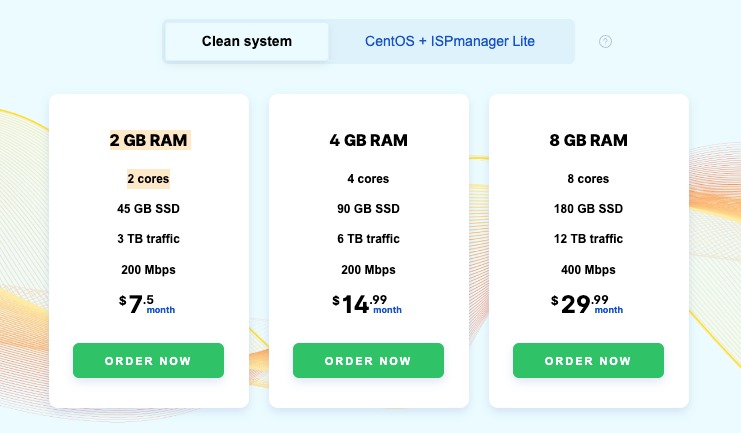 They have different plan about VPS hosting. You can choose from the unmanaged servers that starts from $7.5/month and the managed ISP Managed and CentOS one that cost $11.4/month.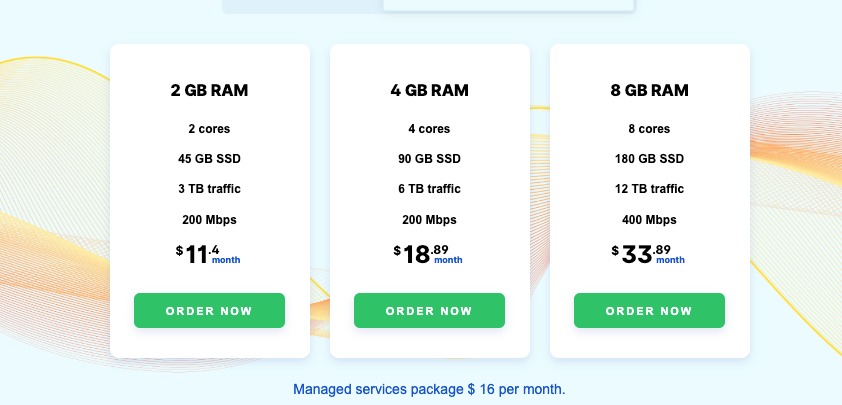 Dedicated Servers
For those requiring maximum control and performance, Fozzy's dedicated servers are an excellent choice. Their servers, such as the Dell PowerEdge R220, are built with high-quality hardware to ensure optimal performance.
For a monthly fee of $105, you get a robust machine equipped with 32 GB RAM and 2 x 1 TB SATA storage. Powered by a quad-core processor that supports eight threads, this server provides the processing power necessary for demanding tasks.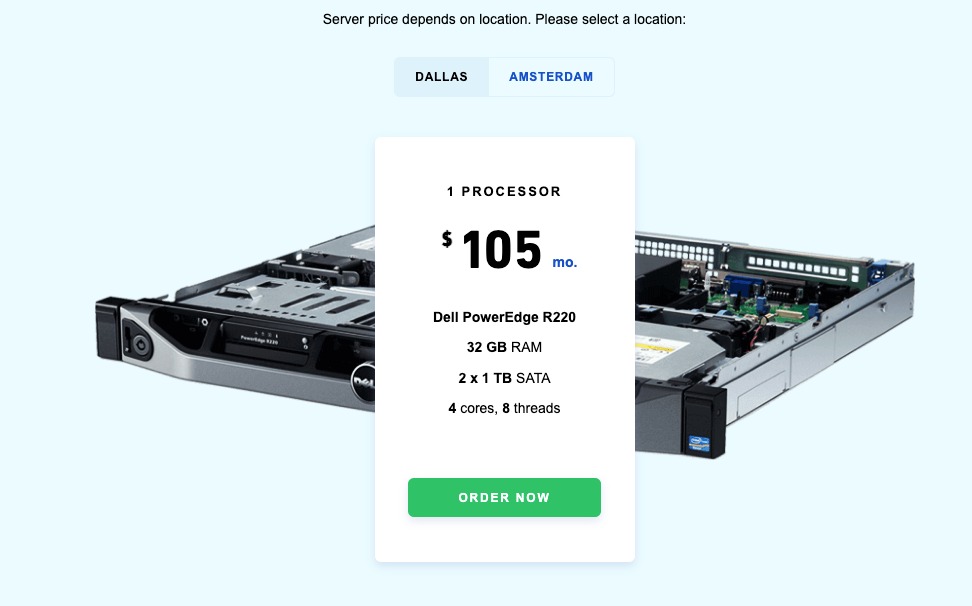 With Fozzy's dedicated servers, you get the full package: strong performance, abundant storage, and extensive control over your server environment, all at a competitive price point. This makes them a compelling choice for businesses with high-performance needs or individuals running resource-intensive applications.
Read More: 9 Best Cheap Dedicated Servers for 2023 (Compared)
In the next part of our Fozzy review, we will delve into Fozzy's gaming servers, examining their capacity to deliver seamless, uninterrupted gaming experiences. Stay tuned!
Gaming Servers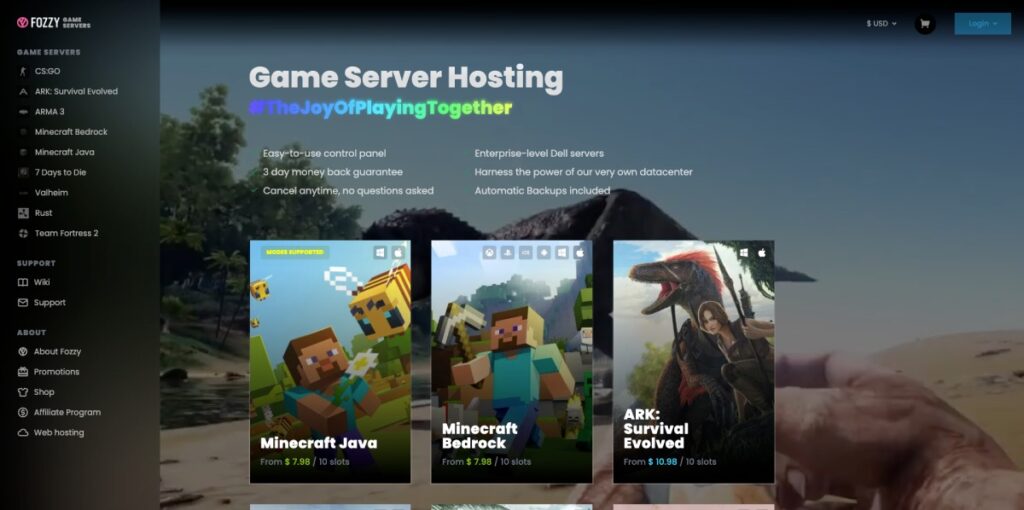 The online gaming community demands robust, lag-free servers for an immersive, uninterrupted experience. In response, Fozzy has a selection of game-specific servers tailored to meet these needs.
CS:GO: If you're a Counter-Strike: Global Offensive enthusiast, Fozzy's dedicated servers for CS:GO ensure fast, stable gameplay.
ARK: Survival Evolved: For the survivalists immersed in the ARK universe, Fozzy provides servers fine-tuned for seamless dinosaur-taming adventures.
ARMA 3: For the tactical shooter fans, Fozzy's ARMA 3 servers are designed to support the game's demanding, realistic combat scenarios.
Minecraft: Fozzy offers dedicated servers for both Minecraft Bedrock and Java editions. They cater to the wildly creative Minecraft community, ensuring smooth, latency-free builds and explorations.
7 Days to Die: For those who love the thrill of surviving in a post-apocalyptic world, Fozzy's 7 Days to Die servers provide the backbone for your zombie survival needs.
Valheim: With the rise of this Viking-inspired survival game, Fozzy's Valheim servers provide a solid foundation for your pillaging adventures.
Rust: Fozzy's Rust servers are a boon for players who relish surviving in this harsh multiplayer universe, supporting smooth and lag-free gameplay.
Team Fortress 2: For the loyal fans of this team-based first-person shooter, Fozzy's servers offer the perfect playground for your strategic battles.
In conclusion, no matter the game, Fozzy has you covered with reliable, high-performance servers to enhance your gaming experience.
Read More: 10 Best Valheim Server Hosting for Rent (2023)
As our Fozzy review progresses, we'll look into other aspects of their offerings and how they fare in terms of user experience, pricing, and customer support. Stay with us!
Reseller Hosting
If you're in the business of selling web hosting services or managing multiple websites, Fozzy's reseller hosting packages could be of interest. They offer four plans, providing ample options for varying needs and budgets.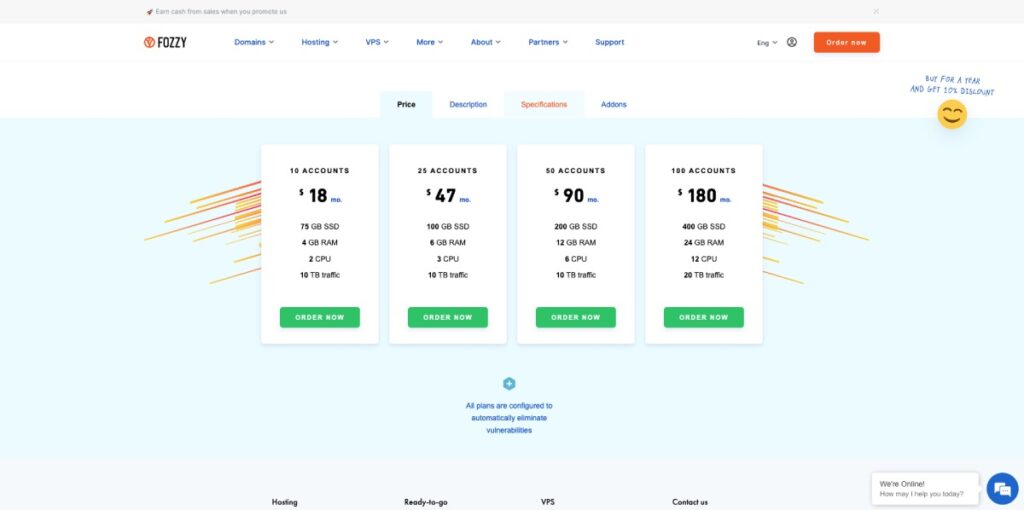 A. 10 Accounts Plan
For budding resellers, the 10 Accounts Plan is an affordable starting point at $18 per month. This package comes with 75 GB SSD storage, 4 GB RAM, 2 CPUs, and a whopping 10 TB of traffic. It's a suitable choice for those just beginning their reseller journey.
B. 25 Accounts Plan
Next up is the 25 Accounts Plan, priced at $47 per month. This package ups the ante with 100 GB SSD storage, 6 GB RAM, and 3 CPUs. Like the 10 Accounts Plan, you also get a generous 10 TB of traffic. It's an excellent option for growing resellers who need a bit more power and storage.
C. 50 Accounts Plan
For larger reselling operations, the 50 Accounts Plan is available for $90 per month. This plan comes with 200 GB SSD storage, 12 GB RAM, and 6 CPUs, and it also offers 10 TB of traffic. It's a robust plan designed for more established resellers.
D. 100 Accounts Plan
At the top of the heap is the 100 Accounts Plan, coming in at $180 per month. This heavyweight plan boasts 400 GB SSD storage, 24 GB RAM, and 12 CPUs. In terms of traffic, it offers a staggering 20 TB. It's the ultimate choice for resellers running large-scale operations.
In summary, Fozzy's reseller hosting plans are designed with scalability in mind. Whether you're just getting your feet wet or running a substantial reselling operation, there's a plan for you.
Despite the lack of a readily advertised uptime guarantee, Fozzy lives up to its reliability claims, with an average uptime of 99.94% in our tests.
In our Fozzy review, we've explored the diversity of their hosting services. Next up, we'll put their performance to the test, so stay tuned.
Performance Evaluation
Performance is a crucial aspect when choosing a web hosting provider. In this part of our Fozzy review, we will examine Fozzy's server uptime, speed, and the effect of server locations on performance.
A. Analysis of Server Uptime and Reliability
Uptime, the measure of server availability, is a vital factor in maintaining a reliable online presence. A service that's often down can severely impact your website's reputation and visitor satisfaction.
Fozzy server uptime during our recent monitoring seems to be 99.981% for the last 90 days. Their servers is also used for gaming which need to have a very stable uptime.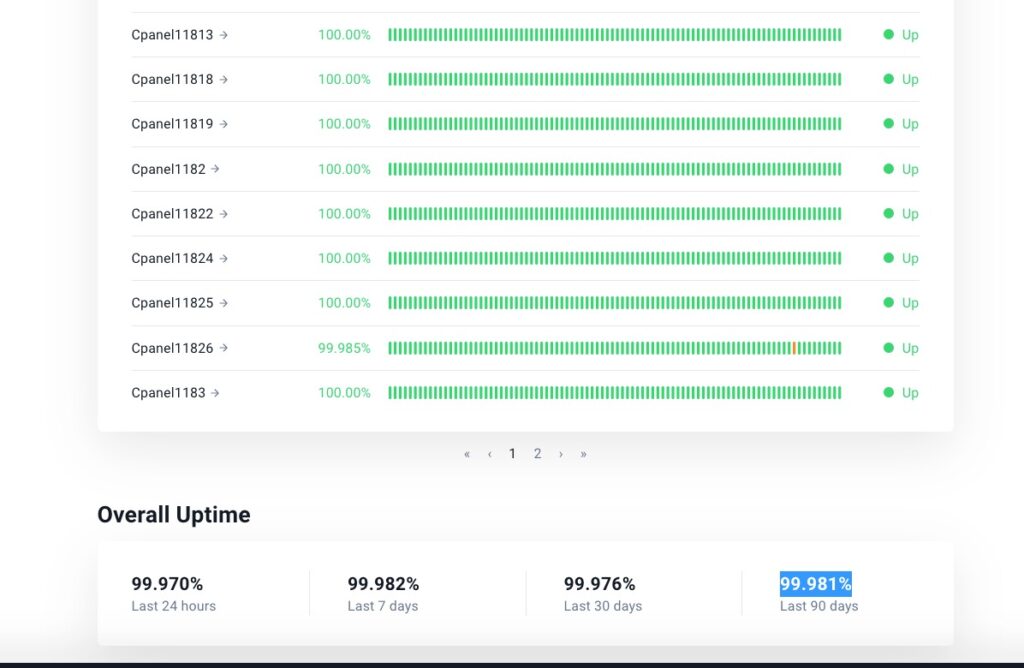 B. Speed Test Results
Speed is a key determinant of a user's experience on your website. A fast-loading site not only enhances user experience but also positively affects SEO rankings. Therefore, it's essential to assess Fozzy's server response times.
We conducted several speed tests to evaluate the performance of Fozzy's servers. Our results were good with a server response time of 140ms which is short and make it a fast web hosting.

C. Review of Server Locations and Their Impact on Performance
The proximity of a server to your website's target audience can significantly influence your site's speed. The closer the server, the faster the load time. Hence, the geographic locations of Fozzy's data centers are an essential aspect of our review.
Fozzy's servers are located in Amsterdam, Dallas, Singapore, Bettembourg, London
Stay tuned as we continue our in-depth review of Fozzy's services in the following sections, where we will delve into the user experience, pricing, and customer support.
Pros and Cons of Fozzy
Drawing on customer reviews from Trustpilot, we have gathered the key advantages and disadvantages of using Fozzy as a web hosting provider. User feedback is a valuable source of information when assessing a provider's quality and reliability.
Pros:
Excellent Customer Service: Fozzy is frequently praised for its customer service, with users noting the quick and helpful responses to queries and issues.
Robust Performance: Many users have cited the high performance and reliability of Fozzy's servers, contributing to seamless online operations.
Wide Range of Services: Fozzy's extensive array of services, from shared hosting to dedicated servers, has been well received, catering to diverse needs.
Ease of Use: The platform's user-friendliness has been commended, with users noting the straightforward set-up process and management interface.
Value for Money: Several users have pointed out that Fozzy offers good value for its services, balancing cost and performance effectively.
Cons:
Limited Advanced Features: Some users have reported a lack of advanced features, which could limit the platform's versatility for more experienced users or complex sites.
Lack of Phone Support: Some customers have expressed a desire for phone support, which currently isn't offered.
Billing Discrepancies: A few users have experienced confusion or difficulties with billing, such as unexpected charges or issues with plan changes.
As we continue our Fozzy review, we'll look into the user experience, customer support, and pricing to provide an even more comprehensive view of their services. Stay with us!
Conclusion
As we wrap up our in-depth Fozzy review, it's evident that Fozzy is a strong contender in the web hosting arena. They offer a diverse range of hosting services, from shared to dedicated servers, and even specific gaming servers. This breadth of services allows them to cater to various business needs, from small personal websites to large-scale corporate operations.
Their customer service has received high praise, offering quick and helpful responses. They also provide robust performance, backed by an impressive uptime record. The user-friendly platform, coupled with a cost-effective pricing structure, adds to Fozzy's appeal.
In conclusion, Fozzy provides a comprehensive, reliable, and user-friendly web hosting service that caters to a wide range of requirements. While they do have room for improvement, the positives seem to outweigh the negatives, making Fozzy a worthwhile consideration for anyone in need of a hosting solution. As always, potential users should consider their specific needs and circumstances before making a decision.

Ludjon, who co-founded Codeless, possesses a deep passion for technology and the web. With over a decade of experience in constructing websites and developing widely-used WordPress themes, Ludjon has established himself as an accomplished expert in the field.