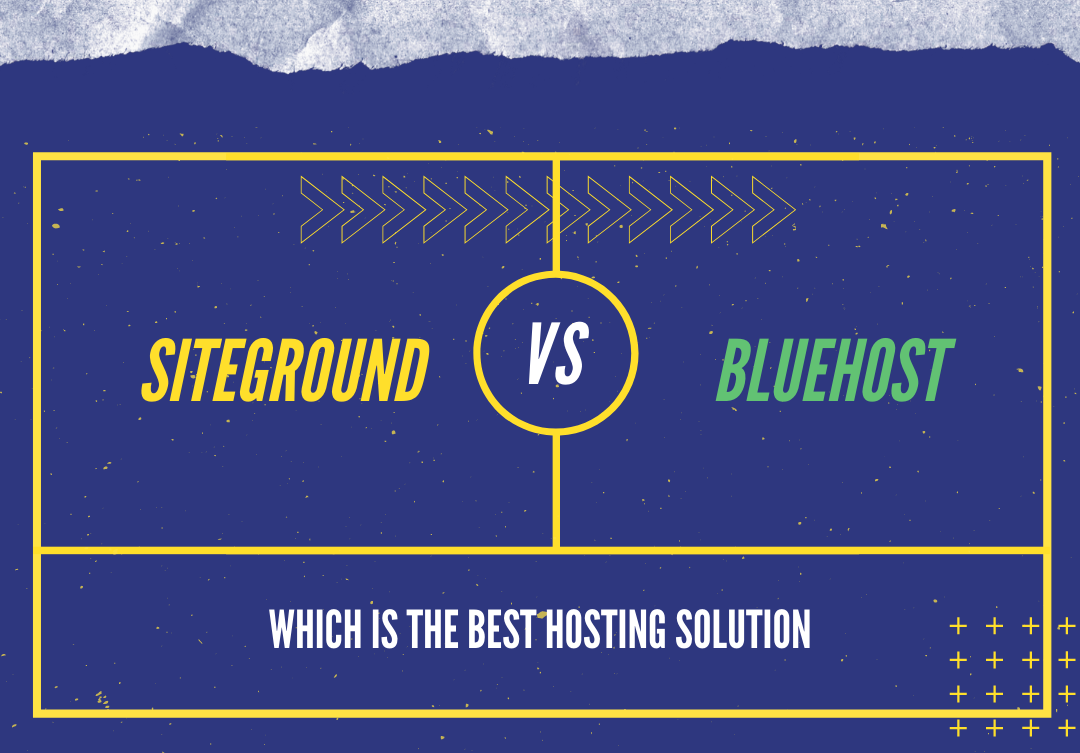 In this post, we are going to look into two established hosting businesses SiteGround vs Bluehost. We are familiar with SiteGround hosting. Also, it gives a good benchmark to compare with other hosting companies.
SiteGround has built its reputation well. Currently, it hosts over a million website domains throughout the world.
We have gathered all the features from functionality to pricing in order to test the performance of both hosting services. By the end of this post, you will have enough knowledge about both companies to decide which one suits you best.
Siteground vs Bluehost: Features Overview
Here is a general comparison to know which one can give you the best support and best performance.
| | | |
| --- | --- | --- |
| | Bluehost | SiteGround |
| Prices | Medium-low | Medium-high |
| Support | OK | Good |
| Security | Secure | Secure |
| Scalability | Good | Good |
| Site migration | Paid extra | Paid extra |
| Server locations | 1 | 6 |
| Uptime | Good | Great |
| Speed | Disappointing | Great |
| Hosting features | Some | A lot |
| Ease of use | Good | Great |
| Popularity | High | Medium |
| Domains | Unlimited | Unlimited |
| Bandwidth | Unmetered | Unlimited |
| Websites | Unlimited | Unlimited |
The above chart shows that Siteground outstrips Bluehost in most of the areas except for the storage space.
It is not very usual since the price of storage space is negligible for most of hosting companies. It may, therefore, be because of the optimization options provided by SiteGround for fast speed as well.
Obviously, one can prefer the extended functionality offered by SiteGround over unlimited storage space. SiteGround also offers free transfers of websites for the onboarding services.

Bluehost charges for the migration fee, this is an awful lot indeed. The most basic of sites cost over $100 for migration.

Siteground Features
Easy site staging
Includes PHP 7.2 and HTTP/2 with modern technologies
Easy Cloudflare for faster load time and CDN integration
Website storage is 10-30 GB as per the chosen plan
Unlimited site hosting for the paid plans but only one website hosting on basic or start-up plan.
A Cache system is in-built that helps fast loading of the website
SSL certificate is integrated through Let's Encrypt. Thus the HTTP makes the sites more secure.
 Automatic updates for WordPress.
A standard cPanel dashboard helps accessing all the features in SiteGround.

Bluehost Features
It supports PHP 7.0 with modern technology unlike SiteGround which uses PHP 7.2
WordPress staging sites is easy for testing
SSL certificate is free through Encrypt like SiteGround
Automatic updates for WordPress
Unlimited hosting for all plans except for the basic plan where it hosts only one site.
Custom dashboard for hosting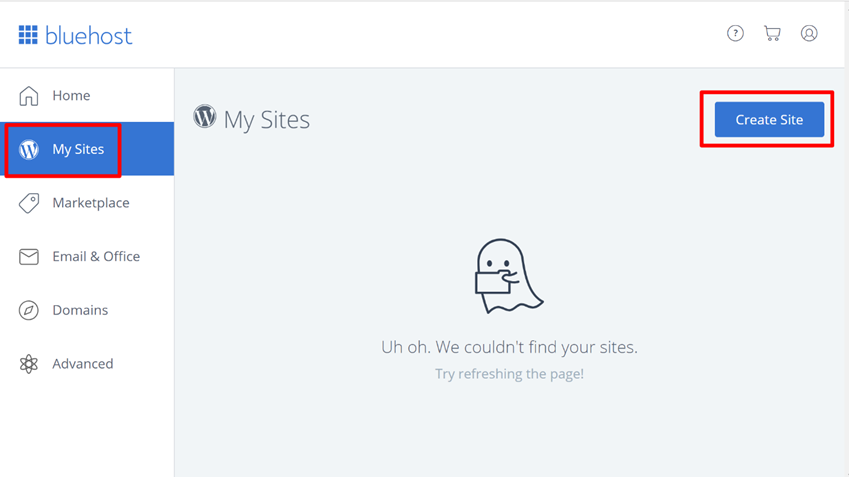 Price Comparison
First of all, look at their price plan charts individually.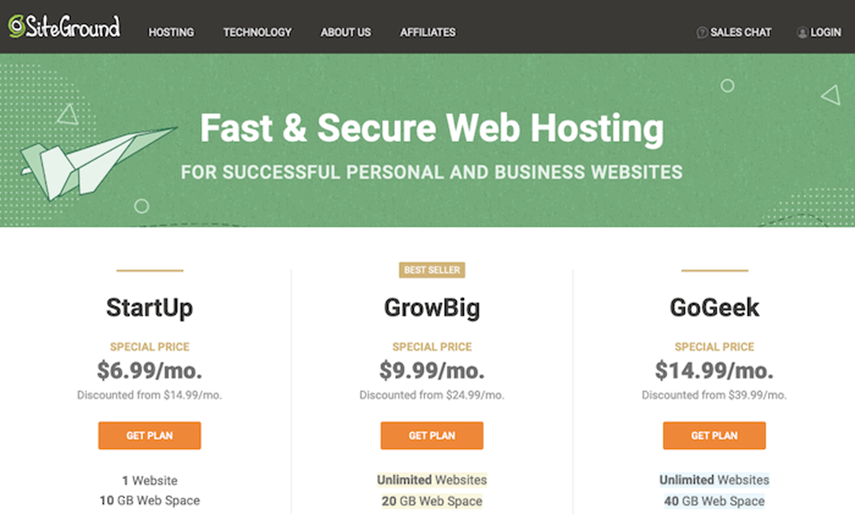 SiteGround prices are a bit higher but the performance and services they offer are worth the plan. These prices are only for the first year.
Prices of Bluehost hosting are shown below. The promotional prices can be seen in the table.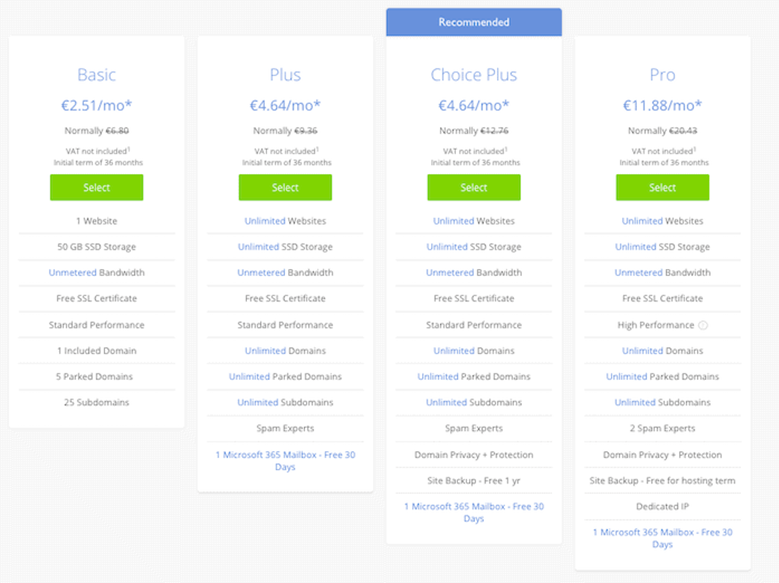 | | | |
| --- | --- | --- |
| | Bluehost | SiteGround |
| Entry Level plan | $8.99/month | $14.99/month |
| Middle plan | $16.99/month | $24.99/month |
| Highest plan | $/25.99month | $39.99/month |
| Cloud hosting | N/A | $80/month |
| Dedicated server | $119/month | N/A |
Who's better? In terms of pricing, Bluehost turns out to be cheaper than SiteGround. The monthly prices are compared to get an idea of the first billing cycle.
The lowest cost plan of SiteGround costs $3.95/month and after the initial term it increases to $11.95 after the expiration of the initial trial.
The GrowBig plan offers unlimited websites at the cost of $5.95/m in the initial term and afterward increases to $19/95. Both SiteGround and Bluehost offer a money-back guarantee after 30 days of use.
But for SiteGround it applies for the shared hosting on the web. BlueHost does not offer money-back on add-on products. A domain name is one of them. If the service is canceled within 30 days, you get a full refund but after 30 days, the cancellation will cost you a prorated refund for the hosting term.
Which One is Cheaper?
The above comparison in the pricing section made it clear that Bluehost is cheaper than SiteGround. It also offers a free domain name but SiteGround does not. Even, the monthly promotional prices are also lower for Bluehost than SiteGround.
SiteGround
Startup
GrowBig
Initial
$3.95
Initial
$5.95
After Term
$11.95
After term
$19.95
Bluehost
Basic
Plus
Initial
$2.95
Initial
$5.95
After Term
$7.99
After term
$10.99
Which one offers a free domain?
Bluehost offers a free domain. So a beginner with a tight budget can go directly to choose Bluehost.
Rating From Trustpilot
Bluehost Rating
Bluehost's average rating on Trustpilot is poor (2.2 stars) based on 799 reviews.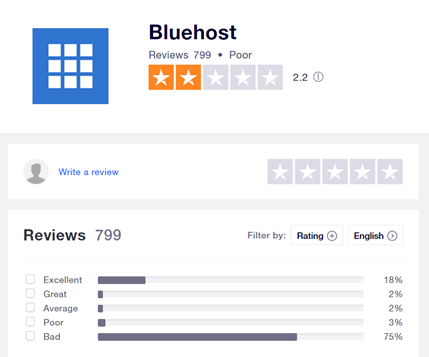 Customers have also commented in favor of Bluehost's customer support as well as other services. But they are very few.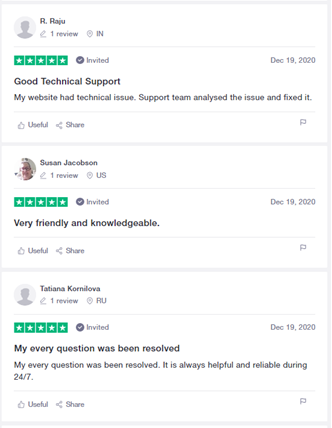 The negative comments and reported issues override the good service ever provided to the customers from Bluehost. However, a prompt response from the community manager can be seen.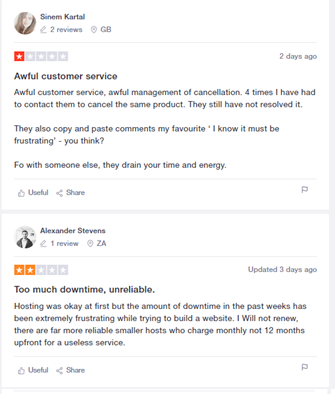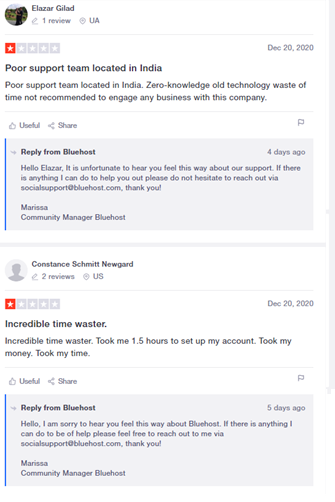 Siteground Rating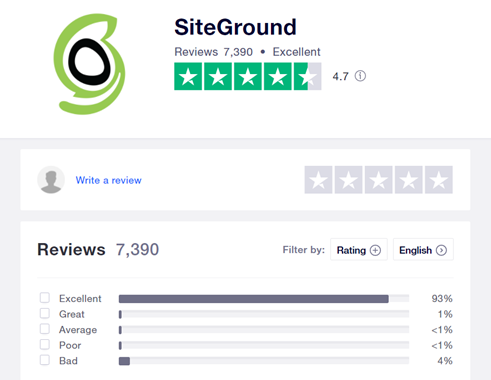 SiteGround is rated on average 4.7 stars on the basis of 7,390 reviews on the Trustpilot. The services and support offered by SiteGround are appreciated the most.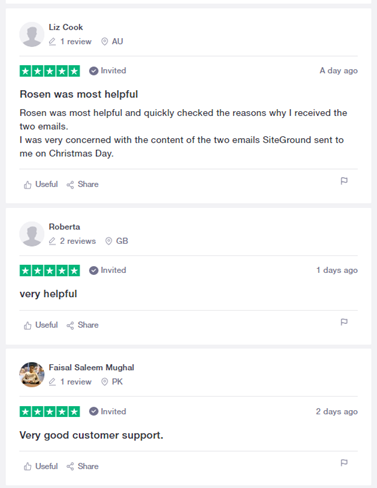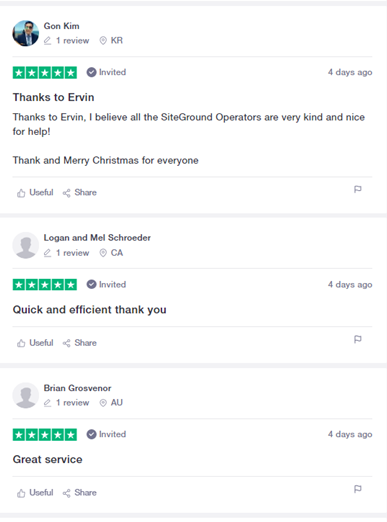 However, it does not always receive positive comments with 5 stars from the customers. Some customers also face serious issues which they report. But they are quite a few.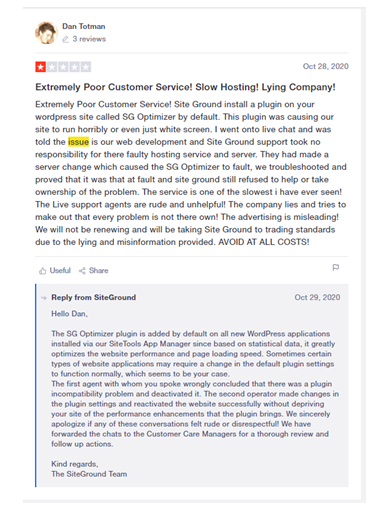 SiteGround offers a bit of a cleaner approach as compared to Bluehost's backend. Bluehost is quite shady regarding their pricing which is a bit too confusing for the customers.
Moreover, despite an easy to use interface and pretty intuitive, the winner seems to be SiteGround because Bluehost offers confusing pricing and near-to-poor customer support service.
Setup Process: Which is Easier?
WordPress is the most popular software available for building blogs and websites. Any host that you select either Bluehost or the SiteGround, do consider if they offer secure, hassle-free, and affordable options to create website hosting with WordPress.
It should also be easy to begin with and install WordPress.
Instead of merely a generic auto-installer for the WordPress installation, both hosts provide you with the user-friendly tool at the first visit to the installation wizard. Therefore, the process becomes even friendlier.
We have also listed the best compatible Bluehost themes.
Setup process: SiteGround
After finalizing the domain select the Start New Website to create a new website: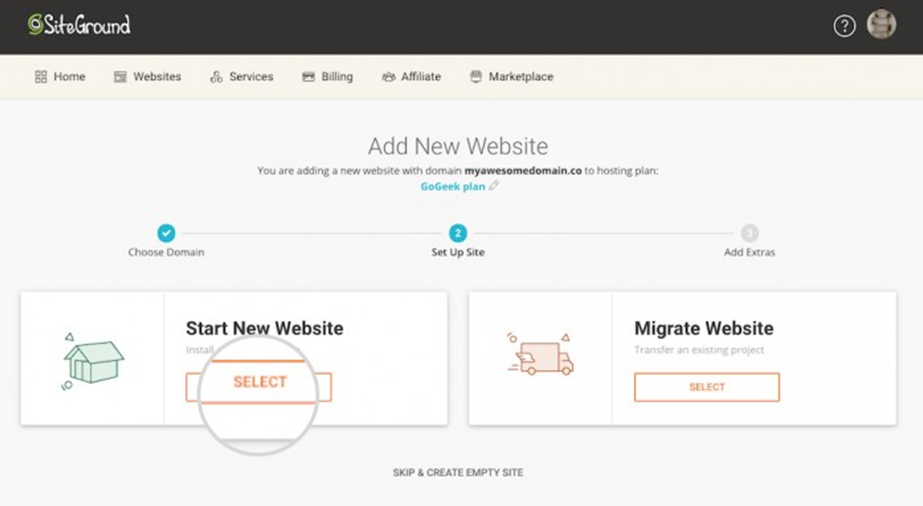 Next, choose the application of your choice. SiteGround will install any of the 50+ apps automatically after you complete creating a website.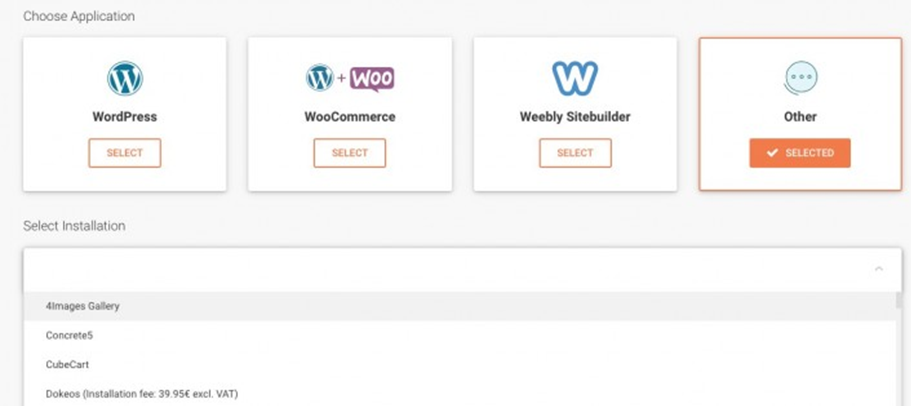 SiteGround has recently updated its own migration plugin. Therefore, even non-technical users can migrate to SiteGround. However, they also offer professional migration services for unlimited sites.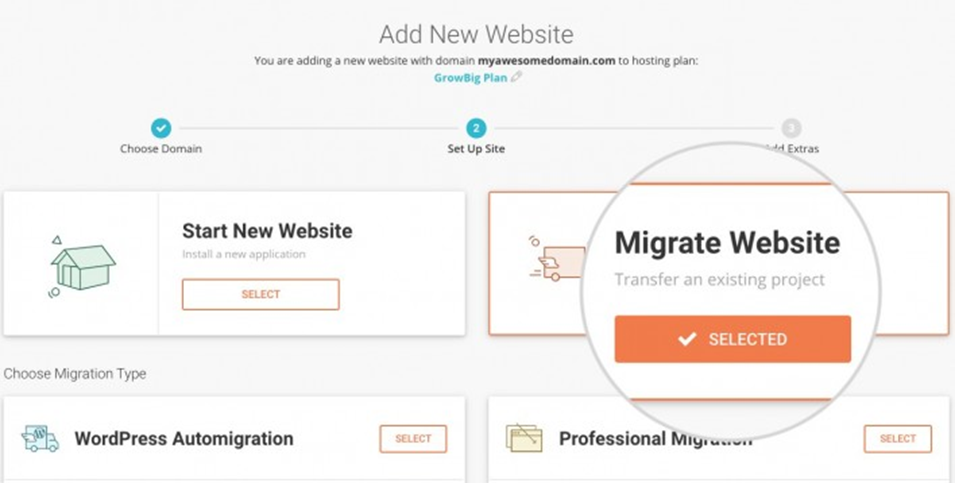 Setup process: Bluehost
Bluehost has the simplest setup process, especially for the WordPress website.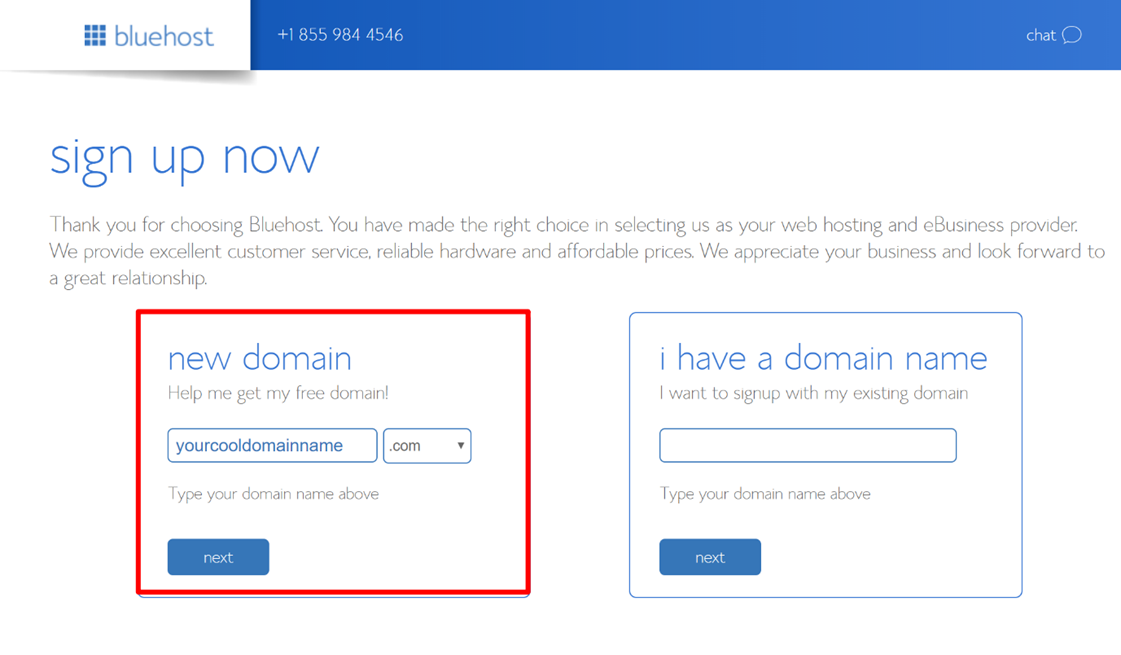 Alas! Bluehost does not offer free migration. They charge a whole lot of awful amounts for migration which starts from $100 for the most basic site.
Here, SiteGround is a Gem for not charging a migration fee. So, apparently, Bluehost is perfect for creating a new website in simple steps, meanwhile, the manual migration of the website looks exhausting and heavy on the pocket. The premium services offered for migration also start from $149.99.
Customer Service
Another key factor to rate a web host is their customer support.
Even the casual user may need help. But for once in a while issue, lackadaisical and unresponsive support may cause infuriation.
Other users may need help even more. The issues may vary from server connectivity to downtime or key connection to security. The support team is, therefore, much more important to respond efficiently and quickly.
Let's find out what these two masses brought for us in the form of support.
Siteground Customer Service
SiteGround offers a full range of support, running all around the year with live chats, contact numbers and ticketing systems. My message was literally responded in seconds.
Bluehost Customer Service
The Bluehost customer service also offers the same setup as SiteGround. Their support is a bit leery. Yet they too provide email, live chat, phone and 24/7 support.
However, Users rate SiteGround better than Bluehost. So, it seems that SiteGround provides better support.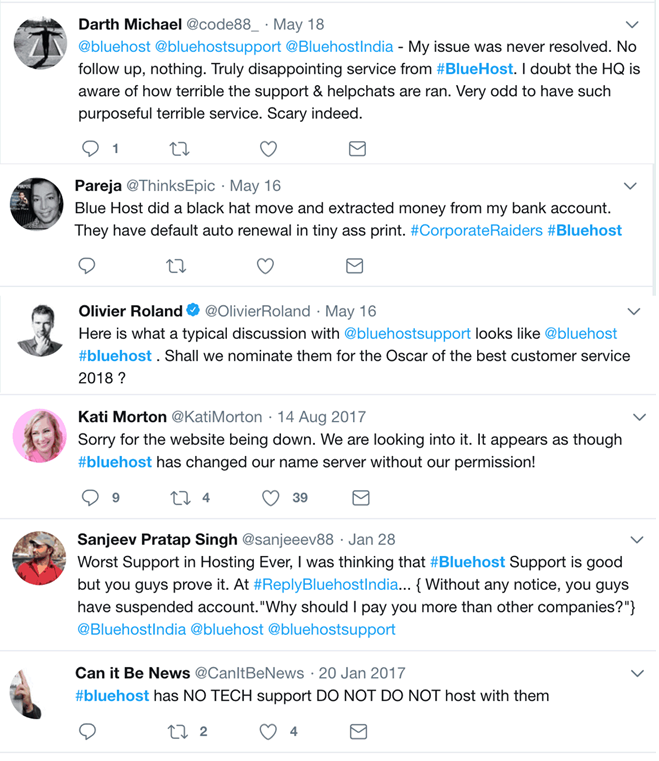 Server Speed Comparison
Server Speed: SiteGround
SiteGround offers a great spread of its data centers throughout the continents. One of the locations is in Asia (Singapore), three in Europe (Milan, Amsterdam, and London) and one in US (Chicago). These strategic locations provide the users with excellent speed for all the plans.
The average real-time speed recorded was 136.9 ms for all the locations. Here is a summary of the loading times in each of the locations.

The services in Europe are strengthened but in US also it is remarkably fast.
The lower potential towards Singapore might be due to the physical distance from the test centre.
Server speed: Bluehost
The average real time speed of Bluehost was 153 ms. Here is the summary of the loading time from the potential server locations;

The server response for Bluehost is also fast whereas Europe shows a bit of suffering. The two hosts do not show a big different in terms of server speeds.
Yet, SiteGround excels in this area too in offering stable speed as compared to Bluehost throughout the servers.
Often the website speed aren't correlated only with hosting so you have to choose also fast WordPress themes (in case you work with WordPress)
Uptime Comparison
Uptime is not a major concern though, yet for a period of 30 days trials, the uptime was 100 percent for both. It is a good point, isn't it?
Most of the hosts offer 99% uptime. This percentage impacts drastically by a down time of a few minutes only. Therefore, yes, it matters.
Uptime: SiteGround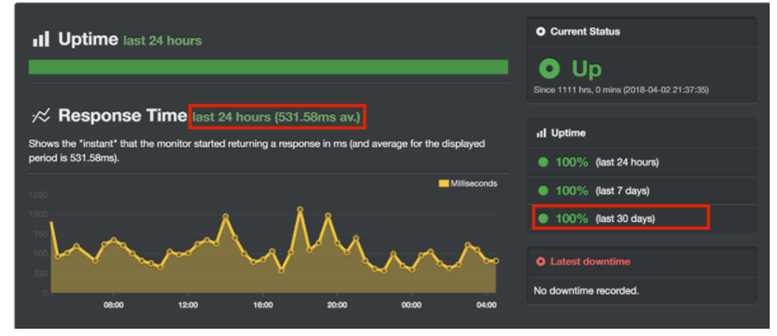 Uptime: Bluehost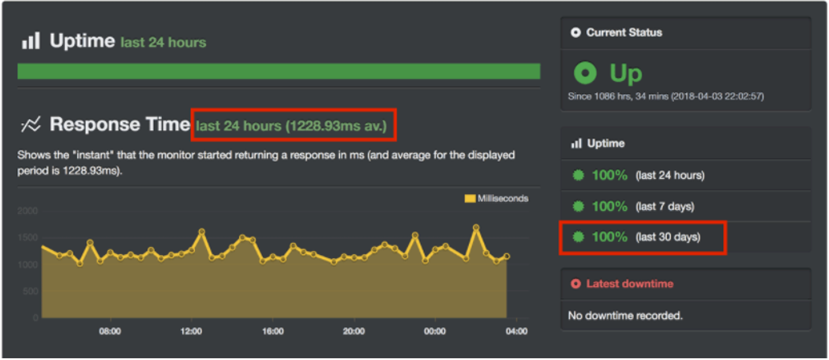 Bluehost has a high response time which lags behind SiteGround significantly. The host's rating are highly dependent on this factor as well. However, most of the users oversee it.
Scalability
Your host should grow with you. You may experience overnight success with your website, so your hosting should have the capacity to accommodate you with all the increasing traffic and services.
Scalability: SiteGround
SiteGround offers several options to accommodate if their GoGeek plan doesn't work out well for you.
The cloud hosting of SiteGround starts at $80 per month. Here you can add several resources of your choice such as RAM memory or storage in a click therefore, it is better than shared hosting. However, the bandwidth is limited but a lot to serve you well. It is 5TB.
SiteGRound also offers Enterprise hosting for tailored solution. Reseller plan is good if you maintain your client's website. A Reseller plan would be helpful to you.
Scalability: Bluehost
Bluehost also provides several alternatives.
Bluehost VPS plan is there that offers more processing options and SSD storage. They cost $30 per month.
A dedicated server at the cost of $120 per month is also offered to get you a server of your own. If you need to boost performance for a large project, this plan will be suitable.
Both SiteGround and Bluehost offer advanced solutions, so it's a Tie.
Siteground vs Bluehost: Which one is the winner?
Why choose SiteGround?
SiteGround has impressive performance with an unblemished record and experiences. The key highlights on the SiteGround has made its shoulders above the level to be chosen for shared hosting offerings.
Their speed is difficult to beat in spite of its high price.
In a cliché:
Strong support services
Stable and fast speed
Good reputation
Excellent features
Why choose Bluehost?
If you are a low-price sucker, Bluehost will definitely please you to be matched at neck and neck. But the shared Webhosting offered by Bluehost has no comparison with SiteGround.
The startup plans of Bluehost are dirt cheap. And there is no other web hosting service that offers such plans at a lowered cost
In spite of the bad reviews and complaints, the price of web hosting is irresistible.
In a cliché:
Well-established services
Decent features
Strong price point
Conclusion
Yes, there are a lot of things I love about each host individually. Unfortunately, my love for being el cheapo aside, the better deals of SiteGround cannot be denied.
Public speaking has already shed light on it. The extraordinary services and options with SiteGround have made it a no-brainer for becoming a champion.
However, if you are a beginner with no experience in WordPress and web design Bluehost can be an easy start

Ludjon, who co-founded Codeless, possesses a deep passion for technology and the web. With over a decade of experience in constructing websites and developing widely-used WordPress themes, Ludjon has established himself as an accomplished expert in the field.