Are you looking for the best mass email software? Email marketing has been the lifeline of marketing since day one.
In fact, the first email marketing blast was implemented in 1978, and the purpose was to promote a company's computer. Today we have a lot of email software that does that.
Here is a summary of the best mass email services:
All it needs is a strategic approach, an engaging email, a robust offering, and above all, the right email marketing platform to get the most out of any email campaign.
And this article will specifically tell you about the email marketing platforms that you can leverage to skyrocket the return of your email marketing efforts.
Therefore, today I've rounded up some of the best email platforms that you can leverage to send as many emails as your want without any hassles or restrictions.
Use the table below to compare the best mass email software based on what they offer on the free and cheapest plan, email features and support.
| | | | | | | | |
| --- | --- | --- | --- | --- | --- | --- | --- |
| | Sendinblue | ActiveCampaign | Moosend | SendGrid | Convertkit | MailJet | Elastic Email |
| Rank | #1 | #2 | #3 | #4 | #5 | #6 | #7 |
| Free Plan | 300 emails/day | Free trial 14-day | Free trial 30-day | 100 emails/day | 300 subscribers | 6,000/month | Free trial |
| Cheapest Plan Price | $25/month | $9/month | $9/month | $15/month | $9/month | $15/month | $15/month |
| Cheapest Plan | 20,000 emails/month | 500 contacts | 500 contacts | 20,000 emails/month | 300 contacts | 15,000 emails/month | 5,000 contacts |
| Automation | Yes | Yes | Yes | Yes | No | Premium plan | Pro plan |
| CRM | Yes | Plus plan | No | No | No | Premium plan | Yes |
| A/B Testing | Premium plan | Professional plan | Yes | Yes | No | Premium plan | Pro plan |
| Analytics/Reports | Yes | Yes | Yes | Yes | Basic | Basic | Yes |
| Segmentation | Yes | Yes | Yes | Yes | Yes | Premium plan | Yes |
| Autoresponder | Yes | Yes | Yes | No | Creator plan | Premium plan | Yes |
| Support/Docs | Email, Phone, Knowledge Base | Live chat, ticket, training center | Knowledge Base, Email, Chat | Ticket support | Live chat and email support | Essential plan | Email, Knowledge base |
| Official Website | Visit site | Visit site | Visit site | Visit site | Visit site | Visit site | Visit site |
The email services above offer free trials or lifetime free accounts based on the number of contacts or emails you send during a month.
Price Comparison: emails/month
Check the table below to find the perfect fit based on the number of emails you have in plan to send in a month:
Why Trust Codeless.co?
We've spent thousands of hours testing and reviewing email marketing services using our review process (methodology) to calculate scores for each service.
Our process includes these measurements:
Free plan and pricing
Email delivery rate
Email editor/builder
Email features
Templates quality
Contact manager / CRM
Analytics and reporting
Customer support / documentation
A Closer Look at the Best Bulk Email Software for Mass Email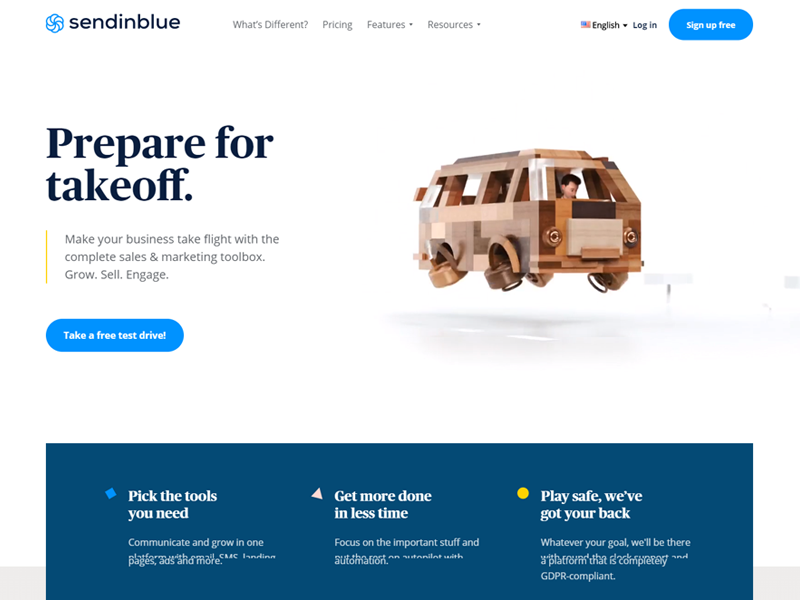 SendinBlue is yet another one of the best email marketing software out there that you can leverage to further solidify your Email's reach. Based on a robust infrastructure, this tool is sophisticated and meant for expert digital marketers.
So, what does this tool has to offer?
Aside from conventional mass marketing, which also happens to be the reason SendinBlue is on this list, there are some other reasons why this tool is considered one of the best.
For starters, the tool has one of the best templates that you can leverage to personalize your emails, and with the addition of the drag and drop builder, your email marketing design has been made much easier and faster.
Moreover, SendinBlue, unlike other tools on this list, also has some other separate features that are not primarily aimed at helping your run an email marketing campaign in bulk.
The tools are integrated with tools that foster lead generation and play an integral role in increasing your email marketing list. There's this amazing form builder that also comes along with SendinBlue.
The core purpose of this form is to nurture conversions by engaging the users and drastically improving your inbound marketing efforts.
Furthermore, SendinBlue really focuses on reporting tools because I believe they know how important reporting is when it comes to closing leads and maturing deals.
So, with SendinBlue, you can easily track the performance of your emails, and after getting the results, you can easily optimize them for better results or specifically conversion or whatever your marketing goal is.
However, where SendinBlue is perfect in terms of marketing and performance, the tool does have its limitations.
For instance, although it has great automation, lead generation, and marketing assisting features, it doesn't actually have what the industry-leading mass email software has.
The best example of this is that it has no CMS (customer relationship management) platform. Additionally, the lead tracking activities are not that advanced as its competitors, but the price difference is also there so, it gives a feeling of having something instead of having nothing.
Pricing Plans of SendinBlue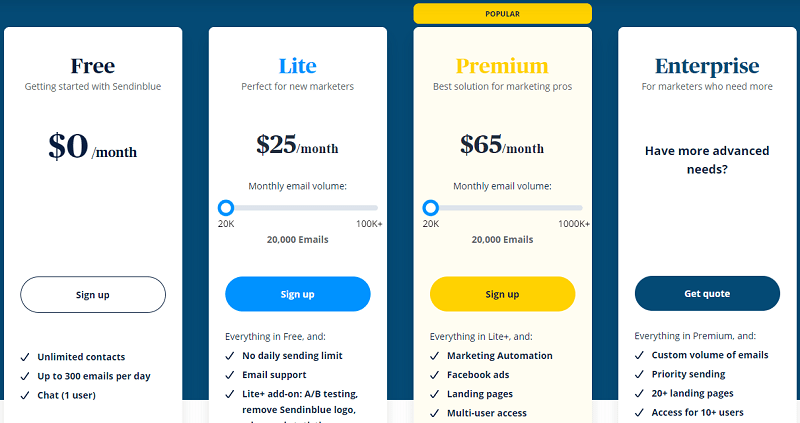 SendinBlue's pricing plans are also intriguing, and I believe you already know the reason for that right. So, what SendinBlue is actually doing is that they're not charging you on the basis of a set number of contacts.
Instead, they're charging per Email that you're sending.
What this means is that, for starters, you can easily send 300 emails daily for free. And secondly, SendinBlue lite starts at 10,000, for which it charges $25/mo. You can increase the number of emails from 10,000 to 100,000, for which you'll have to pay $66/mo.
Next, the premium plan starts at 20,000 emails/mo for £41.5. This number of emails can be increased to 1,000,000 emails per month for £424.15/mo.
Additionally, all the plans have their own unlimited storage.
Lastly, as you've seen in the above-mentioned pricing discussion that most of their pricing is nominal, and although their offerings are not as advanced as their competitors still, they're worth a shot.
And honestly, the email marketing features of SendinBlue aren't that bad either I mean, they've got automation, contact segmentation, and reporting, which by the way, are one of their core features.
Also, the transactional email features are revolutionary so, I would say that the tool is one of the best out there if it is not the best, and you should surely try it out.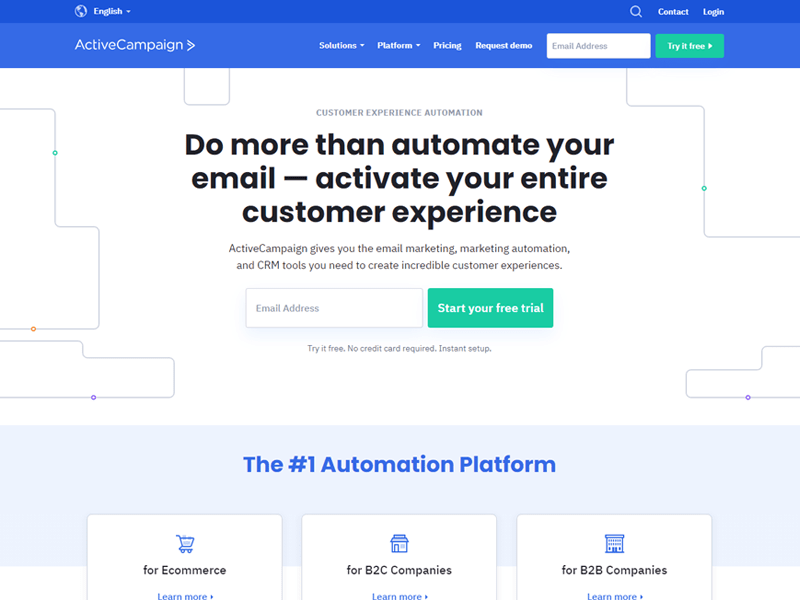 With over 90,000 active users, ActiveCampaign is perhaps the most desired and in-demand tool of the email marketing world and for bulk email sending.
All the innovative features combined with some of the most revolutionary aspects are integrated into this tool, making it one of the best in the market.
From sending bulk emails with just one click to tracking and monitoring the performance of your email marketing efforts, there's a lot that you can do with ActiveCampaign.
Furthermore, the platform also fulfills the purpose of a CRM and automation system.
Additionally, you can send unlimited emails and manage multiple accounts. However, several features are available in the paid version; therefore, the features are connected to the plan that you've selected.
You can also avail the A/B testing method in which you're allowed to test and compare the results of different marketing campaigns to determine the one with the most positive results.
Furthermore, it's a fact that in today's world, literally, every tool is trying to surpass one another. Therefore, you may find some tools on this list that can give you a more drastic boost when it comes to super-powered email marketing.
However, if you're looking for something revolutionary or packed with the best and ultra-modern features, then ActiveCampaign is perhaps the best choice.
From sales tracking to reporting to integration to several other automation features, there's seriously a lot of innovation that comes with ActiveCampaign. Hence, it is safe to call this tool an all-in-one marketing software for your business.
Pricing Plans of ActiveCampaign

The pricing plans of ActiveCampaign are pretty reasonable, and considering the features, it has to offer, I would say that marketers should surely give it a try. Here are the pricing plans for ActiveCampaign:
For 500 Contacts – ActiveCampaign is charging $9, and three users can use it.
For 10,000 Contacts – ActiveCampaign is asking for a highly competitive price ranging from $111/mo to $399/mo.
In the $199/mo package of ActiveCampaign, they're giving away 10,000 contacts, unlimited emails, 25 user accounts, and several other marketing and automation features that you can leverage.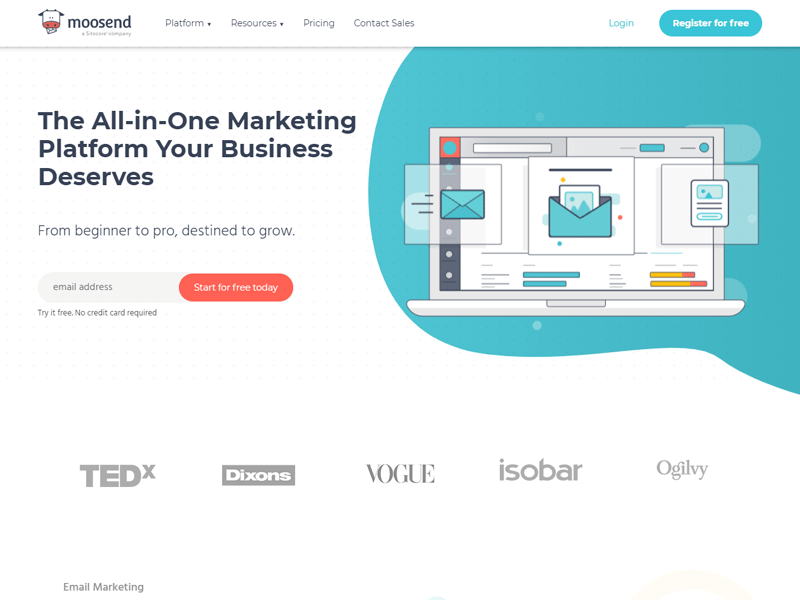 If you're a newbie in mass email marketing, then Moosend is the perfect choice for you. This beginner-friendly mass email sending software may not be as powerful as other software on this list, but it has all the necessary features to get you started.
Additionally, the price tag that Moosend comes with is super compatible with startups and medium-sized businesses. I'll reveal the pricing later in the pricing plan section below.
Furthermore, ActiveCampaign gives you features plan-wise; I mean, most of their advanced features are available as you hop onto the higher-priced plans.
This feature categorization is certainly not available in Moosend's case. You can avail of an unlimited email sending feature right from the startup to any pricing plan.
Additionally, their platform is extremely easy to use, and most of the features can be easily accessed right from the dashboard, so you don't have to dig deep into the software.
It does have a slightly outdated UI and UX. However, this issue is quite debatable because you're getting all the features that you want, and you're not inviting your customers to see the dashboard so, this issue is avoidable.
Lastly, the major question in your mind right now would be that why should I even choose Moosend? Doesn't it have anything super exciting?
Well, it does!
The major USP of Moosend is that it offers enterprise-level support to you, and you can seamlessly contact them if you want help regarding anything from strategy to delivery optimization and beyond.
The best part is that this is free for now, and it is a major perk if you ask me because, comparatively, other email tools are asking for a hefty fee for this support.
Pricing Plans of Moosend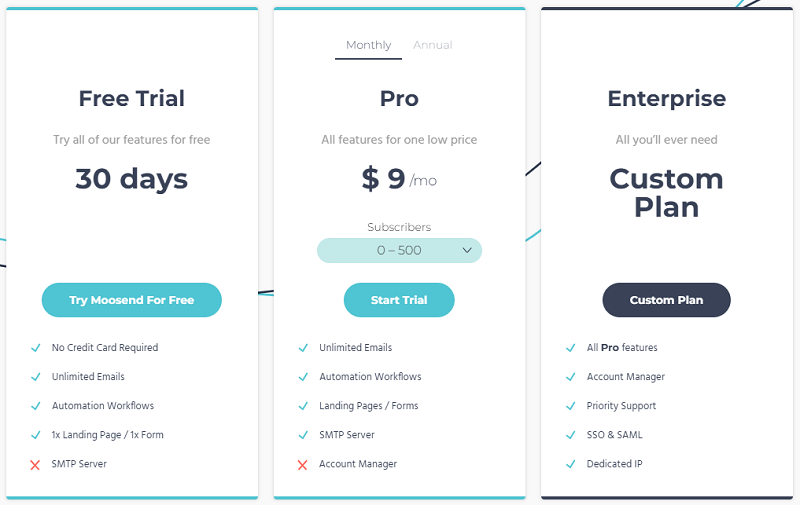 The pricing plans of Moosend are starting from 0/mo all the way to the pro plan that is available for $8/mo. There's also a custom plan, and you can get a custom quote for it.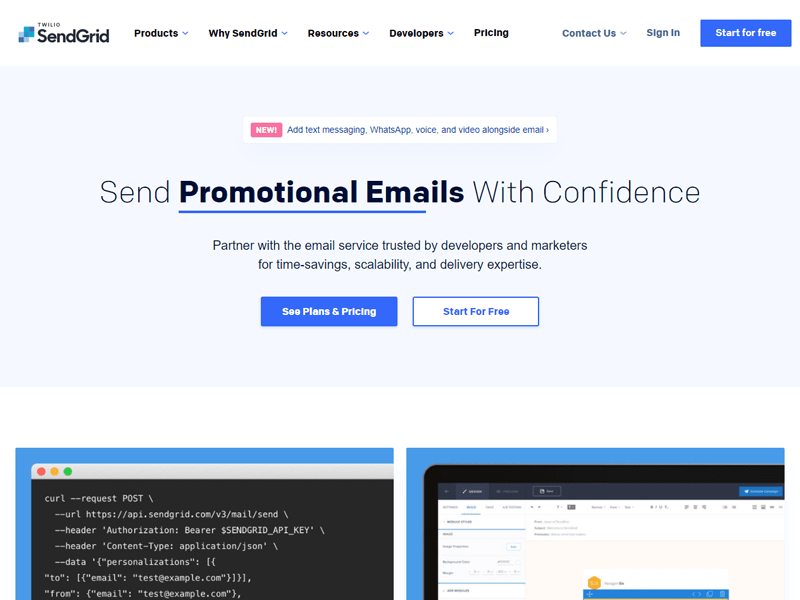 SendGrid is yet another excellent choice for those who need advanced functionality and features.
With tons of integrated revolutionary features, the tool stands as one of the most feature-packed tools out there.
From scheduling to testing to customization, this tool is literally home to some of the advanced features that you can leverage to implement amazing mass email marketing.
You can also set up effective workflows and automation features within the tool with simple options.
Furthermore, the robust platform is extremely user-friendly, and it can be integrated with SMTP API or web API to provide more accessibility to the users.
Here are some other features of this tool:
Access to real-time analytics
Support for multiple user roles
Ability to send emails via custom domains and dedicated IP addresses
Bounce, unsubscribe, and spam reports
Email template builder
Customizable landing pages
A/B testing functionality
Pricing Plans of Sendgrid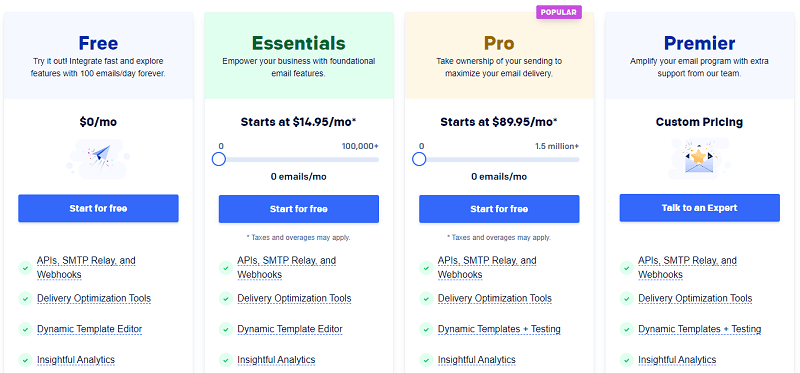 For 50,000 monthly emails, you will be paying $14.95/mo. You can scale this package from 50,000 to 1,500,000 emails.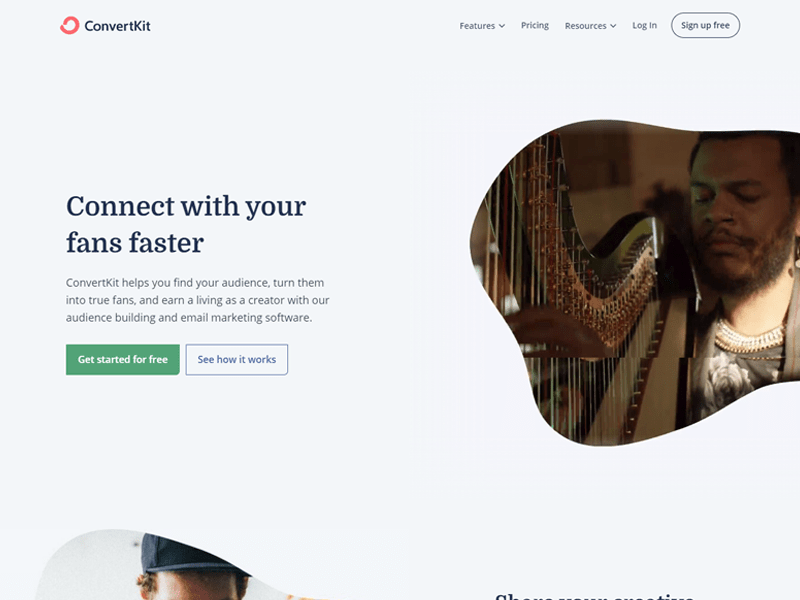 If you're a creative enthusiast and you're thinking of getting your business emails across your audience, then meet ConvertKit, a one-stop shop for all your creative needs.
Specifically meant for the authors, teachers, and bloggers, ConvertKit comes with some of the most intriguing features that allow you to make fantastic personalization to your emails.
However, there's the element of predictive sending and the A/B testing approach that's missing.
Plus, the reporting features are just fine. Therefore, it is safe to say that there are a lot better options available if you're considering getting mass email software for these specific aspects.
A better way to put all of this would be that this tool is great for those people who are just looking for an easy way to send emails to their customers.
Also, if you're super-sure that your emails will get amazing results, you can forget about the performance tracking or reporting features and get started with this tool immediately.
Additionally, there's a huge percentage of non-technical entrepreneurs out there that don't want to get into the whole email customization stuff.
For such individuals, ConvertKit has a drag and drop editor that can be used easily to customize emails.
One major aspect that separates this software from the likes of ActiveCampaign and Moosend is the fact that it doesn't have email templates. In fact, the tool encourages users to send plain emails.
But still, there's need to be something else that is super-engaging about this tool right, a core reason why I've put this tool on this list.
Well, it does give you unlimited emails from the start, and the price is based on the contact of your list.
The pricing is very reasonable, and they're not that different from ActiveCampaign's pricing, but ActiveCampaign is a little more on the advanced side.
Pricing Plans of Convertkit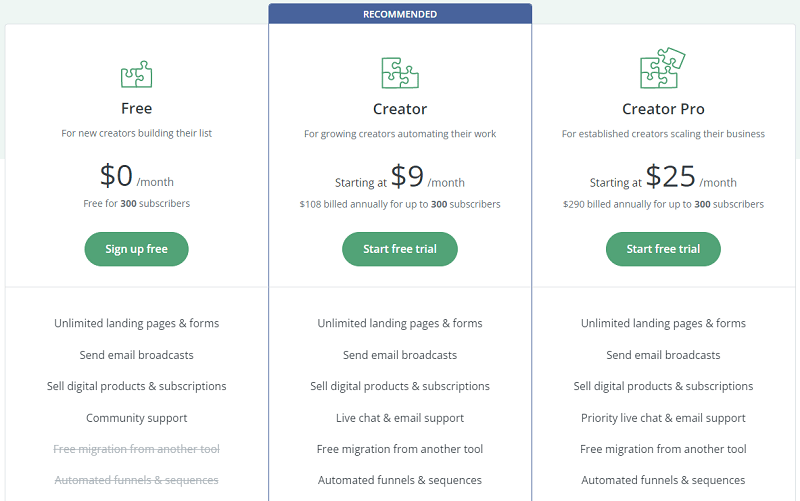 The pricing plan of this software starts from $0 to $29 to $59. I'm sure that you may already have judges that as the pricing goes, more features are added.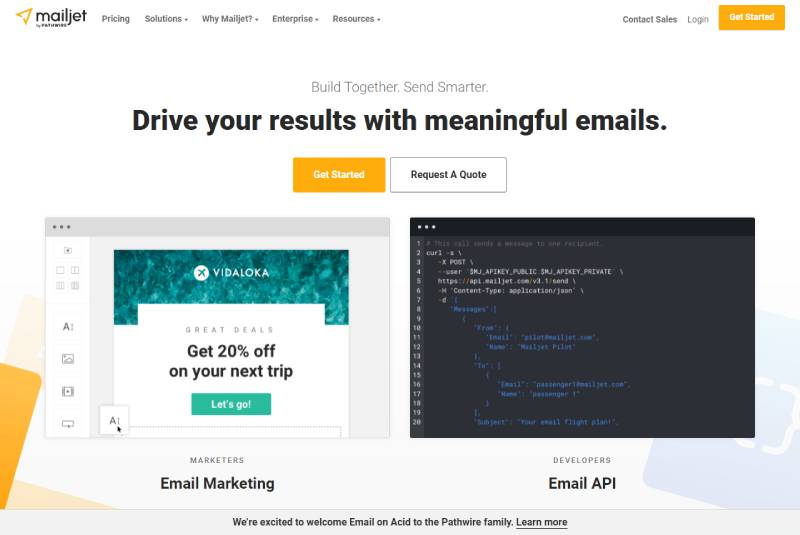 The last recommendation but surely not the least is Mailjet. This reliable and user-friendly tool is capable of creating highly engaging emails thanks to the drag-and-drop email builder.
Additionally, you can integrate the tool with your current server to send emails via API or SMTP.
Moreover, the analytics tool enables you to monitor and optimize your campaigns. You can also convert the data into segmentations that you can use later on for your email marketing.
Some other features of the tools are listed below:
Extensive support documentation
Email personalization options
Intuitive layout designs
Real-time analytics
Contact management tools
Pricing Plans of Mailjet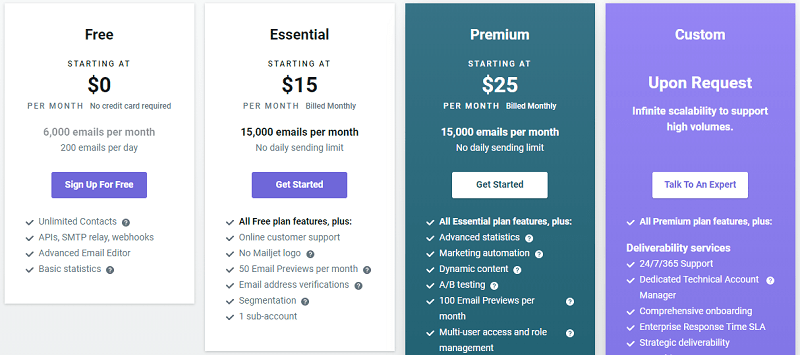 The pricing plan of this tool starts at $18.95/mo, which is a bit higher as compared to the other software on this list and their offerings. There's also an enterprise plan that gives you premium features, and the pricing model is custom.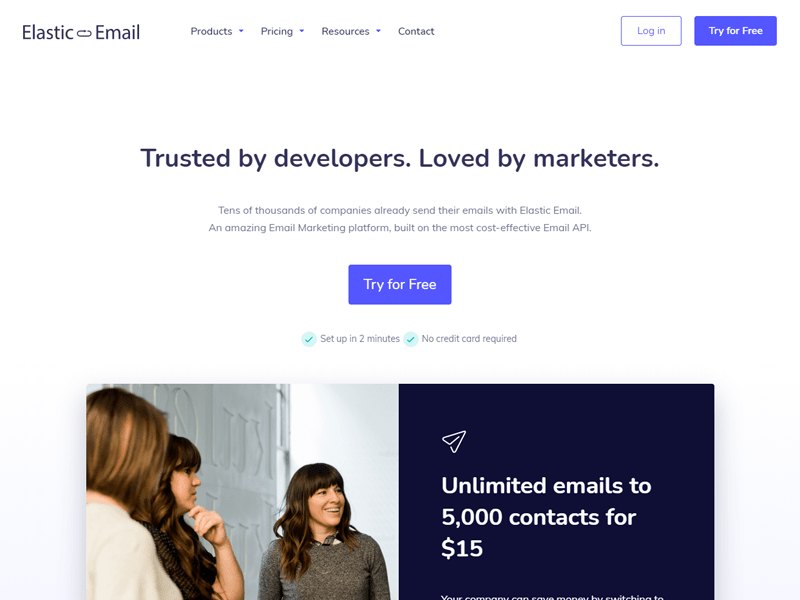 Elastic Email is yet another powerful mass email marketing software that works on an on-demand system of a feature addition and lets you customize the entire software for yourself and pay only for what you need.
Furthermore, some of the most innovative features of this tool are that it allows you to set multiple campaigns at once. There's this algorithm that allows you to identify invalid messages.
You can also track your progress, engagement, performance, and much more through the analytic tool integrated into this platform.
Moreover, the platform is highly scalable, and you can even send Emails to 100 million users per month. Lastly, some other features of this tool include:
Drag-and-drop functionality
Easy template modification
A/B email testing of multiple campaign variations
Contact management tools
Customizable forms
Pricing Plans of Elastic Email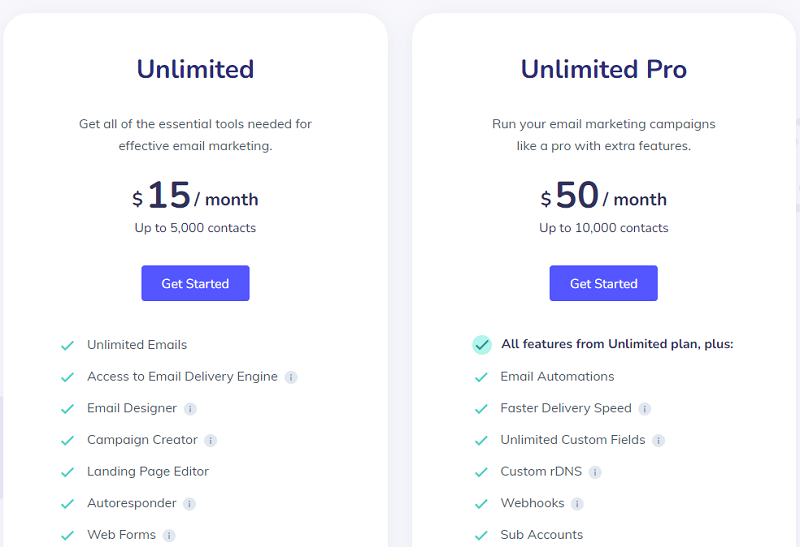 Did I miss that this software is super-affordable? Well, you only have to pay $0.09 for 1,000 emails. Also, the email API plan is with basic features.
The addon options are capable of increasing the price; for example, private IP may cost you $1 per day.
The revolutionary aspects of a mass email sender
Although mass email sending software generally means that the software will be able to send huge amounts of emails instantly, however, this is not valid and recommended marketing strategy.
Simply blasting emails at any contact you find means that you're wasting your time, and nowadays, Google has become smart enough to identify spammy emails.
What happens next? Well, your Email gets dragged to the spam box!
The revolutionary mass email software on this list is designed to help you create intuitive and appealing emails while allowing you to keep track of your emails, engage with them on messages and even automate your follow-up strategy.
In a nutshell, there's a lot that goes into the making of an amazing mass email sending software.
Mass Email Sender: Test Ratings
The table below summarizes how each of the top mass email software performed in our testing and measurement areas:
How to Improve Email Deliverability?
There are several things you can do to improve your email deliverability, including:
Use a reputable email service provider: Your email deliverability will be improved if you use a reputable email service provider, such as Gmail, Yahoo, or Outlook.
Use a double opt-in process: Double opt-in means that your subscribers must confirm their subscription to your email list before they start receiving your emails. This helps to ensure that only people who are interested in your emails are on your list, which can improve your deliverability.
Keep your list clean and up-to-date: Make sure to remove any inactive or unengaged subscribers from your list on a regular basis. This will help to improve your deliverability, as well as your sender reputation.
Use a consistent "from" name and email address: Using a consistent "from" name and email address will help your subscribers to recognize your emails, and will also help to improve your deliverability.
Use a professional email template: Using a professional email template can help to improve the appearance of your emails and make them more likely to be delivered to the inbox.
Mass Email Software FAQs
What is a Mass Email Software?
A mass (bulk) email software is a program that helps businesses send out large numbers of emails to customers or clients. The software can be used to send out marketing messages, newsletters, promotions, or other types of information. Many mass email programs offer templates and other automation tools to help businesses create and send their messages.
Which is the best free bulk email sending software?
Sendinblue is the best free bulk email software for beginners. You can send up to 300 emails/day totally free.
Conclusion
That's all, folks!
Now you know all the features, functionalities, and aspects of some of the most credible and performance-oriented email marketing tools.
From sending 1,000 emails to sending more than a million, these tools can be leveraged to revolutionize your sales and give you a boost in terms of conversions.
Here are our final recommendations for the best mass email software:
However, I would recommend that you select the tool as per your specific requirement. Don't end up paying extra for the features that you don't need.
And that's all for now, what do you think of the tools?
Is there any software that we missed?
Reach out to tell us about them, and we'll include them in our list.

As one of the co-founders of Codeless, I bring to the table expertise in developing WordPress and web applications, as well as a track record of effectively managing hosting and servers. My passion for acquiring knowledge and my enthusiasm for constructing and testing novel technologies drive me to constantly innovate and improve.
Expertise:
Web Development,
Web Design,
Linux System Administration,
SEO
Experience:
15 years of experience in Web Development by developing and designing some of the most popular WordPress Themes like Specular, Tower, and Folie.
Education:
I have a degree in Engineering Physics and MSC in Material Science and Opto Electronics.