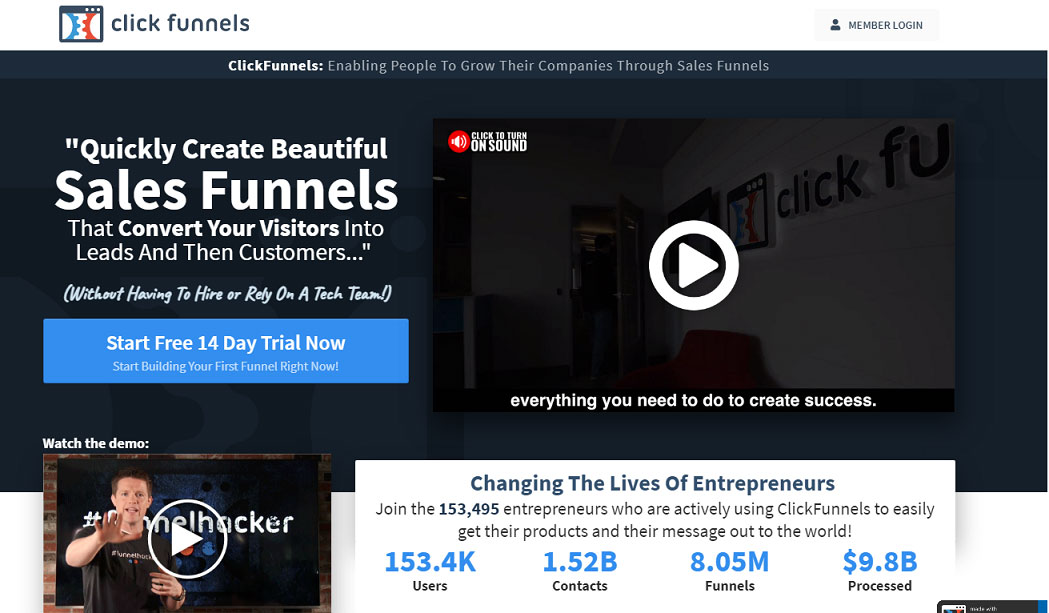 Clickfunnels is an all-in-one hosted solution, sales funnel builder and landing page that enables a user to develop highly customizable sales funnels and landing pages. In this Clickfunnels review, we provide a detailed account of this solution to understand exactly what it offers and how it fits any marketing or business activities.
This tool is fully packed with functionality ad features with all that you need to deliver your services and products and everything that is needed to promote your sale.
ClickFunnels is an ideal and impressive solution for online business since it provides tools for the entrepreneurs, startups and businesses. No matter what your goal is, ClickFunnels help you all to sell products, promoting services, collecting leads, and goals.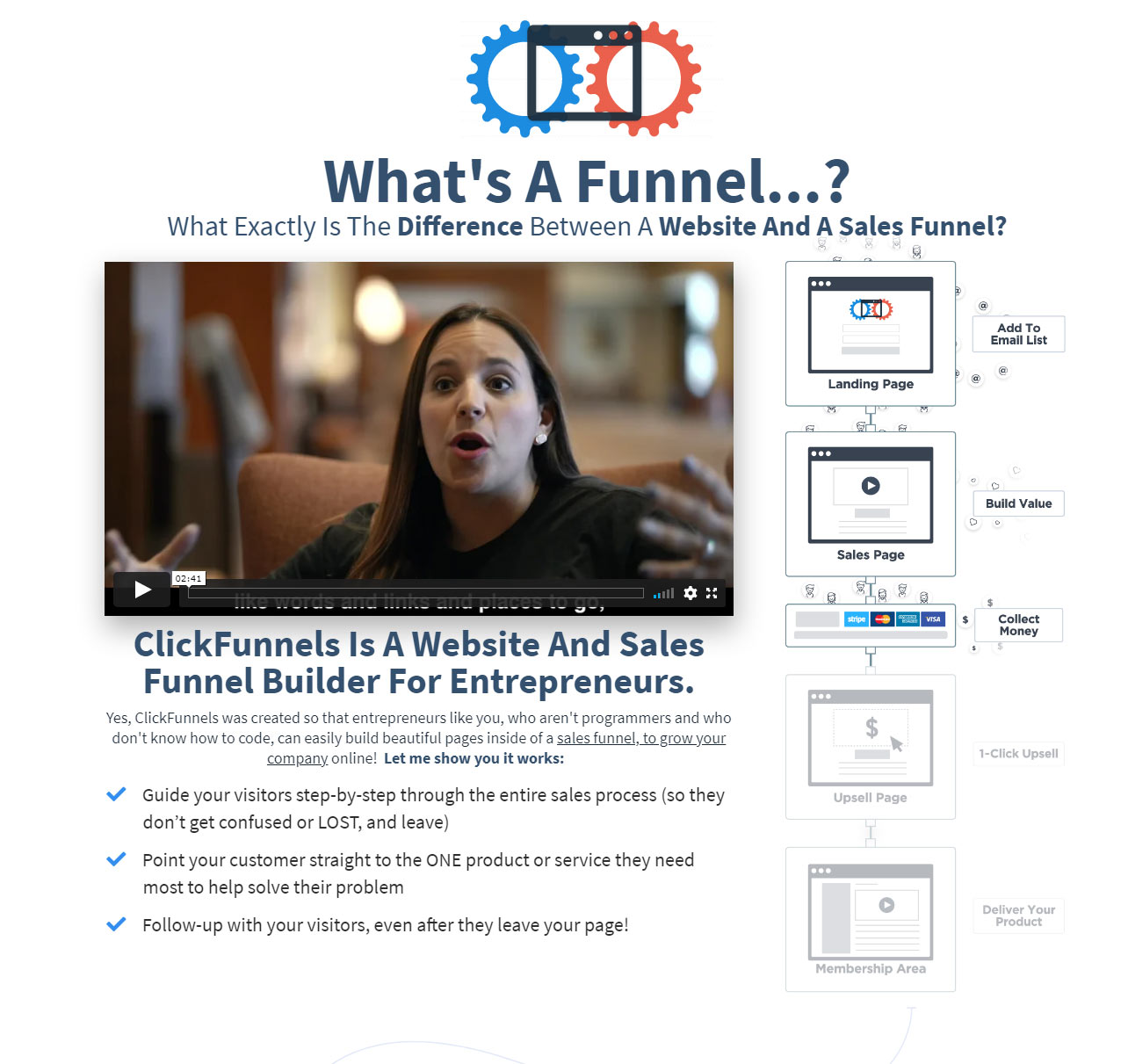 It was originally created to eradicate the frustration of sales funnels production. With the help of ClickFunnels, users are able to easily and quickly generate several sales funnels. Above all, it does not require any technical expertise as well.
It offers a wide range of intuitive drag and drop editor, smooth design of funnel process, landing page template and pre-made sales funnels. Moreover, it also helps with the extensive documentation on support and knowledge. Further, it helps the users to navigate through the platform and get the maximum benefit from all of its features.
What is ClickFunnels?
Clickfunnels is a sales and website builder for entrepreneurs and marketers. It is specially developed for the online entrepreneurs who do not know anything about coding or programming.
With Clickfunnels you can easily create beautiful pages to grow an online company.
It helps you guide your potential clients move step wise through the sales process so they do not get lost.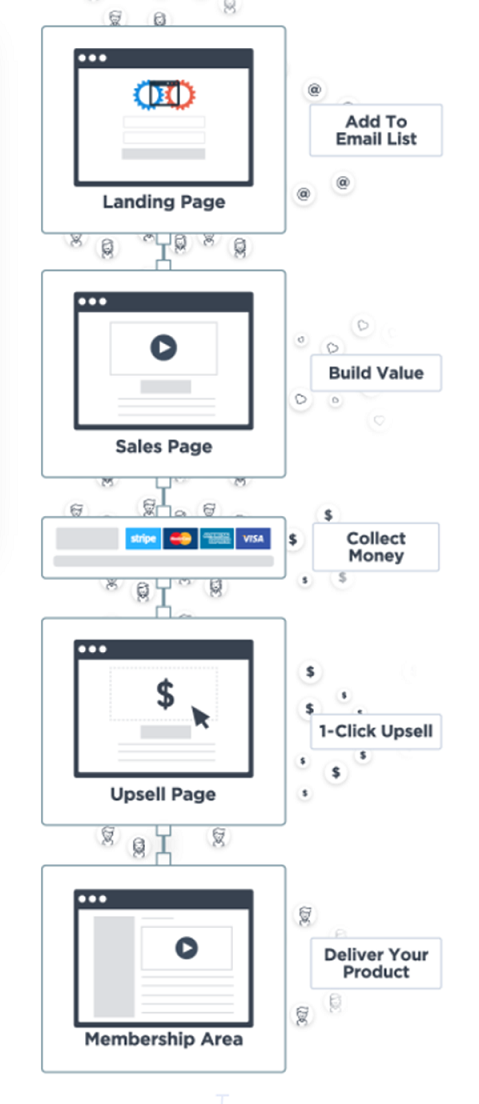 Lead your customer to one service or product that they need so that their problem is solved.
Keep a track of your visitor even if they leave the page.
You can use Clickfunnels and build
All types of sales funnel, downsells, upsells and order bumps
Membership sites
Webinars
Squeeze pages
Landing pages
As of now, we have got the knowledge of what Clickfunnels is. Let's take a dive into its key features:
ClickFunnels Features Overview
Clickfunnels is full of impressive tools and features that are all ready to help you easily and quickly create functional, high converting and beautiful sales funnels.
As mentioned, Clickfunnels is an all-in-one solution for marketing businesses. The platform offers numerous lucrative features such as:
Integrated analytics for sales data track record
A/B testing
Sharing funnels with others
Down-sell and up-sell feature
Ability of building sales funnels without coding skills
Drag and drop page builder
We will look into the depth of these features later in this post. Now, you may wonder what it does for you.
Clickfunnels allows you to benefit your customers even more. You can take your customer to numerous landing pages after it gets into the sales funnel. This procedure makes sure that he ends up being the high-paying client.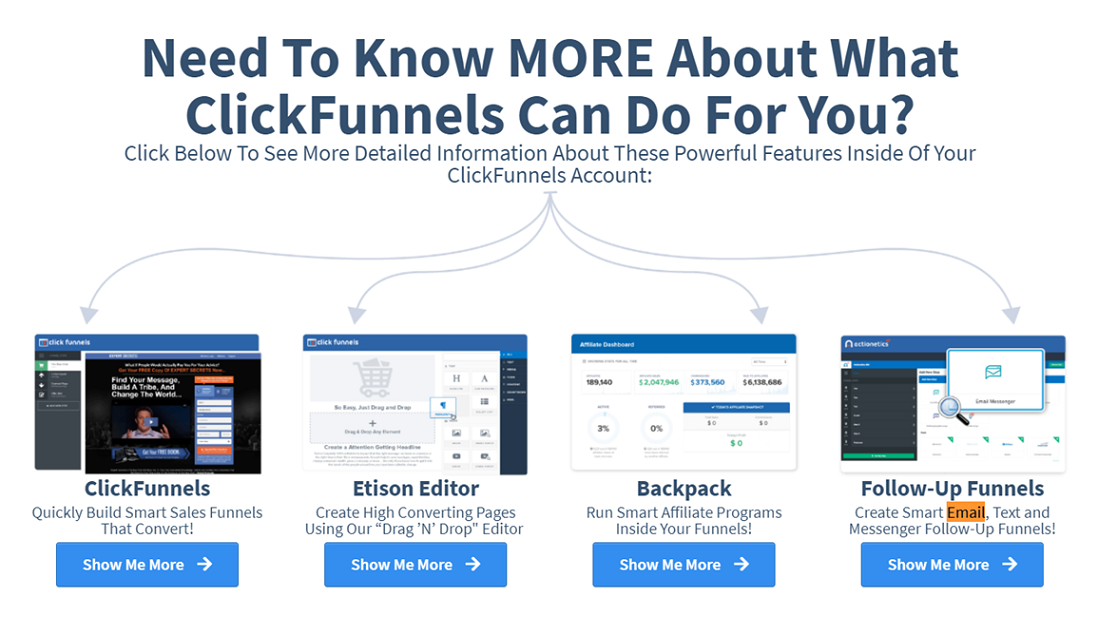 It has much more to offer, to make sure that your business and marketing runs smoothly.
Here are a few things that you should know about Clickfunnels functionality.
Building an email list
A big challenge that most of the online business owners face is the email list creation. With Clickfunnels, it is simple to create one. All you need is a little bit of your time to put in this before getting a list of impressive subscribers.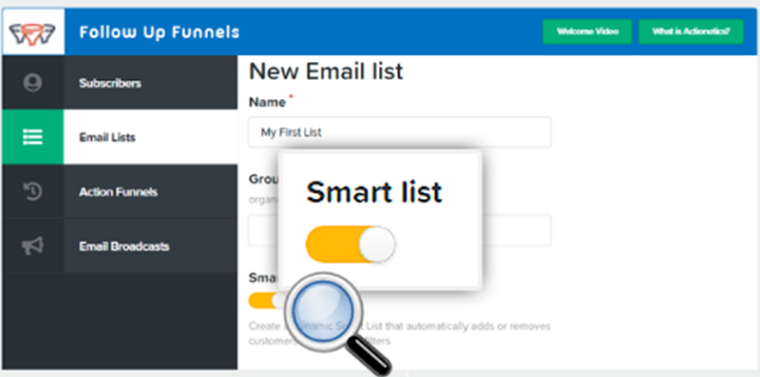 The best way to create a list is through an offer. You can offer a free incentive in the start of a marketing funnel.
For example, if the ad is about time management for a life coaching session.
Clickfunnels offers you generate a marketing campaign where you offer your visitors a free package on an online course on time management.
This strategy will help you build a list of subscribers that will keep on growing to a significant number. Ultimately, you will be able to create an impressive set of leads for your marketing.
Launching a new product
With Clickfunnels it is easy to launch a new product which is already a big challenge for an online business. It is highly exhausting for an online business to convince people to aboard a new product.
The Product Launch Funnel in Clickfunnels has made it easy to launch a new product. In this strategy, you will convince you potential customer to get the product by creating brand awareness.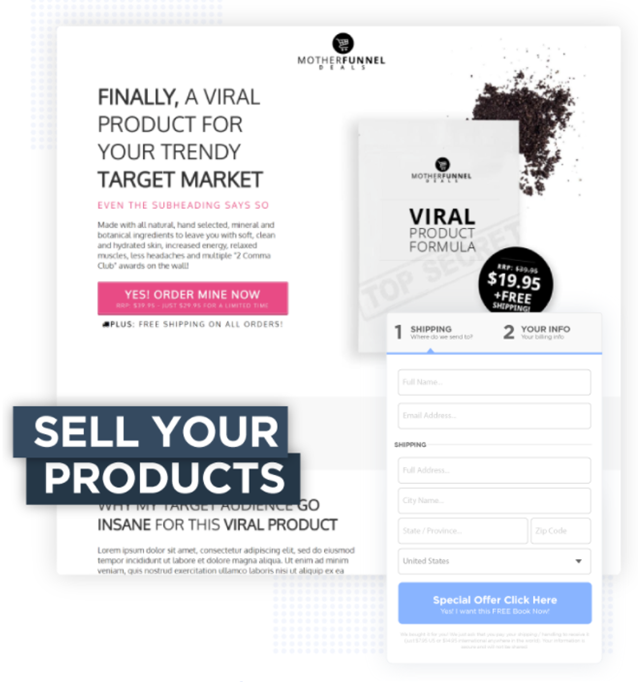 As you get to the actual launch, clients will realize that it is their investment and thereby boost your sales for the newly launched product.
Hosting courses with Clickfunnels
Clickfunnels proves itself best for all kinds of businesses. Therefore, it is also well-suited for online tutoring. If there are online courses on your business, Clickfunnels will be the best marketing tool for you.
There is a membership area in the software which help in designing new courses for the online tutors. It is also very easy to set up members' area which only takes a couple of minutes, and that's it!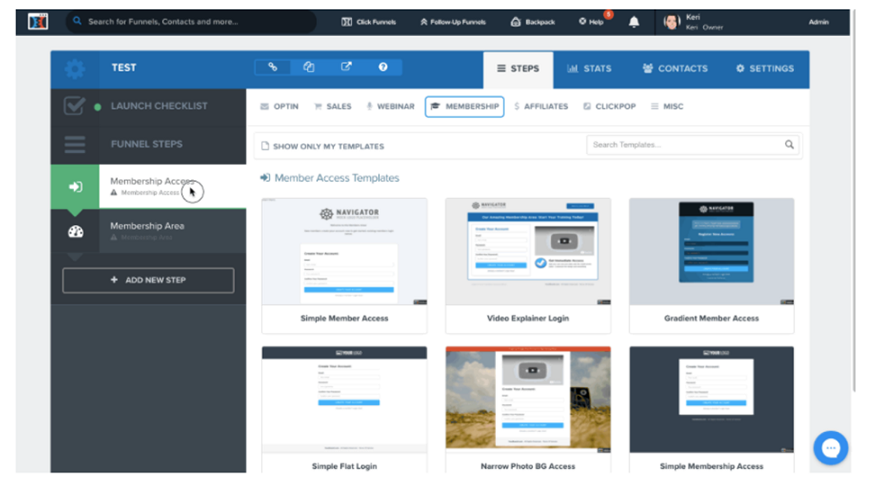 Bonus! Clickfunnels for online courses also manages marketing and sales of your business.
The downside with using Clickfunnels for online courses is that it won't support the marketing video on the same platform. For a video, you will have to choose another platform, may be, YouTube.
Build selling marketing pages
You can make money with your online business by creating several webpages for marketing.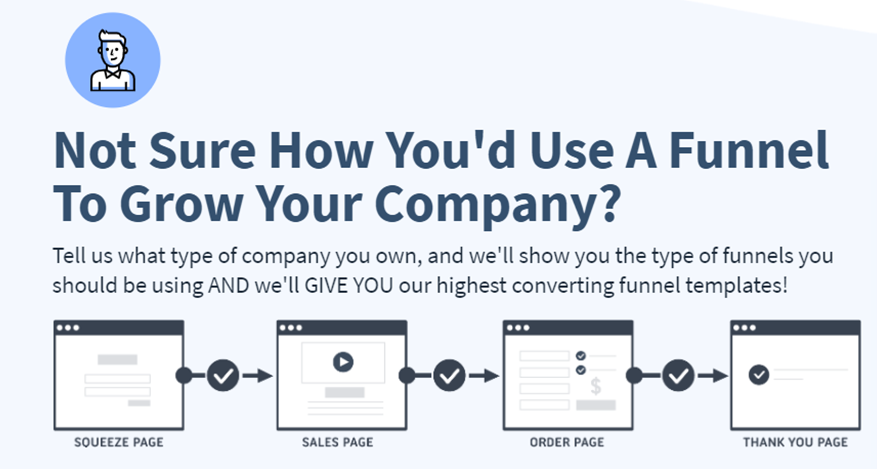 These webpages can easily be built with Clickfunnels. Just keep in mind that a visitor will follow the whole process and then your site will turn the visitor to a paying customer.
The marketing page that any business would need is the checkout page, Webinar page, order page, and sales page.
After getting an overview of what Clickfunnels can do for your business, let's get into the details of its key features that can potentially benefit your business.
Clickfunnels Editor (Page Builder)
Sales funnels are easy to create with Clickfunnels because of the drag and drop editor in page building. It is specifically built to make the process of design and creation smooth and fun experience.
Clickfunnels offer an editor where you don't have to know anything about coding. Simply, all you need is to click on the page elements to resize or move it through the page. Hence, even a person with no knowledge of page design in can quickly produce stylish and professional sales funnels.
Templates
There is a wide range of templates offers for producing good designs. The templates created by Clickfunnels are absolutely free. However, the templates are arranged in accordance with the funnel type. Therefore, poking around through different templates would be a challenge.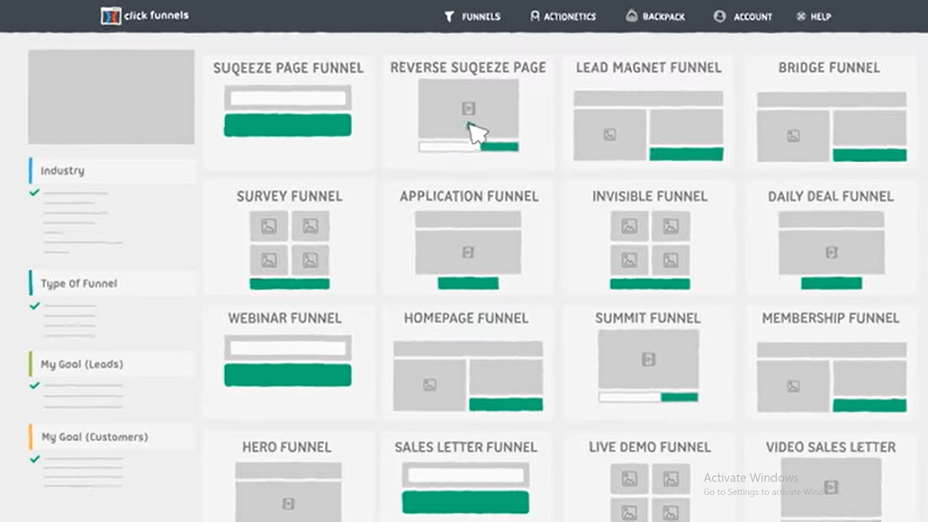 In addition, you can also make personalized page templates. It is quite easy to do so. Simply, toggle over the settings and move to editor to open it.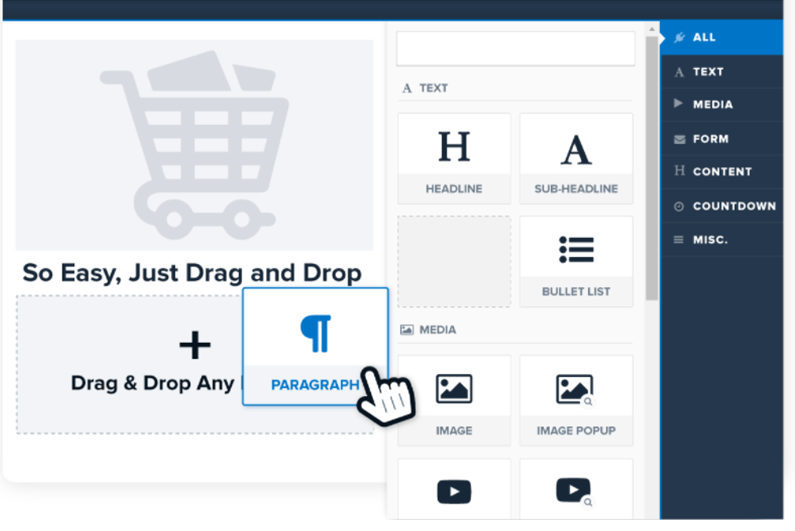 After opening the required page in the editor, you can easily work with Drag and Drop builder. It is easy to use but in comparison to other page builders it is a bit challenging.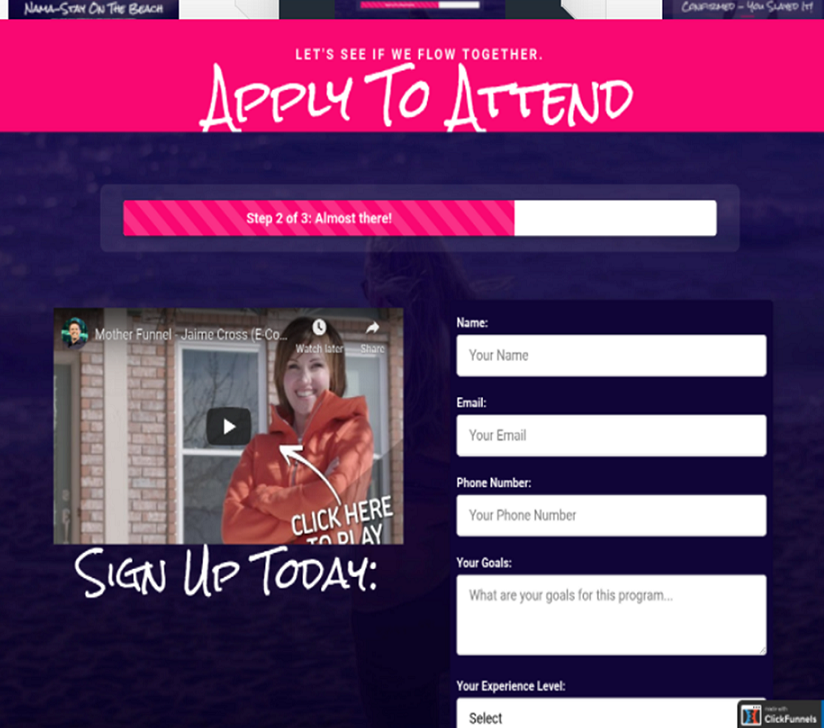 Now there are some features in the Editor with which it works. Such as blocks, media, fonts, background, forms, popups, social media, SEO and custom CSS. The editor has four key parts to work with. These are elements, columns, rows and sections.
The sections part holds the other three parts. You are allowed to add numerous sections in one page. Elements are there to make the page attractive and interactive for the visitors. So, this would be the basic page structure: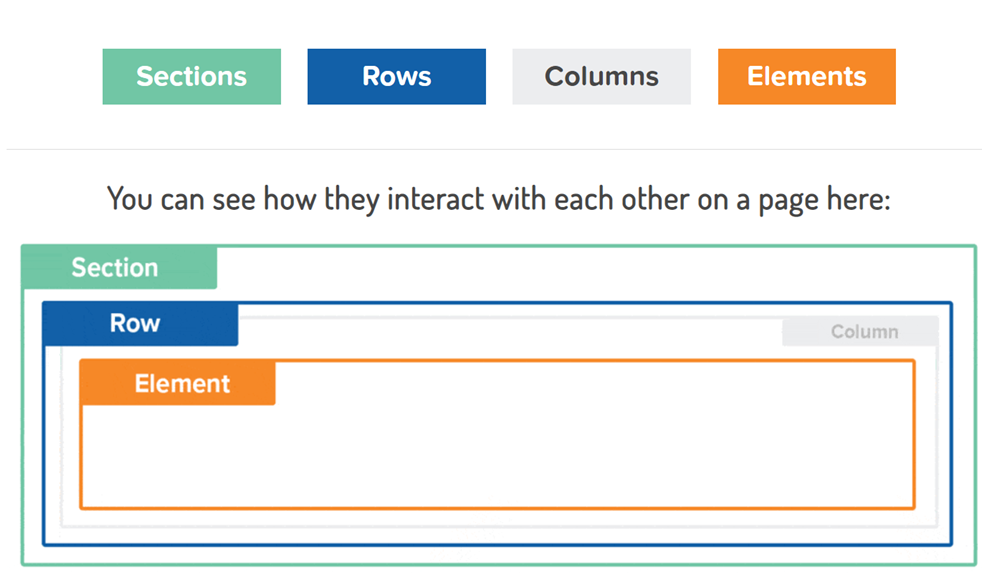 It is not as complicated as it sound or look. You are provided with color coded things on the page. So, you will know what is what.
The column, section, row etc. are also editable through the side bar. In fact, the entire page can be edited or customized. The editor allows a lot of customization with a whole control over the page. you can play with all the settings, text and colours. The bonus you can get if you know coding is that you can add your own HTML, Javascript and CSS.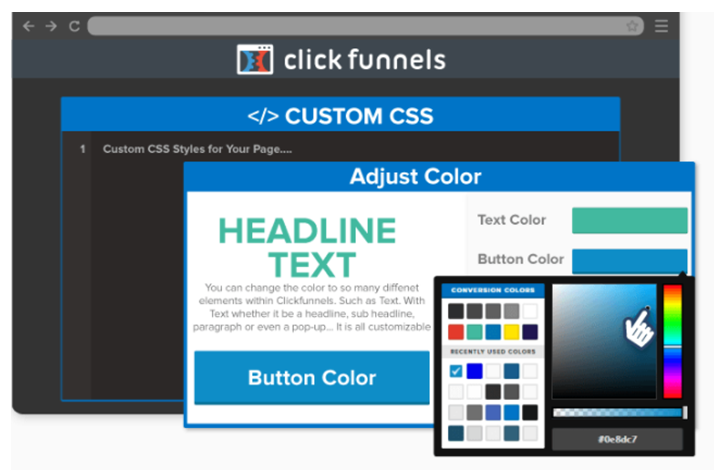 Now you know, how Clickfunnels editor offers a lot in terms of features, tools and usability. It also makes sure that your sales funnels are highly converting and stunning.
Integrations
Clickfunnels provides a great solution to enhance your sales especially through online. The product promotion done with multi-stage sales funnel help showcasing the product while generating interest and decide purchase.
Well, it allows you to sell both physical as well as digital products by integrating eCommerce fulfillment center, ShipStation. This tool takes care of all the steps from packing to shipping and saves time.
It also integrates
Maropost
Salesforce
Twilio
Shopify
Webinar Jam Studio
Mad Mimi
HubSpot
InfusionSoft
Zapier, and many more
Moreover, you can add quite a number of integrations to your account such as actions, SMS/text, Webinar, and email. You can also integrate MailChimp as it is an auto-responding application. See? Simple!
You can find more integration options in your integrations section. The entire panel to do this is self-explanatory.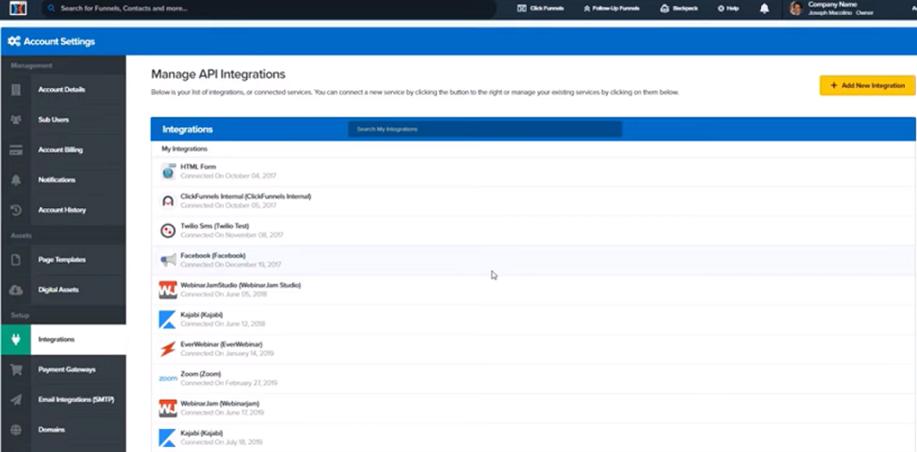 Integrations are also required for payments. Therefore, Clickfunnels integrates with payment gateways as well.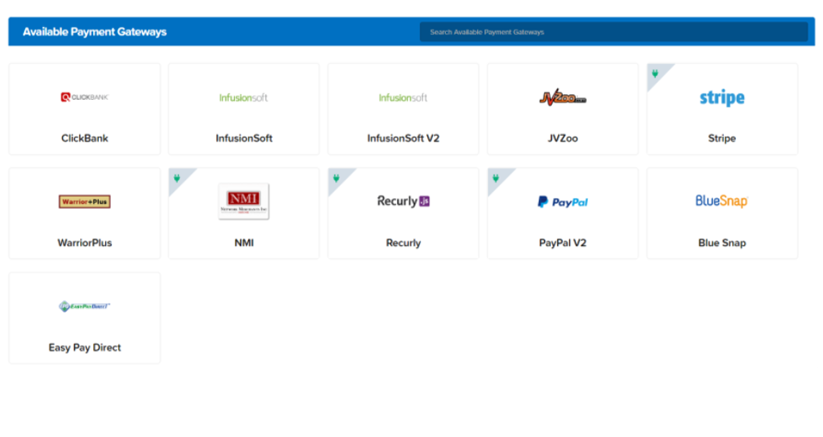 Infusionsoft
Taxamo
BlueSnap
Ontraport
NMI
Easy Pay Direct
ClickBank
Stripe
PayPal
Clickfunnels Pricing
Clickfunnels is quite an expensive tool. Here are the offered Clickfunnels pricing tiers: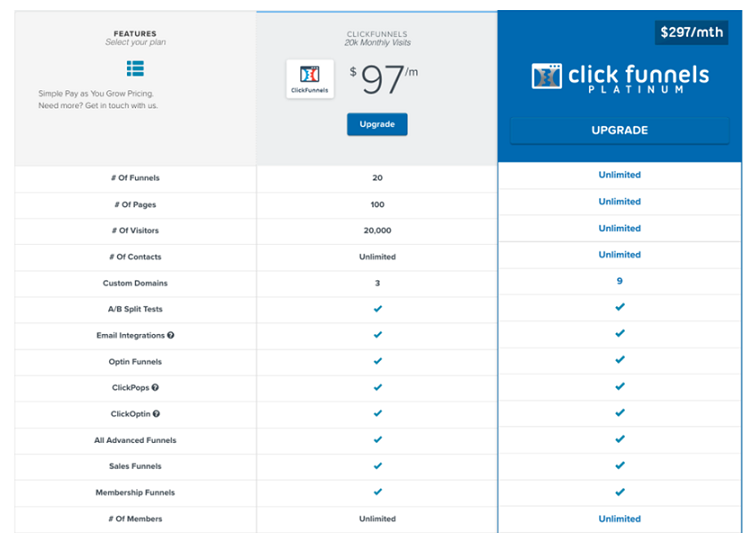 The cheapest one is the startup plan that still costs $97 per month. This plan gives you access to almost all the tools of funnel creation.
There are some limitations with this pricing as well. You can create 100 landing pages and 20 funnels. Also, it limits you to 20,000 visitors for a month and only one user per account. Moreover, you get three custom domains without follow-up funnels.
With that being said, the saddest part is that you cannot use Backpack feature of the platform which is used for affiliate program creation.
The Clickfunnels Platinum plan costs you $297 per month. In this plan you can be benefited with all the Startup plan's features as well as many more.
It gives you unlimited follow-up funnels, pages, number of visitors, and funnels. Moreover, you get access to FunnelFlix, Nine custom domain, nine payment integrations and Backpack.
The cost of all-in-one marketing solution sees fine with the value of services it offers. Above all, you do not have to pay for separate software to build different pages and email integration.
Free trial
Are you skeptical of getting aboard with Clickfunnels?
Try out the free trial. It is a great option with this offer where you can try all the advanced features it offers and estimate if it suits your business.
In the trial period, you will be able to access and use all the features it offers in your selected payment plan. Moreover, you will get an access to all the bonuses as well during the free trial.

Many people argue that Clickfunnels is pricey. But compared to it alternatives, Clickfunnels offers numerous features that are not offered by others. After your investment you will find out the worth for business.
So Yes, the hype and price are worth it.
Customer Support
An extensive knowledge base is great support for the users. It is clean and well organized that enable you to quickly find the required documentation.
A well display of descriptions and videos, top tips, tools explanation, best practices of sharing and several features have made the dashboard easy to use.
It also promotes a strong social media community with which users can easily connect and inquire their questions and problems.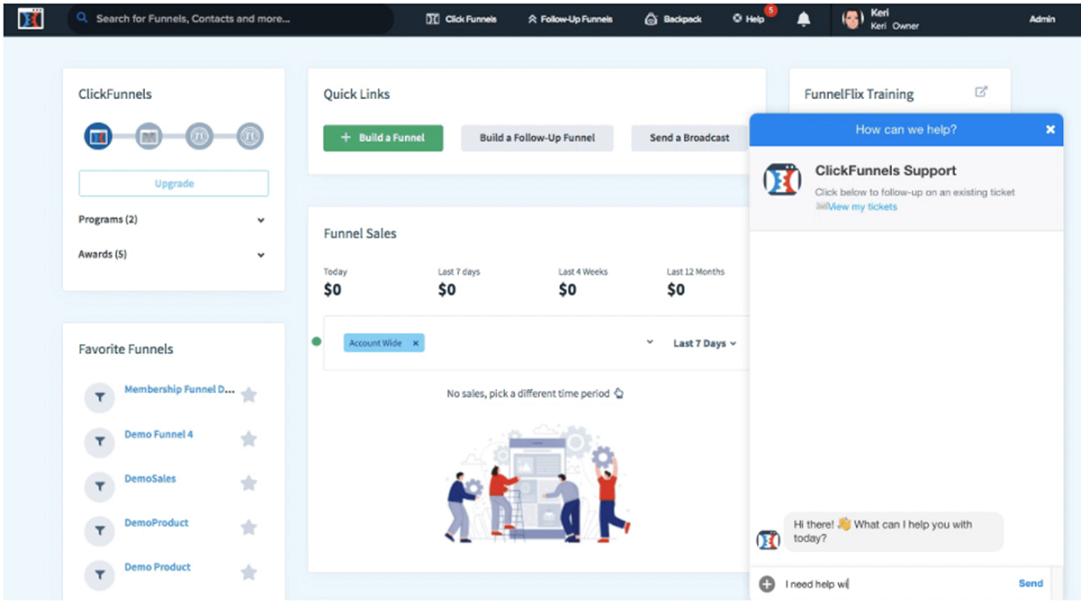 The support service of Clickfunnels is quite slow. But it is legit that it is an extensive platform therefore they have out a great documentation in support. These documentations resolve basic questions. Facebook support community also resolves many queries.
Easy Of Use
The main aspect of ClickFunnels is that it offers tools to the less tech savvy. Therefore, it is more time and money saving. Although, it is easy to use but some experience is always good to start with.
This is because with so many features in here make it overwhelming for the beginners. For those who are new to the world of marketing and ecommerce it may be hard to achieve the learning curve. You can consult Russell Bunson's book as a guide.
Creating your own funnels may be more difficult than Clickfunnels. Clickfunnels offers explanatory documentation and a customer representative can always help you.
The actual funnels in Clickfunnels are easily manageable. A comprehensive menu conrols all the navigations from managing process to choosing templates and the editor.
You need to develop some understanding of payment and email integrations. But it is still simpler than getting to learn coding for funnels.
Clickfunnels is not that simple as a whole but it has an interactive and friendly user interface. We would recommend that all the users should get some understanding of technology before stepping to use Clickfunnels.
Pros and Cons
Pros of Clickfunnels
Integrations: Clickfunnels offer API integrations of high importance. Payment processing and auto-responding emails are easily manageable and reliable.
Monetize your site: Clickfunnels is focused on monetizing for the user. Also, it is very easy to pick everything in a few hours to put up the content and start earning.
Page builder: the drag and drop page builder makes it an easy to use option and create landing pages.
Pre-built templates: pre-built sales funnels save time. You can simply choose the one of your choice and build a landing page from scratch.
Marketing: you can easily determine the best marketing strategies and data for your product and service marketing. Therefore, you can generate more sales with more leads.
Mobile optimization: the software offers an intuitive mobile optimization option. The popup menu provides more options for change in size and elements to make it responsive for mobiles.
Cons of Clickfunnels
Membership area: there is a built-in membership area but it does not offer customizations. Moreover, it is fine with simple customizations but for delivering a course or advanced content, you may need learning management system.
Affiliate portal: it has huge number of affiliates. The problem lies with the reporting system. It seems like it is not transparent or misleading analytics.
Customer service: the company's customer service is too slow and lags in many terms. The customer service representatives are mostly unable to understand the queries. Language barrier is another issue in this regard.
Overpricing: this may be a drawback to have limited options of pricing either at $297 or $ 97 for a month. But overall, it is a huge investment for your business in the long run.
Overwhelmed: you can extensively customize with Clickfunnels. It is overwhelming for the beginners especially. Also many people may be using the same template. Diversity could be incorporated for better results.
ClickFunnels Rating
According to the Trustpilot rating, Clickfunnels got 4.6 stars based on 1,044 reviews. It shows that Clickfunnels is a useful tool for operating an online marketing and online business. The software offers all the required features that may be needed for an online business. Most of the negative comments and reviews are due to poor customer support. The users expect an excellent customer support on the cost of a high priced ticket.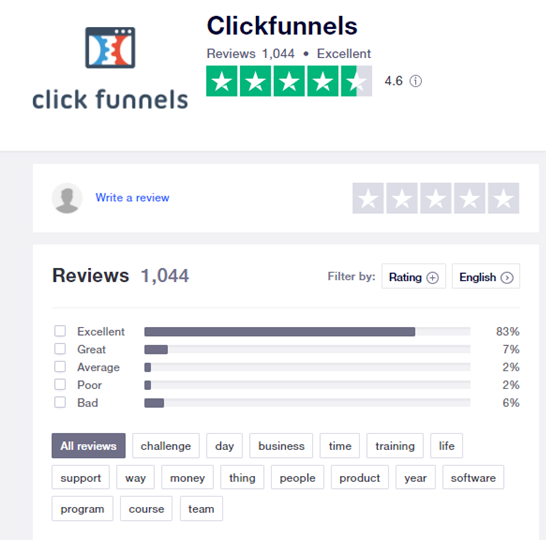 Real user feedback and experiences with Clickfunnels demonstrate its effectiveness in helping businesses grow and scale online. Positive reviews highlight the ease of use, robust features, and continuous improvements to the platform.
Users praise the platform's integrations with popular services like MailChimp, Shopify, and Stripe, enabling seamless cross-platform functionality. While some users mention the learning curve associated with mastering the platform, they ultimately find it beneficial for their business needs.
Using Clickfunnels for Clients
Working with Clickfunnels for client projects is a seamless process that saves time and resources. First, to set up Clickfunnels for your clients, you'll need to create a new account for them or have them sign up themselves. Next, add the client's domain to the account, ensuring their online presence remains cohesive and professional.
Clickfunnels offers an intuitive drag-and-drop editor, perfect for creating custom landing pages, sales funnels, and marketing campaigns tailored to meet your clients' needs. With a myriad of pre-built templates and integrations, you can easily manage clients' email marketing campaigns, affiliate programs, and payment gateways.
Moreover, Clickfunnels takes care of hosting your clients' sites, ensuring optimal performance and security. This allows you to focus on improving the overall user experience and conversion rates, without worrying about technicalities.
Product Launch Funnel in Clickfunnels
Creating a product launch funnel in Clickfunnels is a breeze, with several strategic steps designed to generate buzz and convert leads. First, create a compelling pre-launch page to pique interest and collect email addresses. This could include a product teaser, countdown timer, or a giveaway to encourage sign-ups.
Next, use the email addresses collected to send targeted, automated email sequences that keep subscribers engaged and excited. This is where you can share updates, behind-the-scenes content, and special offers to incentivize pre-orders.
As the product launch approaches, leverage the power of webinars and live events to showcase your product's features and benefits. With Clickfunnels, you can easily integrate webinars, live chats, and social media sharing to drive traffic and conversions.
Finally, once the product is live, use post-launch follow-up emails to thank your customers, gather testimonials, and upsell related products or services.
Is Clickfunnels Legit?
Clickfunnels is a legitimate and reliable marketing platform designed to help businesses of all sizes create high-converting funnels. With a substantial user base and numerous success stories, Clickfunnels has proven its effectiveness in driving leads and sales.
The platform's robust infrastructure, high-quality templates, and continuous updates make it a reliable choice for businesses looking to optimize their online presence and increase conversions.
Clickfunnels vs. Competitors
When comparing Clickfunnels to its competitors, it's essential to consider factors such as pricing, ease of use, and features. Some alternative platforms include Leadpages, Unbounce, and Kartra.
Leadpages is an affordable option focusing on landing page creation and lead generation. However, it lacks the comprehensive suite of tools offered by Clickfunnels, such as sales funnels, membership sites, and affiliate management.
Unbounce is another landing page builder, known for its flexibility and customization capabilities. While it offers powerful A/B testing and optimization tools, it doesn't provide the full sales funnel experience that Clickfunnels does.
Kartra is a more comparable competitor in terms of features, offering an all-in-one marketing and sales platform. However, it can be more expensive than Clickfunnels, and its learning curve may be steeper for some users.
Ultimately, while each platform has its merits, Clickfunnels remains a top choice for businesses looking for a comprehensive, user-friendly solution to streamline their marketing and sales funnels.
Conclusion
Clickfunnels is not a perfect of all the tools available in the online market. But it is good at doing its job in the online selling and making a visitor a paying customer.
You can not only create unlimited sales funnels with ClickFunnels but also get access to all the trainings and tools to grow your online market as well as sales.
Of course, Clickfunnels is not a cheap solution but the revenue you can generate with it is worth of investment. With all the offered solutions, you can successfully run your online business.
The available templates and ease of their use make it productive for a business owner in the online market.
It seems to be successful in terms of its objective and make it easy for the high conversion rate and traffic generation towards your products and services. Despite negative reviews, it is a highly useful tool for the entrepreneurs who have less exposure to internet and technology.

As one of the co-founders of Codeless, I bring to the table expertise in developing WordPress and web applications, as well as a track record of effectively managing hosting and servers. My passion for acquiring knowledge and my enthusiasm for constructing and testing novel technologies drive me to constantly innovate and improve.
Expertise:
Web Development,
Web Design,
Linux System Administration,
SEO
Experience:
15 years of experience in Web Development by developing and designing some of the most popular WordPress Themes like Specular, Tower, and Folie.
Education:
I have a degree in Engineering Physics and MSC in Material Science and Opto Electronics.