Electronic learning is the new norm in the current era; more and more people are moving towards selling and buying products through e-commerce. So we will have written a Kajabi review that is one of the best tools to start your eLearning business
The global e-learning industry is currently expected to reach a net worth of around $325 Billion by the year 2025. Hence more entrepreneurs are arising to take maximum benefits out of this aspect.
You must know that people always have this hunger to learn different topics and multiple skills. Due to this particular reason, selling online courses has proved an efficient business strategy. Kajabi, a relevant platform, serves this purpose very effectively.
Kajabi is an all-in-one platform for creating online courses
It promises every feature that a business person requires to design, market, and sell their product without putting in too much effort.
Kajabi was introduced to the digital market in 2010 and currently accommodates 50,000 effective subscribers. It runs in almost 120 countries all over the world. People tag this platform as one of the best to serve their course designing and selling needs.
Moreover, around 60 million students have enrolled in their sponsored courses and they have made massive sales of around $1.5 billion.
But a question commonly arises in freshers; is Kajabi worthy of all the hype created around it?
This question will be the main focus of today's article, where you will come across several things related to Kajabi. It is a detailed review of its introduction, features, benefits, major improvement areas, setbacks, and similar other items.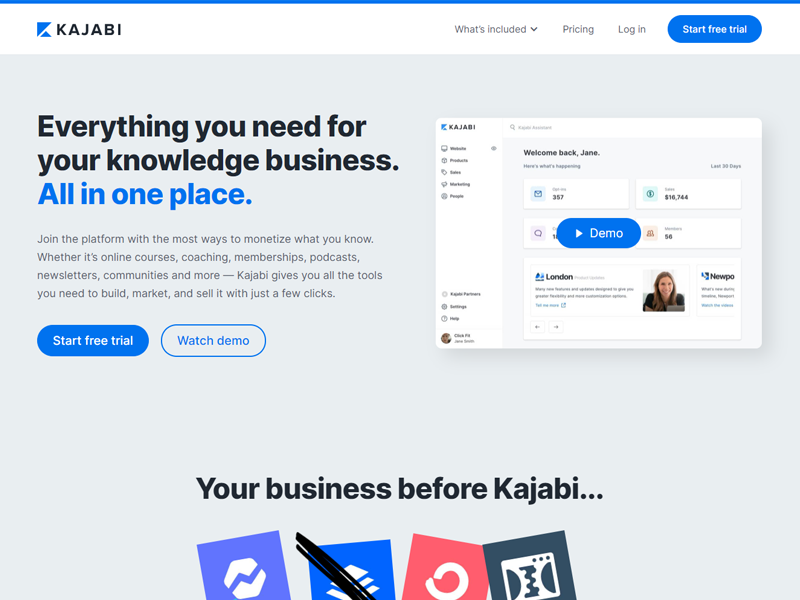 It's finally time to begin:
Introduction To Kajabi
Kajabi is an online course platform; with Kajabi, there is no need for you to depend on any other software for course development, marketing, and selling.
Kajabi takes care of the most important payment methods to feature by offering easy integrations with PayPal and Stripe. Moreover, it also offers effective email marketing tools to promote your skill course on the online platform.
You can conveniently achieve your course's scaling and search engine optimization through sales funnels and other marketing tools offered by Kajabi. Moreover, you as a subscriber can have a complete tracking report of your students and relevant courses with its exclusive analytical tools.
Kajabi also offers the creation of unique and SEO-friendly landing and sales pages; this has a positive effect on increasing the number of conversions on your course selling site. Moreover, this process is sped up by the availability of pre-built templates, which is a significant part of web designing; this feature will save you a lot of time and hassles of coding.
Kajabi also offers a custom domain to its users that is most important for enhancing its individuality amongst other competitors. However, Kajabi has its major focus on marketing and promotional tools. Still, it also allows users to develop their extensive skills and knowledge into an online course- all from scratch.
Kajabi has a wide range of tools inbuilt and integrated to serve all the above purposes singlehandedly. The product launching tools and marketing strategies make your course selling effective. Moreover, these automated campaigns save you a lot of your precious time.
Key Features Of Kajabi
Let's have a look at some of the key features of Kajabi.
Completely Online Setup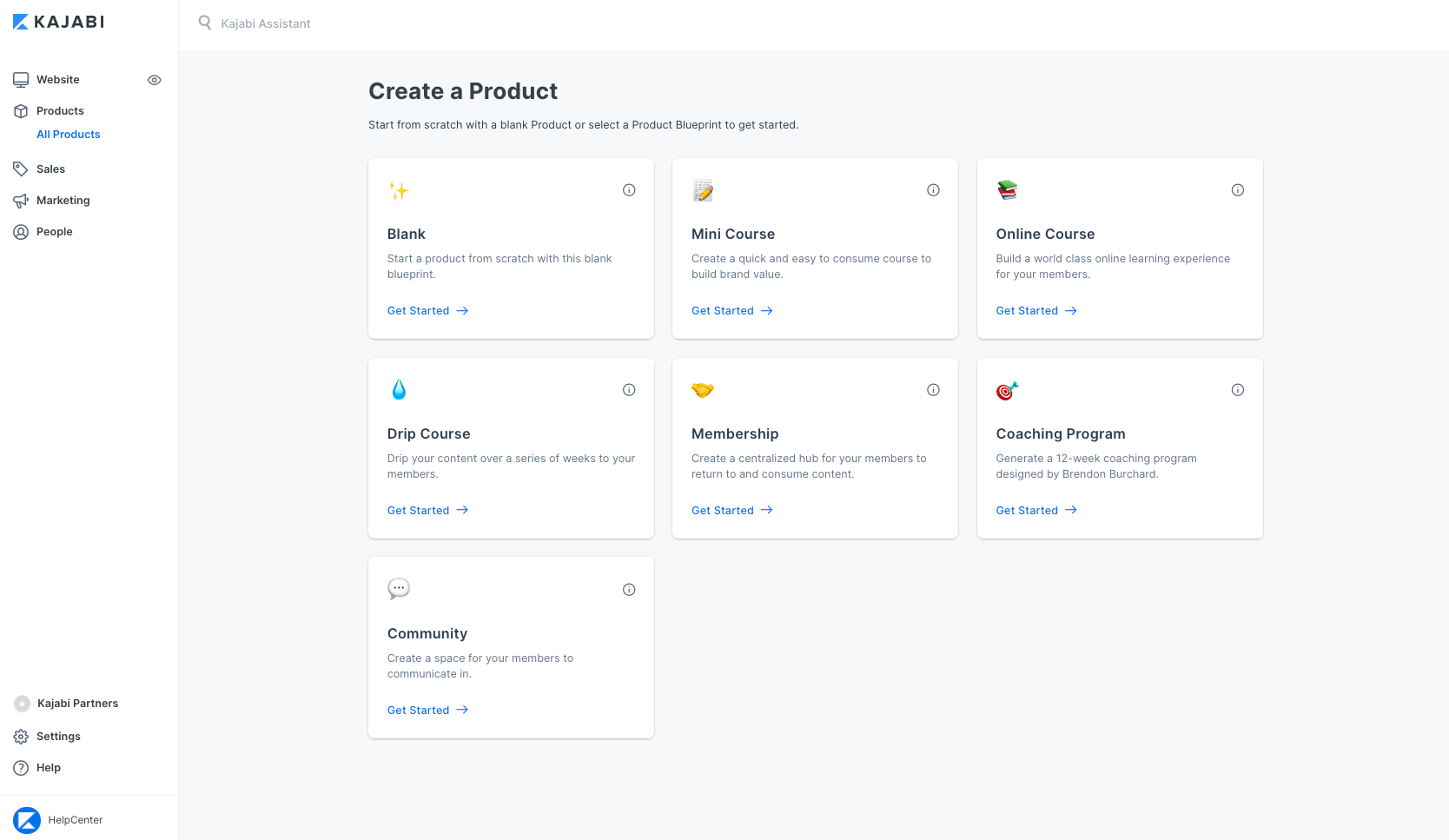 As soon as a user gets signed up with Kajabi, a bulk of features will be at their end to utilize to make, market, and sell an effective course. These features make web designing and course development processing easy and convenient. They include;
Zestful predesigned templates that can be downloaded with one click to be used for designing web pages
A drag and drop editor facilitates customization of these templates by changing background colors, style, font, etc.
A search engine optimized blog where you can easily promote your content; helps increase sales.
Kajabi doesn't require you to be a coding or programming expert to run its course creation capabilities. It is the perfect software at your service for creating an online course website that can handle a bulk amount of traffic and visitors.
Customized Email Marketing Campaign
Kajabi has given utmost importance to how effective email campaigns can be for marketing features and promoting digital products. One of those few tools attract new buyers and then becomes loyal customers. The Kajabi affiliate marketing tools let its subscribers send news and information relevant to their courses to a list of registered emails; you can also personalize those emails before sending them out.
Moreover, the analytical tools combine to make you aware of those emails' activity. You can conveniently track them to know the numbers and duration of all the opened emails. In simpler words, Kajabi's analytical tools cater to provide you with a complete report on the success or failure of your email campaign.
Convertible Landing Pages
Landing or sales pages, as popularly known, hold a critical value in attracting visitors and increasing the rate of traffic conversion. Kajabi offers search engine optimized and predesigned but customizable templates for these pages. It will serve two purposes: match your brand and attract more visitors to get converted into customers.
Quizzes, Membership Sites, and Assignments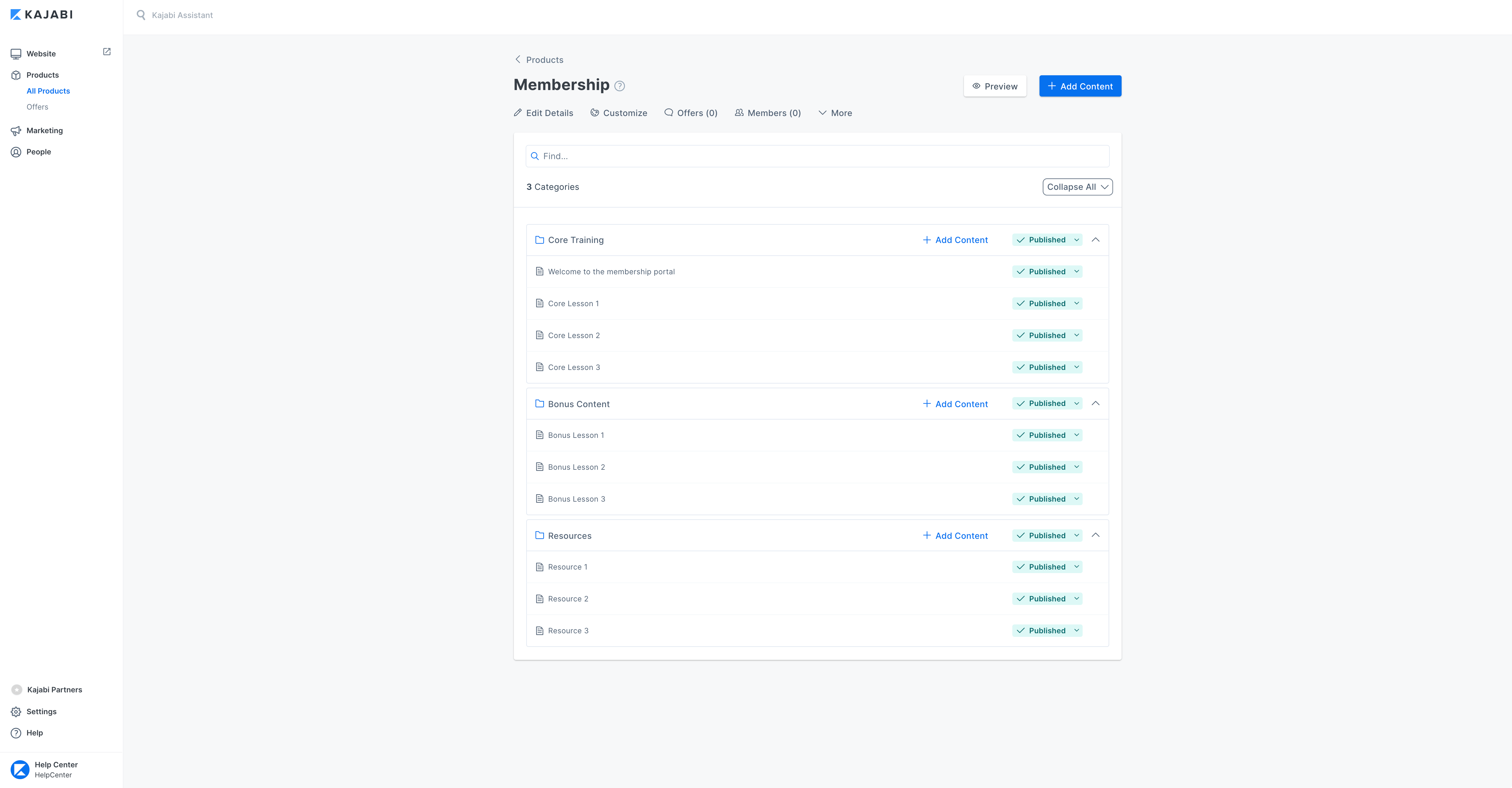 Kajabi allows its subscribers to develop their membership sites to grow their audience base by providing the best student experience. The teaching procedure is enhanced by providing students with timely homework and assignments and even taking quizzes to test their progress.
We also listed it in our article: Best Membership Site Platforms.
An example of this feature offered by Kajabi is; if your course lesson has assignments attached, the student will have to submit it before proceeding to the next section. Moreover, students can also provide you with relevant feedback, and you can use a theme to enhance your course and its related items.
Upselling, Customizable Checkout Pages, Adjustable Pricings
The feature of upselling holds a significant value to achieve maximum revenue. The tools that serve this purpose are immediately accessed after purchasing your suitable Kajabi Plan.
Also, Kajabi created checkout pages are customizable and are designed for attaining considerate numbers of conversions. There's great flexibility if we talk about this platform's payment options.
You can set subscriptions for your students, one-time payments, free trials, and even offer fees for earlier setups. You can choose any of these options depending on your course and surrounding plans.
Automated Marketing Tools
Besides running email marketing campaigns, you can also use automated marketing pipelines for a better user experience. These include;
Timed emails
Reminders
Confirmation on enrollment
You can even customize these emails according to the mailing list. Moreover, Kajabi also offers live webinars to these marketing pipelines. Users can also access these events in their free time on repeat mode.
Read More: Thinkific vs. Kajabi.
Kajabi Updates
Kajabi has been operating for years and has made several changes and modifications to provide a smooth user interface.
Few significant updates made by Kajabi for the betterment of their customers are listed as below:
Kajabi made their coupon feature better recently in January 2023.
They announced to cater coaching sessions on their platform as well. This announcement was made in November 2021. This tool proved essential for their subscribers in providing online courses in a whole new and efficient way.
They also launched podcasts on their platform as a podcast hosting tool in October 2021.
They also introduced a visual editor for email sequences in May 2021.
Kajabi Access, a brand new support system, was made available in October 2020. It has a complete set of new introductions like services, resources, and guidelines for course creation and relevant activities. It will help the user get maximum benefits from the platform of Kajabi.
In October 2020, They made only a great improvement in their already perfect website builder. These new features make it easier for customers to upsell and cross-sell the sources to a wide variety of customers across the world. Moreover, they also introduced additional template designs for different web pages. Kajabi also introduced the blog and member directory features in the same update.
Also, this update marked a huge improvement in the analytical tools of Kajabi to keep you updated on your course progress. Features like new reports sets, easy tracking facilities of product progress, sales predictions, sales made, and tracking of affiliated members or sites.
In October 2019, considering the importance of customer feedback, they introduced a feedback portal. The users can upvote, submit and track their requests for demanded features. It also keeps the subscribers aware of coming, which is a better idea to increase engagement.
They also made their analytical tools better in August 2019. Few introductions and improvements include custom domain, assessment, events cloning, better tracking functions, more customization features. This update also saw the introduction of the Momentum theme.
Kajabi has worked and is continuously working towards the betterment of its users. Their updates are solely directed towards providing a smooth and powerful interface to their subscribers. They have stayed ahead of the other competitor platforms in customer satisfaction.
Kajabi Pricing Plans
You may find Kajabi a bit costly, but honestly, it's for the best price to get all these premium features under your belt. Moreover, various plans will help you make better choices according to your business plan.
Their basic plan costs around $119 per month, whereas the pro plan charges $319 to its users. Moreover, opting for the annual paying method might save you 20% of your money. Here I will discuss each plan in more detail to better understand what fits your need and budget perfectly.
Let's first have a look at similar features of all the Kajabi offered plans;
Drip content
Convertkit
Website builder
Live events
Live webinars
Two weeks free trial
Their two-week free trial ensures complete customer satisfaction before investing in a relevant plan.
Let's have a look at their plans;
Basic Plan
If you opt for paying monthly, this plan will cost you 149$. However, you can save 20% with an annual payment by paying 119$ for a month.
This plan offers three different courses or digital products and three marketing pipelines for each. This plan's few other features include unlimited landing pages, access to email marketing tools, accommodation for 1000 students, single admin access, and one website.
Growth Plan
The second Kajabi plan costs around $159 per month if you make annual payments. For monthly payers, the cost is around $199.
This plan allows 15 products and their pipeline for marketing purposes. It accommodates around 10,000 active users, gives access to one website, and allows around ten admins.
A few more features to be availed with this plan are;
Creation of unlimited marketing emails
Creation of unlimited landing pages
Automated tools
Affiliate programs
Removal of Kajabi watermark
24/7 live customer support through live chat support
Pro Plan
The Pro Kajabi plan costs $319 per month for annual payers, whereas if you opt for monthly payments, it will cost around $399 per month. It supports up to 100 courses and 100 pipelines separate for each course. Moreover, this plan will get three websites, 25 admins, 25,000 active users, and 2 million e-commerce emails.
It does not end here; the plan also provides unlimited sales pages, affiliations, template editors, and automated tools.
Verdict
If you are a newbie into this business, Kajabi wouldn't fit you due to its high prices; several more similar platforms perfectly suit the needs of beginners and fall under their budget. Kajabi is the perfect choice for business persons who already have a small businesses base set and want to bring their audience on this platform for better outcomes.
Using of Kajabi
Kajabi, as already said, is a platform that serves the online course platform and digital products selling purpose with its high-end e-commerce oriented features.
You should know how to take maximum advantage of each platform feature to get the best results of your investment in their plans.
Let's discuss a few important steps of setting up and running a Kajabi account.
Website Creation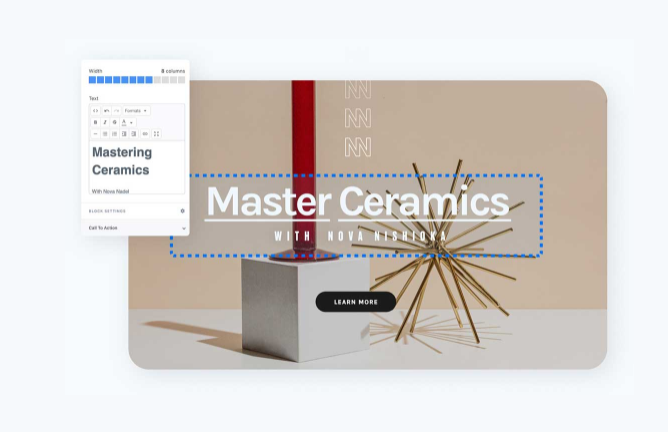 Website creation is not easy, specifically for beginners who don't know much about related technicalities. But Kajabi provides a bit of relaxation in this regard with their pre-built templates. There is a huge variety of themes to choose from that match your brand perfectly.
The designs of these templates range from glossy to voguish, all to provide a satisfactory outcome to the entrepreneurs. It deserves focus as it is the key to attracting visitors and converting them into loyal customers.
Moreover, Kajabi also allows you to customize your website further and set a custom domain of your brand; but you will require an SSL certification from Cloudflare.
Addition Of Courses
Once your website is created, it is time to add different courses to the world wide web. These teachable digital products could be about anything you excel at; any skill or knowledge-based item. You could add the course content in multiple formats, including videos, audio, text, etc.
Here's the guide on uploading the course on your site and customizing its outline.
Go to the dashboard after logging into your account.
Click on the products page.
Select which type, of course, you want to add. It could be a mini-lesson or a webinar.
Customize the course outline, like enable or disable comments, make files downloadable, etc.
Marketing And Sales
No matter how much quality content you have uploaded, it is almost nothing without proper marketing strategies. Kajabi has several options to serve the vital purpose of increasing the conversion rate. You can decide what type of action will generate the most traffic based on your landing page and course type.
Kajabi offers three marketing pipelines.
Promotional offers: These offers will get you to attract audiences by pitching your course at lower than usual prices.
Free reports: It is a perfect marketing strategy for newbies where you offer any course for free in return for emails to enhance your future marketing campaigns.
Product launch: This sales pipeline is essential for achieving financial profits. The more you focus on displaying your course and its related offers excitingly, the more customers will get attracted. Moreover, you can send them personalized emails to keep them aware of your upcoming product launch updates.
What is Good about Kajabi?
I like Kajabi for its certain features that take the lead. A few of them are;
Made To Sell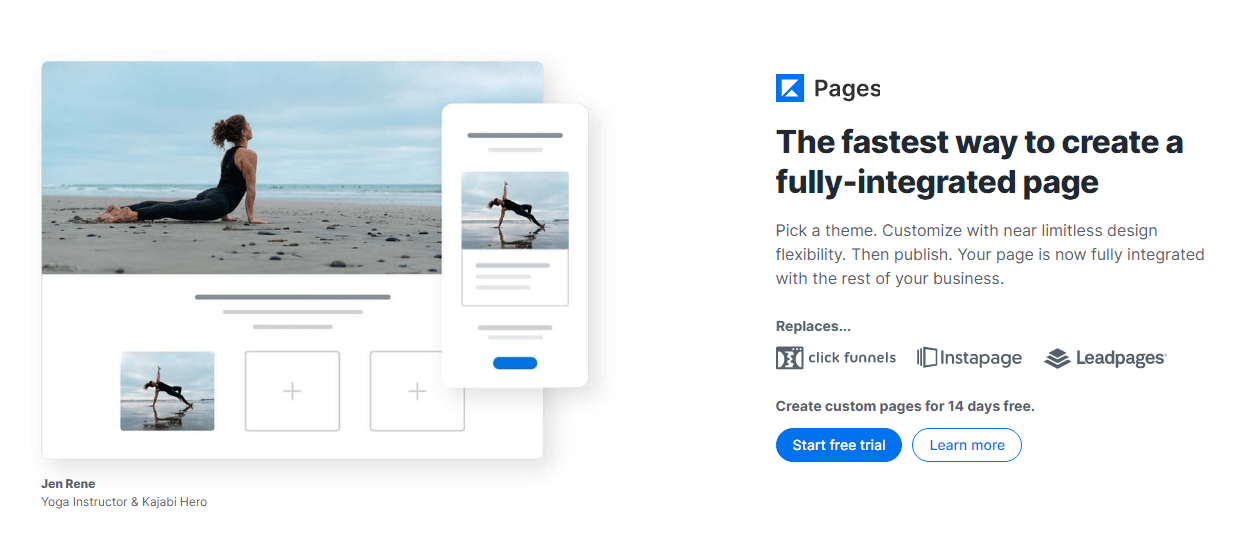 The perfect sales marketing funnels and sales pages offered by Kajabi play an important role in increasing sales of your digital products to their maximum. It works on the principle of enhancing traffic conversion rate into loyal customers.
Moreover, all the work regarding running email marketing campaigns is handled through the automated tools of Kajabi, saving you a lot of time. The best part about Kajabi, which other similar platforms usually lack, is that it has built-in tools for every action; hence, it requires no integration with third-party apps and tools for high functioning.
The email marketing campaign, introduced in 2020, has made things easy for entrepreneurs. They can conveniently build an eye-pleasing and dynamic email list campaign easily and quickly. These amazing marketing tools make Kajabi stand out on the list of other similar platforms.
Uniquely Designed Templates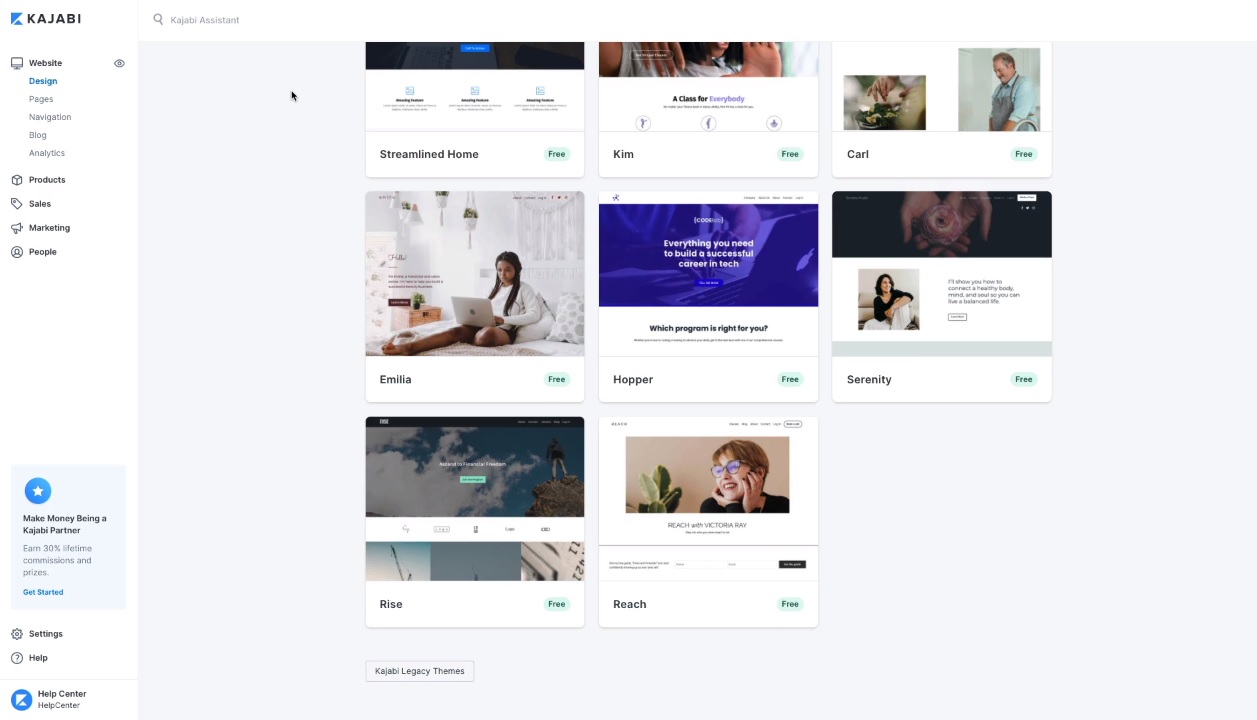 Kajabi offers a wide variety of templates that look modern, fashionable, and professional and play an important role in creating SEO-friendly sales pages. Moreover, you can also try your hand on premium themes available in the market to create your Kajabi oriented website if you don't like the inbuilt templates of this platform.
Blogging Tools
Another important marketing tool is starting up a blog where you write about your courses and how they can benefit your students in the long term. This feature works in favor of attracting more target audiences. Kajabi, with time, has greatly improved its blogging feature, although it does lack its integration with WordPress but is far better than similar capability provided by similar platforms.
Proper Video Streaming Capabilities
Video hosting in Kajabi is done through Wistia, a popular and effective tool for this purpose. It is an integrated tool that works perfectly for course content's video streaming irrespective of screen or bandwidth used by the students. Moreover, it makes it extremely easy to upload videos and saves you a lot of time.
Wistia ensures perfectly secured video hosting and streaming with no need to pay extra money for buying its license. For alone Wistia license costs around $99; hence purchasing the basic plan of Kajabi at $119 is not a bad decision. Moreover, you also get additional features with this plan already discussed above.
Immediate Product Creation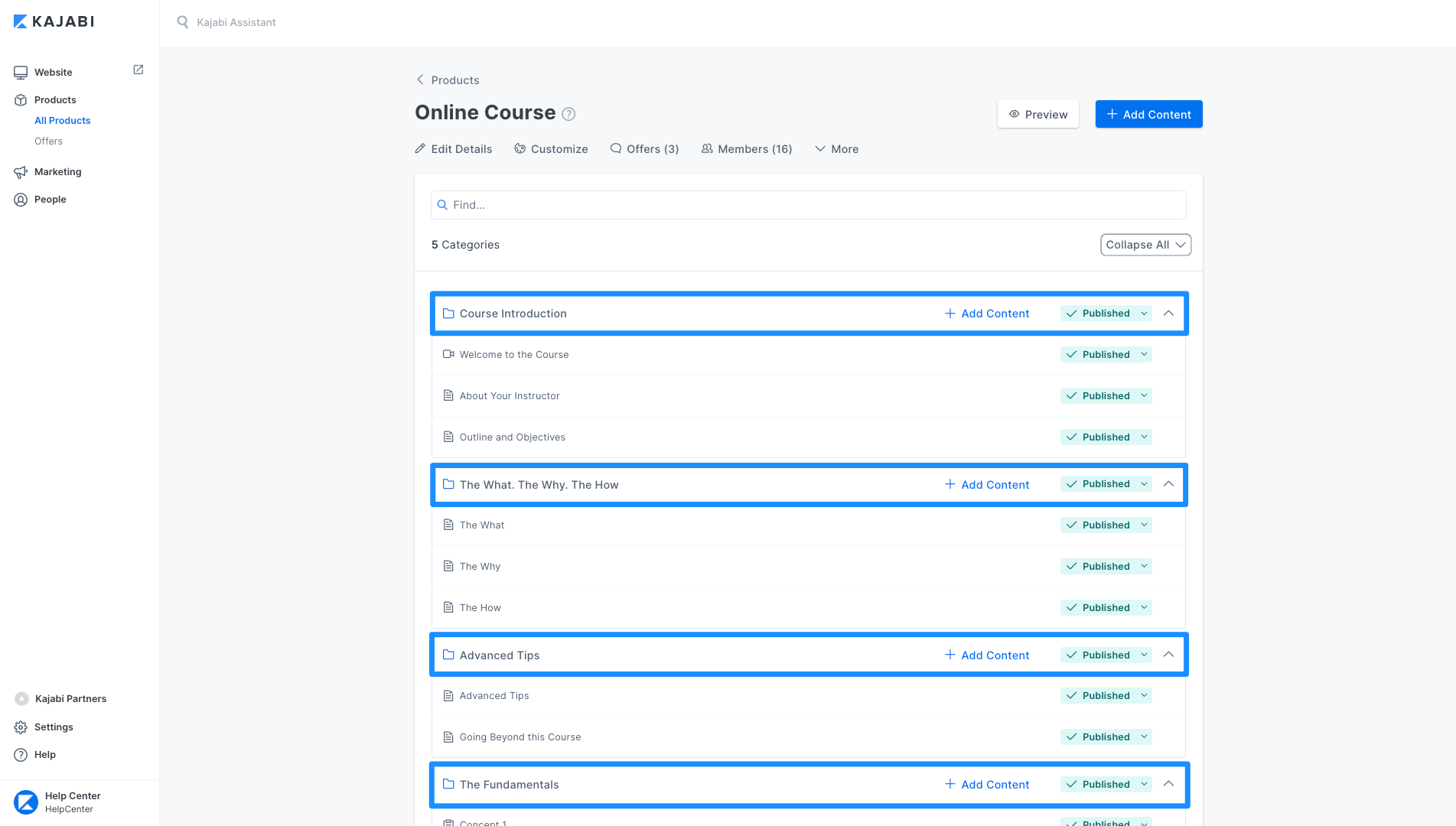 Kajabi saves its users from the hassle of coding and other programming procedures with its in-built templates. The entrepreneurs can directly jumpstart their course creation with its ready-to-use features. They can launch;
Mini-courses
Online Courses
Training classes
Membership deals
Moreover, you can simply customize each aspect by either adding an essential item or removing unnecessary things off the course.
Ease Of Creation And Promotion Of Live Events/Webinars
It is a mere part of product creation, but Kajabi's strong services deserve appreciation. It has integration with the world's largest online meeting platform, Zoom. It works perfectly for Kajabi to let its users organize live webinars for their customers.
Entrepreneurs can benefit from this feature by adding;
Registration pages
After event offers pages
Promotional emails
Checkout pages
Although Kajabi offers inbuilt templates for these pages, you should already have a Zoom account. The only work left is modifying text and dropping the webinar's link.
You can also arrange physical events, virtual conferences, and summits with a similar procedure.
Strong Customer Support Services
Kajabi has long been in this industry and has taken major steps to enhance its customer care services. They have invested greatly to improve their global support team.
Kajabi's major contribution in this regard is the creation of Hero University. This platform teaches users how to use all the resources offered by Kajabi to get the best outcomes.
Besides customer services provided by Kajabi, there are several trustable resources available on the web too. They are offered by recognized companies who want to guide newbies. You can completely rely on such original sites to know more about product creation and marketing procedures.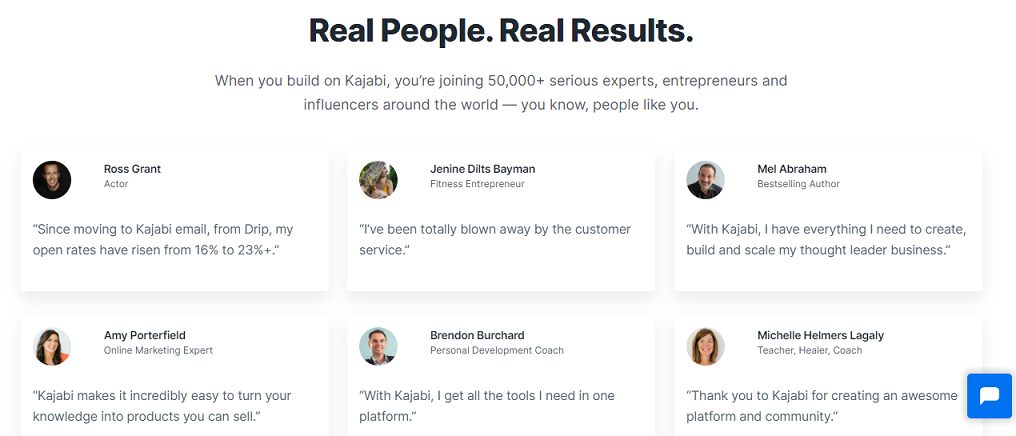 Fosters An Enthusiastic Community
This Kajabi offered feature is more like an additional aspect unrelated to your overall user experience. The platform arranges meetings at several intervals for its subscribers, which you can attend to engage with other active members and see how they are flourishing their business under this platform.
A newbie can also get significant information on utilizing Kajabi resources to their fullest.
Kajabi's Improvement Areas
Complicated Editing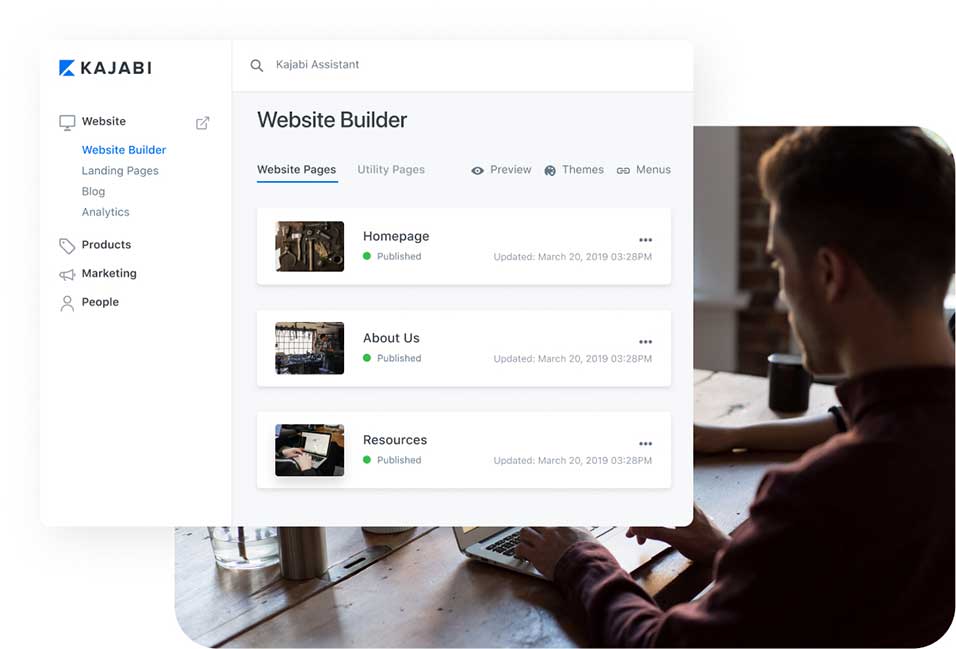 Some users might prefer Kajabi editor over WordPress editor for ease of use, but I don't agree. A few options on Kajabi's editor are really hard to search. Moreover, a few opt-in are confusing in their name and relevant functioning.
An example of this drawback is their page builder; as the name suggests, this feature looks like one for building pages added to the website. But that's not the case; in fact, this feature facilitates the development of landing or standalone pages. However, you can add them to your navigation pane, but this procedure is not easy either.
There are several examples like these. To be precise, all-in-one platforms are always complicated to handle, but the best part with Kajabi is that you don't need to know coding processes.
However, you can always take help video tutorials and other similar resources to understand Kajabi's tools deeply.
Comments But No Discussion Forums
Though Kajabi offers a strong community-oriented platform, its lack of a proper discussion forum might concern a few users.
Comments option on videos might serve a similar purpose, but the significance of having an engaging and interactive discussion forum is unmatchable. It is vital to get feedback and solve relevant queries by discussing with other users of this platform.
Lack Of Entry-Level Affiliate Program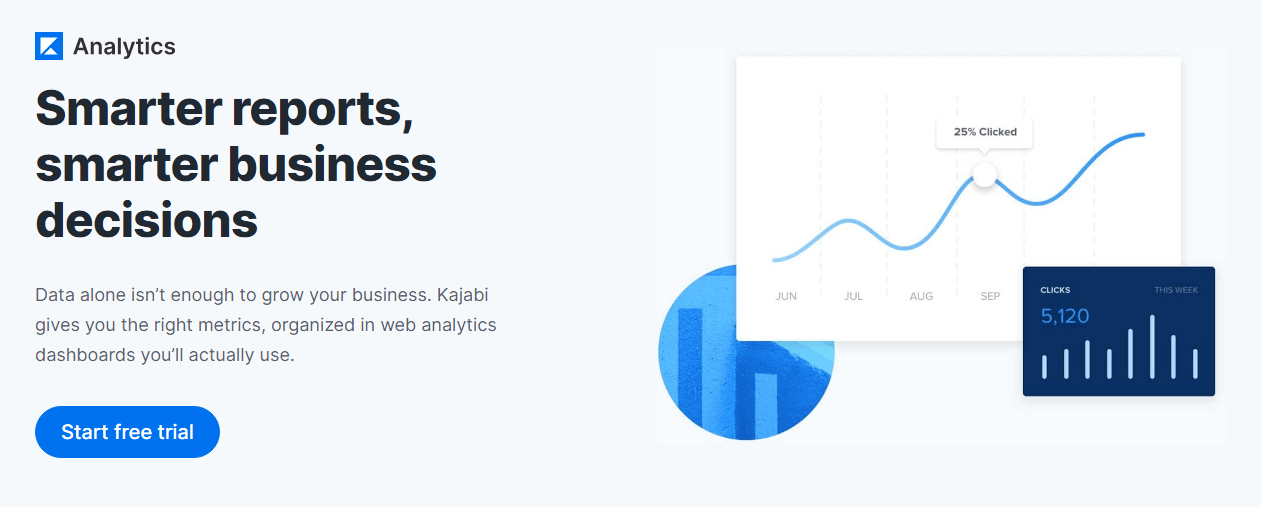 Affiliation with influential social media personalities and extensive companies benefit users in the long term to increase the number of their enrolled customers. However, a major drawback in this regard lies with Kajabi's basic plan; with this plan, you can't form an effective affiliate program. This feature is only available for growth and above pricing plans.
Read More: Kajabi Vs. Teachable.
Potential Setback Of Kajabi
I have covered major areas where Kajabi can improve their progress through new updates, but this topic is different. I will list down all the setbacks of Kajabi that might make it unsuitable for you to use for product creation and selling.
Before investing in any of Kajabi's plans, ensure that you don't necessarily need any of the below-mentioned features for your business. You might have to hunt another platform for a similar cause if yes.
No Multi-Tenancy Options
Multi-tenancy means effective creation and management of vast aspects of a platform under one place. It is a most needed feature for training companies handling multiple corporate clients simultaneously.
The clients might demand the specified brand to provide effective services to their subscribers. Kajabi's Growth and Pro plans offer multiple site creation, but it does not replenish the need for multi-tenancy.
Education Credit Capabilities Are Not Continuous
Although entrepreneurs can award their students with a course completion certificate upon finishing the lesson, there's no way you can assign a duration to each of your courses. Though a few options might lower the need for this feature, it is not perfect for providing credit hours for their educational plans.
No SCORM Or TinCan Compliance
Kajabi doesn't support import and configuration, of course, from third-party apps like Articulate and Captivate. Due to this, they also don't contain essential e-learning standardized tools usually required in course packages. SCORM and TinCan are two examples of such tools; more are to fall under this category. Hence if you think SCORM or related tools' support is a basic necessity for you, give Kajabi a miss for better.
Kajabi Vs. Competitors
Now when you know Kajabi's basic features, benefits, steps on using it, improvement areas, and major setbacks. It's time to compare it with other platforms that serve a similar purpose but differ in a few categories that prove individuality.
The three main competition platforms of Kajabi has a Facebook group in the current market are Kartra, Thinkific, and ClickFunnels.
Kajabi Vs. Thinkific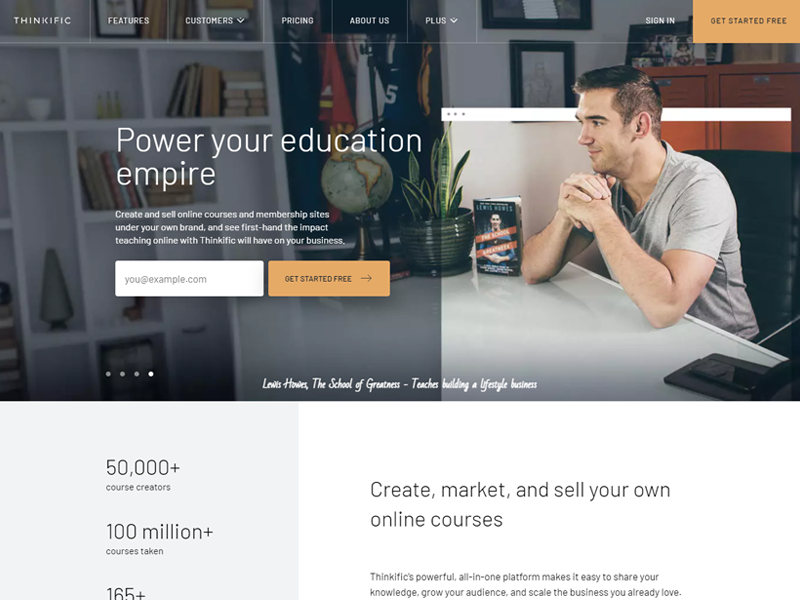 Both the platforms target different types of audiences. Kajabi is one platform for businesspeople who want to quickly create and sell their courses. In contrast, Thinkific is for those who want to invest some time but create a detailed and structured digital product.
Another factor of comparison between Kajabi and Thinkific is their marketing tools; Kajabi takes extensive marketing tools while Thinkific falls short in this category.
Thinkific offers quality instructions to create courses while Kajabi works on quick monetizing processes.
Read more: Thinkific vs. Kajabi.
Kajabi Vs. ClickFunnels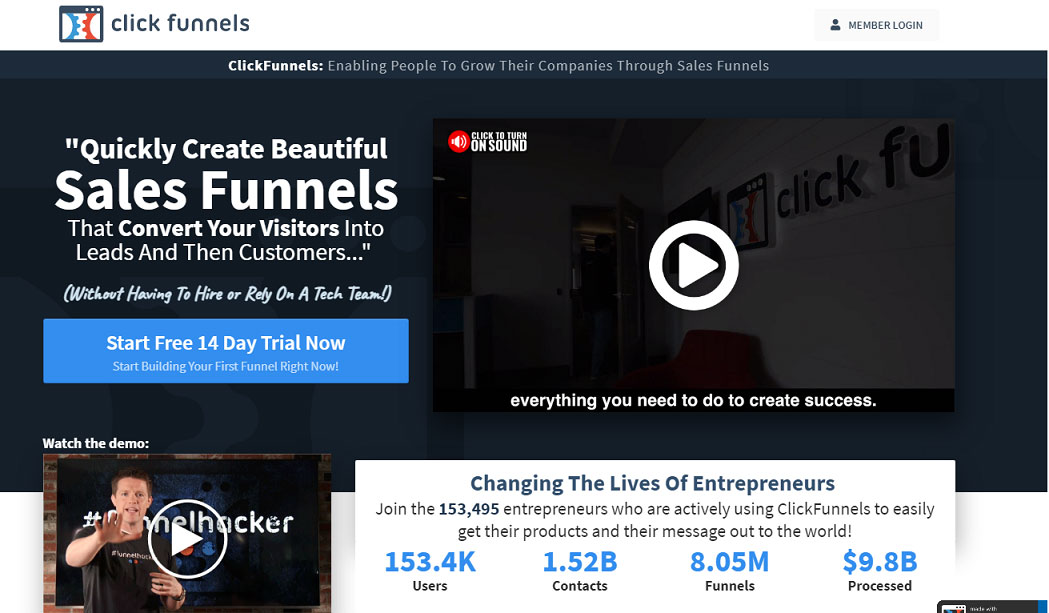 Kajabi works on the principle of quick selling of courses. On the other hand, ClickFunnels designs a useful sales funnel. It is perfect for digital products and business services. But Kajabi also provides sales funnel with its pre-built tool known as pipelines.
Kajabi is more focused on designing courses, whereas sales funnels are important for increasing sales. You can use ClickFunnels to sell a wide range of digital products, even third-party apps.
Read More: Clickfunnels Review.
Kajabi Vs. Kartra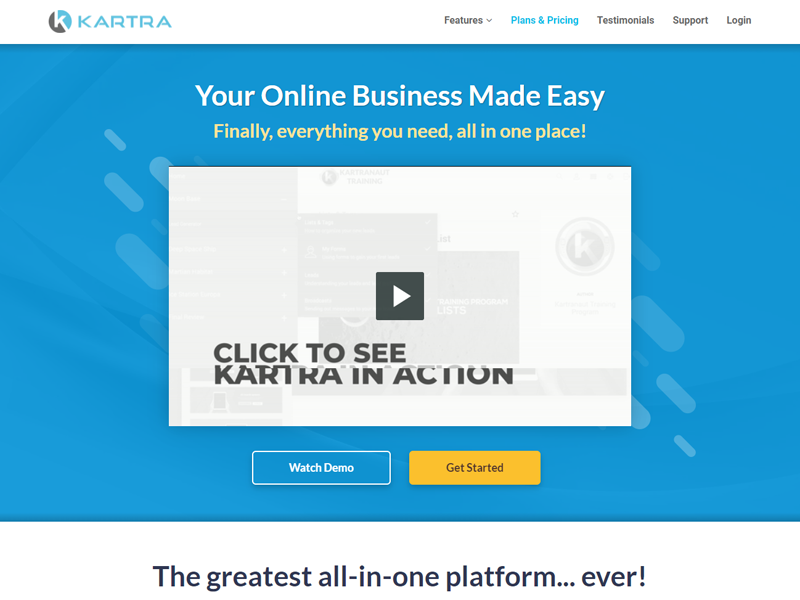 Both platforms have many similarities. Firstly, both are vital for setting up an online business by website building, email automation, and sales funnel.
Moreover, the difference between these two platforms lies in their center of focus. Kajabi, on the one hand, caters to online course creation allowing course creators to sell their skills to earn effectively. On the other hand, Kartra provides solid marketing strategies to ensure great sales.
Read More: Kartra vs. Kajabi.
Kajabi's Cost Analysis
Let's have a detailed look at Kajabi's cost analysis.
Since you are already aware of the pricing plans offered by Kajabi, it's time to compare these with plans of other similar platforms. It will give you a deeper insight into whether Kajabi is worth your money or any other platform that deserves your subscription for providing similar features at low prices.
Before proceeding further, I want to clarify that some competitors offer plans at a mere $49 to $99. However, these plans don't match Kajabi's offered features, and you need to develop integrations with third-party tools for performing certain actions.
This integration procedure might cost your time and money, and you will end up paying more at the cost of your valuable time. For proper analysis, I will go slowly and explain different technicalities and provide alternative prices for your guidance.
Sales funnel builder comes inbuilt with Kajabi. It is important for maximizing sales rate. If you opt to buy it as a third-party tool, it will cost you around $97 to $ 297 per month.
Marketing automated tools are essential for increasing sales and keeping your customers hooked on your platform. An alternative for this purpose is Zapier, a popular third-party integration that costs around $20 to $120 per month, depending on what type of functioning you need.
An email service provider plays a significant role in keeping students updated about events related to courses, new launches, and other similar reminders. MailChimp is used alternatively to serve this purpose which costs the users around $10 to $299 per month, depending on low-end and high-end functionalities.
Website themes, templates, and blog creation are integral parts of Kajabi's features. However, if you choose outsider website hosting providers, a third-party tool like BlueHost will cost you around $3 to $119 per month.
Last but not least, Kajabi offers inbuilt affiliation capabilities, a major lack in its competitor platforms. If you are opting for a third-party tool to serve this purpose, ShareASale is most used. But it will cost you $550 for purchasing the integration and then cut off an additional 20% transaction fee from earning each affiliation.
It doesn't matter if you use only a few of these features; it's always a better idea to get them under a single umbrella than to go around and get connected with each tool individually. It is not only money-saving but will also save you a lot of time that you might spend looking for a trustable and economical alternative integration.
Read More: Kajabi vs. WordPress LearnDash.
ClickFunnels Integration In Kajabi's Marketing Pipelines
ClickFunnels is a go-to platform for increasing sales by opting for a relatively easy-to-operate procedure. Their affiliate program can conveniently be integrated into Kajabi's marketing tools.
You can do this in the following ways;
Opting for funnel marketing by ClickFunnels
Delivery of products on Kajabi
Kajabi Pros And Cons
Pros
Variety of different themes to match your brand
Simple integrations
No setup fee charged
Sales funnel builder
An all in one solution
Drip content
Unlimited landing pages
Interesting checkout pages
Easy payment processing
Cons
Complicated theme editing processes
Increased one on one support
No freemium plan
No scheduled posting
No premium consulting sessions
Limited font choices
Email service requires improvement
They can improve analytical tools as well
FAQs
What is the cost of Kajabi?
Kajabi has three overall pricing plans. You can opt for anyone depending on your business type and budget.
The first and most basic plan termed Basic only will cost you around $119 per month.
Their second plan, named the Growth plan, costs around $159 per month.
Last but not the least, their Pro plan sits around the cost of $319 per month.
Remember, these payments are to be made annually. If you go for a monthly payment route, you will be charged 20% extra fees.
Who prefers to use Kajabi?
Several business-running companies and individual entrepreneurs utilize Kajabi. It is best suited for those who want to sell their skills and knowledge online and want a platform to make everything easier.
Besides entrepreneurs, many musicians, educators, and artisans use it and satisfy its work. Anyone can operate it, from beginners to coding experts.
Two popular Kajabi users to name are;
James Taylor, a musician
Chalene Johnson, a fitness expert and well-known author
Is Kajabi easy to use?
It is both easy and complicated to use specifically for newbies. They might find it easier to navigate the dashboard, but the complicated editing process can repel them from starting. A lot of time and patience is required to get fully familiar with Kajabi's features.
Moreover, Kajabi's every feature is inbuilt in the platform hence saving a lot of time and hassle of developing integrations with third-party tools.
Will Kajabi refund my money if I don't feel like investing?
Yes, Kajabi offers a whole thirty-day time to ask for a money refund. Moreover, if you later feel like drawing back from the platform, you can contact their customer care service provider; they might prove to be helpful in this regard.
Conclusion
With a huge list of ready-to-use features, Kajabi is an all-in-one platform for those intending to design an ultimate course and sell it to earn money.
The user-friendly approach combined with simple capabilities makes this platform a go-to choice even for beginners who don't know much about website building and other similar procedures.
However, some of you might be concerned with their high-paying plans but trust me; all these extensive features will completely make it worth your money.
From my end, Kajabi is a highly recommended tool for course designing and selling.

Ludjon, who co-founded Codeless, possesses a deep passion for technology and the web. With over a decade of experience in constructing websites and developing widely-used WordPress themes, Ludjon has established himself as an accomplished expert in the field.