When building an effective marketing campaign, having the right landing page builder can make all the difference in attracting leads and converting them into customers. Landing page builders have become a staple for digital marketers, as they provide an efficient way to create, test, and optimize these vital components of any campaign.
With multiple options available, choosing the right one can be a daunting task. That's why we have compared Instapage, Unbounce, Leadpages, and Clickfunnels, four of the most popular and powerful landing page builders available in 2023.
In this article, we will delve into the key differences between Instapage, Unbounce, Leadpages, and Clickfunnels, exploring their distinct strengths and weaknesses.
This comprehensive comparison will help you make an informed decision on the best landing page builder for your specific needs and goals. So, sit back, grab your favorite beverage, and join us as we navigate through the world of landing page builders.
Differences between Instapage vs Unbounce vs Leadpages vs Clickfunnels
1. User Interface and Ease of Use
Instapage offers a sleek, clean, and intuitive interface that makes it easy for users to create and customize landing pages. Its drag-and-drop page builder allows you to quickly add and rearrange elements on your page. 
Unbounce also offers a user-friendly interface, but it comes with a slightly steeper learning curve. However, once you get the hang of it, Unbounce provides a powerful platform for creating customizable landing pages.
Leadpages features a user-friendly interface as well, but it doesn't offer as many customization options as Instapage and Unbounce. 
Clickfunnels, on the other hand, stands out for its easy-to-use platform that is specifically designed for creating sales funnels. While it does offer landing page creation, it is not as feature-rich as the other three options.
2. Templates and Design Flexibility
Instapage boasts a vast library of over 500 professionally designed templates, with new designs added regularly. 
Unbounce also offers a large selection of templates, with an emphasis on customization and mobile responsiveness. 
Leadpages has fewer pre-built templates than the other two, but its templates are well-optimized for conversions.
Clickfunnels provides a variety of templates focused specifically on different stages of the sales funnel, making it a unique offering in this group. However, it may not be the best choice if your primary goal is to build standalone landing pages.
3. Integration and Features
Instapage, Unbounce, and Leadpages all offer an extensive range of integration options with popular marketing tools such as email marketing platforms, CRM systems, and analytics tools. 
Clickfunnels, while not as comprehensive in its integration options, is designed to work seamlessly with its built-in sales funnel tools.
4. Pricing
While pricing can vary depending on your needs and desired features, generally speaking, Instapage and Unbounce are on the higher end of the price spectrum, with Leadpages and Clickfunnels offering more budget-friendly options.
In conclusion, choosing between Instapage, Unbounce, Leadpages, and Clickfunnels ultimately depends on your specific needs, goals, and budget. Each platform offers unique strengths and features to help you create high-converting landing pages. The best way to determine which landing page builder is right for you is to test each platform and examine its capabilities closely.
Instapage vs Unbounce vs Leadpages vs Clickfunnels Reviews
A detailed comparison between these four landing page builders along with their pros and cons is given below.

Drag-and-Drop Builder
Mobile Responsive Templates
Integrations with CRM & Email Tools
See Pros & Cons
Pros
Intuitive drag-and-drop editor
Wide range of responsive templates
Easy integration with email and CRM tools
Split testing functionality
Efficient support system
Cons
Higher pricing than competitors
Limited customization options
No free plan available
LeadPages is a powerful platform that enables small businesses to grow and connect with their target audience, standing out among competitors like Instapage, Unbounce, and Clickfunnels. The platform offers features such as a website and landing page builders, AI engine, and conversion tools, all designed to optimize online presence and maximize conversions.
When it comes to pricing, LeadPages offers a free 14-day trial with no obligation, allowing users to explore the platform's capabilities. Post-trial, there are three pricing tiers:
Standard ($37/month)
Pro ($79/month)
Advanced ($321/month).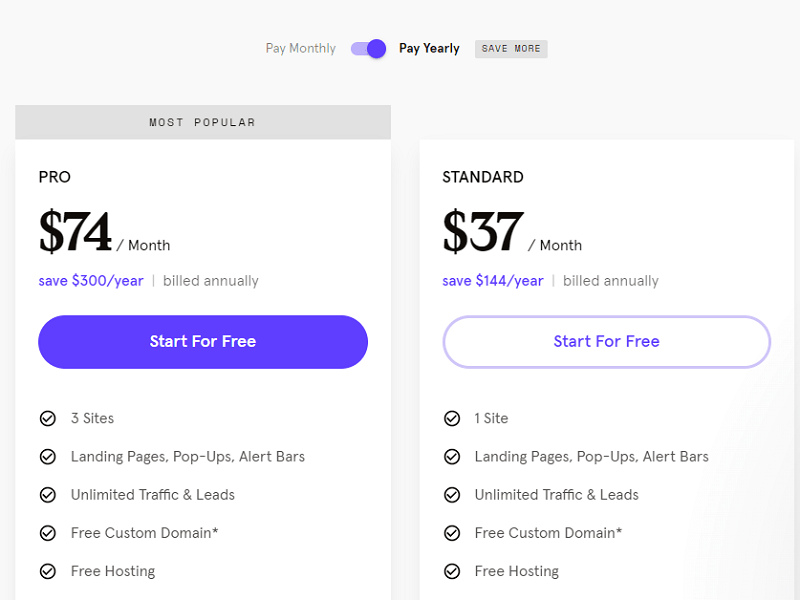 These plans cater to different business sizes and needs, with features like unlimited publishing and lead generation, ensuring businesses are not limited as they grow.
Templates and design are essential for any landing page builder, and LeadPages does not disappoint. With a vast array of customizable templates optimized for conversions, users can create visually appealing pages that resonate with their target audience. The platform's user interface has been praised for its simplicity, making it easy for anyone to design stunning landing pages.
Ease of use is another crucial factor when comparing LeadPages to Instapage, Unbounce, and Clickfunnels. Users have commended LeadPages for its user-friendly interface and powerful features.
The platform's automation capabilities streamline the process of creating and managing landing pages, while the readily available customer support team ensures users can resolve any issues quickly.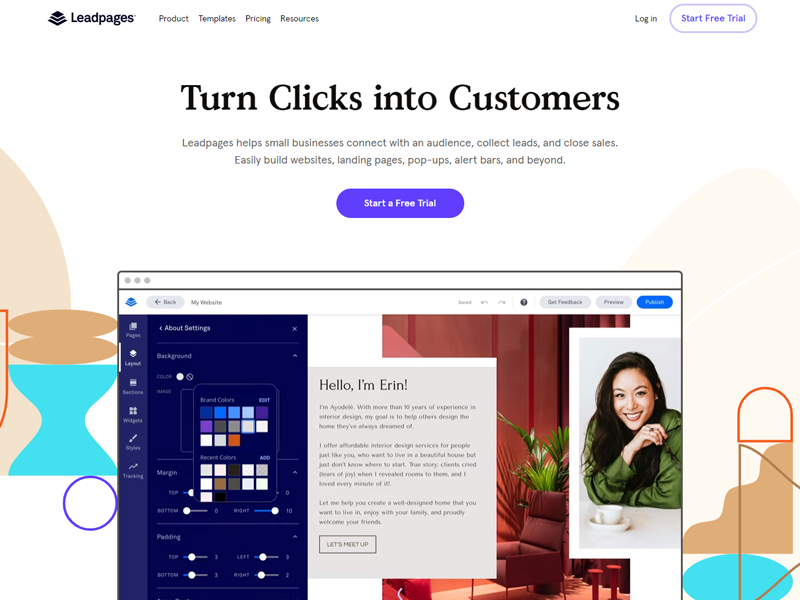 LeadPages offers numerous integrations and other features that make it a comprehensive solution for businesses.
Real-time tracking, split testing, and analytics assist in making data-driven decisions, while the platform's compatibility with other marketing apps enhances overall workflow.
Additionally, LeadPages provides resources like virtual workshops, coaching, and training courses to help businesses improve their marketing skills.
Customer reviews highlight LeadPages' reliability, ease of use, and outstanding customer support. However, some users have experienced issues with billing, and in rare cases, account suspensions with delayed resolution.
Despite these drawbacks, LeadPages is highly recommended for its ability to help businesses optimize online presence and drive conversions.
LeadPages is an excellent choice with its competitive pricing, vast template library, user-friendly interface, and numerous integrations.
Intuitive Drag-and-Drop
High Conversions
Flexible Integrations
See Pros & Cons
Pros
Easy-to-use drag-and-drop builder
High-quality templates
Robust A/B testing
Flexible integrations with popular tools
Excellent customer support
Cons
Expensive pricing plans
No free plan
Steep learning curve for advanced features
Instapage is an exceptional landing page builder that sets itself apart from Unbounce, Leadpages, and Clickfunnels with its advanced features and personalization options. Its collaboration tools, A/B testing, and heatmap technology make it an ideal choice for teams and enterprise customers looking to maximize engagement and improve overall performance.
When it comes to pricing, Instapage offers a 14-day free trial, after which paid plans start at $299/month, or save 25% with an annual subscription.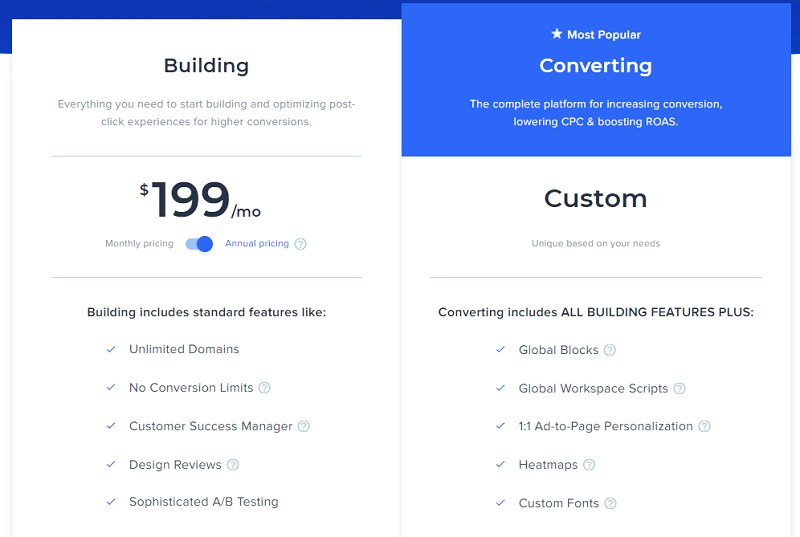 Although the entry-level plan may be more expensive than its competitors, the platform's cutting-edge features justify the investment for larger businesses and agencies.
Templates & Design are another area where Instapage shines. With over 500 customizable, conversion-focused templates and built-in AMP support, your landing pages will load quickly on mobile devices, ensuring a seamless user experience.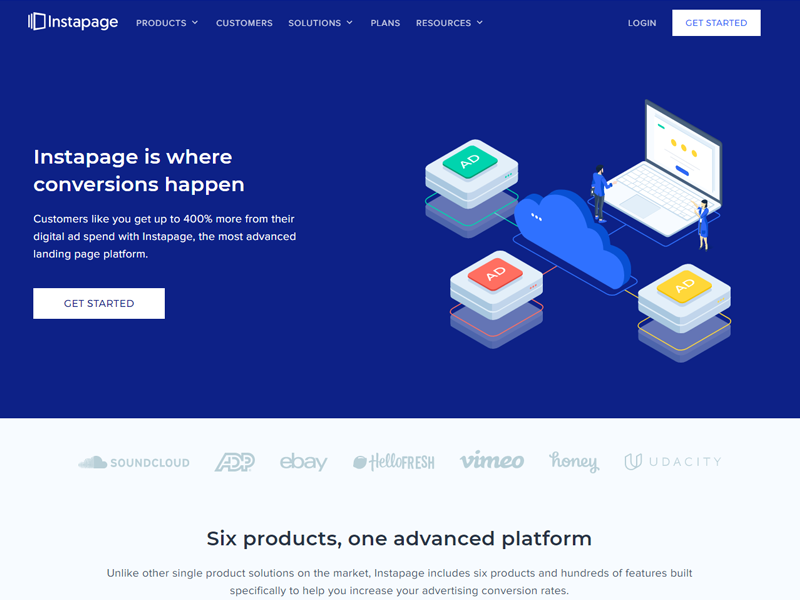 Instablocks, a unique feature of Instapage, allows you to create reusable content blocks, making it easier to scale up your landing page production efforts.
Ease of Use is another advantage of Instapage. The drag-and-drop landing page builder is incredibly user-friendly, allowing you to create stunning, mobile-responsive landing pages without the help of a developer. Although some users have reported a higher learning curve compared to other platforms, the platform's intuitive interface makes it worth the effort.
Instapage offers Integrations & Other Features that truly set it apart in the Instapage vs Unbounce vs Leadpages vs Clickfunnels comparison. With over 120 integrations available, including HubSpot, Marketo, MailChimp, Salesforce, and Google Analytics, you can easily connect the platform to your existing marketing tools. Furthermore, Instapage has various security measures in place to protect your site from malicious attacks.

Drag-and-Drop Builder
100+ Templates
A/B Testing
See Pros & Cons
Pros
Easy-to-use interface
Wide range of templates
Good integration options
Dynamic text replacement
Mobile responsive designs
Cons
Steep learning curve for beginners
Higher pricing
Limitations in design customization
Unbounce is an advanced marketing platform that empowers businesses to create high-converting landing pages, enabling them to generate more sales and signups.
What sets Unbounce apart from competitors like Instapage, Leadpages, and Clickfunnels is its user-friendly, AI-powered Smart Builder and the platform's unique optimization features. These tools have helped over 15,000 businesses generate billions of leads, sales, and signups.
When considering Unbounce for your landing page needs, it's essential to evaluate various decision-making factors, such as pricing, templates & design, ease of use, and integrations & other features. Let's dive into these aspects:
Pricing: Unbounce offers a free 14-day trial for businesses to test out both the Smart Builder and Classic Builder. Paid plans start at $99/month, with a 25% savings available through annual subscriptions. While the platform is more expensive than some other competitors, the advanced features and optimization tools may justify the cost.
Templates & Design: Unbounce provides two builders: Classic Builder and Smart Builder.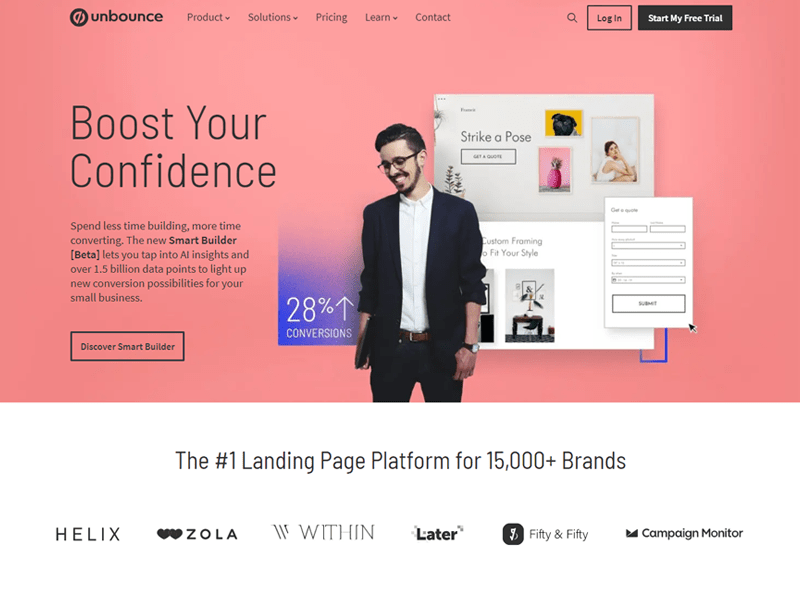 Classic Builder is a drag-and-drop builder that allows for advanced coding and customization options, while Smart Builder is an AI-powered builder that offers pre-optimized templates, instant copy generation, and an assisted building experience.
Some users have criticized the limited number of templates available, while others have praised the platform's intuitiveness and high-quality design capabilities.
Ease of Use: Unbounce has received mixed reviews in terms of ease of use, with some users experiencing glitches in the software and others praising its simplicity. The platform offers extensive educational resources and documentation, making it easier for users to navigate and troubleshoot any issues they may encounter.
Integrations & Other Features: Businesses can use Apps & Integrations to add extra functionality to their landing pages and connect with their favorite marketing tools.
Smart Copy allows for instantly generated and expanded content for landing pages, ads, and emails, while Smart Traffic optimizes traffic to send visitors to their best-fit landing page.
However, some users have reported limited capabilities with the mobile version of their landing pages.

Easy-to-Use Funnel Builder
High-Converting Templates
Integrated Email Marketing
See Pros & Cons
Pros
Intuitive drag-and-drop editor
Wide range of pre-built templates
Great customization options
Advanced marketing tools
Active user community
Cons
Expensive pricing plans
Limited inbuilt payment integrations
Steep learning curve for beginners
Clickfunnels is an all-in-one marketing funnel software that stands out among Instapage, Unbounce, and Leadpages by offering a comprehensive platform to create high-converting landing pages, sales funnels, online courses, ecommerce stores, and more.
With over 4,031 new entrepreneurs signing up each week, Clickfunnels offers an impressive array of features including A/B testing, analytics, CRM, email marketing, and global products.
One of the key elements that sets Clickfunnels apart from other platforms is its user-friendly interface that allows users to effortlessly create and test multiple landing page variations without the need for coding knowledge.
Clickfunnels offers a wide variety of pre-built landing page templates, including opt-in pages, lead magnets, event registrations, checkout, consultation, and webinar pages, just to name a few.
When it comes to pricing, Clickfunnels offers a 14-day free trial, with premium plans starting at $147 per month for the Basic plan.
This plan includes one website, unlimited landing pages, and other essential features such as integrations with Salesforce, Mailchimp, and other popular services.
Additionally, Clickfunnels offers a special 'Funnel Hacker' plan with limited time savings, making it a cost-effective option for businesses of all sizes.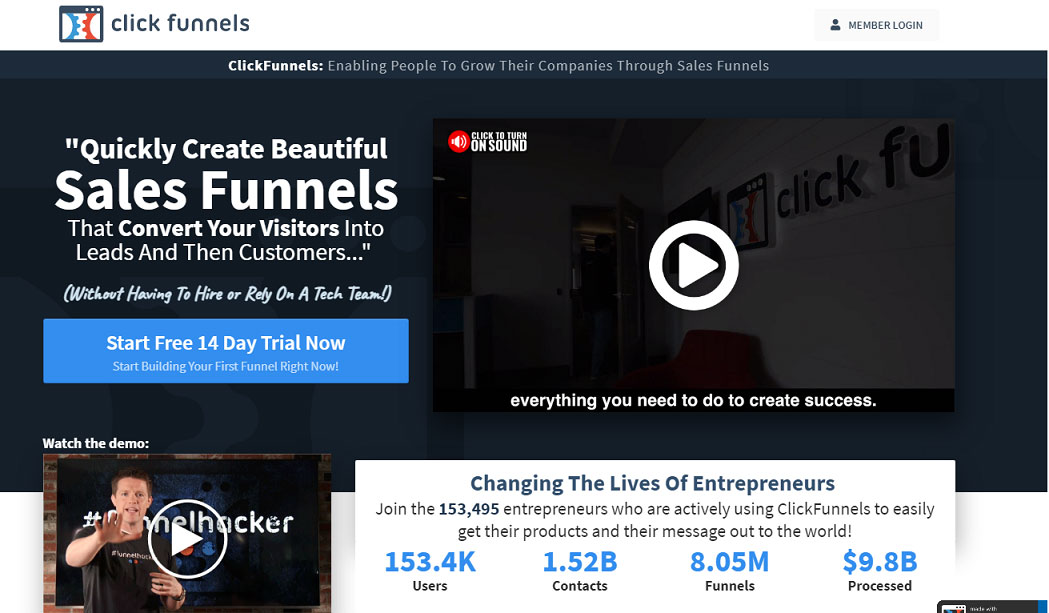 Templates and design of Clickfunnels excels with its easy-to-use ClickFunnels Editor. Customize the look and feel of your landing pages to match your brand, and choose from a wide variety of templates designed for various purposes.
The platform's design capabilities are consistently praised in customer reviews, citing the focused and clear training provided during their ClickFunnels 2.0 experience.
Clickfunnels offers a simple drag-and-drop interface, allowing users to quickly build and customize their landing pages. Onboarding videos and plugins are provided to help users get started, and the platform has a reputation for being "stupidly simple to use" as described by Growth Marketing Pro.
Clickfunnels offers numerous integrations and other features that can help streamline your marketing efforts. These include email marketing and automation, sales dashboards, webinar funnels, and membership funnels. Moreover, the platform has a strong focus on generating leads, nurturing leads, and closing leads, providing users with a comprehensive solution for driving conversions.
In conclusion, while some users have reported difficulty unsubscribing from emails, the majority of customer reviews are overwhelmingly positive, highlighting Clickfunnels' exceptional training, guidance, and community support.
Table Comparison
| | | | | | | | | |
| --- | --- | --- | --- | --- | --- | --- | --- | --- |
| Builder | Editor | Hosting | Themes | Uptimes | Integrations | Analytics | Pricing Starting from | Overall rating |
| Instapages | Yes | unlimited | Available | 100% | 120+ | Yes | $299 | 4.3/5 |
| Leadpages | Yes | unlimited | Available | 99.9% | 100+ | Yes | $27/m | 4/5 |
| Clickfunnels | Yes | Limited hosting | Wide range | 75% | 50+ | Yes | $80/m | 3/5 |
| Unbounce | Yes | unlimited | Available | 100% | 900+ | Yes | $97 | 4.6/5 |
Conclusion: Who Wins?
Now that we have gone through all the properties and disadvantages for Unbounce, Leadpages, Clickfunnels, and Instapages it is time to decide which one is the best.
Keeping in mind that all of them provide the customizations for your landing pages, you have to choose the one that suits your budget and your business.
If you want to stay in your budget and don't want to spend much on these landing page builders, you have to go with Leadpages because it has the lowest prices
When running a business that has a lot of visitors and huge traffic you should go for Instapage for and Unbounce.
If you are looking for one solution, you should go for clickfunnels because it has amazing checkout options for everything.
Experts agree that all of these landing pages builders mostly provide the most efficient results if you want to improve your business. It depends upon the requirements of the business and budget.

As one of the co-founders of Codeless, I bring to the table expertise in developing WordPress and web applications, as well as a track record of effectively managing hosting and servers. My passion for acquiring knowledge and my enthusiasm for constructing and testing novel technologies drive me to constantly innovate and improve.
Expertise:
Web Development,
Web Design,
Linux System Administration,
SEO
Experience:
15 years of experience in Web Development by developing and designing some of the most popular WordPress Themes like Specular, Tower, and Folie.
Education:
I have a degree in Engineering Physics and MSC in Material Science and Opto Electronics.