Everyone is familiar with the importance of landing page builders because they help in giving your business a high conversion rate. With the help of these builders, there is a better chance to attract more customers and create better revenues for your e-commerce business. Let's Compare Instapage vs Unbounce vs Leadpages vs Clickfunnels.
There are many kinds of landing page builders present in the market and they have amazing conversion rates as well. It can be difficult for a newbie to choose from a wide range of builders. We are here to help you in this regard by writing a detailed comparison between these tools.
Some of the most commonly used page builders for 2022 include Instapage, Unbounce, Lead Pages, and Clickfunnels. Experts recommend using these to improve the sales of your business and conversion rate. Although these four are pretty famous, it still can be a confusing decision to choose between the top webiste builders on the market.
To make this easier for you, we will discuss the differences between these for landing page tools in detail. We will be covering all of their pros and cons and their pricing for you to choose accordingly. Read this article till the end all about the best landing page builder.
Why Do You Need to Use a Landing Page Builder?
When you are starting an online business, you need to create specific pages for your website that represent your business. It is an important thing to do for the marketing of your business because otherwise, people will not be able to know about what you are offering.
Creating these pages can be easy and difficult for example, in the case of creating a contact form page, it will take less time. But when it comes to creating the pages for the website that will help you in convincing the customer to buy from you, it will take a little bit more time.
When you are creating pages to specifically target customers and provide them the actions they desire to use when they are on your page you need some efficient landing page builders.
These pages provide you the option to be creative and attract your customers by offering an email list to join, filling out some important lead forms, and purchasing new products.
You need these marketing pages to be more professional and captivating in order to gain maximum conversion rates. This is where you need a landing page builder because they provide the following opportunities:
Amazing landing pages for the websites without needing to write a code for it first.
These landing page builders have exclusive options such as already existing templates that will help you in dragging and dropping the interfaces easily.
Their compatibility with the already existing 2 is marvelous. They work efficiently with different CRM software, services for life track, and different E-Commerce platforms.
They also provide you a clear picture of the data analysis of your business and metrics for the conversion rates.
There is a wide range of advanced performance tactics, including upsells, downsells, webinar funnels, and much more.
All of the above-mentioned properties are important for improving the conversion rate of your business. Experts recommend having the best landing pages builders if you want to get ahead of the competition in the market. Now we will discuss the detailed advantages and cons of Instapage, Unbounce, LeadPages, and Clickfunnels.
Instapage vs Unbounce vs Leadpages vs Clickfunnels Reviews
A detailed comparison between these four landing page builders along with their pros and cons is given below.
Best Overall Landing Page Builder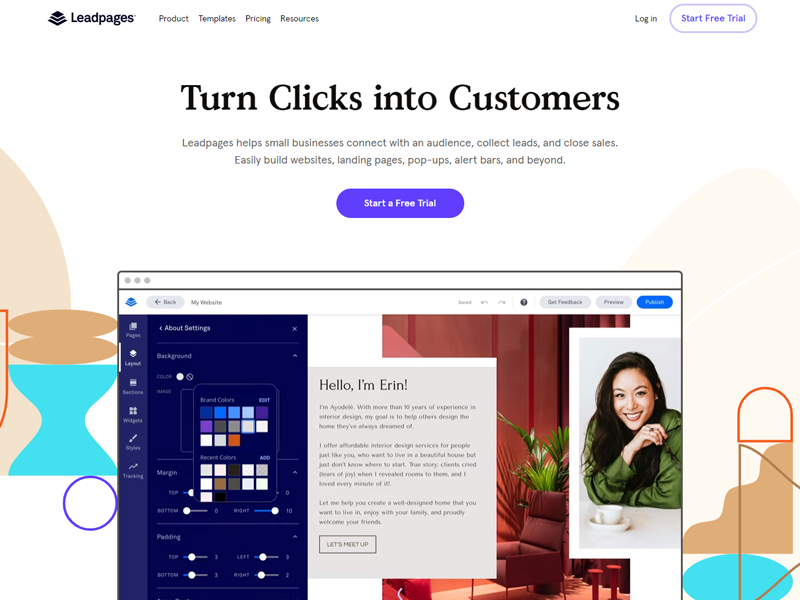 It is one of the most amazing landing page builders in the market because it allows you to create unlimited pages. The features are not only limited to this amazing feature, but it also provides unlimited traffic at affordable prices. It has all the essential features for creating the best landing pages for your business.
Drag and drop features and friendly integrations suite characteristics make it one of the top landing page tools in the market. The drag-and-drop feature in this builder is as responsive as in Instapage and Unbounce and experts call it the best choice.
The feasibility of editing makes it famous among marketers because you just have to simply drag and drop any item or the section of your page you want to edit any work is done.
Pros:
They have a conversation toolkit that offers the feature of a popup countdown timer and alert bars that helps in encouraging the customers to take any action when they are on your page.
The presence of the integration tools allows you to work with the existing tools and increase conversion and sales.
The people who have just started their businesses can use it easily because of the user-friendly interface.
This page has multiple payments and checkout features and these things will help your customers in experiencing a barrier purchasing process.
The advanced shopping cart functionality of the templates can make you help in running your online store.
It has the fastest page loading speed as compared to any of the landing builders.
There are one-click sign-up options for lead links and pop-ups for lead boxes and lead digits.
You will not be requiring any coding for the customization of the templates and the drag and drop editing option.
If you want to add icons for your video players and countdown timers on the pages, leadpages will allow you to do that.
The role of third-party applications is also welcome in the editor of Leadpages.
They help you in capturing your potential customers by making your particular product captivating on the pages.
Cons:
The drag-and-drop builder is sluggish and it can be frustrating to use.
There are limited testing options available for A/B testing.
No doubt that this landing page software has the most amazing editor for beginners, but the options for advancements are limited in the editor.
When it saves the pages in WordPress, it saves them in the form of the customized post instead of saving them as pages.
There are no payment features available for the standard plan.
Price:
Leadpages allow you to have a 14-day free trial to get familiar with their services and this is the reason why small businesses love to use them. They have two plans if you want to use this for your business info in pro plan and standard plan.
Proplan: To get your hands on Pro plan you have to pay $59 per month. You will be getting the options for three sides with unlimited traffic and a free custom domain if you use this plan. You will also have access to the technical support via email and chat and the standard integration for 40 + tools.
Standard plan: To get your hands on a standard plan you have to pay $27 per month. This plan will give you access to one site and unlimited traffic in Lead along with free hosting and custom designs.
Best for:
This amazing page builder is best for its mobile responsive rich functionality option and user-friendly behavior.
Best Efficient Landing Page Software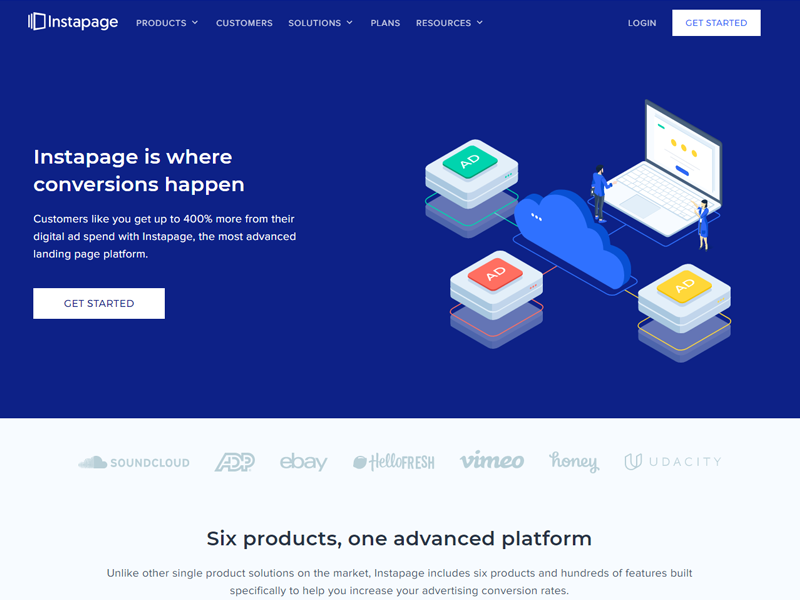 Instapage is famous for providing you with multiple options for integrations and templates. The interface of this platform is highly initiative, and it provides the easiest solution for all your design elements, including headers, images, buttons, paragraphs, and much more. By simply clicking on the blocks of any element you want to change, you can start editing.
The best thing about Instapage is the presence of a wide range of templates. These templates are important for boosting the conversion rates of your businesses by attracting customers.
When working in a team or along with the clients, you can also show them the progress by sharing the pages. If you wanted to create a Google AMP version for the landing pages of your business, this has got you covered.
Pros:
It has multiple integration options that help you to connect with over 20 useful marketing platforms.
The mobile responsiveness feature of this platform makes it the best tool for attracting your customers. It works well with all kinds of devices, including smartphones and tablets.
The customization of the template is a lot easier and this platform as compared to the other landing pages builders.
Even when a small business only wants to use the Limited of a strategy Instapages here to help by maximizing the potential.
If you are feeling stuck at any point during using this tool, you can easily contact the technical support and they will guide you through the process.
The best thing about using instapage is the unlimited number of visitors users can have on this platform. There is no limit to the number of visitors and you can easily generate revenues news for your business
It allows integration with WordPress, Zapier, mad mini, webhooks, Drupal, Mailchimp, and many more.
It does not cost anything extra for offering the hosting services.
The templates present in Instapage are segregated into different categories, such as productive use demo requests and enrollment applications.
The end system for integration with the other two provides insight into the analytics and marketing of your business.
The A/B testing present for instapage is exceptional and it will give you the best results.
The dynamic text replacement feature of instapage makes it superior among other page builders.
Cons:
This is more expensive than other options.
The images available in Instapage are only a few as compared to those provided by lead pages and Unbounce.
The number of integrations instapage hello is also less than as compared to the leadpage.
It is not efficient enough to control the complete website for you
Pricing:
There are two plans available for using this platform, including the building plan and the custom plan. The building plan starts at $299 per month. This plan will give you access to dedicated customer service, unlimited conversions, visual collaborations, and access to conversion analytics.
The other plan is the custom plan where you have to tell your provider about the requirements. The custom plan welcomes the integration for Hubspot, Salesforce, Marketo, and dynamic text replacement.
Best for:
If you are looking for efficient landing page software, then Instapage is the best choice to do so.
Best for Smart Website Builder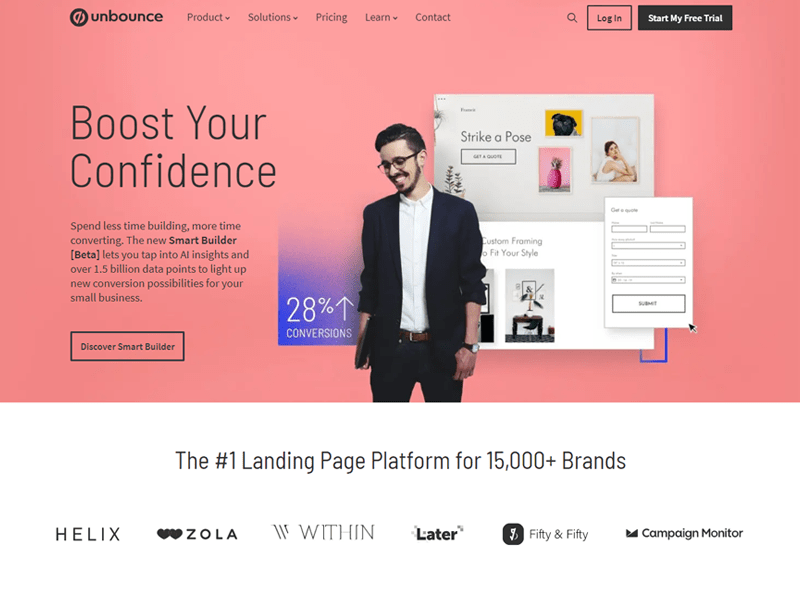 This landing page software is one of the most appreciated tools in the market. It is used for different purposes including making the marketing campaigns more attractive, sale pages, sales funnel software, and many more.
The reason behind its popularity is the feature of dynamic text replacement. With the help of these features, marketers can make huge scaling of their Google ad accounts possible. The presence of artificial intelligence-powered smart page builder creates the pages for your business in no time. This efficient working allows you to reach a better conversion time.
Marketers love to use it because it helps them in creating interesting custom web pages designs for their businesses along with the addition of buttons, forms, videos, and many more things.
Pros:
It has an amazing drag and drops option, which helps you in selecting the lead from the main builder source.
The artificial intelligence-powered built-in page builder helps in generating quick pages.
You can also easily download files such as e-books and other content.
With the help of the conversion built into the will be able to see a declared picture of the purchases and customers' visits.
If you want to add the social media of your business to your page, you can put it there.
To gain the attention of the customer allows you to add the popup window options as well. With the help of these pop-up windows, you can show the scroll, click, arrive, exit, and delay messages to consumers.
These pop-up options are available for many templates and you can easily customize them. There are almost 200 more professional templates available.
If you are not satisfied with the built-in analytic tool, you have the access to Google Analytics integration.
The automated A/B testing is present for the landing pages it creates for you
it has amazingly quick service for creating different variants for testing your pages
Cons:
The builder of this software doesn't have enough key features.
Split testing is difficult to achieve.
It does not work well with the pages for e-commerce products, so the integration is limited
You cannot publish a lot of pages at one time, unlike other landing pages.
The editor of this landing page software is not friendly with the desktop version.
Price:
There are multiple plans available if you want to get the pricing for Unbounce. If you want to go with the launch plan, you have to pay $80 per month.
This plan will give you access to up to 20,000 visits with the connected domain and the rate of 500 conversions. For the Optimization plan, you will pay $120 per month and it will have the conversions for 1000 and allow you to have 30,000 visitors with three connected domains.
If you want to go with the acceleration fine, you can pay $200 per month along with the optimization of your pages with the help of seven days and 40,000 visitors.
Best for:
If you are a marketer and you are searching for a powerful tool for your pages and a reasonable price, then Unbounce is the way to go.
Best for Multiple Marketing Funnels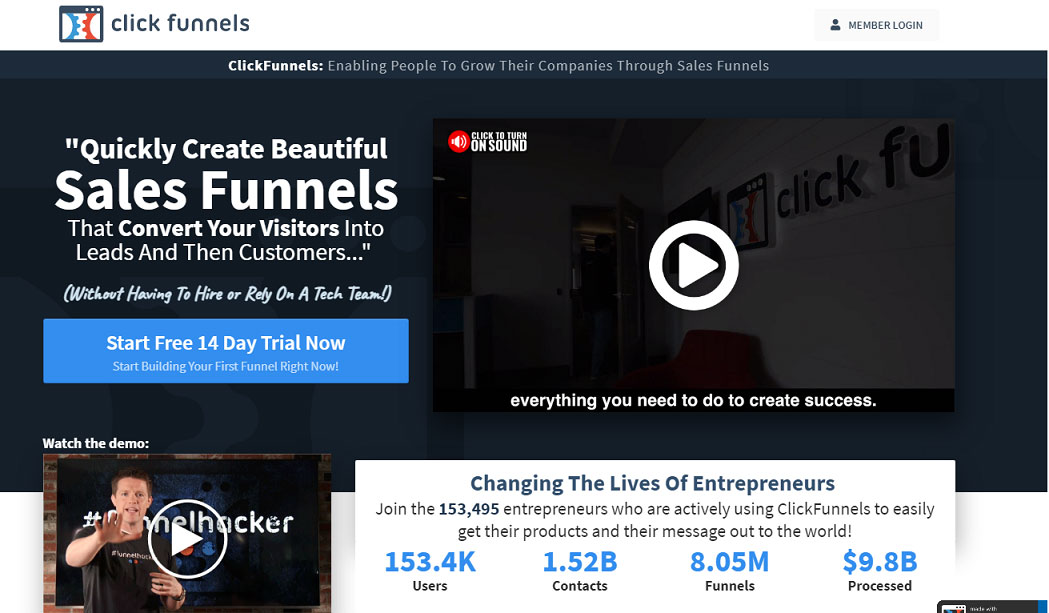 When it comes to Clickfunnel, it is unique as compared to Instapage, Unbounce, and Leadpages. It allows you to create multiple marketing funnels, unlike Leadpages, Instapage, and Unbounce.
If you want to create multiple landing pages to attract visitors here and give them a nice experience while purchasing from your business, Clickfunnel is the best option to go for.
When you're working with this landing website builder, you don't have to manually add the next pages because Clickfunnel will do it.
You can easily create lead capture funnels, webinar funnels, and different kinds of membership sites as well by using Clickfunnel.
There are also the options of upsells and downsells payment for the sale pages. The templates of Clickfunnel are amazing and they make your pages look professional.
Pros:
It helps you in building the marketing funnels and you are not just only confined to building the landing pages.
It has a simple drag and drops editor for the website
There is marketing automation for email and social media as well.
You can have the access to all the analytics of your business in the dashboard
You can easily share your marketing funnels with the other members.
The templates and designs of these landing pages are super customizable and you can create catchy designs.
For beginners, there are different materials available on their official site to guide you through the whole process.
You can promote your product easily by using the affiliate program integration of clickfunnel with other tools.
Also has the integration with different email service providers convert the maximum of your visitors into customers.
It also allows multidimensional marketing by giving you the option to connect and reconnect with your audience at any time you want to.
It provides a platform to the new users to resolve what you read as well.
Cons:
The standard plan for Clickfunnel is considered to be limiting the number of visitors and pages.
The process of split testing for your pages is basic and it is not advanced
The email functionality of click final does not have a proper setup.
The CRM key feature for marketing is also available in Clickfunnel.
Pricing:
There are three plans if you want to buy Clickfunnel for building your pages, including the standard plan, platinum plan, and enterprise plan.
If you want to go with the basic plan, you have to pay $97 per month along with the presence of 100 pages and 3 payment gateways with three connected domains.
With a platinum plan, you will pay $297 per month to have unlimited access to funnels and faces along with 9 payment gateways and 9 connected domains.
You can also get a customized plan by paying $24967 per month with an unlimited subscription for funnels and pages along with 27 payment gateways and 27 connected domains.
Best for:
For all those entrepreneurs and businesses who want to earn big and sell their products at a higher level, Clickfunnels is the best option. It increases the value of your product and generates better revenues for your business.
For more, you can read our article: ClickFunnel Review
Table Comparison
| | | | | | | | | |
| --- | --- | --- | --- | --- | --- | --- | --- | --- |
| Builder | Editor | Hosting | Themes | Uptimes | Integrations | Analytics | Pricing Starting from | Overall rating |
| Instapages | Yes | unlimited | Available | 100% | 120+ | Yes | $299 | 4.3/5 |
| Leadpages | Yes | unlimited | Available | 99.9% | 100+ | Yes | $27/m | 4/5 |
| Clickfunnels | Yes | Limited hosting | Wide range | 75% | 50+ | Yes | $80/m | 3/5 |
| Unbounce | Yes | unlimited | Available | 100% | 900+ | Yes | $97 | 4.6/5 |
What is a Landing Page Builder?
As we have already discussed, in order to attract more customers to your website you have to make your landing pages attractive. These pages increase the conversion rate for your website and to get these pages for your business you have to use a landing page builder.
These builders help you in choosing the templates for your website to make it catchier and increase the number of visitors. The drag and drop and customization options of these landing creators can gain a better audience. Experts recommend using a page builder to add a call to action strategy, captivating images, texts, and color options for your website.
Conclusion: Who Wins?
Now that we have gone through all the properties and disadvantages for Unbounce, Leadpages, Clickfunnels, and Instapages it is time to decide which one is the best.
Keeping in mind that all of them provide the customizations for your landing pages, you have to choose the one that suits your budget and your business.
If you want to stay in your budget and don't want to spend much on these landing page builders, you have to go with leadpages because it has the lowest prices
When running a business that has a lot of visitors and huge traffic you should go for Instapage for and Unbounce.
If you are looking for one solution, you should go for clickfunnels because it has amazing checkout options for everything.
Experts agree that all of these landing pages builders mostly provide the most efficient results if you want to improve your business. It depends upon the requirements of the business and budget.