Cold email copies have proven to be an efficient way of generating leads. Many salespeople use cold email tools to promote their products.
However, getting potential leads to check the email you send is challenging. You may offer the perfect solution they need but may get a poor response rate. This is because people don't go around responding to strangers. They may be skeptical of your intentions, causing them to be on their guard. They may also never open your email if it doesn't attract them.
To get these potential leads to open your email and click your link, you need to put in the effort. Getting creative will help improve your success rate. But it may not be sufficient every time.
You will need to have specific industry data when crafting email copies. This will help you make better decisions as a B2B marketer. These cold email statistics below will provide vital information about the cold email. With this, you can make more effective decisions on your marketing campaign.
Key Cold Email Statistics
30 percent of people open an email based on the subject line.
An average cold email has an open rate of 18%.
Email chains of 4-7 messages can triple your reply rate.
The response rate of advanced personalized emails is 17%.
In 2021, the average click-through rate of all industries stands at 10.29%.
General Cold Email Statistics
1. The average subject line should be about 45 characters for a better result.
(Prospect.io)
It's no news that a shorter subject line attracts more readers. This is because it allows for better visibility. This ways recipients know what your email is all about. Experts say that the average email subject line should have a maximum of 45 characters. This improves the subject line's visibility even on mobile phones.
A study by Prospect.io further supports these claims. It shows that you can get an open rate of 44% when the subject line of your email is three to 12 characters long. While a subject line of 29 to 24 characters receives an open rate of about 33%. Although other factors go into how much open rate you record, these stats show that the smaller your subject lines' character, the better the open rate.
2. The shorter the email content length, the better
(Fast Company)
There are no special rules on the perfect word count for your email content. However, experts say the shorter, the better. This means that the same rule for cold email subject line works for email content word count. This is because bulk email content can get boring and discourage readers.
Also, consumers may not have the time to read long content, and prefer getting down to business immediately. Unfortunately, bulky email content will disrupt quick reading and comprehension. Fast Company studies show that most authors keep their content between 900 characters. However, many expert email copywriters still create bulky email copies. If you prefer longer emails, ensure you keep them conversational and engaging.
3. The best time to send emails are late in the evening or early in the day
(Smartwriter)
Statistics from Smartwriter show that sending emails is always best at two specific times of the day. This way, your email copy will stand out, with a better open and response rate. The best times to send your email copies are early in the day and late in the evening.
You should send your emails around 6 AM. By this time, your prospects are yet to leave for work. This implies that they won't only skim through your email, but they will be relaxed enough to open and respond to the mail. The second best time to send your emails is between 7 PM to 9 PM. By this time of the day, your prospects are back home and are more relaxed.
Consider using email service software that can help you automate the whole process some of them have also the possibility to send scheduled emails at the best time based on the old campaigns like Sendinblue
4. About 82% of marketers use a subject line of 60 characters or less
(AWeber, Convince and Convert)
Statistics show that more marketers send shorter subject lines. AWeber studied a total of 1,000 emails from 100 top marketers to determine how experts email copywriters send their emails. The result showed that about 82% of all marketers use subject lines that are around 60 characters or less. The study also revealed that the average subject lines from the top 100 marketers were 43.85 characters long.
5. In 2023, over 347 billion emails would be sent and received daily
(Statista)
According to Statista, there is a steady increase in emails sent out and received. It predicts that in 2023, more than 347 billion emails will be sent and received per day. This is a massive increase from 2018, with an average of 269 billion emails daily. This indicates a steady rise in the number of email users worldwide. For B2B marketers, it is an encouraging stat showing good business opportunities.
It means there are more people to reach out to, convert as leads, and retain as customers. However, it may also be a problem for salespeople. This is because increased email users equal more email communication. More emails mean a messier inbox and a reduced chance of people reading their emails. It also makes it more challenging for marketers to make their emails stand out.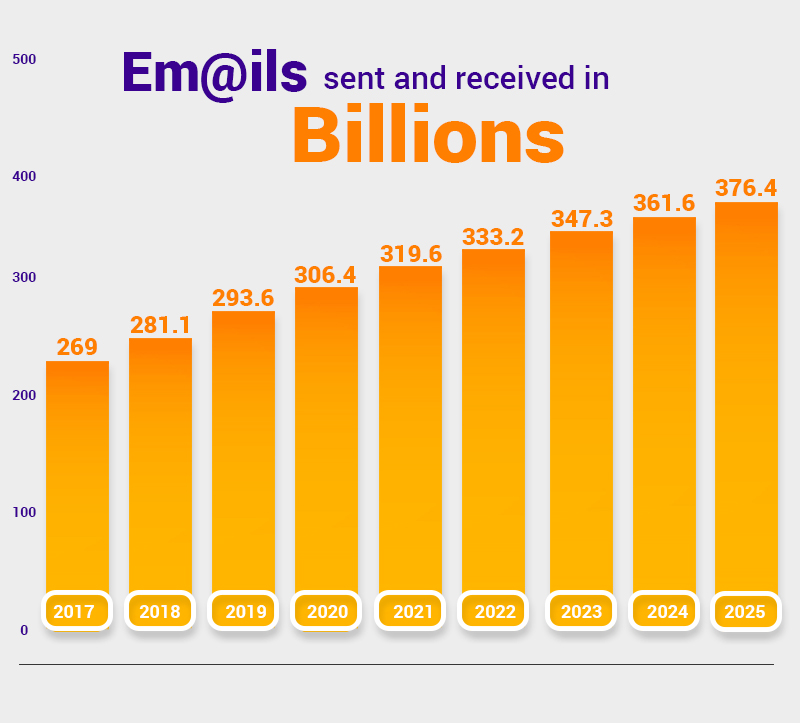 6. The average number of email accounts to email users ratio is about 1.75 and rising.
(Radicati Group)
There is a high tendency for people to create multiple email accounts. Interestingly, this trend is increasing rapidly worldwide. According to the Radicati Group, the average email accounts to email user ratio is about 1.75. It even surpasses the global email usage rate.
The Radicati Group report predicts that by 2023, this rate will grow to 1.86. It also revealed consumers with multiple email accounts use their accounts for specific purposes. Some have emails to communicate with friends, others for business or trading online.
7. About 68% of millennials state their purchase decisions have been influenced by promotional emails.
(Fluent)
In 2017, Fluent studied how marketing products to different age groups differ from marketing to millennials. Different promotional methods were studied. This includes promotional emails, text messages, and ads on entertainment websites and news. They looked at how these promotional methods impacted people's purchasing decisions.
The result showed that about 68% of millennials state their purchase decisions have been influenced by promotional emails. The studies further showed that promotional emails had about 10% more impact on inspiring millennials to make purchasing decisions than older age groups. This also indicates that marketing methods differ based on age group. B2B sellers who want better results from millennials should sell to them more through promotional email. Personalizing these emails will increase the conversion rate.
8. About 56% of all emails are read in Gmail or on iPhones
(Litmus)
Finding out the platform most people read emails on is something many marketers find challenging. However, in 2017, Litmus carried out a study on the emails read during the year. They discovered that iPhone and Gmail are the two most used email clients. The same analyses were performed in the first half of 2018 with the same results.
The fact that the iPhone was one of the top two emails clients from this study confirms that most people prefer reading their emails on mobile. Interestingly, the number of mobile email readers keeps increasing. So as email copywriters and marketers, it is essential to consider mobile users when creating email copies.
It will be beneficial if images, subject lines, and paragraphs are made to fit mobile screens. For Gmail users, marketers need to understand specific data that will boost open rates. They need to consider Gmail's interior features that its users use most. Some of these features include the Snooze function to remove emails from their inboxes temporarily. An excellent way to discourage Gmail users from using the snooze function on your emails is to emphasize urgency.
9. One way to boost conversions by up to 6.33% is through shopping cart abandonment emails.
(SaleCycle)
It is normal to see people abandon their online shopping carts. They do this for several reasons. Some consumers may feel the shipping costs is not affordable. Some don't want to give out their financial details, while others just window shop online. However, statistics from SaleCycle show that shopping cart abandonment emails sent within the space of one hour can increase the conversion rate by 6.33%.
This shows that even when consumers abandon their shopping cart, they can still be won over. But to do this, they will need to be convinced early. Therefore, marketers need to take quick action when online shoppers abandon their shopping carts. Sending subtle reminder emails may do the trick. But they also can come up with other effective strategies to urge shoppers to complete their purchases.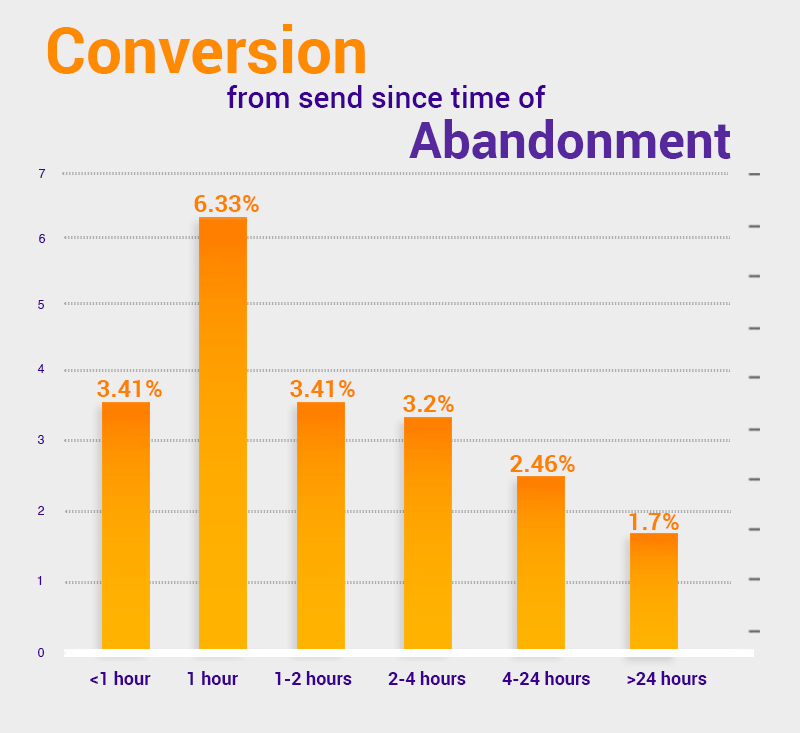 10. The return on investment for investing in email marketing is an average of 38 times of the investment.
(Litmus)
Litmus stated in one of their press releases that investing in email marketing offers a high return on investment. Their report indicated that the return on investment is 38 times the initial amount invested. Based on this, email marketing can be said to be an effective marketing tool. However, it may require some level of patience to realize proceeds from your email marketing campaigns.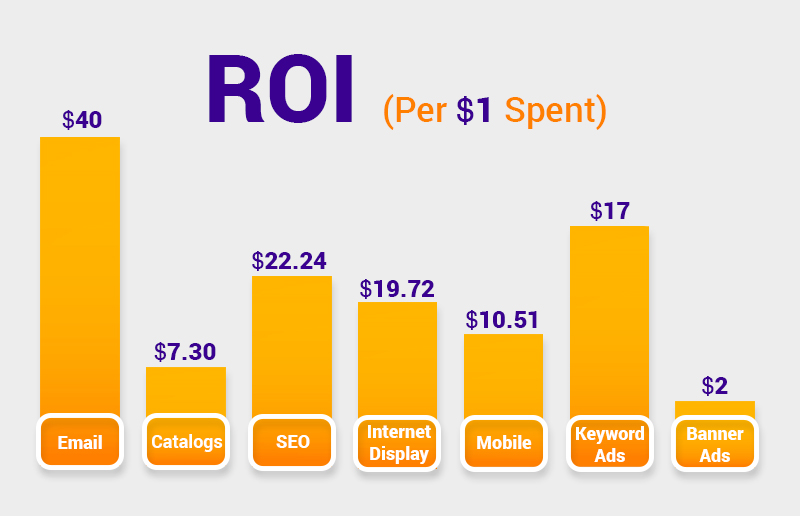 11. About 73% of all email marketers send at least one email to their prospects and customers every week.
(The Manifest)
The Manifest shows that about 73% of all email marketers send at least one email to their prospects and customers every week. Also, about 32% of marketers send emails daily. This indicates that sending emails to consumers weekly or daily is not a bad idea. However, most people may regard consistent emails that don't interest them as spam.
12. About 66% of marketers believe improved engagement is a top priority
(Adestra and Ascend2)
Adestra and Ascend2's studies in 2018 showed that about 66% of marketers believe improved engagement is a top priority. They analyzed some email marketing engagement trends to arrive at this result. About 46% of those involved in the polls stated that lack of email engagement creates a barrier to success. This indicates that improved engagement is vital to turning prospects into leads and attaining high conversion rates. The better a marketer's engagement, the more results will be scored.
Interestingly, engagement doesn't stop with marketers personally contacting potential leads. As long as there is a way of being in their prospects' space, it is considered engagement. Therefore, marketers should always conduct proper research to help them communicate better with their prospects.
They can also use technology to improve their engagement with consumers. Thankfully, several emerging technologies can help with this. They can employ artificial intelligence (AI) to collect valuable data about their prospects. These AI can help stay in touch with consumers, including sending a personalized email.
Statistics On Cold Email Open Rate
13. Across all industries, the average open rate is 20.81%
(Mailchimp)
According to a report on the email open rate benchmarks published by Mailchimp in March 2018, the mean email open rate recorded across all industries is 20.81%. This highlights the importance for marketers to be realistic when making marketing strategies with email copies. This is because the chances that prospects will their emails is minimal.
Although the average email open rate is low, it shouldn't discourage B2B salespeople from email marketing. Instead, it is a reminder of how vital crafting your email copies are. For instance, personalizing your email copies and creatively writing your subject lines will increase your chances with your target audiences.
14. The average email open rate varies across all industries
(Mailchimp)
Although the average email open rate across all industries is 20.81%, it varies from industry to industry. Mailchimp studies show that the open rates for email marketing campaigns range between 15.22% to 28.46%, depending on the industry. The industry average email open rate data will help marketers set more realistic targets.
15. Split testing helps to improve email open rates
(Leadlantern)
Leadlantern statistics show that using A/B split testing in email marketing campaigns can increase the open rate by 49%. This involves making multiple copies to test their open rate. It helps marketers see the changes in their composition that show the most promise. With this, they can create better email copies.
Statistics On Cold Email Response Rate
16. Omnichannel follow-ups increase reply rate
(Woodpecker)
Woodpecker states that sending 4 to 7 emails in each sequence instead of just 1-3 emails helps to increase response rates. According to Woodpecker statistics, marketers can get up to 3 times higher response rates with this strategy.
17. Only about 1% of companies will likely respond to your emails
(Superoffice)
Statistics show that in 2019, the average open rate worldwide dropped to 22.1% from 30.1% in 2018. Based on this low cold email response rate, only about 1% of companies will respond to your emails.
18. Targeted cold emails produce a better result.
‍(ConstantContact, MailChip, Propeller)
An experiment conducted by an American newspaper on email campaigns showed that targeted cold emails produce better results. Emails were sent out to some of the most successful executives in the United States. Different subject lines, email lengths, and messages were used in this experiment. The result showed that about 45.5% of the recipients opened their emails. They confirmed that targeted cold emails improve the response rate.
Prospects Email Reading Habits
19. Hyper personalization helps to improve email reply rates
(Woodpecker, Smartwriter)
Personalizing your email copy helps to improve your email open rate, click rate, and reply rate. Custom snippets like company name or first name can ensure email copies are tailored to the receivers' profile. Creating personalized email copies takes time, and eventually, every minute is worth it.
The recipient will see you took time to write them and not just spam their inbox. Most readers appreciate such effort, and that is why personalized emails. You can use AI to create detailed personalization. SmartWriter is an AI that has shown average open rates of 70% when used for creating detailed personalization.
20. Email open rates improve with catchy subject lines
(convince and convert)
Spam email is one of the biggest problems buyers complain about. Statistics show that 64% of people report spam emails due to their long subject lines. Statistics also show that about 33.3% of people will open emails with intriguing subject lines. This indicates that email open rates improve with catchy subject lines. Therefore, when emailing copies to prospects, ensure you make the subject line short and catchy.
21. People spend 150 mins daily checking their personal emails at work
(Adobe)
Adobe conducted a study on how white-collar workers use email at work. The studies show that white-collar workers spend an average of 150 mins every day checking their personal inboxes. They spend more time checking work-related emails. Also, most of these workers check their personal email accounts on their way to work. Some would even check their emails before getting out of bed.
These statistics show that people now see checking their email as an activity that is part of their daily routine. Also, they don't hesitate to check their personal emails even when at work. Based on this, non-work-related emails can be sent anytime, even within and outside of business hours. However, people may just skim through emails and not take action.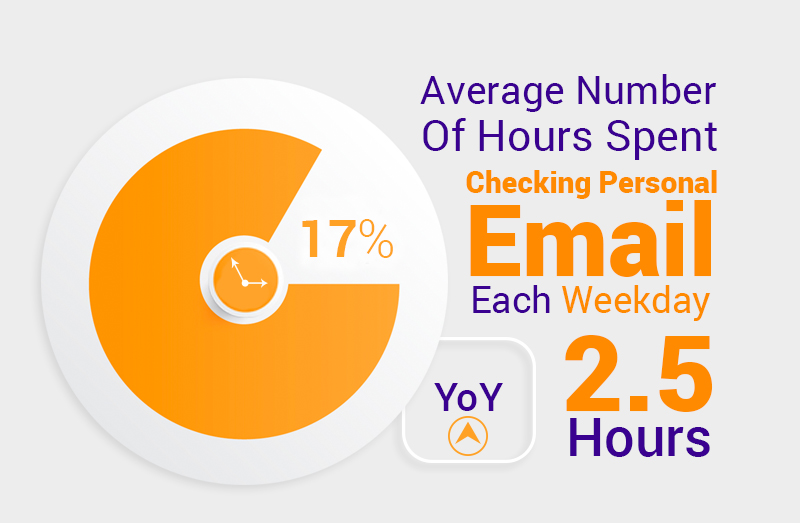 22. People referred to loyalty programs spend an average of 13% more annually
(plus)
Email-based loyalty programs are popular ways to get people to support their favorite brands and reward them. Often, a person who's signed up for a loyalty program gets even more perks for referring their friends. Those referred customers are extremely valuable for marketers. More specifically, referred loyalty program participants spend an average of 13% more per year than non-referred people, according to National Retail Solutions.
What Does This Mean for Marketers? The research cited above also revealed that referral programs cost up to 90% less than traditional forms of marketing. Given the value of this method, you should consider how referrals could help them gain momentum. For example, perhaps an email coupon could get sent out to both the person who referred friends and those who responded to that referral request.
23. About 55% of consumers prefer email messages with relevant offers and products.
(Liveclicker)
Sending out general emails about your products may not be effective. This is because most consumers prefer email messages with relevant offers and products. This means that your email copies should be directed to the specific consumers that need your product. This method is term personalized marketing.
Liveclicker's study on personalized marketing in late 2017 showed that 55% of consumers respond better to emails that offer products they need. Therefore, a proper background check on these potential leads should be done before sending email copies to prospects. It will be beneficial to check purchasing habits.
24. About 52% of responders use email as their primary communication tool.
(Adobe)
In the past, email was viewed as a corporate or work tool, as most times, people received emails for official purposes. This limited how people use emails. Today, the narrative has changed. People now use emails more for communication. Statistics show that about 52% of responders use email as their primary communication tool.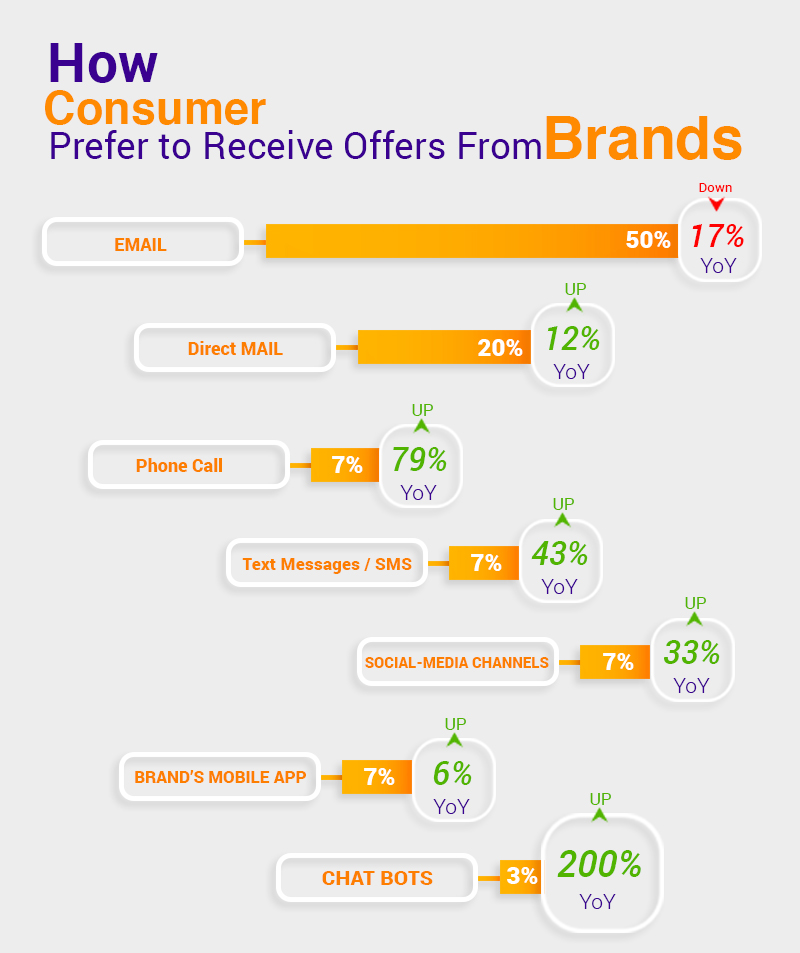 25. About 37% of respondents say email is the most effective marketing channel for customer retention and loyalty.
(Dotdigital)
This stat shows that email is an effective marketing tool. It creates more trust, leading to higher lead generation and customer retention. Websites are the second most effective marketing channel, with 13% of respondents voting. Social media is the third most trusted marketing tool with an 11% vote.
Conclusion
Email marketing may not have the massive conversation rate many people expect. But it is one of the most effective marketing tools for generating quality leads. Its conversation rate will improve your lead generation and revenue.
To fully capitalize on the potential cold email offers, marketers must know the tactics behind optimizing sales email copies. But not all email campaigns will yield high gains. The top cold email statistics list above shows the importance of a cold email marketing campaign. It also tells how people respond to emails and how marketers can take advantage of them.
Read more: Best Cold Email Software
References
SuperOffice
Convince and Convert
Fast Company
Sales Blink
Aweber
Adobe
Statista
Litmus
Salecycle

Ludjon, who co-founded Codeless, possesses a deep passion for technology and the web. With over a decade of experience in constructing websites and developing widely-used WordPress themes, Ludjon has established himself as an accomplished expert in the field.