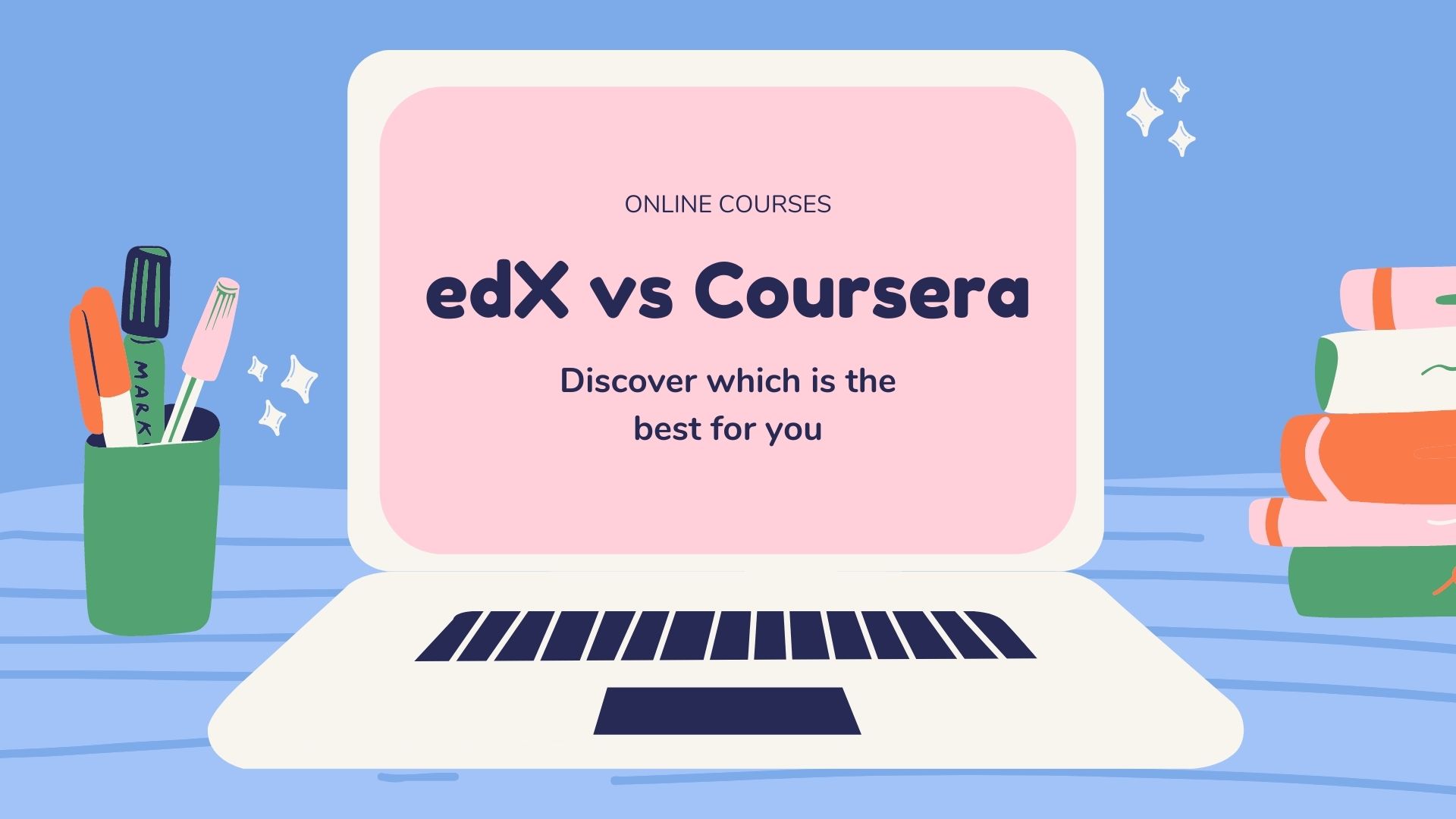 Trying to choose between edX vs Coursera for MOOC platform?
They are both the most prominent MOOC platforms on the internet. MOOC refers to "Massive open online courses," which helps students in the long run.
These offer students a wide range of courses on specified subjects, recorded lectures, quizzes, and assignments, and the perk is an E-certificate.
Both the platforms have a plethora of paid courses and courses where learning costs nothing but certificate do cost.
If you want to create Online Courses online you can check these courses WordPress themes or check these two amazing platforms that make the process even easier: Membership Site Platorms.
Let's dig deep into both the best mooc platforms to know which one offers what to the students.
What is a MOOC Platform?
MOOC stands for a massive open online course (MOOC) which is an online course aiming at open access and unlimited participation through web like edX or Coursera.
MOOCs are generally integrated with the accessible online resources and social networking which are conducted by the leading practitioners from the related field.
Most importantly, MOOCs are based on the learners' engagement who strive to self-organize their participation in terms of common interests, prior skills and knowledge and learning goals.
Two of the most popular MOOCs platforms nowadays are edX and Coursera. Today we will show a detailed comparison between them.
What is edX?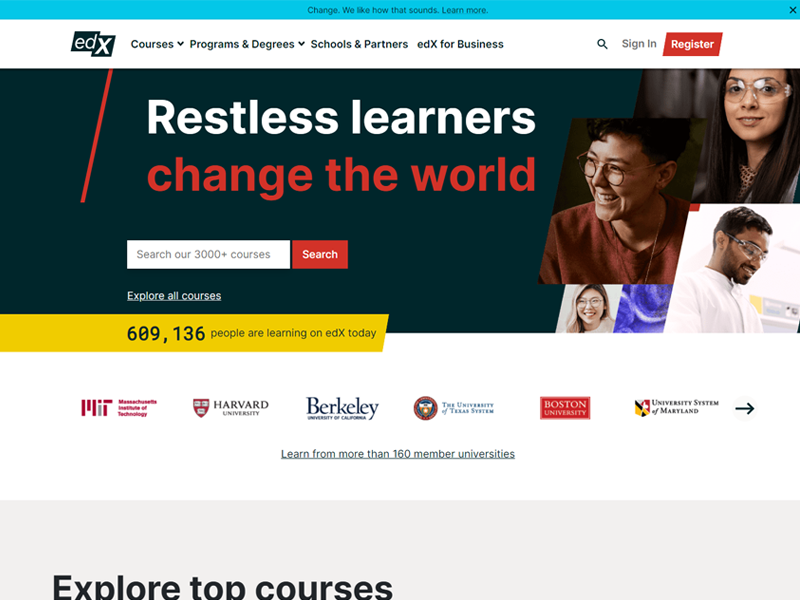 edX is formed in 2012 by two of the dominant institutions, MIT and Harvard. It is an online learning-based platform where students get enrolled in their desired field of study.
edX tends to provide university-level courses, which help students in their career choices and personal growth.
What is Coursera?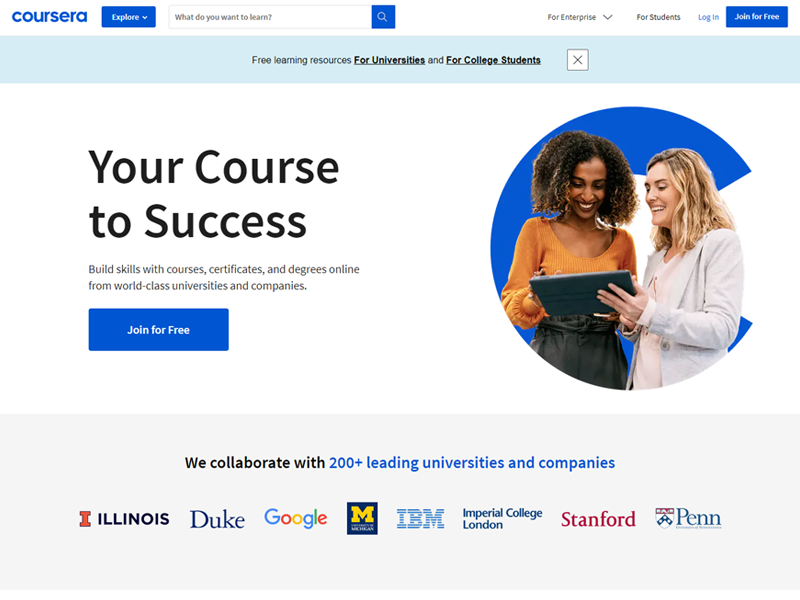 Coursera is the platform initiated by two Stanford professors in 2012. It consists of an enormous number of practical courses that are going to help students shape their future.
Students can get enrolled quickly with fewer steps and for free. You also get the option to log in from your Google or Apple account.
Well, Coursera MOOC platform may seem like any other E-learning platform out there on the internet, but it has plenty of impressive features that we'd be disclosing later.
Coursera has 200+ universities and companies associated with it. So you can explore amongst a wide range of courses to study and institutions as well.
Edx vs Coursera: Comparison
1. Ease of use
Don't you think a software must have a smooth and user-friendly interface to get intact with? Yes!
We are now going to explore if edX or Coursera platforms satisfies its end-users.
Coursera: Ease of Use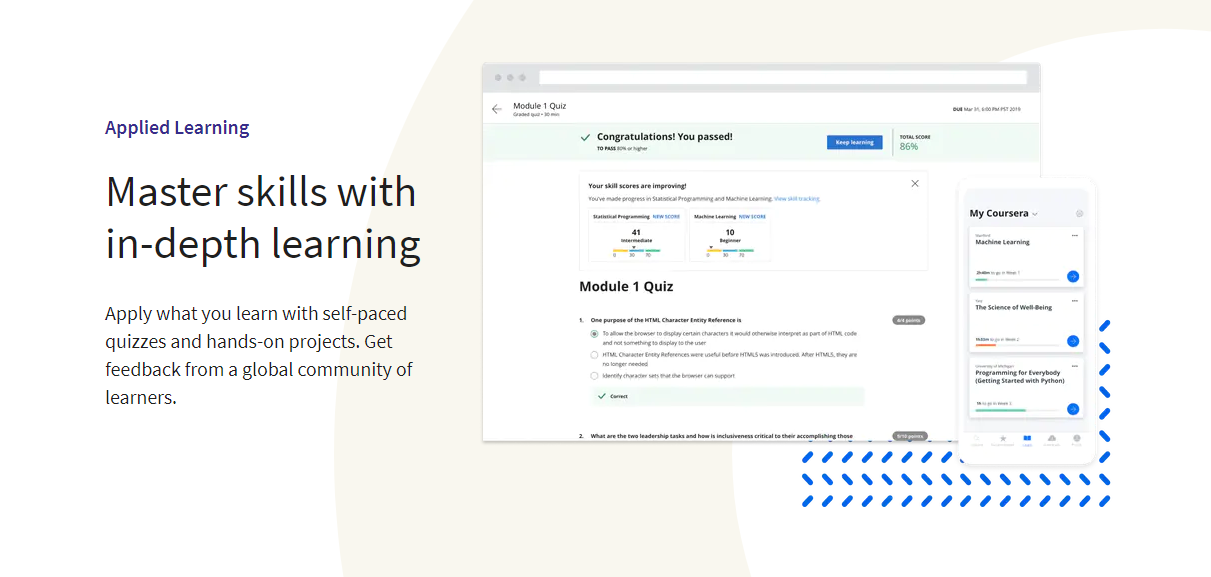 Well, Coursera comes with a straightforward yet understandable interface to the users. When you log in, you are faced with a screen that shows what Coursera is all about in a one-liner and its partner institutions.
There is a drop-down menu from where you can select what to study and from which institution. Coursera has a clean and straightforward design accessible by students, but their payment options are quite flexible.
Also, users reported an excellent learning experience while exploring Coursera's online platform. They have a pretty unique pattern of designs, pages, and all the categorization organizes the data.
eDx: Ease of Use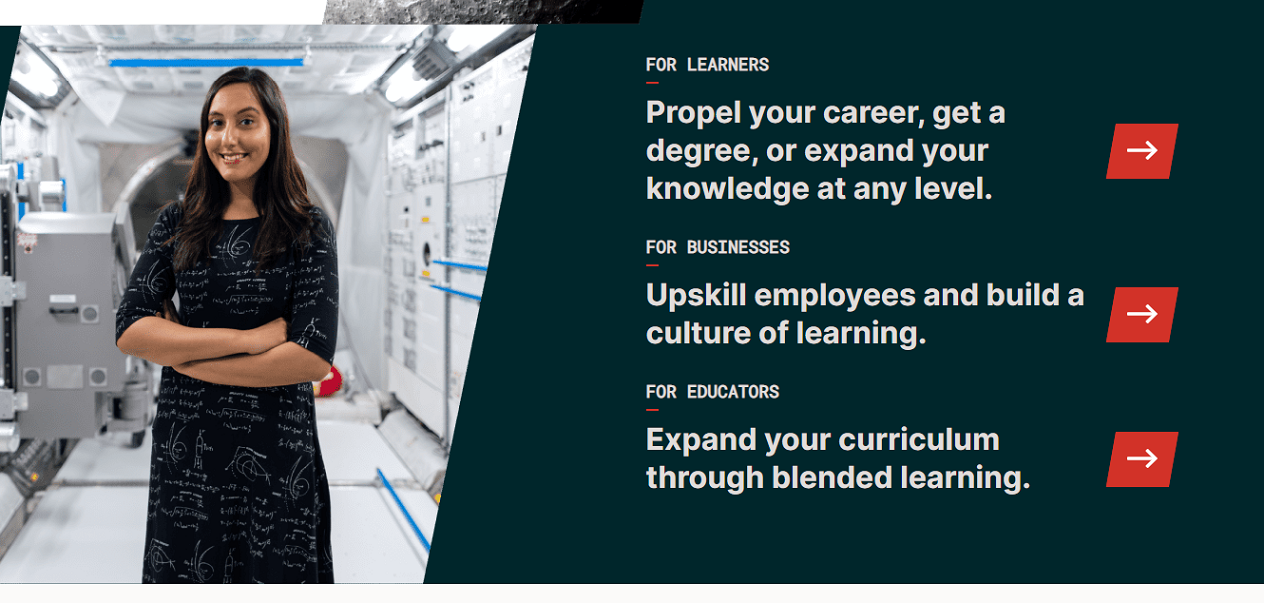 More users are reverting towards edX because of its genuinely unique interface design. A user reviewed the site by saying that it seemed like any university's site as he entered the website. And which is the exact definition of what edX has to offer to its learners.
Everything is maintained very sophisticatedly and professionally. The intuitive design has a fling in the eyes of the users. The end-users reviewed with them quickly found what they were looking for on the site.
2. Quality of content
Content drives the users' attention and focus to your site and keeps them intact throughout the course. Let's check if edX vs Coursera platform holds quality content or not and what users have reviewed about that.
Coursera: Quality
When this aspect comes on the front foot, anyone would think if the platform is worth it or not? So, only YES! Coursera is worth the success when it comes to the quality of their courses. Now let me expand the why.
As we all know, Coursera is associated with many renowned universities worldwide, so the courses' content is mostly provided by the professors teaching them.
The professors are experts in their fields, and some have even served their whole lives researching and practicing.
For such content, you might not be able to question. And I will surely agree with many of the users reviewing that they are happy and satisfied with the course content.
edX: Quality
edX is a non-profit platform that is passionately pursuing excellence in the service of its learners. But when it comes to the quality of the content, there are some conflicting reviews about it.
Some users say that they had a great experience learning with edX; the content was resourceful and satisfying.
Simultaneously, some reviews were reported about technical difficulties as the system smashed down, especially the IOS users. Also, some users said about the poor and unsatisfying quality of content.
Winner: Here the clear-cut victory goes to Coursera.
3. What types of certificates do they offer?
Both these platforms offer e-certificates at the end of their courses. But let me summarize these platforms categorically that what type of certificate do they offer.
Coursera: Certificates
Coursera offers a variety of online certificates depending on the niches. Let's explore them.
Professional certificates.
MasterTrack certificates.
Google IT Support.
IBM Data Science.
Google cloud data engineering.
IBM applied AI.
Google cloud architecture.
IBM cybersecurity analyst.
Google IT automation with python.
IBM z/OS Mainframe practitioner.
UCI applied project management.
Instructional design certificate.
Construction engineering and management certificate.
Big data certificate.
Machine learning for Analytics certificate.
Innovation management & Entreprenuership certificate.
Sustainability and development certificate.
Social work certificate.
AI and Machine learning certificate.
Spatial data analysis and visualization certificate.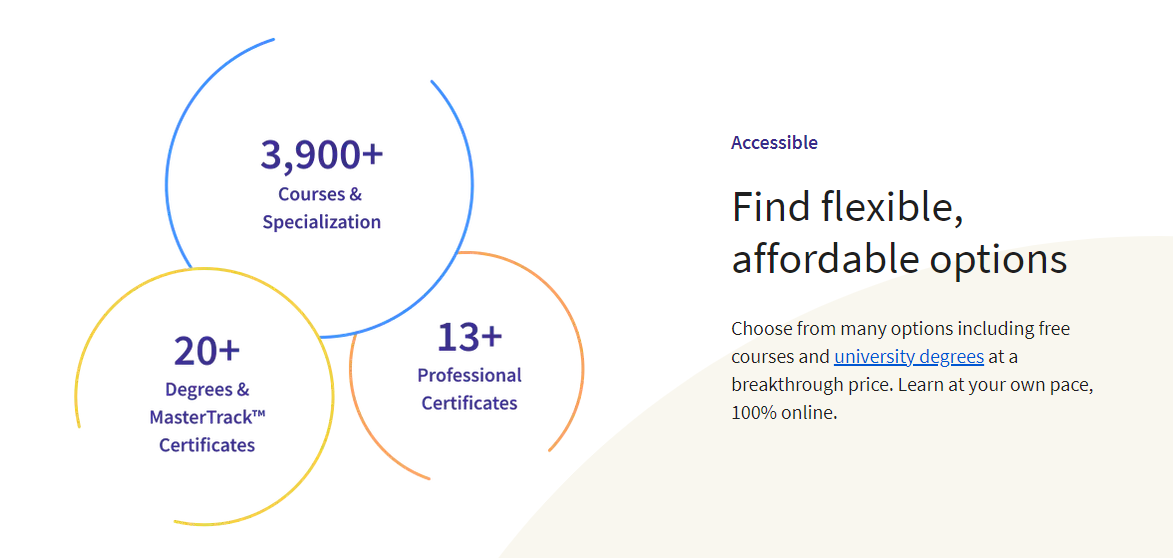 edX: Certificates
edX also offers paid certificates to its students at the end of the course. They have categorized them into two, professional certifications and program certificates.
Now professional certificates are when you reach a verified milestone in a course. Though. For earning a program certificate, you need to achieve a verified certification for each period specified in the program.
edX has some archived courses as well where the certificate is not awarded.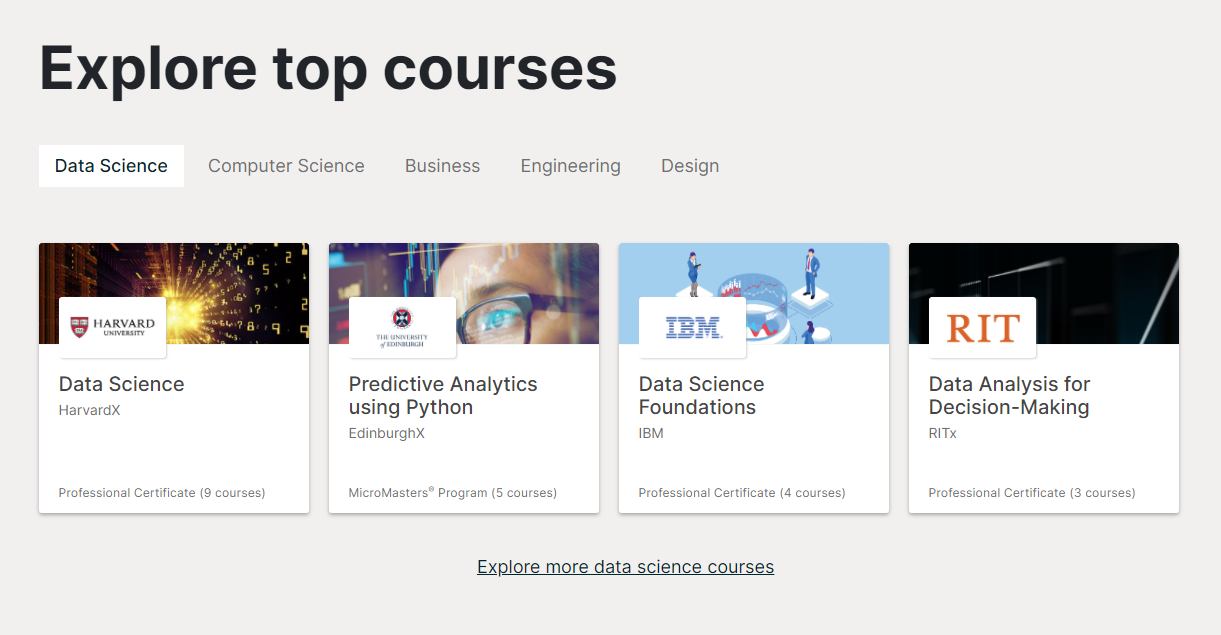 Winner: Coursera
4. Coursera vs edX: Features
As the tree branches define their type and cast, the features work the same for software. Features are various aspects of the software which we use to clarify our concepts.
Coursera: Features
So Coursera preserves some very cool features for its learners that are mentioned below:
Audit
This is something quite useful. So, if the course is too expensive for you or you don't want to pay for it, you can audit that course. Auditing a course lets you access the course material and comparative data, but you cannot gain a certificate or take quizzes or assignments.
Certified course
This is the basic processed course that you take in Coursera. You pay for the course, you get enrolled, and start learning, taking quizzes, assignments, and exams. And get a verified certificate after completing the course.
Specialization
Now, this is something different than others; it revolves around a single domain. E.g., you don't take one course but a bunch of relatable courses to that domain and accomplish your specialization into it.
Degree
It is the same as you do in a university. Here at Coursera, it's like an online degree, but you will be getting the same learning experience as in a university.
Financial aid
Coursera gives its learners financial aid if they cannot finance their studies, which is helpful.
edX: Features
edX offers the following spatial features to its learners.
One-off courses.
It is a category designed for leisure time.
Micromaster program.
This category is designed to advance your already-possessed skills.
Professional certificates.
In this category, you will find online master's degrees, specially formed to give you the knowledge and skills that the current job market requires.
Global freshmen academy.
This category is designed for first-year university students.
Xseries program.
Xseries program is specialized to help students gain a broader perspective about a single field.
5. Prices
Prices fluctuate around the corner of the year. Let's keep track of Coursera vs edX prices
edX: Prices
edX's introductory single course price start from $50 and goes to $300 depending on the nature of the course and its duration. The prices vary according to the specializations offered by the platform.
Coursera: Prices
While on Coursera, a single course fee can cost you $50, but it can cost you thousands if you want to earn a degree. Similarly, the subscription fee starts from $40 to $80-$90 a month.
Winner: edX
5. Student's reviews
Feedback is an integral part of the digital world, and so is for learning platforms. As a MOOC provider, Coursera or edX both have students who reviewed their courses and services. Now, we will look at those reviews and see who's the winner in this aspect. The rating was taken from Bitdgree
Coursera: Reviews
Coursera is a popular online learning MOOC platform that has millions of users who reviewed their site and services.
The exact figure shows that the Coursera community already has 70+ million people learning on this platform. Every year the number increases because of its world-class educational services.
Here are the user's reviews about the venue.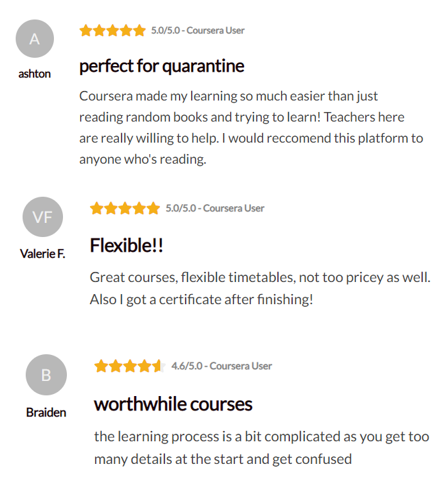 edX: Reviews
Currently, 503,104 learners are using edX for learning new skills for professional and practical uses. Let's have a look at what learners have to say about edX's services and courses.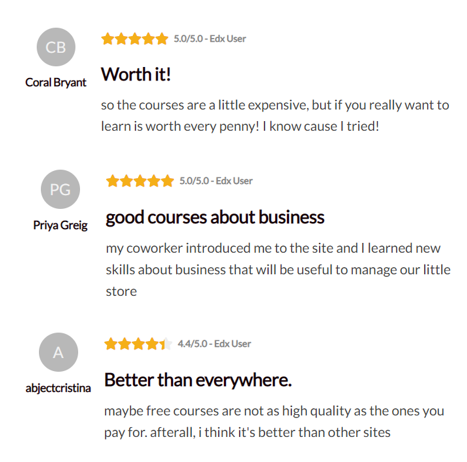 Frequently Asked Questions:
Are edX certificates worth it?
Some educational institutions and organizations offer verified certificates on account of credit as per edX. Thus, it is totally worth it. Moreover, it can be added to your resume to highlight your expertise and therefore attract more potential employers. Also, it is highly recognized and accredited by future employers. Maybe, employers do not care about edX certificates but if you have skill you can mention it on your resume. Employers are more concerned with a certificate from a professional organization or a university.
Is Coursera worth it 2020?
My personal experience with Coursera says YES as it is one of the best mooc sites available for online learning. There are several reasons for that. It is a hub of thousands of courses. Also, you do not have to "pay" for all of them. There are several options of free courses where you can enroll. But if you want a certification program that will cost you some money. But for that too, Coursera Plus subscription is worth it.
Do universities accept edX certificates?
You may not get a direct academic credit from edX course. All the education institutions have their own decisions about this regarded credit. Here, the university policy matters more than what edX provides. Moreover, edX offers a few courses individually which you can purchase and after the successful completion of the course you can apply for an academic credit to get it on the verified track. However, it does not offer proof of the registration or transcripts for the sake of credit.
Should I put Coursera on my resume?
Yes, you CAN put Coursera on your resume in the education section. Just put it in the list of your formal education as you list other items with the course title and date and place of completion. It enhances your resume as it is a well-organized and regarded online learning platform. You can also include sections from education, courses and certifications in your resume after searching for what hiring managers must be looking for. Coursera certificates provide a proof that you struggled to learn the related field and the amount that you pay for the certificate is a proof that you are serious about learning skills.
Conclusion: Who Wins?
According to the above comparison analysis, the results are pretty straightforward.
Coursera is the platform that users have enjoyed surfing on. Although there are some pricing fluctuations, their services still attract millions of users every year.
edX might offer critical and currently needed courses, but the battle between edX vs Coursera still will be won by Coursera because of the excellence it provides via its services.
The flexibility in their learning options and modern outlook serves students with incredible benefits. 87% of the professional certificate holders have reported a future use through studying with Coursera, e.g., promotion, an appraisal, or starting their career.

Ludjon, who co-founded Codeless, possesses a deep passion for technology and the web. With over a decade of experience in constructing websites and developing widely-used WordPress themes, Ludjon has established himself as an accomplished expert in the field.